Apple Silicon will force industry to reconsider use of Intel chips, says ex-Apple exec
The creation of
Apple Silicon
will force Microsoft into making its Windows variant for ARM better and to make better ARM-based hardware, former Apple executive Jean-Louis Gassee has suggested, as Apple's shift will prompt the rest of the PC industry to reconsider its usage of Intel chips.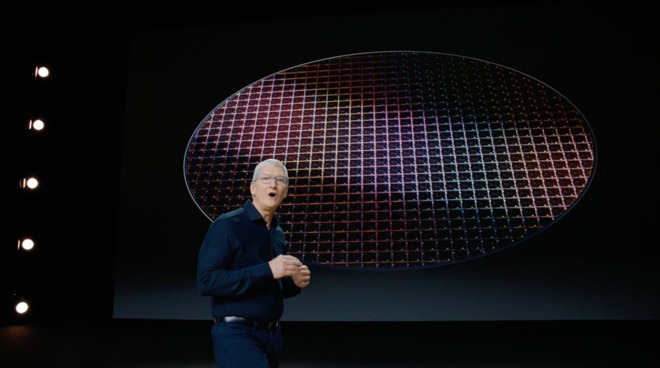 Apple CEO Tim Cook at WWDC 2020, in front of an Apple Silicon wafer.
Apple's transition away from Intel-based Macs to versions using its self-designed Apple Silicon will take place over two years, as it announced during WWDC 2020. While the move will prompt a major change in macOS and how developers treat app development, Gassee also suggests the major shift could also heavily impact Apple's main software rival at Microsoft.
While Apple isn't going to cause issues with Intel's chip sales in a sizable way, which Gassee
reasons
is because of its 7% PC market ownership as well as Apple's demands
and complaints
affecting the relationship, Gassee suggests "The impact on Intel - and the entire industry - will be felt beyond Apple's small share of the PC market."
Apple is seeing the billions of dollars of investment into Apple Silicon as a way to make the Mac better, Gassee believes. Power dissipation improvements are anticipated, with the
A12Z
's performance and cool running highlighted against an Intel Core i7 processor with a TDP of 28 watts.
Throughput is also a concern, with Gassee unable to imagine "tomorrow's Apple Silicon Macs providing less than a 25% throughput advantage against corresponding x86 PCs." While admitting they're "broad strokes" of assumption, Gassee suggests to the reader "think faster, svelter laptops actually lasting 10 hours on a battery charge. If not, once again, why bother burning the billions?"
In how it will affect the industry, the former Apple executive refers to Microsoft's 2012 move to ARM with an early Surface launch, which "didn't work too well." Generations later, the continuation in the
Surface Pro X
was an improvement that has still seemingly failed, which was largely put down to how Microsoft's core applications didn't run in a native mode.
Gassee also points out that the disparity was "even more embarrassing" for Microsoft, as Office was shown to be working on Apple Silicon during WWDC without issue.
"This leaves Microsoft with a choice: either forget Windows on ARM and cede modern PCs to Apple, or forge ahead, fix app compatibility problems and offer an ARM-based alternative to Apple's new Macs," writes Gassee, before admitting it's a false dilemma, as Microsoft "will forge ahead, with repercussions for the rest of the Windows PC industry."
Other computer vendors will have to follow suit if Microsoft goes down the same route as Apple, he proposes.
For Intel, it is suggested that the company was unable to take part in the "Smartphone 2.0 revolution" due to its reliance on high-margin x86 chips, and the Intel/Windows duopoly. By Microsoft moving towards ARM, "that advantage is about to disappear," which could force Intel into an "if you can't beat them, join them" situation of acquiring an ARM license.
"Margins will inevitably suffer as the ARM-based SoC field is filled with sharp competitors such as Qualcomm and Nvidia, sure to be joined by arch-enemy AMD and others, all ushering in a new era of PCs," warns Gassee in closing.