Samsung unveils Galaxy Note20, Watch3, Z Fold2, Buds Live
Samsung's
Unpacked event
has seen the launch of a number of new devices, including the Galaxy Fold 2, the Galaxy Note 20 Series, Galaxy Tab S7 and S7+, Galaxy Buds Live, and the Galaxy Watch 3.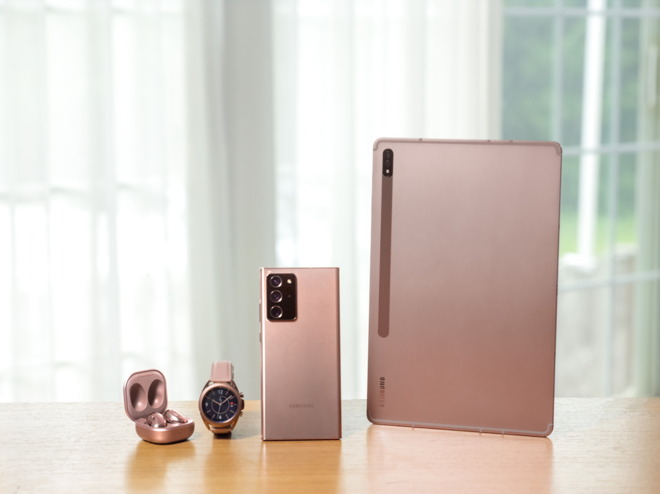 Samsung's Galaxy Buds, Note 20, and Tab S7
Launched on Wednesday during its regular Samsung Unpacked event, the South Korean electronics giant took the opportunity to launch multiple mobile devices and related products at the same time.
Galaxy Note 20 family
The main attraction for the launch was the
Galaxy Note 20 Series
, consisting of the Galaxy Note 20 and the Note 20 Ultra. The phablet family continues to offer a large screen and a built-in stylus, with the Note 20 having a 6.7-inch 2,400 by 1,080 display while the Note 20 Ultra sports a curved 6.9-inch version, complete with a higher 3,200 by 1,440 resolution.
The Ultra will also have a higher maximum refresh rate of 120Hz, whereas the Note 20 can go up to 60Hz. These devices will also support 5G on the mmWave and sub-6GHz bands, and include WiFi-6 support.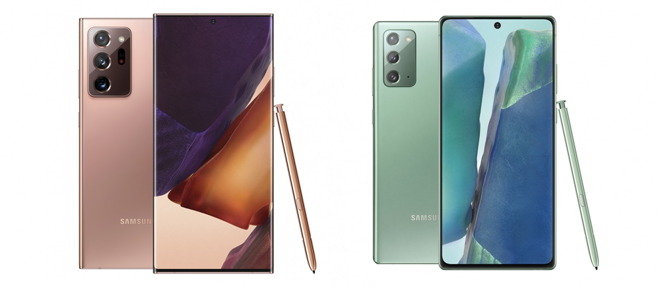 Samsung's Galaxy Note20
The accompanying S-Pen stylus gains a new mode for 2020, with the "pointer" mode enabling users to make simple gestures and control an on-screen cursor rather than to write or draw. Five new Anywhere actions enable more options for touchless navigation.
Powering the two is a Qualcomm Snapdragon 865 System-on-Chip, with integration with Qualcomm's X55 5G modem. Samsung claims the SoC will allow for a more powerful entertainment experience that will provide console quality gaming in your pocket.
The cameras on the back of the Note 20 Ultra include a return of Samsung's periscope zoom lens, which will provide up to a 50x zoom. In terms of sensors, it will have a 108-megapixel main sensor similar to the Galaxy S20 Ultra, along with a 13-megapixel sensor for the zoom lens, and a 12-megapixel ultra-wide lens.
The Note 20 has a 64-megapixel zoom lens with up to 30x magnification, with 12-megapixel main ultra-wide cameras.
The new devices will have Ultra-Wideband chipsets capable of hyper-local device finding. UWB will be used for sharing between devices by pointing the phone at the recipient, and Samsung says in the future it will be used to find objects in AR and unlock the home.
The Galaxy Note 20 will be available in select markets starting on August 21, 2020, although Samsung is offering pre-order deals for shoppers who want to
secure their spot in line today
.
The Note 20 retails for $999 and is available with 128GB only. It has three color options: Mystic Bronze, Mystic Green, and Mystic Gray.
The Note 20 Ultra retails for $1,299 for 128GB of storage, and comes in three colors: Mystic Bronze, Mystic White, and Mystic Black. The 512GB model retails for $1,449 and comes in only Mystic Black.
Galaxy Z Fold 2
Samsung's second attempt at a folding phablet after the Galaxy Fold, the
Galaxy Z Fold 2
follows the same core design as the original, in having a large flexible display that can be folded in half vertically.
This time, the Galaxy Z Fold 2 has a larger 6.23-inch display on the front of the device, while the internal screen has grown to a 7.7-inch version, versus the original's 7.3 inches.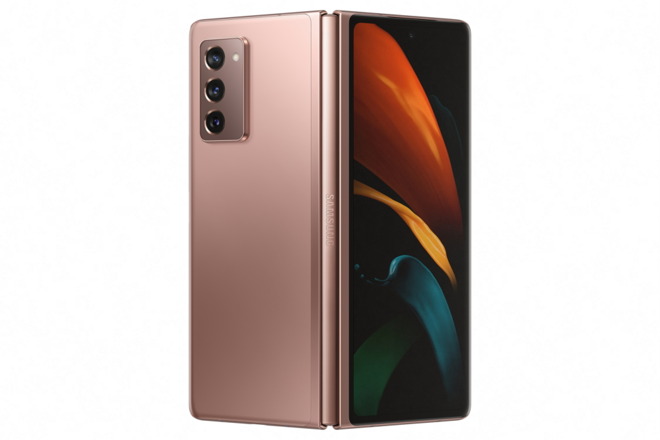 Samsung's Galaxy Z Fold2
Powered by the Snapdragon 865, it packs a trio of cameras on the back consisting of two 12-megapixel sensors and one 64-megapixel version for the zoom lens.
The battery is significantly large for this model, consisting of a 4,356mAh unit. More importantly, its 15W wireless charging will help to speed up its recharging without needing to be directly plugged in to an outlet via a cable.
Those who buy the Galaxy Z Fold 2 will be able to customize the color of the device's hinge, with the ability to select between red, blue, silver, or gold.
No availability date has been announced. Pricing is similarly not available yet.
Galaxy Tab S7 and S7 Plus
A pair of tablets in the Galaxy Tab line, the S7 and S7 Plus measure 11 inches and 12.4 inches respectively, with the smaller screen using LCD at a resolution of 2,560x1,600 while the larger model is equipped with a 2,800x1,752 OLED panel. Each use a 120Hz display, enabling for a relatively low latency for the accompanying S Pen.
Using a Snapdragon 865 Plus SoC, the devices are equipped with 6GB or 8GB of memory, with options for 128GB or 256GB of storage.
The different sizes of tablets also equates to different battery capacities, with the bigger model having a 10,090mAh battery versus 7,040mAh in the 11-inch model.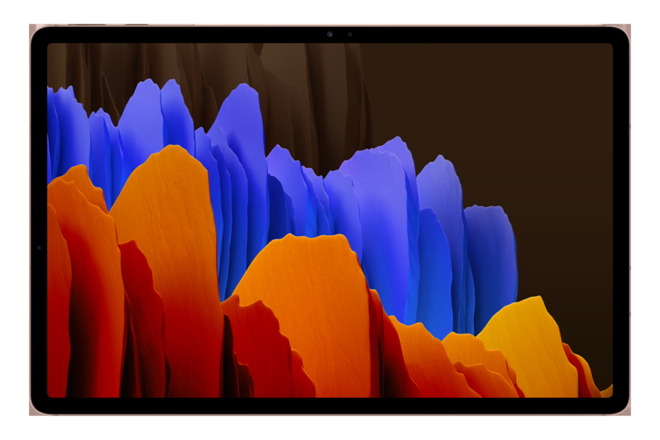 Samsung Galaxy Tab S7
For biometric security, the pair have fingerprint sensors that are built into the display. They have 13MP wide and 5MP ultra-wide cameras on the rear, and a center-mounted 8MP front-facing camera.
The Tab S7 and Tab S7 Plus are available in Mystic Bronze, Mystic Silver, and Mystic Black. The 5G variants are only available in Mystic Black.
The Galaxy Note20 series and Tab S7 series will be available in select markets starting on August 21, 2020.
Galaxy Buds Live
Samsung's latest attempt to take on Apple's AirPods Pro, the
Galaxy Buds Live
are bean-shaped wireless earphones, that this time includes active noise cancellation. Capacitive touches enable users to control the earbuds by gestures, including taps to play and pause music, touching and holding to turn ANC on and off, and swipes to switch tracks and adjust volume.
Supplied with a carry case that recharges the personal audio accessories, the buds offer over four hours of play time per charge. The battery case, which can be recharged using Qi wireless charging and USB-C, offers a fast-charging facility where it provides over half an hour of usage when the buds are charged for three minutes.
Using 12-millimeter drives and a combination of two external and one internal microphone per earbud, the Galaxy Buds Live will offer an always-on microphone system that will be usable with digital assistants.
Galaxy Buds Live are available in select countries
starting on August 6
.
Galaxy Watch 3
Consisting of a round-faced smartwatch, the
Galaxy Watch 3
is offered in a pair of sizes, consisting of a larger 45mm model alongside a smaller 41mm version, though both will offer a resolution of 360 by 360 pixels. There is one other difference between the two, where the 45mm has a 340mAh battery versus the 41mm has a 247mAh power source.
Powered by Samsung's Exynos chip, the wearable devices will receive an updated interface using a new version of Samsung's Tizen operating system, complete with new watch faces that allow for complications around the edge of the display, such as step counts.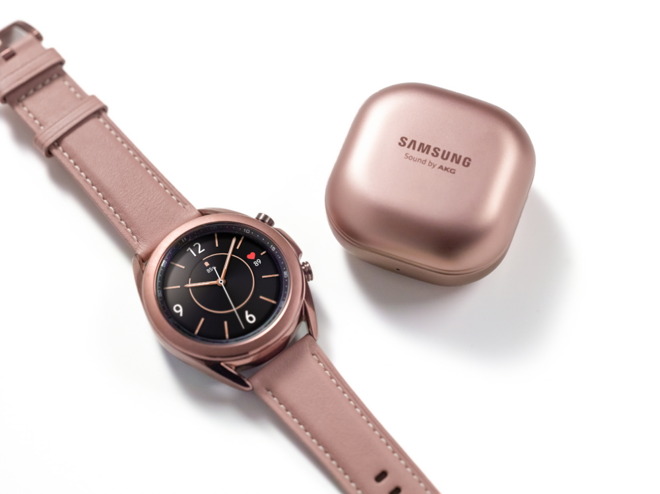 Samsung Galaxy Watch3
Fitness tracking continues to be a major element of the Galaxy Watch line, with it including heart rate and blood pressure monitors, as well as an ECG sensor.
This year, there's new gesture controls that the Galaxy Watch 3 responds to, where the user moves the wrist or performs an action, without touching the watch face. Clenching and unclenching the fist can dismiss alarms and calls, and to take photographs or start video using the Camera Controller app.
The
Galaxy Watch 3
is available in select countries starting on August 6. Prices start at $399.