Epic Games wanted a special deal for 'Fortnite' on the App Store
Apple on Friday shot back at Epic Games in a legal filing, likening the Fortnite creator to a "shoplifter" and disputing the gaming company's claims that it did not want a "special deal" on the
App Store
.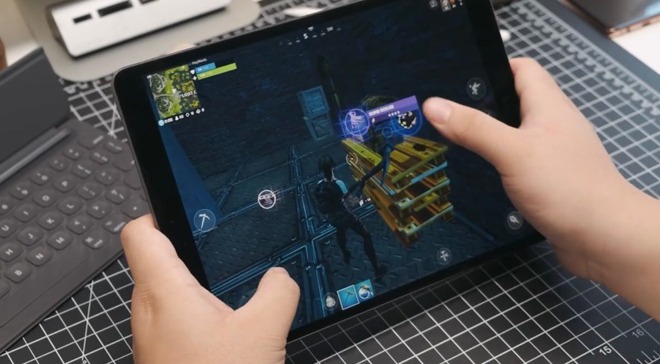 "Fortnite" playing on an iPad Air
The Cupertino tech giant's filing on Friday is the first actual legal response Apple has made since Epic Games
filed
a lawsuit against the company on Aug. 13 alleging anti-competitive behavior. Epic filed the complaint after
baiting
Apple to remove Fortnite from the App Store through a direct violation of its developer guidelines.
In the filing, Apple urged a U.S. federal court in San Francisco to deny Epic's claims for an "emergency" restraining order that would restore Fortnite back to the App Store. A hearing for the order is set for Monday in the Northern District of California.
The filing also likened Epic Games' insertion of a proprietary payment system to bypass its 30% App Store commission to the behavior of a shoplifter,
Axios
reported
.
"If developers can avoid the digital checkout, it is the same as if a customer leaves an Apple retail store without paying for shoplifted product: Apple does not get paid," Apple wrote in the filing.
CNBC
also
reported
that the filing disputes that Epic Games did not want a "
special deal
" with the iPhone maker. Apple alleges that Epic Games asked for an individual arrangement with Apple for special treatment, and produced three emails from Epic CEO Tim Sweeney as proof.
"On June 30, 2020, Epic's CEO Tim Sweeney wrote my colleagues and me an email asking for a side letter' from Apple that would create a special deal for only Epic that would fundamentally change the way in which Epic offers apps on Apple's iOS platform," said Apple App Store chief
Phil Schiller
.
More specifically, Apple claims that Epic Games wanted permission to implement direct payment systems to bypass App Store fees. When Apple refused, Sweeney reportedly wrote back to Schiller and said that Fortnite "will no longer adhere to Apple's payment processing restrictions."
Apple argued that Epic's "emergency" was one "entirely of Epic's own making." It added that it would re-list the battle royale game in the app marketplace and would not disable Epic's developer accounts if it removed the direct payment platform. On Monday, Epic also claimed that Apple was threatening to
shut down
its iOS and macOS developer accounts if it did not comply with App Store guidelines.
The Fortnite maker's tactic appeared to be aimed at getting Apple to change its App Store fees, and Epic Games has attempted to
recruit
other developers to its cause. Within Fortnite itself, Epic is also attempting to rally players with a "
FreeFortnite
Cup" campaign that followed a video spoofing Apple's famous 1984 Super Bowl ad.
Although Epic has focused on Apple in its campaign, it also
baited
Google into removing Fortnite from the Google Play Store. Like Apple, Google charges a 30% commission on in-app purchases.
The dustup with Epic Games comes in the midst of antitrust scrutiny centered on Apple. In July, Apple CEO
Tim Cook
testified
before the U.S. House Judiciary Committee as part of a broader probe into alleged monopolistic behavior.
Apple Versus Epic - Apple's Opposition to TRO by Mike Wuerthele on Scribd