Epic isn't planning on making changes to return 'Fortnite' to the App Store
Epic Games has confirmed that the upcoming season of "Fortnite" will not be available on
iOS or macOS devices, suggesting that the company will continue to refuse to comply with Apple guidelines for the foreseeable future.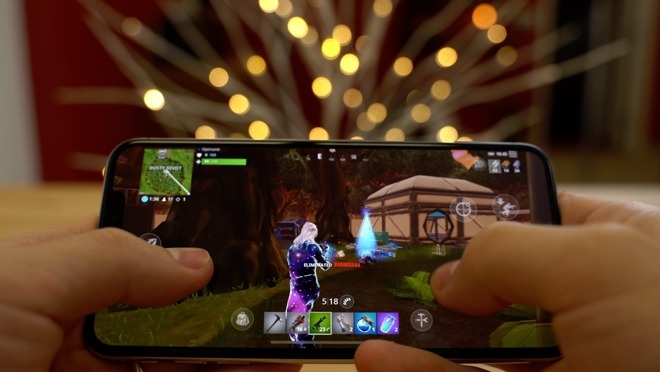 "Fortnite" being played on an iPhone. Credit: AppleInsider



The news follows a court decision
denying
Epic's call for a temporary restraining order (TRO) that would restore "Fortnite" to the
App Store
. In the ruling, Judge Yvonne Gonzalez Rogers said that Epic was not suffering irreparable harm and added that the situation seemed like one of its own making.
In an
update
to a "Fortnite" FAQ on Wednesday, Epic Games said that the season update would not be available on iPhone, iPad or Mac on the Aug. 27 date.
The "Fortnite" maker says that Apple is "blocking Fortnite updates and new installs on the App Store," which is true. Epic does not mention that "Fortnite" was only removed from the App Store after it
baited
Apple into doing so.
At a hearing on the TRO Monday, Judge Rogers said that Epic could remove the direct payment system that it had implemented in violation of Apple's developer guidelines and "return to the status quo." The FAQ update on Wednesday confirms that Epic Games won't make the necessary changes to allow "Fortnite" to return to the App Store.
The implementation of the direct payment system was a strategic move on Epic's part to protest Apple's 15% to 30% cut of in-app purchases. Shortly after "Fortnite" was removed from the App Store, Epic Games filed an
antitrust lawsuit
and launched a
marketing campaign
alleging monopolistic behavior from Apple.
Apple, for its part, applauded Judge Rogers' decision on Tuesday, and said it would "
gladly
" restore "Fortnite" to the App Store if the infringing feature was removed from the app.
Our very first priority is making sure App Store users have a great experience in a safe and trusted environment, including iPhone users who play 'Fortnite' and who are looking forward to the game's next season," Apple said.
At Monday's hearing, Judge Rogers said that she was not inclined to issue a TRO for the "Fortnite" itself. But, she did issue protections that bar Apple from taking "retaliatory" measures against Epic Games property Unreal Engine, which is managed through a different developer account and business entity than "Fortnite."