Netgear Orbi Pro WiFi 6 Tri-band Mesh System brings reliable WiFi to your small business
Netgear's new Orbi Pro WiFi 6 Mesh system can give your small business fast, reliable internet connectivity with plenty of room to grow into.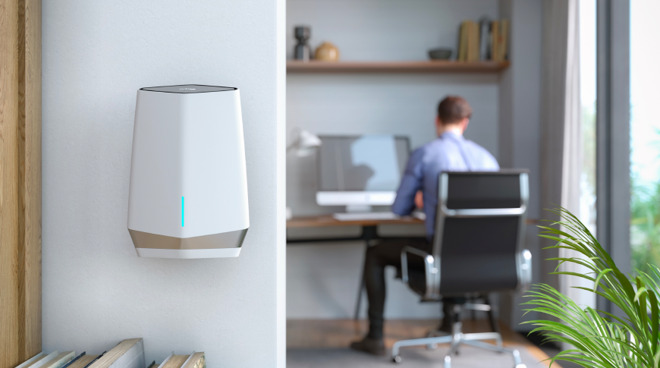 If your small business has low WiFi coverage, Netgear may have the solution. Netgear's newly launched
Netgear Orbi Pro WiFi 6 Tri-band Mesh System
is designed to blanket up to 18,000 square feet in reliable, high-speed wireless internet.
Compared to the previous generation, the new Orbi Pro WiFi 6 system can handle four times the connected devices and has 100% higher speed per router and satellite unit. Its high capacity means it leaves plenty of room for businesses to add devices as they grow. It also allows customers to access the same high-speed internet as employees without your business suffering.
It has dedicated quad-stream WiFi 6 backhaul, OFDMA, and MU-MIMO, which will provide high-performance WiFi for years to come. It supports the latest
iOS
and Android WiFi 6 mobile devices, and is backward-comatible with both WiFi 4 and WiFi 5.
The Orbi Pro system also has excellent wired connectivity, thanks to a 2.5Gbps Ethernet port on the router and the back of each satellite. This allows for speeds of over a gigabit. All Orbi Pro devices feature two 4GbE ports, allowing for link aggregation. This feature can double the bandwidth between the Orbi Pro WiFi 6 node and connected devices using two Ethernet cables to form a single link.
The Orbi Pro WiFi 6 system is capable of delivering up to 6Gbps of data throughput. The system boasts tri-band 12-stream WiFi -- four streams on 2.4GHz and eight on 5Ghz.
This mesh system also includes advanced management features, including a one-year Insight subscription, instant discovery and setup of the Orbi Pro WiFi 6, and remote management through the Insight app.
The NETGEAR Orbi Pro WiFi 6 Tri-band Mesh System is available for purchase in the United States and will ship by the end of September, starting at $769.99 for
a single router and one satellite.
Additional bundles will be available later in 2020 and will allow users to select from the following:
One router and two satellites - $1099.99


One router and three satellites - $1498.99


A single add-on satellite unit - $419.99