Amazon's Luna cloud gaming platform coming to iPhone, iPad, Mac
Posted:
in iPhone
edited September 2020
At Amazon's release event on Thursday afternoon, the company announced the Luna cloud gaming platform, which the company promises will arrive at launch on the Mac, iPhone, and iPad.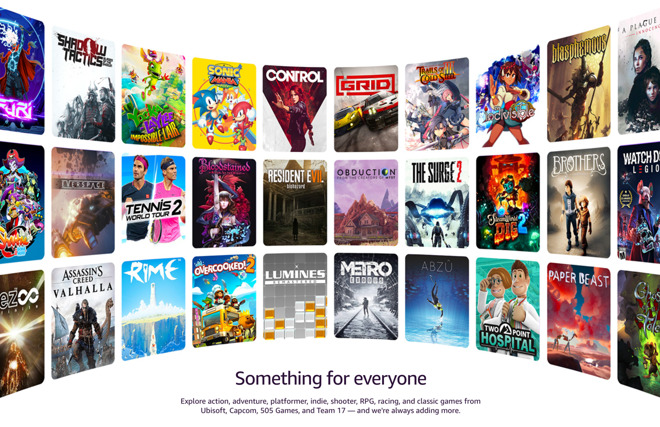 Titles for Amazon's Luna cloud gaming service
Amazon says that the service will be browser-based, utilizing web apps for streaming. It also appears to be roughly the same technology base that Microsoft's Xcloud streaming service uses, utilizing H.265 streams to a user's device, and returning only user inputs.
Subscribers will be allowed to play Luna games on two devices simultaneously. Resolution will ultimately be 4K at 60 frames per second on what Amazon calls "select titles." All games at launch, and most games afterward will stream at 1080p at 60 frames per second.
More than 100 games will be available at launch, and the company has also announced a partnership with a dedicated Ubisoft gaming channel. Amazon and Ubisoft say that the channel will "will have access to their favorite Ubisoft titles in up to 4K resolution, mobile gameplay, and access to new titles" at launch. It isn't yet clear if the Ubisoft channel will cost extra.
Twitch integration will be included with the service.
On the Mac, the system can be played with the
$49.99 Luna Controller
. The Alexa-enabled controller connects directly to the cloud through a user's Wi-Fi, according to Amazon. Amazon claims that this cuts input lag by between 17 milliseconds to 30 milliseconds on the PC, Fire TV, and Mac. It isn't clear if the controller with work with iOS or iPadOS at this time.
At launch, the Luna service will cost users $5.99. Pricing after full rollout isn't presently available. US users can
request early access
starting on Thursday.
Mac users must be on macOS 10.13 or greater. Users the iPhone or
iPad
must be running iOS 14 or iPadOS 14.
The main difference between Microsoft's Xcloud and Luna is the delivery to the device. Microsoft's platform relies on an app, where Luna is streaming to a browser. Apple has
recently delivered guidance
on streaming gaming platforms, and Amazon's Luna is well within the allowed platforms, given the browser-centric nature of the service.