Disney movies pop up in 4K HDR in iTunes
Disney is one of the last production companies to enable
4K HDR
content for iTunes purchases, and the move upgrades any existing HD purchase to 4K for free.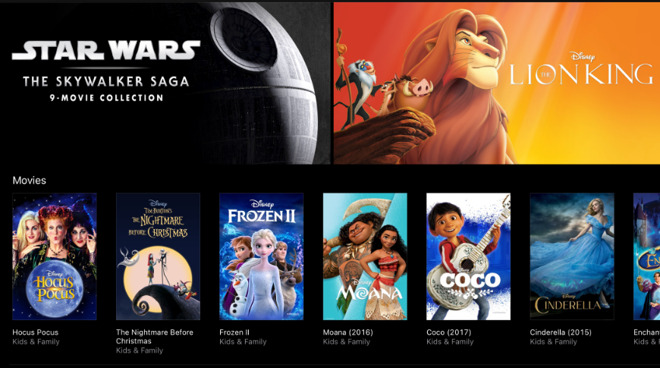 Disney content now available in 4K HDR on iTunes
In 2017, Apple revealed the
Apple TV 4K
with the ability to purchase and stream 4K HDR content. In an unprecedented move, the company said any movie upgraded to 4K in iTunes would automatically update in users' purchased libraries too, except for Disney content.
Disney withheld their 4K content from iTunes in order to bolster the upcoming Disney+ streaming service. Now nearly a year into the service, it seems Disney no longer needs that exclusivity to hold up the service.
Disney owns many major studios which means a large portion of your library will be updated to 4K HDR for free. The entire "Star Wars" saga, many Pixar films like "Toy Story" and "Cars," and most of the Marvel catalog have already been updated to 4K HDR. Classics are also being updated like "Hocus Pocus" and "Nightmare Before Christmas."
To purchase 4K content on iTunes navigate to a movie and verify it is 4K HDR within the title card. View what content is available in 4K in your library by opening the
Apple TV
app and navigating to your library, then select the 4K section.
This move comes as Apple continues to push its Apple TV platform with
Apple TV+
. Apple is expected to release a new "
Apple TV 6
" at any time with better support for modern formats and better processors for gaming.