Facebook expands Dark Mode testing on iOS and iPadOS apps
Facebook is accelerating its roll out of the social network app's Dark Mode," with more users able to turn the app dark to match the rest of their iPhone apps following an extended testing period.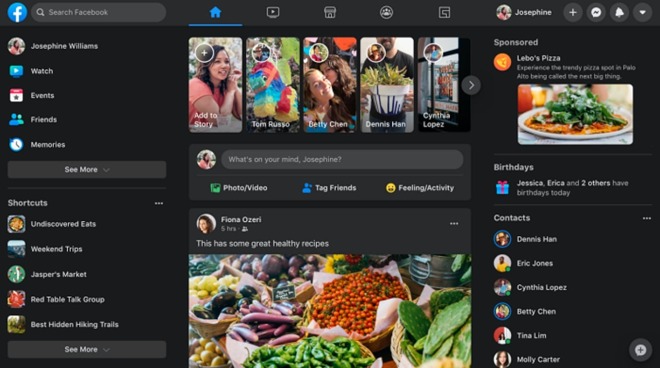 The famous
Dark Mode
of
iOS
was introduced in iOS 13, and has been adopted by many different apps. The long-time holdout has been Facebook, but in a continuation of its efforts to change that, it's now allowing more people to try out the feature in the iOS and
iPadOS
app.
In a post to Twitter, Jane Manchun Wong
published
a video made in collaboration with Facebook, showing off how the mode looked. The post from Friday advised that the mode was being publicly tested from that date, with more users starting to see the option in the app.
Facebook is publicly testing Dark Mode!

You asked it, I chatted with Facebook's @alexvoica about it and here's a video made in collaboration with Facebook! pic.twitter.com/TGjdTXDxoP
The larger-scale public testing follows an earlier test
from June
, where a "small percentage of users globally" had access to the feature. While there is no mention about how many people will be able to enjoy dark mode in the app as part of public testing, it is a good sign that suggests it may roll out to everyone fully in the near future.
The Facebook app is the last app in the company's ecosystem to support dark mode, with Facebook Lite, WhatsApp, Instagram, and Facebook Messenger apps all supporting it in iOS and iPadOS.
If available to use in the app by a user, an option will appear under the Settings & Privacy menu. Options will allow the app to be permanently light or dark, or to automatically change along with other apps as part of the main iOS feature.