Touch ID comeback for iPhones may use under-display IR imaging system
Apple could add Touch ID back to the iPhone without reintroducing the physical Home button, by taking advantage of infrared light and through-display imaging techniques to avoid ruining the edge-to-edge screen design.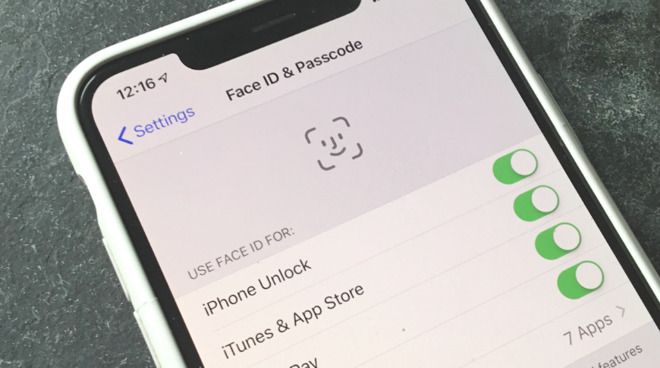 Apple's removal of Touch ID was driven both by the development of
Face ID
and by a fundamental redesign of the iPhone that removed the Home button from the front of the device. While Apple has reintroduced Touch ID in the
iPad Air 4
via the
power button
, it has resisted doing the same thing on the iPhone.
While Face ID is very useful and highly secure, the current
COVID-19
pandemic has made it practically impossible to use due to many people
wearing face masks
. Devices with Touch ID aren't affected by the pandemic-prompted limitation, except for those who elect to wear gloves.
Outside of the pandemic, there are also reasons for a person to prefer Touch ID over Face ID. For example, if they are not physically capable of angling the iPhone to their face for an
Apple Pay
transaction due to carrying items, or for situations where they need to unlock an iPhone from their pocket or an enclosed space without pulling the iPhone into the view of other people.
Adding Touch ID back to an iPhone is plausible, but Apple would be looking to add it back to its original location. Doing so without ruining the clean appearance of the display would require some inventive engineering.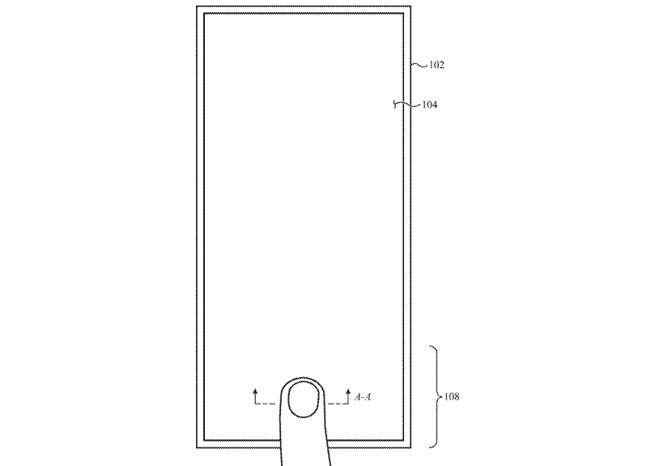 The patent seems to be squarely covering a possible Touch ID comeback in the iPhone.
In a
patent
granted by the US Patent and Trademark Office on Tuesday titled "Shortwave infrared optical imaging through an electronic device display," Apple suggests ways to perform fingerprint recognition using light, while working around display elements.
Apple notes that it is possible for an optical imaging system to be placed adjacent to the display, but that can make the bezel thicker than intended by designers. Instead, Apple's optical imaging system is located under the main display stack, which typically consists of an outer protective layer, a touch-sensitive layer, and the display layer itself.
The proposal is that the optical imaging system would transmit shortwave infrared light upward, which would interact with a finger and reflect light back based on the presence of ridges in contact with the screen. The reflected infrared light is then received by a photosensitive element that is in the same optical imaging system, which can then render portions of a fingerprint for analysis.
The use of infrared light makes sense, as this is light that isn't visible to human eyes at all, so wouldn't be distracting or dazzling. Furthermore, as the display would be used to emit visible light and not infrared light, while the photosensitive element would be tuned to detect infrared light, the system would not suffer from false positives or failed reads caused by the different light sources.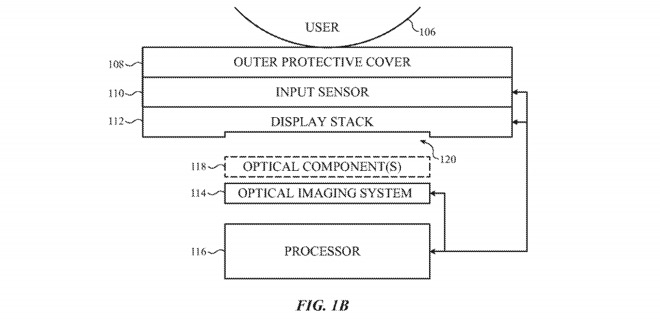 The display stack would sit above the imaging system
Apple also suggests there could be an opaque mask layer between the photosensitive element and the infrared-emitting light element, and the use of waveguides to funnel light through "inter-pixel regions of the display," namely the bits between each pixel. These inter-pixel regions would allow infrared light to go through both ways, enabling the system to work behind the display.
The patent lists its inventors as Mohammad Yeke Yazdandoost and Giovanni Gozzini, and was originally filed on September 26, 2018.
Apple files numerous patent applications on a weekly basis, but while the existence of patents indicates areas of interest for Apple's research and development efforts, they don't guarantee the concepts will appear in a future product or service.
The core concept of in-display fingerprint recognition certainly isn't a new idea. Through-display fingerprint recognition is already employed in some forms, such as in
Samsung's Galaxy
smartphone range, so Apple would be catching up with its rivals in this regard.
That being said, it has previously explored the idea of display-based fingerprint recognition multiple times in the past.
In 2017, it suggested the use of
full-screen fingerprint recognition
, using capacitive touch panels across the display. Another granted the same year proposed using rows of infrared-emitting and sensing diodes built
into the display
to perform a similar IR reflection-based fingerprint scan.
Acoustic imaging
has also been touted, using piezoelectric transducers to send out acoustic pulses along a substrate and detecting reflections to create the fingerprint image. More recent patents have suggested the use of
sub-display optical sensors
for fingerprint recognition, including working around opaque components and using limited apertures, as well as
other ways
to embed sensors behind the display.