Siri gets Election Day date wrong, Apple fixes issue
Apple's
Siri
voice assistant on Tuesday returned incorrect information regarding the date of Election Day in the U.S., though the problem was quickly rectified.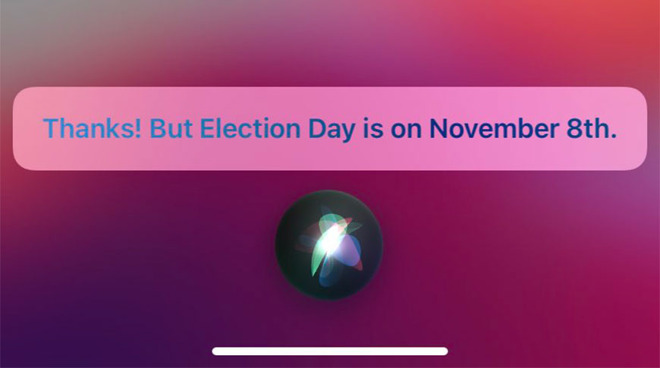 Source: Lucas Matney via Twitter
Earlier today, Siri
informed users
that Election Day was on "November 8th," an obviously incorrect response that appears to trace back to a backend data issue.
As noted by
TechCrunch
, telling Siri, "Happy Election Day," invoked a message that read, "Thanks! But Election Day is on November 8th." Queries asking the assistant to recite the date of Election Day returned similar results.
Apple has since fixed the problem. It appears that Siri lacked contextual data for the call-and-response questions, as the report notes an election day does fall on Nov. 8. Specifically, the next major U.S. election takes place on Nov. 8, 2022.
Siri, like all virtual assistants, has gone through its fair share of growing pains. While the technology has matured significantly from the fledgling service launched in 2011, it still suffers from sporadic, one-off errors like today's Election Day gaffe.
Apple continues to add to Siri's feature set, and with the latest iOS 14 introduced
new capabilities
like audio messages, deeper Apple Maps integration and more. Siri's knowledge graph has also expanded, with Apple claiming the assistant now has access to 20 times more facts than it did three years ago.
Keep up with all the Apple news with your iPhone, iPad, or Mac. Say, "Hey, Siri, play AppleInsider Daily," -- or bookmark this link -- and you'll get a fast update direct from the AppleInsider team.