What financial analysts thought about the Apple Silicon Mac announcements
The era of
Apple Silicon
Mac devices arrived on Tuesday with the company's "One more thing" event. Here's what financial analysts thought about the announcements.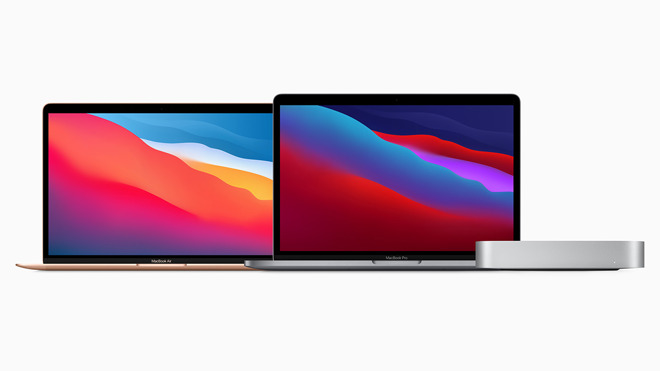 Credit: Apple
Apple unveiled three new Mac devices equipped with
proprietary M1 chipsets
at its Tuesday keynote: a
MacBook Air
,
a 13-inch MacBook Pro
, and a
Mac mini
. Among other improvements, the addition of the M1 bolstered the performance, battery life, and cross-device integration of the
macOS
devices.
Here are some key financial analyst takeaways from the Apple Silicon event, and how the move to custom chips could benefit Apple's Mac product over the long term.
Samik Chatterjee
JP Morgan analyst Samik Chatterjee sees limited volume benefits from the introduction of M1-equipped Mac models, largely due to "limited comparisons being made by a typical consumer between Mac products versus non-Apple notebooks during a purchase, given widely different price points."
Heading into the Nov. 10 event, Chatterjee expected Apple to introduce a new and separate Mac model instead of outfitting existing ones with Apple Silicon. He also expected Apple to drop the price of Apple Silicon Macs, something that only actually happened for the Mac mini.
Because of that, the analyst expects the benefits of the Apple Silicon to "play out over a longer time horizon" as Apple leverages increased control over its technology roadmap and scaling of production. Both could drive savings on its bill of materials.
JP Morgan is maintaining its $150 AAPL price target.
Daniel Ives, Wedbush
In a note to investors, Wedbush's Daniel Ives says that Apple is "embarking down a new chapter by announcing its own new processor architecture that will focus on speed, power/efficiency, and more improvements/flexibility for its all-important developer community."
Ives sees the announcement as the first of many to come, and says it represents a major step -- fifteen years in the making -- that will allow Apple to control more of its hardware ecosystem.
Although the analyst still sees the
iPhone 12
"supercycle" as the most important development for Apple, he notes that both iPad and Mac models are seeing continued demand due to the new work from home and remote education environment.
Ives maintains his 12-month AAPL price target of $150.
Katy Huberty, Morgan Stanley
The release of new Apple Silicon Mac models cements Apple's "strongest ever product cycle," a fact that Morgan Stanley analyst believes signals double-digit growth into 2021.
Katy Huberty
believes that the next-generation Mac models, along with Apple's current portfolio of hardware and services, can drive an earnings-per-share growth rate of 25% heading into 2021.
She also notes that the three Mac models Apple chose to outfit with its new M1 chip actually represent 91% of all Mac shipments in the past 12 months.
The analyst maintains her $136 AAPL price target.
Krish Sankar, Cowen
Cowen analyst Krish Sankar sees a competitive Mac system product roadmap as an integral part of Apple growing its customer base, and also believes that the Apple Silicon could drive a "consistent user experience across all computing devices."
The Apple Silicon Mac chips will help Apple control its technology roadmap, and could allow it to optimize the cost structure of Macs going forward. For reference, Sankar says that the Mac products represent about 10% of total sales and 4% of earnings-per-share for Apple.
Sankar also notes that the M1 chip could drive an EPS accretion of about $0.13, representing an EPS increase of about 80% to 90% for the Mac because of in-house silicon sourcing.
The analyst maintains his 12-month AAPL price target.
Gene Munster, Loup Ventures
Gene Munster says that the announcements aren't the same type of "speed bump" that the Mac has received every few years. Instead, he contends that the Apple Silicon transition improves the value proposition of the Mac in speed, battery life, and cross-device integration.
That bodes well for the Mac, since PC owners account for about 92% of the total global computer market. Mac owners don't need convincing to "stay loyal," but Munster says that Apple needs to strengthen the case for a PC user to switch to Mac.
Munster also believes that the Mac has benefited significantly from new remote work trends, which has allowed the product lineup to surge after years of relative obscurity. More than that, the analyst says that it's impressive that the Mac continued to sell at record numbers after announcements that it would soon be undergoing a major architecture switch.
David McQueen, ABI Research
David McQueen, research director at market advisory firm ABI Research, says that the M1 chip in the new Mac models could be an important step toward both 5G integration and "always-on" connectivity in Apple's notebooks.
That's in addition to Apple's promises of performance and battery life enhancements, and the fact that using its own chips in Macs could benefit from the existing integration between software and hardware already seen in the iPhone.
McQueen added that the benefits to consumers could extend to a more seamless workflow between Apple's disparate products, and could be a boon to developers who will be able to create apps capable on running across Apple devices.