Affinity Photo, Designer, Publisher updated for Apple Silicon & macOS Big Sur
Affinity Designer, Affinity Publisher, and Affinity Photo have all been updated to version 1.8.6, bringing compatibility with macOS Big Sur, and native optimization for the
Apple Silicon
M1 processor.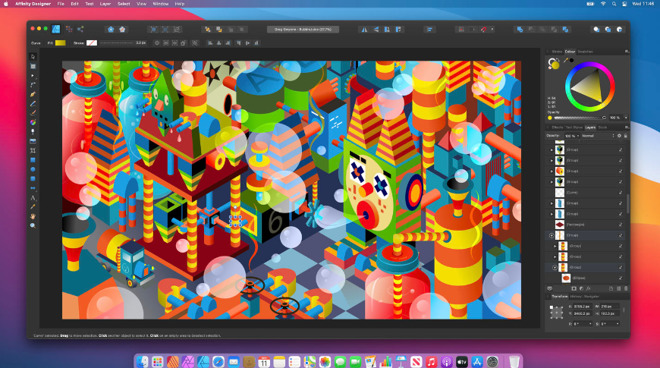 Affinity Designer on macOS Big Sur
Ahead of Apple's launch of
macOS Big Sur
, the art and design apps Affinity Designer, Affinity Photo, and Affinity Publisher, have all been upgraded to the new OS. Now each at version 1.8.6, the three have been what developer Serif calls "primed" for the new Apple Silicon
M1
-based Macs.
"The advantages [of M1] are particularly noticeable when working on documents with thousands of pixel layers, vector objects and text," said the company
in a statement
. "Edits to pixel layers are best handled on the GPU, while vector and text on the CPU, so when you have unified memory, it allows much faster handling of these complex documents."
Serif says that its optimized the apps using a Developer Transition Kit from Apple. It claims that having been able to do this meant that it was able to release the updates on Big Sur launch day, "making Affinity apps the first professional creative applications to offer native M1 support."
The company claims to have also seen its software performing "over 3x faster running on the new MacBook Air."
Affinity Designer is an illustration tool, while Photo is an image editor, and Publisher is a layout app. Although the three work independently, when users have two or more of them on the same Mac, they integrate closely.
Each of the three apps -- Affinity Designer, Affinity Photo, and Affinity Publisher -- cost $49.99 apiece. They're available
direct from Serif
, or via the Mac App Store.