Foxconn allegedly testing folding iPhone, projected Sept. 2022 release
Supply chain reports are claiming that the long-term assembly partner Foxconn is now testing a
folding iPhone
for Apple, and also that devices may ship starting in September 2022.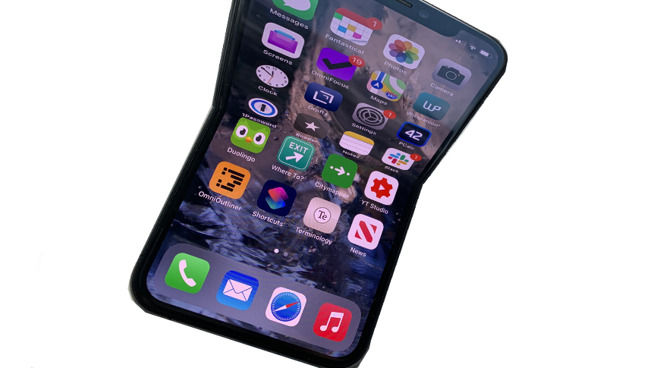 Mockup of a foldable iPhone (Source: William Gallagher)
Potentially backing up a
recent claim
that Apple has ordered screens for a foldable iPhone from Samsung, a new report says that Foxconn is now testing such a device. Reportedly, the testing centers on the use of OLED or micro LED, as the choice will affect how production of a final device will be done.
According to China's
United Daily News
, Apple has
asked Foxconn
to test the screen, and also the bearings of a folding iPhone device. The bearings, the actual folding element, will reportedly come from multiple suppliers, but the final assembly is to be handled by Foxconn.
Previous reports have claimed only that a folding iPhone may be years away. However, based on information from its unnamed supply chain sources,
United Daily News
claims that Apple is expected to release the first foldable iPhone from September 2022.
The publication says that folding tests for regular laptops requires them to be opened and closed between 20,000 and 30,000 times. For a folding iPhone, it says Foxconn will conduct over 100,000 opening and closing tests.
This new report gives no details of the design of the folding iPhone, and its sources say that development is constantly changing. However, recent claims by leaker
Jon Prosser
say that the foldable iPhone will be a two-screen device, similar to the
Microsoft Surface Duo
.