New Kensington Thunderbolt 3 dock has 100W power delivery, dual 4K display support
Kensington has debuted a new Thunderbolt 3 dock, aimed at hot-desking and work-from-home environments, that can deliver up to 100 watts of power and drive dual 4K monitors.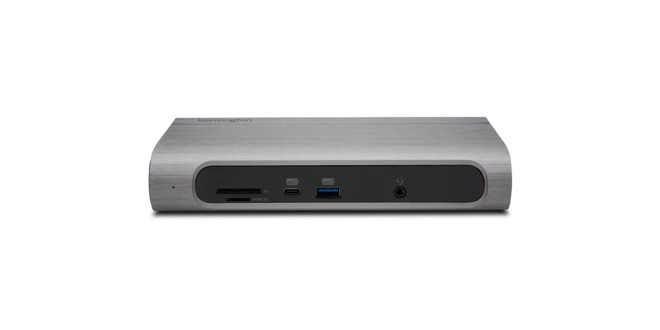 Credit: Kensington
The Kensington SD5600T sports a total of seven USB ports, including a single cross-compatible USB-C and Thunderbolt 3 port and six USB-A ports at 5Gbit/sec. Additionally, it has a pair of DisplayPort and HDMI ports, a 3.5mm auxiliary jack, both SD and Micro SD card slots, and a Gigabit Ethernet port. The 100W of power delivery also means that the SD5600T dock can charge even the
16-inch MacBook Pro
model at maximum speed, which ships with a 96W power adapter.
When connected to a Thunderbolt 3 Intel Mac or Windows PC, it can drive up to two 4K monitors at 60Hz. It also provides data transfers speeds of up to 40Gbps for Thunderbolt 3 connection, and 10Gbps for second-generation USB-C.
The device is plug-and-play on both supported operating systems, and comes with Kensington's DockWorks software and a three-year warranty. It also supports both horizontal or vertical placement on a desktop, and is compatible with existing Kensington "zero-footprint" mounting options.
Although compatible with Thunderbolt 4 devices running either Windows or
macOS
, the SD5600T delivers Thunderbolt 3 specifications and performance. For Mac users, the dock requires macOS 10.14 or later.
The SD5600T dock retails for $289.99, and is available to order from Kensington's
website
.