Top Mac keyboards to complete your work from home setup
Posted:
in macOS
edited January 2021
A MacBook Air or MacBook Pro are great for remote work, but sometimes you just want to sprawl out on a desk -- or own a
Mac desktop
and have to have an external keyboard. Here are the top five keyboards that we like the most, when you're working from home or just want an upgrade to your office setup.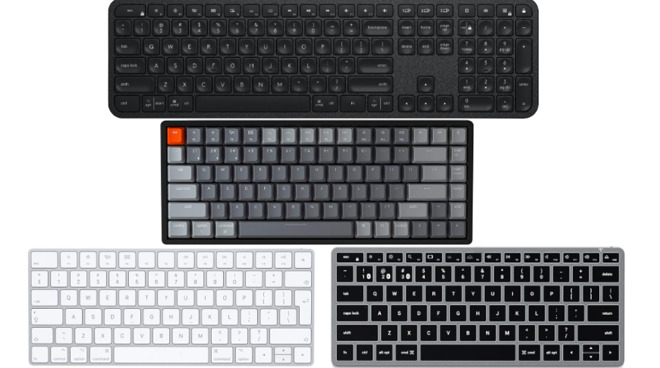 Top keyboards to buy for your Mac
After nearly a year of lockdowns and work from home it's time to consider a keyboard update. A new keyboard with newer technology, better ergonomics, and a modern design could go a long way to improve your comfort and complete your desk's look.
AppleInsider
has gathered some of the best keyboard options for the everyday Mac user.
Keychron K2
Mechanical keyboards have become very popular among typists and gamers. The selection of multiple key types, custom layouts, and endless key customization make mechanical keyboards easy to recommend.
Keychron has perhaps the best Mac-centric mechanical keyboard options out there. No matter which Keychron you choose, you'll get strong materials, multiple device pairing, and changeable keycaps.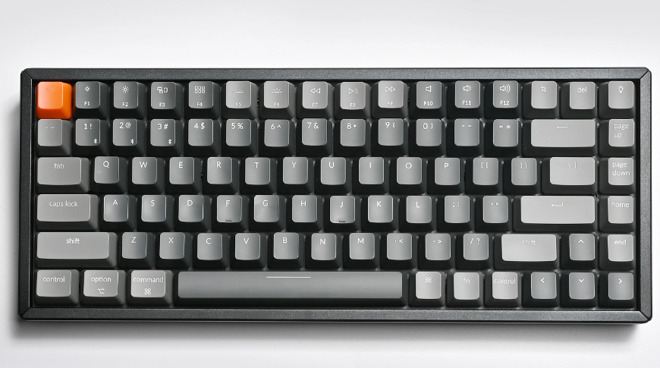 Keychron K2
Keychron K2 is the most popular model the company offers. It has a compact tenkeyless layout with Cherry MX switches. You can order red, blue, or brown switch variants too.
The keyboard can be customized with several options that do not add too much to the overall cost. You can upgrade to an aluminum frame, RGB backlight, and hot-swappable keys when buying.
The Keychron K2 can connect via an included
USB-C
cable or over Bluetooth. You can register three devices to connect and switch between them with a keyboard shortcut. Keychron says the battery lasts 72 hours between charges.
The RGB model can switch between 15 lighting modes using the dedicated key. Users can further customize each lighting mode by changing the color using a function key.
Switch between a Windows and Mac layout with a switch on the side of the keyboard. Another switch will toggle between Bluetooth, wired, and power-off modes.
Our review of the Keychron K2 has been positive with each release.
AppleInsider
reviewed
the Keychron K2 and gave it a 4.5 out of 5.
Configurations and Prices
Each keyboard listed has a key switch selected. You can select different switch types in the configurator on Amazon or Keychron's website.
Satechi Slim
The latest keyboards from Satechi will complement your Mac setup with a clean aluminum design and modern technology. Satechi took cues from Apple's design language and added their own touches to make this a familiar but powerful keyboard option.
There are multiple configurations available, two wired and two wireless. The wireless keyboards can connect to multiple devices and switch with a keypress.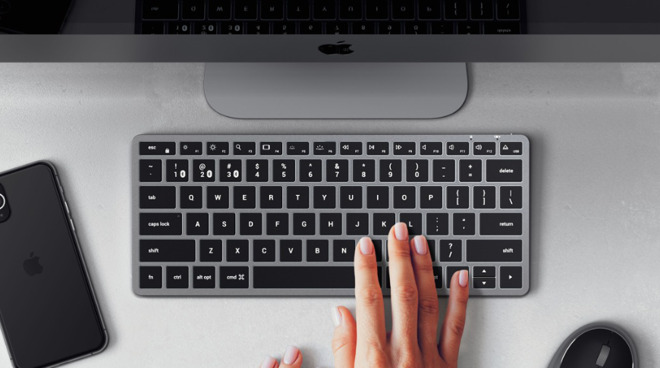 Satechi Slim X1
The Satechi Slim X1 and Satechi Slim X3 are essentially the same keyboards with minor differences. The Satechi Slim X1 is a compact keyboard with the ability to switch between three devices. The Satechi Slim X3 is an extended layout with a number pad and can switch between four devices.
These keyboards charge via USB-C for simplicity. Satechi does not quote a battery life on the product page, but its previous keyboards lasted around 80 hours on a charge. This has likely stayed the same for the upgraded keyboards.
If you've used the Apple
Magic Keyboard
in the past, the Satechi Slim line will feel instantly familiar. These keyboards are your best bet for an Apple-like typing experience with modern upgrades.
Configurations and Prices
Logitech MX Keys Advanced Wireless Illuminated Keyboard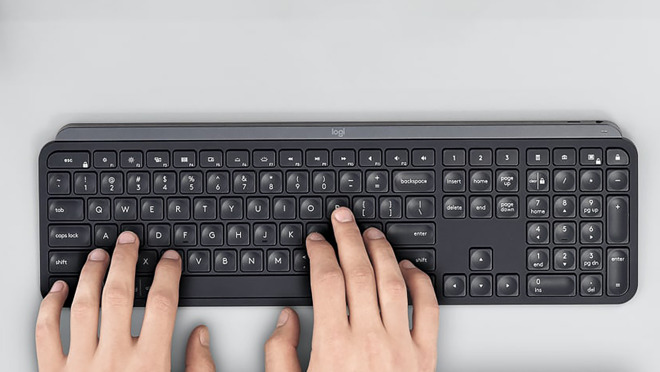 Logitech MX Keys
This wireless Logitech model's keys have concave indentations for your fingertips. This can increase your comfort and add to the feeling of responsiveness.
It includes a full number pad and key labels for both
macOS
and Windows. The keyboard can connect to multiple devices simultaneously, allowing you to enter the same text on, for example, a work PC and home
MacBook Pro
.
The keyboard includes proximity sensors that can automatically turn on backlighting when it detects your hands.
While it doesn't include a wired option, you can use the keyboard through either a direct Bluetooth connection or the included wireless USB receiver.
We gave MX Keys 4.5 stars
in our review
.
Logitech's MX Keys costs
$99.19 on Amazon
.
Logitech Ergo K860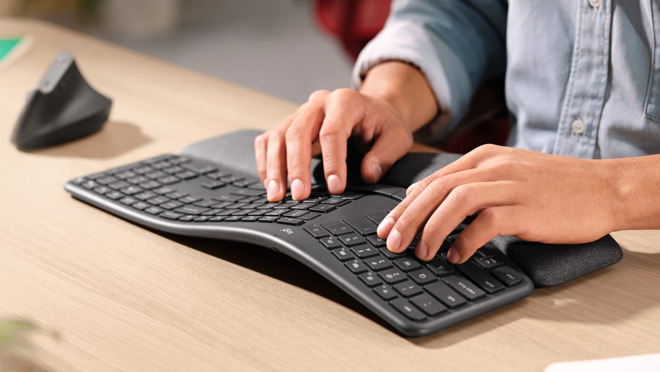 Logitech Ergo K860
The Logitech K860 slopes up and down in a wave-like formation to improve ergonomics. The idea is to reduce strain on your wrists and forearms, making it easier to relax your shoulders and hands.
Sticking with the comfort theme, it also includes a built-in palm lift with adjustable tilt. Its keys also have a slightly concave design for added finger comfort.
The keyboard supports both direct Bluetooth connections and an included wireless USB receiver.
The Ergo K860 costs
$122 on Amazon
.
Apple Magic Keyboard
We wanted to include the Apple Magic Keyboard as an honorable mention. While there are arguably better keyboards out there, this is the go-to for Apple purists.
You can purchase the Magic Keyboard with or without a number pad and both are available in silver. The space gray color is exclusive to the Magic Keyboard with number pad.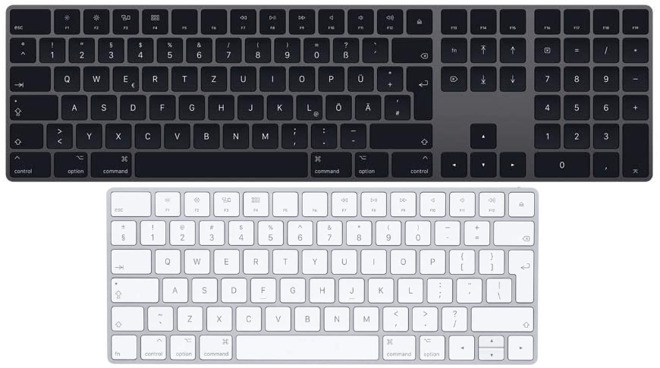 Apple Magic Keyboard
Apple's Magic Keyboard has not been updated in years, but it holds strong as one of the most popular keyboards for Mac users. It uses the old scissor-switch mechanism and can be used over Bluetooth or with a Lightning cable. The internal battery in either size can last a month or more between charges.
Despite not being upgraded for years, Apple still charges a premium for the Magic Keyboard. Its industrial-aluminum design, and minimal key travel have been met by competitors at lower prices.
That being said, if you're ok with paying a premium for Apple products, you'll keep your desktop setup pure-Apple with this simple keyboard.
Configurations and Prices