Apple's use of Ultra-Wideband prompts more firms to adopt the technology
Industry sources claim that more companies are developing devices with, or uses for, UWB (Ultra-Wideband), following the popularity of it in Apple's
iPhone 12
range and other devices.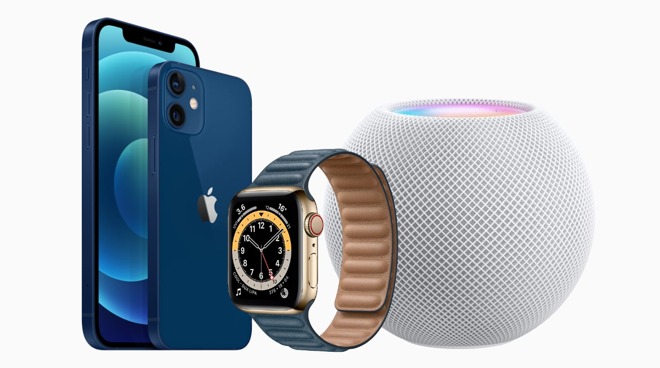 Apple's U1 chip is included in the iPhone 12 and Pro ranges, the Apple Watch Series 6, and the HomePod mini.
As Apple
continues to add
Ultra-Wideband processors to most --
but not all
-- of its devices, now other firms are reportedly following suit.
Following previous reports that Tile is to introduce UWB tracking to its tags, now
Digitimes
claims that
the technology is being increasingly widely adopted.
"Apple has adopted the UWB technology for iPhone 11 and 12 series, Apple Watch 6 and HomePod mini," says the publication, "while Samsung Electronics has launched UWB-enabled smartphones including the Galaxy Note 20 Ultra and the Galaxy Flip 2 and China-based Xiaomi has also offered a UWB-enabled smartphone model."
Citing unnamed sources within the industry,
Digitimes
claims that, "other China-based smartphone vendors including Oppo and Vivo are expected to adopt UWB technology for their flagship models."
As well as the iPhone 12 range, Apple has included UWB in the
HomePod mini
, and in 2020
introduced it
to the
Apple Watch Series 6
. Apple is also in discussion with
car manufacturers such as BMW
over an updated version of its
CarKey
technology that will use UWB.
Digitimes
also claims that Apple is more actively pursuing CarKey partnerships than other UWB avenues.
"Apple seems to be uninterested in joining UWB Alliance or FiRa (fine ranging) Consortium," it reports, "[It] prefers Car Connectivity Consortium in which it is expected to promote addition of UWB technology to digital car keys."
Digitimes
has a poor reputation for drawing conclusions about Apple products from its sources. It has a much stronger one for reports surrounding Apple's supply chain.
Ultra Wideband is for short-range, highly accurate location tracking. One UWB device is typically able to assess the distance, and the relative location, of another such device. It's most immediately use is with tracking applications such as Find My, but Apple is also using it to enable the handoff of music or other audio
from one device to another
.