Don't expect the 'Apple Car' to have a steering wheel, analyst says
The fully autonomous "
Apple Car
" -- which will likely lack a steering wheel -- could be a major competitor to Tesla and other electric vehicle makers, Morgan Stanley automotive analysts said.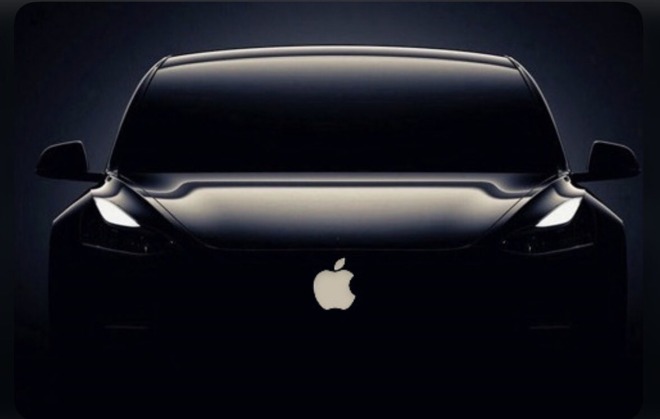 Credit: AppleInsider
In a note to investors seen by
AppleInsider
, Morgan Stanley Auto & Shared Mobility analyst Adam Jones shared some thoughts on the implications of Apple's entry into the car market.
For one, Jones notes how high Apple's reported $3.6 billion investment is. That's "a lot of money to invest into one car factory," and Jones adds that the investment only appears to be Apple's portion.
Users who are expecting a traditional automotive experience may want to think again. "Don't expecting steering wheels," Jones said.
"We have a hard time imagining Apple entering the automotive market with a vehicle design that involves human intervention in the driving process," Jones writes. "Just our view but an Apple car with a steering wheel is like an iPhone with physical buttons and a coiled rubber cord connected to a wall. If we're right, then this could really turbocharge investor appreciation on the AV timeline."
The Apple Car does represent a major rival to Tesla, the analyst added. Although the established electric carmaker may unveil dozens of new vehicles before Apple makes it to market, Jones says that "at some point, today's EV players must share the sandbox."
He adds that there may not be room for every electric vehicle manufacturer at the top. Jones expects the Apple news to accelerate special purpose acquisition companies are carve-out or spinoff activity among new and established players in the market.
Jones maintains a forecast of 31% electric vehicle penetration by 2030, but he also reiterates that this prediction doesn't account for Apple's own car.
"Would Apple enter this market for a 2 to 5% share of wallet? Or a 25 to 30% share of wallet?" Jones writes.
In a previous
research note
, Morgan Stanley's
Katy Huberty
wrote that applying current market share figures to the EV market forecasts is "likely to vastly underestimate the size of Apple's car business in the future."
Huberty maintains her 12-month AAPL price target of $164. It's based on a sum-of-the-parts model with a 6x enterprise value-to-sales (EV/Sales) multiple on Apple's product business and a 13.1x EV/Sales multiple on Services. That results in an implied 7.5x target 2022 EV/Sales multiple and a 34x target enterprise-value to free-cash-flow multiple.