Apple increases credit for returning DTK to $500 following developer outcry
Apple has increased its offer to developers holding on to its Developer Transition Kit for returning the units, providing $500 of Apple credit instead of the original offer of $200.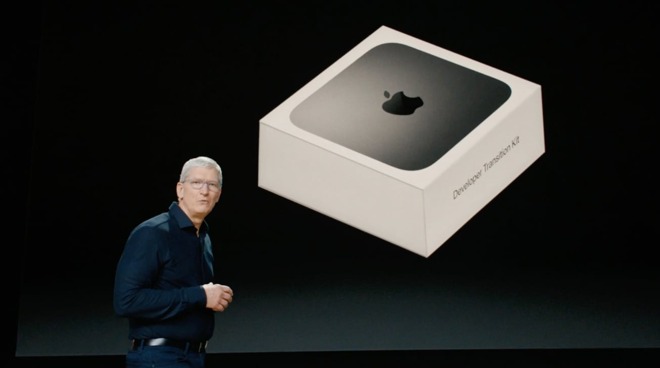 On Wednesday, Apple
told developers
it was soon "time to return" the
DTK
, hardware it provided to help developers update their apps to work with
Apple Silicon
. In a new email sent late on Friday, Apple is attempting to sweeten the deal to encourage more developers to switch their hardware over.
The original offer provided developers with a $200 credit for the App Store, which could be used to acquire an M1 Mac of the developer's choice. The codes would have been provided on receipt of the returned DTK units, and would have needed to be redeemed by May 31, 2021.
The update email seen by
AppleInsider
again thanks developers for taking part in the Universal App Quick Start program, before offering better compensation for developers taking part. Instead of a $500 credit that expires in May, Apple will provide a $500 credit, which can be redeemed by "the end of the year."
In the event the developer has already acquired a new M1 Mac, the credit can also be used to purchase any Apple products the developer wants.
The change in stance is also referenced early on, with Apple claiming "We heard your feedback." Shortly after the original announcement of the credit, developers complained on social media about the low value on offer, in that it doesn't even cover a third of the cost of the cheapest M1
Mac mini
.
The DTK was
leased to participants
of its Apple Developer Program for $500, in that it was hardware that Apple retained the ownership of, and that it had to be returned eventually. Developers also had access to beta software and tools to create Universal apps, developer labs, private forums, developer resources, and technical support.
The full email to developers follows:
Thanks again for participating in the Universal App Quick Start Program.

We heard your feedback regarding the 200 USD appreciation credit mentioned in our last email. Our intention was to recognize the tremendous effort that you have put into creating amazing universal apps. By partnering with us early, you showed your commitment to our platform and a willingness to be trailblazers.

So instead of the 200 USD credit that expires in May, we are giving you a 500 USD Apple credit and extending the time you can use it to get a new M1 Mac through the end of the year. If you already purchased a new M1 Mac, the Apple credit gives you the flexibility to purchase any Apple product to help with your app development work.

We'll share details soon about how to ship the Developer Transition Kit (DTK) back to Apple. Note that the DTK will no longer receive publicly available software updates after macOS Big Sur 11.2. We encourage you to return it as soon as possible so that your development work is not interrupted. And once you return the DTK, you'll receive your Apple credit.

Thank you again for making the Mac with M1 launch such a great success.

Best regards,

Apple Developer Relations