2014 to 2023: Apple Car has been in the works for almost a decade
Like many other projects Apple has undertaken, the
Apple Car
has been in the works for almost a decade. Here's the story so far, from when we first starting hearing about Apple working on it.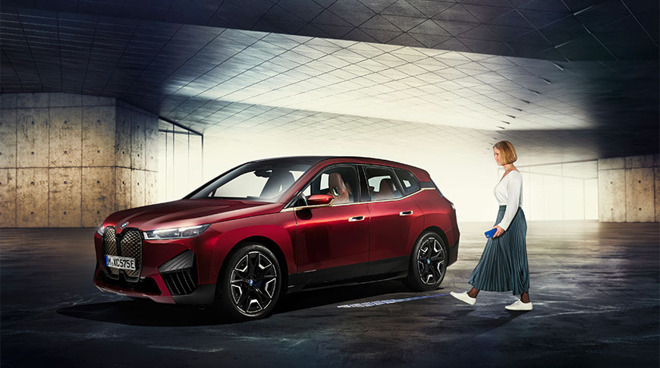 Apple's CarKey API is its most recent public automotive initiative, but could a whole car be next?
Apple's Car is said to be self-driving, have a radical design that departs considerably from conventional vehicles. It could be the next step for Apple as a company to grow.
At the start of 2021, reports started to surface claiming Apple is in
negotiations
with potential manufacturers to actually make the Apple Car a reality. This prompted renewed interest in the often-rumored product, an interest that has sustained ever since then.
Naturally, this included many analysts offering their opinions on Apple taking on a completely new industry, but some are pessimistic on the timing. While some early reports have suggested a 2024 production run for the Apple Car, analysts have warned the immaturity of self-driving technologies could limit what Apple ultimately offers in its product, or even delay its release.
As time marched on, analysts then changed their predictions to be later, to beyond 2025 in some cases. There have also been repeated claims of employees being brought aboard, employees leaving, changes in key personnel, and allegedly a mothballing of the project altogether.
Apple has already been working on the concept for at least eight years so far, investing billions intothe project. There have also been countless
patent filings
showing Apple has continued to work on redesigning the concept of the car throughout the period.
Just as it is likely Apple could take things slowly to enter the automobile market, it's just as likely that it could do so relatively quickly, given the extensive reporting history.
Here's a run-down of the rumors and reports surrounding the car and "Project Titan" in general, covering from the first murmurs of its development up until the latest rumors.
"Project Titan" name uncovered in 2014
The earliest mentions of Apple's automotive project were in fall 2014, when
AppleInsider
was informed Apple was in the process of recruiting engineers. Said to be hired for a project called "Titan," the rumors were not able to be verified, so they were not published at the time.
Months later, the details of the rumors were corroborated by other sources and outlets, indicating there was some truth to what was claimed, as well as the "Project Titan" name.
SixtyEight Research and Sunnyvale Offices found in 2015
By
March 2015
, it was believed Apple was working on an electric car in offices in Sunnyvale, California. Said to be the home of a market research firm called "SixtyEight," the building was apparently known internally as "SG5," and was among other Apple-run offices.
AppleInsider
broke the story by visiting the location and examining the buildings, and related filings.
The building was a few minutes away from Apple's then-HQ at 1 Infinite Loop, and sources claimed Apple was actively receiving shipments related to the work there. Overall, Apple's offices consisted of seven buildings, making up almost 300,000 square feet, though many were used for other tasks.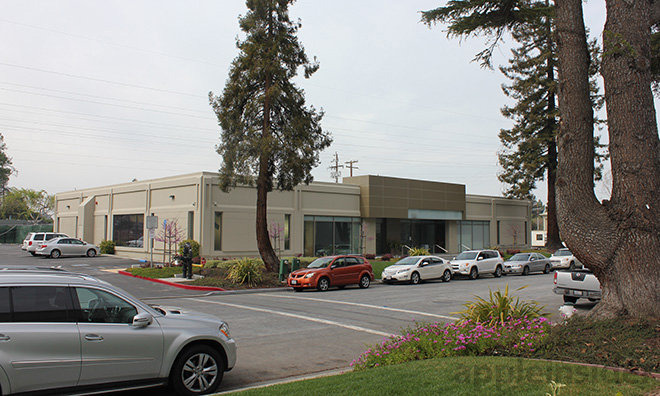 Offices in Sunnyvale reportedly occupied by Apple
One at street number "175" seemingly didn't have a listed tenant, despite not being on the market for months at that time, and included a 4,239-square-foot "repair garage" among building permits for tenant improvements. An in-person visit revealed it to be the home of "SixtyEight Research."
The secrecy of the project at the offices apparently extended to Apple employees being told to turn their badges around when entering the building. Guests visiting the location were given badges that were identical to those used at Apple's HQ, but without an Apple logo.
The use of frosted glass and visible security cameras suggests a level of secrecy beyond a typical research firm. A piece of paper taped to the front door informed drivers the company's lobby was moved to a different address, a building leased by Apple.
"SixtyEight LLC" was registered in Delaware in March 2014, then licensed as a foreign corporation in California in November 2014. Given Apple's historical use of shell corporations to hide secret projects, it is plausible that this was also the case.
The company also paid to import a 1957 Fiat Multipla 600 from the U.K. to the U.S. Apple Design chief Jony Ive was said to have a soft spot for the Fiat 500, which could be another connection to Apple.
Hundreds at work in early 2015
In
February 2015
, it was reported Apple had "several hundred" employees working on the project, in its own development facility away from the main Infinite Loop campus. The report claimed iPod and iPhone designer Steve Zadesky was running the project, and was given free rein to pull talent from any existing Apple groups.
Among the hires staffed with automotive executives was allegedly former Mercedes-Benz R&D head Johann Jungwirth, who joined the company as a Mac systems engineering leader in fall 2014.
Tesla CEO Elon Musk
also claimed
Apple had tried "very hard" to poach engineers from the company, by offering 60% pay raises and $250,000 bonuses.
Camera vans spotted in 2015
In
February 2015
, minivans were spotted in California that were thought to be part of an Apple project, as at least one of the vehicles was found to be registered to the company.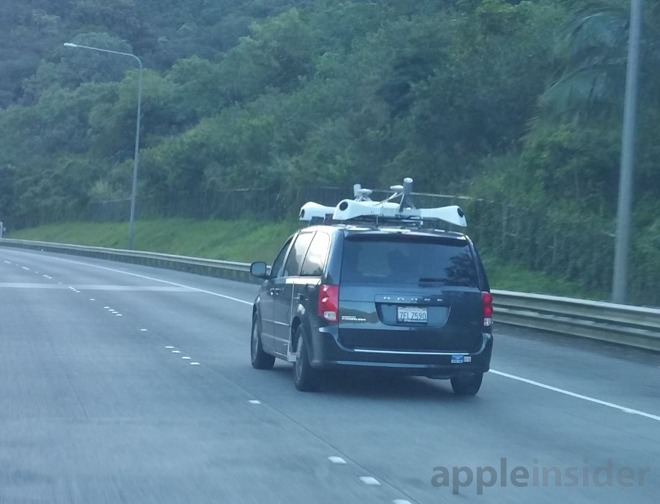 An alleged early testbed used by Apple in 2015
The vehicles had an X-shaped frame mounted to the luggage rack, as well as dark recesses that seemed to contain cameras, disc-shaped antennas, and a sensor on the rear wheel. Spinning cylindrical devices on the front and rear seemed to be LiDAR sensors.
While the vehicles were thought to be used for an updated Google Street View-style update to Apple Maps, there's also a possibility this was a precursor to Apple's later self-driving vehicle research.
Hiring continued at pace in 2015
By
August 2015
, it was reported Tesla senior engineer Jamie Carlson switched sides to Apple, as revealed by a LinkedIn profile change.
Carlson joined Apple along with at least six other hires with self-driving vehicle development experience.
One month later, other potential self-driving car-related hires
were revealed
, including automotive algorithm and imaging experts from a diverse range of institutions and backgrounds.
Meanwhile, Apple's poaching from Tesla was apparently starting to cause problems and was beginning to impact Tesla's
product roadmap
. It was suggested rumors of the Model 3's delays were prompted by the exodus from Tesla to Apple.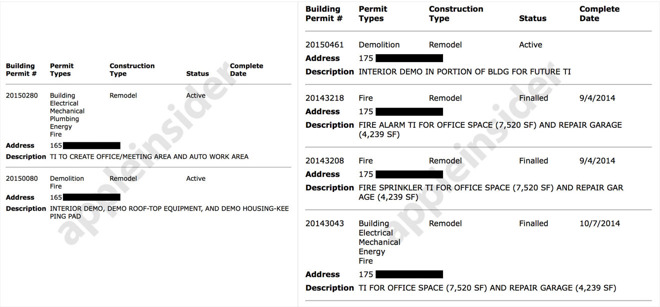 Early evidence of Apple's car project, uncovered by AppleInsider
Naval base talks in 2015
To help with testing "Project Titan," Apple was reported in
August 2015
to have been in talks to rent a 2,100-acre property near San Francisco. Public records revealed Apple had met with GoMentum Station, a former naval base, to use the property for autonomous vehicle testing.
Unusually, a GoMentum Station official confirmed the talks and that it had signed an NDA with Apple.
The facility reportedly included highway overpasses, railway crossings, and other typical road features, making the grounds especially useful for testing self-driving vehicle systems.
Searching for partners, back in 2015
Apple had a number of roadblocks to navigate if it were to create a full vehicle, a source confided to
AppleInsider
in
September 2015
. Problems that may force it into working with an established partner.
The supposed timetable for the project's creation, which would see it trying to start manufacturing within five years, could've resulted in Apple seeking out a partnership as a form of short-cut to market.
A report at the time put Apple at aiming for a
2019 shipment date
for the vehicle, a schedule it did not manage to achieve.
This included problems planning out a possible manufacturing site. One month prior, Apple had acquired a 43-acre building plot in San Jose, which at the time was considered a possible venue for development or even eventual assembly.
There were also suggestions Apple had considered using the BMW i3 as a basis for the project, with the two companies also supposedly in talks at the time, albeit without being close to an agreement.
Self-driving visibility in California started in 2015
Apple lawyers met with the California DMV in
September 2019
, along with co-sponsors of the state's autonomous vehicle regulation project, relating to the DMV's rules and guidelines for road-based self-driving vehicle testing.
It was suggested the rules would force Apple into registering a vehicle in a publicly-viewable way, effectively confirming development was ongoing and removing some of the secrecy about the project.
"Tesla Graveyard" comments from Musk in 2015
In an
October 2015
interview, Elon Musk was seemingly unconcerned about Apple's staff poaching, claiming Apple was hiring people Tesla fired. "We always jokingly call Apple the Tesla Graveyard.' If you don't make it at Tesla, you go work for Apple. I'm not kidding," said Musk.
Musk offered that cars are "very complex compared to phones or smartphones," warning it was a hard project to undertake, but that it was "good that Apple is moving an investing in this direction."
After the report's publication, Musk took to Twitter to perform
damage control
, saying "Yo, I don't hate Apple. It's a great company with a lot of talented people. I love their products and I'm glad they're doing an EV."
2015's continued hiring spree
Apple's attempts to get more engineers onboard continued throughout the end of 2015, with some collateral damage along the way.
Mission Motors
, an electric motorcycle startup, filed for bankruptcy in September, after top engineers moved over to Apple. Its small employee base of 35 meant the removal of some key personnel caused the collapse of the company.
Other notable hires included Nvidia's
Jonathan Cohen
, a former director of its CUDA Libraries and Software Solutions machine learning program, which includes computer vision technologies that would be at the heart of a self-driving vehicle system.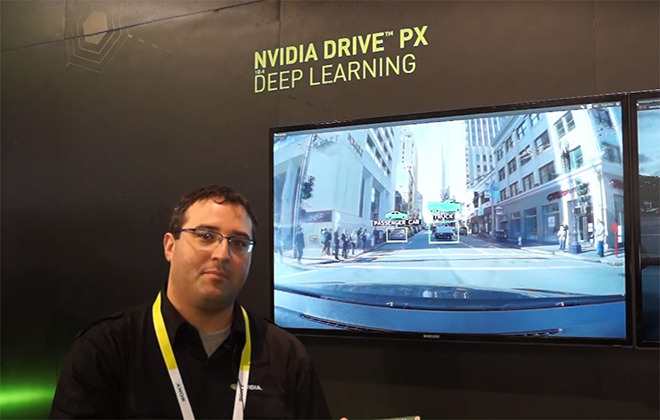 Hired Nvidia deep learning director Jonathan Cohen had a background in vehicular computer vision.
The
hiring
of Ronan O Braonain also indicated areas of further work for Apple, having previously worked for BMW as a software engineer, a CTO of EV fleet solutions firm Vision Fleet, and digital license plate company Reviver.
Domain purchases from 2016
In January 2016, it was discovered Apple had acquired a number of
new domain names
. While Apple typically buys domain names and registers trademarks as a defensive move, even if it doesn't use them, a batch it had picked up indicated potential automotive uses.
The list of purchases included apple.cars, apple.car, and apple.auto.
R&D near BlackBerry leased in 2016
A
January 2016
report claimed Apple was leasing office space in Kanata, a suburb of Ottawa, Canada that was home to BlackBerry's QNX Software Systems arm. It was suggested Apple was keen to use the property to develop automotive software.
Locating itself so close to BlackBerry's automotive software teams also offered the opportunity for Apple to take on more employees with self-driving vehicle experience.
Major departure and a 2016 hiring freeze
January 2016 saw reports that project lead Steve Zadesky was informing colleagues he was
leaving the company
, citing "personal reasons" behind the decision.
At around the same time, "Project Titan" itself was apparently
at a crossroads
, following a post-holiday progress review where Ive "expressed his displeasure" at the group's headway.
A hiring freeze was implemented, preventing more from joining the group, which was thought to have more than 1,000 people at the time.
Sunnyvale's 2016 developments
February and March of 2016 saw a number of developments relating to properties allegedly linked to Apple Car development in Sunnyvale.
In February, a report was posted detailing how a resident complained to city officials
over motor noises
from the property late at night. While it is plausible that the noises stem from major renovation work, it's also possible that the sounds were related to vehicle development.
Two projects
highlighted by the Sunnyvale city manager's office at the time explained how Apple had been awarded a building permit for a facility nearby with 9,600 square-foot of office space, and another Apple was moving into that was previously occupied by Maxim Integrated.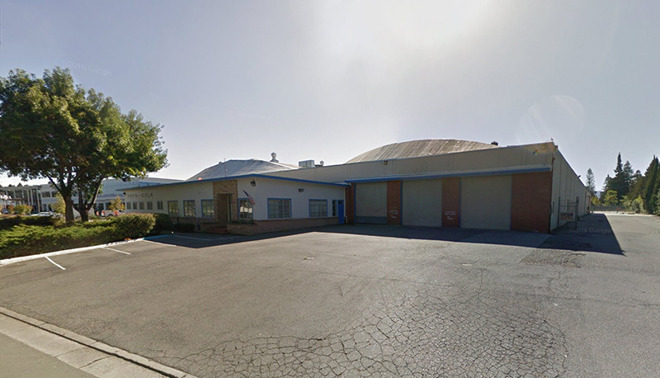 A former Pepsi bottling warehouse in Sunnyvale was leased as Apple needed more space.
The buildings would be used for an "auto testing center" and to test "new electronic technologies that are integrated into high-end cars."
By March, Apple was looking for more space, and leased a
96,000 square-foot
warehouse in Sunnyvale, formerly used as a Pepsi bottling plant.
In April, it was reported Apple was using
codenames
from Greek mythology to refer to facilities in the area, including "Pegasus," "Aria," "Rhea," and "Corvinus."
Secret German Lab reported in 2016
A report from April 2016 claimed Apple had 15 to 20 "top class" employees from the German automotive industry working out of a
secret car lab
in Berlin, Germany.
Rather than consisting of traditional engineers and structure, the lab was said to be an "incubator" for ideas on vehicles, manufacturing partnerships, and other related topics. The engineers weren't to be held back by managers, and were said to be "progressive thinkers" and "young professionals" with a diverse range of backgrounds.
More hiring and poaching for 2016
In April 2016, the big name to cross over from Tesla to Apple was former VP of vehicle engineering
Chris Porritt
. He was to work on "special projects" at Apple, potentially as a replacement for the departing Zadesky.
A
pair of hires
indicated Apple was interested in part design, with two people added to the company's "Product Realization Lab." This included former Tesla R&D hardware prototyping CNC programmer David Masiukiewicz, and CNC machine shop supervisor for Andretti Autosport Kevin Harvey.
By May, Apple was reported as having hired
Kurt Adelberger
, revealed via a Google patent application for an electric vehicle.
Apple considered an 800,000-square-foot space in San Francisco in 2016
Apple was reported in May 2016 to be keen to acquire an
800,000-square-foot
plot of land in the San Francisco Bay Area.
The comments were made during a Hudson Pacific Properties earnings call, when CEO Victor Coleman said he saw a "definitive movement" from self-driving car firms to acquire real estate. Referencing Toyota, Tesla, and other major carmakers, he went on to state about Google's search "and the 800,000 square feet that Apple's looking to take down for their autonomous cars as well."
The 2016 Didi Chuxing investment
Apple made a
$1 billion investment
in Chinese Uber competitor Didi Chuxing in May 2016. The major investment was for a number of reasons, said Apple CEO
Tim Cook
, "including a chance to learn more about certain segments of the China market."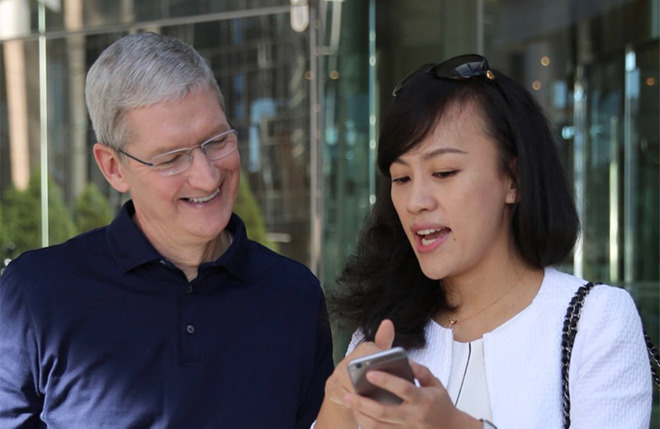 Apple CEO Tim Cook and Didi Chuxing president Jean Liu
While Didi Chuxing was known for ride-hailing via an app, hooking up with a major vehicle-based service offers Apple a number of advantages, as well as a potential source of research and a future Apple Car customer.
Power talks on recharging in 2016
The same month as the Didi Chuxing investment, Apple was in
talks with firms
that provided vehicle charging stations, as well as hiring engineers in the field, a report claimed.
Apple was apparently talking to the firms for more information about the technology they use, but the firms were apparently wary of oversharing due to viewing Apple as a potential competitor.
It was claimed the discussions were not centered around providing charging stations to employees, but more for the benefit of its electric car project.
The 2016 leadership shakeup
Hardware engineer and former executive
Bob Mansfield
was reported as returning to prominence at the company in July 2016, taking control of the electric vehicle project.
Mansfield was going to retire in June 2012, but one month later was instead staying as an advisor to Cook. He became the Senior VP of Technologies, departing the role in July 2013, but continued to work on "special projects" for the company.
At around the
same time
, Apple added another high-profile hire, in the form of Dan Dodge. The founder and former CEO of QNX, he apparently left BlackBerry earlier that year to move over to Apple.
Shakeup departures and a major shift for 2016
The installing of Mansfield in control of the project led to a number of changes in the following months. In August, Apple computer vision expert
Bart Nabbe
left for electric car rival Faraday Future.
The next month, Apple
fired dozens of employees
as part of a project "reboot" and a refocus of the project away from a car, and toward the underlying technology behind autonomous vehicles. By October, the exodus was major, with
hundreds
reportedly departing either on their own accord, reassigned, or cut.
The remaining staff were apparently given a late 2017 deadline to prove the practicality of the project's self-driving technology.
It was around this time that reports about the car's design started to wane, and self-driving systems came to the forefront. Designs did occasionally surface in patent filings, but it seemed the development of a full Apple-designed vehicle had stalled.
Publicly-admitting testing in late 2016
In its most
public confirmation
of its work on vehicles, Apple issued a proposed policy update to the NHTSA in November 2016 to grant industry newcomers the same opportunities as established manufacturers for public road testing.
The statement suggested that, while existing policy was safe and flexible in its approach for automated vehicle development, regulation changes were suggested to make them more open to other firms.
Hires from Porsche in December 2016, loses to Tesla in January 2017
In brief succession, Apple managed to secure one important new employee, and lost another.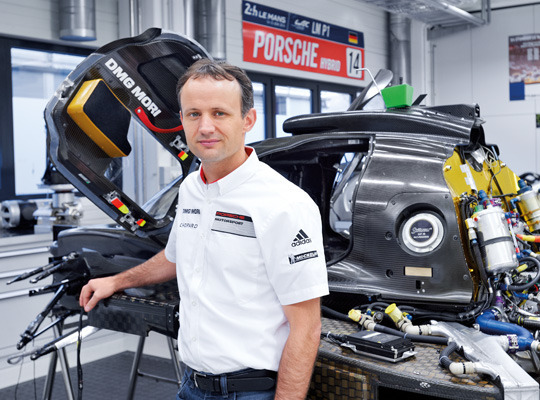 Former Porsche LMP1 project technical director and race director Alexander Hitzinger
December 2016 saw the arrival of
Alexander Hitzinger
, the technical director of the Porsche LMP1 project and a former race director. This included the development of the 919 hybrid sports car.
In January 2017, Tesla secured a major win in hiring away Swift creator
Chris Lattner
from Apple. Lattner was to join Tesla to work on its Autopilot team.
Apple SVP joins US DOT automated vehicle committee in 2017
The US Department of Transportation established an
advisory committee
for self-driving vehicles in January 2017. The group's focus is the "development and deployment of automated vehicles, and determining the needs of the Department as it continues with its relevant research, policy, and regulations."
Apple VP Lisa Jackson was included on the list alongside other government officials and automotive figures, which gave Apple some sway in policy decisions.
Didi self-driving lab set up near Apple in 2017
In March 2017, Didi Chuxing set up its
artificial intelligence lab
in Mountain View, California. The lab will work to develop intelligent driving systems and AI transportation security.
The positioning of the lab was interesting, as it was a stone's throw away from Apple's Cupertino headquarters, as well as Didi being the previous beneficiary of an Apple investment.
Swiss lab recruitment in 2017
Apple was said to be recruiting for a
research facility
in Switzerland in March 2017, according to a report. "At least" 10 doctoral and postdoctoral students from ETH Zurich with experience in computer vision and robotics were said to have left the university for the lab.
The group may have included specialists working under ETH's Professor of Autonomous Systems Roland Siegwart, who confirmed five of his students had departed for corporations, though didn't confirm they had gone to Apple.
Self-driving testing starts in April 2017
April 2017 saw Apple move toward self-driving vehicle technology than ever before, due to it gaining a
California DMV permit
for testing on public roads. The permit covered three Lexus RX450h SUVs and six
safety pilots
, though these would swell in numbers down the line.
In the same month,
documents
about Apple's self-driving car platform leaked, showing training and actions that can be taken, the use of a Logitech wheel and pedals, and other elements.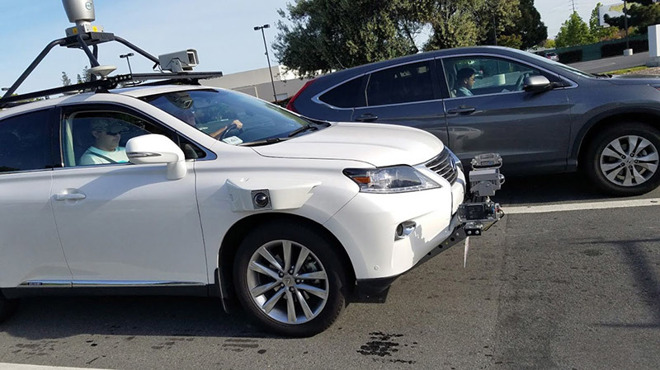 Apple's first official self-driving car tests used the Lexus as the vehicle.
By April 17, cars were
spotted
on Silicon Valley roads that were believed to be Apple's permitted vehicles. The testbed on the roof included LiDAR sensors, radar arrays, and multiple cameras.
Before the month was out, Apple wrote
to the DMV
to alter protocols and reporting requirements, relating to "disengagement reporting," in an attempt to minimize public exposure. Apple wanted to change the reporting to eliminate planned tests and other operational constraints that would force a system to fail and for the test pilot to take over.
Cook's WWDC 2017 car tease
After WWDC 2017, Cook
answered
a question about Apple's car plans, in that the company is "focusing on autonomous systems," which he deemed was "a core technology" and "the mother of all AI projects."
"We'll see where it takes us. We're not really saying from a product point of view what we will do," he added, as an effective disclaimer about future product development.
Hertz testing in 2017
In an unlikely pairing, a June 2017 report
claimed
Apple was working with rental car company Hertz to trial its self-driving technology on streets.
The partnership allegedly included the leasing of a "small fleet of cars" from Hertz, using the same Lexus models as it operates for its own tests.
Secret battery research during 2017
To drive its electric car, Apple was reportedly working with a Chinese firm on
improved battery technologies
. The report hinted that Apple's car design ambitions weren't completely extinguished, and that it was still feeling out the possibility.
It was claimed in July 2017 Apple had signed up with China's CATL on the battery research, though the automotive element was only speculated.
Self-driving shuttle plans in 2017
A report in August 2017 claimed Apple was working with an established automaker to create a self-driving shuttle service,
called PAIL
.
Standing for Palo Alto to Infinite Loop, the shuttle would ferry employees and supplies from one office to another. The timing for its launch was unknown at the time, no its selected partner.
2017 testbed upgrades
The
sensor testbed
on Apple's vehicle fleet was seemingly upgraded in August 2017, with a new LiDAR array of integrated cameras, GPS, and other items. Apple was continuing to use the same Lexus model for its testing, but the version spotted was a newer variant.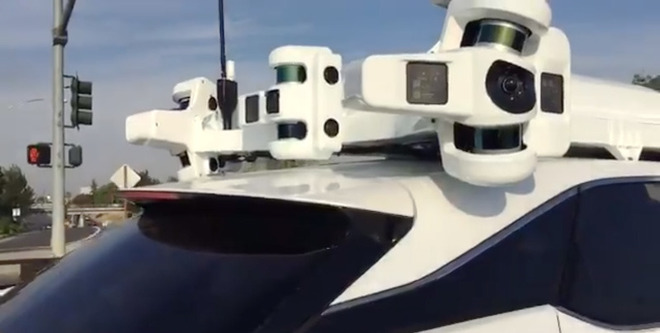 The second Project Titan testbed used smaller components and was more compact overall.
Rather than using a large frame and mounting components all over the vehicle, the newer testbed was more compact and was placed on the vehicle's roof mounts.
By October, a
video
of the car surfaced to give a close-up view of the testbed.
More hires and losses for 2017
August 2017 had Apple
starting to hire
staff once again, but with a view to using the technology in the ride-hailing market. The team was reportedly still "suffering from some confusion of purpose" following the previous year's layoffs, but the new hiring process was more focused on the self-driving platform than on vehicle design.
While Apple was trying to get more staff, a group of 17 engineers
jumped ship
the same month. The group, which specialized in braking, suspension, and other automotive systems, joined Zoox, another self-driving company.
Arizona proving grounds interest in 2017
A
November 2017
report claimed Apple was leasing a former Fiat Chrysler proving grounds in Surprise, Arizona, to test its self-driving car platform. Apple was said to have recruited test engineers and technicians from other such sites in the state, with the operation set to continue testing its self-driving systems.
The grounds were leased to Route 14 Investment Partners LLC, which was incorporated in Delaware since 2015, under the Corporation Trust Company. This may be an indication that it is another shell company created by Apple.
The location is said to be able to test in many different ways, including wet weather simulation, crosswalks and intersections for real-world driving, and a speed oval.
Autonomous research shared in late 2017
At the end of 2017, Apple's researchers were offering details on their efforts to create autonomous vehicle systems.
A
November research paper
explained how LiDAR-based 3D object recognition could be performed, which can enhance driving systems reading the road itself. This includes creating 3D point clouds and using a trainable deep architecture to characterize 3D shapes.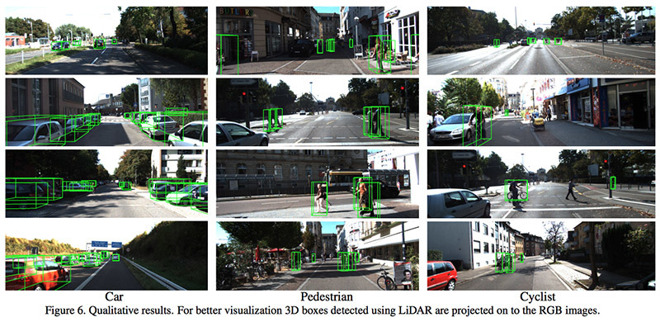 Apple became more open about its self-driving vehicle research in late 2017
By December, Apple AI research director Ruslan Salakhutdinov spoke at the NIPS machine learning conference about other
unpublicized areas
, including how its camera-based recognition system can detect objects even when obscured by rain and parked cars.
Fleet swells to 66 in 2018
At the start of 2018, Apple revealed in a DMV filing it had
27 self-driving vehicles
on public roads, up significantly from the previous total of three. A mere two months later, the total shot up to
45 cars
in the fleet, making it the second-largest behind Cruise's 110 cars.
Two months later, it grew yet again to
55 vehicles
and 83 authorized drivers, and by July it was
66 cars
and 111 registered drivers. At that time, the DMV had issued just 56 testing permits and had approved 468 vehicles, meaning Apple had a sizable chunk of the self-driving population.
Giannandrea joins in 2018
In April 2018, Apple signed up
John Giannandrea
away from Google to work on its machine learning and AI strategy. He previously led the charge at Google to bring AI to its entire range of products, and previously was part of Metaweb.
While Giannandrea was chief of AI and head of search at Google, it is likely his role in Apple largely centered around Siri, but probably also concerned Project Titan.
Volkswagen PAIL talks in 2018
Reports on the
PAIL shuttles
pointed to Apple working with Volkswagen on the project, after talks with BMW and other car companies petered out.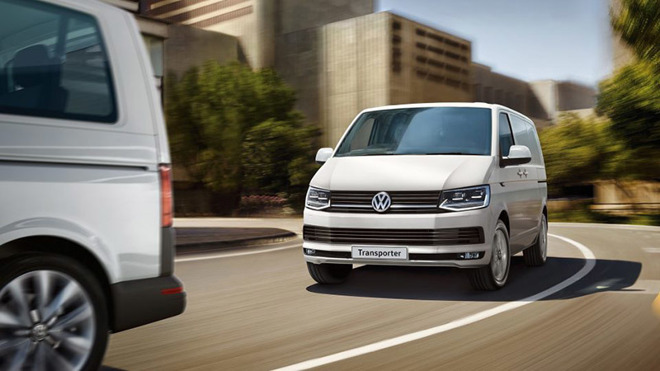 PAIL was said to use Volkswagen Transporter vans.
The project was said to use a number of Volkswagen T6 Transporter vans for its shuttle, outfitted with specialized dashboards and seats, as well as an electric battery.
Waymo engineer joins Apple during 2018
In June 2018,
Jamie Waydo
, a senior engineer of Alphabet's Waymo, moved over to Apple. She was allegedly responsible for checking the safety of prototypes and coached the company on when it was safe to start of real-world road tests in Phoenix.
Waydo previously worked for NASA's Jet propulsion Laboratory.
Ex-Apple employee charged in 2018 over trade secrets
Former Apple hardware engineer Xiaolang Zhang,
was arrested
at San Jose International Airport in July 2018, on an attempt to fly to Beijing, China. Zhang was charged with stealing trade secrets from Apple itself.
Zhang faced federal charges of Theft of Trade Secrets, with recommended penalties of 10 years imprisonment, a $250,000 fine, a $100 special assessment, and three years of supervised release.
Previously on Project Titan's Compute team, which designed circuit boards for sensor data analysis, Zhang had left Apple on paternity leave to visit China, but on his return, he advised he would be leaving and planned to tend to his ill mother. During the meeting, he also told a supervisor he was joining Chinese startup Xmotors.
On returning company-issued devices, Apple spotted unusual download activity, which suggested he may have downloaded some data he wasn't meant to take. Security cameras and badge swipes placed Zhang in company labs during paternity leave, prompting a confrontation where Zhang admitted he was there and had taken items including two circuit boards and a linux server.
Zhang pleaded
not guilty
to trade secret theft.
Apple to Tesla to Apple again in 2018
In August 2018, the hiring war between Apple and Tesla resulted in the unusual but inevitable return of one employee back from the other.
Doug Field
, formerly a VP of Mac hardware engineering at Apple, returned to the company after almost five years at Tesla.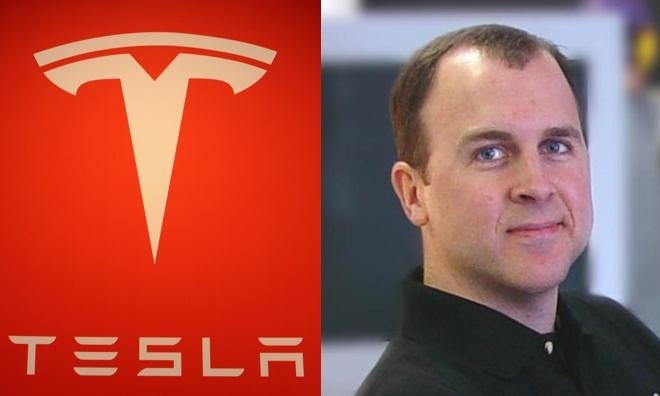 Doug Field, a former Apple engineer, moved back from Tesla.
It was reported Field would be working within Project Titan.
That same month, a
report claimed
Apple had hired at least 46 people from Tesla in the year up until that point. Some were poached, while others joined after being fired from Tesla.
While the obvious choice would be for the influx to work on Project Titan, it wasn't always the case, as Apple was putting more work into general manufacturing processes, which applied across the entire company.
First Apple self-driving accident was in 2018
In August 2018, Apple's self-driving vehicle program endured its
first car accident
on the road. A test car was rear-ended by a Nissan Leaf while merging on an expressway, with both vehicles suffering "moderate damage."
There was no major risk to life in the collision, as the Leaf was moving at just 15 miles per hour. It also seems that the Leaf driver was at fault, rather than a failure by the self-driving system.
Hitzinger exits in 2018, Kim enters in 2019
December 2018 saw Apple hiring
Andrew Kim
, a senior designer from Tesla. Kim was primarily a vehicle interior designer who worked on both the dashboard layout and the aesthetics of the vehicles.
The hiring could have been an attempt by Apple to slowly return to the idea of building its own car, or at least designing it.
For January 2019,
Alexander Hitzinger
was poached from Apple by Volkswagen to work on its commercial vehicle division. His role would involve developing VW's self-driving vehicles, as "mobility as a service."
2019 mass layoffs
January 2019 also saw Apple perform another
restructuring effort
of its Project Titan group, releasing more than 200 employees. Not all of the employees were laid off, as some will have been shifted to other roles within Apple.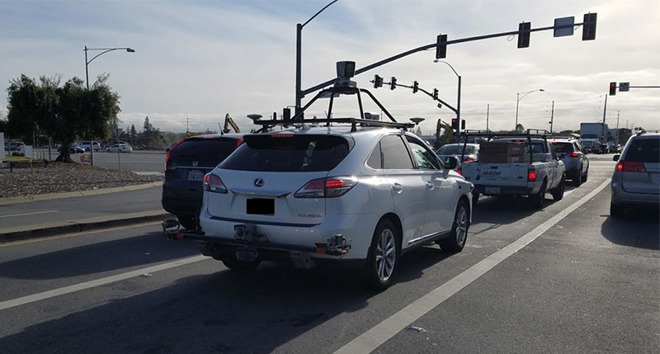 Another early image of Apple's initial testbed.
Apple gave a rare confirmation of the reshuffling, taking the opportunity to say "We continue to believe there is a huge opportunity with autonomous systems, that Apple has unique capabilities to contribute, and that this is the most ambitious machine learning project ever."
Apple later
confirmed
the laying off of 190 people in February.
Second arrest over trade secret theft took place in 2019
The FBI arrested a
second person
accused of trade secret theft in January 2019. Engineer Jizhong Chen was spotted taking photographs in a secret work area, prompting further investigation.
Apple's Global Security team searched his computer and found manuals, diagrams, schematics, and a hundred photos shot within Apple's offices.
The motive was apparent as Chen had applied for a job at a Chinese self-driving tech company. The arrest took place one day before he was set to fly back to China.
Highly sensitive disengagement in 2019 report
In February 2019, data from the California DMV revealed Apple's self-driving testbed was the worst-performing of permitted testers, in terms of
disengagements
. This refers to instances where the autonomous mode is forced to end and return control to a human pilot.
Between December 2017 to November 2018, Apple's fleet recorded an average of 871.65 disengagements per 1,000 miles traveled, making it last against 27 other testing firms. By contrast, Google's Waymo managed 0.09 disengagements per 1,000 miles.
In
response
, Apple claimed the system is overly cautious and "conservative," as it wasn't designed to operate in"all conditions and situations" at the time. Apple senior director of Autonomous Systems Engineering Jamie Waydo explained "To support this approach, our public road testing policies require drivers to proactively take manual control of the vehicle any time the system encounters a scenario beyond our currently proven abilities."
Apple's data claimed just over half of the disengagements were "Manual Takeovers," prompted by the pilot manually, versus "Software Disengagements" determined by the system itself. Furthermore, there were just 28 "Important Disengagements," deemed to have potentially resulted in a law violation or a safety issue, of which two involved other cars struck Apple's vehicles.
An electric van in 2019?
A report from Germany in
February 2019
claimed Apple's electric vehicle may not be a car, but a van. Sources claim prototypes painted in black and silver were spotted, and were all vans.
The same report also said engineers were working on the interior of the vehicle.
It remains unknown if the vehicles being tested were actually the goal of Project Titan, vans intended for PAIL, or for another purpose.
Cook tells 2019 shareholders Apple's "rolling the dice" on future products
Speaking at the annual shareholders meeting in March 2019, CEO Tim Cook
said
the company was "planting seeds" and "rolling the dice" on future products that will "blow you away."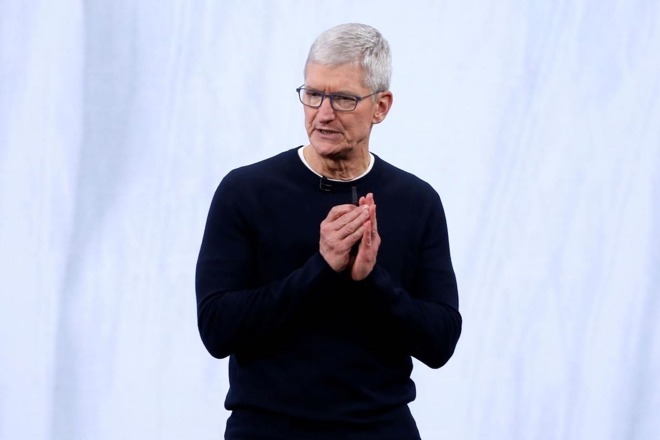 Apple CEO Tim Cook has spoken about self-driving vehicles in the past.
Cook has "never been more optimistic" about where Apple was going, he proclaimed, though declined to specify where the company was headed.
Tesla Powertrain hire in 2019
March 2019's hiring from Tesla by Apple was
Michael Schwekutsch
, VP of engineering. Departing Tesla earlier in the month, he became part of Apple's Special Projects Group, which includes "Project Titan."
The executive had an extensive history in powertrain development, including related engineering firms such as BorgWarner and GKN Driveline, and was connected to electric and hybrid powertrains used in the BMW i8, the Fiat 500eV, Volvo XC90, and Porsche 918 Spyder.
Driving sensor supplier conversations by April 2019
By April 2019, Apple was said to be in talks with a number of
component suppliers
about LiDAR sensors destined for Project Titan. This was apparently to create a new generation of testbed to be fitted to vehicles for evaluation purposes.
Apple was said to want to use sensors that are as small as possible, to potentially hide them within a car's bodywork and out of sight. Using non-mechanical versions of LiDAR hardware could also bring down the cost of the sensor array, which was estimated to be around $100,000 per vehicle at the time.
Apple cuts test cars from fleet for 2019
Apple reported a
decrease
in the number of self-driving test vehicles in its fleet on California's public roads in April 2019. At the time, Apple reported 69 vehicles, a drop down from a peak of 72 vehicles from November 2018.
Large drive rooms in May 2019
Apple was reportedly building "multiple very large drive rooms in California," financial analyst Craig Irwin of Roth Capital Partners
claimed
in May 2019. The drive rooms were not defined by Irwin to pertain to automobiles, but were for working on improving battery technology.
There was no mention of where these rooms were located, other than the state, nor their purpose outside of battery technology testing. Even so, the name "drive room" certainly does suggest a use in automotive design.
Drive.ai acquired in June 2019
In
June 2019
, Apple confirmed it had acquired the self-driving shuttle and car kit startup Drive.ai, which saw Apple pick up dozens of employees who worked in engineering and product design, as well as cars and other assets.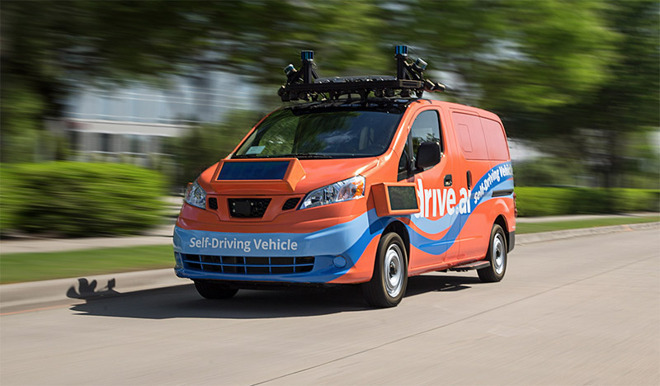 Apple acquired employees and technology from startup Drive.ai
Terms of the deal were not revealed, but the company was valued at approximately $200 million in 2017.
Apple recruits ex-Tesla engineering VP in July 2019
In July 2019, Apple hired
Steve MacManus
, a long-time auto industry veteran who had previously worked with Tesla. Specializing in auto interiors, he worked in the field for Bentley, Aston Martin, Jaguar/Land Rover, and the Rover Group, as well as Tesla for over four years as VP of Engineering.
MacManus joined Apple with a vague "senior director" role at Apple Park.
Apple worries about trade theft suspects fleeing in 2019
Apple representatives asked the federal court in December 2019 to
continuously monitor
two former employees accused of stealing trade secrets, as they posed flight risks.
Employees wanted persistent tracking of the accused, Xiaolang Zhang and Jizhong Chen, as extradition would be nearly impossible if either fled back to their home country, China.
More fleet cuts made in 2020
Apple's fleet of autonomous vehicles driving in California
reduced again
in February 2020, with only 23 of Apple's 69 registered testbeds active between December 2018 and November 2019. Collectively, they travelled just 7,544 miles, down from over 79,000 miles in 2018.
Disengagements had improved to 64 across the 7544 miles, equating to 8.48 per 1,000 miles, versus the 871.65 disengagements per 1,000 miles recorded one year prior.
However, Apple is still far behind the rest of the pack. Baidu was in the lead with 0.06 disengagements per 1,000 miles, with Waymo and Cruise at 0.08 each.
Apple Maps LiDAR data report in September 2020
A report from
September 2020
explained how cars mapping streets for Apple Maps used custom iPads and a Mac Pro, as well as a suite of sensors. While the report largely covered the day-to-day nature of the teams, how they worked, and specific technologies used, it also suggested more about Apple's data usage.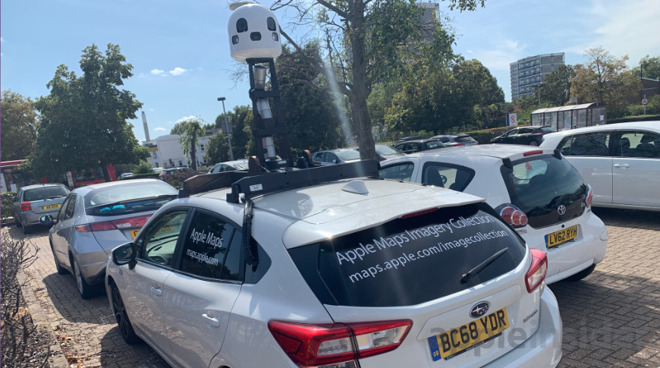 Imaging and LiDAR data from Apple Maps cars may be used to teach Apple's self-driving systems.
By capturing mapping data from the street, including high-resolution imagery and LiDAR scans, the system can collect terabytes of data that could be used for machine learning purposes to assist self-driving systems. This is extremely handy for the tuition of machine learning systems to handle image data in parts of the world far away from where Apple is currently testing on roads.
John Giannandrea overseas Apple Car development from December 2020
In December 2020, Apple
reportedly shifted
its Project Titan management, with AI chief John Giannandrea overseeing proceedings. Still ran day-to-day by Doug Field, the project would be guided by Giannandrea in general.
Mansfield, who previously was at the helm for Apple Car, is now said to be fully retired.
Apple-TSMC partnership chip rumors at the end of 2020
At the end of 2020, Apple was
rumored
to be working with long-time chip partner TSMC to create processors and chips destined for use in the Apple Car. The companies were said to have established plans for a factory in the United States for chip production, and were allegedly negotiating with suppliers in the automotive electronics supply chain.
The report reckoned the Apple Car model "is similar to Tesla," without expanding on what it meant from that.
Foxconn invests in Chinese electric vehicle startup Byton in January 2021
In January 2021, Apple assembly partner Foxconn was reported to have made a
deal to invest
in Byton, an electric vehicle firm in China. The deal, which involved an investment of $200 million, was said to target mass production of the M-Byte electric SUV in early 2022.
While not directly Apple Car related, Foxconn's history with Apple as an assembler could have driven the investment, as it eyes a potential deal with Apple to assemble the Apple Car.
Hyundai manufacturing negotiations in January and February 2021
From January 2021, Apple was reported to be
negotiating
with South Korean car producer Hyundai to create an electric vehicle, most likely the rumored Apple Car.
The reports indicated Apple was keen to bring
manufacturing
to the United States in some form, potentially via a factory in Georgia owned by Hyundai affiliate
Kia Motors
, or involving the construction of a new factory.
Unusually, Hyundai confirmed it was in early-stage talks with Apple, but that nothing had been decided at the time.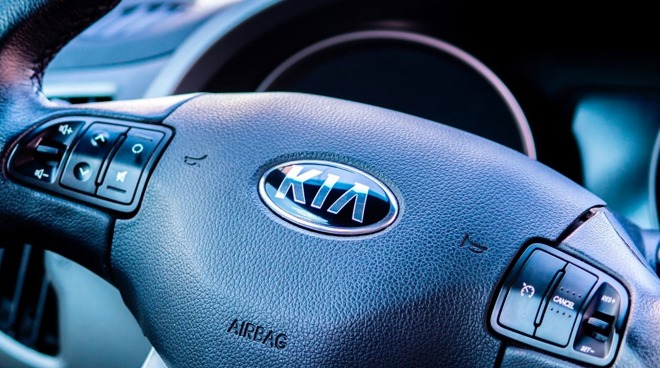 Hyundai and Kia have been linked to potential Apple Car production
By mid-January, Hyundai was still "
agonizing
" over whether to actually work with Apple on the project or to hand it over to Kia. Apparently, executives had problems considering making cars for Apple under Hyundai, as it feared damaging the brand image.
As to the financial side of the deal, one report claimed Apple would invest in the region of
$3.6 billion
into Kia for the project, with the aim to produce 100,000 cars per year in a production run starting in 2024.
Apple poaches Porsche VP of chassis development in February 2021
Entering February 2021, Apple made yet another high-profile hiring, picking up
Dr. Manfred Harrer
. The head of Porsche's Cayenne and chassis development boss.
Previously, Harrer worked as an engineer for Audi, followed by BMW working on steering, then to Porsche. By 2016, he was chief of overall chassis development, and became the Cayenne series manager a few months before his departure.
It was claimed Harrer was motivated by the challenge and opportunity for the move rather than money. His salary at Porsche was more than 600,000 euro ($720,000) annually, and was anticipated to earn in the million-dollar range at Apple.
Kia talks near completion, embrace driverless operation in February 2021
By February 3, Apple was
reported
to be near to completing a deal with Kia for its car production, complete with its 4 trillion won investment and access to the plant in Georgia.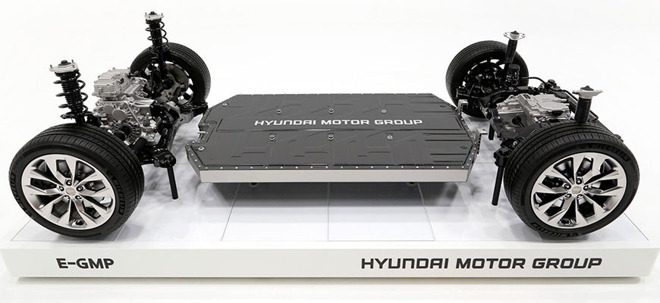 The Hyundai E-GMP was an electric vehicle platform that was once predicted to power the Apple Car.
A report source claimed the first cars in the partnership "will not be designed to have a driver," and would be "autonomous electric vehicles" that will be "focused on the last mile."
The comment suggests the vehicles may not necessarily be marketed as a traditional consumer product, and that it may instead be intended for ride-hailing and other industries.
Hyundai talks pause in February 2021
The discussions between Apple and Hyundai were apparently
put on hold
reports on February 5 said. It seems partly due to Apple being upset over Hyundai's public confirmation that talks were taking place.
In response to Apple's anger, Hyundai and Kia reportedly backed away from the statement.
At the time, it was unclear if the talks would continue in the short term due to internal disputes within Hyundai over whether to hand the project over to Kia or to handle it directly.
Apple explores other options during February 2021
At the same time of reports Apple was halting negotiations with Hyundai, another report said Apple was in talks with
other producers
, including at least six Japanese automakers over production and supply partnerships.
However, Apple's reputation of being an exacting taskmaster with high standards was reportedly preventing many from jumping at the opportunity. There was also the worry of being relegated to a subcontractor role.
While being involved with Apple's brand may also drive profit for suppliers, there is also the demand for changes in production that may upset some, as well as potentially diverting important resources to the effort, affecting other established product lines.
Analysts predict early 2021 partnership in February 2021
Investment bank Wedbush forecast that Apple would
announce
some form of electric vehicle partnership for the "Apple Car" in the first half of 2021. There was reportedly an 85% chance or better that such a partnership would be announced in the following three to six months.
Hyundai's missteps weren't completely wrong to the bank, which put the car producer alongside VW as the top two choices for Apple.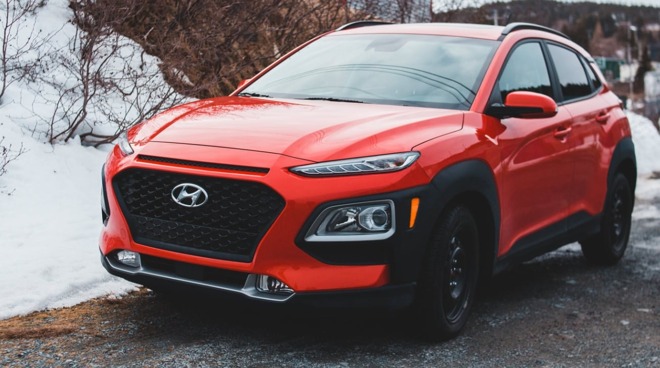 Hyundai's PR blunder could have cost it the Apple Car project.
UK politicians clamor for Apple Car in February 2021
A number of UK ministers of Parliament
expressed
a wish for the UK government to step in and try to convince Apple to build Apple Car in the country. This would apparently be in a bid to boost car production in the country, to capitalize on skilled labor in the Midlands.
Ministers called it a "no brainer" idea to put feelers out for a production deal.
Hyundai learned lessons from talks breakdown in February 2021
Hyundai's eagerness to confirm the discussions were behind Apple's pausing of talks, analysts <a href="
https://appleinsider.com/articles/21/02/09/hyundai-burned-by-apple-car-negotiation-disclosure