AirTags, AirPods, and more -- What to expect from Apple next
Apple has several projects near the finish line, including '
AirTags
,' a new iPad Pro, or other product launches. Here's what could make an appearance soon in an event -- or just get announced with a press release.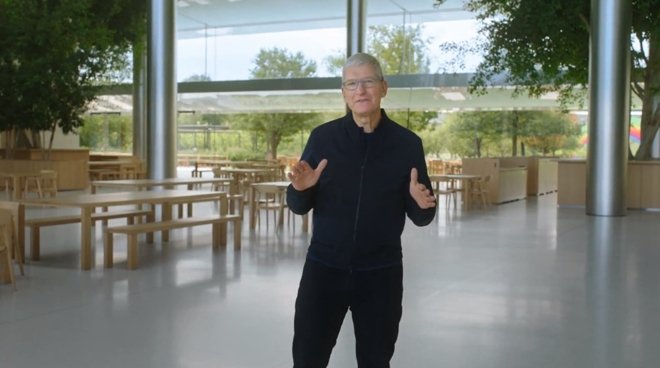 Apple CEO Tim Cook in a previous Apple event stream
March is known as one of the earliest months of the year that Apple typically holds a special event to unveil new products. Much like
WWDC
and its
Fall events
, there is often speculation about the March event, including when it could take place and what Apple will launch.
Without any official confirmation from Apple until possibly a week before the event takes place, fans have to rely on rumors and speculation about what Apple may unveil and release.
This is what you can probably expect to see at the event.
Will there be an event at all?
Rumors from February claimed a hardware keynote address would take place on March 16. These claims from leakers not known to offer accurate Apple rumors were then picked up by a South Korean publication, and were later cited by other online outlets.
Earlier reports
in January
also pushed the narrative that there would be a March event, which lends some weight to the idea of an event taking place during the month.
Other reports about hardware Apple would theoretically introduce at the event also brought up March as an ideal launch time.
However, by February 20, Mark Gurman of
Bloomberg
cast doubt
on there being an event at all. Posting to Twitter, he offered, "there won't end up being one."
While there are some disagreements over whether or not Apple will hold an event in March, previous events offer hope that one could take place.
Apple held March events in three of the last five years, or six in the last ten years. Its most recent was in 2019, when it unveiled
Apple News+
,
Apple TV+
,
Apple Arcade
, and
Apple Card
.
While global pressures from
COVID-19
made a 2020 event impractical for Apple, there's still a possibility for it to hold one in 2021.
If Apple does hold an event, it is likely to follow a similar format to the prerecorded videos used for WWDC 2020 and the fall events trilogy.
AirTags
Probability: Strong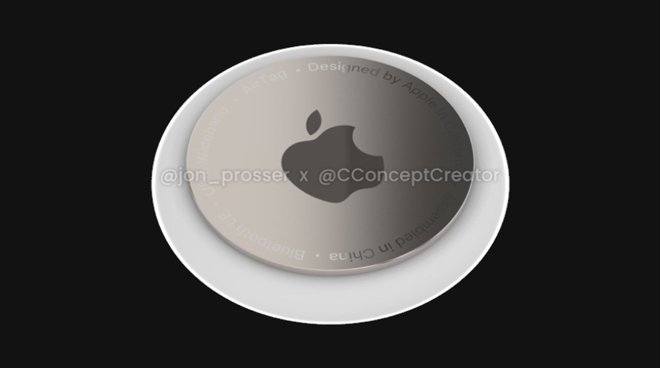 A concept image for Apple's 'AirTags'
The repeatedly-rumored "
AirTags
" has been the subject of speculation for a number of previous events, but it has yet to make an appearance. Given early 2021 rumors, it seems more likely to do so during the event than it has previously.
"AirTags" are coin-sized trackers that you can attach to items that you fear you may misplace or lose. Using the same Find My app as for tracking down a lost iPhone or iPad, the accessory can be used to keep tabs on where items are that do not have built-in tracking capabilities.
By using a combination of Bluetooth and Ultra-Wideband technology, the token's position can be discovered in public by iPhones owned by other people. The encrypted ping will be reported back to the owner via iCloud, which can aid with its relocation via the Find My app.
It is largely thought the "AirTags" could cost around $25 to $35 apiece. It will probably be accompanied by a wave of accessories, including holsters for keyrings and other ways to attach it to things you want to track.
Serial leaker
Jon Prosser
said
in October
that "AirTags" were being pushed back to March 2021, which he reiterated
in February
. Analyst
Ming-Chi Kuo
offered in January that "AirTags" would be
on the way
sometime in 2021, though didn't advise of when it would be.
A leaked
pairing animation
in January hinted at what to expect from the tokens when you first use them with your iPhone.
In March, the third iOS 14.5 beta included an
"Items" tab
for tracking non-Apple devices. The same beta also included the return of an
anti-stalking feature
, which would alert an iPhone user if they were carrying an "AirTag" that did not belong to them.
The appearance of these features in the beta certainly increases the chances of an upcoming "AirTags" launch at an event.
iPad Pro
Probability: Strong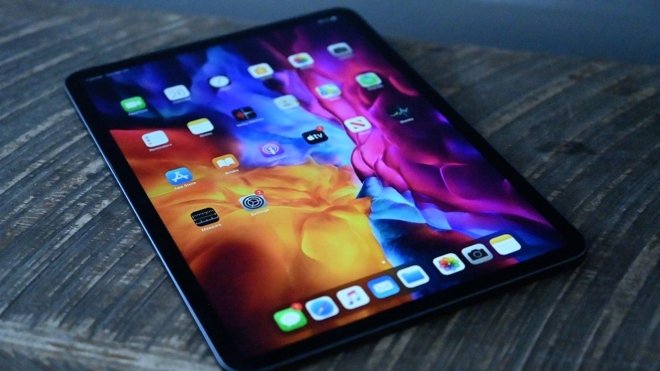 iPad Pro
Appearing in previous March events, an update to the
iPad Pro
seems like a strong candidate for the event. Updating the model one year after its last update seems to be swift but entirely plausible for the model.
Rumors
in January
point to 11-inch and 12.9-inch models arriving in March, with a largely unchanged design. Of the more unusual changes could be an extra 0.5mm of thickness in order to house a new backlight system.
There is the claim the
12.9-inch model
could be among the first Apple devices to employ
mini LED
backlighting. In theory, it will be able to provide OLED-level contrast and enhanced color reproduction versus LCD backlights.
It is also thought the model could introduce an updated sound design of some description, though seemingly with fewer speaker holes and updated speaker positions. The camera lenses on the back may also be tweaked to make them flush with the rest of the camera "bump."
iPad mini
Probability: Medium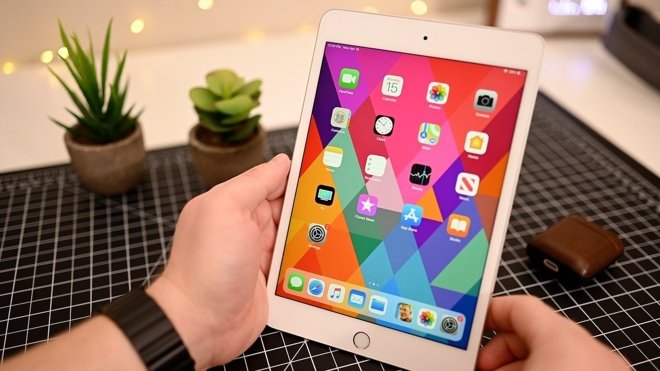 The fifth-generation iPad mini
The oldest iPad in Apple's range, the
iPad mini
was last updated in March 2019, which would make it two years old by the time a March Apple Event takes place. This makes it highly plausible to receive an upgrade to a sixth-generation model based on product lifespan alone.
There was a claim from Ming-Chi Kuo in
May 2020
that a 9-inch iPad mini was on the way in early 2021.
Macotakara
reiterated
the rumor in January, refining the timeframe to March.
The 7.9-inch display is expected to be upgraded to 8.4 inches but fitted within a narrower frame.
Touch ID
is likely to be retained in the sixth-generation model, as well as Lightning.
As usual, it will almost certainly receive an internal specification bump.
Apple Silicon iMac
Probability: Medium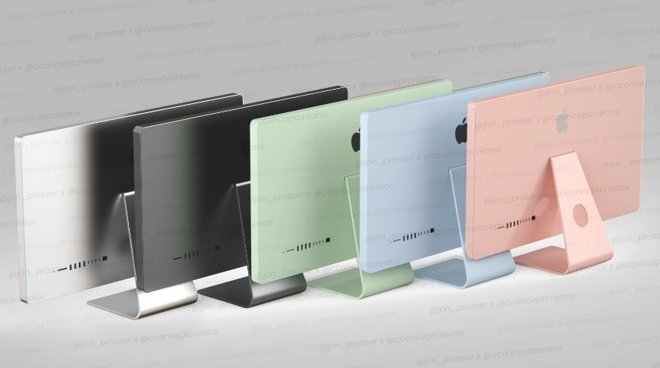 A concept for an updated iMac
Apple has a very aggressive two-year schedule it wants to meet to roll out
Apple Silicon
across the product range. Given this tight time constraint and the breadth of its product range, it seems plausible for Apple to use a March event to make more changes.
The big candidate for this launch is the
24-inch iMac
, a version of the desktop model using the M1 processor. There is a possibility of it being a newer chip, like an "M1X" or "M2," but there's not been much in the way of solid news for an upgraded processor outside of an alleged "
pre-sample benchmark
."
It is believed to include a redesign of its main enclosure to look more like the iPad Pro or
Pro Display XDR
. This would also entail the inclusion of improved cooling systems to create a much thinner device.
The display, 24 inches in size, is thought to have a Retina pixel density and a 4K resolution. There has been the suggestion of a move to mini LED for the backlighting, but that remains to be seen.
Pricing is likely to be around the same as the Intel-based counterparts, so starting at between $1,299 and $1,799.
Analyst Ming-Chi Kuo has proposed an ARM-based iMac could launch sometime in 2021, though not when. Given recent reports about Apple's online store, it may happen quite soon.
A report from March 2 claims Apple has
stopped producing
some models of
iMac 4K
, with the models appearing as "currently unavailable" to purchase. Meanwhile the
iMac Pro
page has been updated to reduce it down to one configuration option with
"limited" availability
.
AirPods 3, AirPods X, or AirPods Pro Lite
Probability: Low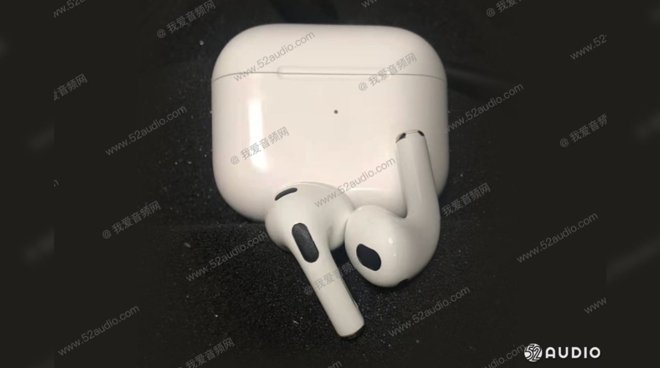 An alleged leaked image of 'AirPods 3'
Many rumors have suggested there could be multiple different
AirPods
models on the way, covering a number of different use cases, price ranges, and functionality. It's plausible that some or all will make an appearance at an upcoming event.
The "
AirPods 3
" are thought to be closer to the
AirPods Pro
in terms of design, complete with a change in internal structure. Some rumors point to a change to use eartips, but it is also possible Apple will keep that feature for its Pro line.
Images leaked
on March 12 claimed to show the "AirPods 3" as having a blend of design elements of both AirPods and AirPods Pro. While there were design considerations that were Pro-like, such as shorter stems and the charging case, they also didn't have the add-on eartips.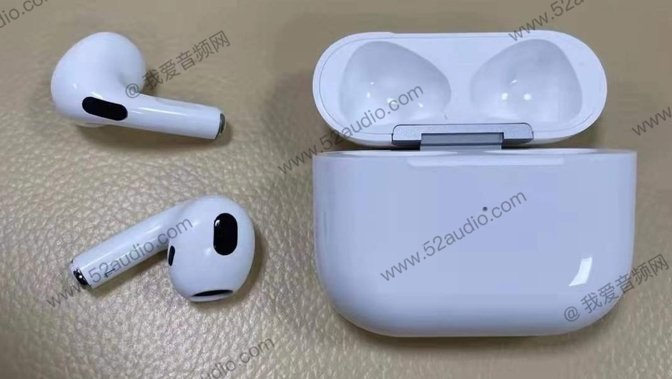 A March image leak for the "AirPods 3"
Shorter stems have previously been touted, along with a preserved 5-hour battery life. Pricing is anticipated to be around $199.
While many observers have proposed the "AirPods 3" are
ready to ship
, there is also one claim that there won't be a launch at this time. Despite
previous predictions
of an early 2021 launch, analyst Ming-Chi Kuo said in a March 15
investor note
that production is scheduled for the third calendar quarter of 2021.
Confusingly, the "
AirPods Pro Lite
" have also been touted as a future release. Rumors have suggested it could provide some of the features of the Pro line in a cheaper form, such as changeable ear tips, but not ANC.
However, it's also plausible that it could simply be the "AirPods 3."
The "
AirPods X
" are definitely a different product. As rumored, it is basically AirPods taking the form of semi-wireless Bluetooth earphones, in that a cable connects the two earpieces.
Intended for sports and running, the model could be intended to replace some of the similar Beats lines. Similar functionality to AirPods is also offered as well as a $200 price tag.
Apple TV
Probability: Medium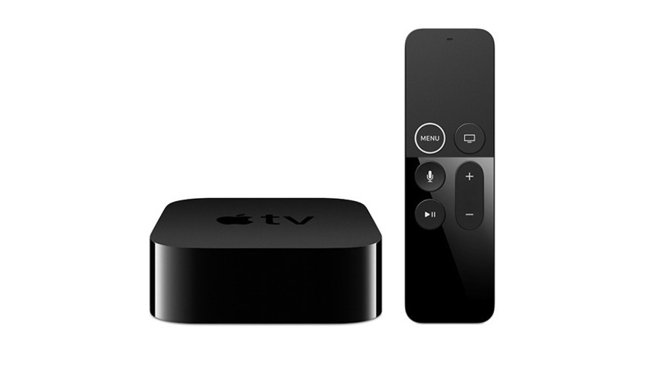 Apple TV 4K
Apple's last update to the Apple TV was in 2017, with the introduction of the
Apple TV 4K
. It seems feasible that an update for the device could be considered overdue, and a March launch away from the fall lineup could be quite plausible for the device.
This may be doubly so if Apple uses the event to push its Apple TV+ subscription.
Tentatively titled the "
Apple TV 6
," the model is thought to consist of a specifications bump from the Apple TV 4K, possibly using an A12Z or a similar newer chip. Such an improvement will bolster its ability to play games for Apple Arcade, as well as other graphics-heavy apps.
Apple could bump the storage allowances up, increasing capacities to 64GB and 128GB. An updated Siri Remote that takes advantage of Ultra-Wideband is also on the cards, which could make relocating a misplaced remote much easier to find.
Pricing is likely to be in line with the existing Apple TV 4K, at $179 and $199, depending on capacity.
14-inch MacBook Pro
Probability: Low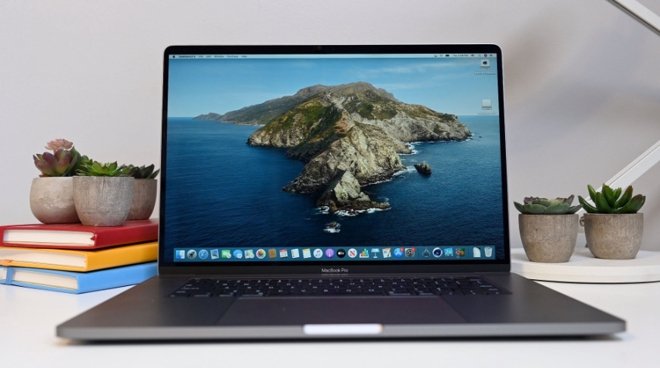 The 14-inch MacBook Pro would be smaller than the (pictured) 16-inch model.
Thought to be the overall replacement for the
13-inch MacBook Pro
, the
14-inch MacBook Pro
is anticipated to be a significant refresh to the product line. This includes not just internal changes, but external ones too.
Packing a 14.1-inch Retina display, the model is thought to have the same physical dimensions as its 13-inch counterpart. There have been rumors it could use
mini LED backlighting
to improve contrast with localized dimming, as well as power efficiency.
The Touch Bar is anticipated to leave space for a physical Escape key, to match the rest of the Magic Keyboard MacBooks. It is unclear if Apple will keep to the same two-or-four Thunderbolt 3 ports in the model, or if it will depart and use a different quantity altogether.
The one thing that downgrades the probability is the chip, as it is thought it may include an "M1X" or "M2" processor instead of the M1 of the first Apple Silicon wave. Since an upgraded M-series chip seems to be too soon after the launch of the original models, and believable news on the updated chip is sparing, it seems more plausible for Apple to release the model later on in 2021.
Apple Card Expansion
Probability: Low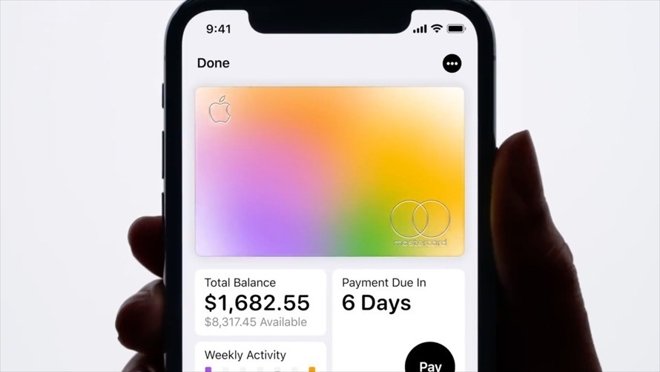 The iPhone interface for Apple Card
The
Apple Card
has been an unquestionable hit for Apple since its launch, but how can you innovate on the concept? For Apple, rumors point to two different directions.
The first way is by an expansion into other territories, as it currently only operates in the United States. The most obvious route is to expand into Canada.
On January 25, the Canadian Intellectual Property Office approved
trademark applications
for Apple Card and Apple Cash. This is certainly a sign Apple is considering a move North, but it is only one of many steps it has to take.
There is no word on whether Apple has spoken to other card issuers or financial institutions in the country to partner on the card, making it hard to judge when it may launch. In 2019, Apple CEO
Tim Cook
said Apple Card will enter
more countries
, but stopped short of saying when.
The other route is one that is more likely to be launched. The first developer beta for iOS 14.5 appeared to include references to
multi-user
Apple Card support, which suggests Apple may allow the account to be shared with another as a joint account.
As it's not a hardware product and is a smaller upgrade rather than a launch, it is entirely plausible these could be press release updates that do not require an event.