Sonnet eGPU Breakaway Puck RX 5700 review: quiet GPU power for Intel Macs
Posted:
in macOS
edited June 2021
If you want to upgrade your Intel-based portable
Mac
, but don't want a large box on your desk, the Sonnet eGPU Breakaway Puck RX 5700 is a good choice -- today.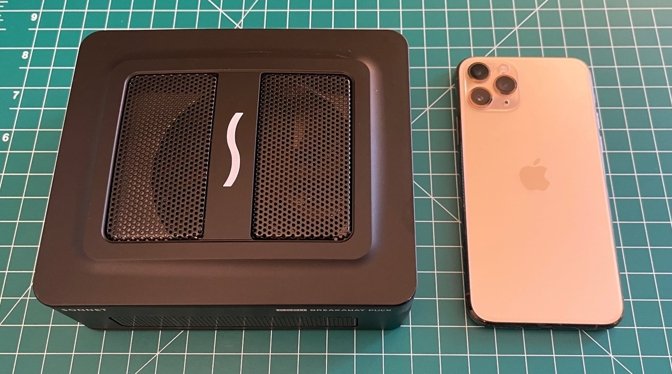 The Sonnet Breakaway Puck is very tightly packed, with a fan in the top (iPhone 11 Pro for scale)
The
eGPU enclosure
is a great way to increase the performance of your existing Mac or MacBook without paying to upgrade the unit for a newer model. It's cost-effective and could potentially result in a higher-performing Mac than Apple could provide for the same price.
The PCI-e eGPU enclosures still have one big issue -- they are hefty boxes that sit on or near your desk, taking up a lot of desk space, and they perform best with an external monitor, instead of looping back to a MacBook Pro's internal display. Given the designs of some models, they can also stick out like a sore thumb, as a permanent and unmistakable reminder that you wanted more GPU performance than the Mac could provide on its own.
The Sonnet eGPU Breakaway Puck RX 5700 tries to take on the problem by packing all the main functionality of an eGPU enclosure into a compact device. Instead of an enclosure large enough to hold some small Windows PCs, the Breakaway Puck is small enough to be hidden on a desk or behind a monitor using a VESA mount, taking up as little room as possible while still providing the same power.
Sonnet eGPU Breakaway Puck RX 5700 - Key specifications
6 inches by 5.1 inches by 2 inches.
Two Thunderbolt 3 ports, 1 DisplayPort 1.4, 1 HDMI 2.0b, 2 USB 3.2 Type-A
60W power delivery
AMD Radeon RX 5700 GPU
Small and powerful
Sonnet declares the Breakaway Puck to be the "smallest portable all-in-one eGPU dock," and at a glance, that seems like a good descriptor. Measuring just 6 inches by 5.1 inches and 2 inches tall, the puck has a smaller footprint than a Mac mini, and isn't much taller.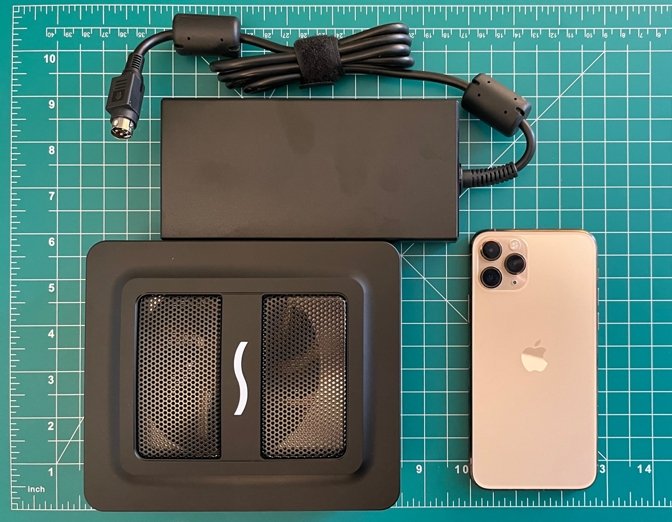 The power brick is half the size of the Breakaway Puck. (iPhone 11 Pro for scale)
Like other space-saving hardware, the power adapter is a hefty power brick, moving the bulk of power-related electronics out of the main body.
The power brick alone is 3 inches wide by 6.1 inches long and 1.2 inches thick, making it quite substantial in size compared to the device it powers. Since there's a lengthy power cable in use, this brick can be tucked out of the way to minimize the overall appearance, but it's still very much something to consider. That said, behind-desk space is at much less of a premium than on-desk area.
Sonnet eGPU Breakaway Puck RX 5700 - Connectivity options
Like other eGPUs, the Breakaway Puck offers extra connectivity options beyond
Thunderbolt 3
. Once connected to a host Mac using Thunderbolt 3, there's a small selection of ports available, both for video and other purposes.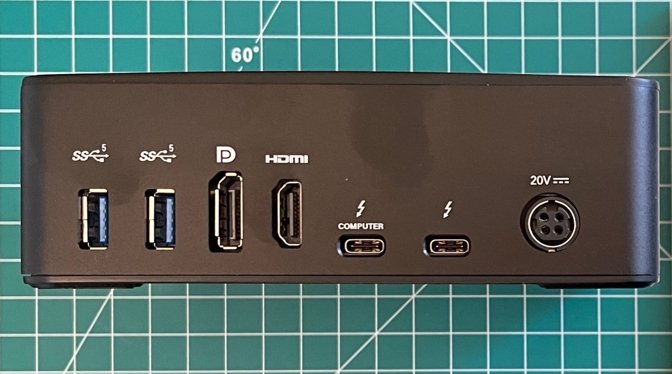 Sonnet included quite a few ports on the back of the Breakaway Puck.
There are a total of two Thunderbolt 3 ports, so the unit can form part of a daisy-chain if required. There's also 60W of power delivery over Thunderbolt 3, which will be enough to recharge a
13-inch MacBook Pro
while it is being used.
The other video options include a DisplayPort 1.4 port and an HDMI 2.0b port. A pair of USB 3.2 Type-A ports round out the list, each with a potential data transfer rate of 5Gbps.
With these connection options, you can manage many different combinations of displays, depending on your requirements.
The Thunderbolt 3 ports can support a 6K-resolution screen at 60Hz when using a Thunderbolt 3-compatible display, such as the
Pro Display XDR
, though it can also handle a 5K-resolution monitor at 60Hz over USB-C. Sonnet also claims the Thunderbolt 3 connection supports two 4K displays at 60Hz when using its Thunderbolt 3 to Dual DisplayPort or Dual HDMI 2.0 adapters.
The onboard DisplayPort 1.4 connection can handle a 4K screen or a Dual QHD version at a resolution of 5,120x1,440, at 60Hz apiece. The HDMI 2.0b port can support a 4K screen at 60Hz.
Works with Intel Macs, but not currently M1
There are a
number of limitations
on what you can do with it. Today, the Breakaway Puck will work with Intel-based Macs with Thunderbolt 3, as Apple has yet to provide any eGPU support on its M1-based
Apple Silicon
Mac lineup.
It is possible to use the Breakaway Puck under
macOS Catalina
10.15.7 or later, with it also being compatible with Macs running
macOS Big Sur
.
However, Sonnet warns it is not certified for use with Windows. Sonnet's support page explains Windows currently does not support a Thunderbolt 3 or USB-C display connected to a Thunderbolt 3 port, and that eGPU support is not possible under Boot Camp, right now. Sonnet says that they're waiting on a fix from Microsoft, but who knows how long that's going to take.
Sonnet eGPU Breakaway Puck RX 5700 - Portable, quiet performance
Providing the graphical power of the Breakaway Puck is an
AMD Radeon RX 5700
, with 8GB of GDDR6 memory. This not AMD's "Big Navi," and there is no support for that at all in macOS yet, but it does have 36 compute units, 2,304 stream processors, and 10.3 billion transistors.
It has base and boosted clock speeds of 1.4GHz and 1.7GHz, peak single-precision compute performance of 7.95 teraflops, a peak half precision compute performance of 15.9 teraflops, and memory speed and bandwidth of 14Gbps and up to 448GB/s, respectively.
Geekbench's Metal benchmarks put the RX 5700 at 42,017 points, very far ahead of the default Radeon Pro 5300M 4GB in the
16-inch MacBook Pro
with 24,346 points, and even pips out the top tier Radeon Pro 5600M at 40,966.
To compare the performance, we benchmarked the Breakaway Puck against other on-hand GPUs. For this, we used the Unigine Haven and GeekBench OpenCL benchmarks.
Most of the tests were performed on a 2018 15-inch
MacBook Pro
with a Core i9 processor and 32GB of memory. While it has onboard Intel UHD Graphics 630 and Radeon Pro 560X GPUs, we also compared the Puck against a Radeon VII in a Razer Core X eGPU case.
We also put an M1
Mac mini
through the same results to compare the Puck against Apple Silicon.

GeekBench 5 OpenCL benchmark scores.
Under GeekBench 5's OpenCL test, the Breakaway Puck manages to achieve 50,290 points. This is respectable compared with the Radeon VII, which has twice the memory and a considerably wider 4096-bit memory bus.
The Breakaway Puck is also a considerable improvement over the built-in GPUs, with it scoring nine times higher than the Intel integrated graphics and more than double the 18,114 of the discrete Radeon Pro 560X.
The Breakaway Puck scored more than double the M1 Mac mini's 19,542 score. This is a practical demonstration that the Breakaway Puck could be a feasible graphical upgrade for M1 Macs, assuming Apple ever adds
support for eGPUs
.

Unigine Heaven benchmark scores.
The Unigine Heaven benchmark offers pretty much the same story as GeekBench, with the Radeon VII in the eGPU enclosure taking the lead with 4,128 points and 163.9 frames per second. Sonnet's device still reaches 3,328 points and 132.1 frames per second.
In the lower half of the table, the M1 Mac mini doesn't quite manage to achieve half the performance of the Breakaway Puck, at 1,604 points and 63.7frames per second. Lastly, the built-in graphics of the MacBook Pro came in last at 1,112 points and 44.1 frames per second.
During all of these tests, which were performed in an office with a background of 37 dBA, the Razer enclosure hit about 53 dBA, mostly due to the fan on the video card. When testing the MacBook Pro on its own, it hit 48 dBA. Testing with the external GPU connected to the MacBook Pro peaked at 46 dBA.
The big takeaway here is that the Breakaway Puck can provide a performance boost when compared against the built-in graphical options Apple includes in its current Intel-based and Apple Silicon Macs. In the tested examples, the Breakaway Puck provides more than double the performance, making it a viable upgrade path, when compatibility exists.
No upgrade options
One of the main tradeoffs in using the Breakaway Puck is that it cannot be upgraded. At all.
Upgradeability is the main benefit of larger and louder eGPU enclosures, as it's relatively trivial to replace the graphics card with a more powerful version. There's also the option with other models to buy the enclosure and install your own card -- assuming you can get a card at or near retail pricing.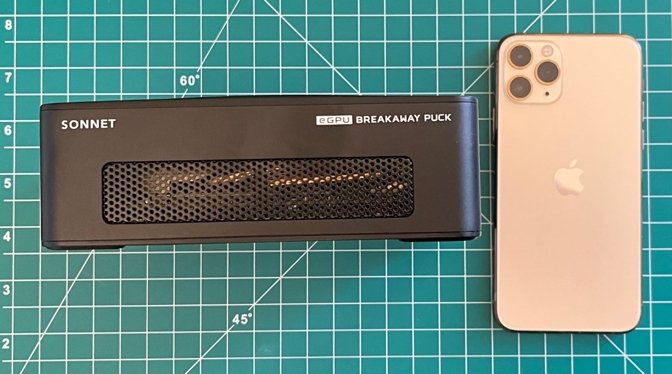 You don't have the option to change the GPU in the Breakaway Puck due to its size (iPhone 11 Pro for scale)
These are things you certainly cannot do with the Breakaway Puck. If you want another with a faster GPU, you have no choice but to wait for an updated model to come out with a better chipset, and replace the entire unit.
This may not be a big deal for anyone who prioritizes space and appearances over utility, but it may seem to be wasteful to those erring towards the latter.
Cheaper -- for the moment
Depending on your priorities and how often you intend to upgrade your graphical capabilities, it may be worthwhile going for an eGPU, albeit with caveats.
If you wanted to buy a Breakaway Puck RX 5700, Sonnet will sell you one for $899.99.
Opting for an external approach would mean picking up an enclosure and the eGPU separately. For the enclosure, getting Sonnet's eGFX Breakaway Box will set you back $299.99, which will leave you with $600 to acquire the comparable RX 5700 as a graphics card.
Given the RX 5700 had an initial launch RRP of $349.99, this would seem to be a no-brainer for anyone concerned with performance rather than aesthetics. This would put the theoretical package price at just shy of $650, saving you $250.
The impact of the ongoing semiconductor supply chain shortage, and the demands of cryptocurrency mining, have severely impacted the high-end graphics card market. So, good luck finding a card, even an older one, at retail price.
Not only can you not get a graphics card of that caliber easily, but in cases where you can, you'll end up paying a considerable premium.
For example, the RX 5700 XT, a slight step up from the RX 5700, had a recommended retail price at launch of $399.99. Searches for the card through online retailers in March 2020 reveal price tags of between $1,300 and $1,500 for the card, multiple times AMD's intended selling price.
Under normal video card pricing, going down the route of discrete enclosure and card has its benefits both from an expandability standpoint and a financial one. But, right now, there's a financial penalty, making the Puck more attractive -- today.
Down the line, when the GPU market settles back down to saner price levels and demand isn't a problem, discrete enclosures and graphics cards may be the better way to go. But, that day isn't today and we aren't expecting it any time soon.
Future uncertain, shake magic GPU later
It isn't clear what Apple is going to to about PCI-e GPU support. Also unclear, is the future of the entire Thunderbolt eGPU concept.
Obviously, if you have an Intel Mac and freeze your hardware today at Big Sur version 11.2.3, and have a RX 5700XT or older in any form, you're good to go with an eGPU or Mac Pro. Tomorrow is less certain.
In the short term, we're expecting "Big Navi" support in macOS, if for no other reason than to give Mac Pro owners more options with the array of PCI-e slots that it has. On the other hand, Apple Silicon doesn't have any support for eGPUs at all, and there are no signs of a M-whatever Mac Pro on the horizon.
An Apple Silicon Mac Pro seems inevitable, and we're hoping when that day comes it will bring along PCI-e support, and support for GPUs other than the integrated one. But, we've also been hoping the return of Nvidia GPU support for a few years, and that hasn't manifested either.
So, for today, the Breakaway Puck RX 5700 is a good blend of price, performance, and availability for Intel Mac owners. It's quieter than a full-size enclosure and card, fits in a smaller space even considering the discrete power supply, and is cheaper right now.
So, in short, in March of 2021, we like the Breakaway Puck RX 5700 very much. The answer to the same question may be different in two or three years for any one of a number of reasons.
Pros
Compact size
Powerful RX 5700 GPU
Many video connectivity options
Cons
No GPU upgrade options
Large power brick
Where to buy
The Sonnet eGPU Breakaway Puck RX 5700 can be bought from B&H Photo
for $899.99
.