GigaDrive Pro NVMe drive review: speedy transfer speeds, won't run hot
The GigaDrive Pro is billed as the "world's fastest" external SSD. While it just barely falls short of that lofty claim, it is close, and it is a drive that can easily help increase storage capacity for
Mac
video editors.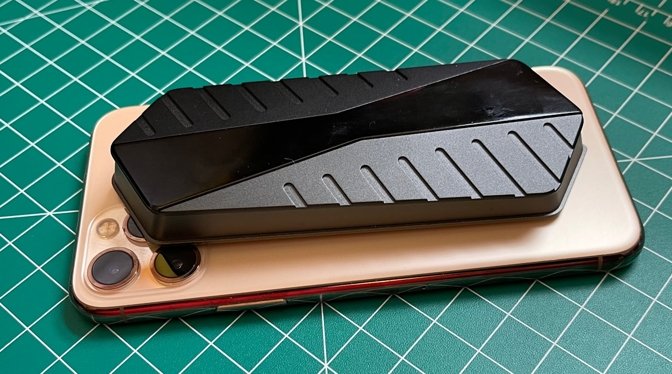 The GigaDrive Pro is very small (iPhone 11 Pro for scale)
Mac and
MacBook Pro
owners will be all too familiar with the issues of limited storage. Most of Apple's Mac range doesn't offer the opportunity to upgrade the internal storage after purchase, with the exception of the
Mac Pro
.
That leaves users with the choice of either buying a Mac with a large amount of storage to begin with, or to add external storage of some description. Since the latter is usually a cheaper option, many users will go down that route, but that too offers its own issues.
The chief one is that external storage is affected by its own bottlenecks. Chiefly, this is down to the connectivity between the external drive and the Mac, with higher-specification and higher-priced drives using the increased available bandwidth of
Thunderbolt
instead of USB.
There's also the technology being used by the drive to consider, as an external mechanical drive will be slower than an SSD in general, and a traditional SSD will usually be beaten by NVMe.
A lesser-discussed issue is the thermal effects on flash storage. As chips warm up as they get used, if the heat build-up isn't dealt with, drives will get hot and slow down to prevent damage to the drive over long periods of usage.
The GigaDrive Pro is an external drive that was put up for funding on IndieGogo. Claimed to be the "World's Fastest External SSD," the company claims it is capable of providing high data transfer speeds that can also avoid temperature-based throttling.
GigaDrive Pro - Key specs
USB-C USB4 and Thunderbolt 4 support
NVMe drive
1TB, 2TB, 4TB capacities
2,800MB/s max read speed
2,500MB/s max write speed
Aluminum alloy enclosure for cooling
IP67 water and dust resistance
Shockproof
GigaDrive Pro - "Futuristic" construction
In terms of how they are built and presented, external drives don't typically have much room to differentiate themselves. They're basically an enclosure with a data and power connection, and that's about it.
The same is true about the GigaDrive Pro, in that it is a long and thin drive with a single port for data connectivity. However, it's the enclosure itself that not only gives the drive a character all of its own but also hints that it is more than a typical external drive.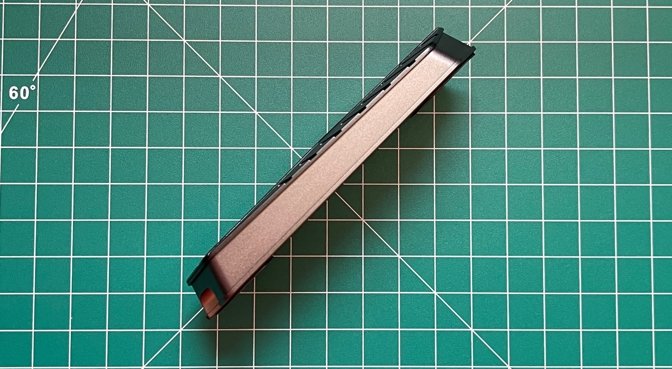 The side profile of the GigaDrive Pro, showing its half-inch thickness.
Weighing 2.06 ounces, the GigaDrive pro is built using an aluminum alloy shell, with a pair of rubber feet on the base to keep it on the desk. Measuring 4.5 inches by 1.5 inches and 0.5 inches thick, the drive is also very compact and easily pocketable.
It is claimed the drive is shockproof and meets IP67 water and dust resistance. It easily survived
AppleInsider's
test of leaving it in a cup of water for an hour, with it working right after drying off. It also survived tossing it around in the front yard, with only some scuffs to show for it.
That aluminum casing also helps provide cooling for the enclosed storage chips, allowing them to run faster for a long period of time. According to the company, it will never go beyond 40C in temperature, far below temperatures some external SSDs can reach when under load for long periods of time.
GigaDrive Pro - fast, but not the fastest at 1TB
The GigaDrive Pro connects to a Mac or iPad Pro using the USB-C connector, with support for USB4 and Thunderbolt 4. Since it is backward compatible with all earlier USB and Thunderbolt versions, it offers extensive device support with the assistance of a dongle where necessary, but crucially it works with the fastest current-generation connections.
Inside the drive is a WD Black SN750, a high-performance domestic class solid NVMe SSD. This is coupled with an integrated DRAM cache chip that handles pre-processing, transfers, and buffering for the SSD.
With the connectivity, the NVMe SSD, and the thermal throttling, the drive's producer confidently claims it can achieve read speeds of up to 2,800MB/s and writes of up to 2,500MB/s. While the real-world speeds aren't quite there, it is pretty close.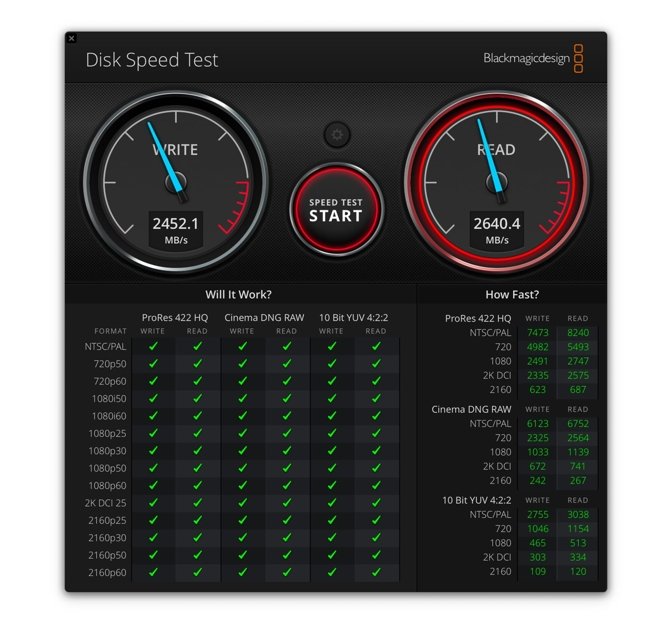 Test results for the GigaDrive Pro 1TB under BlackMagicDesign's Disk Speed Test.
In
AppleInsider
testing using BlackMagicDesign's Disk Speed Test tool, the drive could manage write speeds of 2,452.1 MB/s, while read speeds reached 2,640.4 MB/s. These are a little lower than the marketed speed, but it is more than sufficient enough for anyone wanting to shift massive amounts of data.
The lower-than-marketed claims could be due to the testing being performed on the 1TB model, versus one of the higher capacities. This is presumably down to a lack of parallelization at play, namely how data is written to, or read from, chips.
At larger capacities, more memory chips will typically be used by a vendor to increase the storage, instead of having to shift over to a higher-capacity chip variant. This makes it highly plausible for the 4TB version to actually meet the 2,800 MB/s claim, while the 1TB narrowly misses.
Despite the heat management at play, running the test for half an hour did eventually reduce the speed of the drive. While read speeds remained static, write speeds eroded down to 1,924 MB/s.
This is a hefty reduction in write speeds, but it's still fine to use. A video editor working from the external storage will probably be more than happy with that level of write speed for editing from the drive directly, even with high-resolution, high-bitrate footage.
As it is capable of being used in such a way for extended periods of time without enduring much slowdown, this makes it a highly attractive proposition in such situations.
Price to performance
It's one thing to claim the performance of a drive is the fastest on the market, but it's another if you have to pay a high price to get that speed.
The GigaDrive Pro is offered in three capacities, covering 1TB, 2TB, and 4TB. They are being sold at the time of publication at a discount through IndieGogo, with the 1TB priced at $153 instead of $299, the 2TB at $219 instead of $438, and the 4TB at $359, down from its expected post-funding price of $699.
One direct competitor is the
G-Technology Mobile Pro SSD
, which testing showed speeds of up to 2,300MB/s and 2,500MB/s for writes and reads respectively. That Thunderbolt 3 drive is still available, but currently costs $379.94 for the 1TB version and $699.95 for the 2TB model, far exceeding the GigaDrive Pro's undiscounted prices.
Plugable's Thunderbolt 3 NVMe SSD
is in the same ballpark, with claimed read speeds in excess of 2,400MB/s and writes of 1,800MB/s, which
AppleInsider
testing showed was fairly conservative in terms of marketing claims. Occasionally 2,650MB/s read and 2,100MB/s write speeds were observed.
It's also comparatively priced at $299 for 1TB, matching GigaDrive Pro, though the 2TB model is more expensive at $499.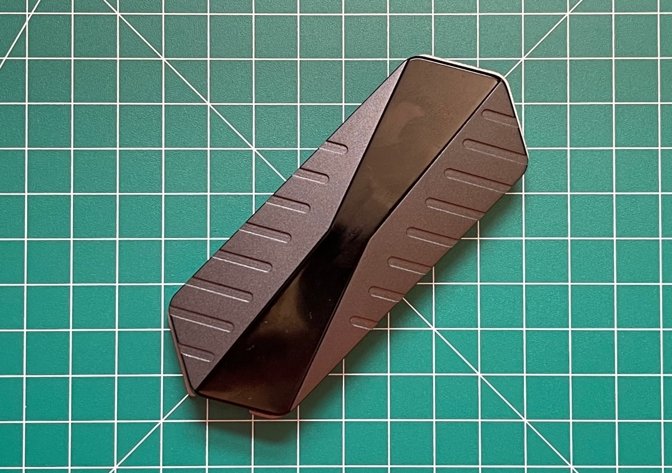 The aluminum alloy casing helps keep the drive from running too hot under load.
At the high-speed end of the table, the GigaDrive Pro seems to be a good deal against other rival drives. You can beat it on price with other NVMe models, but certainly not at the same sort of speed.
For example, the
WD My Passport SSD
uses NVMe and costs $139 for 1TB or $269 for 2TB. While considerably cheaper, the USB-C 3.1 Gen 2 connectivity means it runs slower, at up to 1,050MB/s for reads and 1,000MB/s for writes.
It's the same story for the
SanDisk Extreme V2
, an NVMe-based USB-C drive that is priced at $149 and $299 for 1TB and 2TB respectively. The claimed speeds of 1,050MB/s for data reads and 1,000MB/s for writes were almost reached in testing.
For comparison, SSD-based drives that use SATA operate at a far slower rate, typically in the hundreds of megabytes per second. For example, the
Lacie Boss SSD
maxes out at 430MB/s, which resulted in test speeds of 405MB/s writes and 421MB/s reads.
These cheaper drives certainly offer speeds that are entirely usable for video editing purposes, but those who absolutely need the higher transfer rates will be eyeing the batch of faster drives. Of those potential customers, the GigaDrive Pro arguably seems to be the better option.
Fast and protective
While many would argue that the whole point of external storage is to provide extra capacity to a computer, it is only really beneficial if that storage can be accessed at speeds in the same ballpark as the onboard storage itself.
In the vast majority of cases, the external drive simply doesn't approach what the Mac or MacBook Pro's internal storage can offer in terms of speed. Even in 2021, most drives on the market offer a few hundred megabytes per second for data transfers, while the M1
Mac mini
can handle around 2,800MB/s for writing data to internal storage.
Some drives do manage to touch gigabit speeds, which are useful enough for most people, but not for those with data-hungry use cases. Even paying top dollar for a drive with NVMe storage and a high-bandwidth Thunderbolt connection, the heat is still a problem area for long-term use.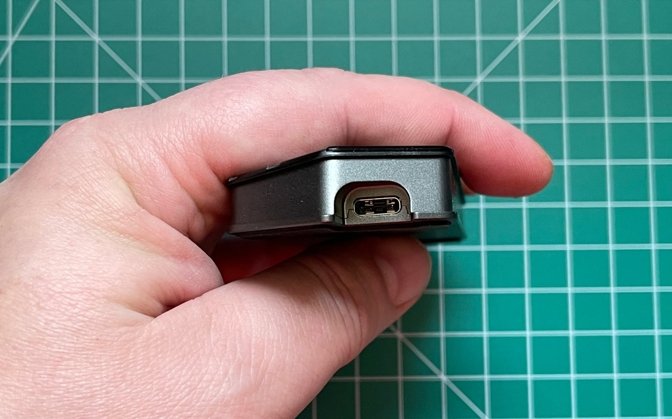 The end of the GigaDrive Pro contains a sole USB-C port.
In the GigaDrive Pro, its creators attempted to address the concerns with a drive that can run relatively cool under load, and with USB 4 and Thunderbolt 4 coupled to high-speed storage technology.
While it falters a little for long periods under load, that dip in performance still puts the drive at the higher end of the scale.
Its compact size makes it potentially versatile enough to handle practically any portable data transfer application you throw at it. Sure, you could reserve it for expanding your Mac's local storage, but it could just as easily be a drive for an
iPad Pro
, or used to transfer data between devices, as you would use a thumb drive. The manufacturers also note that it can be used for a game console, but at present, that's profound overkill, as the USB buses aren't Thunderbolt USB4 and will be the bottleneck on the drive.
But, for Mac folks, the GigaDrive Pro certainly answers all of the issues that external drive users face. It does so with high-end, but not quite the fastest ever, performance.
Pros
Compact and sleek appearance
USB4/Thunderbolt 4 connectivity
Runs relatively cool for long periods
Very high data transfer speeds
Cons
Crowdfunding product -- with all that entails -- from unproven company


The case may not be all that attractive to some
Rating: 4 out of 5 -- while still on sale
Where to buy
The GigaDrive Pro is available to purchase
from IndieGogo
, with all models discounted from their expected final retail values. The 1TB model costs $153 instead of $299 during the funding period, the 2TB version is $219 instead of $438, and the 4TB is $359 but will rise to $699 after the period ends.
Bundles are also available to purchase, again at discounts.
AppleInsider
requires production hardware in-hand for testing of all crowd-funded projects, but our technical assessment is no guarantee that the vendor will ever ship the product.