VanMoof's early Find My integration started with a forum post
Dutch electric bicycle maker VanMoof was among three companies to gain early support for Apple's newly expanded Find My object location network last week, a project that started nearly a year ago with a forum post.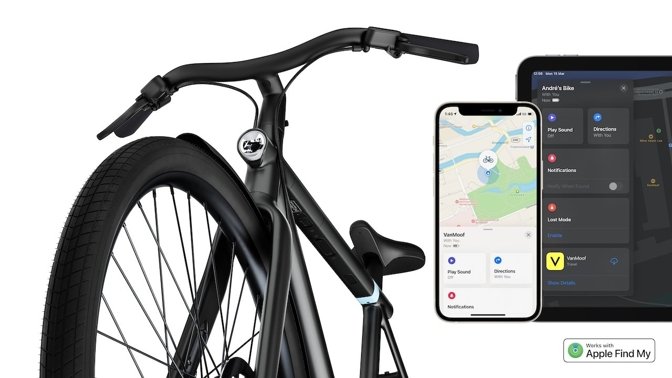 As detailed by
iCulture
, VanMoof initially
reached out
to Apple through a developer forum in June or July of 2020, shortly after the tech giant announced plans to build out Find My support for non-Apple devices.
Apple revealed the
expansion to the Find My
network at WWDC 2020, later introducing
certification
through the Made For iPhone (MFi) program.
According to Job Stehmann, VanMoof's head of product design, a developer contacted Apple and discovered the company was actively looking for partners that could bring "something new" to the table. After agreeing to collaborate, VanMoof, through its office in San Francisco, sent a number of prototype bikes to Apple engineers for evaluation. The companies discussed the program's progress in weekly meetings.
Despite constant communication, the project hit a few speed bumps. Apple is used to working with small Bluetooth devices like earbuds, not larger products that require software to control motors, locks, and an anti-theft system. The tech giant was, at times, a bit lost, Stehmann said.
It took VanMoof and Apple about nine months of collaboration to complete Find My integration, with the effort focused mainly on software. That is a significant chunk of time and resources to dedicate, but Stehmann said the result was worth the price. He believes others will follow suit.
With Find My certification in place, VanMoof's S3 and E3 models sold after April 7 can be tracked in the Find My app on
iPhone
,
iPad
, and
Mac
. Owners can also mark a bike as lost to be notified of its whereabouts when another iPhone user is in close proximity.