If you plan on using your new M1 iMac with a VESA mount, make sure to buy the right model
Apple is selling its new
iMac
in both a standalone version and a VESA-compatible variant, meaning users who want to use their own mounts should ensure they select the right model.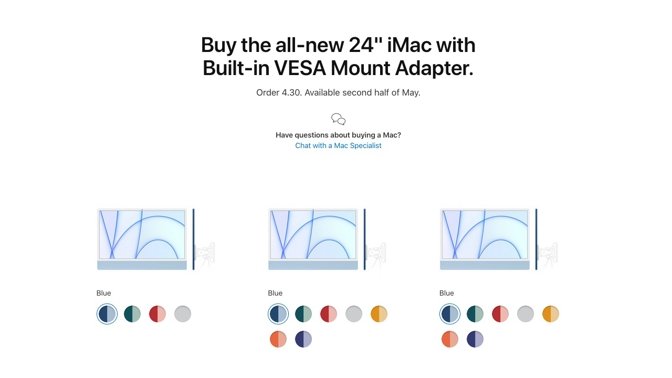 Credit: Apple
The Cupertino tech giant on Tuesday announced a brand-new
24-inch iMac
refresh equipped with an
M1
chip, significantly updated audio and video capabilities, and a host of other features.
As with previous iMac models, the standard version of the iMac comes with a built-in stand for users wanting a simple desk setup. However, users who want to use their own mounting system should take care not to purchase the model with a stand.
Instead, Apple has a 24-inch iMac with a
built-in VESA mount adapter
. With a standard four-screw mount on the rear, users can install the VESA variant on a variety of arms or brackets.
The VESA-compatible iMac is available in the same configurations as the standard model. All VESA configurations are also priced the same as their stand-equipped counterparts.
Additionally, users should note that the entry-level 24-inch iMac only comes in Blue, Green, Pink, and Silver. The higher-priced tiers are available in the other colors, Yellow, Orange, and Purple.
Other model differences include the lack of two additional USB-C ports on the cheapest iMac. That model is only equipped with two Thunderbolt 3 ports, whereas the more expensive variants have an additional pair of USB-C ports.