Flying with Apple's AirTag: When 'boring' is genuinely high praise
It turns out, flying with AirTag is about as exciting as waiting in a TSA security screening line, and that's perfectly OK.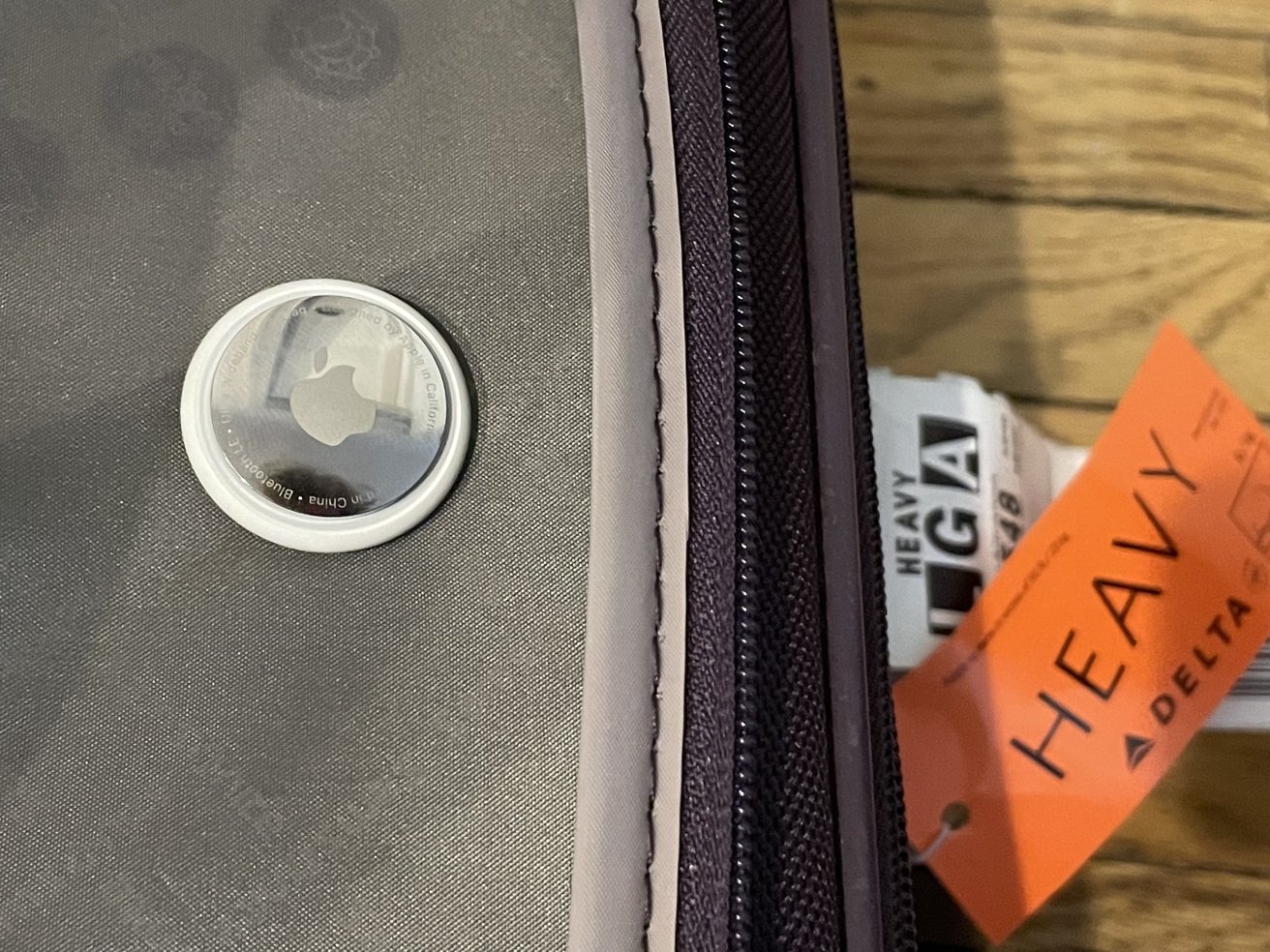 It was my first flight since Covid struck, and I was already late. Newly emboldened with that sweet Pfizer goodness coursing through my veins, I had booked a trip to Florida to see my family, coinciding with Mother's Day and my Mom's birthday.
I picked up a $99 four-pack for Apple AirTag -- it still feels weird not writing the product name plural. One AirTag went to my wife, one went into a bag of overpriced hockey equipment, and the other two were selected for traveling -- one in my personal item taken in the cabin of the plane (a backpack), and one for my checked luggage, which, for a 12-day stay, was dangerously close to Delta's 50-pound limit.
Apple Maps told me it would be a 32-minute trip to LaGuardia, which would provide me plenty of time. The Brooklyn-Queens Expressway and my Lyft driver had other ideas.
Fifty-five minutes after leaving our apartment, we arrived at LaGuardia's Terminal C with 40 minutes to spare before takeoff. Delta's bag check closes 45 minutes before the flight. My long awaited Sunshine State extended stay was off to a rocky start.
Earlier, as we watched the minutes tick away gridlocked on the BQE, my wife offered an optimistic take -- we both have TSA PreCheck and would have plenty of time to get through security and catch our flight. Perhaps Delta would put our borderline-overweight bag on a later flight. This would give me an opportunity to check its status after I landed in Florida, which raised all kinds of
interesting
possibilities.
Would AirTag tracking work in the air, connecting to other users' iPhones in the cabin? The prospect of not having my bag at arrival was frustrating, but tracking it as it traveled down the East Coast seemed kind of
exciting
.
Alas, it was not to be. Delta wouldn't allow our bag to travel separately from us. We'd have to wait for the next flight to Orlando that was mercifully just an hour later.
Functional, not revolutionary, is fine
The AirTag is not an "exciting" or "interesting" product in the sense that, say, a new iPhone or Apple Watch can be. Sure, AirTag is a technical achievement, leveraging a vast network of iPhones to pinpoint your things and make sure they are safe and secure. But your best day with an AirTag is one where you don't really need it.
A typical day at a TSA checkpoint might yield some unemptied water bottles, or a Swiss Army knife someone forgot was stowed in their carry-on. It's not an "exciting" or "interesting" experience. And yet we participate in it because of the rare instance where something might truly go awry, helping prevent those worst case scenarios from becoming a possibility.
An AirTag is used in essentially the same spirit. Nobody plans to lose their luggage, or their keys, or their car. But hey, it happens.
Just like the experience of standing in line waiting to potentially be frisked by a TSA agent is, on its its best day, entirely mundane, Apple's AirTag is a quality, boring accessory.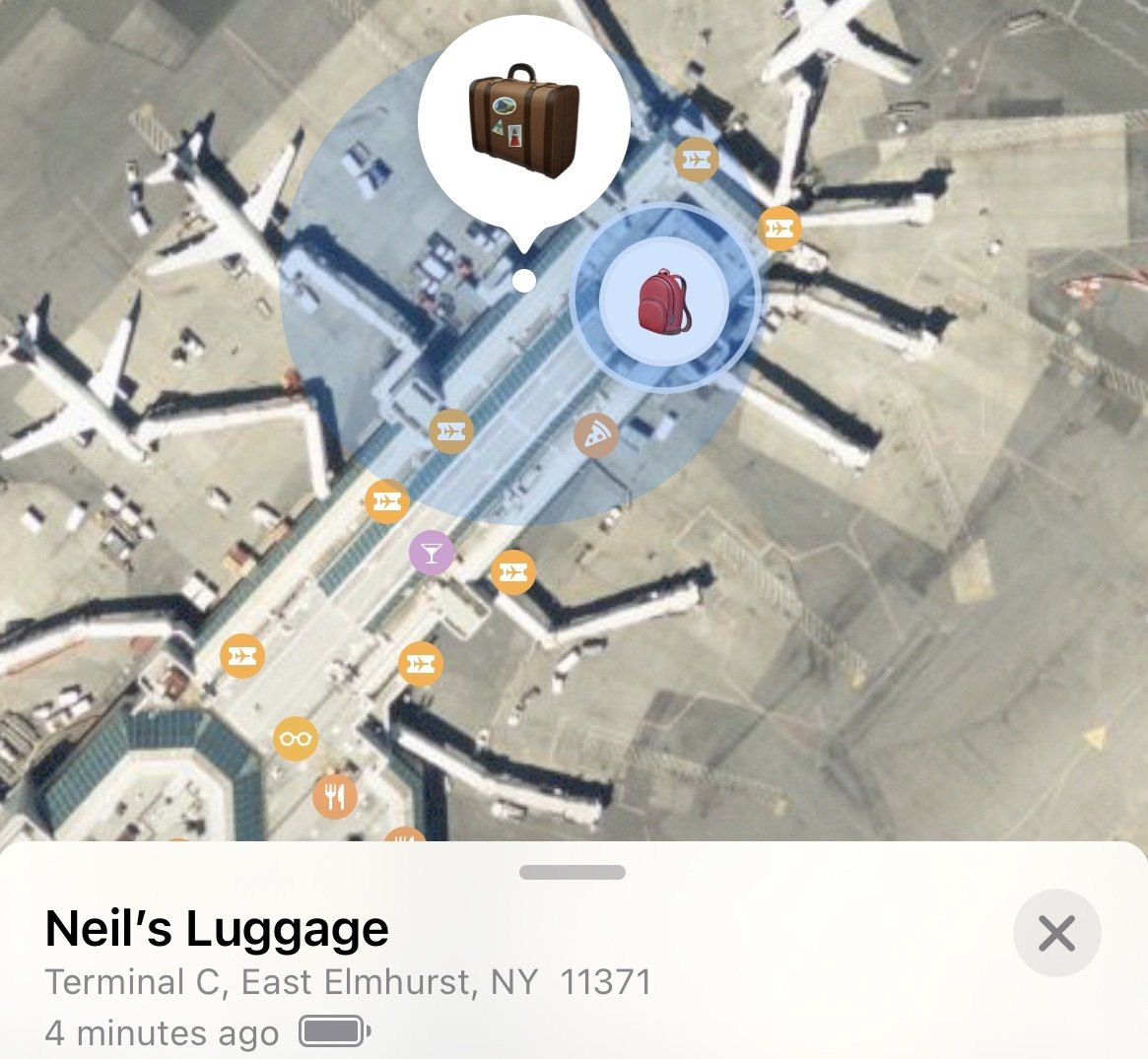 If you buy and use a $99 AirTag four-pack, you'll probably find that your keys are right where you left them, your luggage is indeed on the plane with you, and nobody went on a joyride with your car.
Maybe, occasionally, you'll use the speaker function to find your keys that fell in the couch cushion. Maybe the AirTag in your glove box will remind you what lot number you left your car at. That's OK.
Sure, it's boring, but a little peace of mind can go a long way.
My small Brooklyn apartment doesn't have a garage, but I would imagine that a HomeKit-connected garage door opener serves much the same purpose. "Did I remember to close the garage door?" is a common moment of self-doubt. With a connected garage door opener, you can confirm that, yes, you did indeed close it.
For some, that reassurance is enough to make your blood pressure drop. Especially if you're dealing with other stressors, like missing your flight.
Back at LaGuardia, we breezed through security in time to hear last call for boarding our original flight. We stood and watched at the gate as the Airbus A320 backed away from the jet bridge and headed for the runway. I pulled out my iPhone 12 Pro and saw my bag was still on the ground with me.
We were on standby for the next flight at 5:10 p.m., so it was still unclear whether we would get a seat on the next trip. Using Apple's Find My app, I saw that the bag had made its way from the ticketing area to the terminal. It was a good sign and helped put me at ease.
Soon after, my wife received an update from the Delta app letting us know that our purple Samsonite suitcase was, in fact, safely stowed on the flight. The agents at the gate hadn't assigned us a seat yet, or even let us know that we were going to be on the flight, but we felt pretty confident.
Sure enough, we were soon informed that we had seats, and we'd been upgraded to first class. Not bad for an hour wait.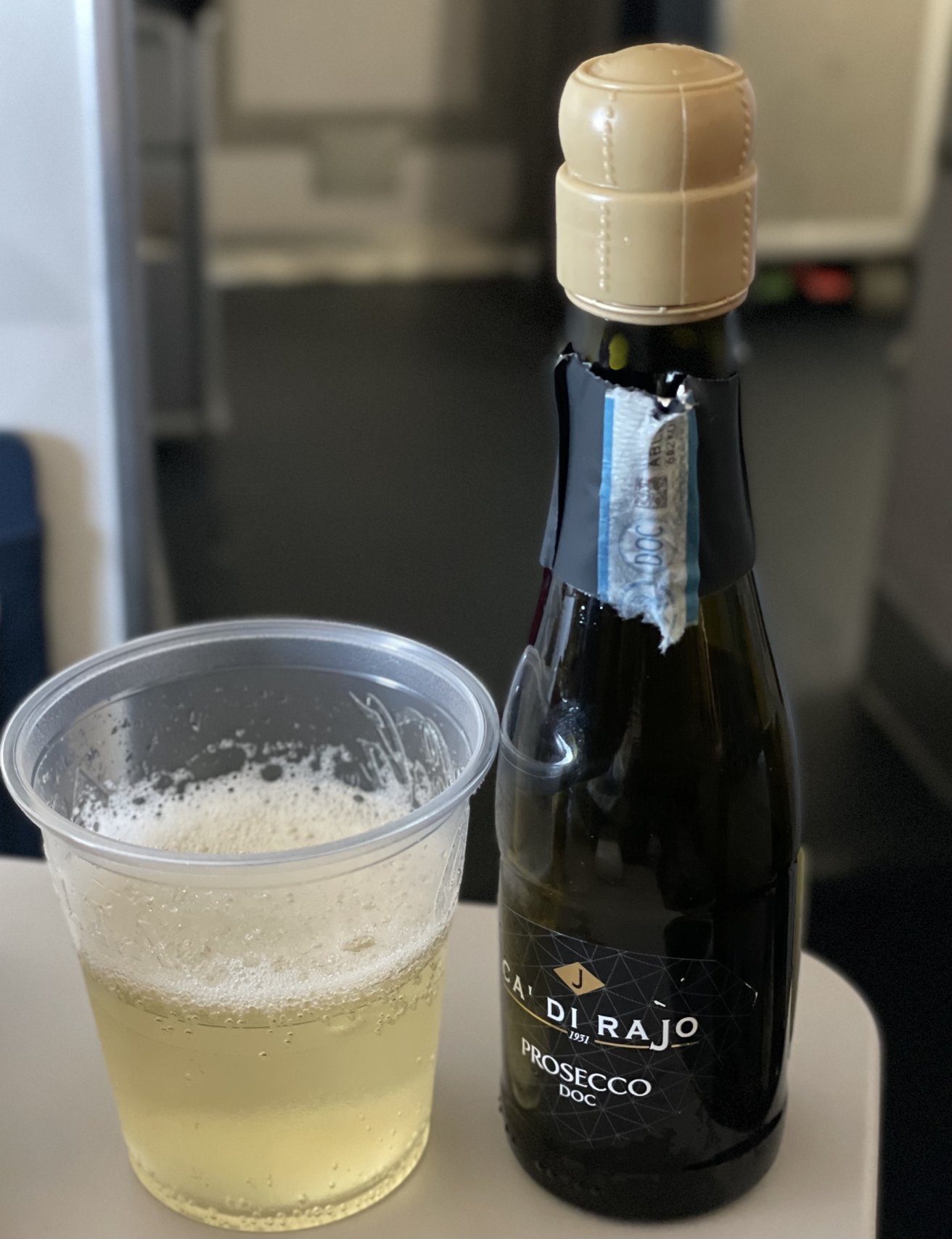 Accidental first class with luggage safely onboard.
A few days after arriving in Florida, my publisher messaged me to ask how my flight went. He, too, hadn't flown in over a year, and was newly vaccinated and a little stressed about the prospect of navigating a crowded airport and cramming into an airplane. I told him my tale, and he laughed, particularly at the fact that I had used Apple Maps to gauge how long it would take to get to LaGuardia.
"Haha u trusted Apple Maps" he texted.
My debacle wasn't so funny when I was sitting on the BQE, but by that point, I could laugh about it too.
I then told my publisher I was working on a story about flying with Apple's AirTag. I said I wasn't really sure what I would write. There wasn't much to say. It works. It's boring It does what it says. And that's all it needs to do.
A week later, it was time to fly back to New York. I arrived at the airport -- this time in Tampa, and this time with over an hour before takeoff. It went about as humdrum as you'd expect. Somehow my bag weighed 5 pounds more at the airport than it did at home. The AirTag was tucked inside, ready to go on another adventure through the bowels of Tampa International, finding its way to my plane.
As we took the shuttle from the ticketing area to Airside E, I pulled out my iPhone. Yes, my luggage was still at the ticketing area. Yes, my backpack was on me. Yes, my hockey bag was still at home in Brooklyn.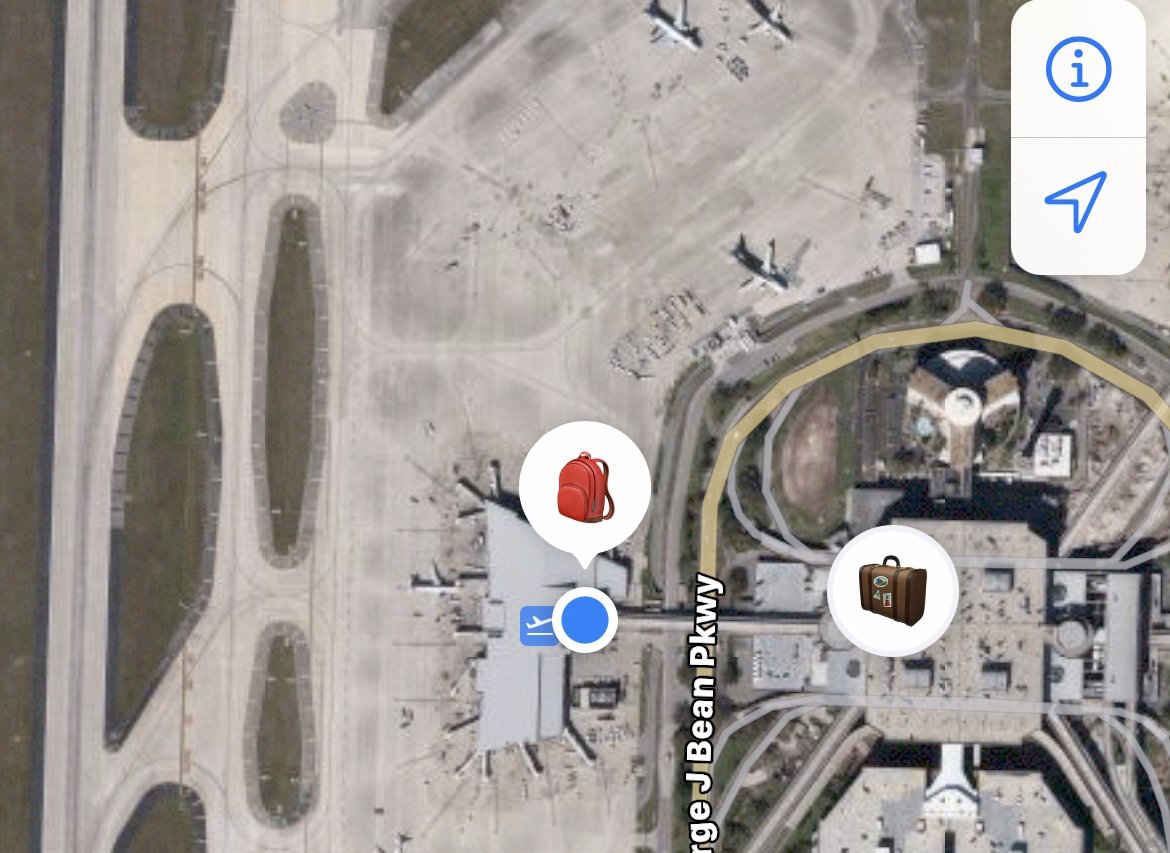 Later, at the gate, the Find My app let me know my bag had made its way to the plane. When we landed at LaGuardia, I saw it make its way to the baggage claim area.
AirTag isn't precise enough to let me know with pinpoint accuracy where my bag was on the carousel itself, but that's OK. This isn't an interesting or exciting product. It's a puck the size three stacked quarters, powered by a coin battery.
It's like a Mentos -- you're unsure whether it needs an 'S' at the end of the word, and you could probably swallow it whole, if you didn't care about your health or well being.
Not everything Apple does needs to be the iPod, or the first iPhone. Apple doesn't need to debut something that commands a market segment like the iPad, Apple Watch, air AirPods every year.
Sometimes "boring" is nice. Boring can mean comforting, and safe, and reliable. It can provide just what you need and nothing more. Boring is there in case you need it, but hopefully you never do.
Hopefully, you never really have any excitement using your AirTag. You can always turn to Apple Maps for that.
Stay on top of all Apple news right from your HomePod. Say, "Hey, Siri, play AppleInsider," and you'll get latest AppleInsider Podcast. Or ask your HomePod mini for "AppleInsider Daily" instead and you'll hear a fast update direct from our news team. And, if you're interested in Apple-centric home automation, say "Hey, Siri, play HomeKit Insider," and you'll be listening to our newest specialized podcast in moments.