2021 12.9-inch iPad Pro review: Pro hardware without Apple's pro software
Posted:
in iPad
edited May 2021
The 2021
iPad Pro
is a major step forward for Apple's high-end tablet. With its M1 processor, Thunderbolt 3 connectivity, upgraded cameras, and a shiny new display, the iPad Pro is closer than ever before to realizing its potential.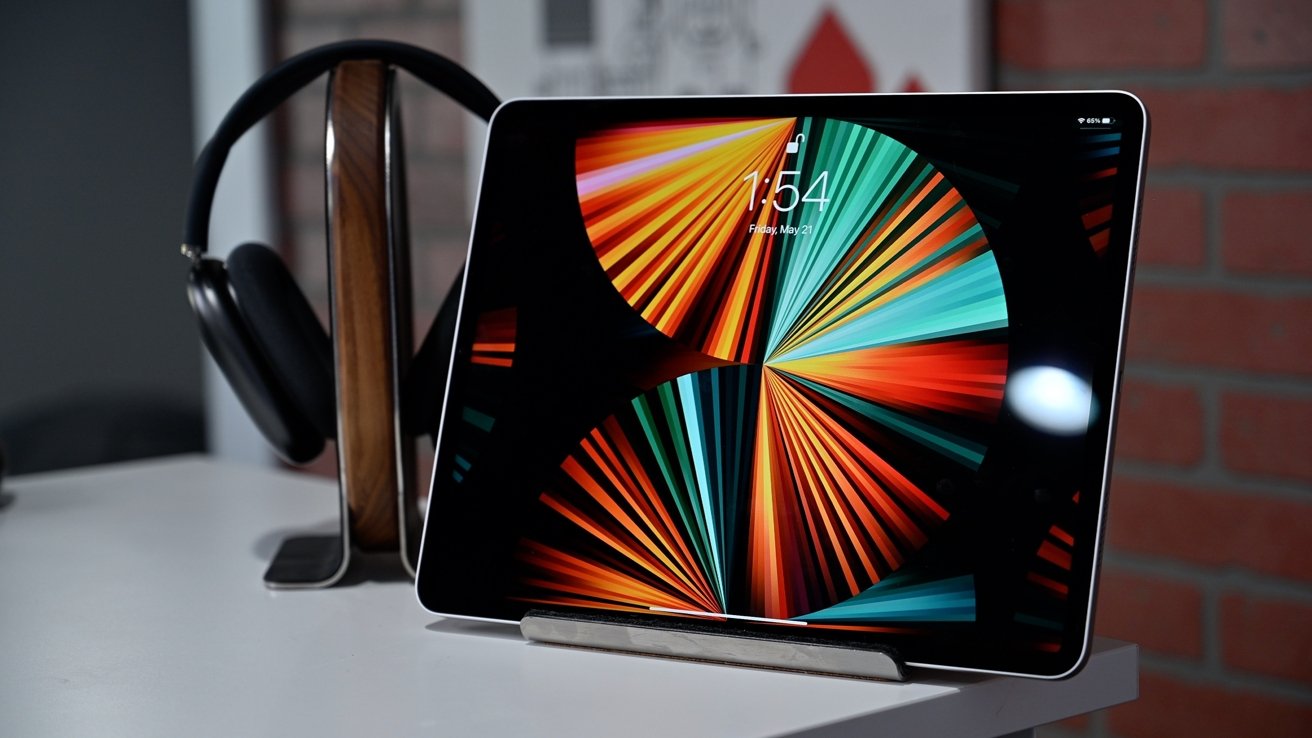 12.9-inch iPad Pro (2021)
When
we reviewed
the 2020 iPad Pro last year, we said it "is more about future software than the hardware gains today." Twelve months later, that is still more true than ever, but the software improvements have, thus far, not surfaced.
Apple made low-key updates to iPadOS such as widgets, Scribble, and a refined search experience. But none of these felt like they took advantage of the power inside of iPad Pro.
With this significant update to the hardware, it still feels like the software is falling short. Again.
This review will be specifically looking at the 1TB 12.9-inch iPad Pro (2021) with the new mini LED screen and 16GB of RAM.
iPad Pro -- now beefier than ever
Never has iPad Pro felt as powerful as it does with the introduction of the 2021 model. We typically get our excited paws on a new iPad Pro and marvel at its newfound speed, though it slowly wanes over the course of the year as applications are updated to take advantage of it. These processor jumps are often worthy upgrades, but this year goes to a whole new level.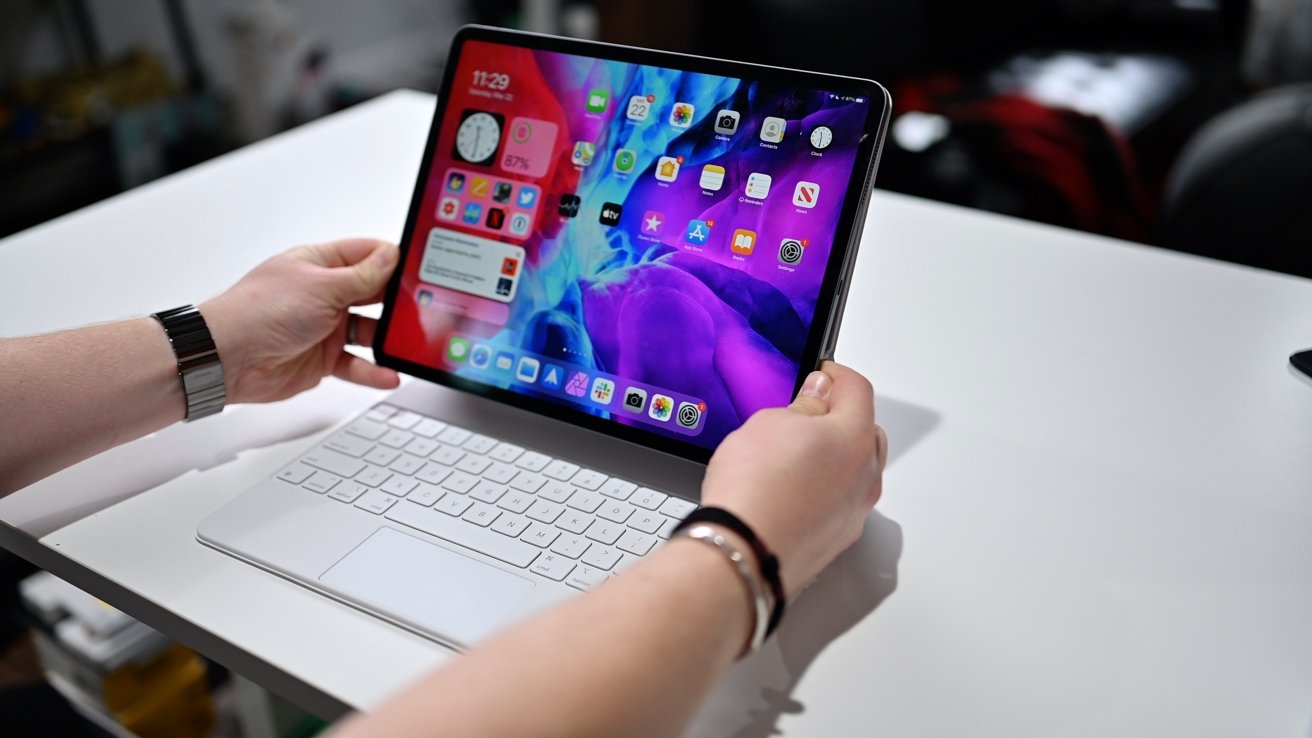 Placing the 12.9-inch iPad Pro (2021) on the new white Magic Keyboard
Apple moved from the A12Z Bionic processor -- a forgettable upgrade for the 2020 iPad Pro with a mere single-core GPU increase paired with a LiDAR scanner -- to its M1 processor. This M1 is the very same one that sits in the current
MacBook Pro
, as well as the
Mac mini
,
MacBook Air
, and new
24-inch iMac
.
That makes Apple's exceptionally thin and portable tablet literally as powerful as a MacBook Pro.
Looking at raw performance as measured by the standardized Geekbench 5 benchmarking test shows a massive jump in computational power. Single-core scores go from 1117 to 1704, while the multi-core score leaps from 4690 to 7014. The Compute benchmark that measures graphics prowess jumps from 9616 to 21240.
Looking at those numbers, it is clear that this is the most significant upgrade in performance Apple has achieved on iPad Pro in years. The 2018 to 2020 upgrade only saw a 547 point increase on the Compute test and essentially no increase for the single-core and multi-core tests.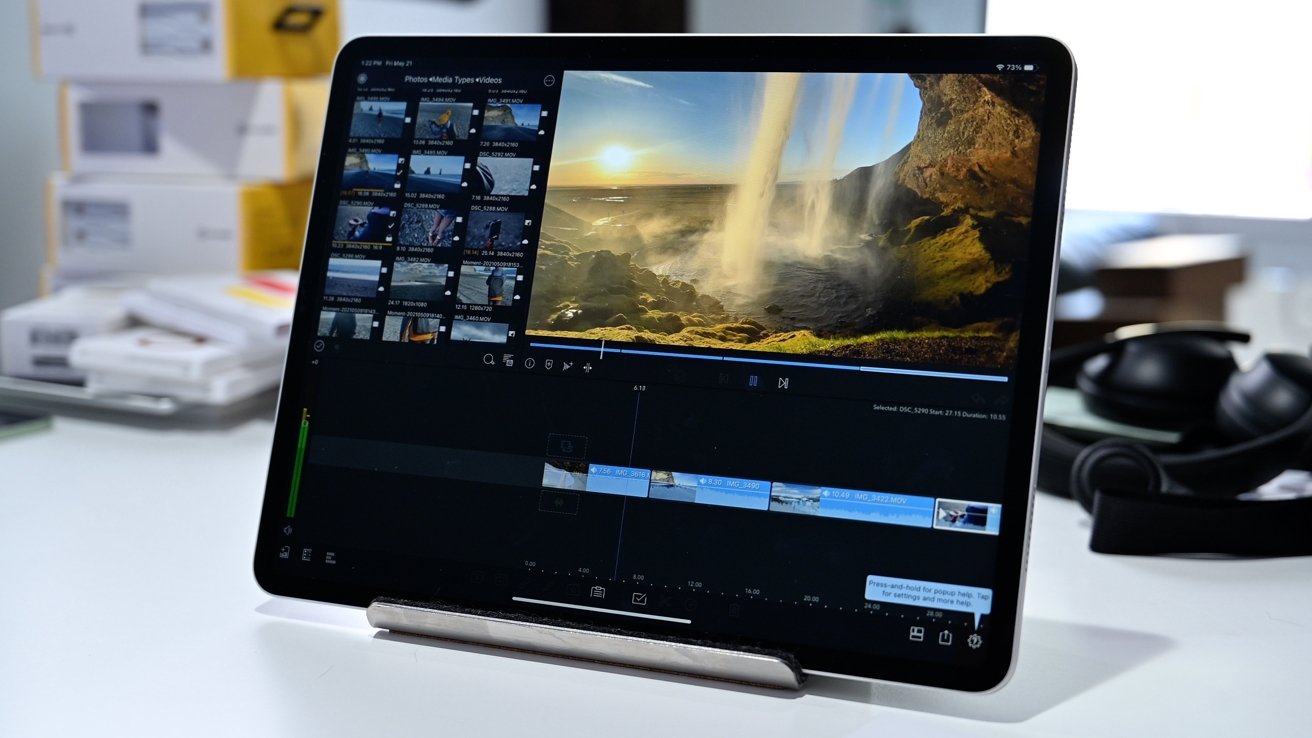 Editing in LumaFusion on 12.9-inch iPad Pro (2021)
Additionally, Apple has bumped up the RAM significantly. Apple baked 6GB of RAM into the 2020 iPad Pros but 8GB into the 256GB and 512GB 2021 models and 16GB in the 1TB and 2TB configs. After using the 2020 model for a year, we never felt it had any issue with RAM shortages. Yet, here we are with 16GB in our new model.
Right now, we can't even discern a performance increase that can be attributed to the increased RAM. We can open a flurry of Safari tabs and jump between them without them reloading. The same with moving between open applications without needing to refresh themselves. Like much of this iPad, this RAM feels like it was designed for what's to come.
Cameras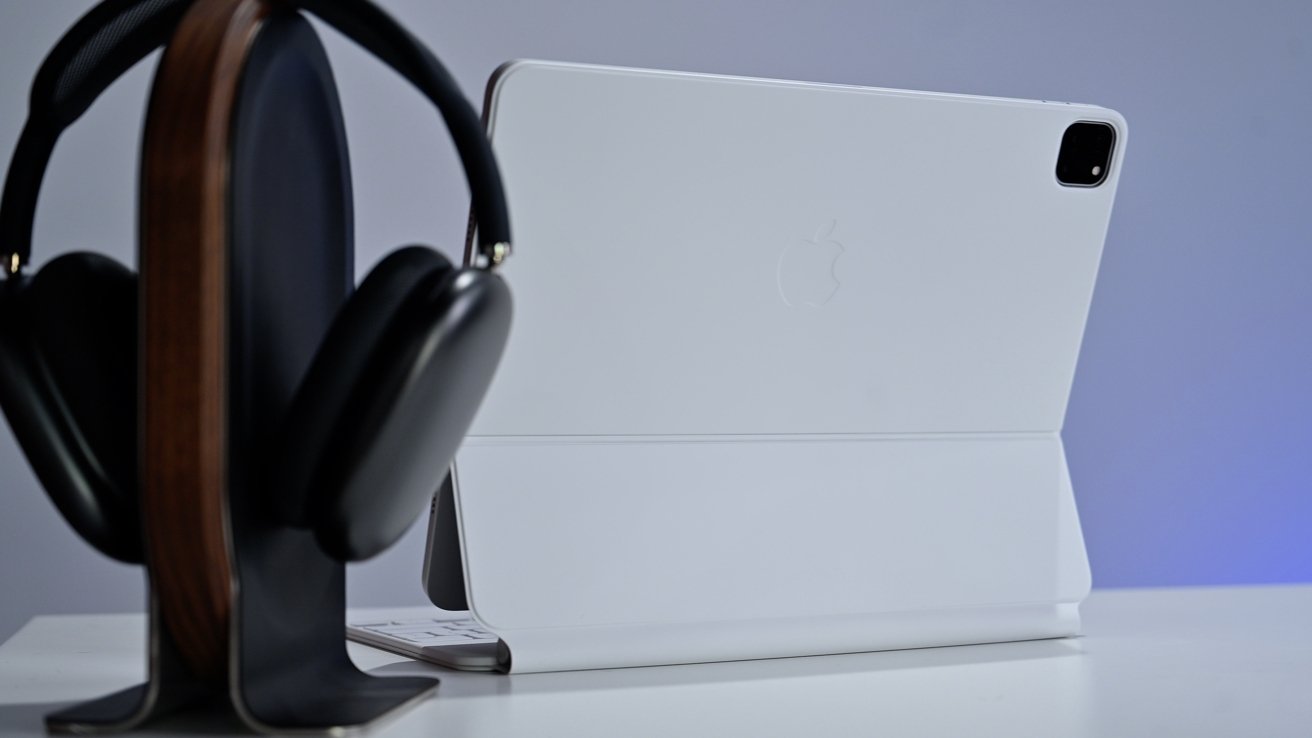 Apple updated the cameras on the 12.9-inch iPad Pro (2021)
That M1 processor has more improvements than just speed. Its 16-core neural engine and next-generation image signal processor have led to considerable improvements to the iPad Pro's camera system.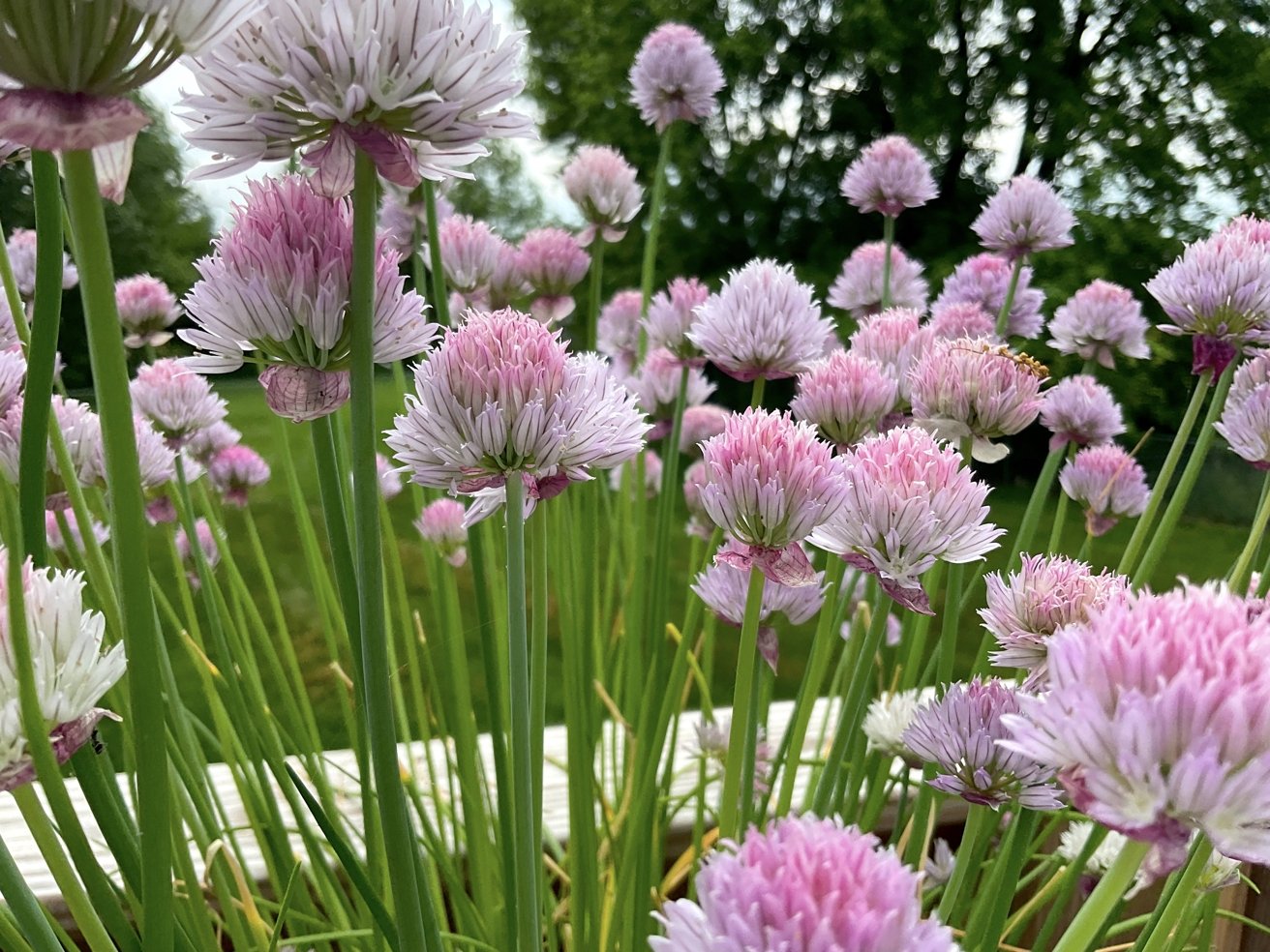 The rear-facing camera shoots great
On the rear-facing camera, Apple has allowed 2X optical zoom when shooting 4K content. It also enabled cinematic stabilization while shooting 4K, stereo audio recording, and audio zoom. It feels a bit odd to be talking about cameras on a tablet -- especially the 12.9-inch model. The mental image of ourselves walking around snapping pics or shooting video holding up a tablet versus a phone or dedicated camera feels wrong.
That said, it is an actual use case for many people. Many rely on iPad Pro as their primary device and take Zoom calls or other video meetings. There are reporters and journalists who shoot interviews on iPad, then go on to edit that footage on the iPad as well. If Apple can make that captured footage better, then we won't argue.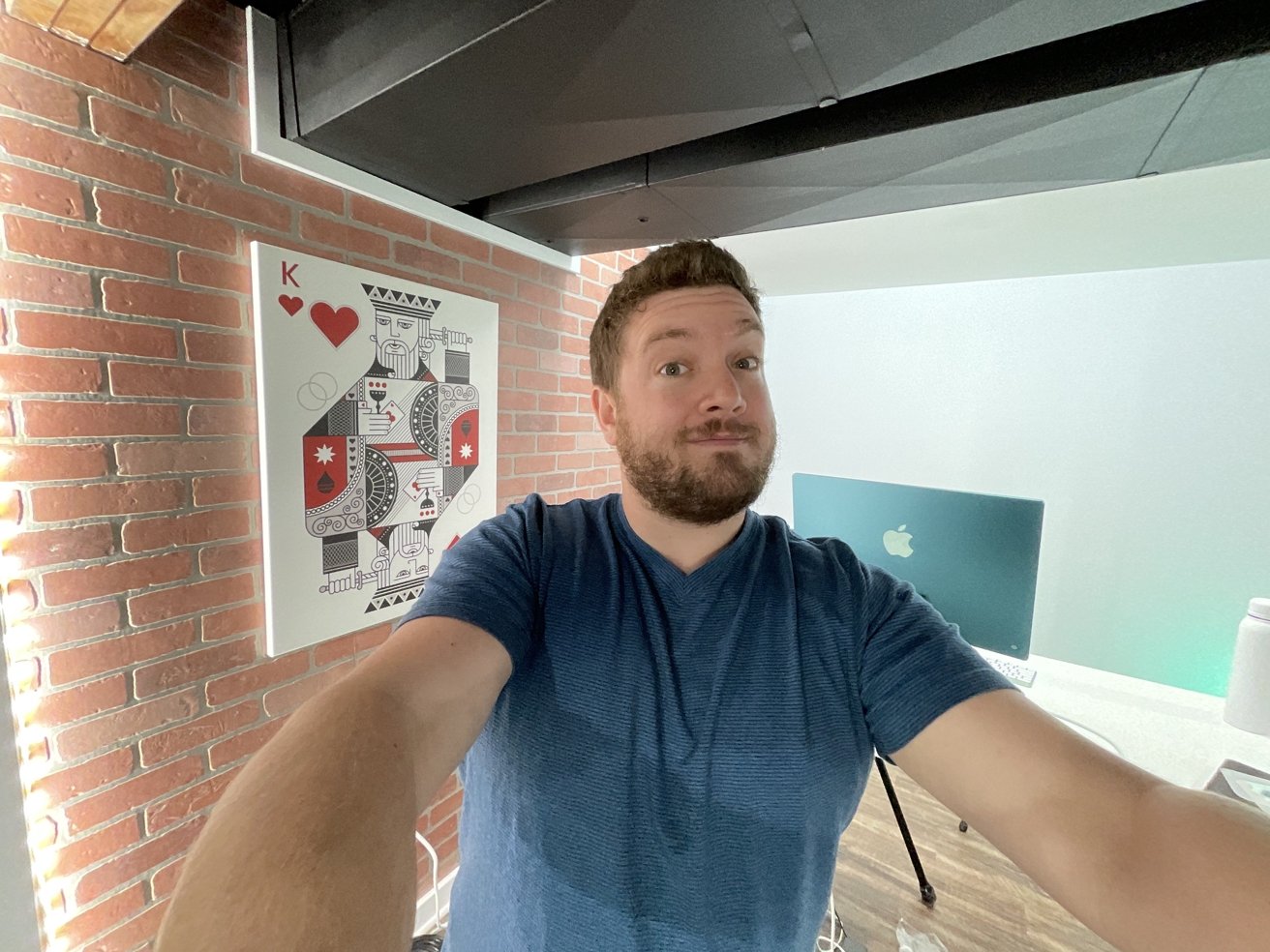 12MP ultra-wide shot on TrueDepth camera system
The front-facing TrueDepth camera system got an even more substantial upgrade of its own to boast. It proudly boasts an ultra-wide 122-degree field of view to capture vastly more if your surroundings. Smart HDR 3, time-lapse video, and lens correction were also added. Not to mention Apple went from a 7MP to a spiffy new 12MP one.
Whether you're in a meeting, giving a presentation, or just FaceTiming with family, it all looks much better. While we are all starting to get back to the norm, these video calls are likely to still be prevalent in our personal and professional lives.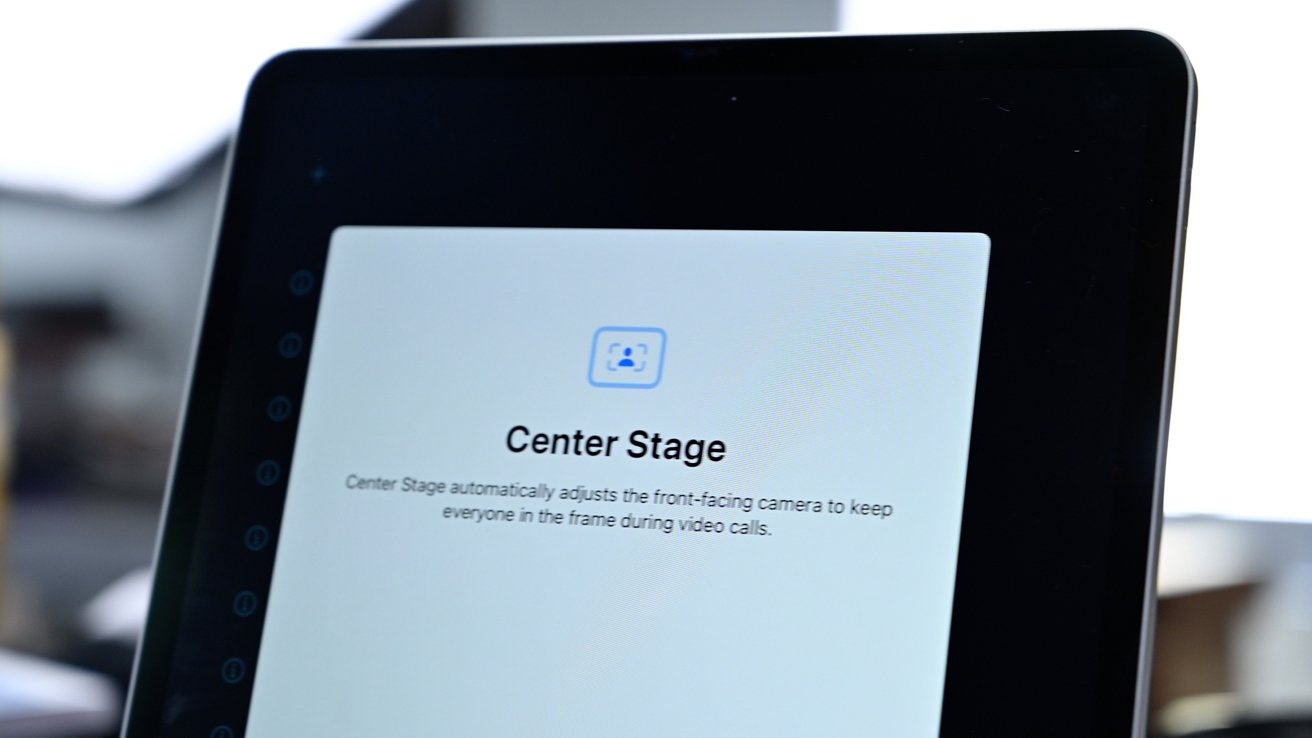 Center Stage on the new iPad Pro
Coupled with that updated TrueDepth camera is a software feature dubbed Center Stage. Center Stage intelligently zooms in on your face while making a FaceTime call and follows you as you move. An obvious example is making a FaceTime call while cooking, a task that requires you to move about. Instead of walking out of frame, its new 122-degree field of view can track you and always ensure you're in-frame.
Apple considered others as well. If a second person walks in front of the camera, it will scope out to be sure everyone can be seen. In practice, this feature feels almost magical. It works like a dream, and we were shocked at how far we could traverse with iPad continuing to find us. We tried moving fast and slow and multiple people at once. Center Stage never skipped a beat.
Our only issue with Center Stage arose when we started to walk around, holding our iPad, during a FaceTime call. Center Stage made things look very topsy turvy and confusing. Luckily, there is a button to turn the feature off displayed prominently within the FaceTime app.
At launch, Center Stage works with FaceTime, but Apple is opening it up as an API for third parties to take advantage of in their own apps. Zoom, Meet, Skype, among others.
Thunderbolt
New to iPad Pro is
Thunderbolt
. Thanks in part to Apple's M1 processor, the 2021 iPad Pro has a USB 4/Thunderbolt 3 port. It is important to know that while it is USB 4, it is not Thunderbolt 4. This is due to the M1 processor, which is limited to only supporting Thunderbolt 3. Likely because work on the M1 had commenced prior to the Thunderbolt 4 spec being finalized, it feels ever-so-slightly outdated.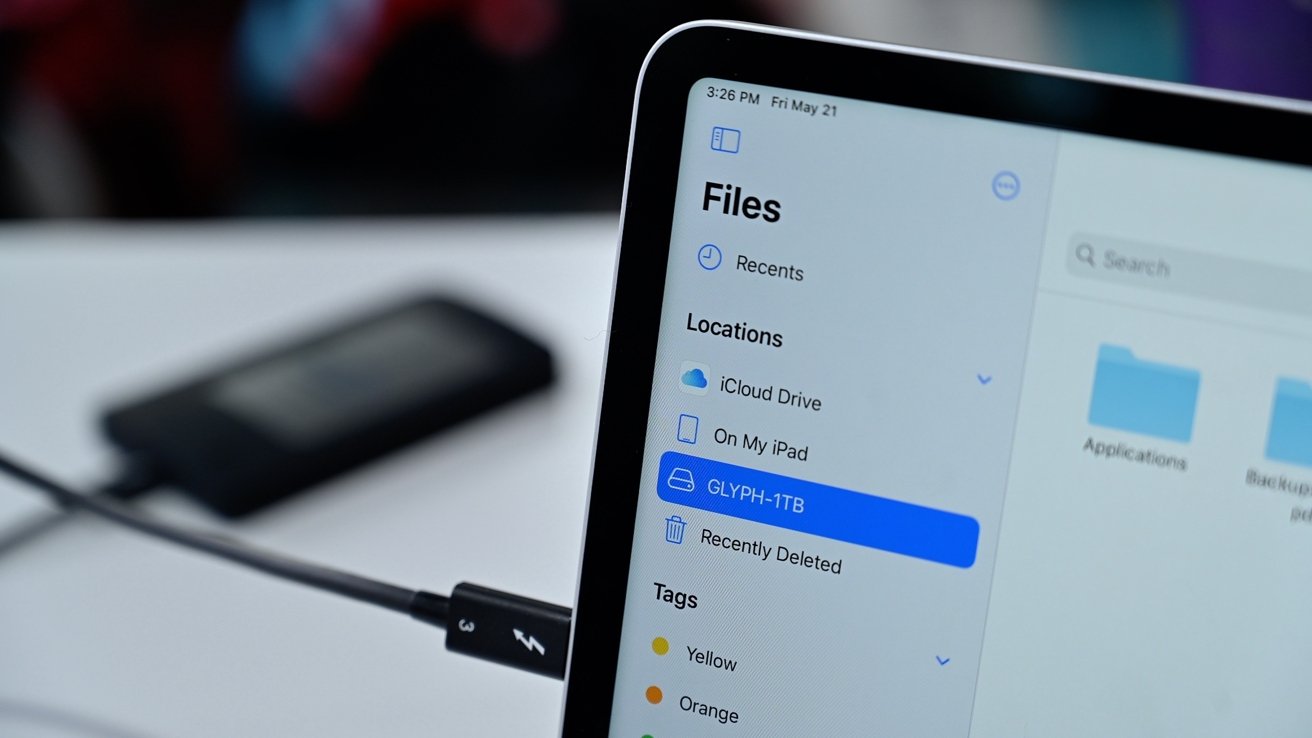 New iPad Pros sport Thunderbolt 3
Fortunately, there is a wealth of Thunderbolt 3 devices on the market as-is, and the benefits coming to Thunderbolt 4 aren't crucial enough that we feel left out. Thunderbolt 4 has the same speeds as Thunderbolt 3, so storage and display bandwidth would remain unchanged.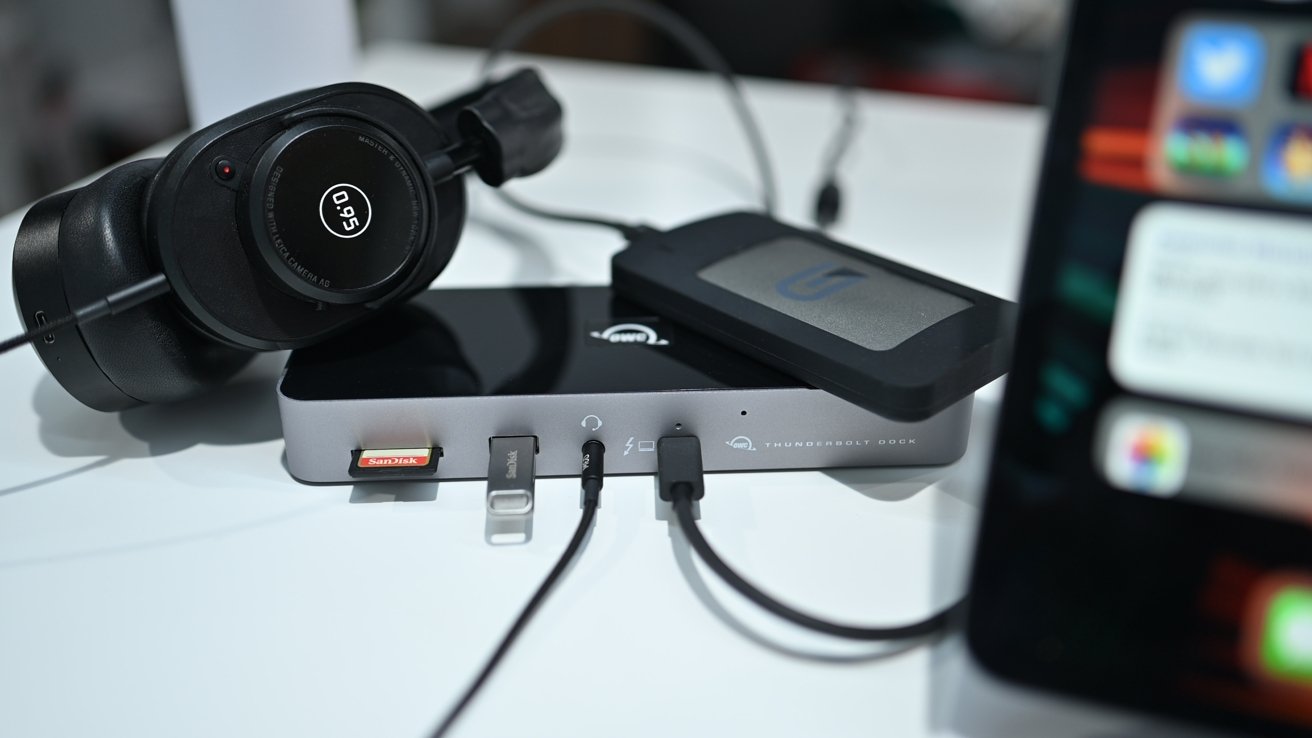 The OWC Thunderbolt dock connected to iPad Pro
For years now, we've felt disadvantaged as we've relied on Thunderbolt for our Macs but could never utilize the same gear on our iPads. Any Thunderbolt monitor, Thunderbolt SSD, or Thunderbolt dock in our kit has been of no use to us while on our iPad. That is no longer the case. With this simple port update, a whole new world of accessories has become available.
We've tested a few docking stations and Thunderbolt 3 hubs, and all have worked perfectly. Just connect, and you can plug in hard drives, SSDs, displays, card readers, and more.
Personally, with video production in mind, we connected our Sonnet CFExpress II Thunderbolt dual card reader to our new OWC Thunderbolt Dock along with our Glyph Atom Raid SSD and Blue Blackout Yeti. At times, we connected an additional
USB-C
monitor while editing video. LumaFusion allows us to watch our content on the display while devoting the entirety of its own display to our media and timeline.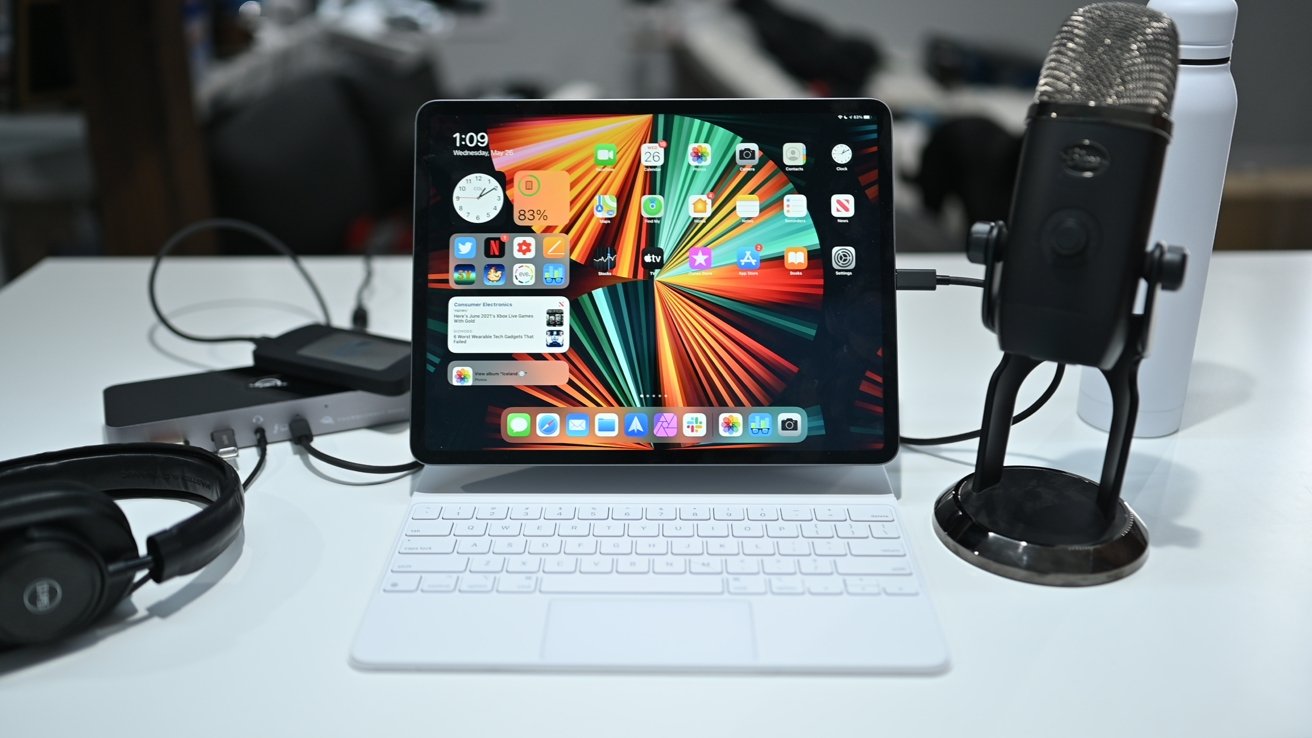 Many accessories on a Thunderbolt Dock
Thunderbolt is especially useful on iPad Pro due to its sole port. Peripherals can be daisy-chained together so multiple can be connected without needing a dock at all, feeding back to the one port on the tablet. As users who rely on lots of storage and peripherals, Thunderbolt has been a godsend already.
That new display
Both the 12.9-inch and the 11-inch iPad Pros are usually in feature parity, but Apple did something different this year. Exclusive to the 12.9-inch model is a new high-end display.
What some have called Apple's new "Liquid Retina HDR" display is dubbed the "Liquid Retina XDR" display, proudly touting its lineage of the high-end, $5000, professional-oriented
Pro Display XDR
. XDR is what Apple is referring to as displays that go past typical HDR. The 2020 iPad Pros had capable displays that could handle HDR content, but the 2021 model pushes the boundaries.
Even though the tablet is essentially the same size, Apple managed to cram 10,000 mini-LEDs into this panel. The mini-LEDs replace the traditional LED backlight system that includes over 2,500 local dimming zones. Mini-LEDs aren't just smaller, they are more accurate and yield deeper blacks, higher contrast, more brightness, and less blooming.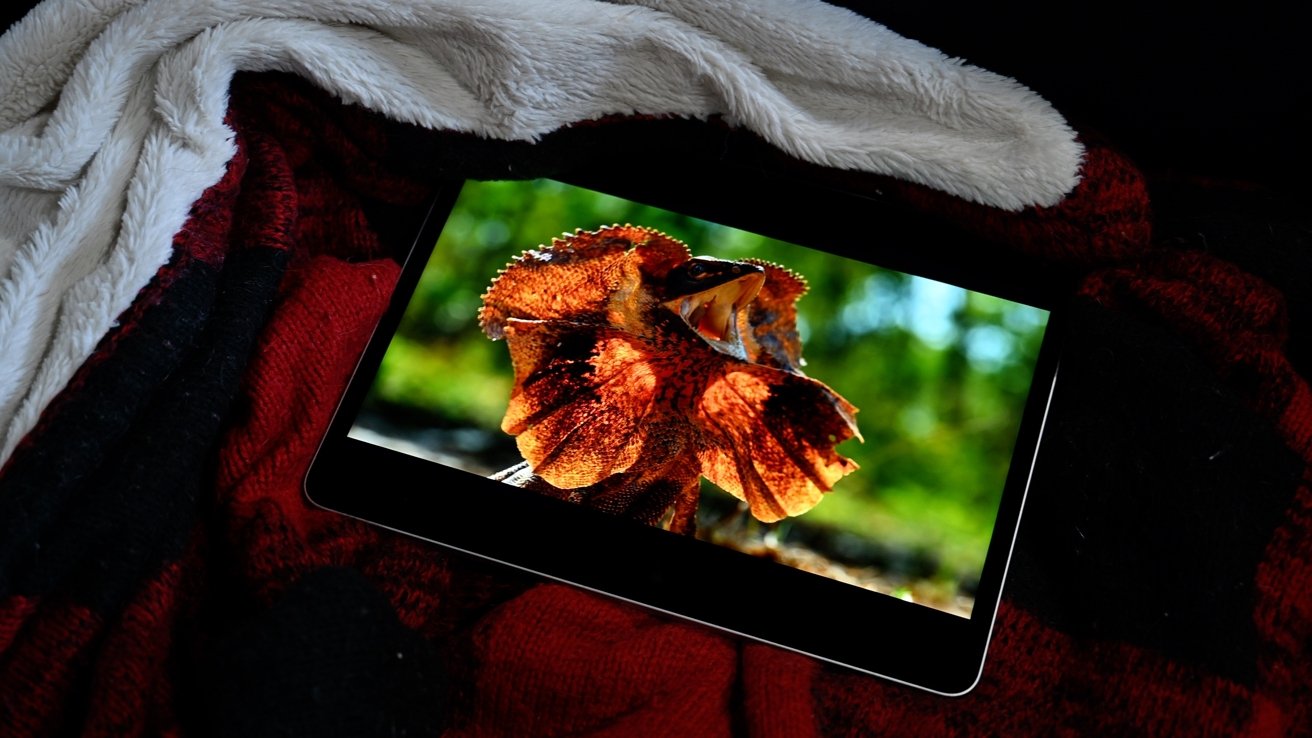 Beautiful Liquid Retina XDR display on the 12.9-inch iPad Pro (2021)
Apple happily advertises the incredible 1,000,000:1 contrast ratio, which is the difference between white and black portions.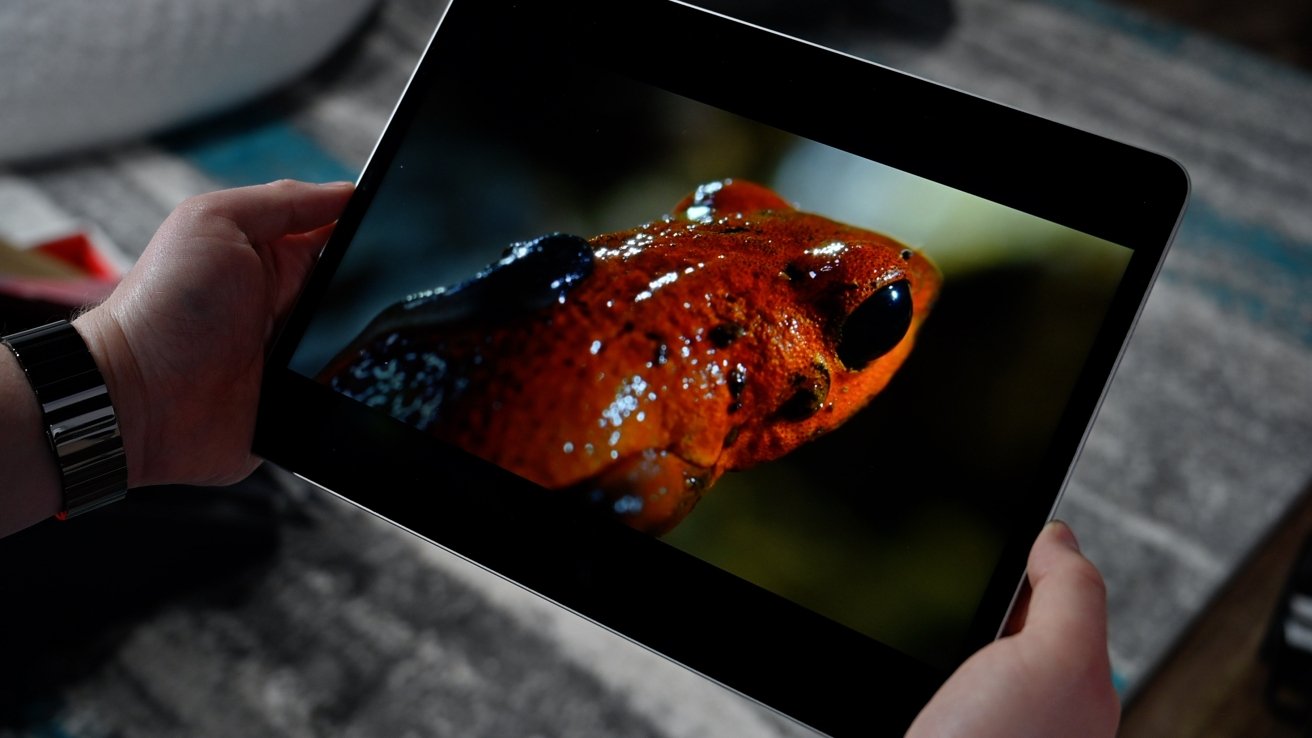 Beautiful Liquid Retina XDR display on the 12.9-inch iPad Pro (2021)
In indoor casual consumption-centric use, you will not notice much -- if any -- difference in the display. That doesn't mean there aren't some significant benefits here.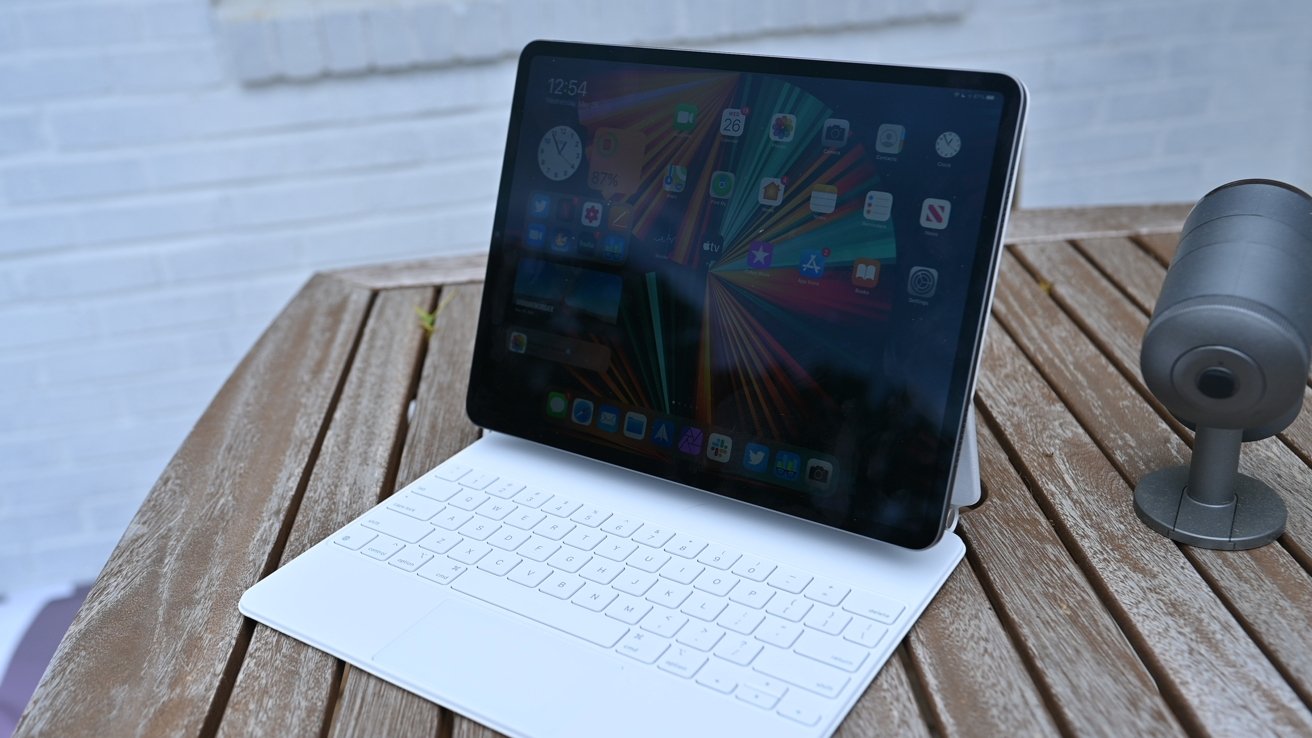 The new iPad Pro in bright sunlight is still usable
For starters, Apple boosted the brightness from an average of 600 nits to an average of 1,000 nits. That means in bright environments -- like while working outside -- that display is going to look better. We sat on the porch writing this review, and it is hands-down the best display we've used while in the sun. It isn't perfect, and direct sunlight is still an issue, but it is a step up from the last generation.
Another use is for any HDR content, especially video. Apple has managed an incredible 1,600 nit peak brightness on this display while playing back HDR content. While watching a movie, TV show, or a home movie you shot on your iPhone 12 Pro, you will likely see how much brighter the whites or flashes are and how deep the blacks are. Side by side, the new Liquid Retina XDR display gets almost completely black in the shadows while popping the highlights.
It doesn't matter if you're watching that content or creating it in an app such as LumaFusion, this display lets content shine.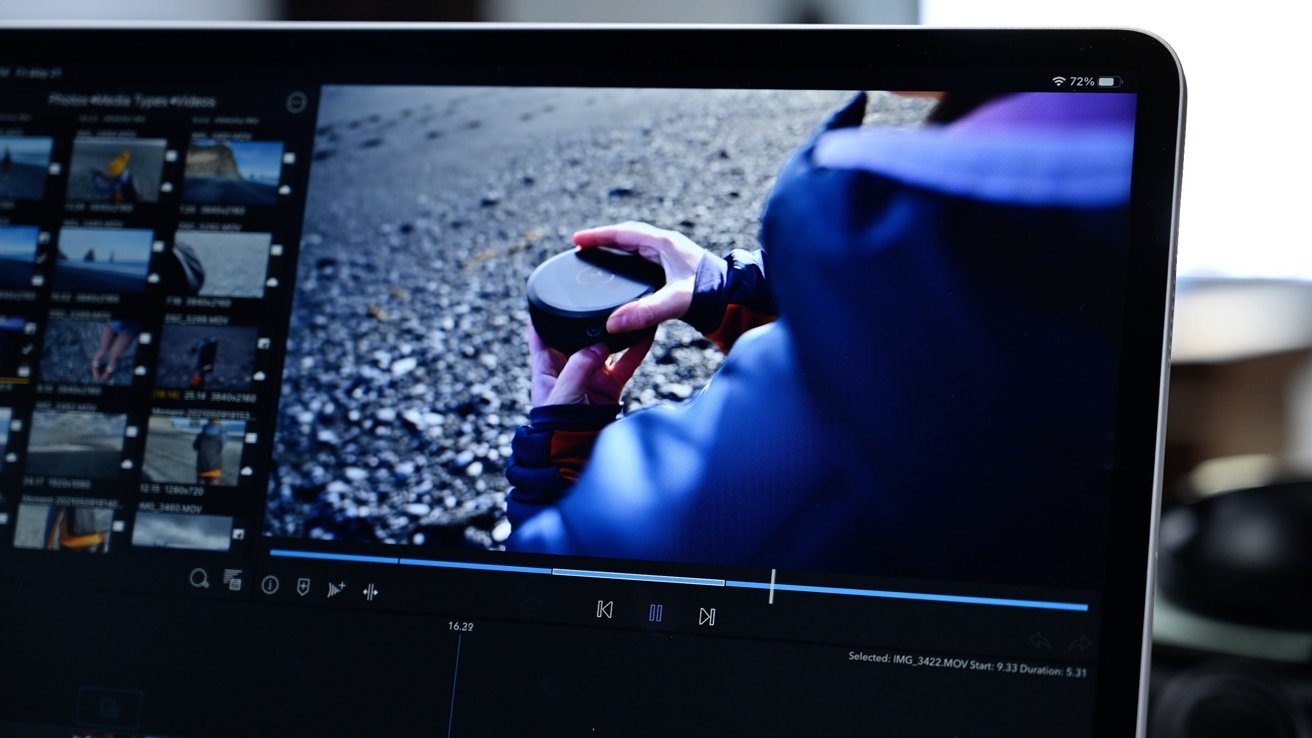 Editing HDR video on the new Liquid Retina XDR display
Our only criticism of said display is that there is still some minor blooming evident when the backlight leaks around on-screen elements and creates a "bloom"-like effect around it. This is most common when you have a black background and a white on-screen element such as text. Even then, it is only noticeable in low-light environments.
You won't notice this much day-to-day, but you may see some slight blooming still cropping up if you are looking at your iPad at night in bed. It is better than before, but not perfect.
Of course, many will compare this mini-LED panel to the OLED panels found in recent iPhones and Apple Watches. OLED is still the better of the two options, but after seeing the Liquid Retina XDR display Apple put out here, we'd call it an acceptable alternative that gets the job done. OLED may still have even deeper blacks, but the cost would likely go up more than it already has.
Oh the Magic Keyboard
Mostly due to that new display, the 12.9-inch iPad Pro is an almost-imperceptible .5mm thicker. That may sound negligible, but it causes headaches for accessory manufacturers, Apple, and users alike.
There was fire and fury about Apple's initial revelation that it had changed the iPad Pro enough to make the year-old Magic Keyboard unusable on the new 12.9-inch model. Fortunately, after an about-face from Apple and further testing by
AppleInsider
, it is clear that the first-gen Magic Keyboard will, in fact, support the latest iPad Pro.
After that about-face, Apple directly told us that the new 12.9-inch iPad Pro in the first-generation Magic Keyboard would have an imprecise fit when closed. We tested this for ourselves and found this to be the case, though it ultimately worked just fine. There is some finger oil transfer from the keys to the iPad Pro's screen in addition to the normal touchscreen transfer, but that's not unexpected, and MacBook Pro owners have been dealing with this transfer for a long time.
While fit-testing, we saw that the hinge-side of the Magic Keyboard held the iPad Pro tighter and firmer than its predecessor. Because of that additional pressure near the spine, it shifts the iPad Pro just slightly causing the camera module to butt up against the side of the hole milled for the previous version, forcing it slightly off-center. Even with that tight fit, there was no loss of functionality, and no real chance of damage to the tablet itself that we could identify.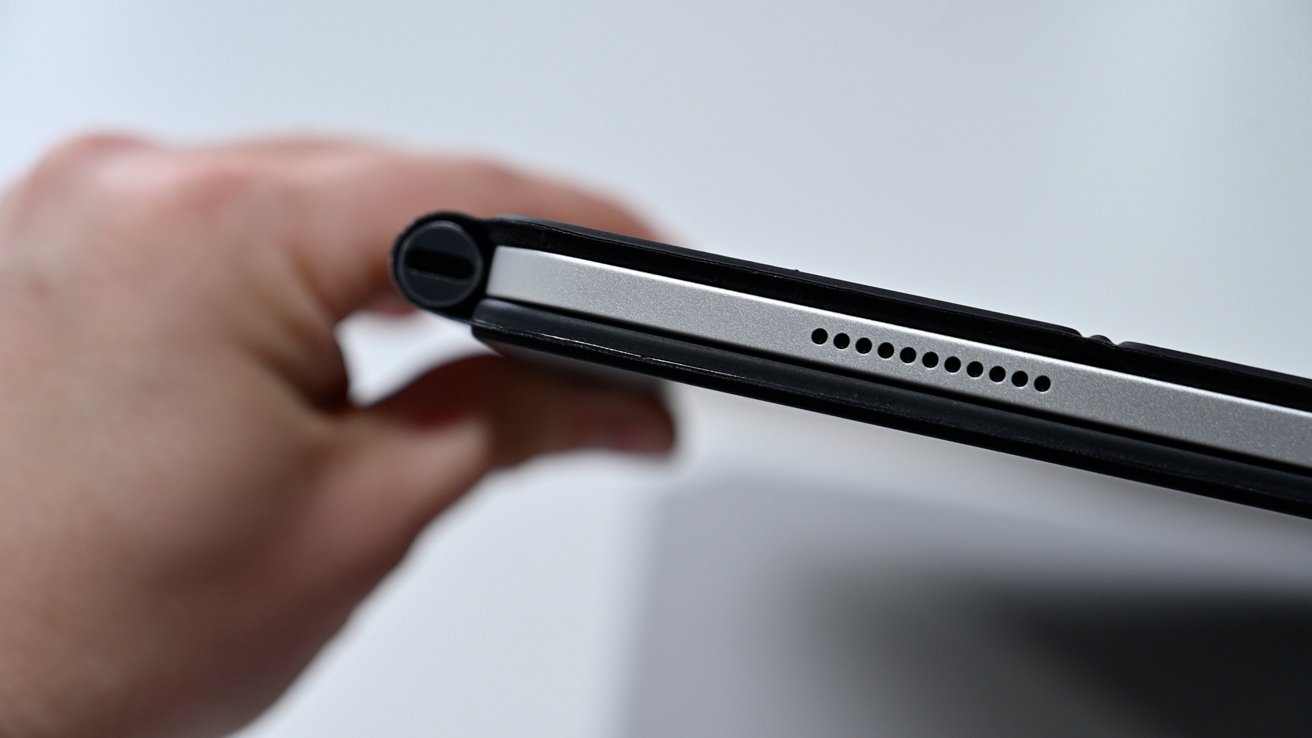 12.9-inch iPad Pro (2021) in the 2020 Magic Keyboard
So even though Apple did introduce a second-generation updated Magic Keyboard for the 12.9-inch model, nothing else was changed. No functionality was added, and it is still one of our favorite, albeit expensive, accessories for Apple's pro tablet.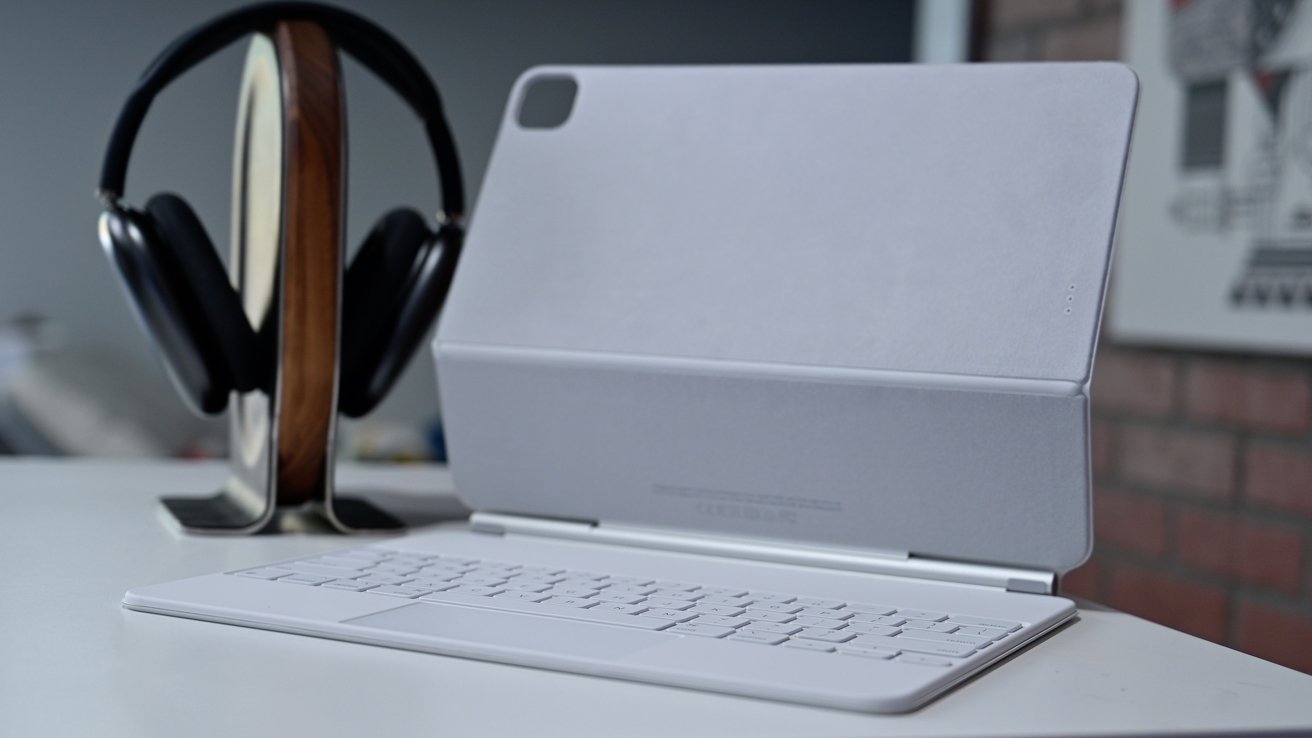 The new white Magic Keyboard
If you haven't gotten a Magic Keyboard yet, what is new is a white colorway. This new light option looks great with the silver iPad Pro but works with the space gray too.
One minor thing we did notice is that the material feels more slippery than our year-old space gray Magic Keyboard. Not sure there was a change in material for the white or just our minds playing tricks on us, but we felt it slipping from our hands a few times. It also could be the tenth of a pound of added weight the new model has as well.
More versatile than a Mac?
In many ways, the iPad Pro is now not only a comparable choice but a better choice than a
Mac
-- workflow dependent.
Before the 2021 update, the iPad Pro had the best tablet processor, a great display, some external monitor support, cursor support, and a USB-C port. The the 2021 incarnation added the very same processor as found in the Mac, a better display than all portable Macs, 5G, and Thunderbolt 3 support.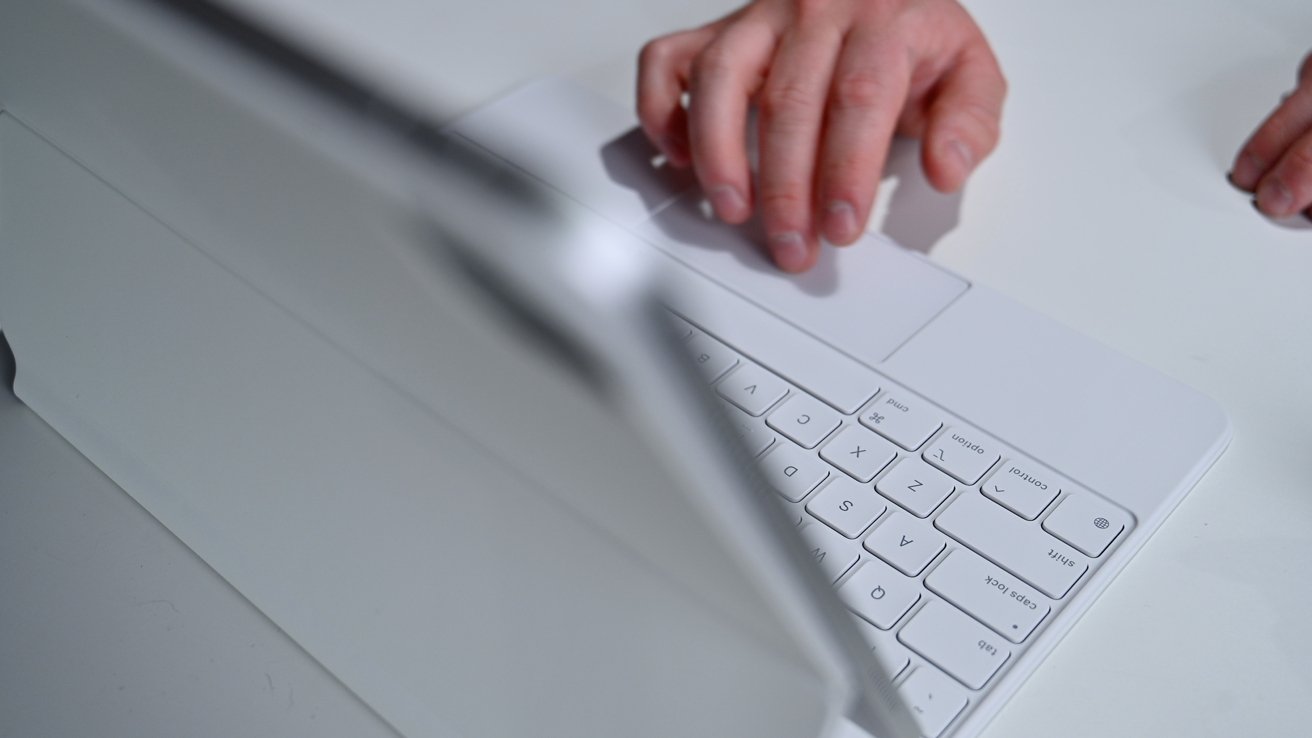 12.9-inch iPad Pro (2021)
There are obvious limitations, but the iPad Pro is a more capable device for a niche group. That is a statement we've expected to say at some point but had no idea it would be so soon.
Hardware in search of software
If there is one limitation that stops you from moving to iPad, it is software. This is a story you've heard before. We told it to you last year, and there's no shortage of reviewers repeating it this year.
But, we can't conclude an iPad Pro review without acknowledging the reality.
What's so frustrating here is that Apple has invested a great deal of advertising dollars in the message that the iPad Pro is the future of computing. With the iPad Pro line, now and before, it's been backing up that sentiment with hardware.
But to date, Apple hasn't followed through on the software front.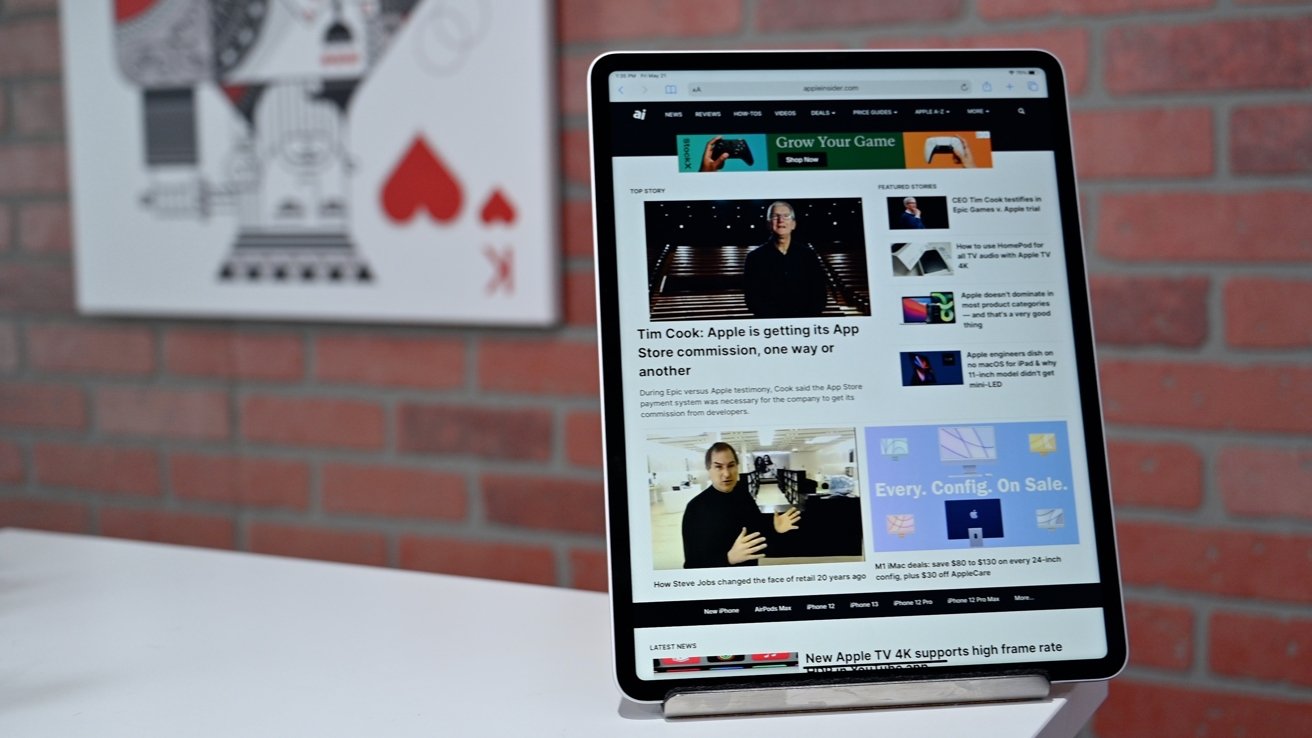 Reading AppleInsider
We'll even say it -- iPadOS 14 was disappointing. Some new features like widgets don't even have the freedom to be placed anywhere as they do with iPhone.
Prominent features like external monitor support didn't get improved upon. You can use an external display but still in a limited capacity. It will mirror the display or support some apps, but it doesn't
extend
your display despite cursor support.
Furthermore, Apple's bread and butter at the high-end has always been creatives and creative professionals. Execs trot across the stage with much braggadocio around professionals mastering 4K HDR content right on an iPad Pro.
So, following that, where are Apple's "pro" apps? Where are Final Cut, Logic, and Xcode? It seems disingenuous for Apple to heap so much praise on iPad Pro as this content creation tool, yet it hasn't managed to bring its own apps to the platform. Apple should have been the first one to do so if it expects others to.
With that said -- we do have our suspicions. These, again, are just suspicious mixed with perhaps a little hope. But we think we may see Apple's pro apps come to iPadOS sooner rather than later. There have been rumors for a while pointing to this but seeing the hardware of the 2021 iPad Pro, it feels like the time is right.
That 16GB of RAM we mentioned at the inset seems well-suited for video, audio, and application development. Cursor support improved with iPadOS 14.5, which would be crucial for these very tedious tasks. And Thunderbolt enables Thunderbolt monitors, storage, or docks to be used, which are almost necessary for those use cases.
This year, more than any year in the past, we're holding out hope for WWDC that Apple will finally come through with a major update to iPadOS and deliver its pro apps and allow iPad Pro to realize its potential.
Should you buy the new 2021 iPad Pro?
Now, more than ever, the last-generation 2020 iPad Pro feels like it was a mere stopgap solution designed to stall while Apple readied its incredibly impressive M1-based iPad Pro. We can't heap enough praise on this tablet this time around. Apple improved everything that matters. Display (at least on the 12.9-inch) is better, it is far faster, the port is more capable, all cameras were upgraded, cellular is now 5G, and it has more than double the last gen's RAM.
There isn't much more Apple could do here if it wanted to other than through software. We hate, hate, hate saying we have to wait for the software to be updated to see the iPad's full potential, but there is no way around it. The hardware is already easily outpacing the available apps for it, and it comes down to Apple and third-party devs to fill that delta between the two.
If you held off last year on the iPad Pro because you wanted to see what Apple had in store this time around, you might have lucked out. We feel that this update is worth it.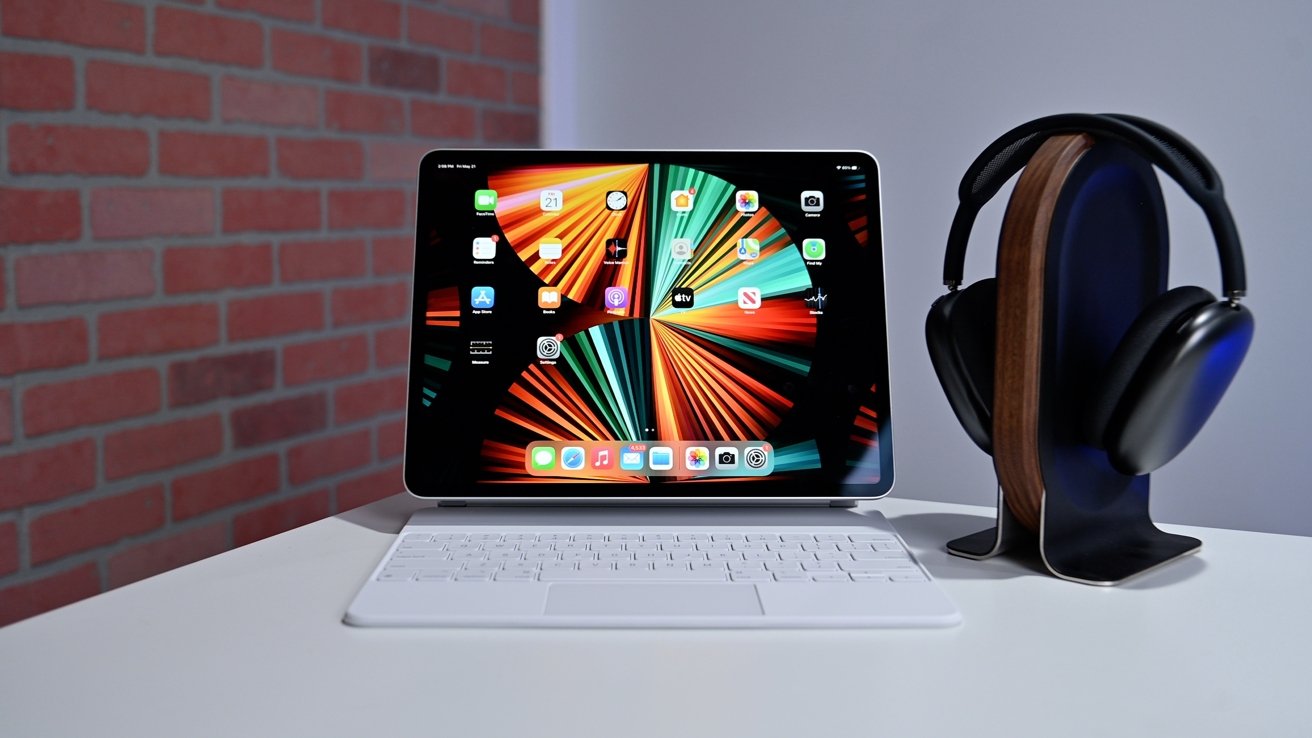 12.9-inch iPad Pro (2021)
Upgrading or buying outright makes the most sense if you're eying that 12.9-inch model, but the 11-inch still has many benefits. Apple says it prioritized portability and power on the 11-inch, and including the mini-LED display would have forced further compromises and raised the price on the entry-level tablet as well.
Apple has breathed new life into the iPad Pro. We're more optimistic and hopeful than we've ever been before about what Apple has in store for iPadOS as well as the tablet line as a whole. This is the beginning of a new chapter for iPad.
Pros
Incredible speed and potential with M1 processor


Liquid Retina XDR display is a big upgrade for pros and content lovers


Thunderbolt 3 unlocks a bigger peripheral market and productivity


5G is amazing for work on the go


We love the new white Magic Keyboard


Camera upgrade is substantial, including Center Stage


Huge potential for high-end content creation
Cons
Price hike on the 12.9-inch


12.9-inch thickness won't support some cases


Apple still won't support with "pro" software


Mini-LED not quite as good as OLED, still slight blooming
Rating: 4.5 out of 5
Where to buy the M1 iPad Pro
The 2021 iPad Pro with Apple's M1 chip is already on sale, with the latest prices and
best iPad deals
at your fingertips in the
AppleInsider
iPad Price Guide
.
Updated daily, the Price Guide contains exclusive promo code savings and cash markdowns on every M1 iPad Pro model.