Govee Glide wall light review: An excellent way to add accent lighting to any space
If you're in the market for a one-of-a-kind, customizable accent light and don't need HomeKit, Govee's Glide provides tons of features in a unique package.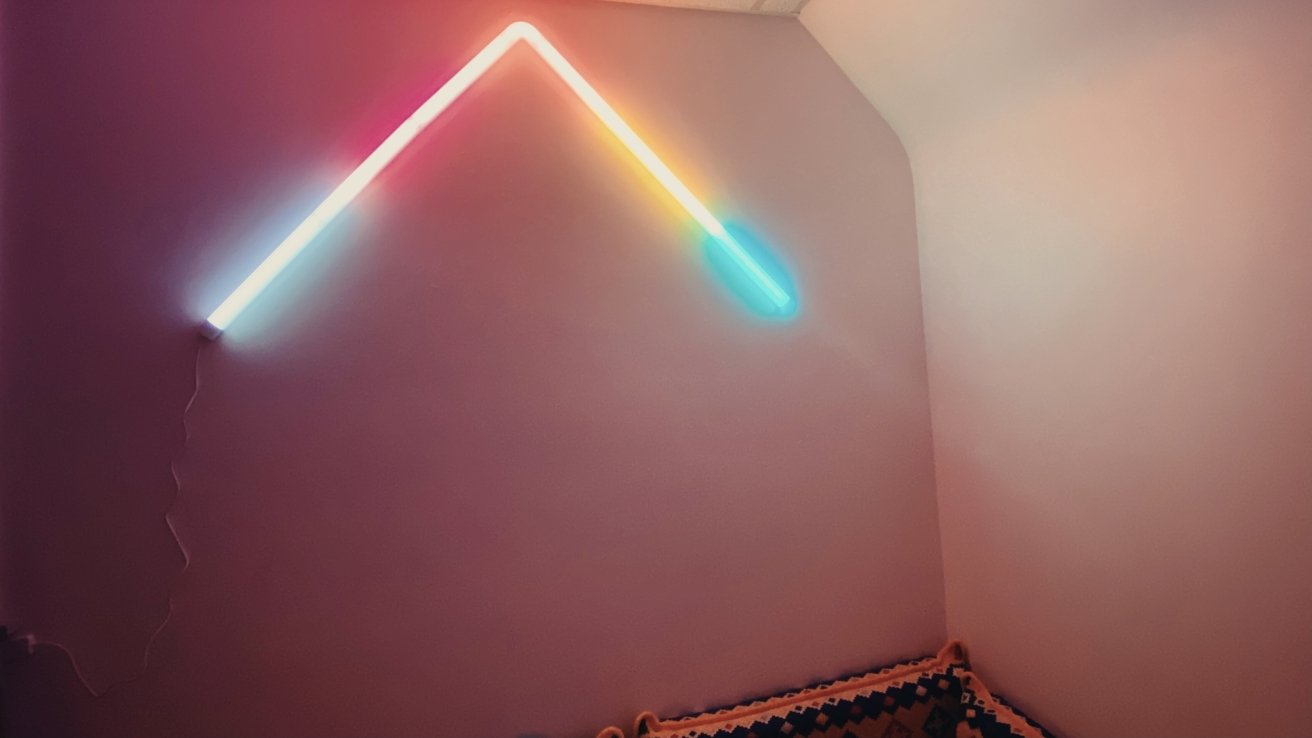 While we certainly appreciate LED light strips, there's no denying that they can look a bit lackluster when left out in the open. Because of this, we often hide them behind monitors, TVs, headboards, and even under kitchen cabinets.
However, there are times when you might want to add a pop of color out in the open. While LED lightbulbs certainly are great, they don't make much of a statement.
That's where Govee has come up with a great solution: the Govee Glide. It's a customizable LED light that you can mount to your wall, damage-free, and it comes in at roughly half the cost of some of its competitors.
Govee Glide wall light - Setup
The Glide consists of six 11.8-inch straight pieces, one 90-degree corner piece, a power adapter, and an in-line microphone that can be used for audio effects. In addition, the lights feature 3M Command Strips on the back, allowing you to securely mount the lights to the wall without the use of nails or complicated mounting solutions.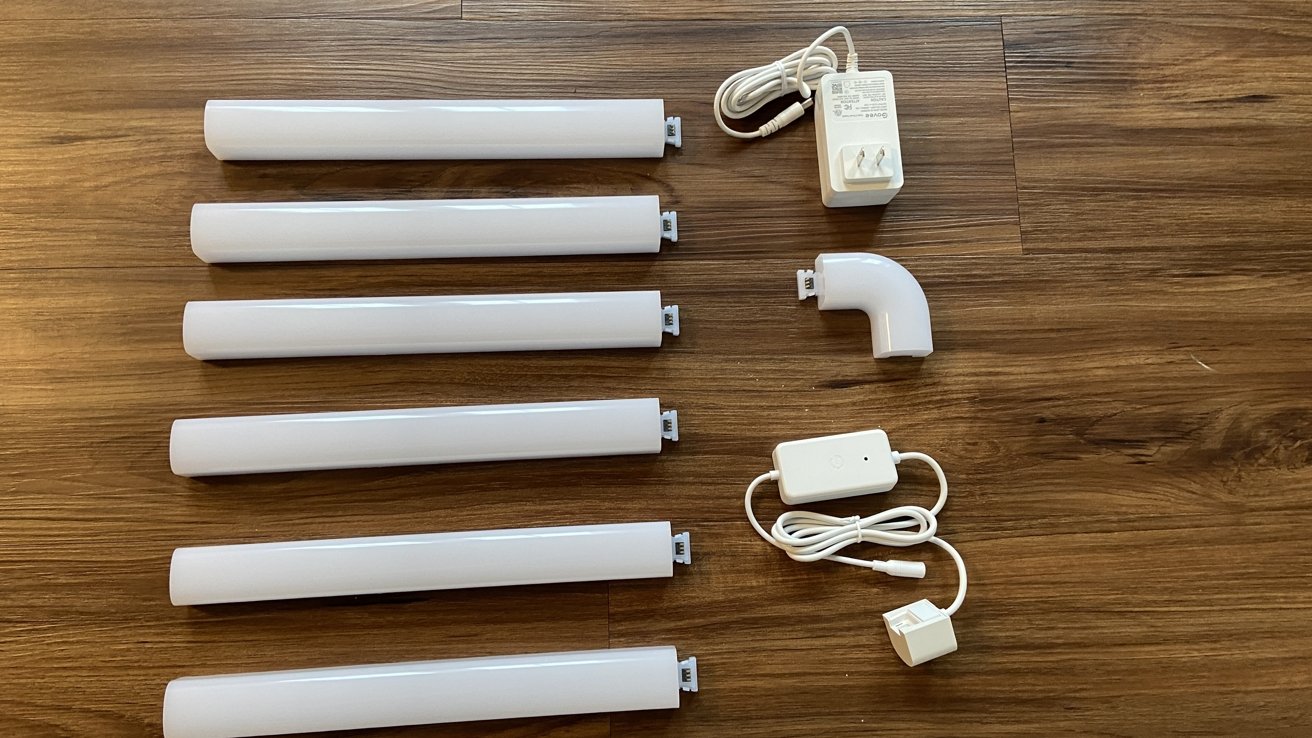 The contents of the Glide light kit
When it comes to setting up the Glide, there are a few things you'll need to do. The first is to lay it out in a wide, open space. We weren't expecting the Glide to be as large as it was, so while we started on the table, we quickly realized that we'd need to move to the floor.
Once you begin, Govee recommends laying out all your pieces in the design you want, snapping them together, and making sure they work before you mount them to your wall. Snapping them together should be done on a flat, even surface, preferably something like a laminate or hardwood floor.
We found snapping them together to be a little stressful, but the pieces went together with firm, even pressure. Once snapped together, the parts feel relatively rigid and well connected.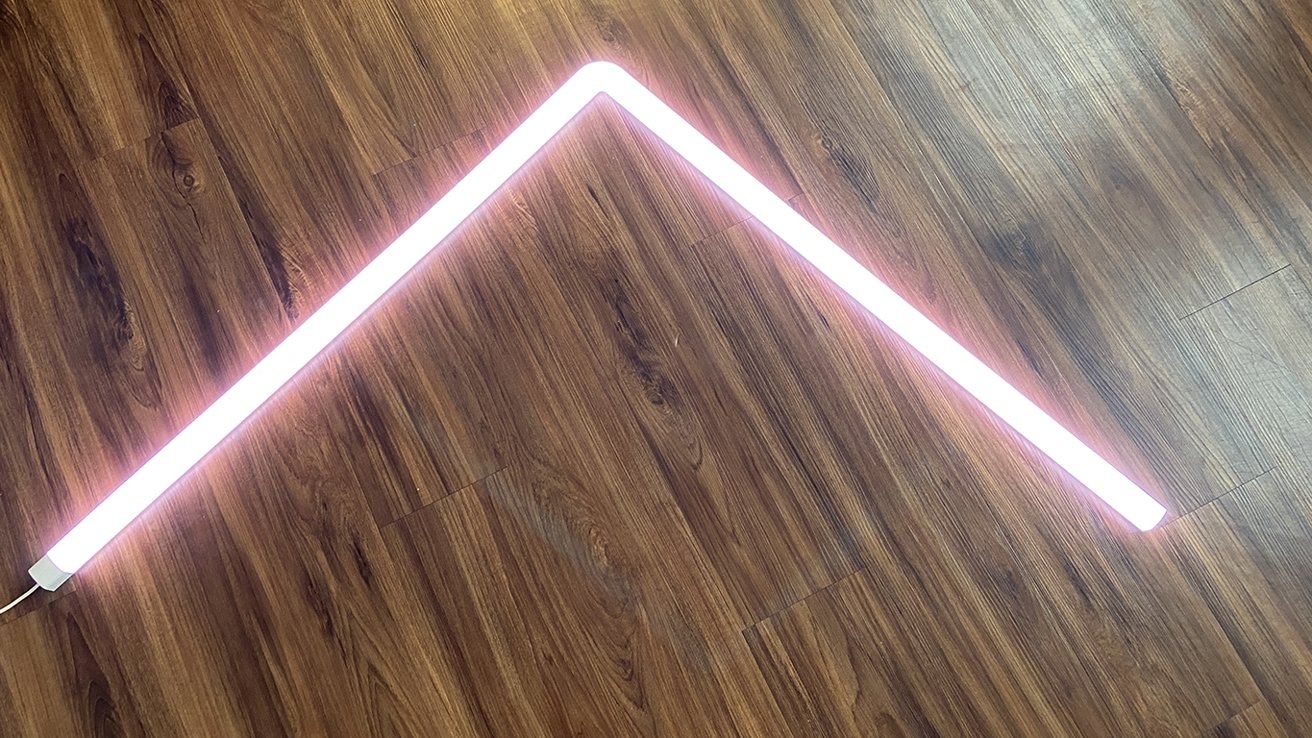 Govee suggests that you test your lights out before mounting them to your wall
You should note that you can't combine multiple kits together, which isn't pointed out in the instructions. We were a little disappointed to find this out.
Once together, Govee then suggests that you take them apart before placing them on the wall one piece at a time. We didn't wind up doing this, as we assumed we'd have difficulty getting them level. So instead, we used two people to carefully position the completed piece on the wall and adhere it by pressing down on each segment firmly for a full minute.
Overall, the entire process took less than fifteen minutes and was not terribly complicated. However, we do highly recommend that you have at least two people on hand for the installation process.
If you're doing it on your own or installing the piece as a single, straight bar, we suggest using a level -- especially a laser level -- to make sure everything is straight.
Govee Glide wall light - Design
Because you're only given one corner piece, you'll wind up only having a few options to choose from -- if you ignore the corner piece entirely, you'll have a nearly 6-foot long straight bar to work with. You can decide to put the corner piece at any point along the bar as well, giving yourself a few different L-shaped layouts to choose from.
There is a downside, though, and that is the end cord. The cord only fits on a particular end of the light bar, which means you may end up being a bit further away from an outlet you intended to use. This was certainly the issue for the first several spots we thought of placing it.
If Govee makes a second iteration, we'd like to see them provide an optional piece that would allow users to choose either end to mount the cord. Otherwise, you may need to rethink your layout or default to an extension cord hidden behind your furniture.
Govee Glide wall light - Performance
One of the best things about the Glide is the level of diffusion the plastic housing offers. Like the
Govee Flow Pro light bars
we reviewed before, the level of diffusion really makes for stellar effects that aren't matched by your run-of-the-mill LED light strips.
Additionally, Govee has packed a ton of lights in here -- 57, in fact, allowing you to customize the lights to your heart's content.
All customization is done through the Govee app. A quick setup will require you to connect the Glide wall lights to your 2.5GHz home Wi-Fi, which allows you to download firmware updates if needed and set timers that can work without needing to be connected to your phone.
The app, as we've stated before, is fantastic. Not only is it easy to use, but it's also packed to the gills with features. For example, it has timer features, the ability to create your own lighting schemes, dimming features, and way more.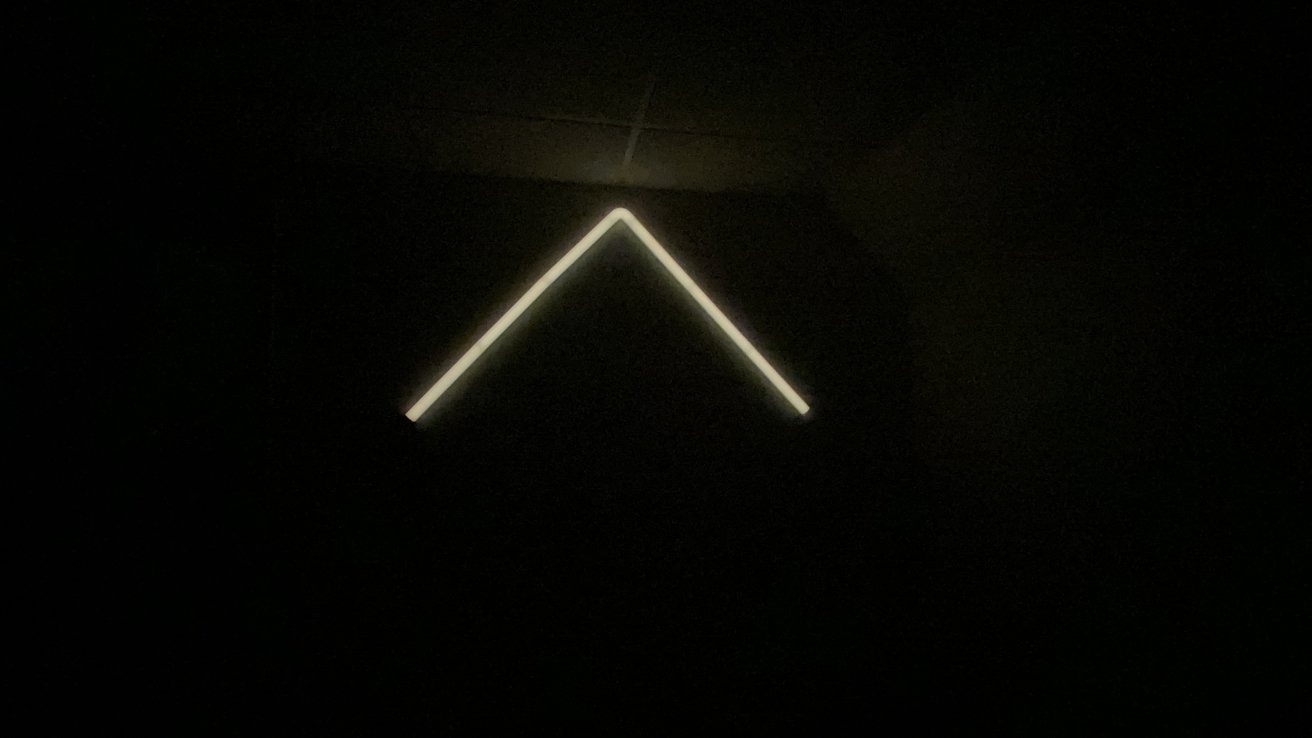 The nightlight feature could be used to light hallways without disturbing other areas of the home
And if you're not into creating your own schemes, you can pick from the more than 40 presets they have, that range from simple gradients to animated scenes, and even include presets for things like a nightlight mode, as pictured above.
There is one perplexing issue we found, though. You cannot dim many preset animated scenes the same way that single-color or DIY gradients can.
This can become a bit frustrating, as one of the best things about Govee's app is that it allows you to dim your DIY gradients and single colors to pretty much whatever level you want.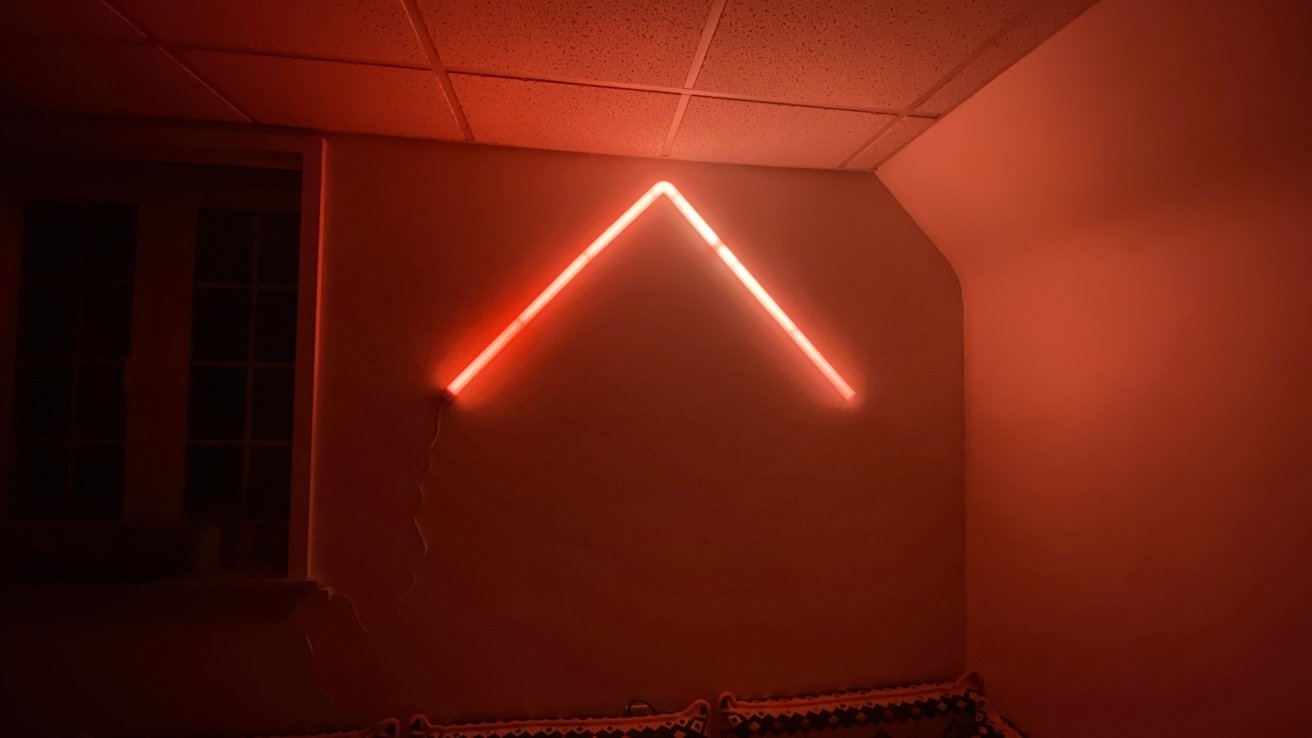 The candlelight feature at the dimmest setting
For example, we were excited to use the "candlelight" preset pictured above, which is designed to emulate candlelight. However, you can't dim it below the level in the picture. It reads more "blazing inferno" than "romantic candlelit dinner," or even "night by the fireplace," so we don't think we'll get much use out of it.
The one other downside is that, when writing this, the Glide is not HomeKit compatible. It is, however, compatible with both Alexa and Google Assistant.
Where you could use the Govee Glide wall light
While we admit that it isn't for everyone, we think there is a wide range of places that it would fit in well. For example, if you've got a media room or a family room with a large television, adding in the Glide wall light over your TV can allow for fun lighting effects.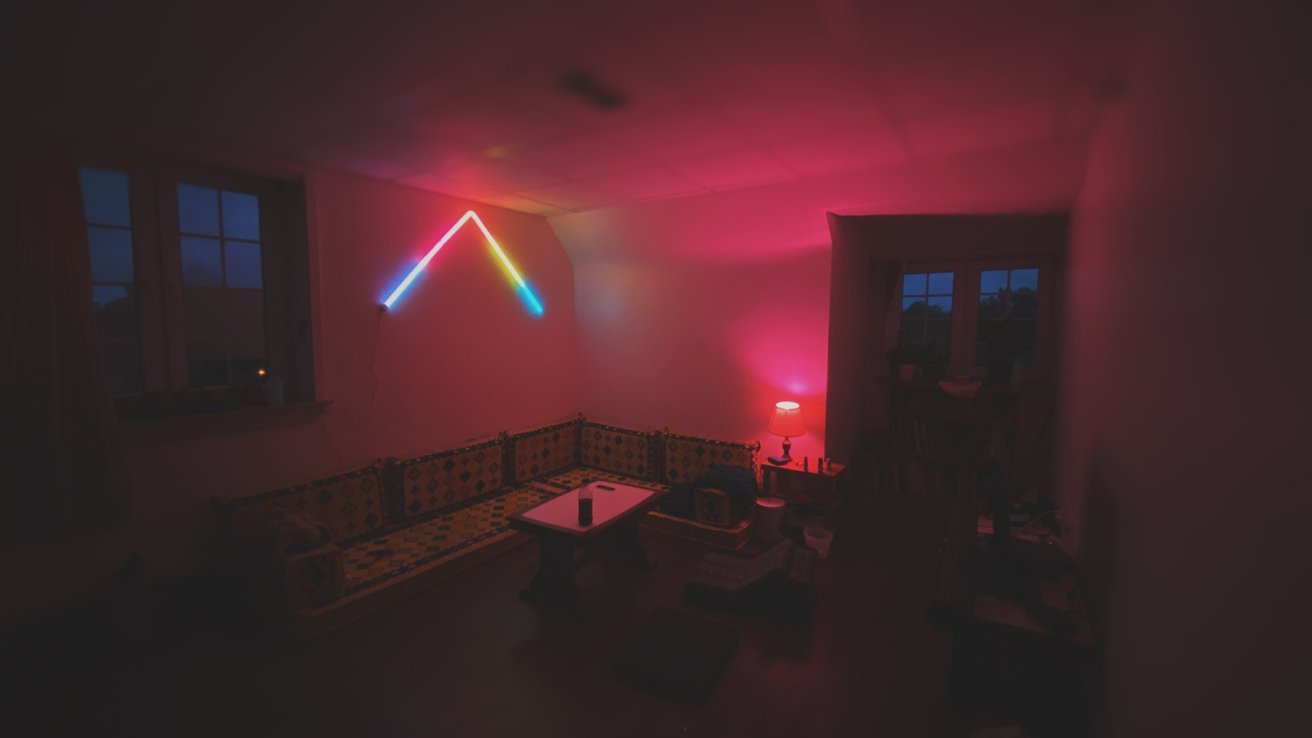 Of course, you can always use the light to convert your living area into a vaporwave-inspired movie den
If you're someone who already has incorporated color-changing LEDs into their home, this takes it to another level. We could see this being incredibly cool for those who stream on Twitch because it provides highly customizable lighting.
And naturally, you don't need to set it to rainbow colors all the time either -- Govee thoughtfully includes warm and cool white presets that you can choose from. This feature makes it a fantastic ambient light for home offices that may not feature a lot of natural lighting.
And it goes without saying, but putting one up in your kid's room -- or dorm room -- would guarantee that they would have the coolest room out of anyone they know.
While it isn't for everyone, the Govee Glide is a fantastic lighting system that we wholeheartedly recommend. It's easy to setup, even easier to use, and makes a stunning statement piece if you happen to be in the market for one.
Where to buy
You can
purchase a Govee Glide Wall Light from Amazon for $99.99.
Pros
Provides great ambient lighting


Easy to set up


Dozens of presets


Infinitely customizable


Timer features


Cons
Effects can't be dimmed, may be too bright


Cord can be difficult to manage depending on room placement


Not HomeKit compatible, without a Homebridge setup, or similar
Rating:
4 out of 5
Read on AppleInsider