Compared: 2021 16-inch MacBook Pro vs Dell XPS 17
As Apple introduces its updated designs of
MacBook Pro
to the world, some other notebook producers are arguably moving in Apple-like ways. Here's how the latest 16-inch MacBook Pro compares to the Dell XPS 17.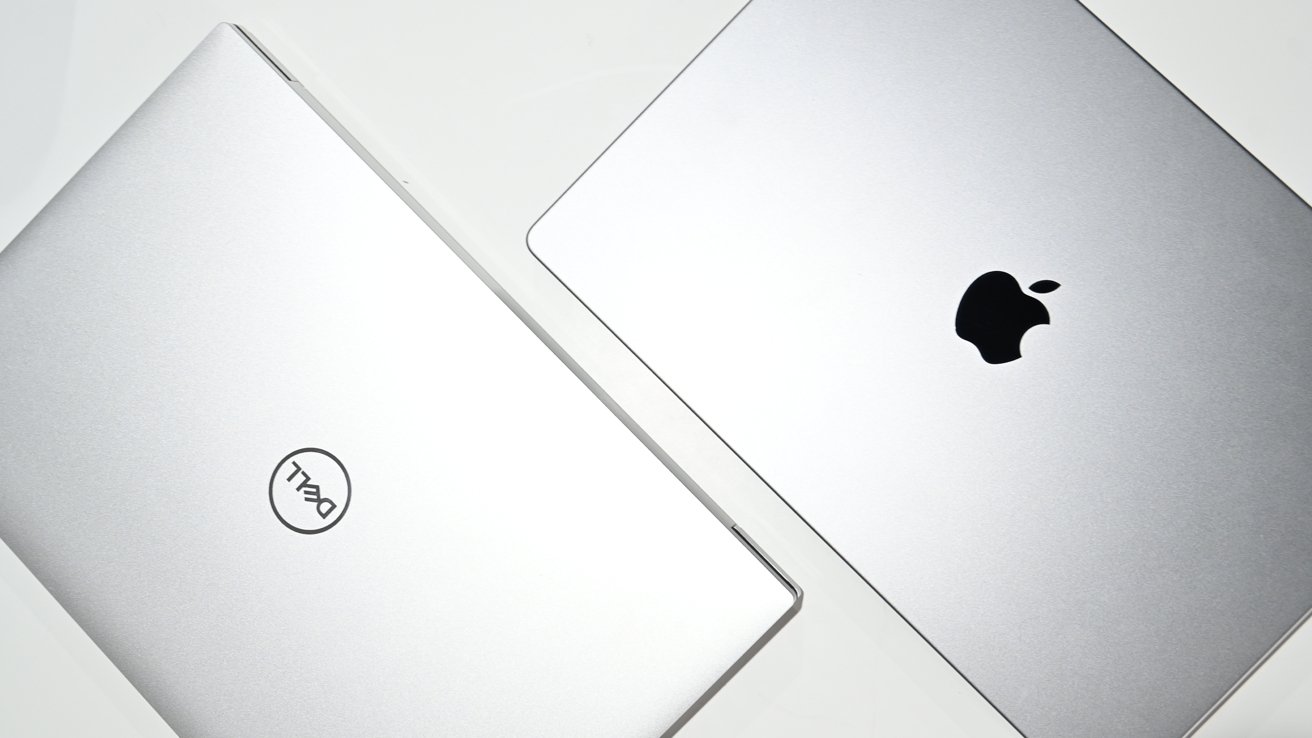 Dell XPS 17 versus 16-inch MacBook Pro
Apple's updates to the MacBook Pro lineup include several new and returning elements, with a notch and new screen joined by the revival of the HDMI port, memory card reader, and
MagSafe
.
While Apple was previously using a minimal-port design to make the MacBook Pro streamlined and different from most other PC notebooks, it seems that in some cases, notebook vendors started to take note. In the case of Dell's XPS 17, a highly popular performance notebook line, it looks like the notebook is using many of the MacBook Pro design cues, including in its limited number of ports.
It's almost as if the two companies have switched their point of view on the matter.
With the soon-arrival of the
16-inch MacBook Pro
with end users, here's how Apple's latest looks when put against the specifications of Dell's Apple-like notebook,
one listed
on the company's deals page at a respectable $2,149.99.
Specifications
16-inch MacBook Pro (2021)
Dell XPS 17 (2021)
Display Size (inches)
16.2
17
Max Resolution
3,456 x 2,234
1,920 x 1,200
Pixel Density
254
133
Brightness
1,000 nits sustained,
1,600 nits peak
500 nits
Display Backlighting
Mini LED
LED
Display Technology
Wide Color (P3),
True Tone
ProMotion
InfinityEdge,
Anti-Glare
Processors
10-core M1 Pro,
10-core M1 Max
10th-gen 8-core Intel Core i7-10875H
Memory
16GB Unified Memory, up to 64GB
16GB DDR4 2933MHz, up to 64GB
Graphics
M1 Pro 16-core,
M1 Max 24-core
M1 Max 32-core
Nvidia GeForce RTX 2060 6GB with Max-Q
External Video
2 6K displays at 60Hz (M1 Pro),
3 6K and 1 4K at 60Hz (M1 Max)
Yes, via DisplayPort or HDMI 2.0 adapter
Storage
512GB, 1TB, 2TB, 4TB, 8TB
1TB M.2 PCIe NVMe
Biometrics
Touch ID
Windows Hello,
Fingerprint Reader
Trackpad
Force Touch
Yes
Keyboard
Backlit with ambient light sensor
Backlit
Dimensions (inches)
14.01x 9.77 x 0.66
14.74 x 9.76 x 0.77
Weight (pounds)
4.7 (M1 Pro),
4.8 (M1 Max)
4.65 (Starting)
5.53 (Maximum)
Battery Life
21 Hours
13 Hours 8 Minutes
Ports
3 Thunderbolt 4 ports,
HDMI,
SDXC card slot,
MagSafe 3,
Headphone jack
4 Thunderbolt 3 ports,
SD card slot,
Headphone Jack
Webcam
1080p FaceTime HD
720p RGB IR camera
Speakers
Six speakers with force-cancelling woofers, Dolby Atmos
Stereo woofers 2.5W,
Stereo tweeters 1.5W
Microphones
3 with directional beamforming
Dual-array
Wi-Fi
Wi-Fi 6
Killer Wi-Fi 6
Bluetooth
5.0
Bluetooth 5.1
Color Options
Silver, Space Gray
None
Price
from $2,499
$2,149.99
16-inch MacBook Pro vs Dell XPS 17 - Dimensions
The MacBook Pro has always been a thin but dense notebook, with an aluminum enclosure and clean lines. For 2021, the 16-inch MacBook Pro continues the tradition.
The 16-inch MacBook Pro is 14.01 inches long and 9.77 inches deep. It's also relatively thin for a notebook, at 0.66 inches.
Dell's XPS 17 follows Apple's familiar form, with an aluminum chassis that tries to seem thinner than it is, by tapering from the center mass to the edges on the base. While the outside is aluminum, the inside when opened up is clad in a patterned black enclosure, complete with a black keyboard.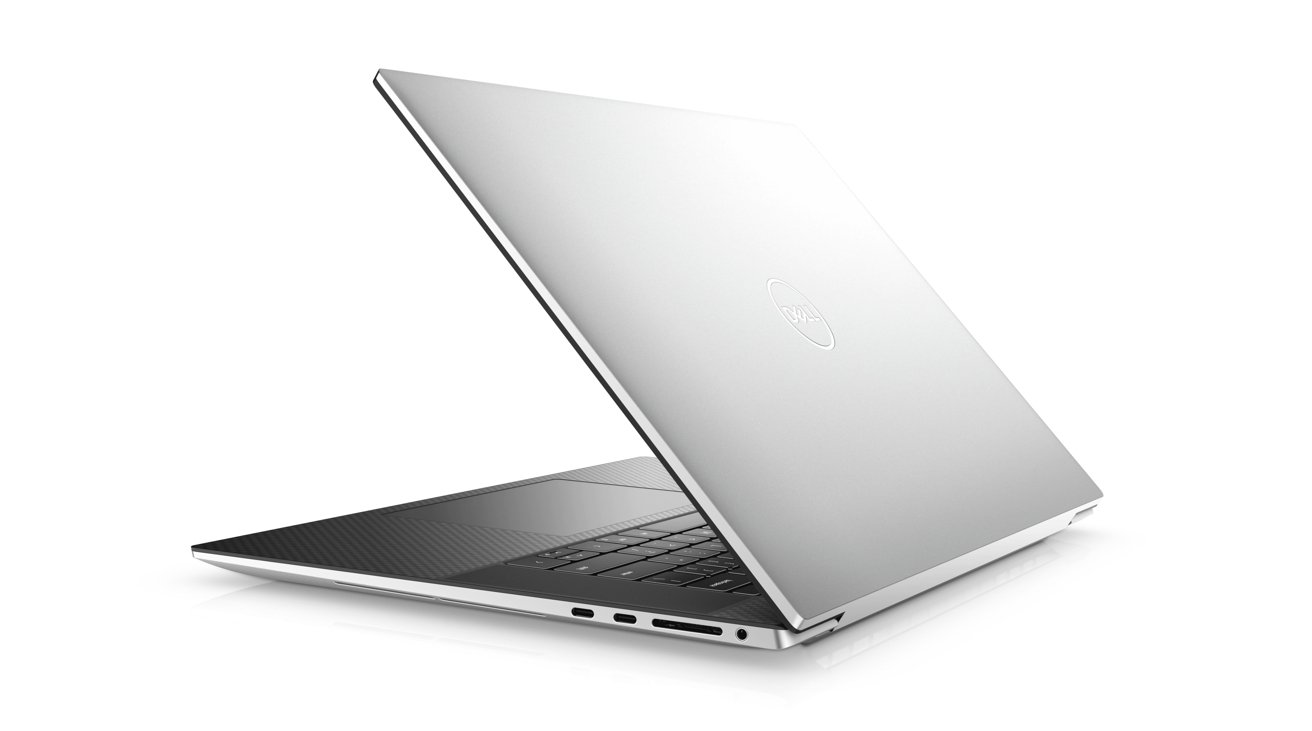 The Dell XPS 17 is very MacBook-like in its outward appearance.
The XPS 17 measures 14.74 inches long and 9.76 inches deep, making it slightly longer than Apple's notebook. As for its thickness, it's 0.77 inches, which is a fair amount bigger than the MacBook Pro.
In terms of weight, the MacBook Pro is either 4.7 pounds or 4.8 pounds, depending on the class of chip it's using. Dell says its XPS 17 varies in weight depending on a couple of factors, including the display and the size of the battery at between 4.65 pounds and 5.53 pounds.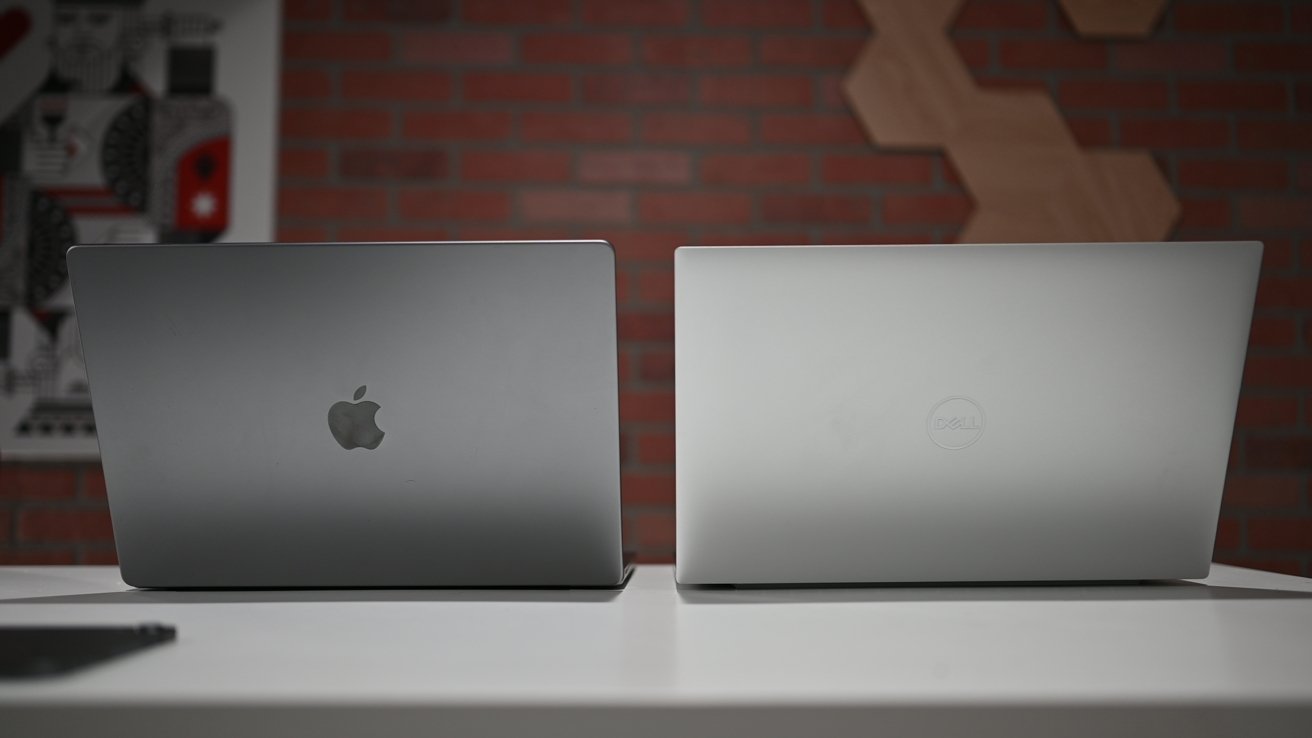 Both machines are similar in size
This would put the XPS 17 charitably at the same weight as the MacBook Pro on the light end, but on average, it will be around 5 pounds flat. With the MacBook Pro shifting in mass towards the 5-pound mark, it's not a massive difference but still noticeable.
16-inch MacBook Pro vs Dell XPS 17 - Display
The 16-inch MacBook Pro uses a 16.2-inch display, one that is slightly taller in design to accommodate a notch. In the middle of the display's top edge, the
notch
houses the webcam, due to the use of 3.5mm bezels along the top and side edge.
While the notch does cut into the screen estate, its design means it only does so into the macOS menu bar, not opened apps. Even in full-screen mode, which runs just below the notch itself, users still have a full 16-inch display as normal to use, complete with the familiar 16:10 aspect ratio.
Dell goes down the same minimalist bezel route as Apple, with its InfinityEdge display giving a screen-to-body ratio of 93.7%, as well as allowing the company to equip the XPS with a 17-inch display while maintaining a reasonably compact size.
The resolution of 1,920 by 1,200 in the XPS 17 we are looking at isn't great when put against Apple's 3,456 by 2,234 resolution. Nor does its 133 pixels-per-inch pixel density against the MacBook Pro's 254ppi.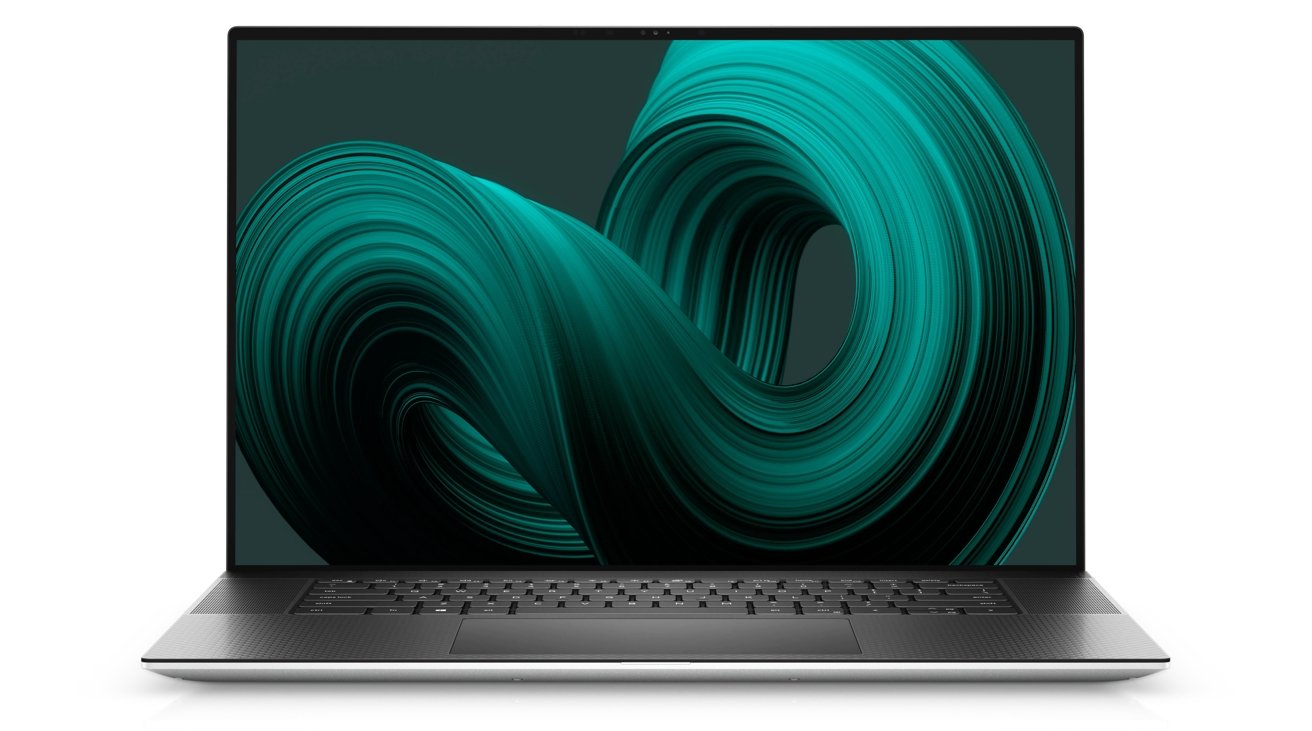 Dell uses thin bezels, but not small enough to need to add a display notch.
The XPS 17 is also dimmer, kicking out 500 nits with its LED-backlit screen. Apple squeezed a mini LED backlighting system into the MacBook Pro, giving it 1,000 nits of sustained full-screen brightness and 1,600 nits at its peak.
Both notebooks handle HDR content, with Apple including Wide Color (P3), True Tone, and ProMotion support.
A version of the XPS 17 can be built with an optional 4K UHD+ display, with a resolution of 3,840 by 2,400, touch support, and 500 nits of brightness. That display also includes 100% Adobe RGB coverage and 94% of the DCI-P3 color gamut.
However, even that screen manages only a contrast of 1,650:1 while Apple pushes for 1,000,000:1.
While Dell has an optional display that is a higher resolution than the only option available on the MacBook Pro, it seems that the benefits of mini LED are paying off for Apple here.
16-inch MacBook Pro vs Dell XPS 17 - CPU Performance
The MacBook Pro is powered by an Apple-designed system-on-chip, with two varieties known as the M1 Pro and the M1 Max. While there are technically three CPU variants based on core counts in Apple's new MacBook Pro range, the 16-inch model only deals with the 10-core versions of the M1 Pro and the M1 Max.
Both use 10-core CPUs with eight high-performance cores accompanied by two energy-efficient cores, as well as the 16-core Neural Engine, and are essentially the same as each other. The differences lie mainly in memory, GPU, and the included Media Engine.
The M1 Pro has a memory bandwidth of up to 200GB/s, while the M1 Max goes up to 400GB/s. The amount of memory you can use is 16GB or 32GB on the M1 Pro, or 32GB or 64GB on the M1 Max.
The number of GPU cores also differs, with the M1 Pro version in use having 16 cores, while the M1 Max has 24-core and 32-core GPUs at its disposal.
The last difference is the Media Engine, which handles media encoding and decoding, among other elements. While both use a Media Engine with H.264, HEVC, ProRes, and ProRes RAW hardware encoding and decoding, the M1 Max has two video encode engines and two ProRes encode and decode engines, making it especially useful for video work.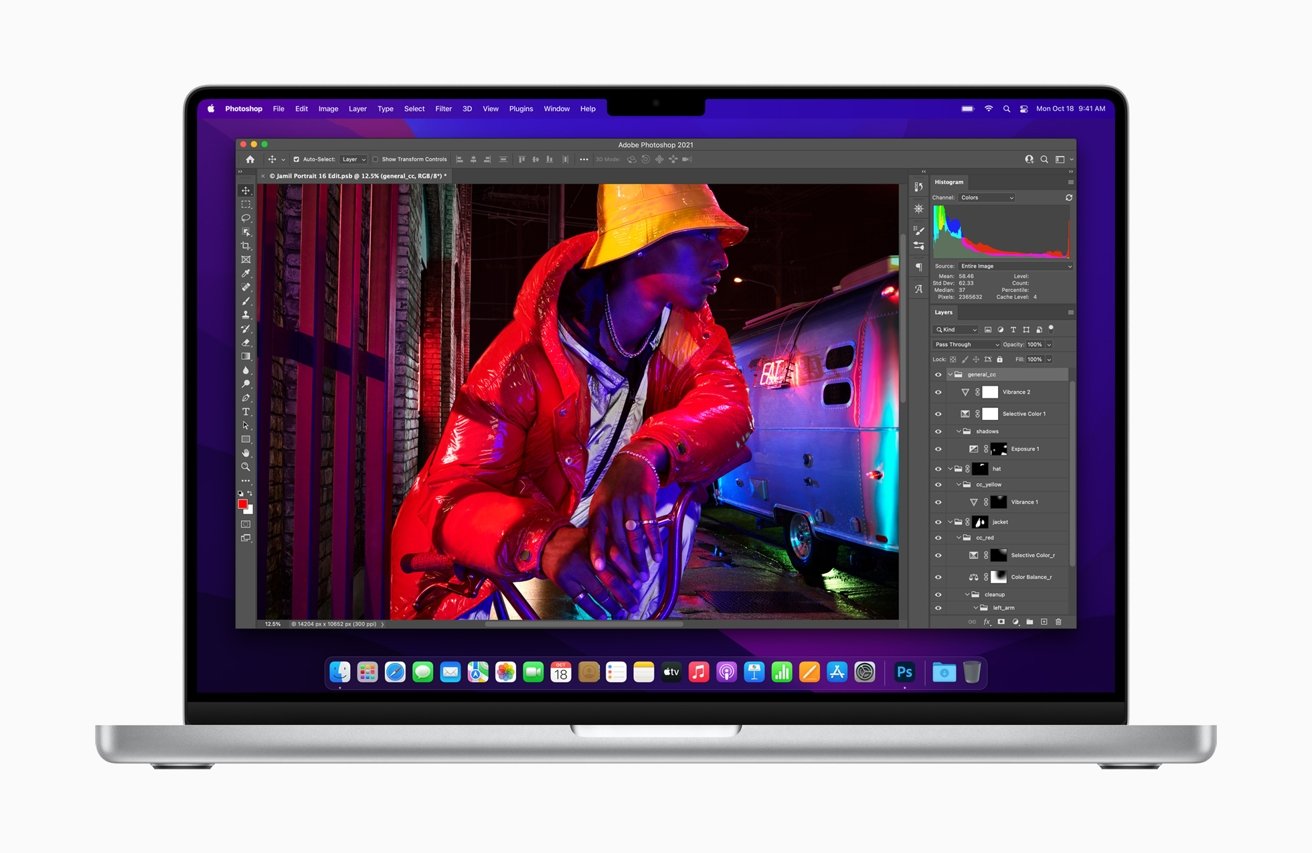 Apple's 16-inch MacBook Pro is powerful, thanks to the M1 Pro and M1 Max.
Dell uses the
Intel Core i7-10875H
in the specific XPS 17 that we're looking at. It's a 10th-generation eight-core chip with 16 threads, a max turbo frequency of 5.1GHz, and a base clock speed of 2.3GHz.
Dell packs in 16GB of DDR4 2,933MHz memory inside, but it can be sold in alternate configurations with 32GB or 64GB.
In Geekench 5, the Dell XPS 17 scored a 984 and a 5984 on the single-core and multi-core tests. That compares to the 16-inch MacBook Pro that pulled a 1769 and a 12308. The Dell had similar results on the CPU test both running on battery, as well as when connected to power.
For Cinebench R23, the dell scored 882 and 6129 for the single and multicore tests versus Apple's 1532 and 12308.
16-inch MacBook Pro vs Dell XPS 17 - Graphics Performance
For graphics, the fight is between integrated and discrete GPUs. While typically this would lead to a win for the device with the discrete GPU, Apple's work on its own graphics technology has leveled out the playing field.
The M1 Pro option for the 16-inch MacBook Pro has a 16-core GPU, while the M1 Max is available in 24-core and 32-core GPU varieties. Apple claims the 16-core GPU is twice as powerful as the GPU in the M1, while the 32-core GPU can perform "similarly to discrete graphics cards, but with a 70% less power draw."
The selected XPS 17 uses an Nvidia GeForce RTX 2060 with 6GB of GDDR6 with Max-Q. According to Geekbench's OpenCL benchmark, that GPU scores 62,309 points.
Turning to graphics, we did see a discrepancy when on battery versus wall power. The Dell scored a 26534 on battery but a much more impressive 68730 when plugged into power. The MacBook pro earned a slightly higher 68950 and didn't differ based on power source.
For reference, the M1 in the 13-inch MacBook Pro scores 18,260 in the same OpenCL test.
As for what external monitors you can drive with your devices, Apple says the M1 Pro can handle two 6K monitors at up to 60Hz. Meanwhile, the M1 Max can go up to three 6K screens using DisplayPort via the Thunderbolt connections and a fourth 4K screen via HDMI.
Dell doesn't detail how many external monitors the XPS 17 can handle, but it can output to DisplayPort using Thunderbolt 3, and can also use a bundled HDMI 2.0 adapter to use those connections too.
16-inch MacBook Pro vs Dell XPS 17 - Camera and Biometrics
Within the notch on the 16-inch MacBook Pro, Apple includes a 1080p FaceTime HD camera. This is a higher resolution than the 720p webcam Dell uses, but there's a lot more to think about here.
That FaceTime HD camera is assisted by the M1 Pro and M1 Max Image Signal Processor, which helps by performing various computational photography functions on a photograph or video recorded through the camera. This helps make the video feed from that camera look as good as possible.
While people may have initially thought the notch could have held the TrueDepth camera array, which would've enabled
Face ID
, it does not. It's just the 1080p imaging camera.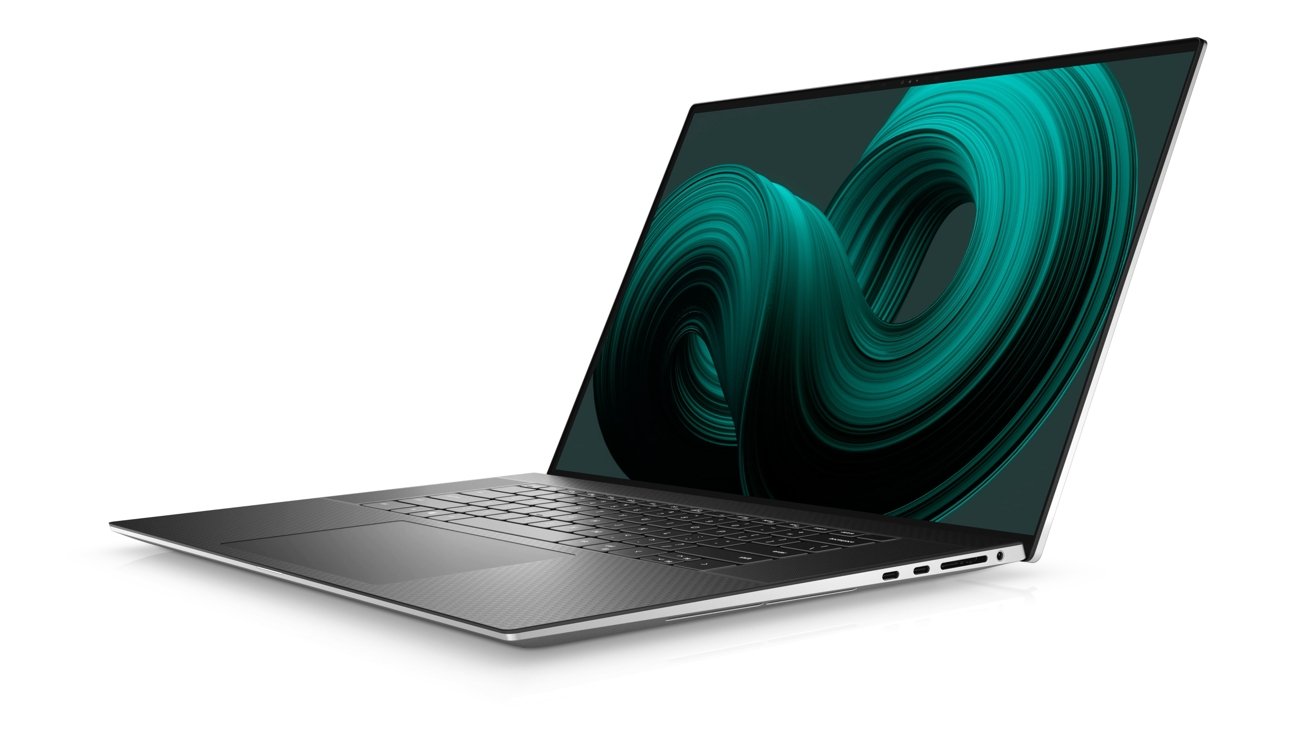 Outside, the Dell looks like a MacBook. Open it up to find a lot of black on the inside.
Oddly, Dell does take a bit of a lead at this point. Though its camera is 720p, it's an infrared-sensing camera, which allows it to be used with the Windows Hello biometric system.
This doesn't leave the 16-inch MacBook Pro without biometric security, as while it no longer has a
Touch Bar
, it does still have
Touch ID
on the keyboard itself.
Dell does match this by including a fingerprint reader in the power button, which echoes similar moves by Apple for the
iPad mini
.
16-inch MacBook Pro vs Dell XPS 17 - Storage, Connectivity, Power
For 2021, Apple has moved away from its previous design philosophy of providing relatively few ports to one where more ports are available to use. From the four Thunderbolt 3 ports of the previous model, Apple now includes three Thunderbolt 4 ports, along with an HDMI port for video, an SDXC card slot, a headphone jack, and a MagSafe 3 connector.
Previously providing all of the ports possible in its notebooks, Dell is going the other direction from Apple, with it opting for four Thunderbolt 3 ports, along with a headphone jack and an SD card slot.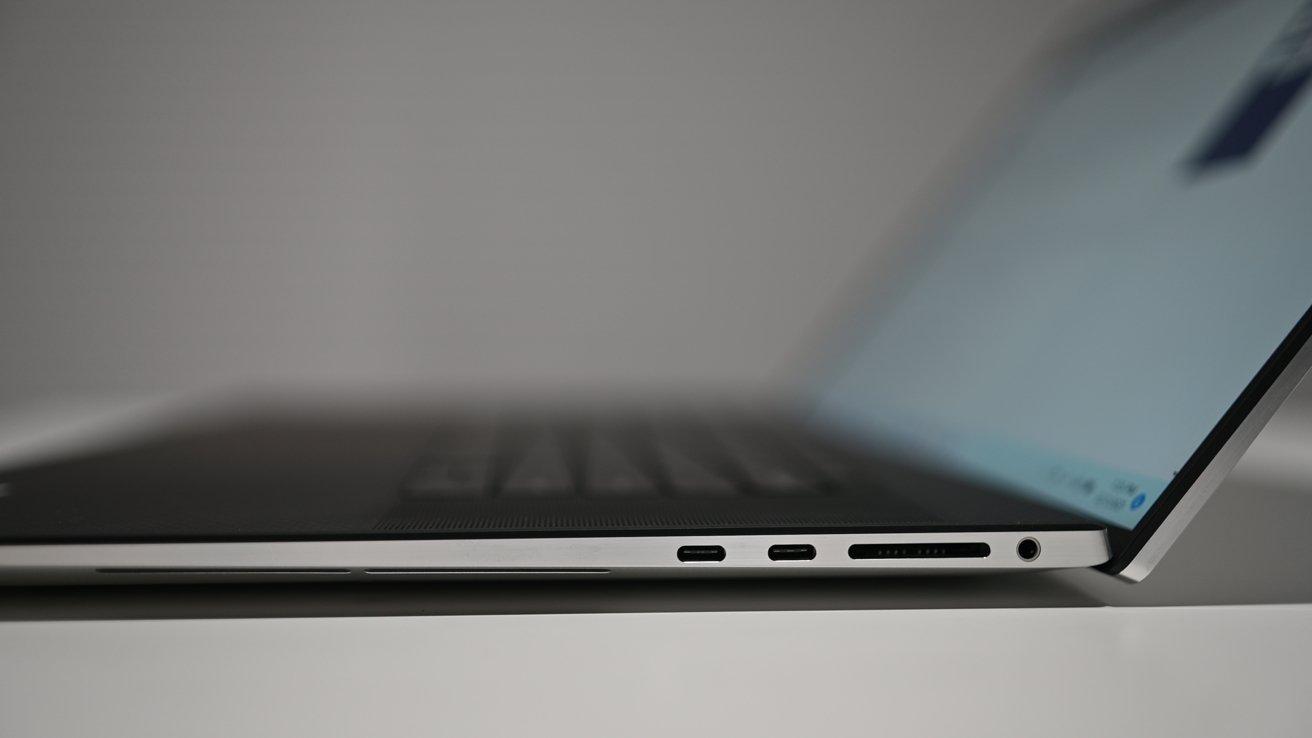 The Dell XPS 17 has four Thunderbolt 3 ports
Like MacBooks of old, the Dell relies on either a power adapter or an accessory with Power Delivery to charge via one of the Thunderbolt 3 ports.
Meanwhile, Apple's MagSafe 3 connector enables charging with an easy charging capability, one that's also safe from being a tripping hazard. You could still use Power Delivery to recharge via the Thunderbolt 4 ports if you want or need to, but at least there's a way to recharge without occupying one of the few multi-functional ports on the device.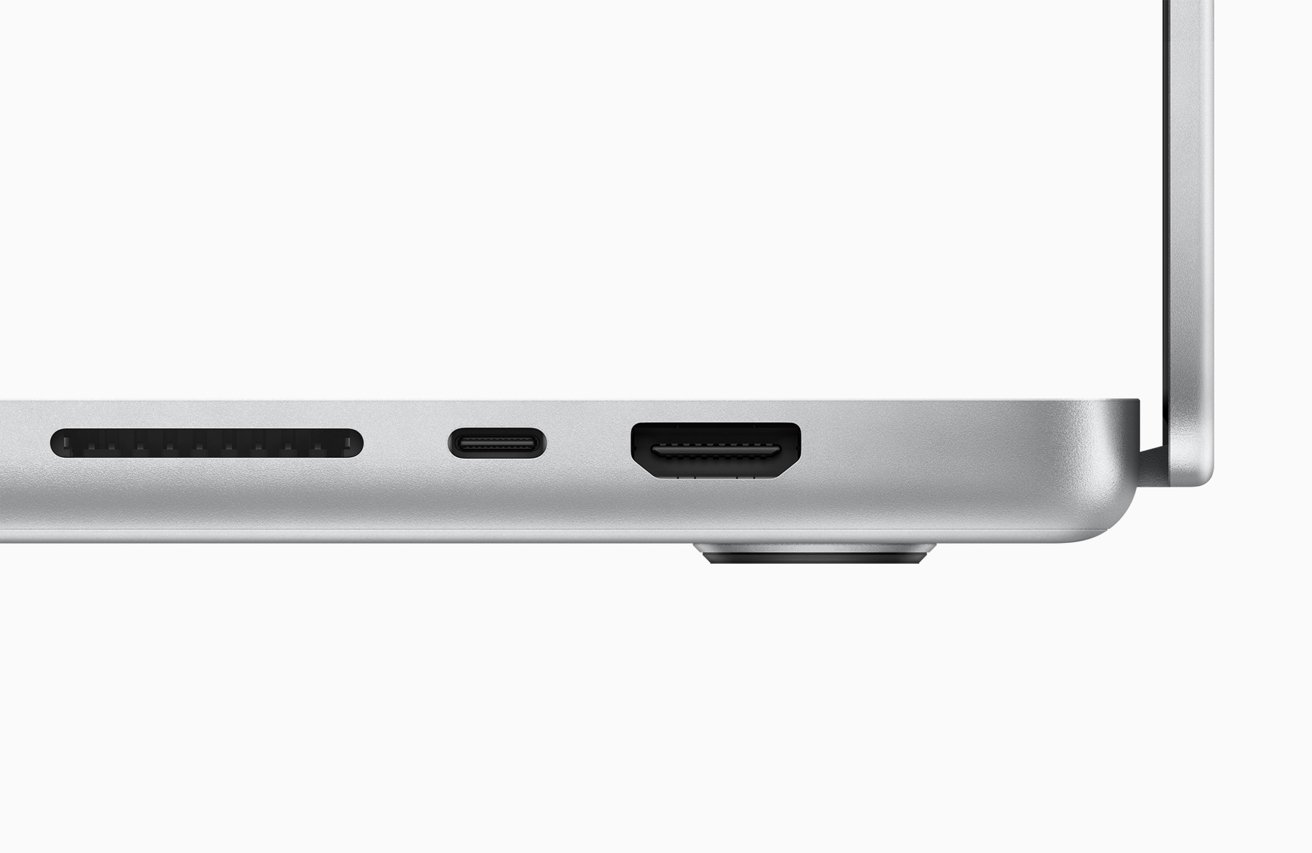 In a reversal of expectations, there's more ports on the 16-inch MacBook Pro than the Dell XPS 17
For power, Apple includes a 100WHr battery, which it claims to last for up to 21 hours of video playback, or up to 14 hours of wireless web access. Dell uses a similar-sized 97WHr unit, which can handle up to 13 hours 8 minutes of streaming, somewhat in the same ballpark as Apple's device.
Storage on the MacBook Pro starts at 512GB, with options for 1TB, 2TB, 4TB, and 8TB. The version of the XPS under examination includes a 1TB M.2 PCIe NVMe drive, but Dell does sell versions with a 512GB or 2TB drive.
16-inch MacBook Pro vs Dell XPS 17 - Other Details
Of the two, the Dell is actually upgradable after purchase, with the RAM and M.2 NVMe drive both replaceable using the right tools and know-how.
There is no such upgrade option on the MacBook Pro, so you will be stuck with the memory and storage you chose at the time of purchase. You could undoubtedly supplant the storage with external versions over Thunderbolt 4, but there's nothing you can do about the memory.
Apple uses six speakers with force-canceling woofers and Dolby Atmos support. Dell uses a pair of 2.5W stereo woofers, along with 1.5W stereo tweeters.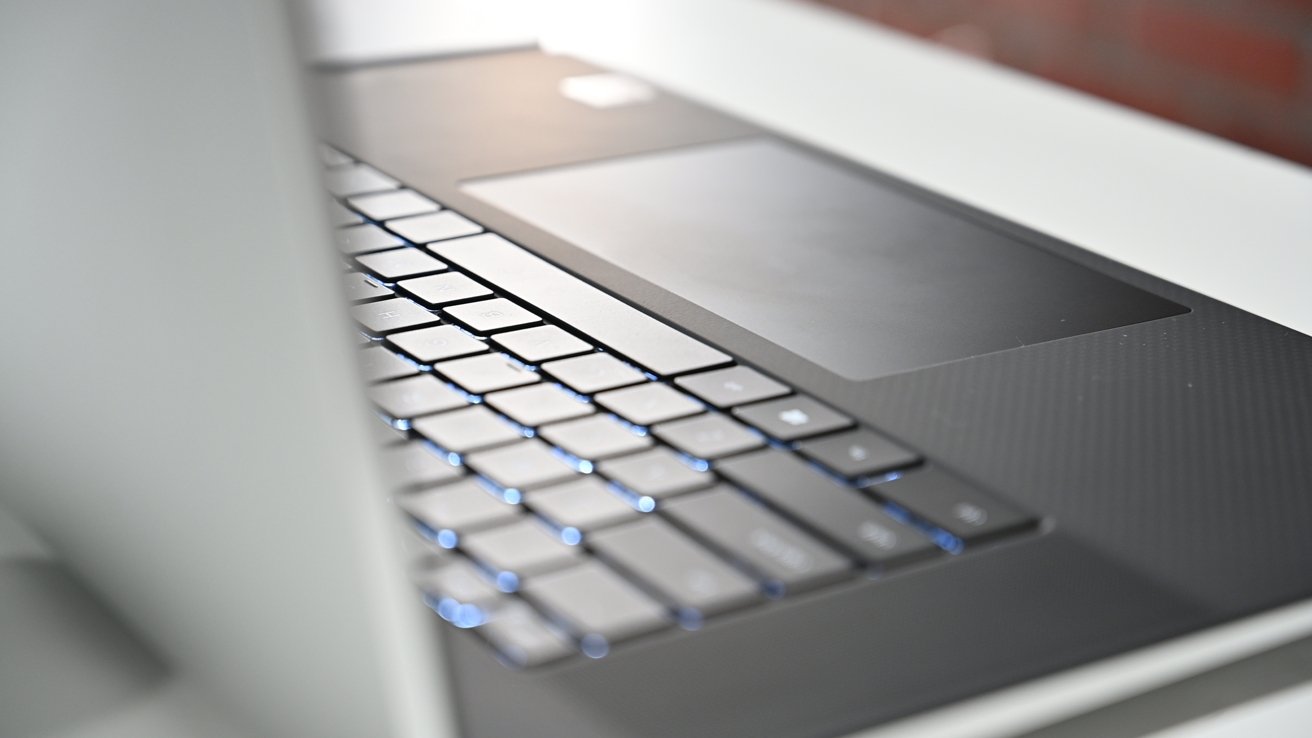 The Dell XPS 17
The XPS 17 has a dual-array microphone system, while the MacBook Pro employs three mics with directional beamforming.
Both notebooks support Wi-Fi 6, with Dell opting for a "Killer" branded version. Dell opted for Bluetooth 5.1, while Apple stuck to Bluetooth 5.0.
16-inch MacBook Pro vs Dell XPS 17 - Configuration Pricing
Apple charges $2499 for the cheapest 16-inch MacBook Pro with the M1 Pro, 16GB of Unified Memory, and 512GB of SSD storage.
Upgrading to 32GB of memory costs an extra $400. Upgrading the storage from 512GB to 1TB is $200, rising to an extra $600 for 2TB, $1,200 for 4TB, and $2,400 for 8TB.
The cheapest M1 Max model with the 24-core GPU, 32GB of memory, and 512GB of storage is $3,099. Upgrading to 64GB of memory is $400, with similar upgrade costs to the M1 Pro for storage. Going from the cheapest M1 Max to the version with the 32-core GPU is an extra $200.
The highest-priced M1 Max model with the 32-core GPU, 64GB of memory, and 8TB of storage costs $6,099.
The Dell XPS 17 model with the Core i7-10875H, 16GB of memory, the 1920x1200 display, 97WHr battery, and 1TB of storage is priced at $2,149, according to Dell's website.
There's no option to customize it specifically as a deal price, but other versions can be fitted out with different specifications.
For example, using the same processor and GPU, upgrading the memory to 64GB, using 2TB of storage, and the UHD+ touchscreen puts the price up to $2,699.99.
At the highest end of the scale is a version with an 11th-generation Core i9 11980HK processor, a GeForce RTX 3060 6GB GPU, 64GB of DDR4 3,200MHz memory, two 4TB NVMe drives, and the UHD+ touchscreen. Dell sells that extreme configuration for $5,199.99.
While quite impractical for the vast majority of users, it does at least highlight that at the premium end of configurations, the perceived high pricing of Apple seems quite adequate when Dell gets near to it with similar specifications.
Close, but not quite
If we were to compare the Dell XPS 17 against the previous Intel-based MacBook, you would see many similarities, especially in the overall aesthetic and in the limited number of ports. You could easily consider Dell's design as its PC-based equivalent of the MacBook Pro ethos.
With the arrival of the Apple Silicon versions, Apple has thrown the direct comparison out the window in many different ways. Sure, there's a thin aluminum enclosure, but in practically all other areas, there's pretty much no real crossover.
For the MacBook Pro, its major display upgrade, its switch to the high-performance M1 Pro and M1 Max, and the increase in ports weigh in its favor.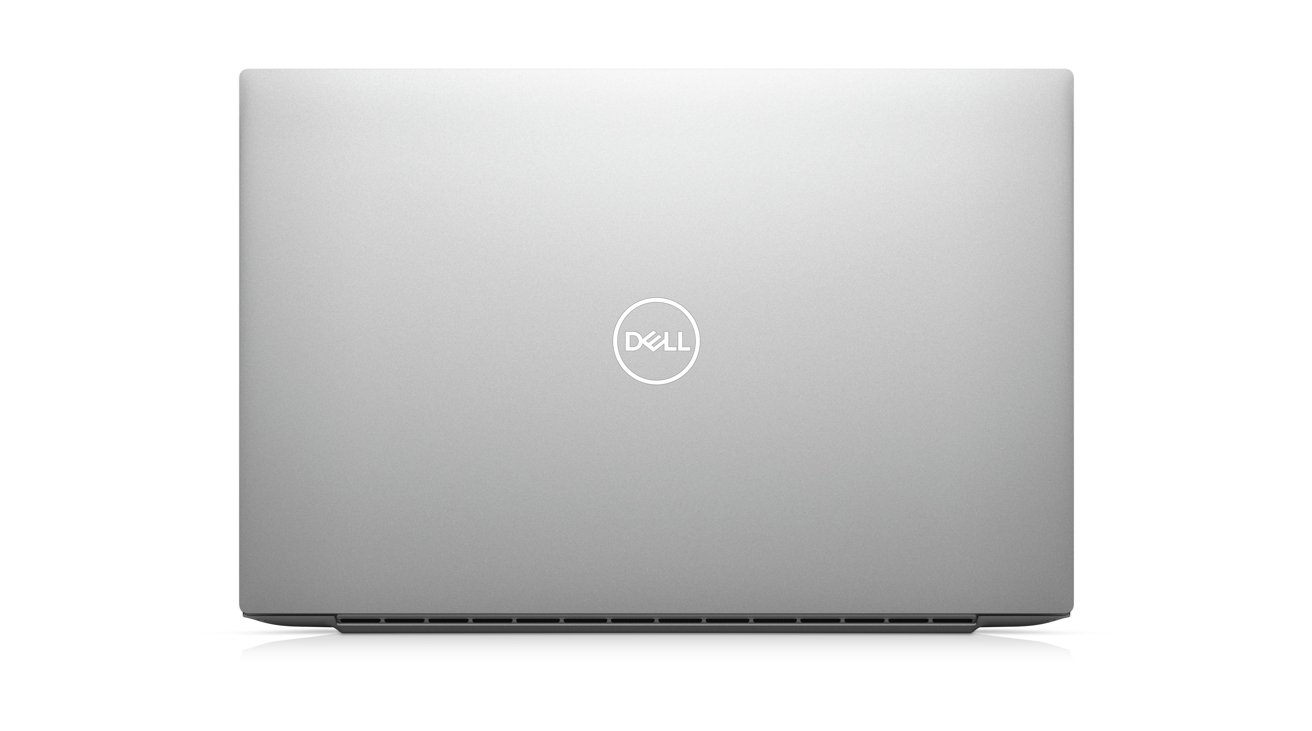 If you could switch out the Dell logo, you could probably trick an unsuspecting person into thinking it's a MacBook Pro from a distance.
On Dell's side, the biggest thing working for it isn't on the spec sheet, but rather in its price lists. To get a MacBook Pro with the cheapest M1 Pro, similar RAM, and comparable storage to the XPS 17 configuration we're looking at, you'd be spending $2,699 versus $2,149.
That's a $550 difference that the MacBook Pro has to justify with its M1 Pro performance, more ports, and a considerably better display. For many, that could be enough of a justification, but to the price-conscious and platform-agnostic, that's $550 that could go towards a tablet or another very cheap notebook.
Dell's strength is that it's not Apple, and its pricing can certainly reflect that. But when you have a product that takes on many of the properties of its Apple-based rival, the XPS 17 wins on the cost front, but not with the overall package.
Read on AppleInsider