Compared: 16-inch MacBook Pro vs Razer Blade 15 Advanced
Apple used the Razer Blade 15 Advanced as a point of comparison for the performance of the M1 Max chip. Here's how the rest of the notebook compares against the
16-inch MacBook Pro
.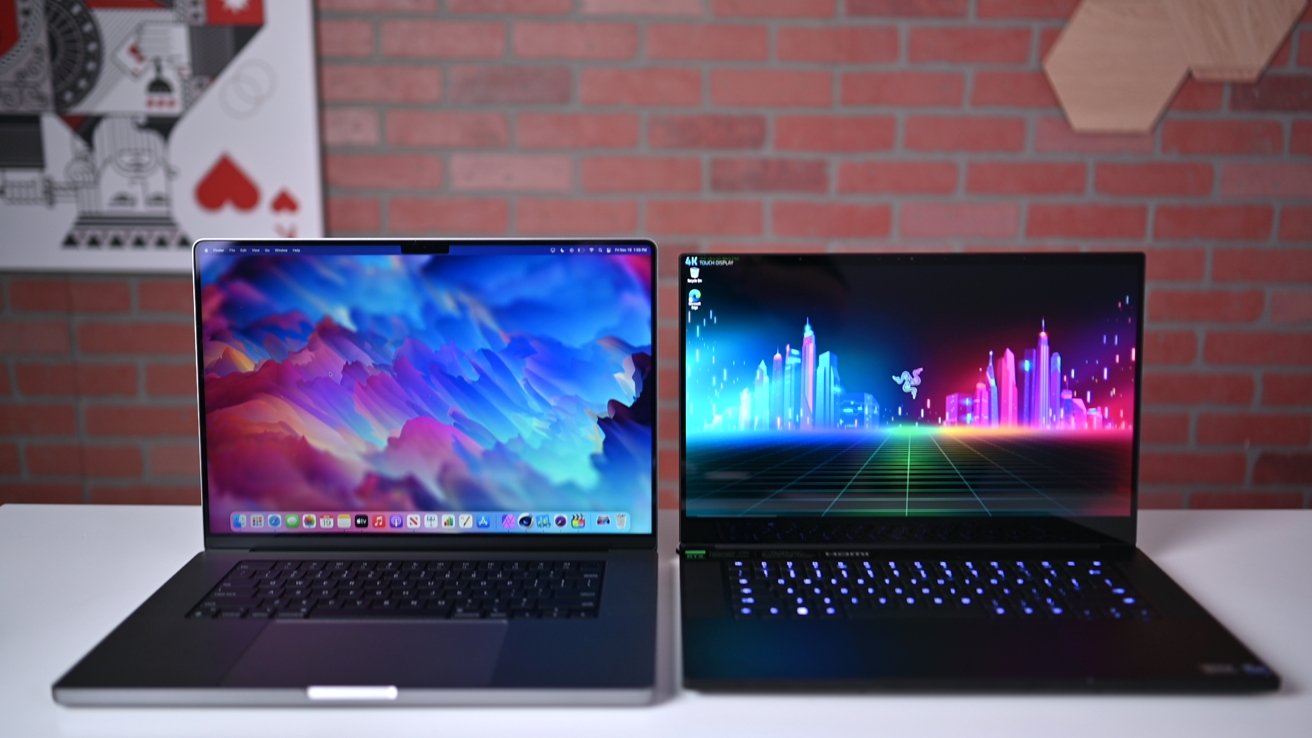 16-inch MacBook Pro vs Razer Blade 15 Advanced
As part of Apple's promotion of its new M1-series
MacBook Pro
system-on-chip
options
, it made claims comparing the performance of the SoCs against existing on-the-market notebooks.
One comparison of the M1 Max with the 32-core GPU option
claimed
it offered "graphics performance comparable to that in a high-end compact PC pro laptop using up to 40% less power." A closer inspection of the press release has Apple saying that compact notebook was the Razer Blade 15 Advanced, complete with the
model number
, RZ09-0409CE53-R3U1.
At first glance, the configurations list of that particular notebook points to Apple selecting a very high-performance system, one that would be the epitome of a gaming notebook.
Using Apple's selected Razer Blade 15 Advanced configuration, here's how the rest of the notebook compares to the 16-inch MacBook Pro.
Specifications
16-inch MacBook Pro (2021)
Razer Blade 15 Advanced
Display Size (inches)
16.2
15.6-inch
Max Resolution
3,456 x 2,234
3,840 x 2,160
Pixel Density
254
282
Display Technology
Mini LED-Backlit,
Wide Color (P3),
True Tone
ProMotion
OLED,
60Hz
Touchscreen
100% DCI-P3
Processors
10-core M1 Pro,
10-core M1 Max
11th-gen 8-core Intel Core i9-11900H
Memory
16GB Unified Memory, up to 64GB
32GB DDR4 3200Hz
Graphics
M1 Pro 16-core,
M1 Max 24-core
M1 Max 32-core
Nvidia GeForce RTX 3080 16GB,
Intel UHD Graphics
Storage
512GB, 1TB, 2TB, 4TB, 8TB
1TB M.2 PCIe NVMe
Biometrics
Touch ID
Windows Hello
Trackpad
Force Touch
Yes
Keyboard
Backlit with ambient light sensor
Per-key backlighting with Razer Chroma
Dimensions (inches)
14.01x 9.77 x 0.66
13.98 x 9.25 x 0.67
Weight (pounds)
4.7 (M1 Pro),
4.8 (M1 Max)
4.4
Battery Life
21 Hours
Around 6 hours
Ports
3 Thunderbolt 4 ports,
HDMI,
SDXC card slot,
MagSafe 3,
Headphone jack
2 Thunderbolt 4 ports
2 USB-C 3.2 Gen 2 with 15W Power Delivery
3 USB-A 3.2 Gen 2
UHS-III SD Card Reader
HDMI 2.1
Headphone jack

Webcam
1080p FaceTime HD
1080p IR
Speakers
Six speakers with force-cancelling woofers, Dolby Atmos
Stereo with THX Spatial Audio
Microphones
3 with directional beamforming
4-mic array
Wi-Fi
Wi-Fi 6
Wi-Fi 6E
Bluetooth
5.0
5.2
Power Supply
140W
230W
Color Options
Silver, Space Gray
Anodized Black
Price
from $2,499
$3,399
16-inch MacBook Pro vs Razer Blade 15 Advanced - Physical Dimensions
The MacBook Pro uses an aluminum shell in a pair of Apple's traditional Mac color options, namely Silver and Space Gray. It's a well-known and strong design that makes it instantly recognizable to onlookers.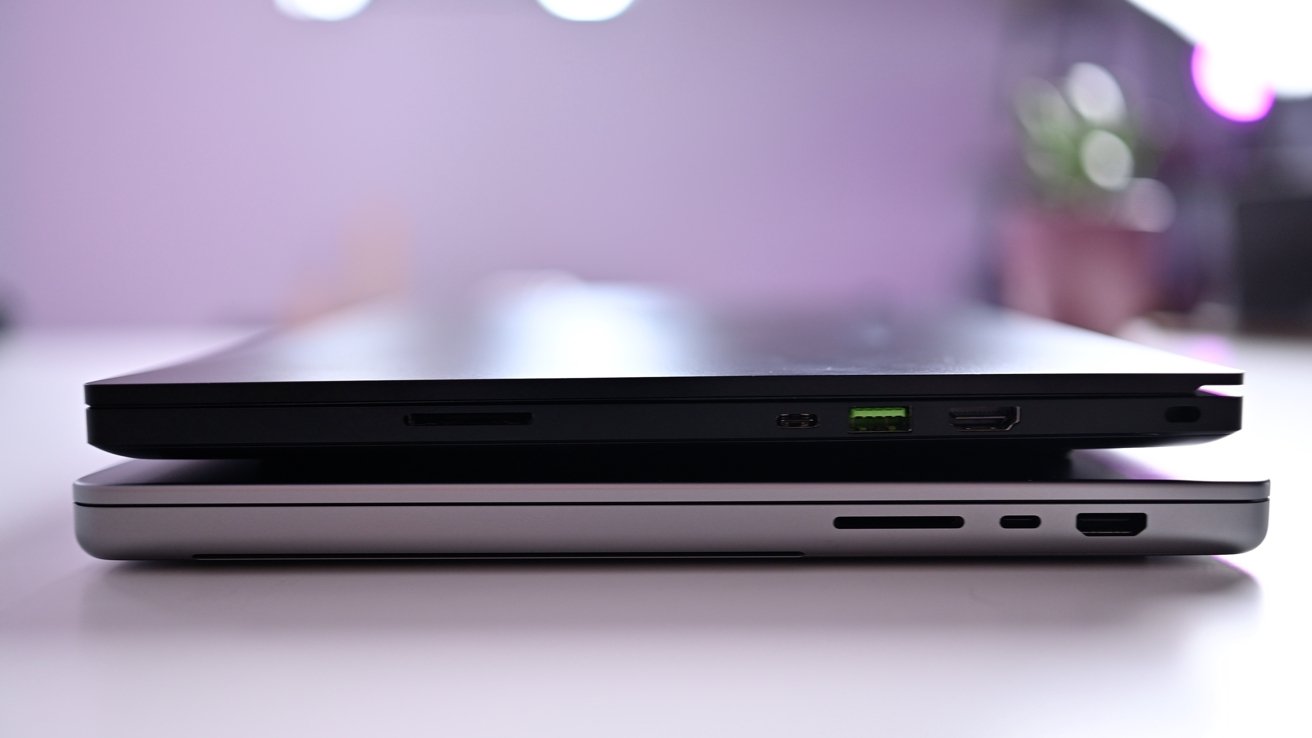 Razer has tried to follow the same path with its own products, following Apple's playbook in providing a signature style and color scheme that it certainly employs in the Blade 15 Advanced. Razer certainly goes for a similar industrial appearance with flat sides and a thin body, though it uses a slight taper on the sides to enhance its slim appearance.
The body does copy Apple in being aluminum, except here Razer has anodized it black and made the company logo on the top a bright and contrasting green.
Apple has the larger design overall, but not by much, with a 14.01 by 9.77-inch footprint countered by Razer with 13.98 by 9.25 inches. The difference in footprint can be accounted for by Apple having a slightly larger display, but they're still quite comparable.
As for the thickness, the 16-inch MacBook Pro is 0.66 inches, while the Razer is 0.67 inches. This is quite commendable for Razer, given that most gaming notebooks tend to be much thicker overall.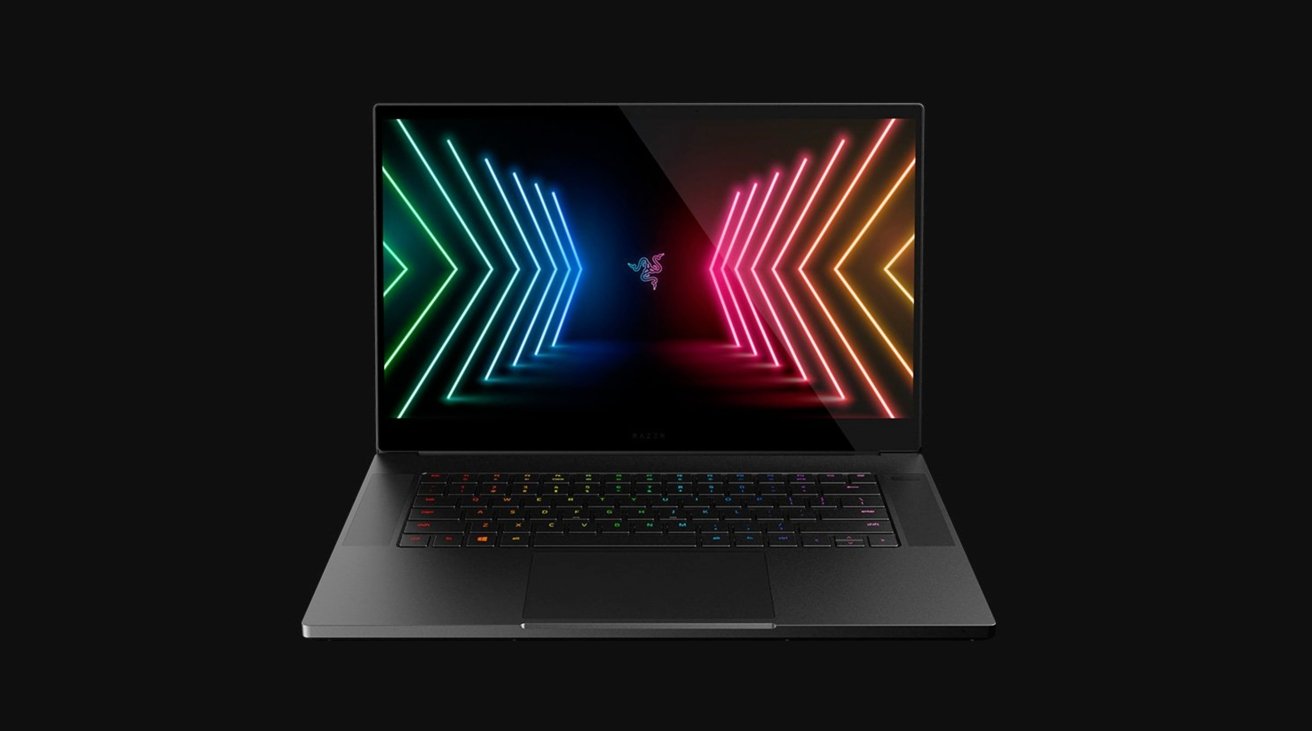 Razer includes a smaller display, but one with a higher pixel density than the 16-inch MacBook Pro
On the weight side, Apple loses out a little bit here, in that the 16-inch MacBook Pro is either 4.7 pounds or 4.8 pounds, depending on whether you go for the M1 Pro or M1 Max. Meanwhile, the Blade is a bit lighter at 4.4 pounds.
16-inch MacBook Pro vs Razer Blade 15 Advanced - Display
This was touched upon earlier, but the two notebooks have quite different screens, in a large number of ways. The obvious one is the display size, with Razer opting for a 15.6-inch screen while Apple uses a 16.2-inch version.
Apple's display has a resolution of 3,456 by 2,234 pixels, which gives it a pixel density of 254 pixels per inch. Razer's screen in this configuration is a 4K panel with a resolution of 3,840 by 2,160, and a higher pixel density at 282ppi.
There's a competing of technologies as well, with Apple choosing to use Mini LED for its backlighting, giving the MacBook Pro high levels of brightness at 1,000 nits fullscreen, 1,600 nits at peak. It also includes Wide Color (P3), True Tone, ProMotion support, and a 1,000,000:1 contrast ratio.
Razer's display in this particular notebook is an OLED panel, which can result in a brighter image with extremely high contrast ratios and color representation versus typical LED-backlit LCD screens. Razer has not specified what the contrast or brightness of the display are, but it's safe to expect the OLED panel to be bright and high quality in its own right.
The company does say the Blade's screen has 100% coverage of the DCI-P3 color space, HDR support, individual factory calibration, and a 1ms response time.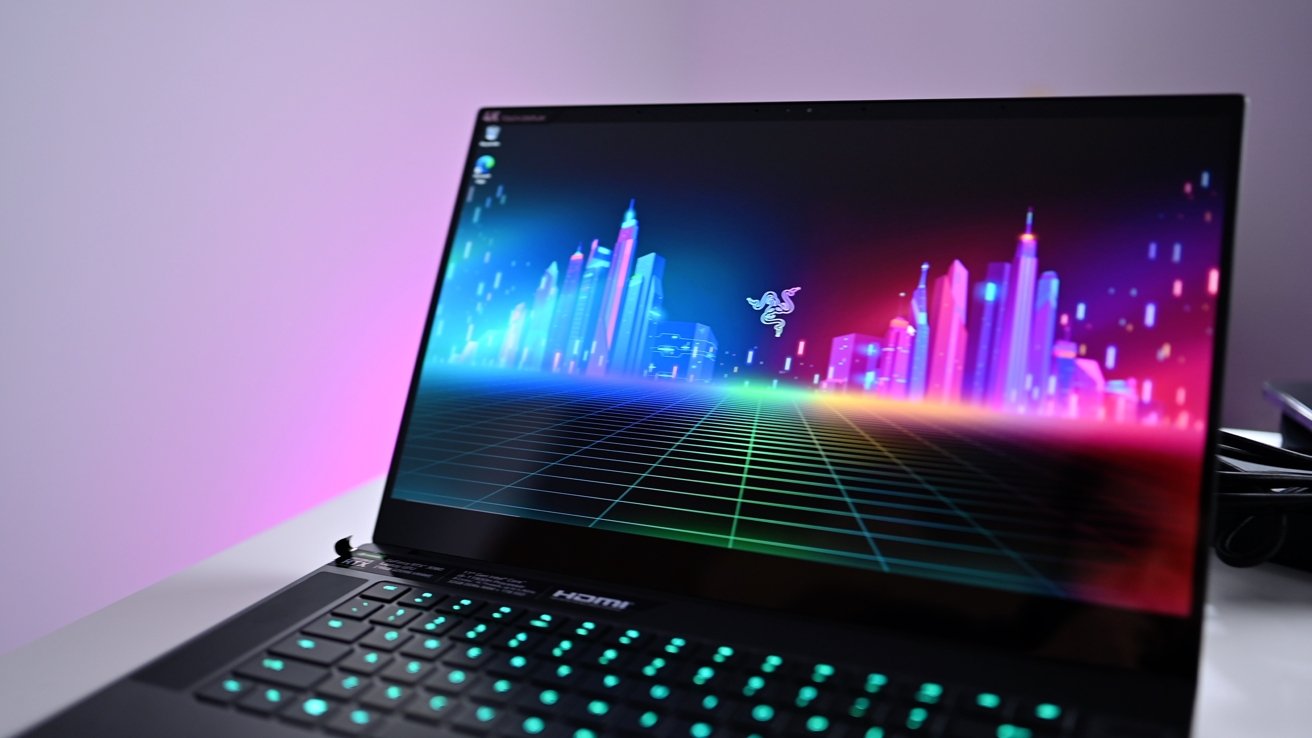 The OLED panel on the 4K Blade 15 Advanced is also a touchscreen.
The refresh rate for the Blade is just 60Hz, which is fairly standard, though while it falls short of Apple's display, it even fades behind alternate Blade configurations, such as a 360Hz 1080p screen, or a 240Hz QHD display.
The Blade does, however, benefit from being a touchscreen, an often clamored-for technology by some MacBook Pro users that has simply failed to make it onto the Mac.
Apple's screen is slightly hindered by the inclusion of a notch in the middle of the top edge, which cuts into the display. While it eats into the menu bar, macOS does push full-screen content to below the notch itself, effectively using the same space as a 16-inch display.
16-inch MacBook Pro vs Razer Blade 15 Advanced - CPU Performance
The new 16-inch MacBook Pro uses the M1 Pro and M1 Max, versions with 10-cores consisting of two efficiency cores and eight high-performance cores. The two versions are practically identical CPU-wise in their construction, but there are some other differences that can affect performance.
For example, the Fabric in M1 Pro has a memory bandwidth of up to 200GB/s, whereas the M1 Max has double at 400GB/s. You can also have more memory on the Max, as the M1 Pro starts at 16GB with a 32GB option, while the M1 Max starts at 32GB with a 64GB upgrade available.
Another difference is the Media Engine, a new addition that handles video encoding and decoding tasks in an efficient way. Both can deal with H.264, HEVC, ProRes, and ProRes RAW encoding and decoding, but the M1 Max has two video encode engines and two ProRes encode and decode engines over the M1 Pro's version.
The Blade configuration used by Apple has the
Intel Core i9-11900H
, an 11th-generation Tiger Lake chip from Q2 2021. The eight-core, 16-thread chip has a base clock speed of 2.5Ghz, rising to 4.9GHz under Turbo Boost.
On a benchmark basis, the Core i9 scores around 1,600 for Geekbench 5's single-core test, rising to around 9,100 for the multi-core score.
In
AppleInsider's
running of the benchmark
, the M1 Pro scored 1,760 and 7,723 respectively in the single and multi-core tests, while the M1 Max managed a comparable 1,769 and 12,308.
Obviously, Apple's new chips are running better, in part due to the higher per-core score, and that there are 10 cores to Intel's 8 cores.
16-inch MacBook Pro vs Razer Blade 15 Advanced - Graphics Performance
The main point of comparison for Apple is the Blade's graphics, and how the top-end M1 Pro pretty much matched the GPU Razer used.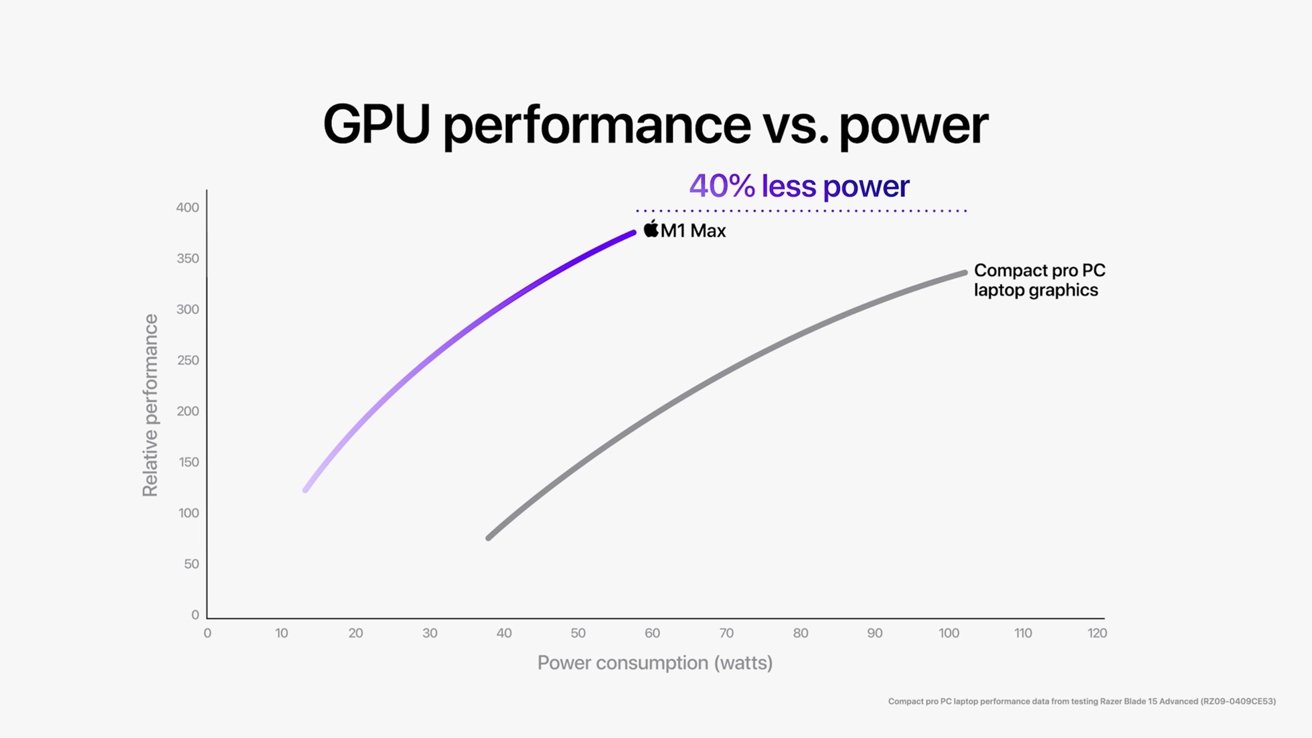 This Apple-produced chart compared the 32-core GPU in the M1 Max with the Razer Blade 15 Advanced.
For that specific configuration, the Blade 15 Advanced was packed with an Nvidia GeForce RTX 3080 with 16GB of GDDR6. Razer also has configurations for an RTX 3060 and RTX 3070, but Apple went for the top end of the spectrum.
The processor also offers Intel UHD graphics as an integrated alternative to the discrete GPU.
The M1 Pro for the 16-inch MacBook Pro has an Apple-designed GPU with 16 cores, while the M1 Max increases the count to 24 cores or 32 cores.
Since Apple uses Unified Memory, the GPU shares the same pool of memory as the CPU, similar to integrated graphics options. It differs in that the Unified Memory structure allows the CPU, the GPU, and other elements to access the same memory collection without duplicating data into separate pools, making it potentially more efficient for processing.
This means that the GPU's memory relies on the amount configured with the Mac itself, so it has up to 64GB to play with in the higher-end configurations. To a point, this pretty much negates the Blade's advantage of having so much dedicated video memory.
AppleInsider's
Geekbench 5 Metal benchmark tests saw a score of 40,991 for the M1 Pro with a 16 core GPU, while the M1 Max with a 32-core GPU achieved 68,950 in the same test. For reference, the M1 with an 8-core GPU scored 21,425 under the same test.
Here's where things get muddy, as it is not currently possible to perform the same Metal test using an Nvidia GPU due to a long-term lack of macOS support. The nearest analog would be the GeekBench OpenCL test.
As of yet, there are no posted OpenCL test results for the M1 Max or M1 Pro, however, there is one for the M1, at 18,260. Geekbench says the Geforce RTX 3080 as a laptop GPU scores 128,800.
Even if we go by Apple's claim of the M1 Max being four times as powerful as the M1, this still puts the theoretical M1 Max GPU's score at around 80,000, which still leaves quite a gap.
It remains unknown what exact combination of benchmark results Apple used to score a higher "relative performance" than that specific Blade's GPU, but it certainly doesn't take away the fact that Apple's made an integrated GPU that can perform very well.
At the same time, doing so without being as power-hungry.
16-inch MacBook Pro vs Razer Blade 15 Advanced - Camera and Biometrics
Apple includes a 1080p FaceTime HD camera in its 16-inch MacBook Pro, located inside the infamous display notch. While not benefiting from a full TrueDepth camera array, the imaging device Apple has used does at least benefit from the image signal processing elements of the M1.
Razer uses its own 1080p webcam, though it is one with infrared capabilities, enabling it to support Windows Hello. This gives it a form of visual biometrics that Apple could've countered with
Face ID
, if it had included the aforementioned TrueDepth camera.
On the subject of biometrics, Apple does still offer
Touch ID
via a button in the top-right of the keyboard.
16-inch MacBook Pro vs Razer Blade 15 Advanced - Storage, Memory, Connectivity
Apple's storage options start from 512GB, rising to 1TB, 2TB, 4TB, and topping out at 8TB.
The configuration of the Blade Apple selected uses a 1TB M.2 PCIe NVMe drive. Technically, you can have two such drives installed, so you can add a secondary drive for extra storage, or even replace the original drive.
There simply is no option to upgrade the storage of the 16-inch MacBook Pro, unless you use an external Thunderbolt drive or something similar.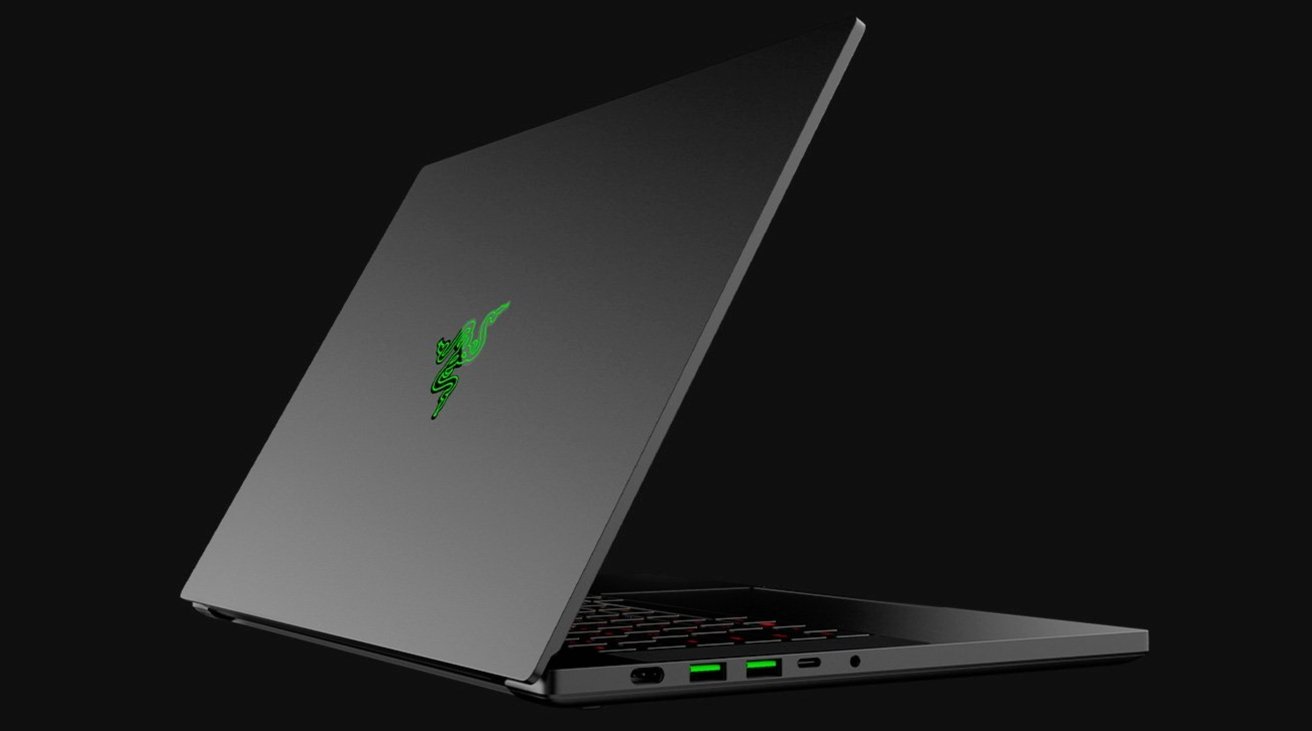 Razer uses anodized aluminum for its Blade 15 Advanced casing.
On memory, Apple offers 16GB or 32GB of Unified Memory in the M1 Pro, rising to 32GB or 64GB in the M1 Max.
The Razer Blade 15 Advanced uses 32GB of DDR4 3,200MHz dual-channel memory, but again these are components that could be switched out for higher capacities at a later time. Once more, you cannot perform such switching with the MacBook Pro.
For connectivity, the 2021 MacBook Pro models improve from the previous generation by offering three Thunderbolt 4 ports along with HDMI, an SDXC card slot, a MagSafe 3 power connection, and a headphone jack.
Razer includes two Thunderbolt 4 ports, two USB-C 3.2 Gen 2 ports with 15W power delivery, 3 USB-A 3.2 Gen 2 ports, an UHS-III SD card reader, a HDMI 2.1 port, a power connection, and a headphone jack.
For wireless connectivity, the MacBook uses Wi-Fi 6 and Bluetooth 5.0, while the Blade opts for the newer Wi-Fi 6E and Bluetooth 5.2.
16-inch MacBook Pro vs Razer Blade 15 Advanced - Power and Other Details
In both cases, while you could charge the notebook by their respective dedicated power connections, you don't have to do that. Both could also be recharged using USB-C if required, enabling each to be used with a dock with built-in power delivery features.
Apple includes a bigger battery in its MacBook Pro at 100W, versus the Blade's 80W unit. It also seemingly lasts longer in the MacBook Pro, with Apple claiming it offers up to 21 hours of video playback or up to 14 hours of wireless web access.
By contrast, reviews and benchmarks for the Razer put its battery life at around 6 hours on average. This isn't exact, as there's variations in testing methodologies at play, but given the generally low battery life of gaming notebooks, the figure is reasonably close to reality.
Razer includes a more powerful power supply with its Blade at 230W, while Apple uses a 140W version.
Apple includes more speakers in its MacBook Pro, with six including force-cancelling woofers and Dolby Atmos support to the Blade's Stereo with THX Spatial Audio support. Razer, however, has one more microphone at four in an array versus Apple's three with directional beamforming.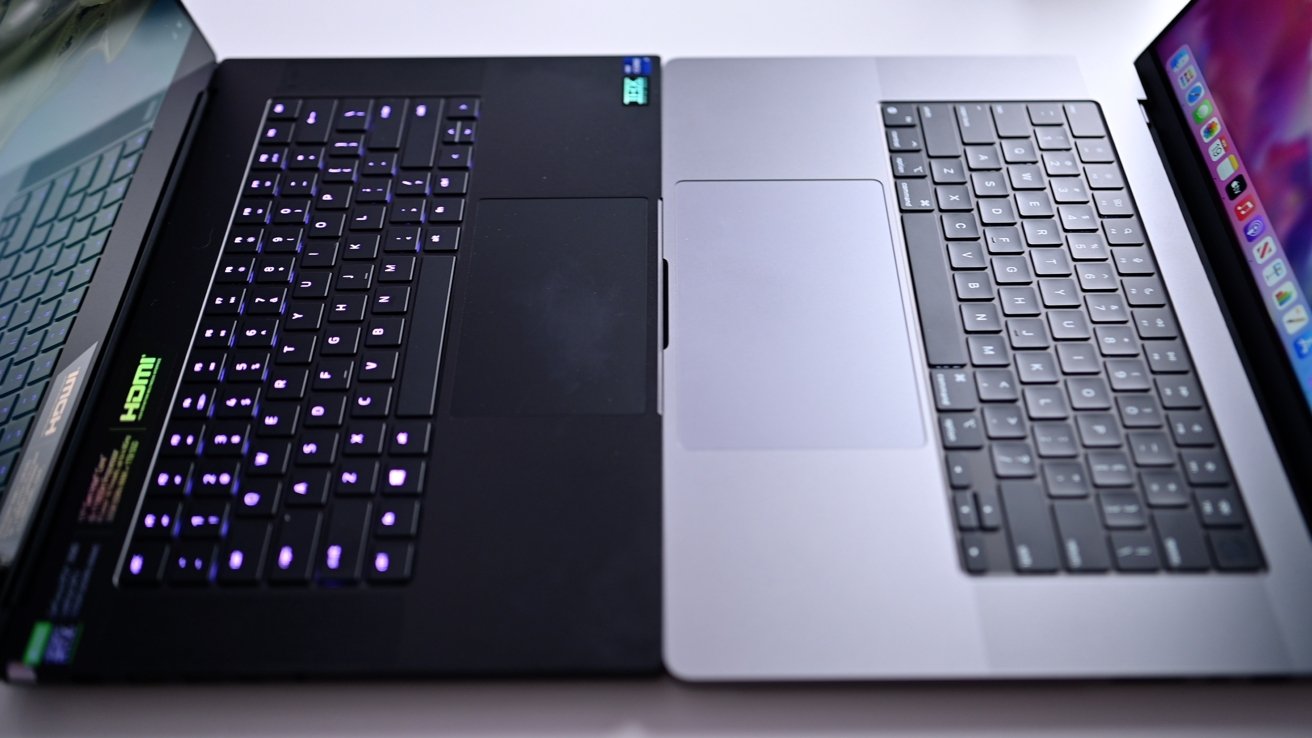 The keys are individually backlit on the Blade 15 Advanced, with full RGB capabilities.
The MacBook Pro keyboard includes a backlighting system for seeing the keys in the dark. With its gaming pedigree, Razer goes a few steps further.
The Blade 15 Advanced has a per-key RGB backlighting system, which can display over 16.8 million colors in various ways. It also offers dynamic lighting effects that work with over 150 Chroma-integrated games, so the keyboard lighting changes with your gameplay.
16-inch MacBook Pro vs Razer Blade 15 Advanced - Configuration Pricing
The specific configuration of the Razer Blade 15 Advanced, with the Core i9, GeForce RTX 3080, 32GB of memory, 1TB of storage, and 4K OLED touchscreen,
costs $3,399
. There are many other configurations available, and all but one are cheaper than what Apple selected, with the exception being a "Studio Edition" version fitted with a Quadro RTX500.
The
cheapest 16-inch MacBook Pro
with the M1 Pro, 16GB of memory, and 512GB of storage costs $2,499. Bumping the RAM up to 32GB costs $400 extra.
Upgrading the storage from 512GB to 1TB
costs $200
, while it's $600 to
move to 2TB
, $1,200 to
get 4TB
, and $2,400
for 8TB
.
The cheapest
M1 Max with a 24-core GPU, 32GB of memory, and 512GB of storage
retails for $3,099. It's $400 to go to 64GB of memory, with similar storage upgrade costs.
If you want the 32-core GPU in the M1 Max, it's an extra $200.
To get a matching-specification MacBook Pro to the Blade that Apple probably used in its testing, namely an
M1 Max with a 32-core GPU, 32GB of memory, and 1TB of storage
, that would cost you $3,499, about $100 more than the Blade in question.
A relatively even matchup
In other comparisons of
high-performance notebooks that
Apple itselfused, it was quite easy to say that the MacBook Pro provides a lot for the money. Along with fantastic performance, the rest of the MacBook Pro's features helped make it a formidable notebook to compete against its rivals.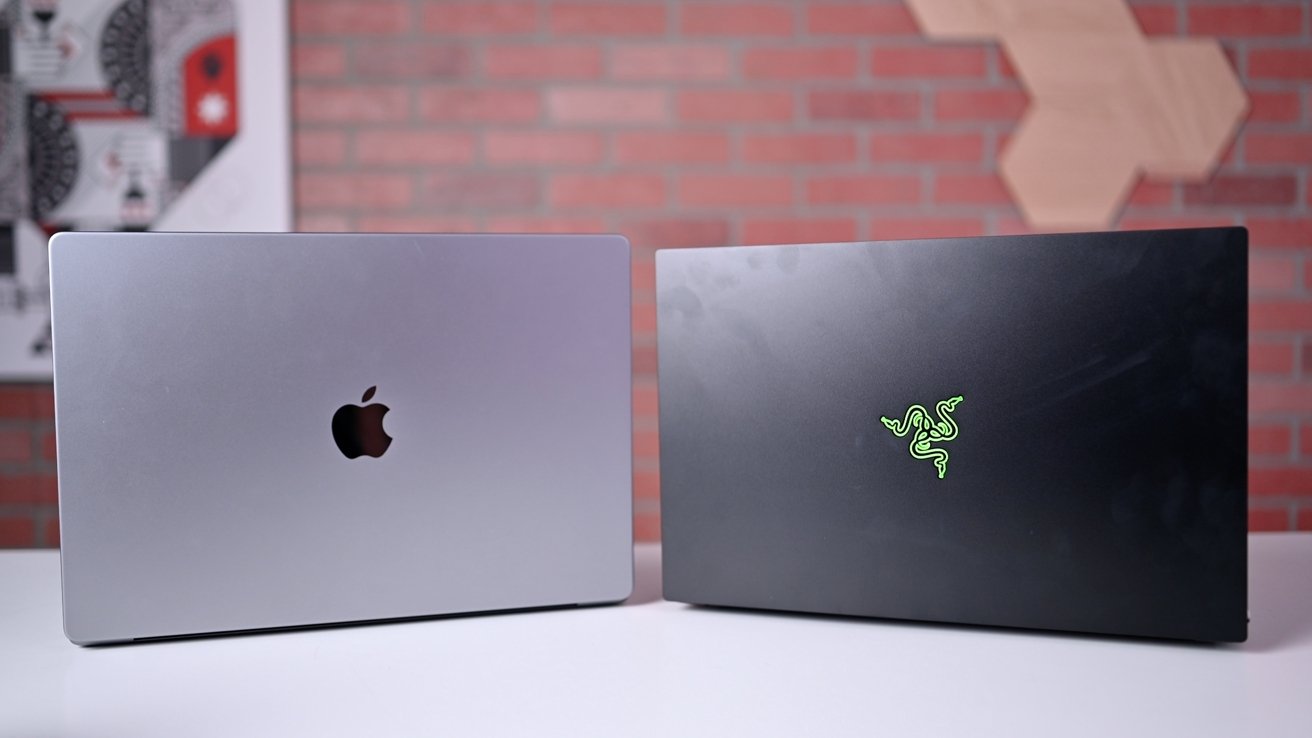 It's not quite the same story here. Razer has a notebook that's reasonably similar in terms of construction and size, with a marginally smaller screen. That display also happens to offer a higher pixel density and its OLED could be seen as a relatively comparable technology to the Mini LED display.
For a change, the features are fairly even with each other. Sure, they're not exactly the same, but they're close enough to be each other's equivalent.
You can still tease out some plus and minus points from each side though. For example, you're not going to be burning through electricity with the 16-inch MacBook Pro when under load versus the Blade, but you'll still get high performance from both notebooks.
To the Blade's benefit, it offers a touchscreen, an interaction that Apple has ignored, preferring to leave it to the iPad family. Then there are upgrades to memory and storage in the future, which simply aren't an option for the MacBook Pro.
The bottom line here is that, sure, Apple's comparison on performance to power savings is a worthy takeaway from looking at the two devices. But they're still great workhorses in their own right.
Where to buy
Apple's 2021 16-inch MacBook Pro is already discounted, with exclusive coupon savings at your fingertips in the
AppleInsider
2021 16-inch MacBook Pro Price Guide
.
At press time, the
best MacBook Pro deals
offer triple-digit savings on both retail and configure-to-order (CTO) models at Apple Authorized Reseller Adorama with promo code
APINSIDER
and
this activation link
. Step-by-step instructions detailing how to redeem the coupon can be found
here
.
The Razer Blade 15 Advanced is currently on backorder
at Razer directly
and
at B&H Photo
.
Read on AppleInsider