Wemax Nova 4K UHD Laser Projector review: high quality home entertainment system
The Wemax Nova 4K is one of a slew of short-throw laser projectors that can project an image when positioned very close to a wall -- but is it worth your time and money?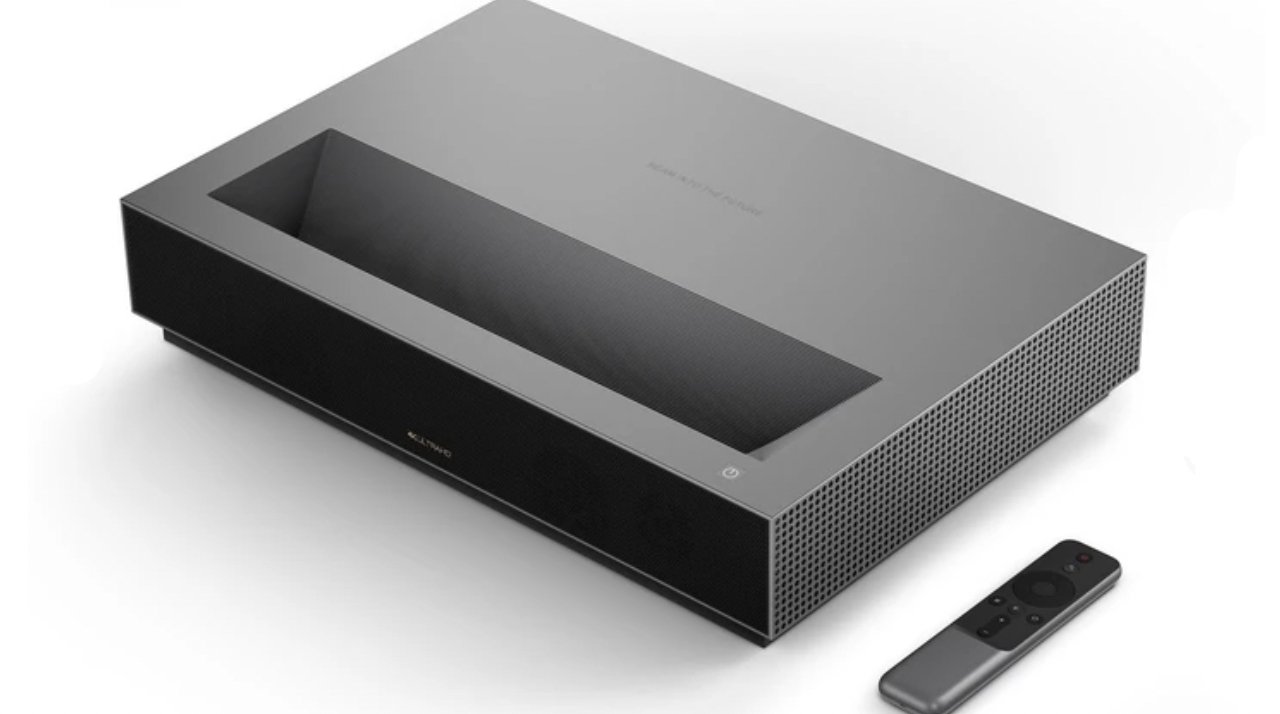 Wemax Nova 4K UHD Laser Projector
The Wemax Nova projector can be used for presentations, but its strength is as a TV. That's not from any lack of functionality, it's from how this is intentionally a sturdy, even heavy projector that's meant to be set up to stay in one place.
Yet that could also be a strength as a presentation tool. If you have a studio or workspace where you present, the Wemax Nova can be left in one spot -- and that could be exactly how to exploit its key feature.
For the Wemax Nova is a
short-throw projector
. Rather than having to be halfway across the room, you position it just a few inches away from the wall you want to project onto.
It then projects upwards, presenting a 4K image of between 80 and 150 inches, depending on just exactly how close to the wall it is.
Wemax Nova 4K projector design - build materials and sturdiness
The Wemax Nova is hefty. For a machine measuring 17.95 inches by 12.13 inches, by 3.58 inches, it's a heavy 16.5 pounds. It feels heavier, like the weight is compressed into a small unit.
You can easily enough move it from room to room, but you're not going to include it in your regular kit bag when you go out to present.
So that is an issue, but at the same time the weight and size makes this feel like a premium device. It is very well built, it would fit stylistically next to any professional audio/visual equipment.
It's a laser projector, which provides 2,100 ANSI Lumen brightness with a quoted contrast ratio of 3000:1. The Wemax Nova comes with two small feet that raise the front slightly, and they are adjustable.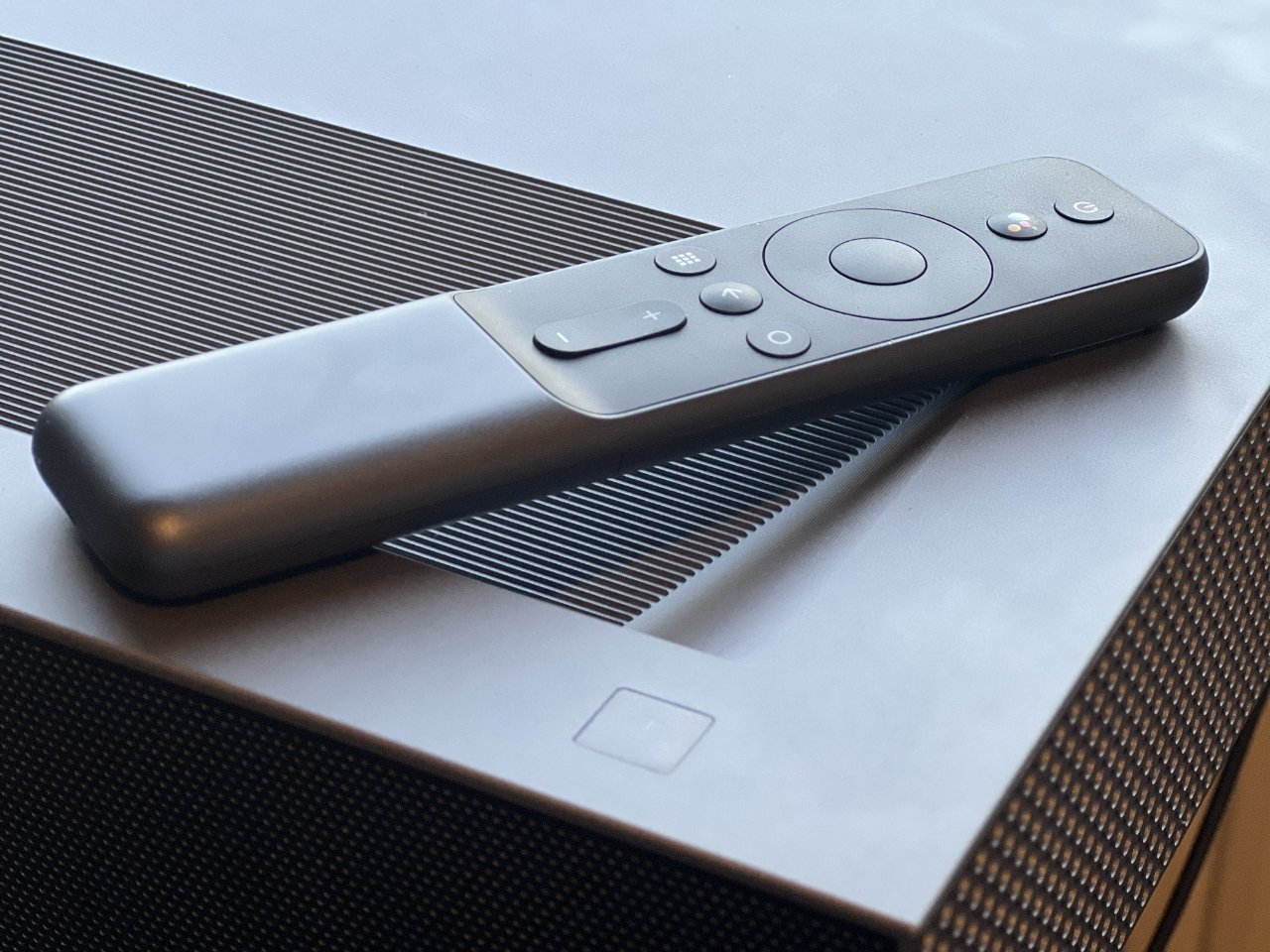 The remote is simple and setup is remarkably straightforward
The underside of the device does also include some mounting holes that mean it can be hung from a ceiling.
There is also a proximity sensor around the projector which reduces the beam strength when someone looks too closely at it instead of at the projected image. It's needed because the laser light is particularly strong, but the sensor is also very sensitive.
During testing, video playback would regularly stop and be replaced by a projected warning message saying that someone was too close. Reaching for the remote control near it could be enough to make that happen.
The proximity sensor can be switched off in the device's settings, but when positioned correctly next to a wall, it's less likely to get false stops.
Wemax Nova 4K - connectors
Wemax says that the unit can show video streamed from phones, but it's based on Android TV so it's more fiddly with iOS devices. The best option there, as with other similar projectors, is to couple an
Apple TV 4K
with it. We also tested it with an Apple TV HD.
Then the
iPhone
,
iPad
or
Mac
can stream to the Apple TV, and the Wemax Nova projector can show the output.
The projector has three HDMI 2.0 ports with CEC/ARC support, plus one 3.5mm composite video port. There are two USB 2.0 ports, with one on the back and one on the side of the device.
Plus there's an Ethernet port, a 3.5mm headphone jack, and an S/PDIF digital audio connector. That's for pairing the unit with sound bars.
Wemax Nova 4K - sound
For a domestic setting where the projector is used for TV, it's likely that you won't need a soundbar. The unit includes 30W Dolby Audio DTS HD speakers and the sound produced is loud enough, and rich enough, to not need anything more.
If it's being used in a larger space, or especially if it's being used to project presentations to an audience, the sound may not be sufficient on its own. But that's less a reason to splash out on soundbars and extra cabling, more a reason to not bother with audio in your presentations.

There's also an extra USB port on the side.
Wemax Nova 4K - setup
The review unit
AppleInsider
tested did not include any instructions, but reportedly a booklet is provided in the shipping version. It isn't needed, however, as the setup is straightforward.
Powering on the device causes it to project instructions, too. The first of which is how to pair the projector's remote control.
As provided, the remote control did not include batteries which seems an unnecessary economy on an expensive projector. But the remote itself is clear, simple, and the pairing process involved nothing more than placing the remote by the projector.
The projector does then offer to take network and Google account information from an Android phone. If you have an iPhone, you have to instead manually enter your Wi-Fi password and then Google account details.
It's not the fastest job in the world, and it might be the most frustrating as you get the last letter of your password wrong. But it's also quicker than other similar systems, including the original Apple TV.
Operating the Wemax Nova 4K as a presentation projector
With an Apple TV plugged into one of its HDMI ports, projecting a presentation is only a matter of selecting that input. The projected AndroidTV controls are clear enough and choosing the right external input is easy when that Apple TV is connected.
Thereafter it's Apple's streaming from iOS to Apple TV, and therefore exactly as simple as that.
It's not at all great that you need to add an Apple TV on top of a costly projector, and in theory, it isn't required. Wemax says that you can use any Chromecast device to send to the projector.
Previous experience with AndroidTV projectors, though, has shown that even dedicated apps by the same company struggle with inconsistent results and frustrating problems. So if adding an Apple TV isn't great, having one added does make this a far better projector.

There are proximity sensors so the projector can warn when someone is too close and could damage their eyesight with that bright light
There is an issue that the projector includes quite loud fans. During television viewing, they are not noticeable at all, but they could be distracting during presentations.
Still, for all that you can -- and we have -- presented from this device, the Wemax Nova is really intended to be a projection television.
Wemax Nova 4K - operating as a television projector
It's really an evening TV projector. Viewed in the daytime, its short-throw image is brighter than other projectors we've tried, but still clearly washed out by daylight.
In the evening or at night, it looks tremendous. You need a large, blank wall and that means actually blank, preferably white or off-white. Any empty wall works, but the results depend on the paint or wallpaper used.
For the occasional party where you're showing TV but it isn't the center of attention, the Wemax Nova projects fine onto even patterned wallpaper. For true, regular TV viewing, it needs a large, blank space.
The built-in AndroidTV-based software provides very similar options to Apple TV 4K. There's no Apple TV+, but there is Disney+ and YouTube, plus depending on your region, also Showtime and HBO Max.
There isn't a Netflix, though, and so far that can't be added as an app from the Google Play Store. You can, though, get Netflix through Apple TV 4K so that's another reason to budget to include one of those.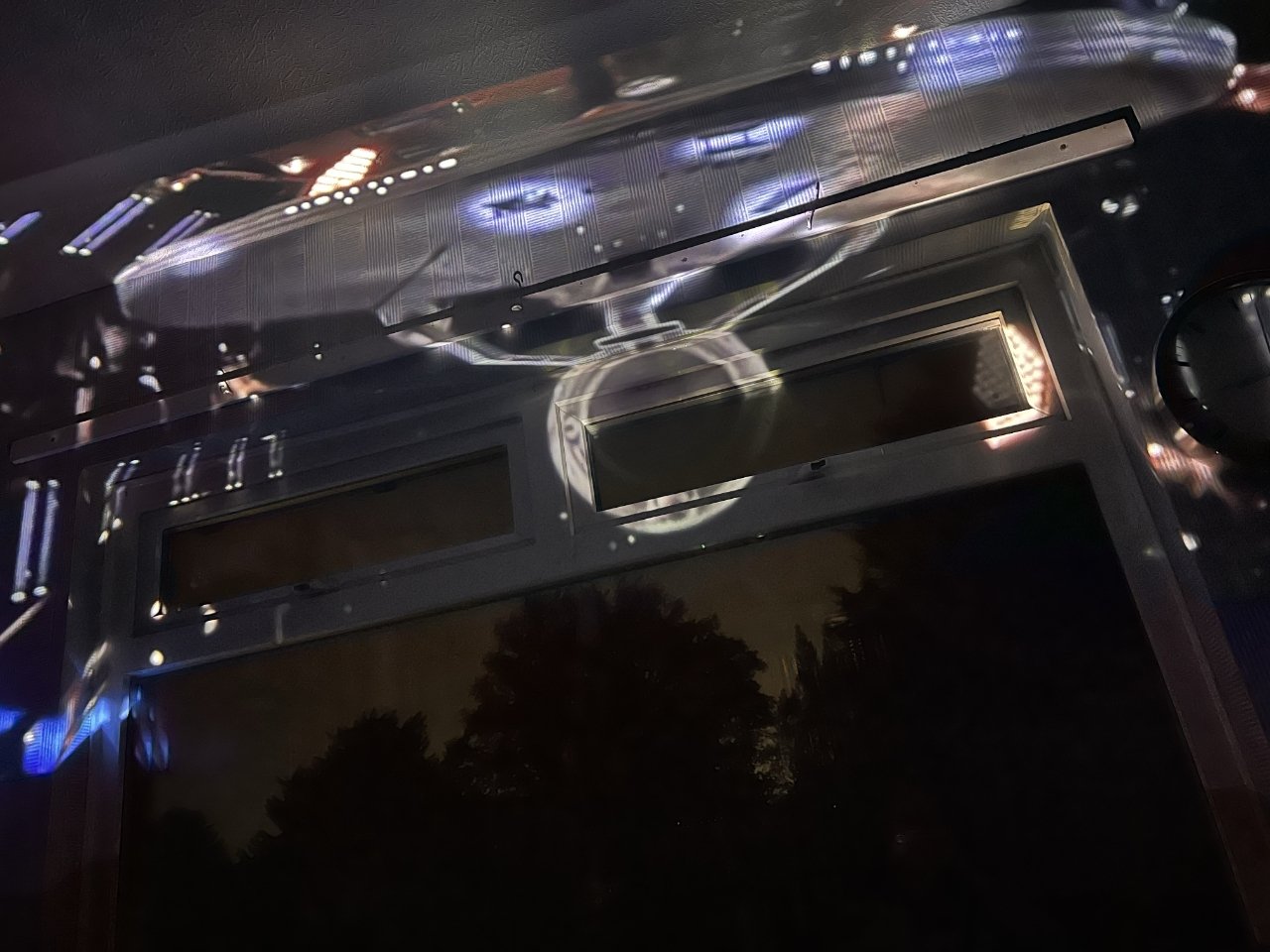 Even projected against a ceiling, the Wemax is quite mesmerizing.
Should you buy the Wemax Nova 4K laser projector
It's not a casual purchase
at $2699
, but then the Wemax Nova is not intended to be a projector you throw in your bag for travelling. It is a home appliance, it is a home entertainment system at heart.
Given that, it's a good buy because this is the kind of equipment that will be used for years, and it's also built to last a long time too.
Pros


The projected image quality is excellent


The accompanying sound is, too


Its short-throw design means it can be used close up a wall


Setup is particularly easy


Cons


Wall not included


Nor are batteries for the remote


It's transportable, not really portable


Needs an Apple TV if it's to be used as a presentation tool


Rating: 4 out of 5
Where to Buy
The Wemax Nova retails for $2,699 and is available
at Amazon
or
direct from the company
. When ordering from Wemax.com,
AppleInsider
readers can get 20% off by using the code APPLEINSIDER at checkout.
Read on AppleInsider