14-inch MacBook Pro with M1 review: Where the 'Pro' starts
Apple's
14-inch MacBook Pro
can be as fast and give as much to users as the 16-inch MacBook Pro -- with some caveats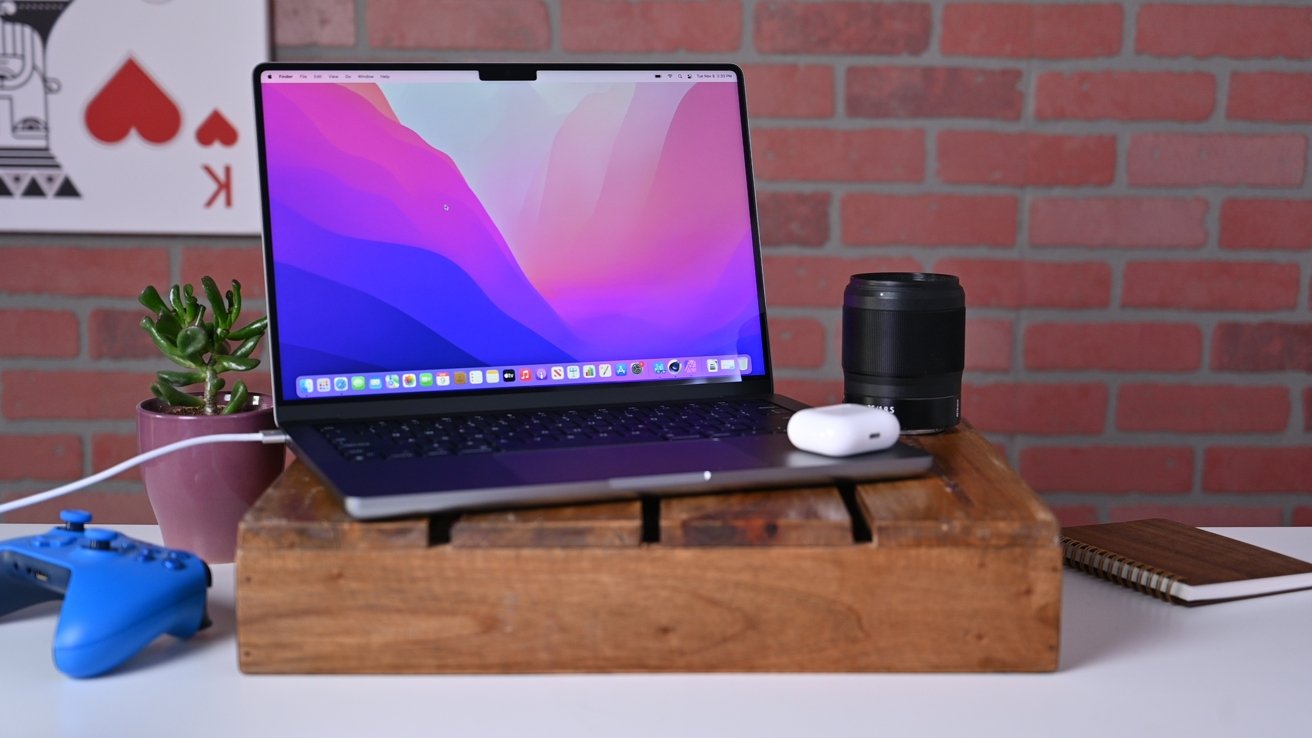 The new 14-inch MacBook Pro
The historical model of larger MacBook Pros has meant more performance in a larger chassis. In the past, the physically bigger
16-inch MacBook Pro
would have a higher-end selection of processors than the 13-inch counterpart, as well as more memory options, and a discrete GPU to lean on.
With the onset of Apple Silicon, Apple threw away its old "bigger is better" playbook.
As the M1-equipped
13-inch MacBook Pro
continues to be sold as a more entry-level offering, and the M1 MacBook Air is nearly as fast, the 14-inch MacBook Pro is the true start of the "Pro" level for users.
But this comes at a cost. That cost is relative, of course.
14-inch MacBook Pro Specifications
14-inch MacBook Pro (M1 Pro)
14-inch MacBook Pro (M1 Max)
Display Size (inches)
14.2
14.2
Max Resolution
3,024 x 1,964
3,024 x 1,964
Pixel Density
254
254
Brightness
1,000 nits full-screen,
1,600 nits peak
1,000 nits full-screen,
1,600 nits peak
Display Backlighting
Mini LED
Mini LED
Display Technology
1 billion colors,
Wide color (P3)
True Tone
1,000,000:1 contrast ratio
ProMotion
1 billion colors,
Wide color (P3)
True Tone
1,000,000:1 contrast ratio
ProMotion
Processors
M1 Pro 8-core,
M1 Pro 10-core,
M1 Max 10-core
Memory
16GB, 32GB Unified Memory
32GB, 64GB Unified Memory
Graphics
14-core (M1 Pro 8-core, 10-core),
16-core (M1 Pro 10-core)
24-core,
32-core
External Video
2 x 6K displays at 60Hz,
DisplayPort over USB-C,
HDMI
3 x 6K displays and 1 x 4K at 60Hz,
DisplayPort over USB-C,
HDMI
Storage
512GB, 1TB, 2TB, 4TB, 8TB
1TB, 2TB, 4TB, 8TB
Biometrics
Touch ID
Touch ID
Trackpad
Force touch
Force Touch
Dimensions (inches)
12.31 x 8.71 x 0.61
12.31 x 8.71 x 0.61
Weight (pounds)
3.5
3.5
Battery Life
17 Hours
17 Hours
Ports
3 Thunderbolt 4 ports,
MagSafe 3,
HDMI,
SDXC card slot,
Headphone jack
3 Thunderbolt 4 ports,
MagSafe 3,
HDMI,
SDXC card slot,
Headphone jack

Webcam
1080p FaceTime HD
1080p FaceTime HD
Speakers
Six-speaker system with force-canceling woofers,
Spatial audio and Dolby Atmos support
Six-speaker system with force-canceling woofers,
Spatial audio and Dolby Atmos support
Microphones
3 with directional beamforming
3 with directional beamforming
Wi-Fi
Wi-Fi 6
Wi-Fi 6
Bluetooth
5.0
5.0
Charger
67W USB-C (8-core),
96W USB-C (10-core)
96W USB-C
Color Options
Silver, Space Gray
Silver, Space Gray
Price
From $1999
From $2,499
14-inch MacBook Pro review: Notch and screen area
The screen, a 14.2-inch panel, just about fits into the lid section, with a mere 3.5mm bezel on the top and side edges separating the end of the screen and the edge of the MacBook Pro enclosure itself.
This is where the notch fits in. Much like the edge-to-edge display of a modern iPhone, Apple had to put the webcam and other sensors somewhere, and that turned out to be the top of the display. With barely any bezel to use, Apple employed the notch in mostly unused menu bar space to get the webcam in place.
The internet drama about the notch continues. At worst, when you're staring at the desktop, it'll cut into the menu bar and not the app itself.
In fullscreen mode for apps, the sections alongside the notch are blacked out, leaving you with a large 14-inch screen to play with, without the notch visible -- and a "forehead" about the same size that the 15.4-inch MacBook Pro had.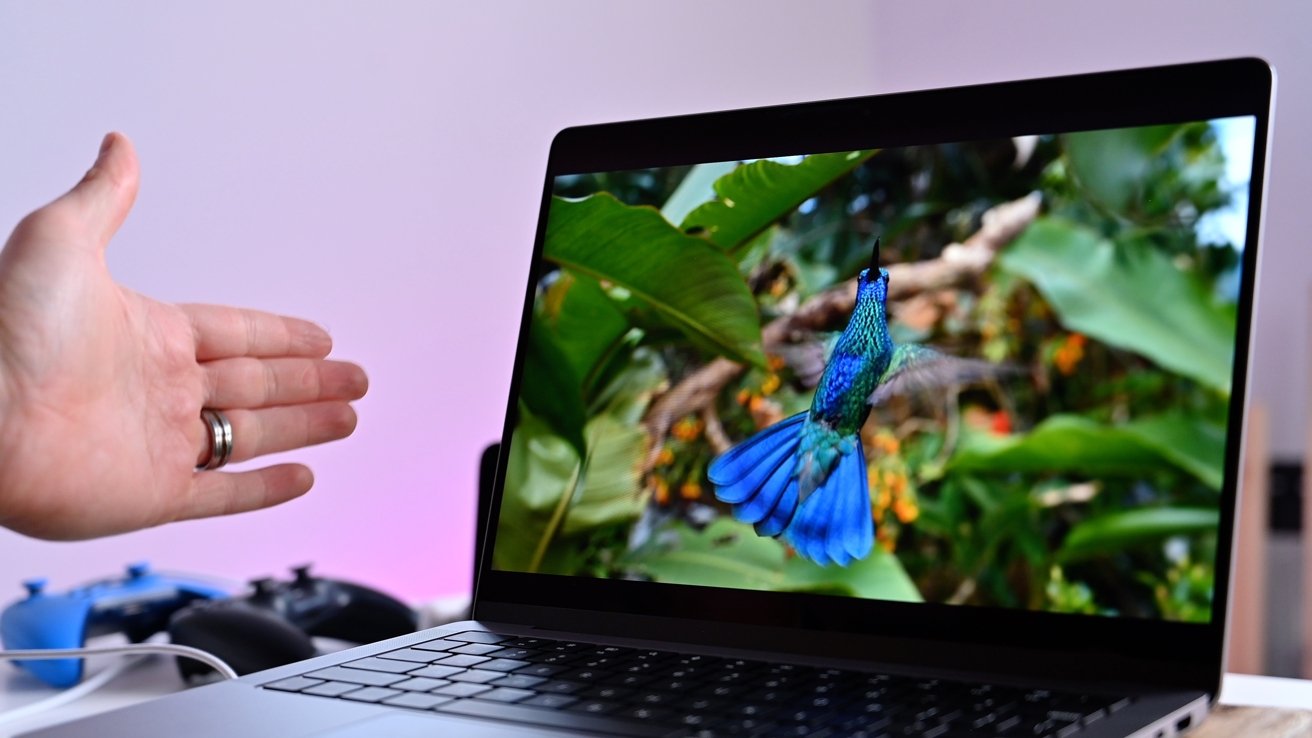 The new Liquid Retina XDR Display
Beyond notch drama, the display incorporates Mini LED enabling near-OLED levels of color accuracy, contrast, and brightness. We're talking 1,000 nits of full-screen brightness, rising to 1,600 nits for peak brightness, as well as a 1 million to one contrast ratio, and the typical Wide color (P3) and True Tone support.
This time around, you also get ProMotion, so the screen will automatically adjust its refresh rate depending on the content you are viewing. That means you're also getting a potential refresh rate of up to 120Hz, double the 13-inch and older models.
That Liquid Retina XDR Display is also high-resolution, at 3,024 by 1,964. This gives it a great pixel density of 254 pixels per inch.
14-inch MacBook Pro review: Chip changes
The second round of Apple Silicon introduces quite a few changes to what Apple established with the impressive M1, alterations that make it an even more useful system-on-chip for creative professionals.
For a start, there are two variants named M1 Pro and M1 Max, which incorporate a CPU, GPU, 16-core Neural Engine, and other essential components that are connected to Unified Memory. This last point is where one of the crucial differences in the chips lies.
The M1 Pro, which is available in an eight-core version using two efficiency cores and six performance cores, as well as a ten-core version that adds another two performance cores to the mix, has up to 200GB/s of bandwidth with that Unified Memory. The M1 Max, which uses the same configuration as the ten-core M1 Pro, ups that bandwidth to 400GB/s.
There are also differences in the amount of Unified Memory available to use, as the Pro starts at 16GB with a 32GB option, whereas the Max starts at 32GB with a 64GB option.
Both also have their own onboard Media Engine, an element for video content that can decode and encode H.264, HEVC, ProRes, and ProRes RAW content in hardware. In effect, you get the advantage offered by the $2,000 Afterburner card in the
Mac Pro
but
built into
the M1 Pro and M1 Max.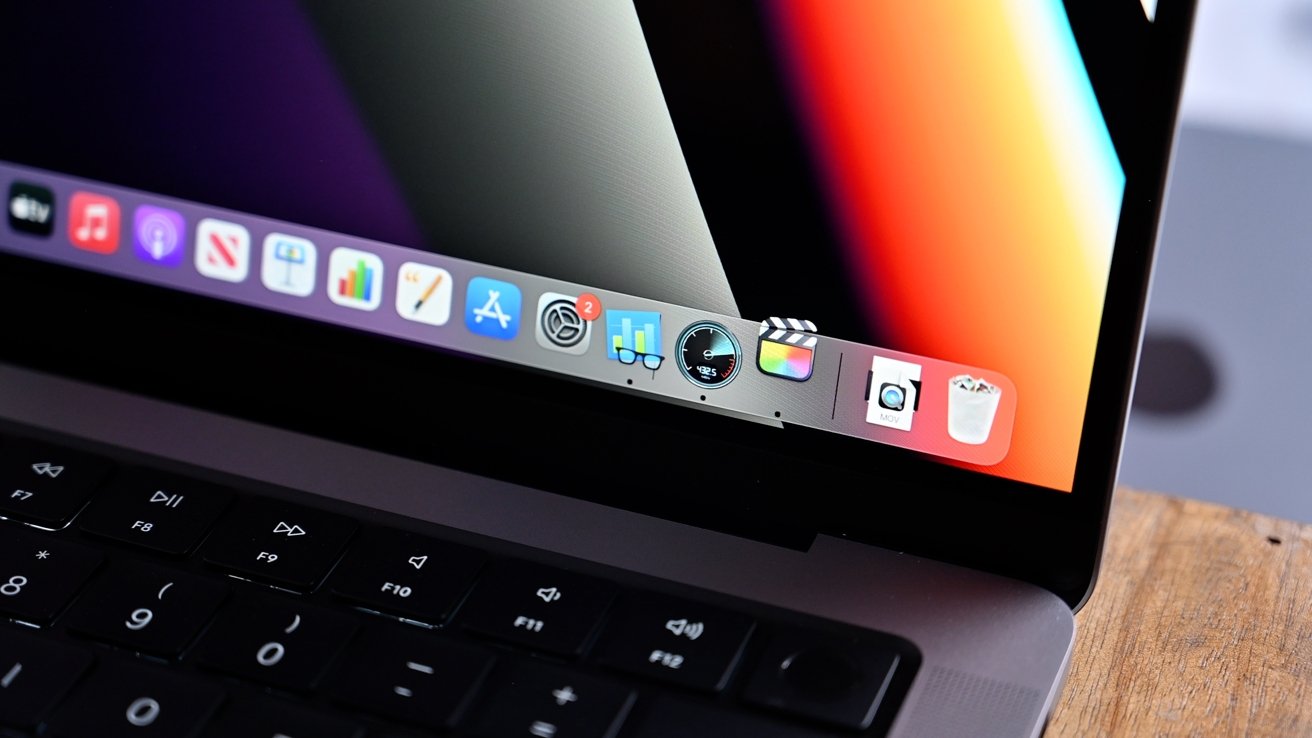 14-inch MacBook Pro with Final Cut Pro
The Pro includes one each of video decode and encode engines, as well as ProRes encode and decode engines. The Max doubles the encode engine count, as well as using two of each of the ProRes engines.
This certainly makes the M1 Pro and Max a better option for video editors on the move than the 13-inch MacBook Pro, and the M1 Max variant even better for major production operations.
In our testing, we saw Geekbench 5 single and multi-core results of 1738 and 12131 for the 10-Core M1 Pro. The M1 Max got near identical scores as the CPU is the same between them. The M1 Max has benefits in other areas.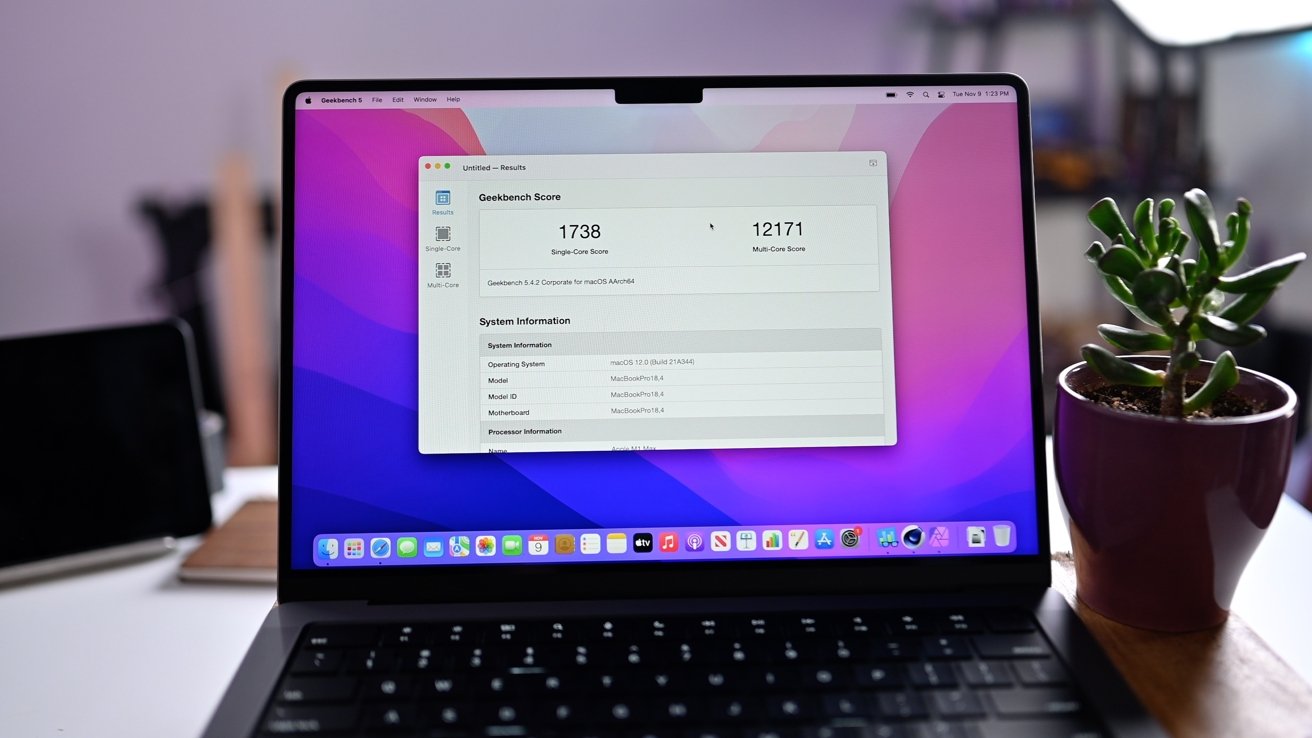 Geekbench 5 scores on the M1 Max 14-inch MacBook Pro
These scores were just below what were seeing on the 16-inch MacBook Pro, likely just due to minor thermal limitations of the 14-inch chassis. The 16-inch M1 Max scored 1782 and 12828.
If we compare to the M1-equipped 13-inch MacBook Pro, that machine earned a 1705 and a 7395 on the single and multi-core tests. That was an 8-core machine however, so it makes sense we see similar single-core performance but larger gains as we expand to additional cores on the M1 Pro and M1 Max.
Cinebench R23 earned a multi-core score of 12335 on the M1 Max 14-inch, just about what our 16-inch M1 Max earned at 12340.
14-inch MacBook Pro review: Powerful graphical options
One of the things Apple kept going on about during its presentation was the graphical capabilities of its onboard GPUs. Instead of discrete GPUs, you're instead using an integrated one.
Apple has four variations of GPU available to consumers. The M1 Pro has 14-core and 16-core versions on offer, with the 8-core model limited to just the 14-core variant.
On the M1 Max, there are 24-core and 32-core GPUs available to choose from. All of which take advantage of the available Unified Memory, which offers quite a few performance benefits.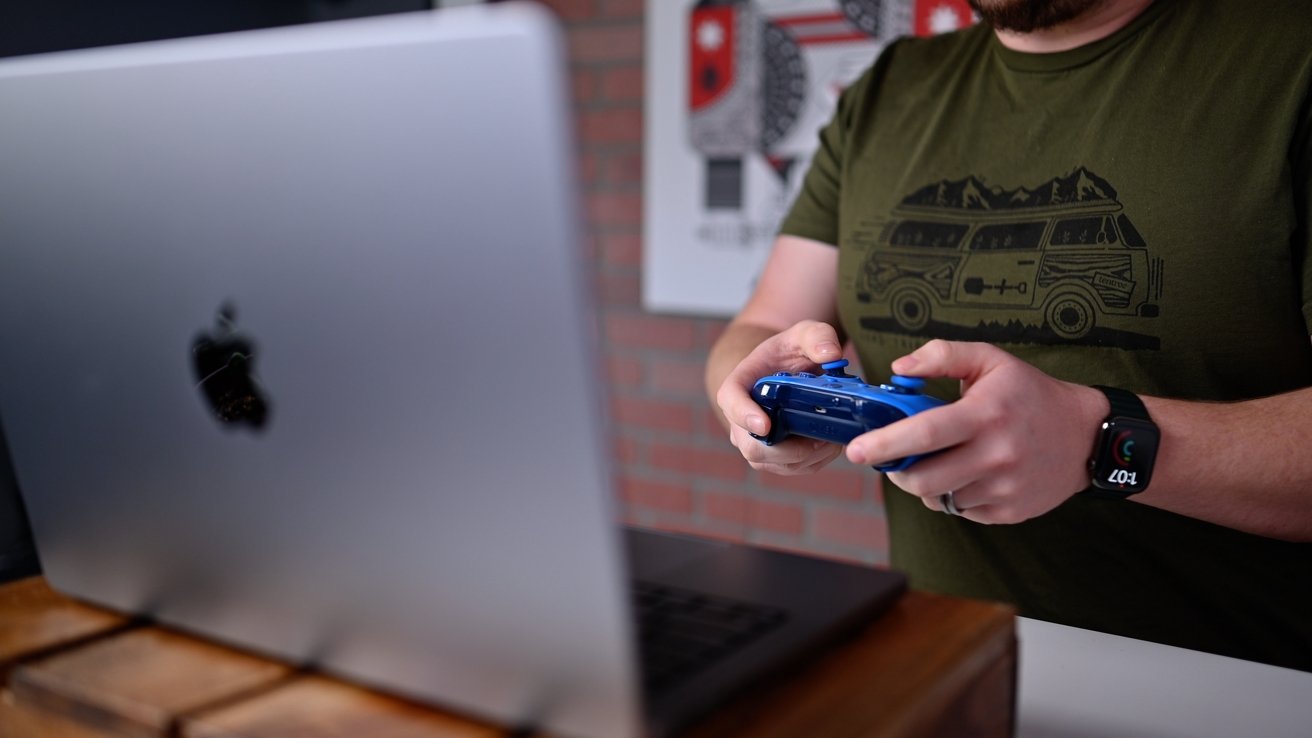 Gaming on the MacBook Pro
During the launch, Apple kept saying the 32-core GPU in the M1 Max was powerful enough to take on high-end GPUs in premium notebooks, while also using far less power. So far, all of the benchmarks and testing seem to say Apple's on the right path with its claims.
In the Geekbench Compute GPU test, the 14-inch MacBook Pro scored a 59118 with the M1 Max as it has the 32-core GPU. Relative to the GPU cores, the M1 Pro with the 16-core GPU scored 36390 and the 13-inch MacBook Pro with the M1 and an 8-core GPU scored a 21643.
We also exported a 54 minute 4K video on our M1 Max and it took only 17 minutes to finish the export compared to an hour and six minutes on our AMD Radeon Pro 580X Mac Pro. The video hardware acceleration is real.
Something old, something ... still older that you might like
In exchange for one Thunderbolt 4 port, you instead get a HDMI port, saving users from needing a dongle to use an external display. The memory card slot of older MacBook models also makes a return, with an SDXC card slot letting users quickly add their camera's photo and video files to the rest of their collection.
There's no ethernet, but the chassis still isn't thick enough for incorporation of the port.
Keeping with connectivity, Apple uses Wi-Fi 6 for networking, rather than moving to Wi-Fi 6E as some other notebook producers have shifted. This isn't ideal, but then again you can only really take advantage of Wi-Fi 6E if the network infrastructure is in place -- and Wi-Fi 6e routers can still be very expensive.
Apple also firmly sticks to using Bluetooth 5.0 rather than Bluetooth 5.1, which again is odd, but not a dealbreaker.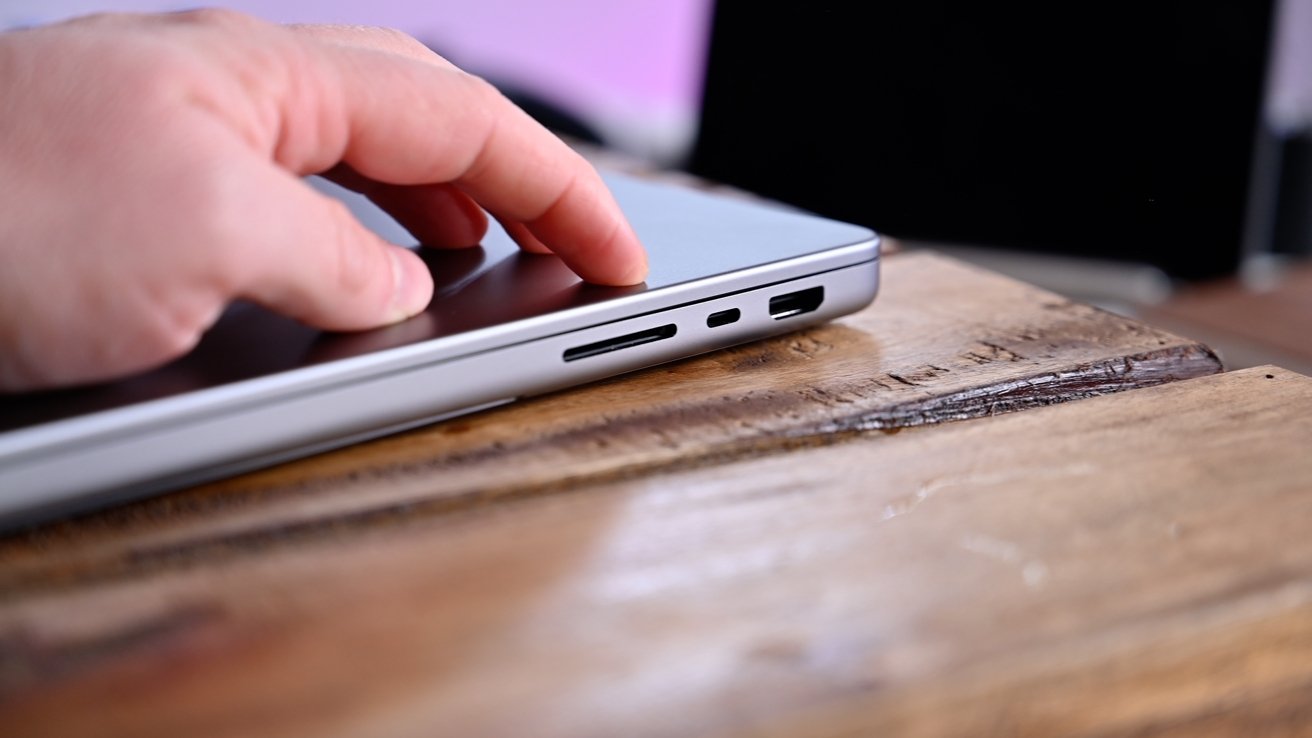 The 14-inch MacBook Pro SDXC card slot
As it pertains to that HDMI port -- it is 2.0 and not the newer 2.1 spec. That SDXC reader is a UHS-II reader technically, but not at peak UHS-II speeds, and certainly not a Class III reader.
Given the desktop replacement nature of the 16-inch MacBook Pro versus the market that prefers a more portable powerhouse in the 14-inch MacBook Pro, the HDMI port and SD reader make more sense on the smaller model than the larger. While we'd have preferred if Apple stuck with four Thunderbolt ports if it was going to just add an older HDMI and SD reader spec to the model, we're not sure if this was an option from a technical standpoint.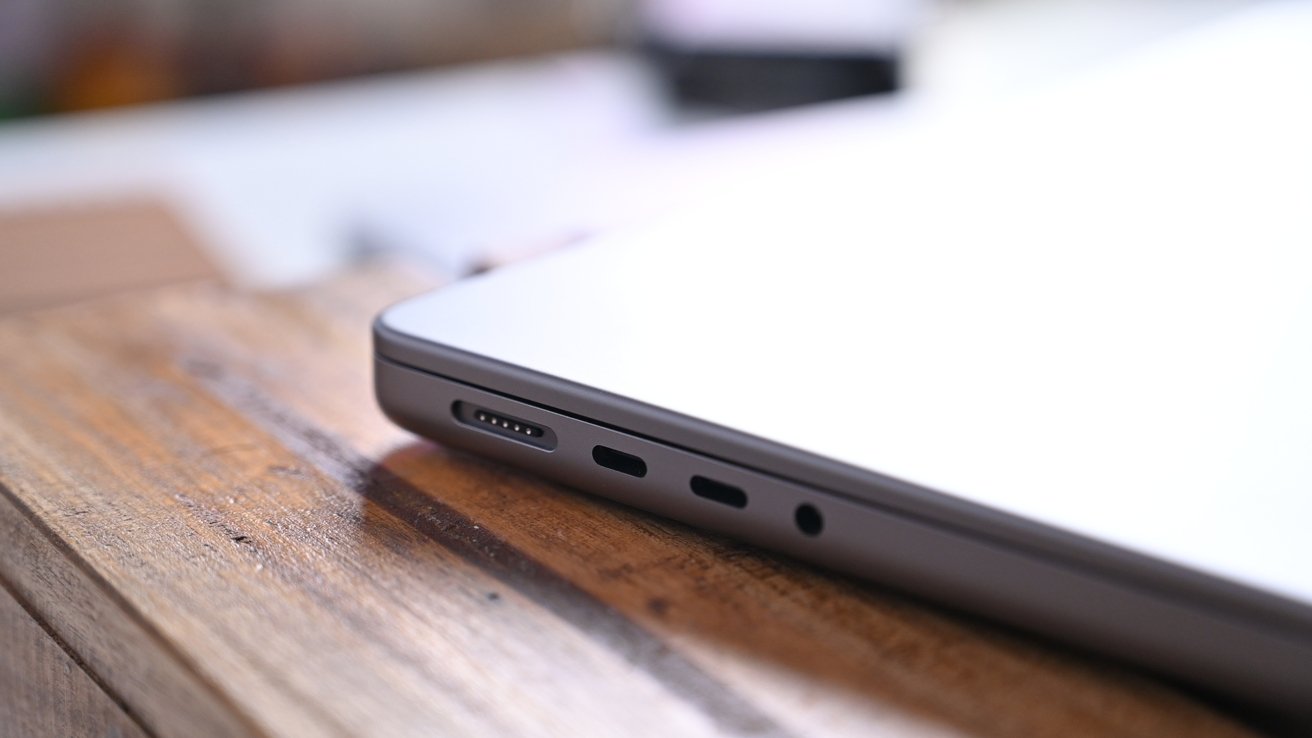 Fast charge via the MagSafe port
The new MacBook Pro has three Thunderbolt controllers versus two and two timers on the Intel-based 16-inch MacBook Pro. We're not sure what the PCI-E channel limitations are on the M1 Pro or M1 Max, as both the HDMI 2.0 port and the SD card reader capped at 256MB per second take up fewer channels in aggregate than a single Thunderbolt port does.
Adding an HDMI 2.1 port or a UHS-III reader to the equation pushes the number of PCI-E channels over what one Thunderbolt port demands, so its possible the restoration of the two older ports is a practical one for Apple as much as it is a convenience one for presenters and the like.
Full-size function keys could have been so much more
Like we said before, we liked what the Touch Bar ultimately delivered. Customization utilities like Better Touch Tool gave it true functionality when Apple didn't.
It's gone now, replaced by conventional, full-sized, function keys. We still prefer volume sliders and the like in that spot, but this is workable, if perhaps a bit backwards-looking.
We do admit, though, that this is better for most of the market. But, we'd rather have seen something like the Elgato Stream Deck keys in place of those function keys. Perhaps an option for low-travel mechanical buttons touch-sensitive like the
Touch ID
cutout is would have sufficed, perhaps defaulting as function keys if no other customizations are applied.
Of course this would further elevate the price of the machine, so perhaps in the long run -- and likely the short -- this fancier option likely won't see the light of day.
Sticking with what works for the keyboard
We're not giant fans of typing on glass, like the iPad. We didn't have a problem with the butterfly keyboard introduced with the 2016 MacBook Pro -- but it wasn't a favorite of ours. We very much liked the redesigned keyboard that rolled out in 2019 with the 16-inch model.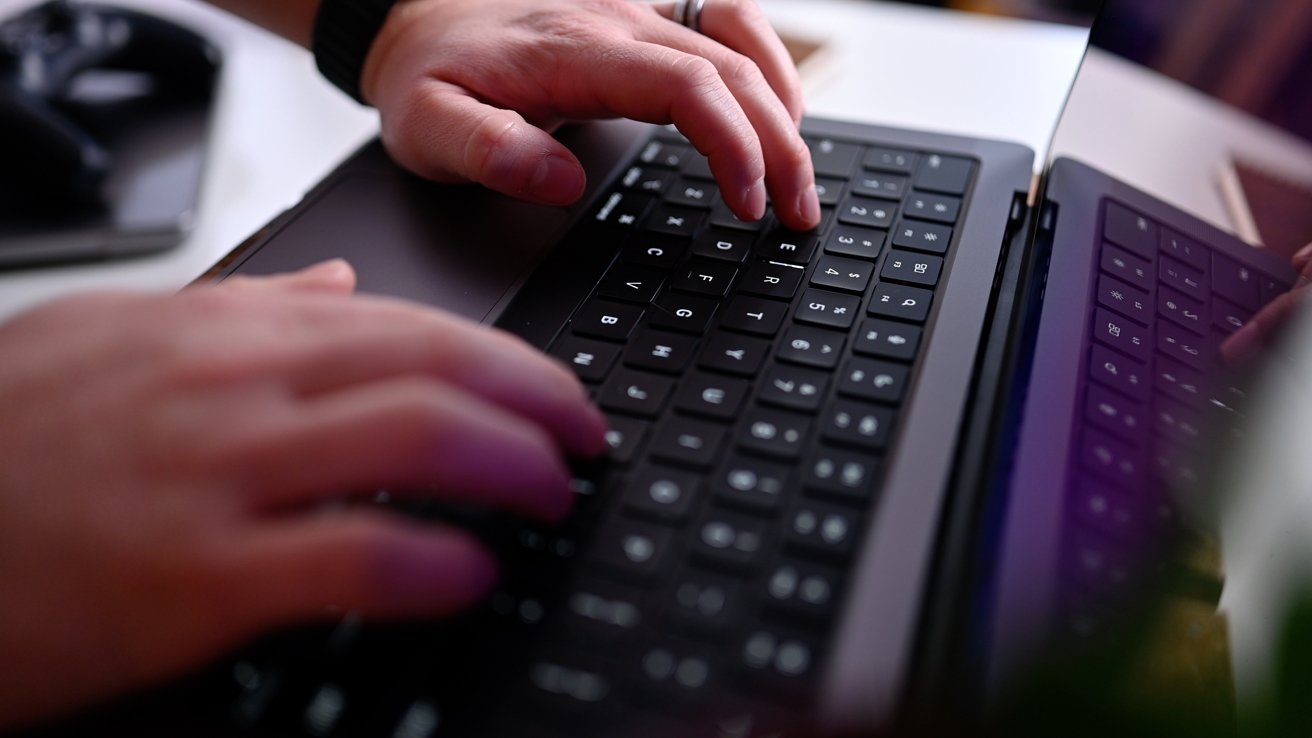 The 14-inch MacBook Pro with scissor switch keyboard
The new MacBook Pro has retained the scissor switch that it introduced in 2019, giving it key travel of about 0.9 mm. This is compared to between 0.6 and 0.7 millimeters on the 2016-style keyboard, between 1.2 and 1.5 millimeters on the 2012 through 2015 style, and 1.0 mm on the Intel-based 16-inch MacBook Pro.
Audio-testing typing again, we still had a baseline of 36 dBa of ambient noise measured with a Kanomax model 4431 audiometer, with the test gear at head height and distance. Hammering away on the 2016 MacBook Pro keyboard with no other CPU load brought that up to about 43 dBa and 41 dBa on the Intel-based 16-inch MacBook Pro.
The M1 Max 14-inch MacBook Pro hit 39 dBa while typing with fans at a low speed, identical to the 16-inch MacBook Pro.
14-inch 2021 MacBook Pro thermals and fan noise
We rolled into this test expecting about the same results as the 16-inch MacBook Pro, and we didn't quite get what we expected.
Strictly from a noise standpoint, in the same 36 dBa room that we used for keyboard acoustic testing, the 2018 i9 MacBook Pro under heavy load hits about 45 dBa at the same range from the user that we performed the keyboard testing. The 16-inch Intel-based MacBook Pro hit a maximum of 44 dBa, with equivalent fan speeds to the 2016 model.
While the 16-inch MacBook Pro hit only 40 dBa, the 14-inch M1 Pro hit 41 dBA, and 44 dBa under load for our first test. This was initially surprising to us, before we considered the smaller fans and the enclosure with less internal area and smaller air channels.
We repeated the same test after a shutdown and a cool to ambient temperatures, and got the same results.
The 14-inch MacBook Pro still has the same hotspot location around the G, H, and J keys as its predecessors. Where the 2018 MacBook Pro peaked at about 107F in those areas, the 2019 16-inch MacBook Pro is about 89F, and the 16-inch MacBook Pro peaks at 80F, the 14-inch model peaks at about 86F.
MagSafe and Power
Apple has always positioned MagSafe on the Mac as as a way to recharge your machine without the dangers of someone tripping on the power cable and sending your expensive video editing rig off the table and across the floor.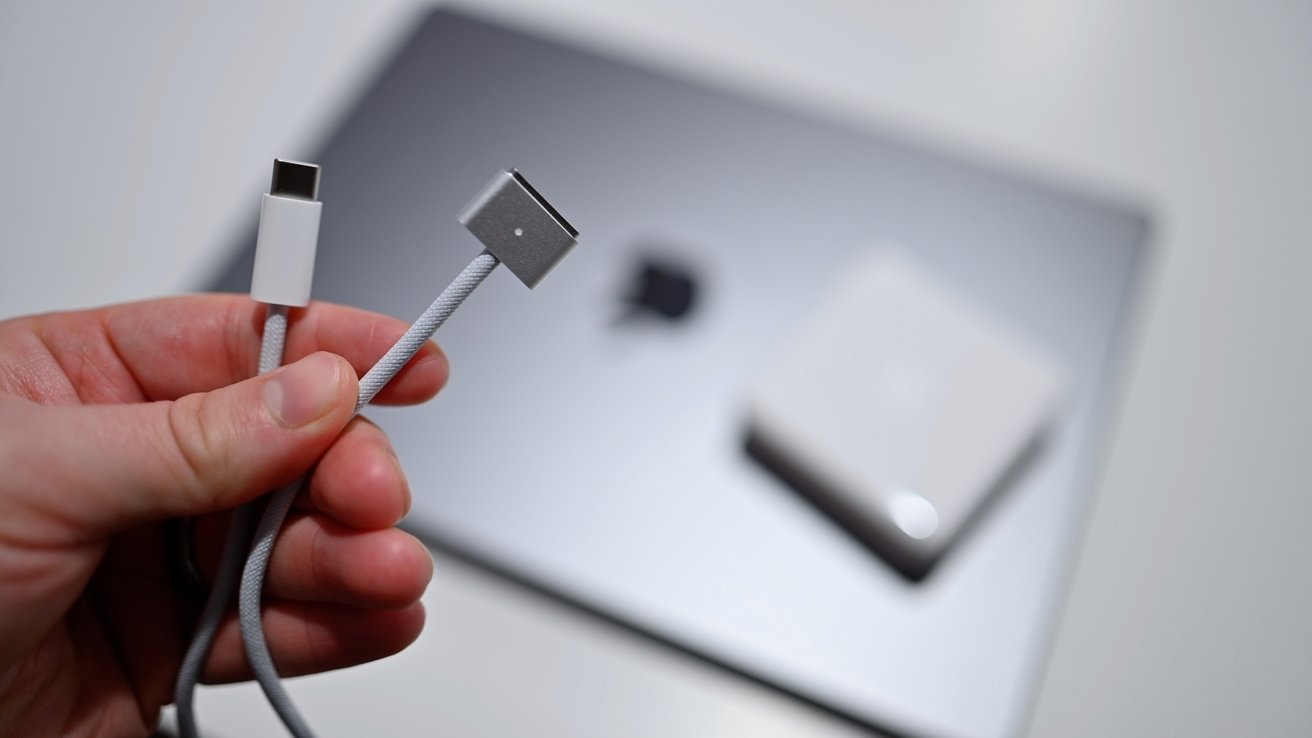 MagSafe USB-C cable
Times have changed. Originally, MagSafe replaced pin and barrel connectors, that stuck into the machine in about a quarter-inch barrel, and a plug that stuck into the machine farther, with a cable that was hard-wired to the AC to DC adapter.
USB-C came, MagSafe left, and folks complained. In reality, the pull-strength on USB-C and two breakaway points, one on the adapter and one on the computer was very close to the MagSafe experience.
The new MagSafe keeps USB-C on the AC adapter end, and returns the magnetic connector to the body of the Mac. We're still working on this, but the breakaway strength on it seems to be higher at some angles of removal, and lower on others, as compared to USB-C. We're not yet sure how much of a difference in the real world that this will make.
We don't have the budget to plummet multiple MacBook Pros to the floor so this is about where this needs to be left for now -- but we'll be talking about this in the future.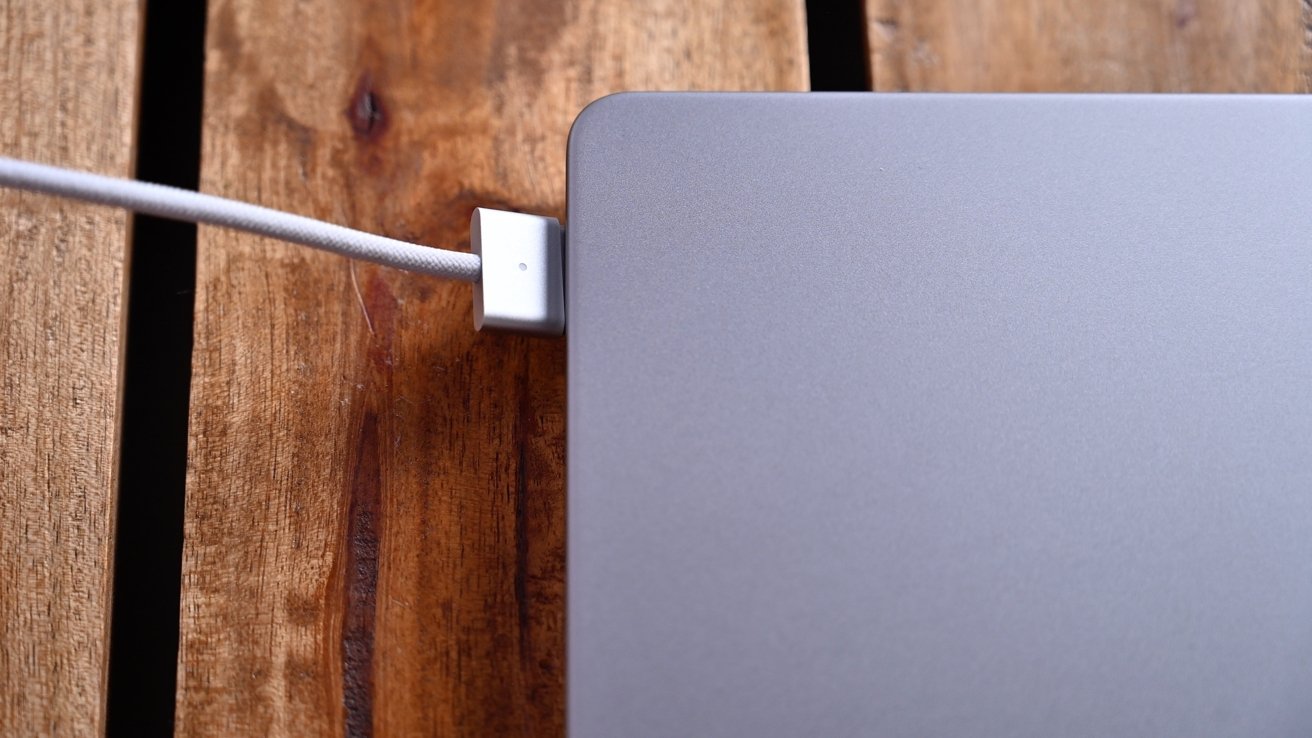 MagSafe pulling free
The MagSafe connector does not carry data, so you can't use the cable with a Thunderbolt 3 dock. Fortunately, the new design still allows for USB-C charging, so Apple's "one cable for everything" that it tried for 20 years prior to USB-C still works.
Apple offers two different chargers, depending on how many cores are included in the CPU. The 8-core M1 Pro is bundled with a 67W charger, while all other 10-core models have a 96W charger.
In most uses, the 67W or a dock supplying about that is fine. Only when a M1 Max machine is under load will the machine draw more power than the 67W adapter allows.
Apple says that the battery offers up to 17 hours of Apple TV app movie playback and up to 11 hours of wireless web access. Our testing is about commensurate to that.
And, as a reminder, the 14-inch model doesn't quite have the fast charge capability that the 16-inch MacBook Pro does. Using the Apple-supplied adapter, we got to 50% on the battery from flat in about 49 minutes, which is about the same amount of time it took to get there on the 15-inch 2018 MacBook Pro from empty. We're going to keep looking at it, and try it with the 16-inch adapter at some point, but that would be an added purchase, if it's necessary.
How much this matters depends on how often any given user flies the battery right into the ground before plugging into power.
Better sound and imaging
The aforementioned notch hides the FaceTime HD camera, but rather than a 720p version, it's now bumped up to 1080p. It also benefits considerably from the advanced image signal processor that's used in the M1 Pro and M1 Max, so you get the computational photography benefits while in your higher-resolution Zoom meeting.
New FaceTime camera
That notch has more than enough space for Apple to include a TrueDepth camera array in the future for
Face ID
and the like, so we very much think that the notch in the MacBook Pro now is "training" for future users.
On the audio side, Apple uses a high-fidelity six-speaker sound system with force-cancelling woofers. It also includes spatial audio and Dolby Atmos support for the speakers, meaning you don't necessarily need to invest in AirPods Pro or other accessories. It's not quite as good as the larger speakers on the 16-inch MacBook Pro, but is is much better than the already very good speakers in the 15-inch or 16-inch Intel-based models.
The included headphone jack also has advanced support for high-impedance headphones, personal audio devices that typically require an amplifier to work properly. This is useful for audiophiles, but the majority of the population won't necessarily notice, or care.
To help you get heard in those Zoom calls, there's a three-mic array of "studio-quality" mics, with a high signal-to-noise ratio and directional beamforming.
Smaller than the 16-inch MacBook Pro, bigger and heavier than everything else in the lineup
Let's be perfectly clear about this -- the 14-inch MacBook Pro, especially outfitted with a M1 Max processor, is a powerhouse and an amazing machine. It just sits in an uncomfortable spot in the product lineup.
It's a few hundred dollars less than the heavier 16-inch MacBook Pro, and it's about $500 more than the 13-inch MacBook Pro, which is a lighter machine, and easier to travel with.
It's about $1000 more than the pricing we've seen recently for the M1 MacBook Air. Nearly all the uses of a computer are bound by single-core speeds, and the single-core performances on both machines are comparable.
One of our staff members bought a 14-inch MacBook Pro, and he says that it just feels beefier than the 13-inch model ever did. It lacks the taper, adds a lot of additional weight, and doesn't fit in some mobility-oriented bags and sleeves.
My personal workflow uses my 16-inch MacBook Pro, and a 15.4-inch MacBook Pro before that, as a portable workstation. Adding an additional half-pound to a tech bag when on the go, when it was already about 15 pounds with everything in it, wasn't a big deal.
Adding a half-pound to a four-pound bag that carried the 13-inch MacBook Pro is a significant addition. And, speaking to other folks, it's actually more than that, as they've had to replace bags with slightly heavier and bigger ones to accommodate the larger model lacking the taper.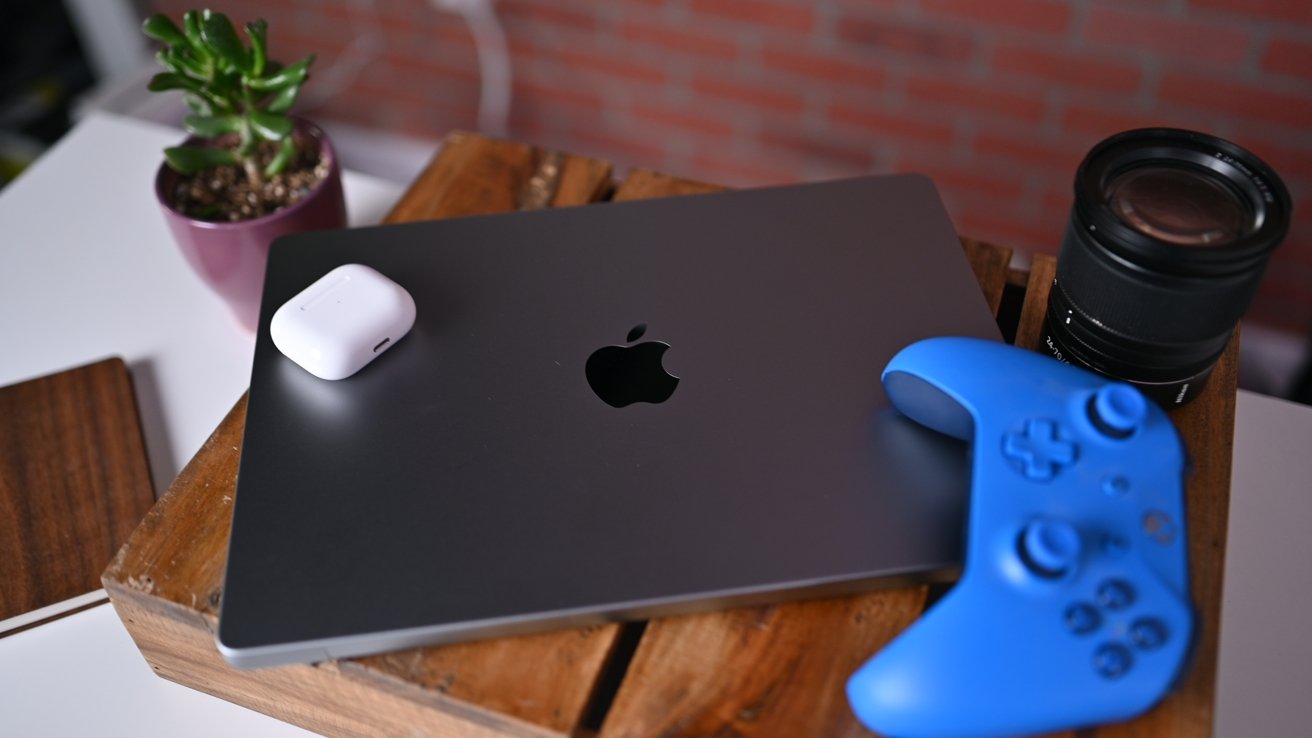 The new 14-inch MacBook Pro
Of course, if you're coming from the 15-inch MacBook Pro, the weight is about the same versus the 14-inch model, with the latter having a smaller chassis with a correspondingly smaller -- and better -- screen.
And, a second
AppleInsider
staffer calls the 16-inch MacBook Pro a "boat" and is buying the 14-inch because it's more portable than the 16-inch. Like we said about 3,000 words higher, costs and comparisons are all relative.
Ultimately, any purchase is a trade-off between what you get, what gets better, what gets worse, and what the total package looks like. For most, the total package for the 14-inch MacBook Pro is Mac Pro power, that doesn't weigh 40 pounds and can be used on the train, in the park, in a coffee shop and more.
And, its still one of the biggest year-over-year speed and technology advancements in Apple portables that the company has made since it went to Intel and left behind PowerPC.
Score: 4.5 out of 5
Save on the 14-inch MacBook Pro
Apple's 2021 14-inch MacBook Pro is discounted heavily exclusively for
AppleInsider
readers, with the latest deals at your fingertips in our
14-inch MacBook Pro Price Guide
.
In addition to savings on the systems themselves, you can also take advantage of deals on
AppleCare
and special financing incentives. At the time of this review, Apple Authorized Reseller Adorama is knocking $100 to $200 off 14-inch models in addition to $60 off AppleCare with this
cost-saving activation link
and promo code
APINSIDER
(step-by-step activation instructions can be
found here
).
Read on AppleInsider