30 states working on digital drivers licenses, TSA will allow them soon
Posted:
in iPhone
edited December 2021
Trade groups central to the adoption of mobile drivers' licenses say that the US transition to digital is "well underway," leading to many more potential applications including adoption by the US Transportation Security Administration.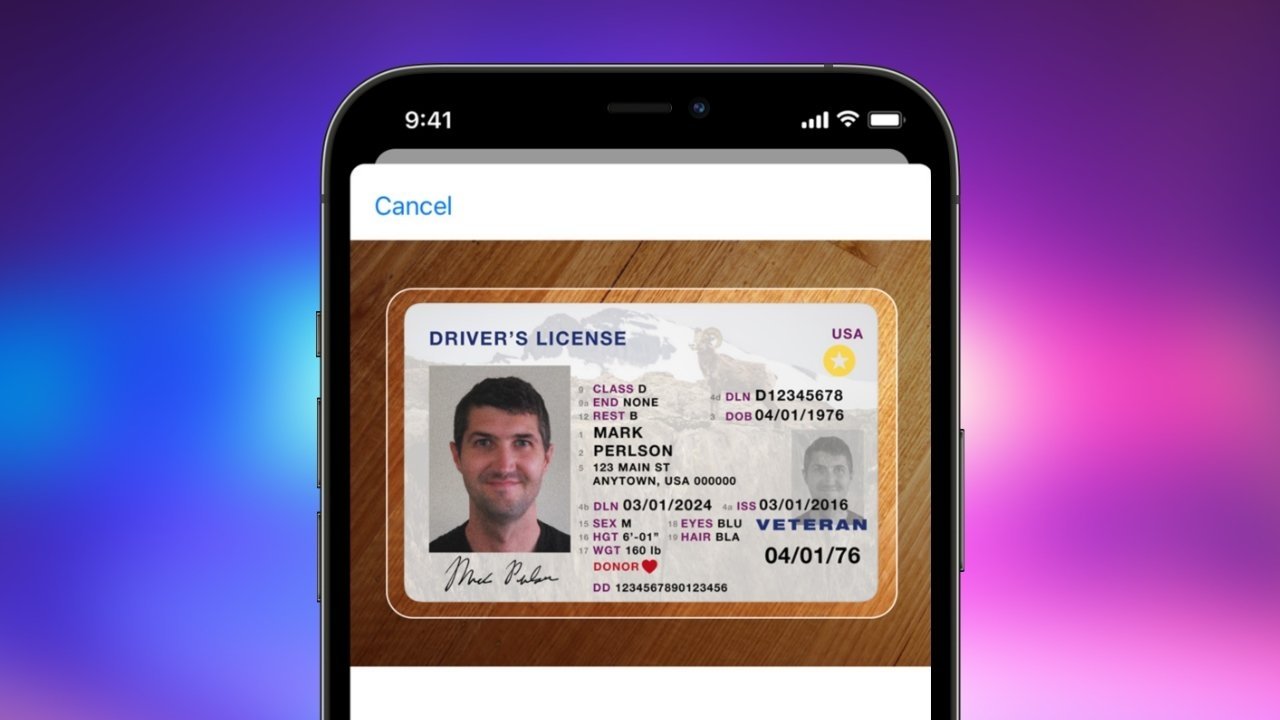 Credit: Apple
Following Apple's
announcement of the first states
to use Apple Wallet for drivers' ID, a conference called the Mobile Driver's License (mDL) Workshop has been held in Houston. Run by the Secure Technology Alliance, it was held in conjunction with an American Association of Motor Vehicle Administrators (AAMVA).
"Smartphones carry everything, from payment cards to precious photos," said keynote speaker Christine Nizer, administrator of the Maryland Motor Vehicle Administration and chair of the AAMVA International Board of Directors. "It is only natural that the devices are becoming a platform for storing identity credentials too."
"The success of mobile driver's licenses depends on stakeholders and relying parties banding together to create an mDL environment that is convenient and secure for the end user," she continued.
Secure Technology Alliance claims that, according to data from GET Group North America, the pace of mDL adoption has tripled in 2021. The group further claims that digital drivers' licenses "are gaining traction in at least 30 US states."
Describing its event as the first Mobile Drivers' License Workshop, Secure Technology Alliance says that its speakers detailed how adopting mDL will lead to wider forms of use.
"Several states including Utah, Maryland, Virginia and Louisiana have conducted pilots or have begun using mobile driver's licenses for age-based transactions such as purchasing alcohol and certain medications," said the company
in a statement
. "It is also being used at event concessions, in financial institutions like banks and more."
The group's speakers also predicted that age-based transactions that use mDL ID would go beyond alcohol. They predict self-drive rental cars being available without the need for staff to verify the renter's driving license, for instance.
A spokesperson for the Transportation Security Agency (TSA) told the event that its phased rollout using Apple Wallet would begin a pilot test at two airports from February. TSA intends to add two more states "around March 2022."
Originally formed as the Smart Card Alliance, the Secure Technology Alliance changed its name in 2017 to reflect the non-profit group's expanded charter. Having worked to champion digital ID, and ensure its security, speakers at the event said that "Apple's recent plan to integrate ISO/IEC 18013-5 mobile driver's licenses into its Wallet app has garnered significant media attention for the mDL movement."
Separately, Apple has revealed that it has
delayed its rollout
of the digital driver's license support in Apple Wallet until "early 2022."
Read on AppleInsider