What to expect from the 'iPhone Fold'
Posted:
in iPhone
edited December 2022
Apple is expected to announce an "
iPhone Fold
" with a flexible OLED display by 2025. Here's what the rumor mill predicts for the device and what it may look like.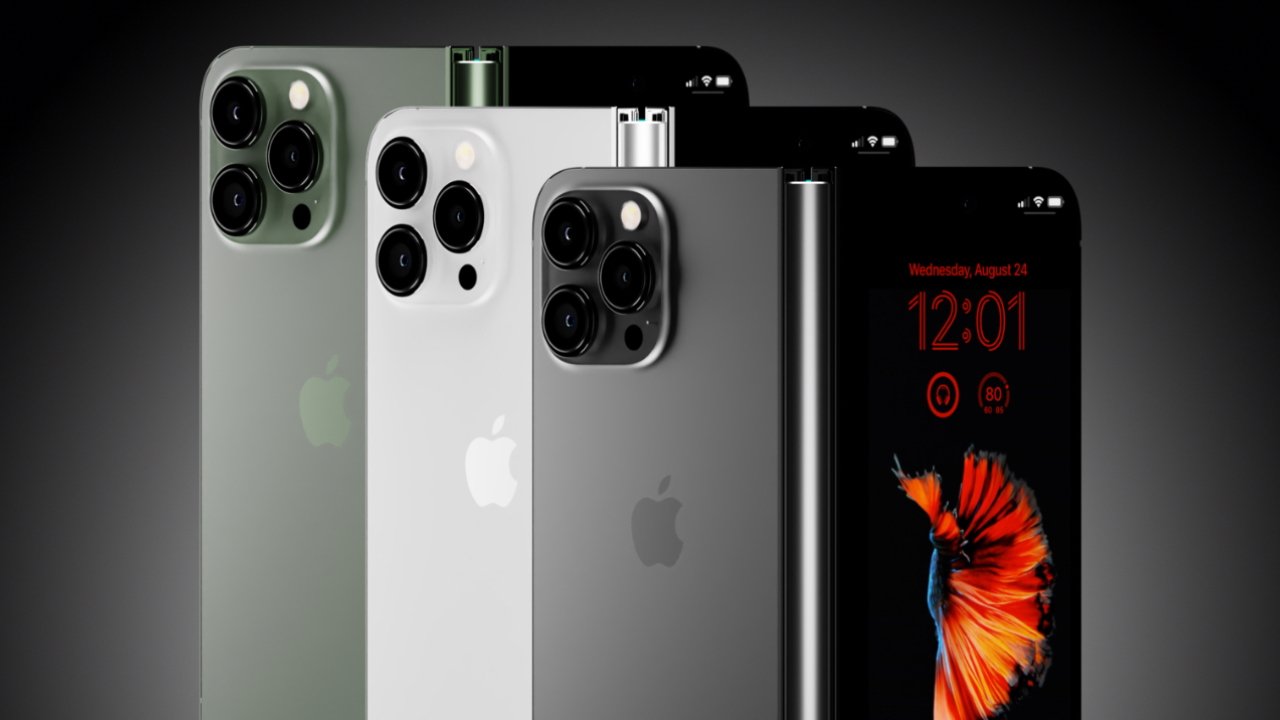 The 'iPhone Fold' is expected to take design cues from existing Apple products
Rumors and patents show that Apple has been working on a folding
iPhone
design for years. However, the technology required for such a device is still being developed, and it isn't clear what form the device may take.
Each year, more rumors arrive pushing the expected launch date of the "iPhone Fold" back further. In September 2021, well known analyst
Ming-Chi Kuo
said it may not arrive
until 2024
.
Later rumors
from
The Elec
place the foldable iPhone releasing sometime in 2025. It would take the form of an iPad mini-sized product like our renders show, not a flip phone.
Unlike Apple, Samsung has been developing its folding technology in public with the
Samsung Galaxy Fold and Samsung Galaxy Flip
. Apple is
testing both form factors
for its first foldable, and rumors have been conflicting on which Apple will choose.
Even as flagship Android devices pioneer folding technology, Apple is content biding its time while the technology matures. Devices being released to the public have
encountered issues
from poor software optimization to creased displays.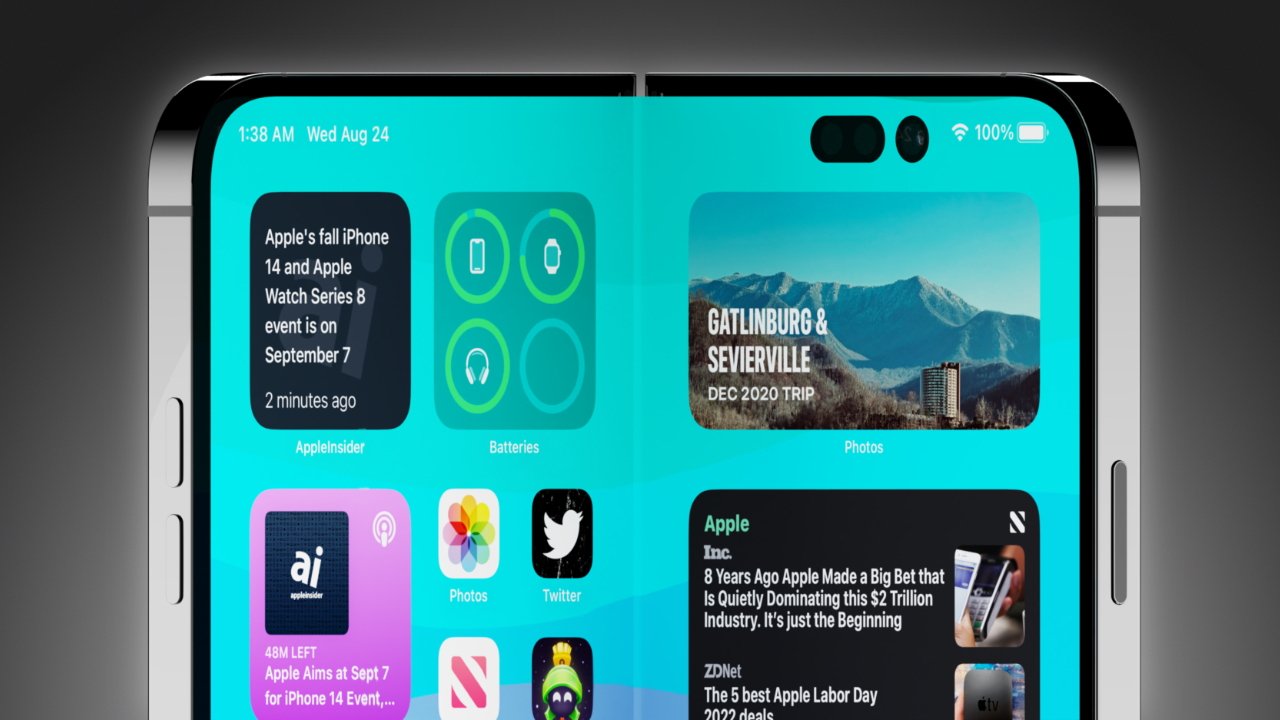 OLED is a flexible display material that can be folded without damage
Patents show that Apple expects to overcome these issues with
complex hinges
, new
display technology
, and
hybrid OLED
that doesn't crease. Apple isn't likely to ever release a foldable if it has such fundamental problems with the display.
Since the "
iPhone 14
" is expected to look similar to the iPhone 13, it seems Apple won't be introducing any radical redesign soon. We've based the renders on existing iPhone camera bumps, the rumored pill and hole punch cutout, and Apple's flat-sided industrial design.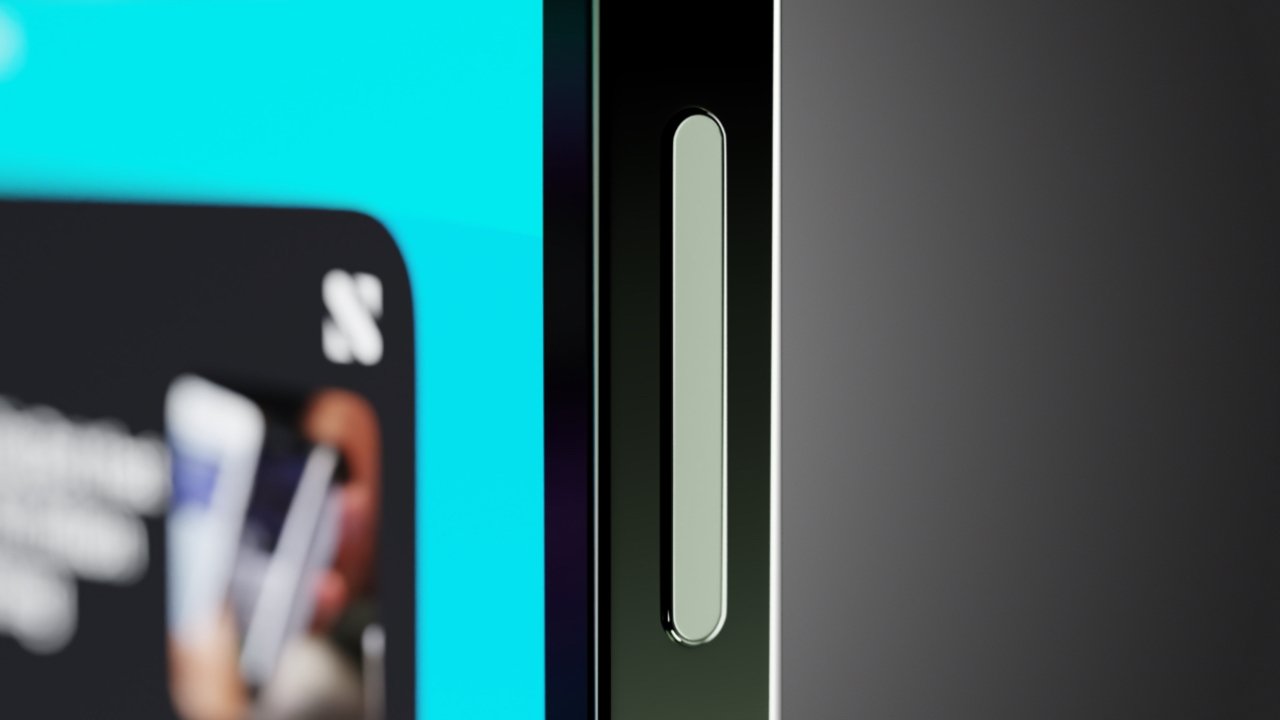 Apple could use Touch ID to simplify biometric authentication
The "iPhone Fold" would likely have a USB-C port, support
MagSafe
, and at the least use
Touch ID
. Apple could use
Face ID
, but placement of such a biometric sensor would be complicated on a product that can be used open or shut. We've opted to show the Face ID sensor internally, but the external power button could be used for Touch ID instead.
We expect Apple's foldable to open and close without a crease or seam in the display. Fully closed the thickness of the device should be only slightly thicker than current iPhones, while open it should be
similar to the size
of the
iPad mini
.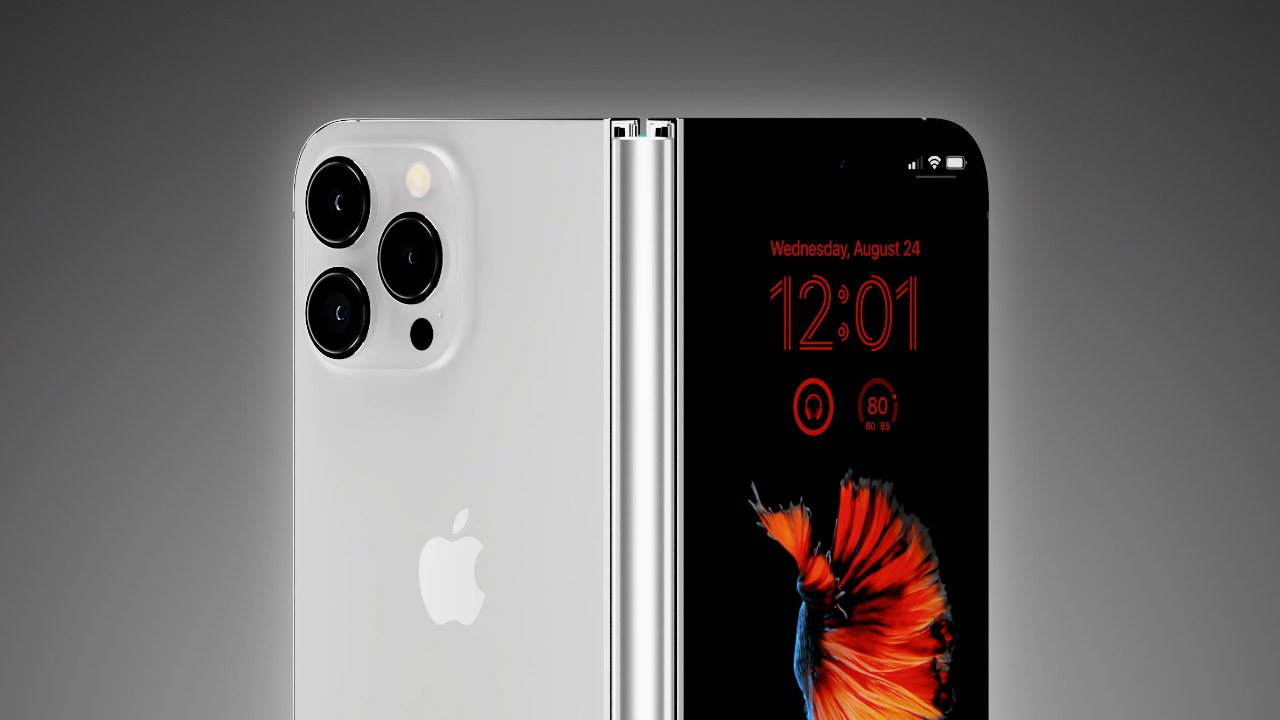 An external display would act as a fully functional iPhone running iOS
The external display would be thinner and taller than the usual iPhone, but it would still likely run a full version of iOS. Like Samsung's foldable, Apple will likely want the device to work like an iPhone when closed so apps can still be used normally.
It isn't yet clear how Apple will optimize
iOS
or
iPadOS
for the folding device. Little may have to change if the display only works in a fully open position. There is a chance that Apple could allow a three-quarters open or half-open mode for gaming or chat apps as well.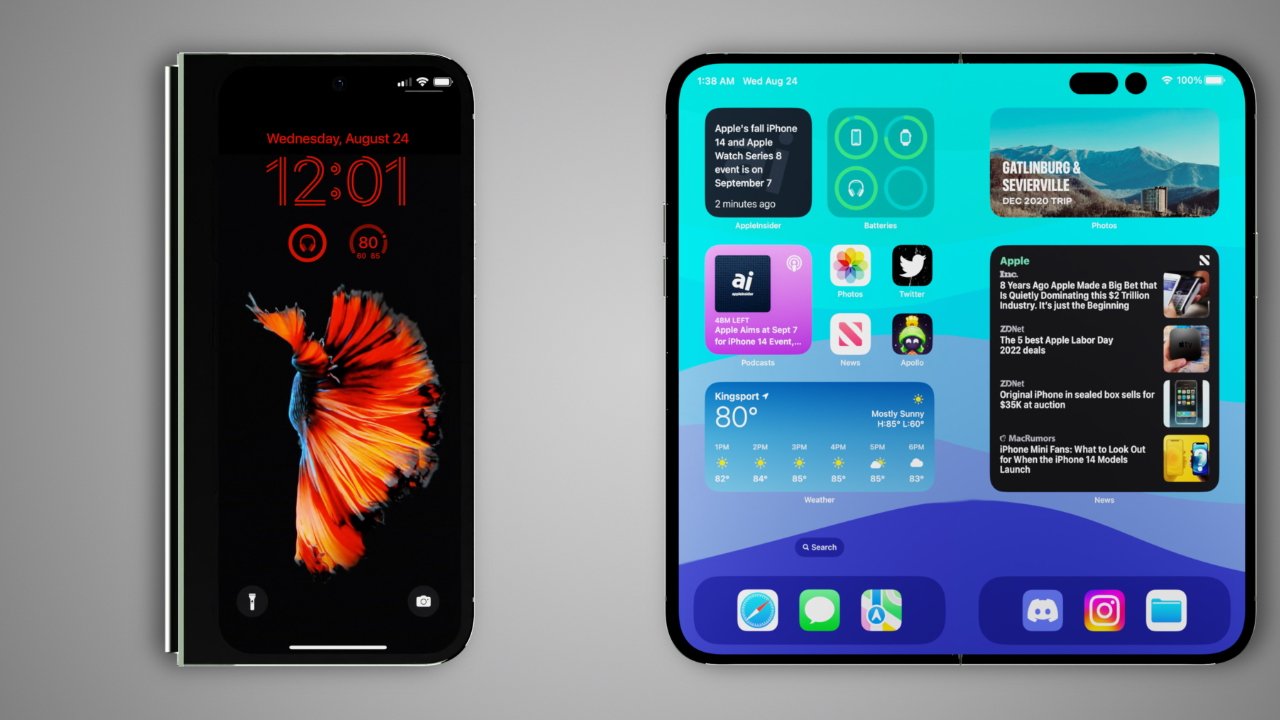 Cameras would need to be placed on both the external and internal display
Some folding Android devices have multiple positions for operation and even an external display for use when the main display is closed. While such operations would be a big departure from Apple's design philosophy, it is still possible Apple could adopt them.
For Apple's first foldable, expect it to be an iPhone or iPad that can simply fold open and shut. Beyond that, Apple may not want to sour the experience with experimental features or hardware additions.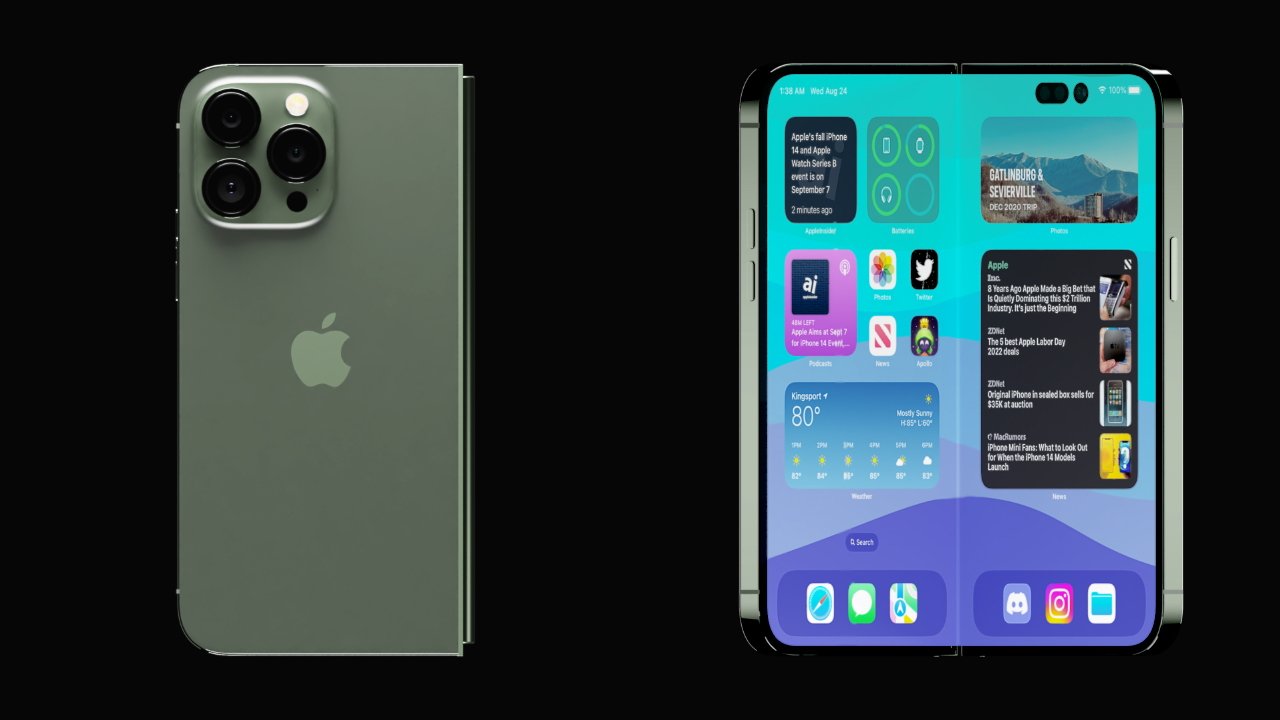 Apple is expected to announce a foldable in 2023 or later
Some users are so impatient for Apple to release a foldable that they have tried making one
themselves
. The product may only be demanded by a niche segment of the market, but that hasn't stopped Apple before.
The "iPhone Fold" is rumored to launch sometime in 2025 or later. There's also a chance this device will only ever exist internally at Apple and never see the light of day.
Read on AppleInsider