The best video playback apps for Mac
There are countless apps for playing back video on your
Mac
but only a very few that are worth your time. Here are the best options for playing multiple formats.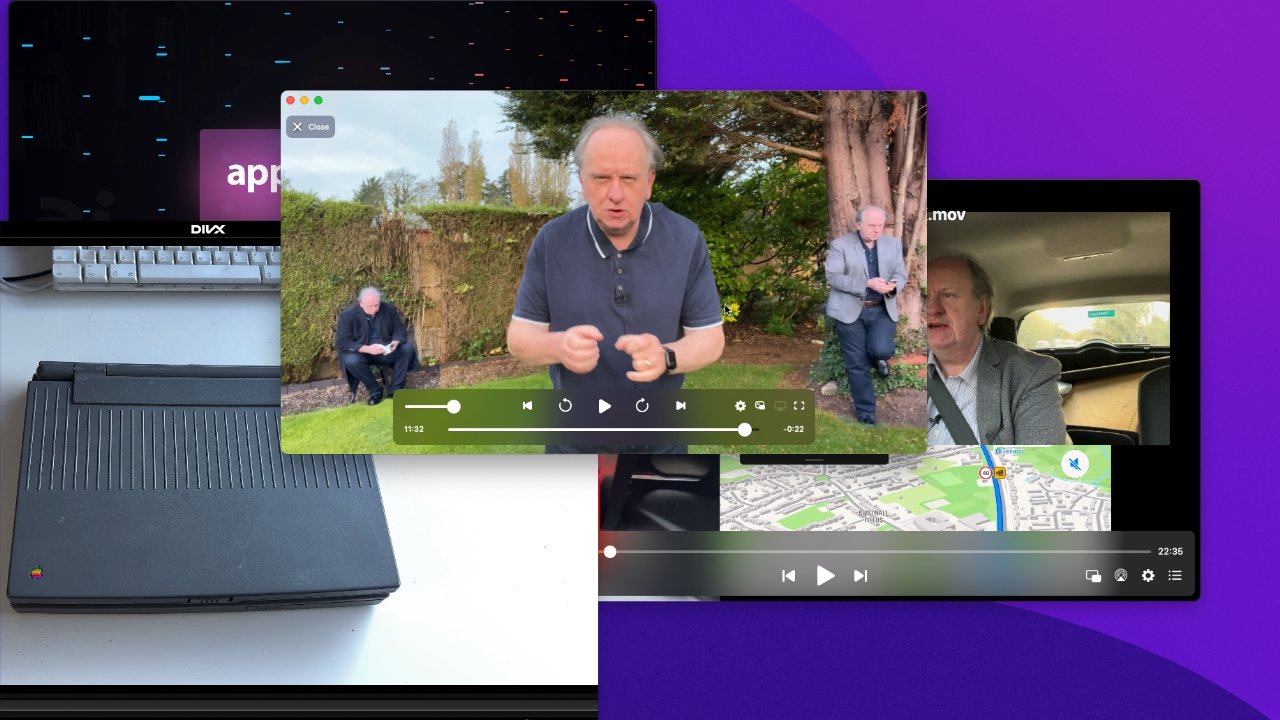 If you only ever watch YouTube in the
Safari
browser, or TV through your
Apple TV
app, you're fine. But you could be missing out on all of those home movies you've collected over the years, all of those DVDs you've ripped, and maybe all of those VHS tapes you got converted.
That's because as good as Macs, iPhones and iPads are at playing back video, by default they're also extremely limited. They can definitely playback the .mp4 format and the .mov one, but they won't help with anything else.
And unfortunately, there are a lot of other video formats. Each has advantages and disadvantages to do with picture and sound quality, or file size, and some suit Windows more than Mac.
Fortunately, though, there are apps that can play back practically every video format you can ever find. Add one or more of these recommended apps to your Mac and iOS device, and you're covered.
Don't ignore Apple's own video playback tools on the Mac
Macs already come with five different ways to play video, though all five really use the same playback engine. So all five are limited to the same couple of types of video format.
Nonetheless, the five are free, they do play back a lot of video that's available, and they also come with some advantages. The five ways are:


Quick Look


QuickTime Player


Apple Music


Apple TV app


Safari


Safari is perhaps the surprising one. If you drag a .mov or .mp4 file onto Safari, it will play.
Be sure to drag it onto an open web page, though. If you drag it when Safari is showing its Favorites list, you end up with a bookmark to the video instead of it playing.
If Safari is surprisingly handy for this, Apple goes one better when you just want to check that video is what you think it is - and that you can play it. Click to select a video, then tap the space bar.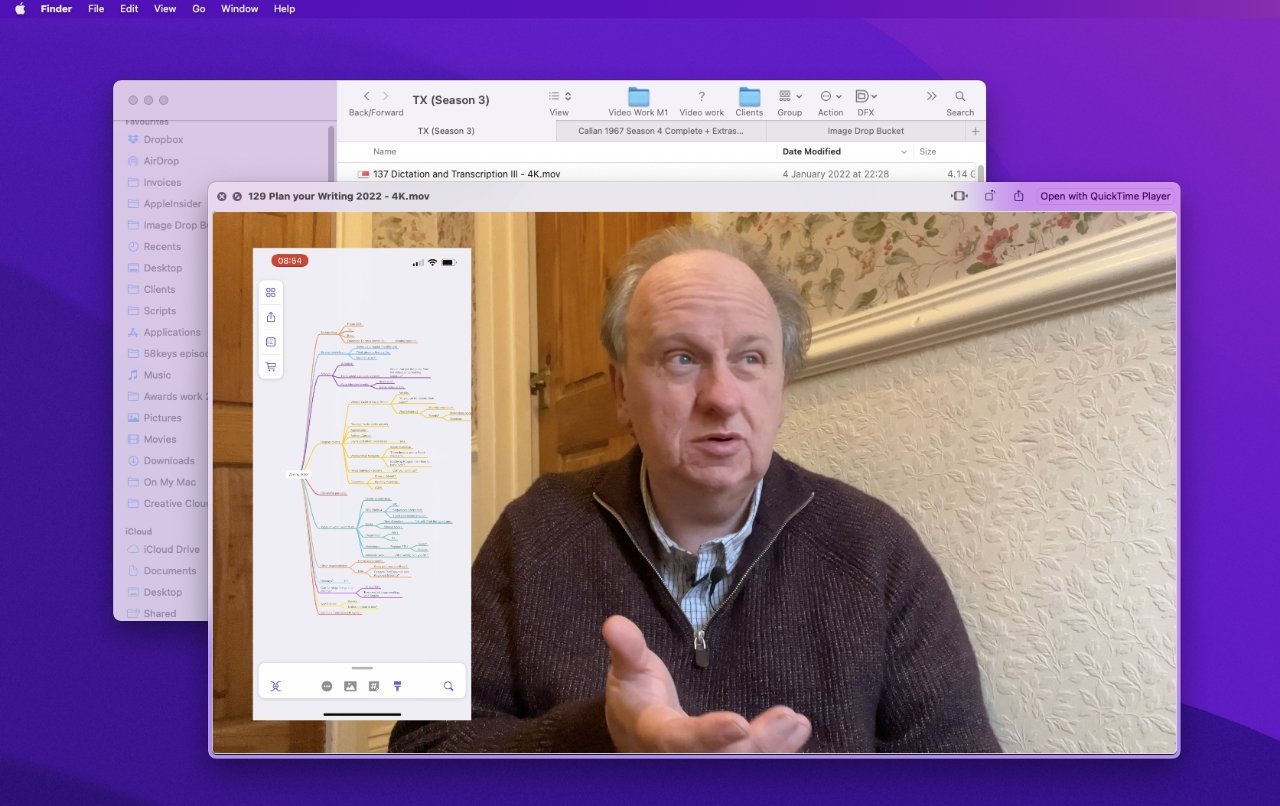 Click to select a video file in the Finder, then press the space bar and you get a Quick Look preview that will play the entire video
Quick Look then opens up a preview window that shows you the video playing. Tap the space bar again to close it.
Apple's main app for playing back videos is QuickTime Player. If you double-click on a video that it can play, that's the app that will open.
QuickTime Player also gives you more controls than Quick Look. You can press the J, K, or L keys to reverse playback, pause it, or speed it up.
There's also Command-T, which lets you trim the start and end of a video. Plus you can export the video in various resolutions, or just as audio.
There are two more Apple apps that handle video, but they both leverage the Mac's QuickTime Player engine.
Apple Music
and Apple's TV app, though, can play videos that you drag into them -- and there is two reasons to do so.
The first is that you require an app like these in order to play protected media you've bought from iTunes. But the second is that regardless of what video you watch, you can use either of those apps to organize your videos.
Both Apple Music and the TV app let you build up a library of video instead of being a view-and-forget kind of app.
Plex
Plex starts as a way of organizing your videos. You can't even drag a video onto the Plex app to just play it. Instead, you drag the video to a nominated folder on your Mac.
Then if you have the free Plex Media Server installed and running on any device on your local network, you can use the equally free Plex app to watch anything in that folder. What's key is that you can watch it through the Plex app on your Mac, iOS device, or Apple TV.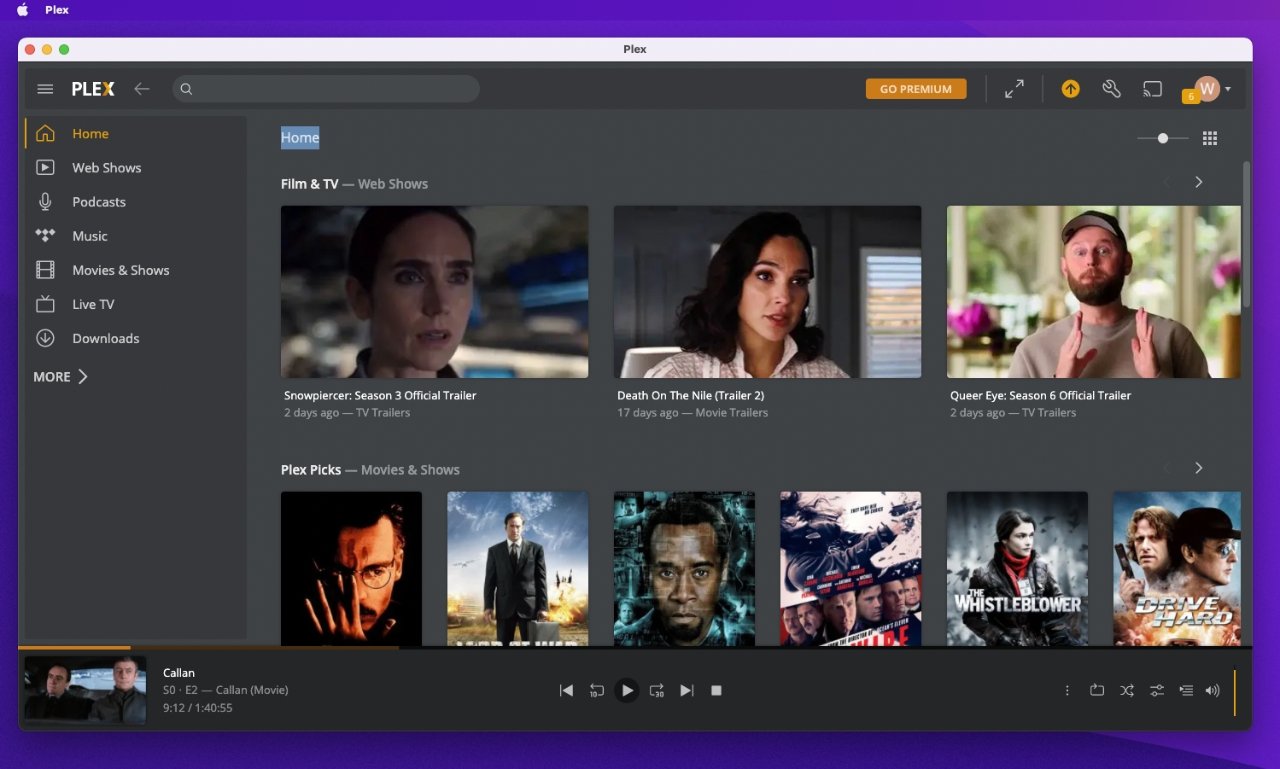 Plex comes with ways to stream and buy video online
That's because Plex is a media server. It's like having your own streaming service, able to send video from your Mac to any of your devices around the house.
And then what's nice is that Plex will try to identify your video. It will download poster artwork for films, for instance.
It's not the absolute friendliest software and if you want to, say, move your library of videos to a different hard disk, you're going to be scratching your head. But Plex takes just about any format video and plays it on any of your devices, and with the Plex Pass, you can stream it across the internet from your home device to your iPhone.
Plus it's essentially free. There is a Plex Pass option that's paid for and adds features such as syncing. So if you pause a movie on your Apple TV, Plex knows to jump to that same point when you start watching on your iPad.
Plex Pass also offers live TV and recordings, which might be of more use than just the syncing. You can pay $4.99 per month for Plex Pass, or a once-only lifetime fee of $120.
However, this is a case where the free version is far from just a stripped-down advert for the paid one. Plex's free service gives you the streaming playback you want, with no imposed limitations.
Plex and the Plex Media Server are available
on the developer's site
. Plex for Mac is also
on the Mac App Store
, plus for iPad and iPhone
on the iOS store
, Apple TV
on its store
.
VLC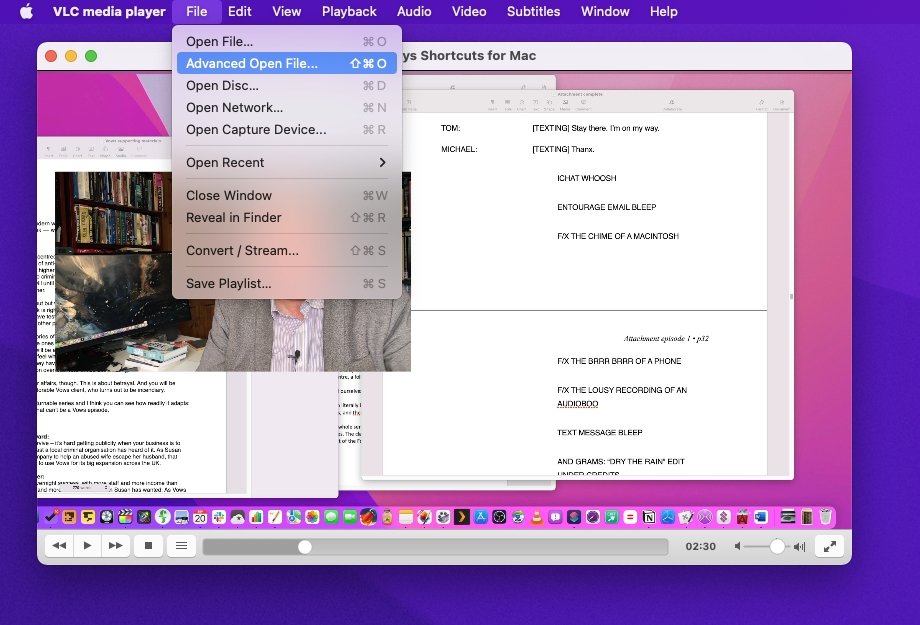 VLC is the Swiss Army Knife, able to open just about anything, including DVDs
Pop VLC into your Dock, drag any video to it, enjoy. There must be video formats that VLC doesn't cope with, but none you'll ever hear of.
VLC's strength is that simplicity of playback and how behind the scenes, it's a Swiss Army Knife kind of tool. The app actually does much more than solely play back video -- it is able to convert and save them in different formats, for instance. And it's able to open DVD discs.
None of that is especially straightforward, however. There are other apps that are simpler for conversions, and for ripping DVDs, but every Mac user who plays any video should get VLC.
It's an open-source, cross-platform app which is continually updated -- and the Mac edition is free from
the official site
. It's also available for iPhone and iPad
on the App Store
, and
for Apple TV
.
IINA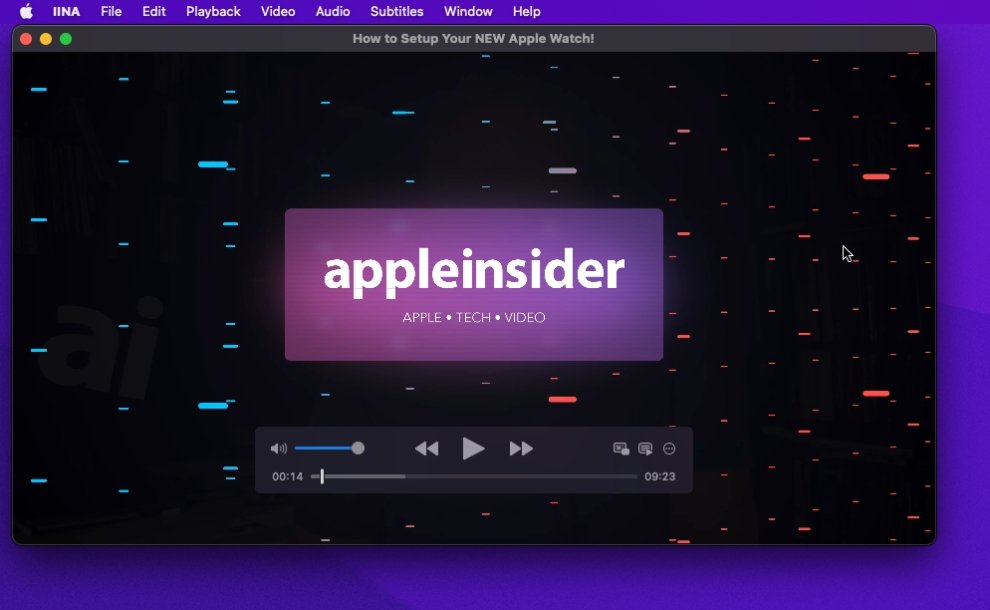 IINA is a new player, built entirely in Swift
IINA is the newest and most modern of the major video playback apps. Like VLC, it is free and open-source, but unlike that app it is Mac-only, and it is coded in Apple's Swift language.
Very specifically built to follow Apple's current design language, once playing a video, the on-screen controls look the same as QuickTime Player's. But there are options for rotating the video, applying video effects like making a negative image of it, and for speeding up playback.
If the video you're watching is improved by being sped up, you should watch better videos. Yet IINA's offering of this feature, and so many more, while not cluttering up the QuickTime-style simple playback controls is impressive.
Get IINA for Mac for free from
the official site
.
Infuse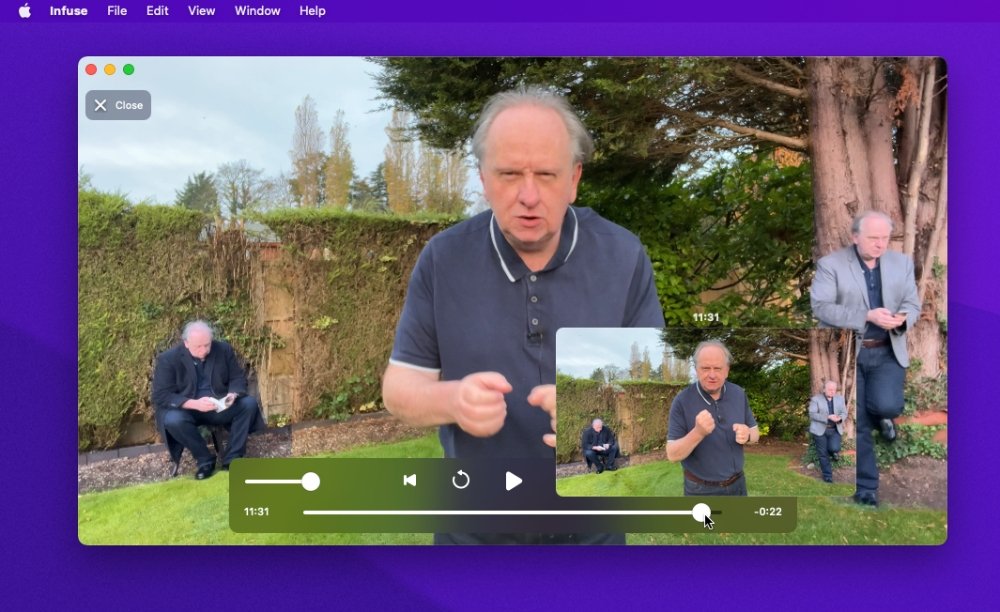 Infuse is a slick, modern player, here showing a thumbnail view as you scrub through a video for the good bits
It's slick, and it's been around a long time. The current Infuse 7 is a particularly appealing video player with a modern design, and features hidden away until you want them.
The free version plays most video formats, but there is a paid edition that will playback even more. Infuse developer Firecore doesn't specify what those extra formats are, but it does say that the paid version adds Dolby and DTS-HD audio support.
Even the free version, though, is able to connect to other services including Plex, or network shares. So aside from protected iTunes media, Infuse can be a one-stop video shop. It also has an Apple TV app, though it's a little more fiddly than the Mac one.
Infuse 7 for Mac is available as a
free download on the Mac App Store
and
the iOS App Store
. The paid edition, available via in-app purchase, starts at $1 per month. There's an $85 one-off lifetime purchase option, too.
DivX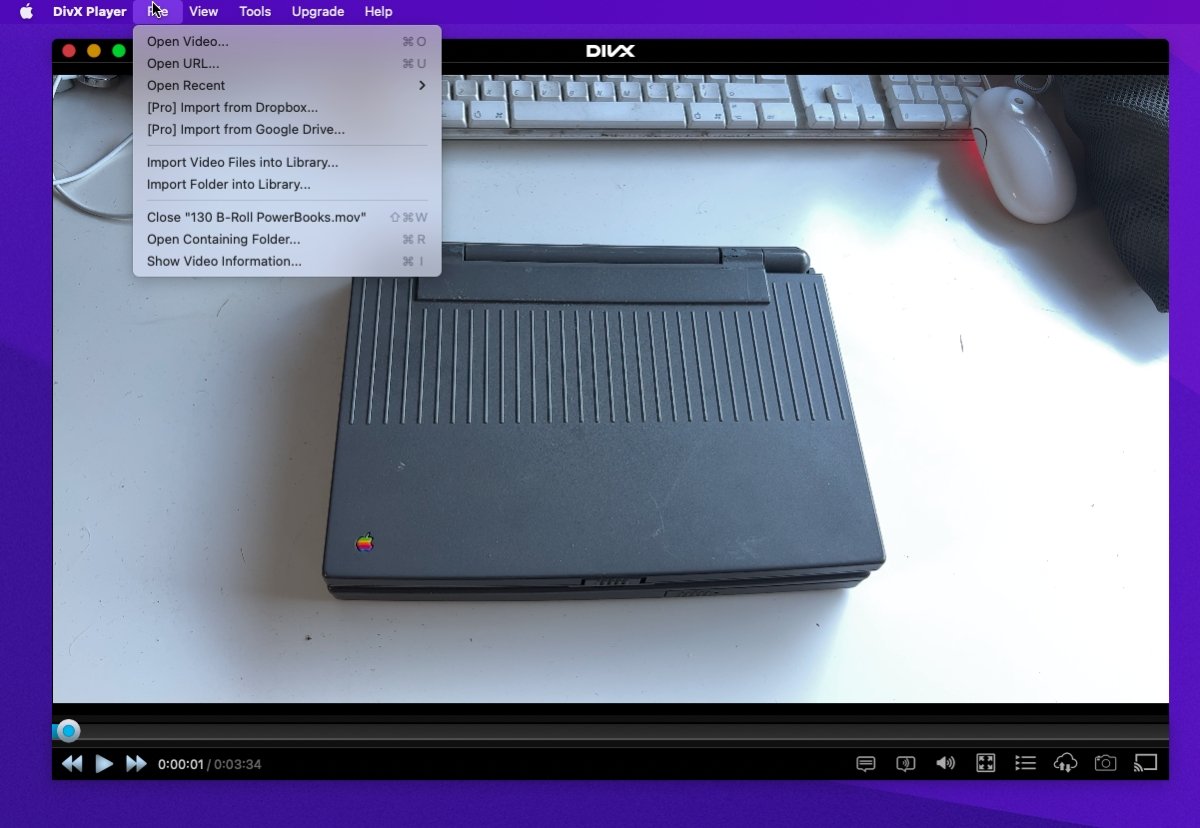 DivX has been around for 20 years and claims a billion downloads
DivX has been around for 20 years and it does rather look like it has. Its installer feels old-fashioned -- and somehow twice triggers Apple's asking whether you want to open it or not. And then in operation, the main controls somehow feel reminiscent of OS X's early days.
Yet its video playback is good, and that's what you get it for. DivX is a free app, but there's a DivX Pro that offers many extra features, albeit in a way that's meant to be very customizable, but feels complicated.
There are six optional extras, ranging from removing ads to improving the audio. Five of them are available separately, with prices going from $5.99 to $11.99.
That adds up to around $50, but you can get all six for $19.99. The paid updates and the free basic player are available for Mac
on the developer's site
.
Elmedia Player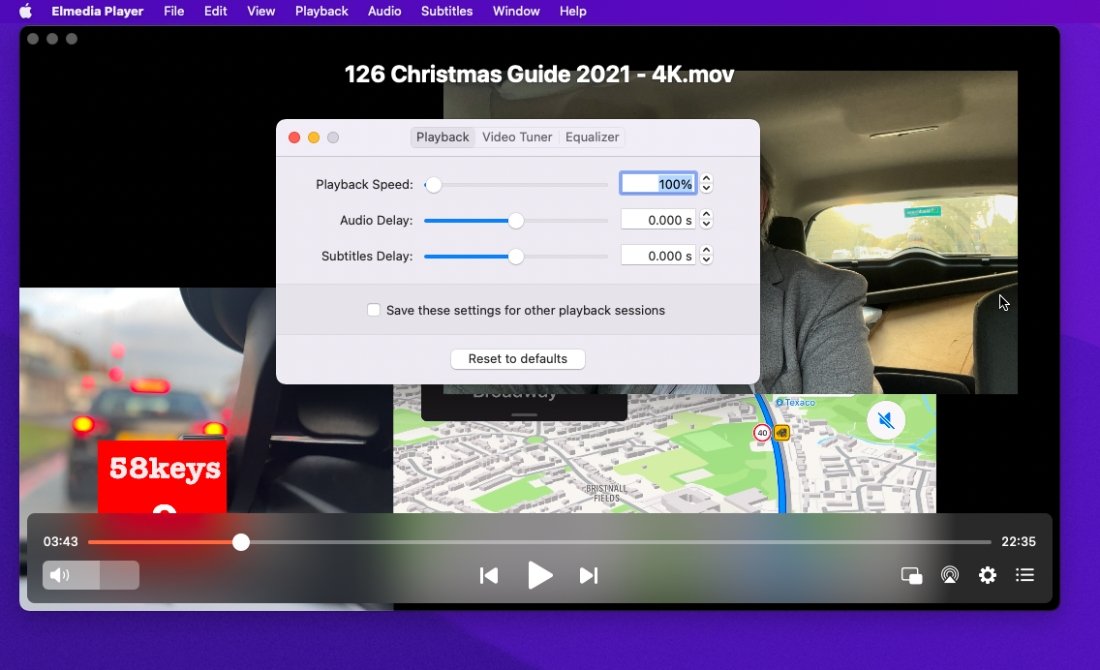 Elmedia is one player that lets you adjust the speed of your videos, if you must.
Elmedia Player aims to be particularly easy to use, and to offer fine controls on features such as subtitle timing. If video and subtitles get out of step, you can adjust the latter to fit better, for example.
This is another player that comes in both a free and paid edition. You can buy Elmedia Pro for $19.95, or in a family pack for $39.99,
direct from the developer
and on the
Mac App Store
The Pro edition lets you stream video from Mac to Apple TV, Chromecast, and others. There are also improved audio playback custom settings.
There are more, so many more
There's probably a college computer course somewhere, in which a term assignment is to build a video player app. That's about the only way to account for the sheer volume of video players available, or for why anyone would make another.
It might also account for how in the giant majority of cases, video player apps are limited in some way, or just hard to use. There are exceptions, but it's the six above, plus Apple's own, that are the best.
Get any of them and you'll be able to play back pretty much any video you can find. For these six, there are differences in features, but overall it's more about which happen to suit you.
So especially as each of them has a free version, you can easily try them all.
Read on AppleInsider