Samsung debuts new Galaxy S22 lineup, trio of Galaxy Tab S8 tablets
Samsung on Wednesday announced its new Galaxy S22 lineup of smartphones, as well as a new Galaxy Tab S8 series of tablets that features an "Ultra" model for the first time.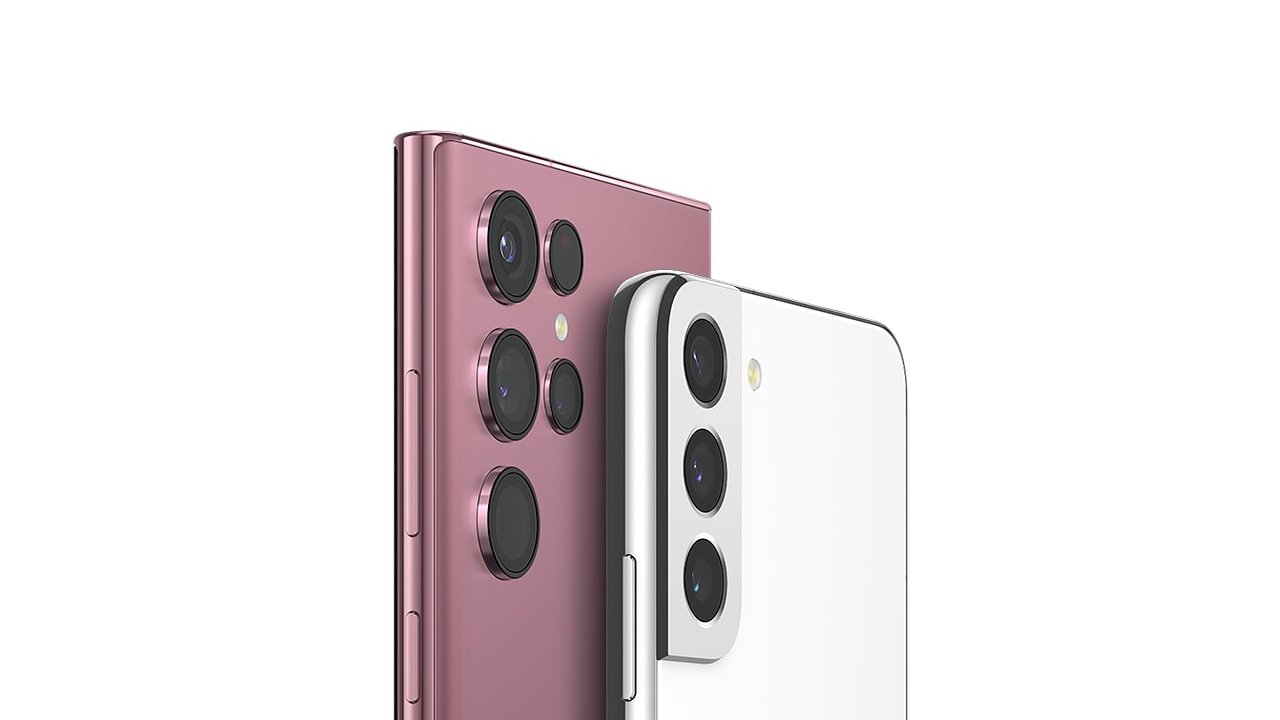 Galaxy S22 Lineup. Credit: Samsung
The
Galaxy S22 and Galaxy S22 Plus devices
don't feature many significant updates. They pack an improved primary sensor and better optical zoom, as well as a new Snapdragon 8 Gen 1 chipset in the U.S. and a Exynos 2200 SoC in other countries.
Compared to the previous year's Galaxy S21 devices, the Galaxy S22 and Galaxy S22 Plus do make some compromises. They both have slightly smaller displays and batteries. The telephoto lens has also been downgraded from 64MP to 10MP.
The Galaxy S22 has a 6.1-inch display with 120Hz refresh rate and a 3,700 mAh battery. The Galaxy S22 Plus sports a 6.6-inch display, a 4,500 mAh battery, 45W quick charging, and ultra-wideband support.
Samsung's Galaxy S22 Ultra, however, is a different story. The
new device
is basically a spiritual successor to the Galaxy Note lineup, which Samsung killed off back in 2020.
The Galaxy S22 Ultra features a 6.8-inch display, a 5,000 mAh battery, and 8GB of RAM. It sports a 108MP primary camera, a 12MP ultra wide camera, and a pair of zoom lenses. It also adopts features that were once exclusive to the Galaxy Note lineup, including a stylus that's housed within the device's body.
Samsung's latest flagship also ships with a baseline of 8GB of RAM and 128GB of internal storage.
In addition, Samsung has promised that it will offer up to four years of major operating system updates. The Galaxy S22 lineup will ship running Android 12.
Alongside the new smartphones, Samsung has also announced three new tablet models under the Galaxy Tab S8 moniker. The lineup also includes the company's first "Ultra" tablet.
The Galaxy S22 Ultra will
retail for $1,199.99
, while the S22 and S22 Plus
cost $799.99 and $999.99 respectively
. Samsung generally has aggressive trade-in promotions during the pre-order period, so customers can take advantage of more competitive pricing.
The Galaxy Tab S8 tablet features an 11-inch display, while the Galaxy Tab S8 Plus packs a 12.4-inch display. The Ultra model, however, bumps the screen size to an impressive 14.6 inches.
All three tablet models will feature productivity and multitasking abilities, like the option to share notes between different Samsung devices and easily transfer files.
Samsung also focused on the video recording capabilities of its Galaxy Tab S8 Ultra. The devices as a dual-lens, 12MP camera and a microphone that can pick up sound from three different directions.
The Galaxy Tab S8
retails for $700
, while the S8 Plus
comes in at $900
. The Galaxy Tab S8 Ultra is
priced at $1,100
.
Read on AppleInsider