Everything we know about the next HomePod
Apple's smart speaker family could expand in the future, with speculation of a new
HomePod
release on the way. Here's what Apple is rumored to be preparing to launch.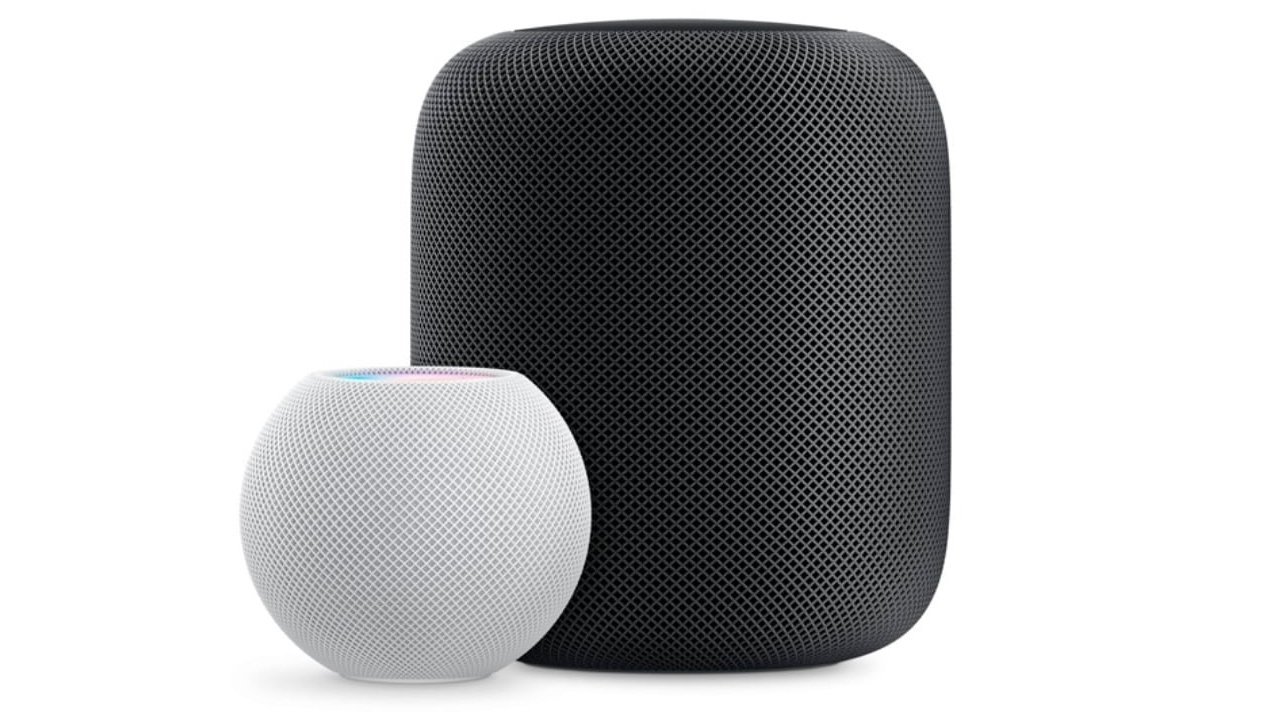 The HomePod mini (left), the HomePod (right)
Apple's HomePod lineup consists of just one current model at the moment: the HomePod mini. The original HomePod hasn't been available to buy since March 2021, leaving Apple customers with the
HomePod mini
as the only available option.
Given the HomePod mini was launched in November 2020 and its November 2021 update consisted of
three color options
and no feature changes, it seems the time is right for a new HomePod model to be introduced to the world.
Naturally, there is speculation about what it could look like, its functions, and when it will be available to buy. Here's everything we know about the future smart speaker launch.
When will Apple release a new HomePod?
As a product that doesn't generally enjoy a regular update cycle, like the
iPhone's
annual updates, Apple's introduction of a new HomePod model is much harder to pin down.
There have been two major HomePod launches in February 2018 and November 2020, equating to a 2-year-9-month gap between models. There is no hard-established cycle to work with here.
The nearest thing to a realistic schedule that has been suggested is
from a tweet
by TF Securities analyst
Ming-Chi Kuo
on May 20. In that tweet, Kuo says a new version of HomePod should arrive in the fourth quarter of 2022 or the first quarter of 2023.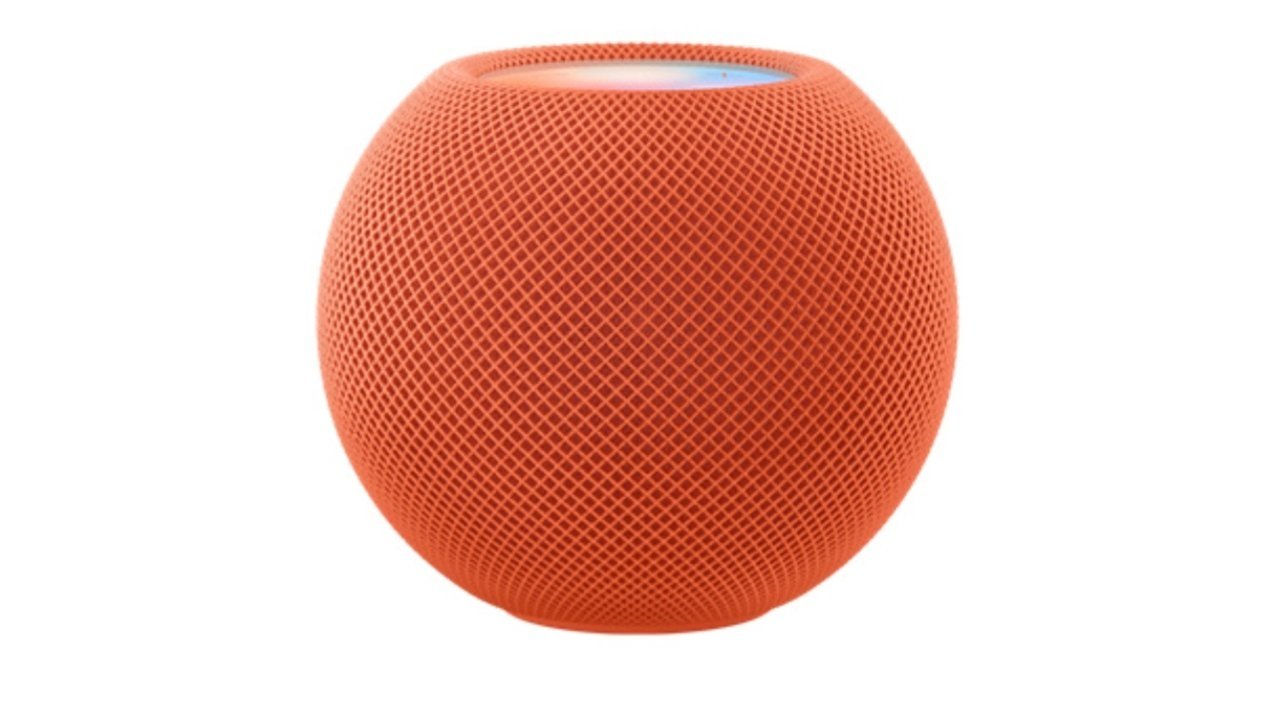 Apple's last HomePod mini refresh was in November 2021, consisting of new color options.
If accurate, that pins down a HomePod product line update anywhere from the usual time Apple introduces new iPhones to the first product launches of 2023.
That is if Apple does indeed decide to proceed with a new HomePod model. The company hasn't dominated the market as much as its rivals, but with the HomePod mini, it did see more headway in 2021.
A report indicated Apple's speaker shipments in Q3 2021
were double that
of Q3 2020. However, while the HomePod mini was one of the top-selling smart speakers in the quarter, Apple was still fifth in the global rankings for the market.
Then again, given the connection to
HomeKit
, it's probable that there's something on the way. In August 2021, Apple was hiring
more employees
for product development, including "Home Services," pointing to Apple working to develop new designs.
However, there's always a chance it could decide to get out of the market entirely. Ultimately, it's all down to Apple.
What will the next HomePod be like?
As you may expect for rumors surrounding an Apple product, the claims about the next HomePod do vary quite a bit, but it generally falls into two main concepts. One is boring and more probable, the other is more interesting as an idea.
For the dull side, we don't have to look far -- May 2022's tweet by Ming-Chi Kuo, to be exact.
In the tweet about the late-2022/early-2023 launch schedule, the analyst proposes that "there may not be much innovation in hardware design." This may indicate that the next model could be very similar to the HomePod or HomePod mini designs, but with barely any major changes to its general appearance.
Apple would release a new version of HomePod in 4Q22-1Q23, and there may not be much innovation in hardware design. Smart speakers are undoubtedly one of the essential elements of the home ecosystem, but I think Apple is still figuring out how to succeed in this market.
Kuo puts this down to how Apple is "still figuring out how to succeed" in the smart speaker market, a product that is "undoubtedly one of the essential elements of the home ecosystem." Kuo seemingly suggests that straying far from the basic design is risky and a route Apple would have to consider strongly before going down.
An updated HomePod mini or rereleased HomePod could bring innovations, but mainly internally. This could take the form of getting the cost of the full-size HomePod down, adding more speakers, or improving the quality of the HomePod mini, for example.
Then there are features like the U1 chip in the HomePod mini that could be introduced to the HomePod, enabling a more enhanced handoff experience. There's also Thread, a smart home device communications standard that could benefit from the jump to a new HomePod.
It's the most straightforward and obvious route Apple could take for a new HomePod, but there are always other paths available.
HomePod-Apple TV?
Going beyond the idea of just a speaker on its own, one possible evolution is for Apple to create a do-all device for the home. Since the HomePod mini acts as a central hub for HomeKit, and HomePods are likely to be used in the living room within range of an
Apple TV
, Apple could potentially combine the two product lines into a single do-all product.
In
March 2021
, a report from
Bloomberg
said that Apple worked on such a combined product. Rather than owning an Apple TV and a HomePod, the rumored hardware would serve both categories.
Functioning similar to a HomePod, in it would be a speaker that could play music, the device could be hooked up to a television, providing Apple TV-style video playback. It would also include a built-in camera so that the connected TV could be used to provide FaceTime calls without needing to AirPlay share an iPhone or iPad display.
This is not an entirely new idea, as Facebook's Portal platform does include a set-top box with a camera that brings video calls to the home's largest screen.
Apple's proposed device would also work as a central home hub, letting it be used for smart home management.
HomePod-iPad?
The same March 2021 report also offered an alternative to the same concept. Rather than using a home's television as a screen, why not attach one to the device itself?
Apple was said to be looking at combining a smart speaker with a touchscreen, akin to attaching an
iPad mini
to a HomePod. The screen would provide similar benefits to an iPad or the previous device, including running apps like video streaming services and enabling video conferencing.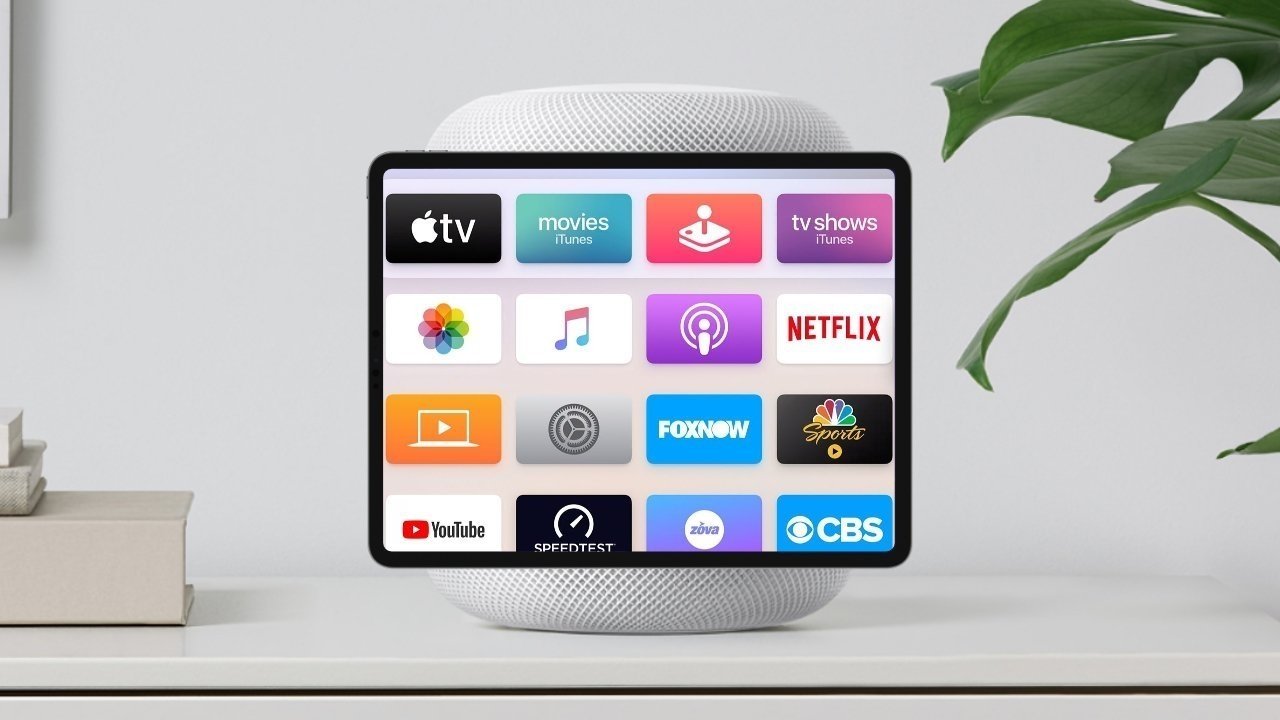 An artist's representation of a HomePod with a display.
Again, this sounds like an idea used elsewhere, including the Amazon Echo Show and the Google Nest Hub.
A variation of this design that probably won't make it to market was the suggestion the screen-based assembly would be attached to a robotic arm. Such a concept could allow the screen to follow the user around the room, which could be handy for video calls when a user is walking about, or to offer the best angle for video playback.
More unlikely additions
Since Apple actively spends on research and development, there are almost certainly features considered for the HomePod that didn't make it into production or were abandoned for various reasons. It's entirely possible that the previously-dismissed elements could surface in new hardware.
For example, Apple has
multiple patents
relating to the use of
fabric buttons
for control of devices. Since the HomePod and HomePod mini both use a fabric exterior, the idea could allow external controls to be applied to the device without ruining the all-fabric aesthetic.
With Apple's lean into healthcare and fitness, it could potentially use a patent from February 2021 to turn the HomePod into a fitness tracker. The patent offers the idea of
using radar
transmitters in a circle to have a 360-degree view of its surroundings and nearby users.
The patent proposed it could identify individual users and potentially even gather health data using its results.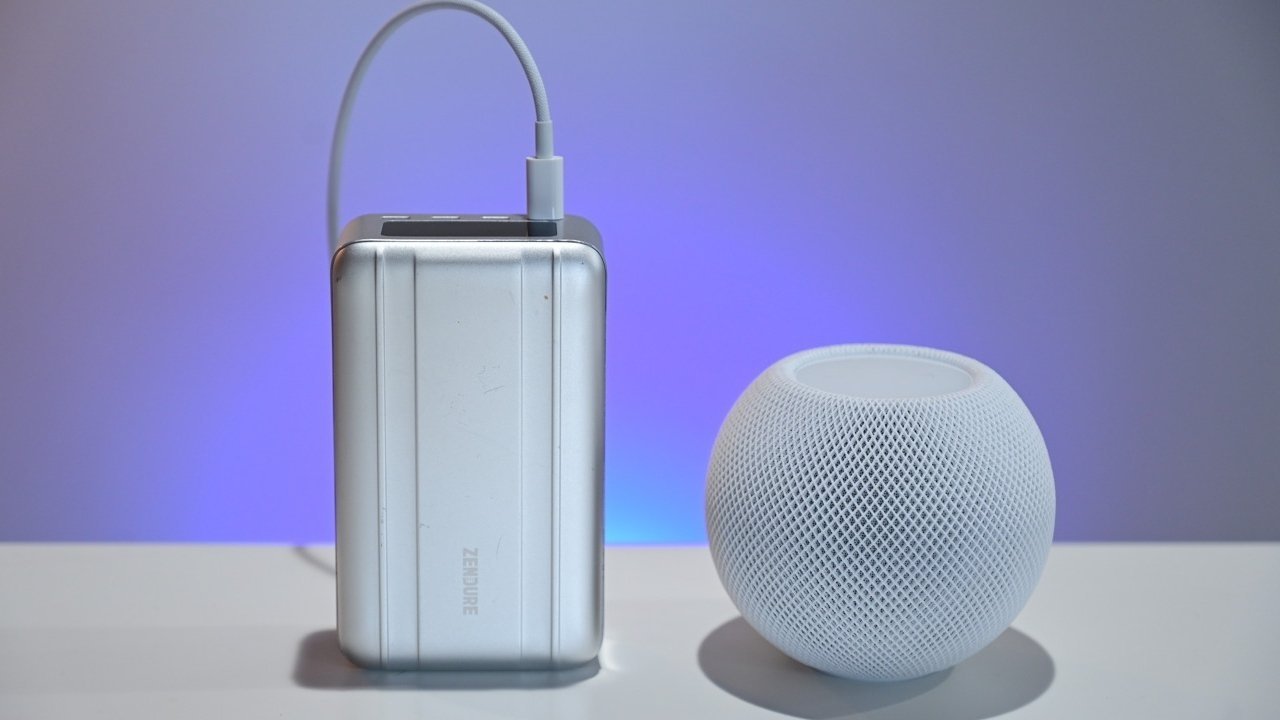 It's possible to run a HomePod mini from an external battery, but could Apple add a built-in battery in a future model?
In January 2022, a report offered that Apple did prototype a version of the HomePod in the past that
held a battery
. Instead of using a HomePod mini and a
USB-C battery pack
, the device could contain a battery so that it was in a single self-contained and highly portable unit.
No recent rumors have suggested a portable HomePod is on the way. Apple did previously consider the idea, it's still a possibility for the future.
Read on AppleInsider