Compared: Apple Music vs Spotify in 2022
Spotify and
Apple Music
are the heavyweights of the music streaming industry, but which is better isn't clear-cut.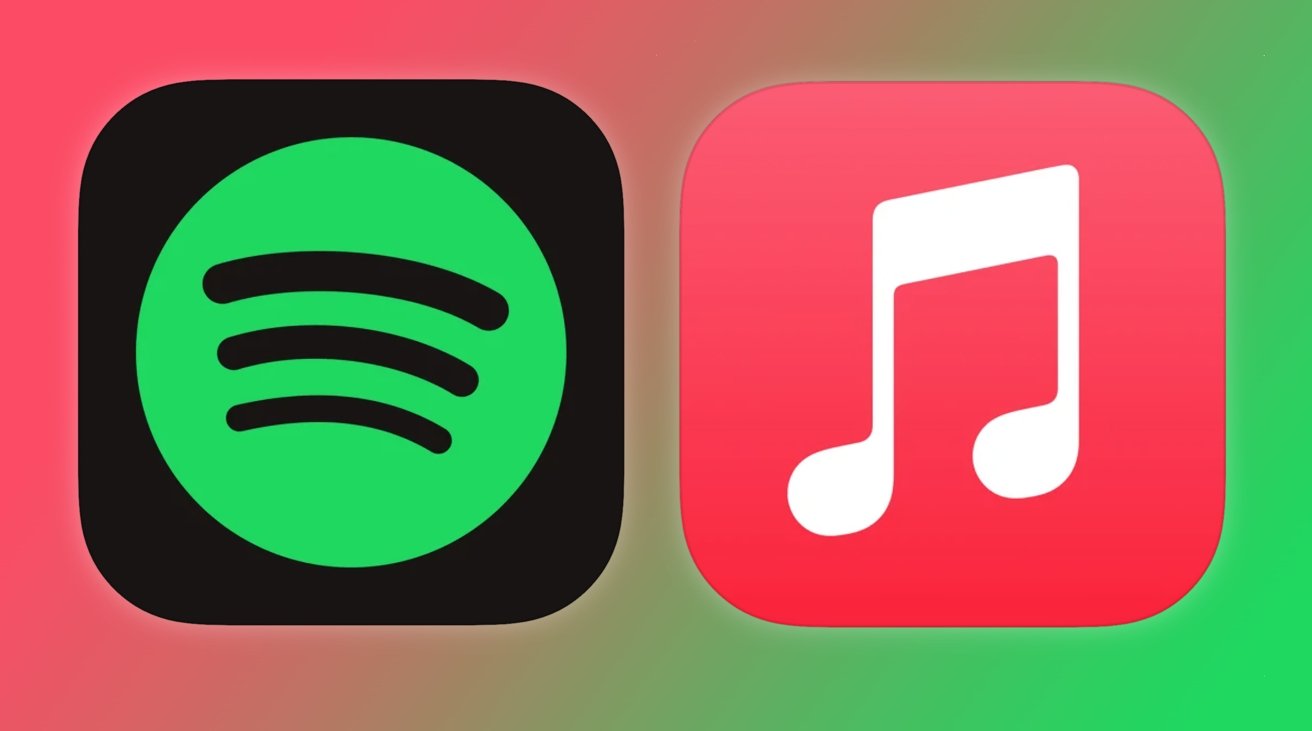 Spotify's App Store icon (left), Apple Music (right)
Music streaming is big business, and after years of services being available, it has become a very crowded market. Many apps are trying to keep the attention of subscribers willing to
pay a monthly fee
, but two giants are taking the most attention at the top of the pile: Spotify and Apple Music.
With many smartphone users regularly listening to music, a subscription to a streaming app is a must. As the two most prominent on the market, most users will pick one or the other as their service of choice.
The two seem like similar all-you-can-eat music services from the outside, and they're pretty interchangeable. Under closer scrutiny, there are a fair number of differences between the two audio entertainment options.
Users settled on one service may not necessarily see much need to switch sides, but there can be benefits to doing so depending on your listening needs.
Apple Music vs Spotify: Age and Audience
Of the two, Spotify is the oldest, having been operating since 2006, and so the longest time running in the market.
Apple Music launched much later in 2015, but it benefits from Apple's history with
iTunes
, which launched in 2001, followed by the iTunes Music Store in 2003. It also wasn't a project that Apple started from scratch, as elements came from Beats Music, the service it bought as part of its broader
$3 billion Beats
acquisition.
As the long-time streaming option, Spotify has cemented itself as the 800-pound gorilla of the market. Research
released in January
determined that Spotify was the biggest globally, with a 31% share in 2021, albeit down from 33% in 2020.
The same research determined that Apple Music was second, catering to 15% of the nearly 524 million global listeners of streaming music services.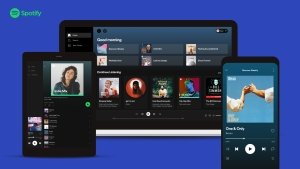 Spotify is the most popular music streaming service in the world.
As Apple doesn't offer its subscriber counts regularly, there's no official word on how many subscribe to it. Spotify says it has 182 million subscribers, with 422 million monthly active users.
Apple Music is Spotify's nearest, albeit still distant, competitor. However, it is closely followed by Amazon Music and Tencent Music with 13% each and 8% for YouTube Music.
It's entirely possible for Apple Music to be overtaken by a competitor, and in a market that grew 26% year-on-year in Q2 2021, that's a lot of potential subscribers to acquire.
Neither the size of the subscriber base nor the service age will matter to end users, aside from knowing both have considerable knowledge and size that they will be around for quite some time. They aren't going to disappear overnight suddenly. They're both here to stay.
Apple Music vs Spotify: Songs and Audio Content
Something that may be more important to users is the catalog of music and content available for listening. There's no point paying for a service if it doesn't have the music you like.
According to Spotify, it has "over 82 million tracks, including more than 4 million podcast titles." Meanwhile, Apple offers a more extensive catalog of 90 million songs for listening to.
The difference in quantity won't matter for most users, as they will both comfortably cover the vast majority of popular music tracks. Catalog sizes do matter for more obscure songs that may not usually get much of an audience or alternate versions of albums.
But the bottom line is that each has an awful lot of music for you to get through.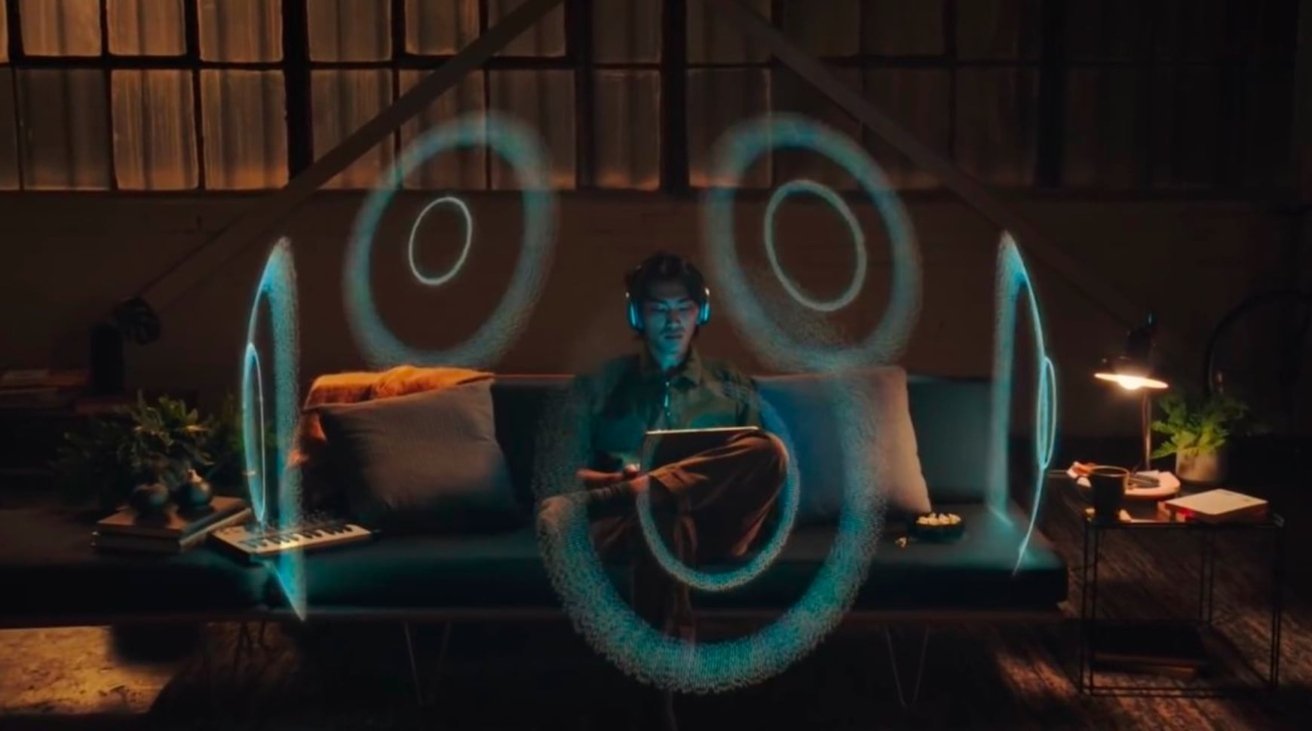 Apple Music offers Spatial Audio and Lossless. Spotify doesn't.
There's a difference in terms of quality for listening to that music if you look at bitrates. Spotify's apps offer an Ogg Vorbis stream quality equivalent to 160kbps for free users, while its premium service goes up to 320kbps.
Apple Music's standard bitrate is lower at 256kbps for AAC streams, but it's not the end of the story. There's
Lossless
to take into account.
Apple launched Lossless as its high-definition audio option, which offers music at a higher fidelity than normal. This includes two quality levels: 24-bit/48kHz Lossless and 24-bit/192kHz Hi-Res Lossless.
To chuck around these higher quantities of bits means a higher amount of bandwidth is required. For Apple Music Lossless, that means a bitrate of up to 1,411kbps, much higher than usual.
The major caveat here is that you need the proper hardware to listen to Lossless audio.
Spotify did say it would introduce a similar high-fidelity service, named
Spotify HiFi
, but it failed to launch despite its promotion, and in January, it was delayed indefinitely.
Both services offer curated playlists produced by music experts, but Apple Music does go one better with "Radio." Stations such as Apple Music 1 and Apple Music Hits are effectively digital radio stations with hosts and curated playlists, with programming streamed live to all users who tune in simultaneously.
Apple Music vs Spotify: Podcasts and Other Content
Both Apple and Spotify are familiar with podcasts as long-form content they can provide to users, but they operate differently.
For a start, Spotify offers podcasts within its app, distinctly as podcasts. Technically speaking, podcasts on Apple's platform are a separate entity held within the Podcasts app.
Each side offers exclusive content that the other cannot and a lot of third-party podcasts for listening.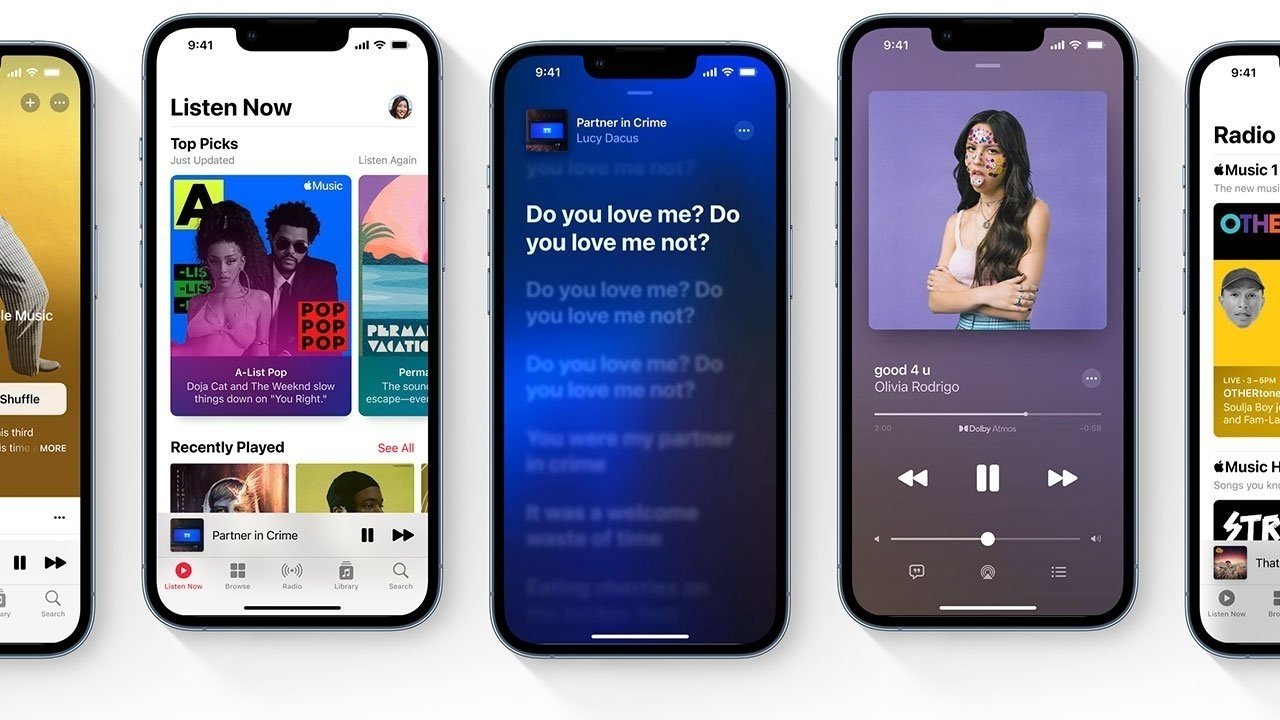 Apple offers a lot of extra features to subscribers.
If we are limiting it to the Apple Music app, you could reckon that the catch-up shows of the radio stations are comparable to exclusive podcasts, if not directly the same thing. This also includes on-demand artist interviews, profiles, and show types other than straight song-after-song playback.
Apple does a lot more with video, offering music videos alongside tracks, documentaries, and other content. Spotify does provide limited video, such as video podcast playback and some exclusive content, but it's certainly not as far along as Apple's offering.
Apple Music vs Spotify: Other Features
Aside from the aforementioned Lossless, Apple Music provides a relatively large collection of features that could benefit users.
For a start,
Spatial Audio
with Dolby Atmos support means you can enjoy a 3D effect to specially-produced songs. With the requisite Apple personal audio devices, such as the
AirPods Max
, you can enjoy hearing audio surrounding you, changing as you move your head.
Then there's offline playback, with users able to download songs and listen to them from their device without Internet access. Spotify also offers this under its Premium service.
The deep integration with Apple's ecosystem also helps the service a lot, such as enabling Siri queries to play back anything in the catalog. Accessing the music across all Apple devices, and to hand off between items, such as an
iPhone
to a HomePod mini, gives even more control over how a user listens to their music.
With the inclusion of a
web-based player
and apps for non-Apple platforms, such as Android and Windows, Apple Music can also be used on a considerable number of devices a person may own.
Likewise, you have extensive device support for Spotify, again with a wealth of apps to use. In most places where you can play Apple Music, you can do the same with Spotify.
Apple Music vs Spotify: Free Tiers
One big difference in ethos is how each service treats free users.
Apple Music doesn't offer a free tier but instead provides a free service trial. Sometimes this trial can be lengthy, up to six months with the purchase of some audio devices, but you will have to pay a subscription or quit after that time.
Spotify offers both a Premium subscription as well as a Free plan. That free tier is always available, but you don't quite get the same experience as those who pay for the service.
Free users will have to listen to advertising interrupting their playlists for a start. This happens every few songs, which isn't that different from commercial radio.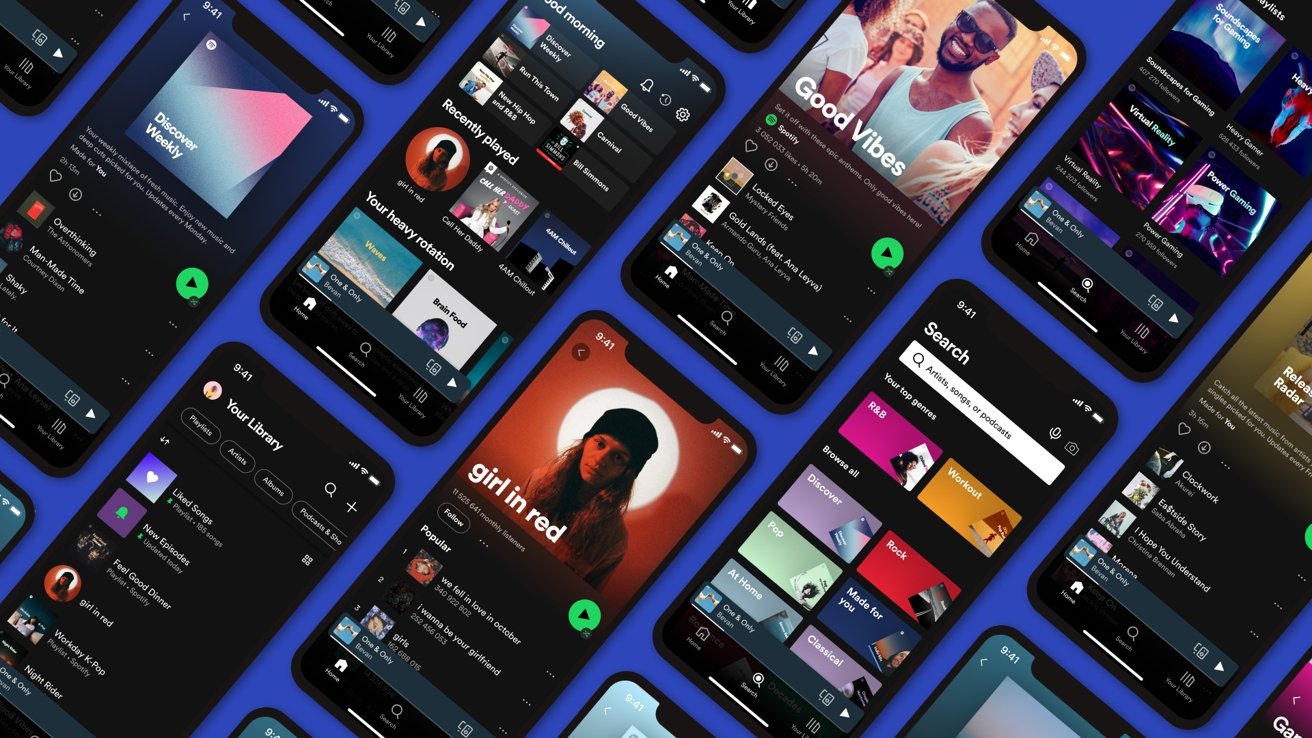 Spotify's service is quite limited if you go for the ad-supported free tier.
You're also not able to play a specific song on-demand, as you're limited to listening to randomized playlists, such as an album or playlist that contains the song but on shuffle.
This doesn't apply to Spotify on desktop, but it can be annoying when listening via a smartphone.
Then there's skipping, as while paid users have unlimited skips for playlists, those who don't pay may find that they cannot skip tracks from time to time, so they can be forced into listening to tracks they'd rather not.
If you're in a location with spotty Internet, you may have problems listening to music in the first place, as there's no offline listening option.
Lastly, you'd not get the highest quality music streams on the free tier, as they are reserved for Premium.
Though you can get by with Spotify's no-cost option, it will always be nudging you with frustration into paying.
Apple Music vs Spotify: Plans and Subscriptions
Apple Music offers
four tiers of subscription
in the United States, aside from the free trial.
Individual costs $9.99 per month, with a Student version offering the same service for $4.99 per month.
A Family plan is also available, which provides accounts for up to six people as part of Apple's Family Sharing, complete with personal music libraries and recommendations for each member. Apple charges $14.99 for that plan.
A fourth option, Voice, differs in that it is specifically a version of Apple Music that
functions
via
Siri
. Instead of accessing songs by navigating the app, you have to make your requests via Apple's digital assistant.
This makes for a compelling option if you generally use a
HomePod mini
for listening to music or are happy to let Siri take the wheel. The Voice plan costs $4.99 per month.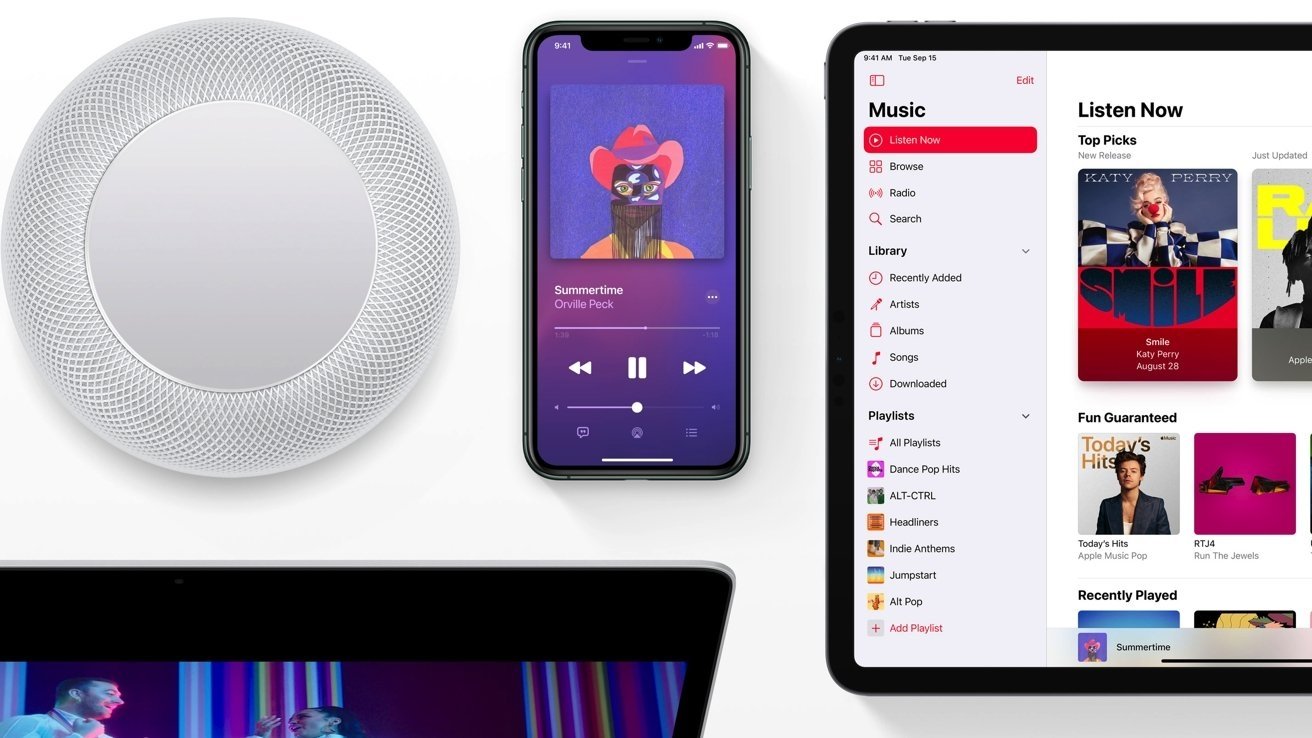 Apple Music's deep integration with the Apple device ecosystem is certainly a benefit.
Spotify offers four different plans, with a one-month trial available for all, along with the free tier. Individual is the standard one-user Premium offering, priced at $9.99. Duo, for $12.99, provides two Premium accounts, as the name implies.
At $15.99 per month, Family offers six Premium accounts, with options to block explicit music and use a separate app for children called Spotify Kids.
Lastly, Student is $4.99 per month, with U.S. users also being provided access to Hulu on an ad-supported plan and Showtime.
Apple Music's
iOS
app enables users to sign up for the subscription directly within the app. Due to ongoing tensions between Apple and Spotify over the
App Store
, Spotify has stopped the ability for users to sign up via an in-app purchase of the subscription, instead forcing them to use the website to subscribe directly.
Existing Spotify users already using the in-app payments system can still do so, but the service's
support pages
strongly hints they should subscribe directly instead.
Not a close-run thing
There's not as much going for Spotify if you put it against Apple Music side-by-side. Sure, both can stream music to users without issue, and you can listen to your favorite songs whenever you want for a reasonable monthly fee, but if you want more than just that, Apple Music is the
better option
.
The Spotify Free tier is undoubtedly an attractive option for those willing to listen to advertising and don't particularly care about what they listen to. Still, not all users are willing to give up that much to save a bit of money.
For what Apple offers, new users without experience with either service could look at the features lists and easily side with Apple for most things. Those wanting a high-fidelity experience will also have to side with Apple Music, at least until Spotify decides to implement its version.
There are not that many elements in Spotify to justify using it, but its user base is probably quite happy with getting music piped to them from a major name in streaming. A base that is too happy with what they've got to bother switching services.
Spotify is the gorilla in the market, and it got there by being early and providing a good service to its users and a free plan. Apple is certainly growing, and with a compelling feature set and desirable long trial periods, it may continue chipping away at Spotify's lead for quite some time.
Read on AppleInsider