Compared: New M2 MacBook Air vs M1 MacBook Air
Apple has given the
MacBook Air
its first major refresh after it transitioned to Apple Silicon. Here's how the new M2 version measures against the 2020 M1 model in our hands-on tests.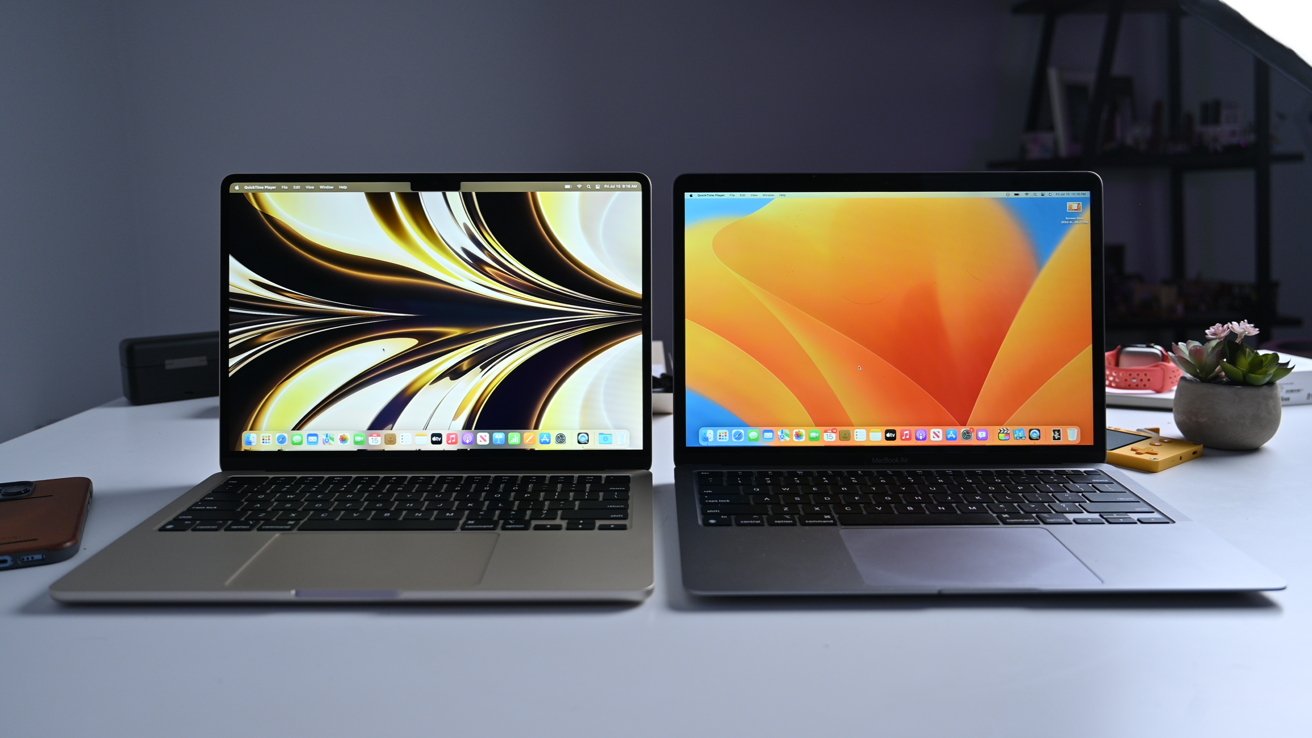 M2 MacBook Air (left) and M1 MacBook Air (right)
The MacBook Air was one of three models of Mac used by Apple to introduce
Apple Silicon
. As an entry-level Mac device, it was an easy choice for the company to include in its first wave of M1-equipped hardware.
However, while later Macs received updates to their designs, such as the
14-inch MacBook Pro
and the
24-inch iMac
, the first offerings were largely unremarkable. The M1 MacBook Air looked like the Intel model it replaced, albeit with new internal components.
For 2022
, Apple has finally gone beyond just a spec bump for the lightweight MacBook Air, with the latest model including several visible upgrades.
Now, 2020 MacBook Air owners have to decide whether the updates are enough to warrant an upgrade or to stick around with the M1 model for a while longer.
M2 MacBook Air versus M1 MacBook Air - Specifications
Specifications
MacBook Air (2022, M2)
MacBook Air (2020, M1)
Starting Price
$1,199
Best M2 MacBook Air prices
$999
Cheapest M1 MacBook Air prices
Dimensions (inches)
11.97 x 8.46 x 0.44
11.97 x 8.36 x 0.16-0.63
Weight (pounds)
2.7
2.8
Display
13.6-inch Liquid Retina,
Wide Color (P3),
True Tone
13.3-inch Retina,
Wide Color (P3),
True Tone
Resolution
2,560 x 1,664
2,560 x 1,600
Brightness
500 nits
400 nits
Processor
Apple M2
Apple M1
Graphics
8-core GPU,
10-core GPU
7-core GPU,
8-core GPU
Memory
8GB,
16GB,
24GB
8GB,
16GB
Storage
256GB,
512GB,
1TB,
2TB
256GB,
512GB,
1TB,
2TB
Battery
52.6Wh lithium-polymer,
Up to 15 hours web, 18 hours video
49.9Wh lithium-polymer,
Up to 15 hours web, 18 hours video
Networking
802.11ax Wi-Fi 6
Bluetooth 5.0
802.11ax Wi-Fi 6
Bluetooth 5.0
Touch ID
Yes
Yes
Camera
1080p FaceTime HD
720p FaceTime HD
Audio
Four-speaker sound system,
Three-mic array with directional beamforming,
Headphone jack with high-impedance headphone support,
Dolby Atmos support with Spatial Audio
Stereo speakers,
Three-mic array with directional beamforming,
Headphone jack
Dolby Atmos support with Spatial Audio
Ports
Two Thunderbolt/USB 4,
3.5mm headphone,
MagSafe 3
Two Thunderbolt/USB 4,
3.5mm headphone
2022 MacBook Air vs 2020 MacBook Air - Physical Dimensions
The 2020 MacBook Air is best known for being a slim and light notebook while also giving users the essentials of Mac usability. While the MacBook Pro line is relatively flat in shape, the MacBook Air tried to appear thin by having a tapered appearance.
For 2022, Apple has revamped the design in many ways. It's still a thin and light notebook, but the new MacBook Air is very different.
The big change is that it's no longer using a tapered design. As part of its change to be more like the current 14-inch MacBook Pro and
16-inch MacBook Pro
, the wedge is out in favor of a much flatter appearance.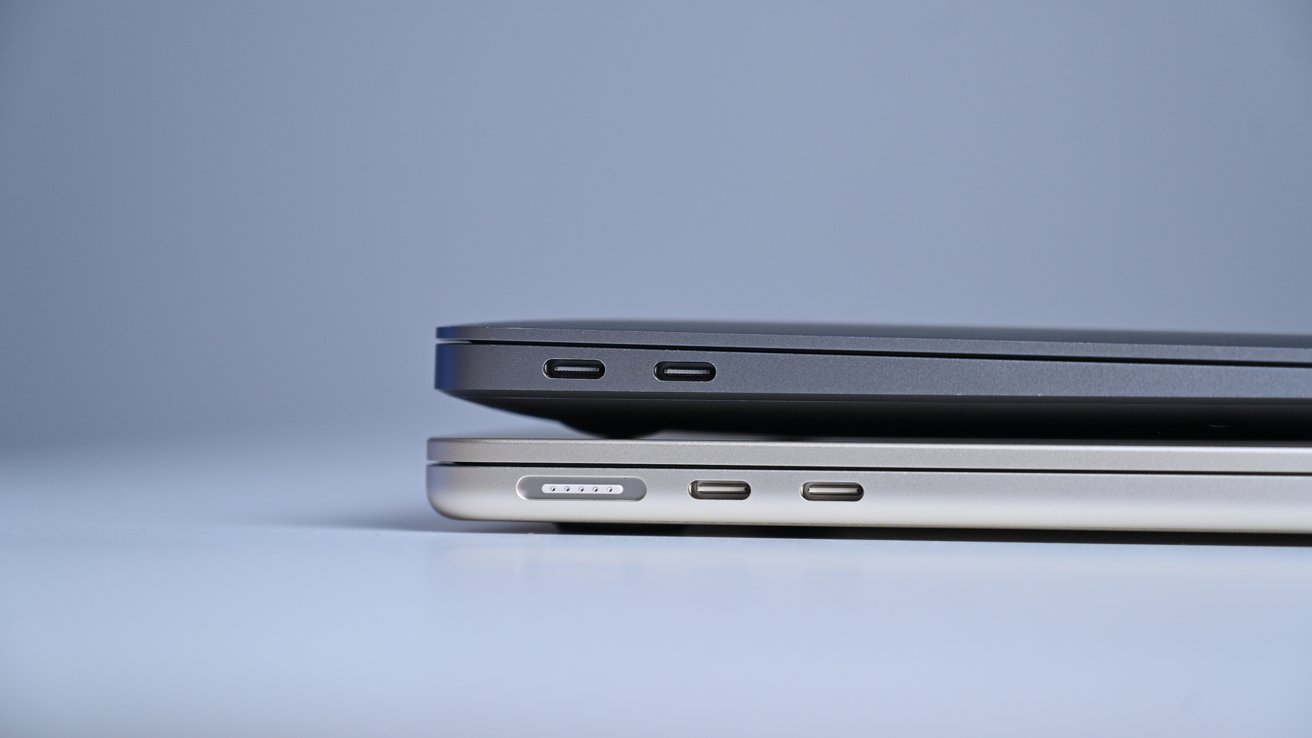 The new MacBook Air adds MagSafe
The M1 MacBook Air has a footprint of 11.97 inches by 8.36 inches. The wedge-like aluminum body tapers from 0.63 inches at its thickest down to 0.16 inches at its thinnest, at the edge where the lid separates from the main body.
The 2022 M2 version is an identical 11.97-inches wide but a little bit deeper at 8.48 inches. It's a slightly larger footprint, but barely.
The lack of a taper means its thickness is a uniform 0.44 inches across the board. It's not as thin as the thinnest part of the old model, but neither is it as big as the thickest bit.
The 2020 model is relatively light at 2.8 pounds, lower than its 13-inch MacBook Pro and 14-inch MacBook Pro counterparts by a few ounces. The 2020 edition shaves a little more weight, slimming down to 2.7 pounds.
Apple claims there's a 20% reduction in volume for the new model.
2022 MacBook Air vs 2020 MacBook Air - Display
The display in the 2020 MacBook Air will be pretty familiar to users, as it's the same 13.3-inch size as in previous generations. It's an IPS LED-backlit screen, so there's no flashy miniLED backlighting as seen in the 16-inch MacBook Pro.
Sticking with LED, the 2022 MacBook Air has a slightly larger 13.6-inch Liquid Retina display. In effect, the display is slightly taller to account for the inclusion of a notch for the webcam.
The display tradeoff has made it to the Air, but it's only really an aesthetic problem. That extra 0.3-inch of display effectively makes it equal to the 13.3-inch screen, but with extra to work around that webcam notch.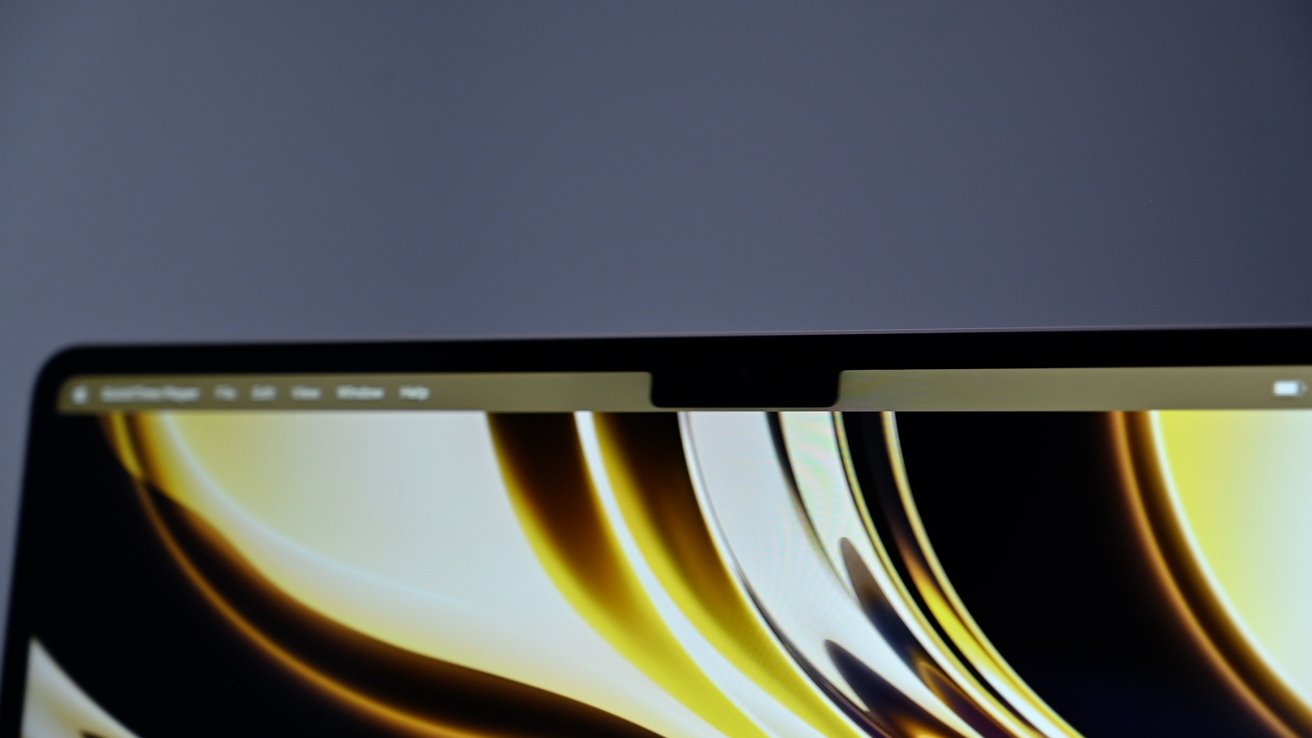 The display of the 2022 MacBook Air has thin bezels, but also that camera notch.
The resolution of the 2020 model's screen is 2,560 by 1,600, giving it a pixel density of 227 pixels per inch. It also supports Wide Color (P3) and True Tone, Apple's system for automatically adjusting the screen's colors when environmental lighting changes.
The M2 model has a resolution of 2,560 by 1,664, with those extra 64 pixels in height effectively being used for the bits of the screen to the sides of the webcam. Much like the 14-inch and 16-inch Pro models, this is space taken up by the menu bar and is blacked out to hide the notch for full-screen apps.
That new screen also has Wide Color (P3) support and True Tone, but it's also brighter at 500 nits versus 400.
2022 MacBook Air vs 2020 MacBook Air - Processing
The M1 is available in two versions, but both have the same 8-core CPU arrangement. Four efficiency cores accompany four performance cores.
As part of the M1's introduction, Apple also moved over to a unified memory architecture, using high-bandwidth and low-latency memory as a single shared pool for all SoC's components. In effect, Apple reduced the need for data to be duplicated into separate memory pools.
For example, the same data could be used by both the CPU and the GPU for different tasks.
The base amount of memory available in the M1 on the MacBook Air was 8GB, though you could also upgrade it to 16GB.
Apple's M1 also includes a 16-core Neural Engine, bringing machine learning capabilities to the Mac lineup. Able to help with ML-oriented tasks such as image processing, the Neural Engine version could manage up to 11 trillion operations per second.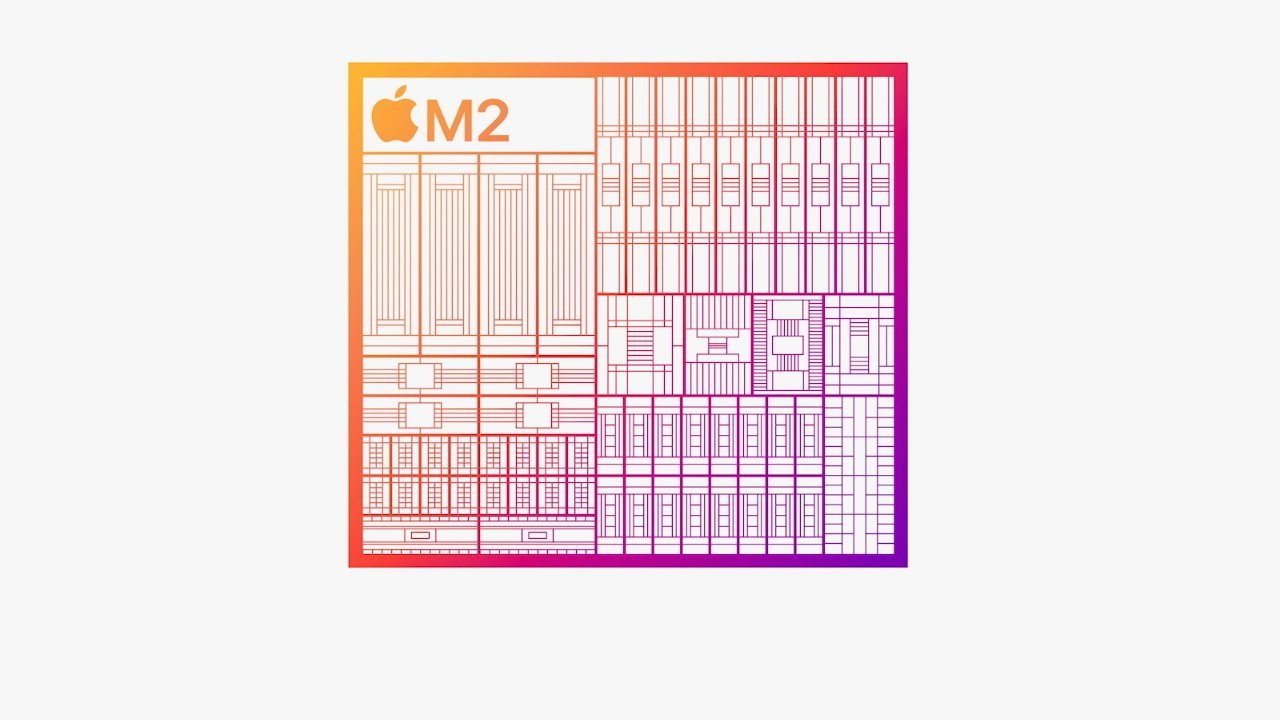 As you would expect, M2 improves on M1 in multiple ways.
For the M2
, Apple hasn't changed much from the M1's pattern. The M2 is an eight-core CPU with the same four-performance, four-efficiency core configuration, though with advancements in both cores to make them faster.
The 16-core Neural Engine is still around, but Apple has included one of the Media Engines from the M1 Pro and M1 Max this time. The change gives hardware-accelerated encoding and decoding of video formats, which the M1 lacks.
The M2 also has a much-needed upgrade to memory capacity, with the 8GB starter option and 16GB upgrade joined by a 24GB option.
As you would expect, Apple is touting the performance benefits of its new chip over the old one. According to Apple, there is a 20-percent improvement in applying filters and effects in image editing apps like PhotoShop.
For editing video in tools like Final Cut Pro, Apple says it is "nearly 40% faster than the previous generation." Arguably, this is down to the on-chip Media Engine, but it's still a valuable addition for video editors.
Our testing in Geekbench 5 shows an admirable increase in performance. For the CPU tests, the M1 MacBook Air scored a 1693 single-core and a 7195 multi-core. The M2 then scored a 1898 and 8941 on the single and multi-core tests respectively.
This shows how much of a difference the higher clock speed makes. At least in benchmarks.
2022 MacBook Air vs 2020 MacBook Air - Graphics and Video
The M1 SoC used in the MacBook Air was split into two variants, with the sole difference being the GPU. You could get a 7-core Apple-designed GPU or an 8-core version.
The M2 performs the same trick to produce two variants, again differing by GPU. The starter version has an 8-core GPU, but you could upgrade to a 10-core variant.
Apple says its M2 GPU offers 25% higher graphics performance than the M2 "at the same power level," rising to 35% at max power. Our tests show that the 8-core M2 scored a 26123 versus the 8-core M1 at 20284.
One big holdover from the M1 edition is limited external display support. Much like the original, you can only use
one external display
, which can be up to a 6K resolution at 60Hz.
This is probably disappointing for anyone wanting to use two external monitors, but those users may be more likely to spend higher amounts on a MacBook Pro model that can support a lot more.
2022 MacBook Air vs 2020 MacBook Air - Camera
Built into the top of the lid of the 2020 MacBook Air is a 720p FaceTime HD camera. While the FaceTime HD camera has been the subject of criticism for many years, and even more so during the pandemic, Apple did take a step to improve it, albeit not involving resolution.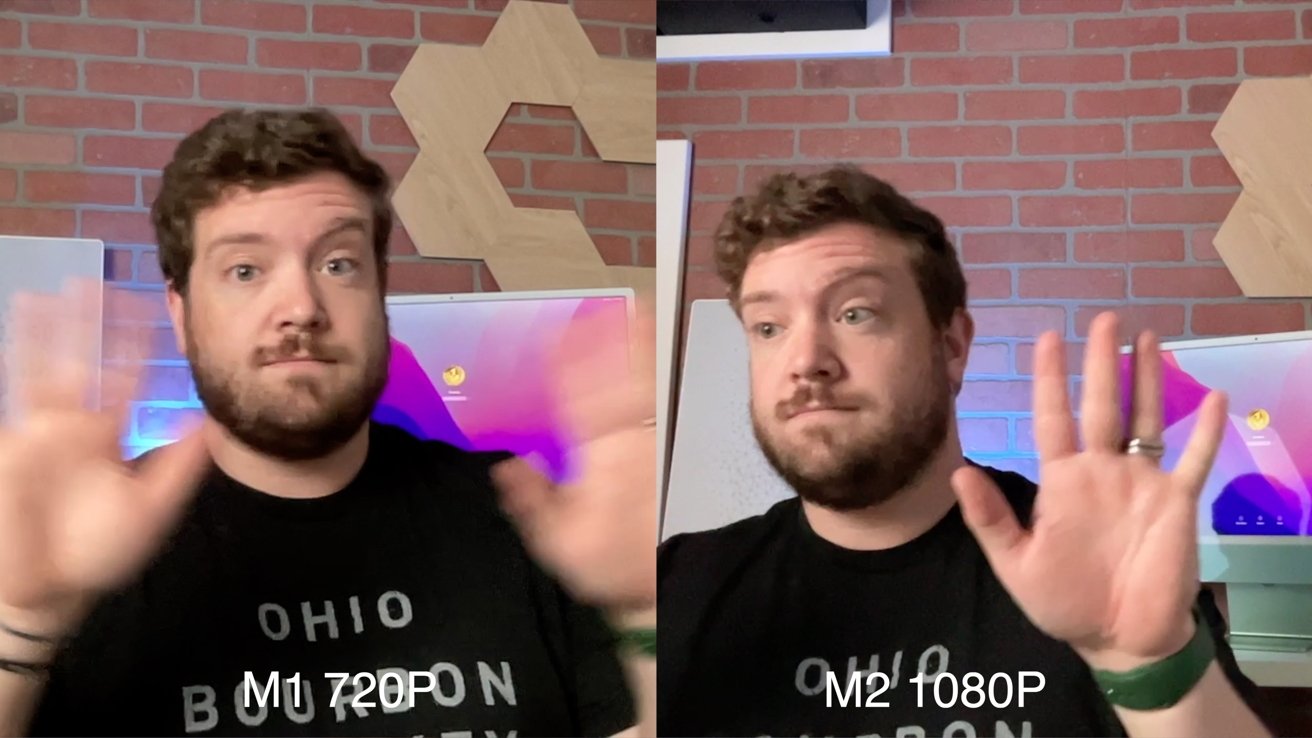 The 720P M1 camera (left) and the 1080P M2 camera (right)
An advanced image signal processor with computational video powered by the included M1 helped improve image quality for the camera. However, the shift to a 1080p webcam in the 14-inch and 16-inch MacBook Pro models probably made those affected by pandemic work-from-home initiatives yearn for more resolution.
That wish is granted in the 2022 MacBook Air, with it equipped with that 1080p FaceTime HD camera hidden inside the display notch. Apple says it also delivers twice the low-light performance of the earlier camera.
Again, it's backed up by the M2's onboard image signal processor with computational video.
2022 MacBook Air vs 2020 MacBook Air - Connectivity
Apple's 2020 MacBook Air has fairly minimal physical connectivity options compared to modern MacBook Pro models. It has just two Thunderbolt/USB 4 ports and a headphone jack.
The lack of ports makes things worse for users who need to recharge their device as one of those USB 4 connections is used to take in power from an outlet. If you're not using a dock with power delivery, you're reducing your physical data connectivity down to one port.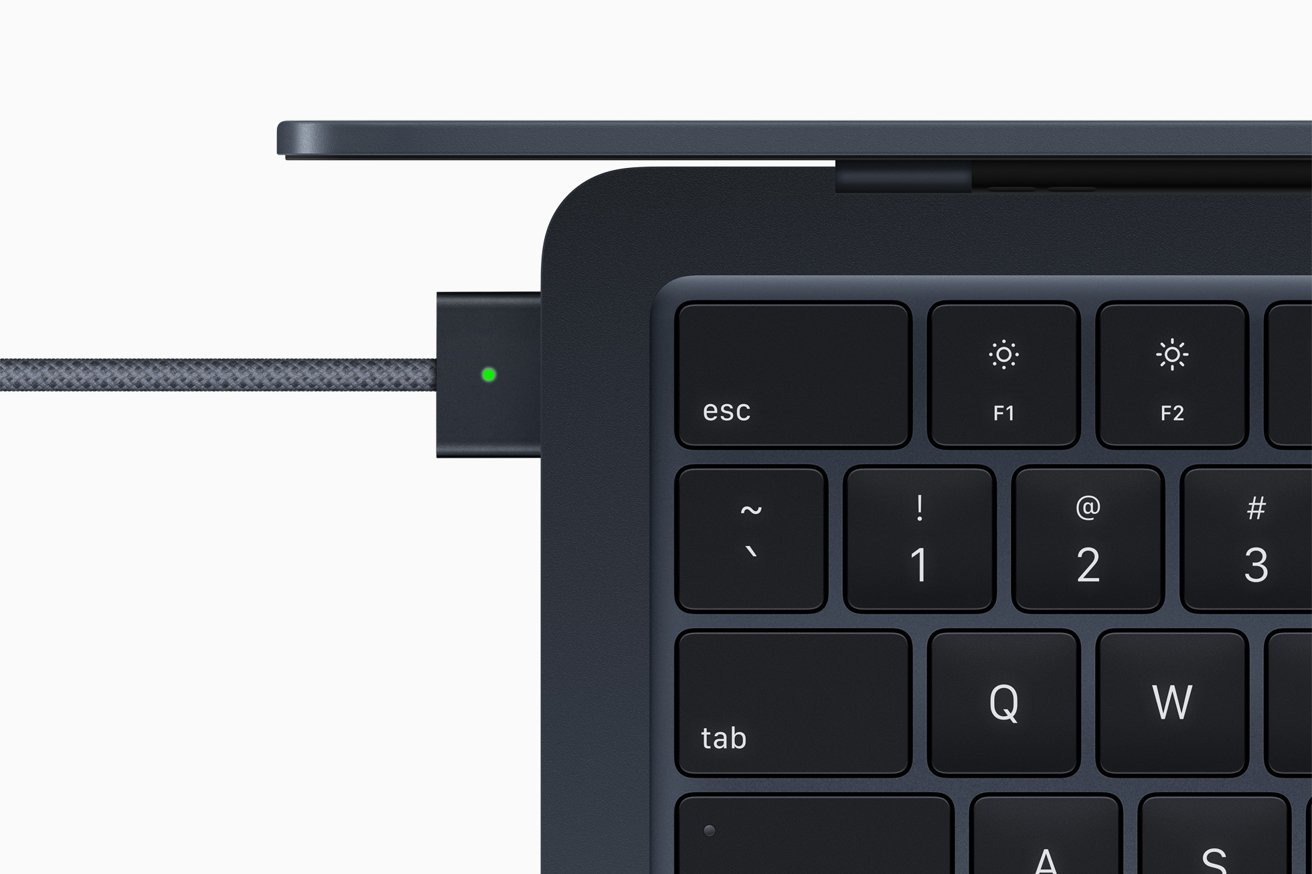 MagSafe is available for charging now for the MacBook Air.
The situation hasn't changed that much with the 2022 MacBook Air, as it is still using the same pair of Thunderbolt/USB 4 ports. However, with the inclusion of
MagSafe
3 charging, users can recharge their MacBook Air without sacrificing one of those two ports.
On the wireless side, the M1 MacBook Air is pretty typical of its time, with Apple including Wi-Fi 6 support and Bluetooth 5.0. You're still getting Wi-Fi 6 and Bluetooth 5.0 in the 2022 MacBook Air two years later.
2022 MacBook Air vs 2020 MacBook Air - Battery and Charging
Apple includes a 49.9-watt-hour lithium polymer battery in its M1 MacBook Air. Playing on the power-saving capabilities of M1, Apple claims it provides up to 15 hours of wireless web access or up to 18 hours of Apple TV app movie playback.
Charging is provided over USB-C using an included 30W power adapter. There's no MagSafe alternative on the M1 MacBook Air, so you're stuck consuming one of the two available ports.
The M2 MacBook Air has a larger 52.6-watt-hour lithium polymer battery. However, while larger in capacity, it still manages up to 15 hours of wireless web access or 18 hours of video playback.
More interesting is the inclusion of MagSafe 3, so users can do without recharging via USB-C if they want to.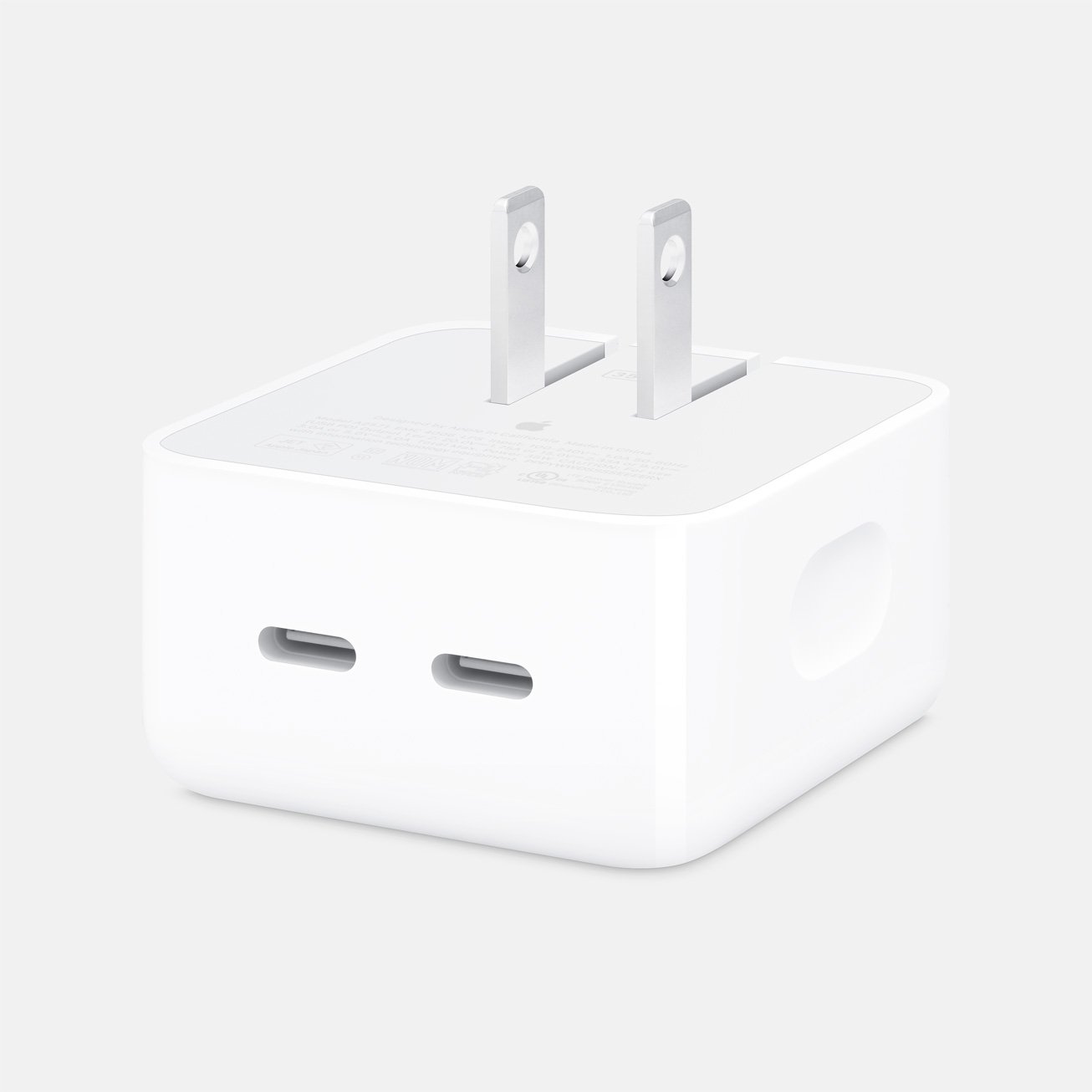 There's a new 35W charger with dual USB-C ports, in case you need to charge two devices at once.
On recharging, the 8-core GPU model uses a 30W USB-C power adapter, but the 10-core GPU version gets the 35W Dual USB-C Port Compact Power Adapter. As well as offering more watts, it also has two USB-C ports, so you could feasibly recharge an iPhone alongside the MacBook Air.
Apple has also included fast-charging in the M2 MacBook Air for the first time, so it can reach up to 50 percent charge in 30 minutes if you happen to have a 67-watt USB-C power adapter.
2022 MacBook Air vs 2020 MacBook Air - Audio
The M1 MacBook Pro has stereo speakers, which offer wide stereo sound. Apple also includes support for Spatial Audio and Dolby Atmos playback, improving the audio quality, and a 3.5mm headphone jack for headphone-based listening.
The 2022 model bumps the speaker count to four, complete with Spatial Audio and Dolby Atmos support. The 3.5mm headphone jack is also upgraded to handle high-impedance headphones, a bonus for audiophiles.
On audio input, Apple includes a three-mic array on both models, complete with directional beamforming to help with "Hey Siri" support and overall clarity.
2022 MacBook Air vs 2020 MacBook Air - Storage
Apple offered the 7-core GPU M1 MacBook Air with SSD options starting from 256GB and rising to 512GB, 1TB, and 2TB at most. If you went for the 8-core GPU option, the range would drop the 256GB capacity version and run from 512GB to 2TB.
It's a similar story for the 2022 model, as the version with the 8-core GPU starts with a 256GB SSD, with upgrade options to 512GB, 1TB, and 2TB. The 10-core GPU option starts at 512GB, with similar 1TB and 2TB upgrades available.
Just as with the 13-inch M2 MacBook Pro, Apple did decrease SSD speeds on the base model. The 256GB SSD in the M2 MacBook Air only achieved write speeds of 1600 MB/s and read speeds of 1158 MB/s. The last-gen model scored 2689 MB/s in write speeds and 2484 MB/s in read speeds.
We'll be testing the higher storage configurations as well to see if they have any improvements over the entry-level unit.
2022 MacBook Air vs 2020 MacBook Air - Other Features
Along with the 78 or 79-key Magic Keyboard, both models of MacBook Air include a Touch ID sensor for biometric security. There's also an ambient light sensor within the keyboard, which automatically adjusts its built-in backlighting.
Below is the Force Touch trackpad, complete with multi-touch gestures and Force clicks.
2022 MacBook Air vs 2020 MacBook Air - Pricing
Apple is still selling the M1 MacBook Air, which includes the 7-core GPU version of the chip, 8GB of memory, and 256GB of storage.
Despite introducing a new model, Apple's keeping the
M1's price unchanged
. The 8-core GPU version, which includes 8GB of memory and 512GB of storage, starts from $1,249, but we suspect that this will only be available while supplies last.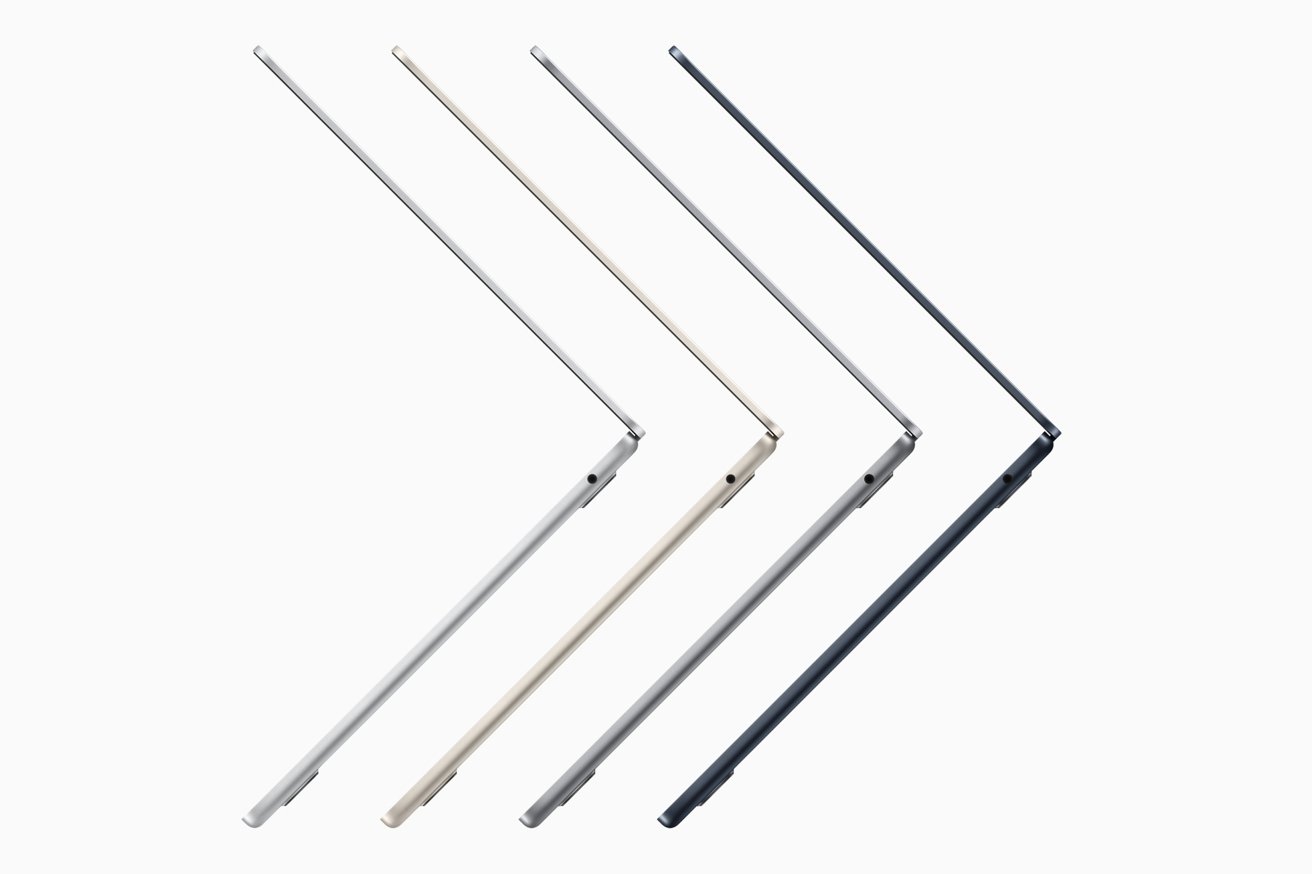 You can choose from four colors for the new MacBook Air's body.
For the M2 model, the pricing
starts at $1,199
for the 8-core GPU, 8GB of memory, and 256GB of storage. The 10-core GPU with 8GB of memory and 512GB of storage is $1,499.
Upgrading the memory from 8GB to 16GB costs $200, and it's another $200 to 24GB. Storage upgrade fees for the M2 are the same as the M1.
Unexpectedly, the configurator for the M2 model includes power adapter options. It costs $20 to go from the 30W to the 35W Dual adapter and then another $20 from the 35W to a 67W USB-C Power Adapter.
For the fashion conscious, there's more choice of colors available in the newer model. While the 2020 can be bought in Space Gray, Gold, and Silver, the 2022 edition is offered in Space Gray, Silver, Starlight, and Midnight.
A revamp in multiple ways
When Apple introduced the first Apple Silicon MacBook Air, there was a small sense of disappointment that it was an internals-only change and not something greater. Apple hinted at what it could do when it brought out new MacBook Pro models later, and those changes have finally spread to the cheapest portable Mac in the range.
The MacBook Air needed an upgrade, and Apple did just that with this model. It has been thoroughly modernized while still maintaining the remit of being a small, light, but powerful notebook.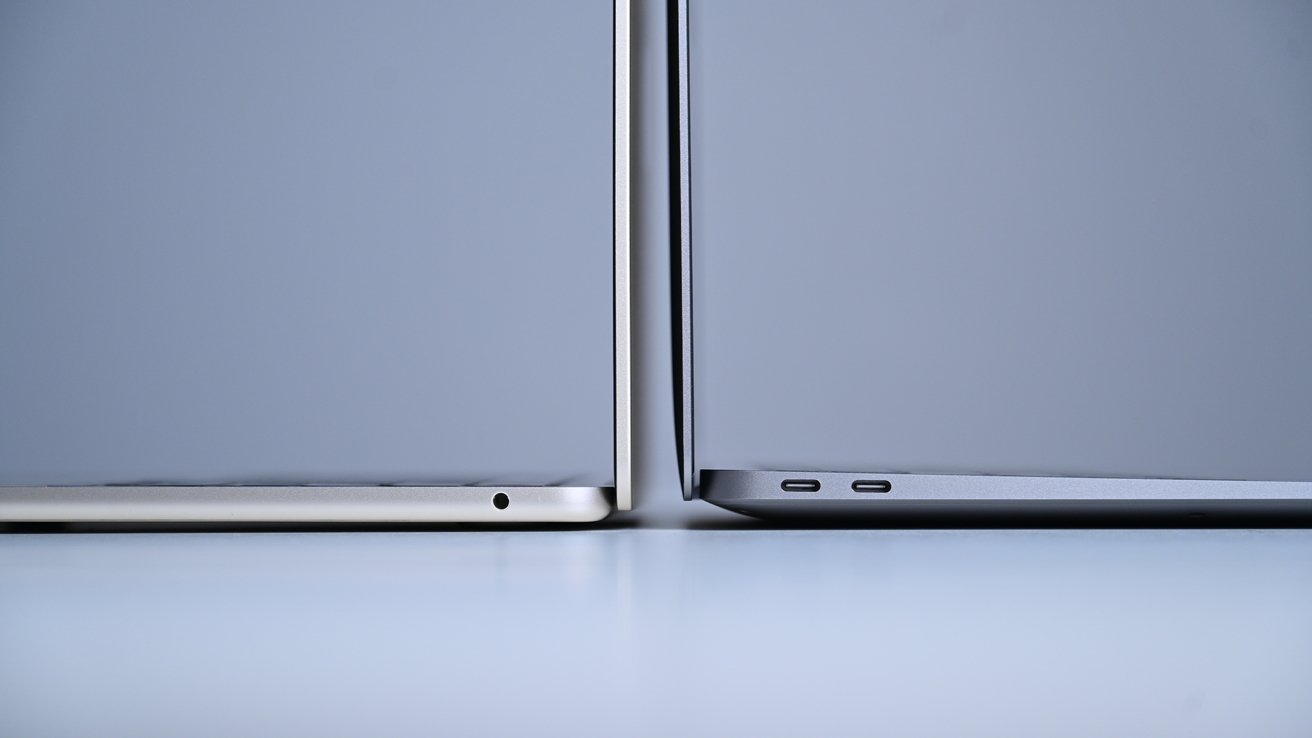 The M2 MacBook Air (left) and M1 MacBook Air (right)
Aside from the dramatic change in appearance, the specification changes are also not to be sniffed at. A faster chip with better graphical performance is always a bonus.
Adding in the Media Engine from the M1 Pro and M1 Max is an even better change, especially for those who work in video but don't want a MacBook Pro. The option for more memory capacity is also a fantastic addition.
The slightly larger display is welcomed, even with the addition of the notch, while the camera in that notch is now much better for those working from home.
Since Apple's still selling the M1 model alongside the M2, you're paying $200 for more processing and graphical performance, a better webcam, potentially more memory, MagSafe charging, a slightly bigger display, better sound, and a modernized appearance.
With all those additions, that extra $200 is probably worth it if you're buying from new.
Existing MacBook Air owners may not be so easily swayed by the upgrade, as there's probably not enough of a performance or feature change to warrant the shift to a new notebook.
Where to buy
Apple's M1 MacBook Air starts at $999, while the M2 MacBook Air starts at $1,199. Both are available from the retailers below. You can also compare prices and check for the
best MacBook Air deals
in our
Mac Price Guide
.
Read on AppleInsider