Apple fails bid to get 'Think Different' trademark restored in EU
The EU's General Court has dismissed Apple's appeal over Swatch's "Tick Different" slogan, saying the objections are based on a "misreading" of the ruling, and the company's "Think Different" trademark remains revoked in the region.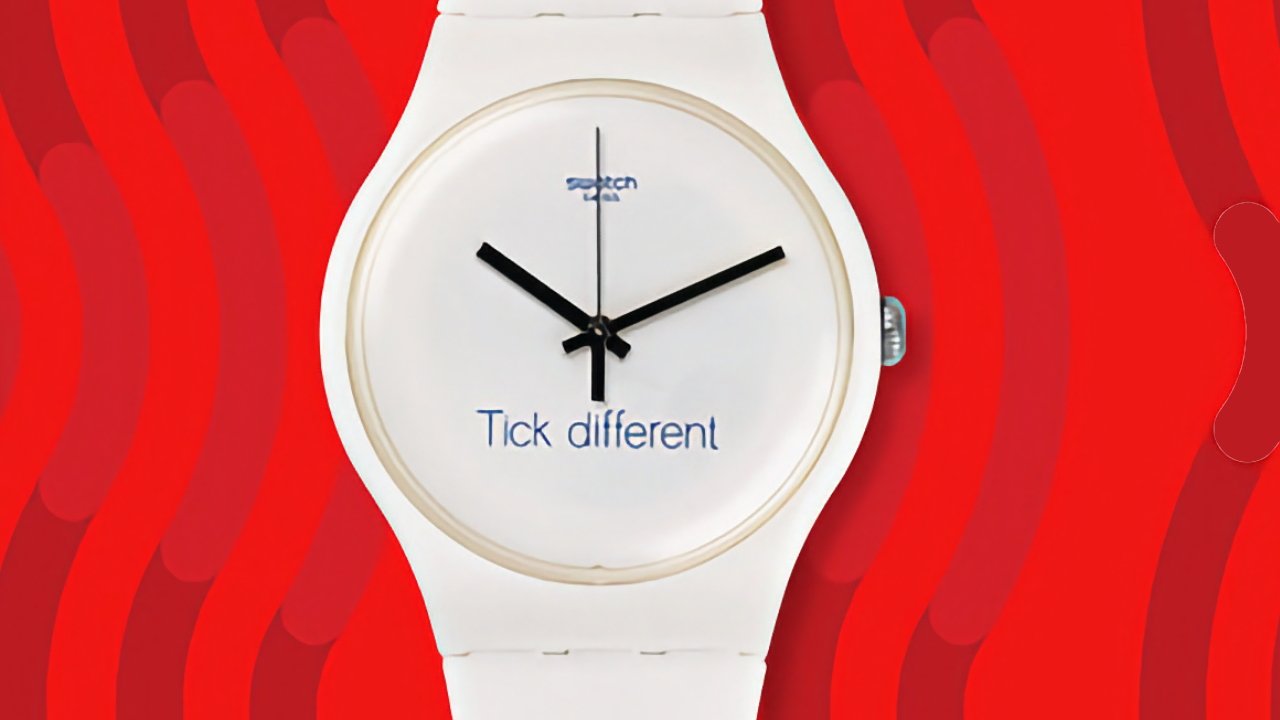 Apple and Swatch have been involved in multiple court cases over with each company claiming the other is infringing on trademarks. The longest-running one concerned Swatch's "Tick Different" line, which Apple sued over in April 2017.
Switzerland's Federal Administrative court finally ruled
in 2019
that Apple's "Think Different" slogan was not sufficiently well known in the region. Apple had been required to show that at least 50% of Swiss people associated "Think Different" with Apple, and the court ruled that this hadn't been proved.
The case then went on to the Court of Justice of the European Union, which has now dismissed Apple's claims that the original ruling was flawed. In
summarizing its decision
, the court said that it "holds that [Apple's] argument is based on a misreading of the contested decisions."
"[The] Board of Appeal did not deny the words 'Think Different' any distinctive character," it continued, "but attributed to them a rather weak distinctive character."
With trademarks, the owner has to prove that the words or phrase is either distinctive by itself, or it achieves distinctiveness by how its use is adopted and known. The court did not disagree that Apple's slogan was distinctive, it instead maintained that this wasn't sufficient to mean consumers would be confused by "Tick Different."
The ruling was also based on how Apple had failed to prove that its trademark "had been put to genuine use for the goods concerned" during the five years before the lawsuit was filed. Apple's submissions around the use of the phrase predated "the relevant period by over 10 years."
This decision is the latest of many for Apple in its protracted trademark cases with Swatch. These include
Swatch's victory
in the UK over its argument that "iWatch" was too similar to "iSwatch."
Apple ultimately did not use the name iWatch, instead opting for
Apple Watch
, but argued that Swatch had trademarked its own name purely as a pre-emptive strike against Apple.
Similarly,
Swatch won
a trademark case over the phrase "one more thing," in 2015, despite that phrase being associated with
Steve Jobs
.
Swatch denied the Jobs connection. The company said that it had chosen the phrase because of its
earlier use
in "Columbo."
Read on AppleInsider