Apple Watch Pro shown off in new renders one day before release
New renders depicting the Apple Watch Pro offers what could be the closest look yet at what Apple may reveal to the world during Wednesday's "Far Out" event.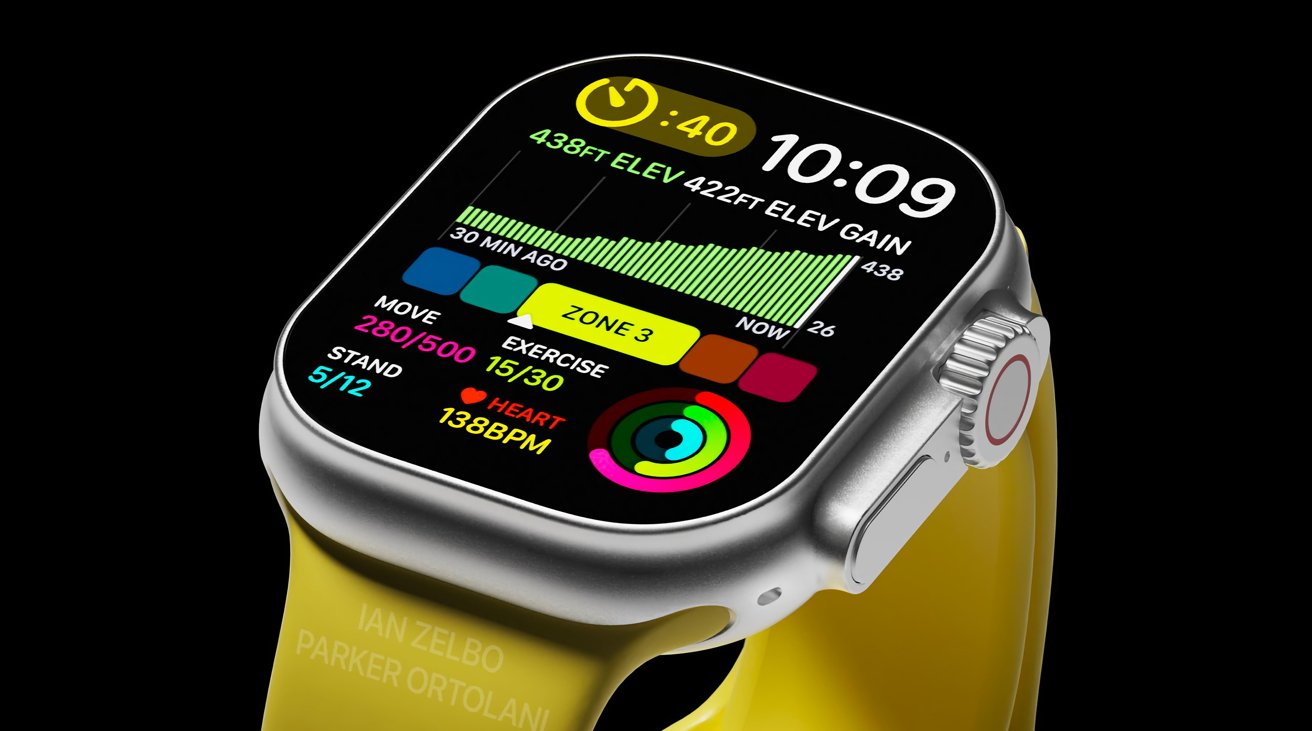 Many rumors have claimed Apple is working on some form of high-grade
Apple Watch
, a rugged model that's bigger than others in the range. One day ahead of Apple's
special event
that may end up launching the Apple Watch Pro, renders have been published that may be very close to what Apple actually reveals.
The renders,
shared on Twitter
in a collaboration between Ian Zelbo and Parker Ortolani, take the form of images and text that you would expect to see on Apple's website post-launch. The accompanying text and images all incorporate the more plausible rumors that have spread about the timepiece, including more recent claims about its casing.
According to the renders, the Pro model will have a
titanium case
, which has been previously referred to in rumors. While the sides are round, the large two-inch screen is
depicted as flat
, again following the rumors.
The casing, a "new design that's more durable," also incorporates a new "crown guard" to protect the Digital Crown. While the usual Digital Crown wheel is exposed on almost all sides,
the hump
covers some of the wheel's sides so it can't be as damaged from an impact.
The hump will also include the usual side button, which is extended out to match the Digital Crown's position. On the other side of the Apple Watch Pro, the renders also depict a
second side button
, which is thought to be a programmable control, possibly used as a shortcut for specific features selected by the user.
New features including a Hiking app
are teased
, as well as a version of
Safari
for the Apple Watch. There are also claims you will be able to see complications in Low Power Mode, as well as being able to continue to track activity and workouts.
The renders also lean on the suggestion that the Apple Watch could
start from $900
and maybe reaching $1,000, but settles for a debut price of $999.
The new model is otherwise expected to be similar to the
Apple Watch Series 8
in many respects, other than its size, design, and ruggedness. Given its stature, potentially being 47 or 49mm in size, it is possible that
new sizes of bands
will be required.
Internally, it should also use the S8 processor, though
there are doubts
it will be that much faster than the S7 used in the
Apple Watch Series 7
. Among the sensor improvements could be
body temperature sensing
, which could allow the Apple Watch to detect a fever for the first time, among other potential temperature-based uses.
Read on AppleInsider