Apple Watch SE 2022 review: The best entry point for Apple Watch
The second-generation
Apple Watch SE
upgrade is the ideal starter Apple Watch, and the best choice for parents who want their child to have one.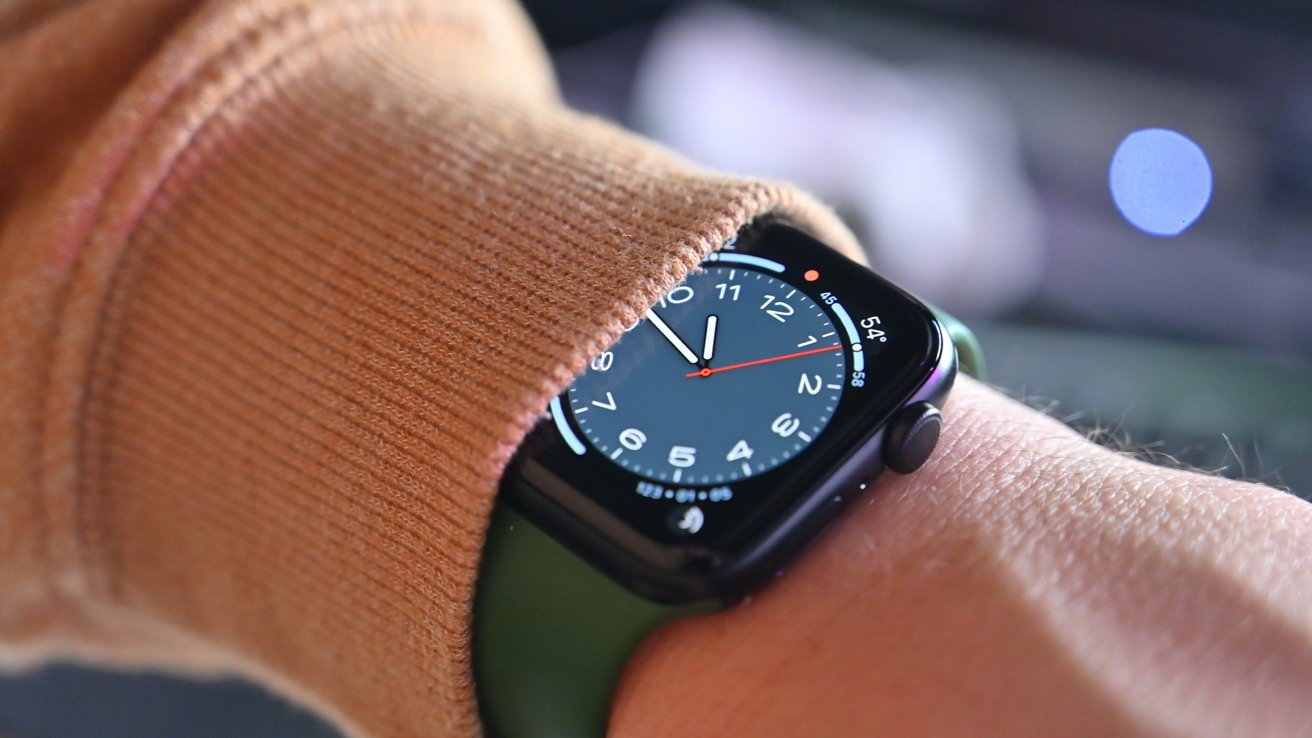 The 2022 Apple Watch SE
When Apple introduced the first Apple Watch SE, it became an extremely attractive option for users who wanted a low-cost smartwatch that worked with their
iPhone
, while also offering many of the comforts of newer models.
At the time, it was sharing the value end of the spectrum with the
Apple Watch Series 3
, the cheapest and oldest in the 2020 range. Now that we're here in late 2022, the second-gen Apple Watch SE, and the Series 3 has been dropped completely.
The Apple Watch SE is now the anchor of the range and with no other Apple-produced competition in its price bracket, it's clearly Apple's starter Apple Watch -- and for parents who want or need their child to have one.
The parent trap
Handing an Apple Watch is an alternative to a parent handing an older child a smartphone. They'll get a tool to help communicate and interact with the rest of their family, and potentially one that could keep the child safe or get them out of danger.
Like the iPhone, you're also handing over something at risk of being damaged or broken, as well as a potential toy that could distract them from other tasks.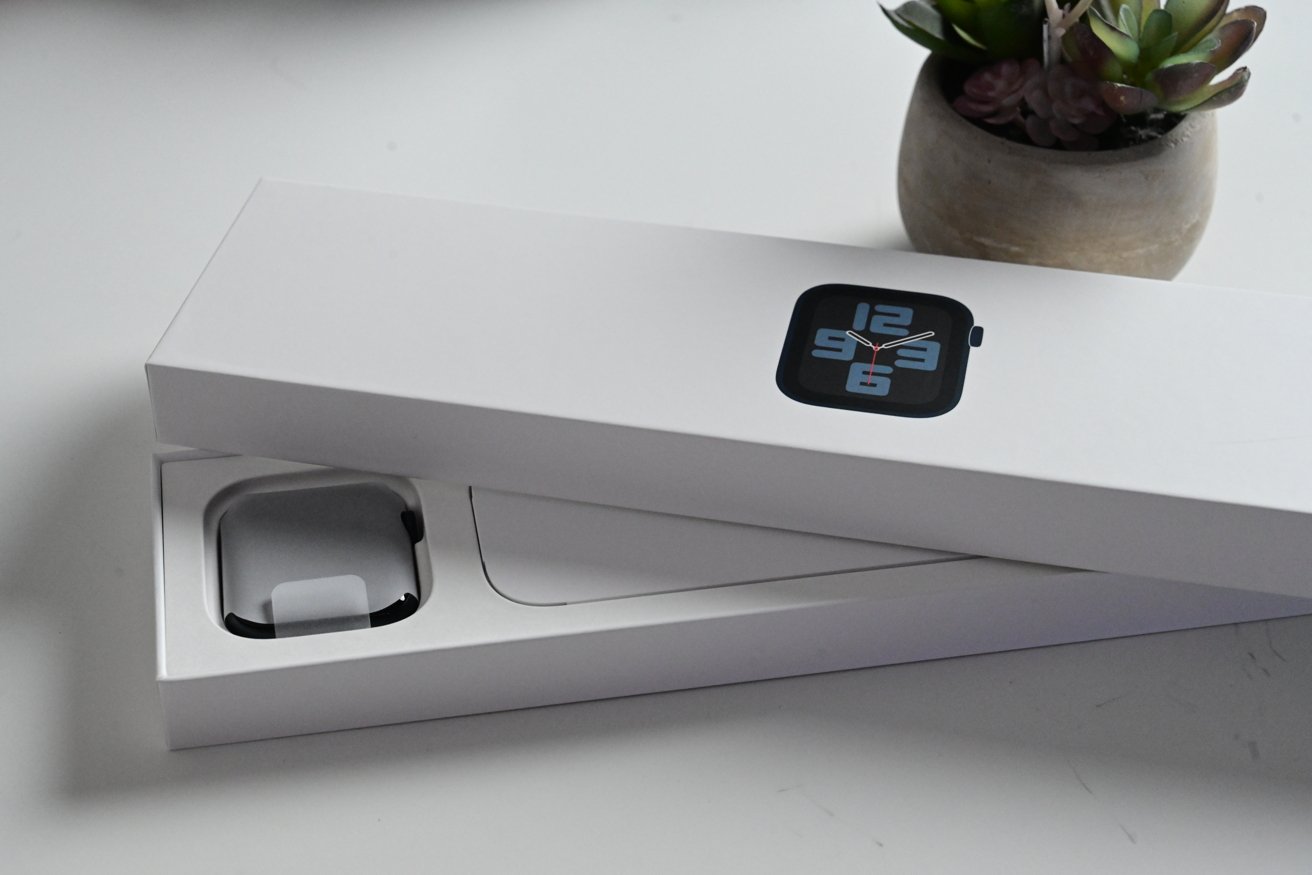 An all too familiar unboxing experience for the Apple Watch SE 2022
On the cost side, the Apple Watch SE with LTE falls into the same category as hardware like the
iPhone SE
, in that it is a reasonably-priced device that won't sting as much as, say, an
iPhone 12
, if it's accidentally damaged. And, with both the iPhone or Apple Watch, there's always the option to go for something more expensive and fully-featured -- but the prospect of handing a child over a thousand dollars worth mobile gear is not one many will be prepared to take.
An Apple Watch SE with LTE offers most of the utility of the other more expensive options, but without the high outlay.
Apple does offer a large amount of tools to make it as easy as possible to set up and lock down a device for a child in Family Setup. You can limit everything from what they can do with the device to how long they can do specific things.
Following this line of thinking, a cellular Apple Watch SE may be a better option than an iPhone SE overall, if you're able to trust your child with the care and handling of it. There are fewer things that a child can do with an Apple Watch, such as an inability to watch YouTube videos, but it still offers a lot of practical utility.
It's also easier for a child to keep an Apple Watch on their person at all times, rather than having it potentially being left behind on a trip or stolen out of a school bag.
For parents wanting a way to keep in touch with their younger children, the Apple Watch SE is probably one of the greater ideas for parents to use instead of an iPhone. While we were reviewing the Apple Watch SE, this is the avenue we took.
Looks all grown up
While the cheapest in the range, the Apple Watch SE still shares the same usability and aesthetic as the modern
Apple Watch Series 8
, with curved sides and rounded corners. The controls are the same, including the Digital Crown and the side button, with spaces for a speaker and microphone, and slots for the bands to clip in at the top and base.
Mostly made from recycled aluminum, the Apple Watch SE has a display that's protected by Ion-X glass, the same as found on the aluminum-encased versions of the Series 8. The 40mm has a 324 by 394-resolution screen, while the 44mm has a 368 by 448-pixel resolution.
That Retina LPTO OLED display isn't the always-on version that its stablemates use, but it does manage 1,000 nits of brightness.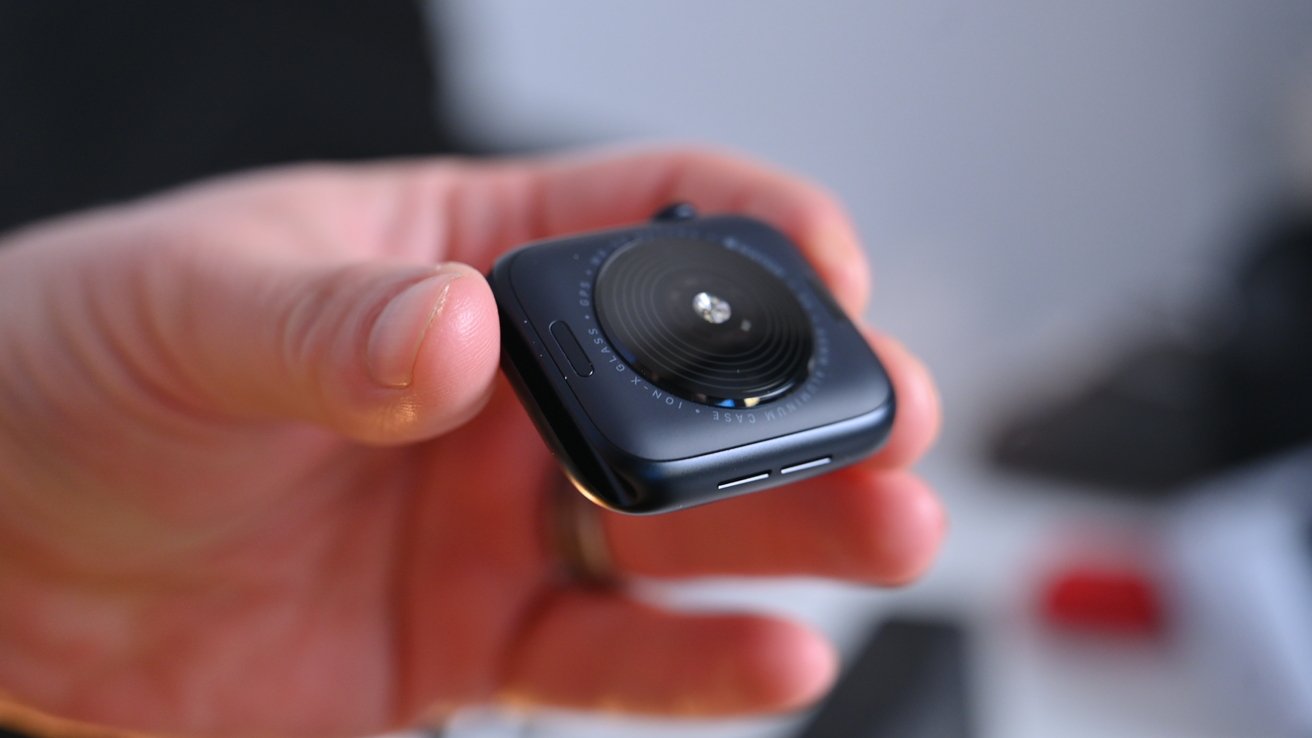 There's a new nylon composite backing to the Apple Watch SE 2022.
On the underside of the Apple Watch SE is the optical heart sensor, though this time Apple has tweaked the back casing. Made from a "nylon composite" -- meaning plastic -- for lightness, the casing fully color-matches the chosen color of the sides, which can either be Midnight, Starlight, or Silver.
The 40mm version weighs 26.4 grams for the GPS model, 27.8 grams for cellular. The 44mm version is a little heavier, at 32.9 grams for GPS, 33 grams for cellular.
As a package, it will hold up to some bumps and knocks from everyday life, while also water resistant to a depth of 50 meters. It'll easily survive accidental immersion in a sink while washing hands, being dropped into a puddle, or the occasional swimming lesson without any trouble.
Internal smarts and health matters
An upgrade from the previous generation is the S8 SiP, the brains of the Apple Watch SE, which is the same one used in the Series 8 and Ultra. It's Apple's latest SiP for the Apple Watch, so it's on par with others in the range.
Compared to the previous model, Apple says that the Apple Watch SE is approximately 20% faster. This doesn't really result in anything tangible for everyday use, so we'll take Apple's word on this.
It does mean that, for all of the features that are identical to what is offered in the Apple Watch Series 8, you're going to have a similar experience with the SE.
On the back is a second-generation optical heart sensor, just one generation behind the Series 8 and Ultra's third-generation version. Heart rate indications include high, low, and irregular rhythms -- all great indicators of potential problems.
You don't get an ECG with the Apple Watch SE, so you won't be able to check for AFib using it. The Blood Oxygen app is also unavailable in the SE, but neither this nor the ECG will be that valuable to school-age users anyway.
You do still get the fitness-related features, including the famous Activity Rings, which could be a valuable gamified way of getting younger users off the couch and working out. Speaking of, you also have the Workout app for monitoring fitness routines.
There are also more advanced metrics available, including heart rate zones, stride length, ground contact time, and vertical oscillation, but this may be more useful to adult or near-adult users interested in fitness.
A connected feature,
Apple Fitness+
, uses the Apple Watch to monitor progress in a workout via the Apple Watch. Three months of free access is included on purchasing an Apple Watch, including the SE.
On the other end of the effort spectrum, sleep-monitoring features and mindfulness meditations are also available on the Apple Watch. Again, this may be a more advanced area that younger users may not necessarily care about, but it's there anyway.
Staying safe
Aside from the heart-related features, the Apple Watch SE includes quite a few elements to try and keep the user safe, or at least to get assistance when required.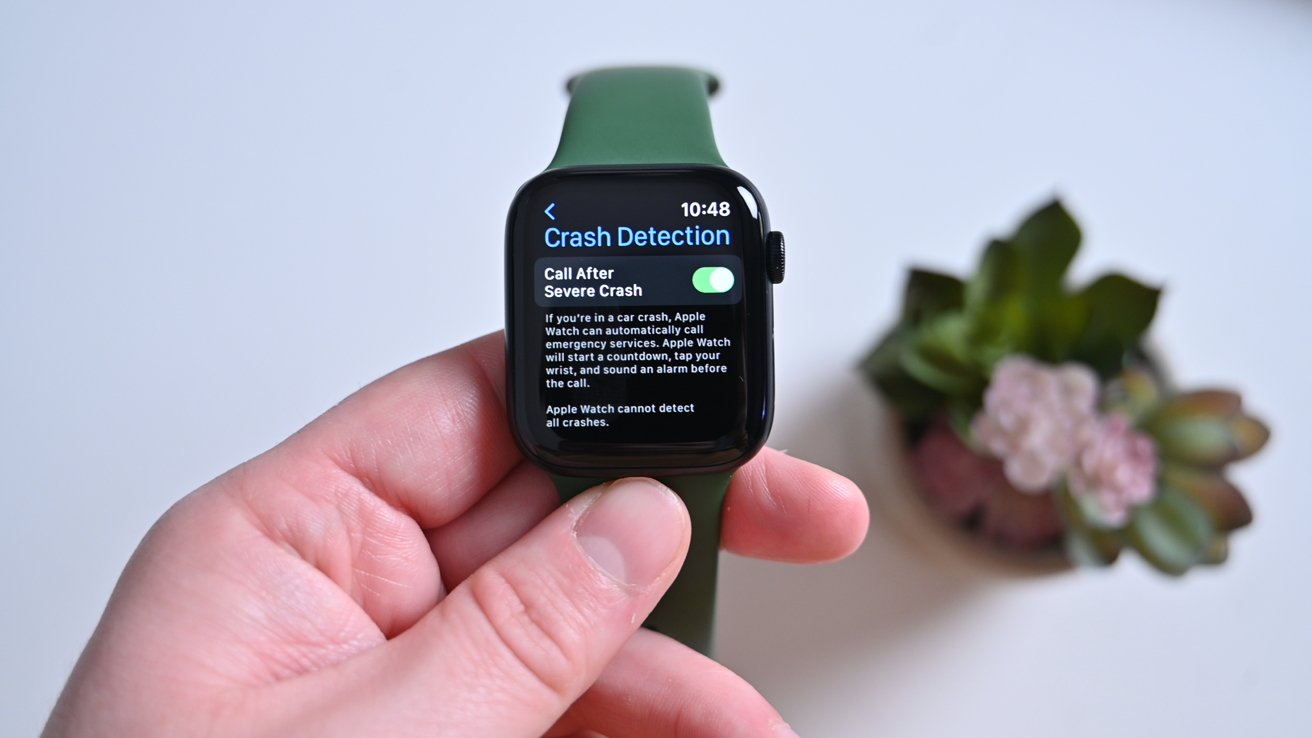 Crash Detection in the Apple Watch is useful, in that it is ever-present for the wearer, and works with every vehicle.
Returning this time are features including fall detection, which can call the emergency services either through a nearby linked iPhone or a built-in cellular connection. This feature also includes an option for messages to be sent to emergency contacts after the call, such as a parent.
New this time around is Crash Detection, which uses a combination of sensors to detect if the user was involved in a collision. Again, emergency services are called automatically and emergency contacts are notified if a crash is detected but the user doesn't respond.
These aren't really everyday features that a user may use, but they are at least a bit of peace of mind for parents, especially if their child is a passenger in a car accident.
Keeping connected, powered, managed
The 2022 Apple Watch SE connects to an iPhone using Wi-Fi 802.11b/g/n and Bluetooth 5.0. While Apple has moved on to Wi-Fi 6 and Bluetooth 5.3 in its newest hardware, the Apple Watch SE will still connect with practically any modern iPhone, or one sold within the last few years, without too much of an issue.
The GPS + Cellular models use UTMS and LTS to establish a connection, which are commonly used. Basically, anywhere you can use an iPhone, you could use an Apple Watch.
The cellular element offers multiple benefits, such as being able to handle phone calls independently of an iPhone. This is very useful if you want to provide a communications method for a child as a parent, but don't want to hand over both an iPhone and an Apple Watch.
On battery life, the Apple Watch SE lasts up to 18 hours on a single charge. That's based on active usage throughout the day as per Apple's definition, but you can get quite a few more hours out of it by not referring to it as much.
Charging is provided by a magnetic puck that attaches to the back, and in turn connects to a USB-C port on an outlet.
Unlike its stablemates, the SE doesn't have access to Ultra Wideband, a technology primarily used for localized range-finding that the
Find My
app can leverage.
NFC is built in, enabling it to be used for
Apple Pay
transactions. Unless you are careful with managing their Apple ID in Family Sharing, such as by enabling Apple Cash Family, this can lead to unchecked spending.
Using Family Sharing for management, and Family Setup to quickly get the Apple Watch SE configured to preset settings set up by the group administrator, you can keep a tight rein of a child's Apple Watch usage.
This includes handling features like Screen Time for limiting how often apps are used, approving and denying spending on the
watchOS
version of the
App Store
, and so on.
You could also set up Schooltime, a feature that manages how an Apple Watch functions while a young user is in school, including limiting the trusted contacts they can call during that time.
Lastly, with an available Internet or cellular connection and a GPS signal, it's possible for parents to track down the Apple Watch SE in Find My, with Location Sharing enabled. This is useful both for monitoring where a child is located, and to track down the Apple Watch SE if it's lost or misplaced.
Schools and Apple Watch
In the process of this review, we've looked around at various digital policies across the US. Some of them are completely unfettered, and there are no restrictions on digital device use at all.
Others, like where we are, have very specific rules on how and when a device like an iPhone or Apple Watch can be used. There is often no difference between the two devices, regardless that they are used for different things, and various use cases.
And in a rare third case, school districts seem unaware completely that the Apple Watch exists, what it does, or how it can do it.
Plus, they can be incredible distractions for children. And, those distractions extend beyond just for the one wearing or using the device, to others around them.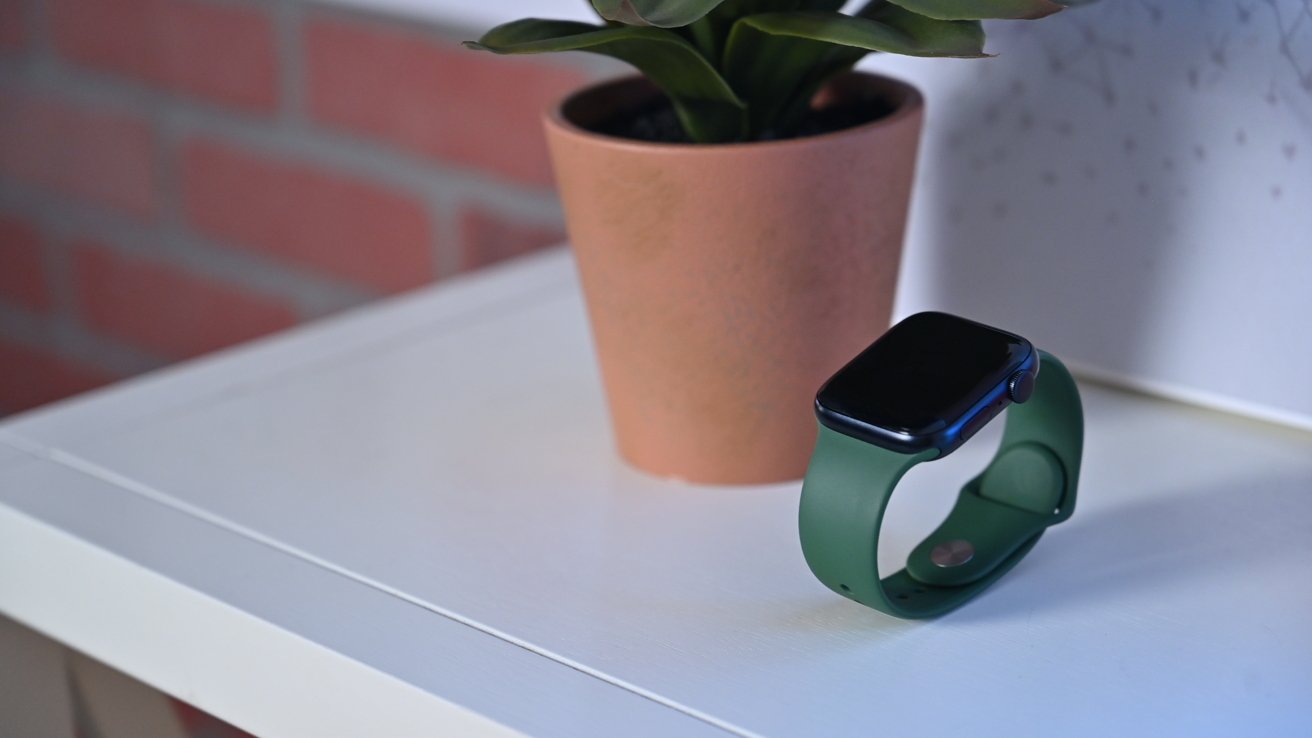 The Apple Watch SE 2022 is a potential distraction in school, so in some cases, it may need to stay at home.
In any of the three scenarios, teachers and administrations are not the bad guys. They have hundreds or thousands of kids to regulate and educate. While a one-size-fits-all situation may not be ideal for your house, it is the best way for the school to deal with the complexities of mobile technology in the increasingly crowded classrooms of the 21st century.
If your child has a specific need for the device, talk to the educators first to find out what the policies are. Define the when, where, and how. That is always better than assuming that it's fine, and discovering after the fact that there is a problem.
The cheapest option
As the value proposition in the Apple Watch range, the Apple Watch SE has to be low-cost to be worthwhile. The base 40mm model is $249 for the GPS edition, $299 if you want to add Cellular on top. If you go for the latter, you will have to make sure it will work with a relevant cellular plan, which introduces an ongoing cost.
The 44mm is an extra $30, making it $279 for GPS-only, $329 for the GPS + Cellular.
By contrast, the Apple Watch Series 8 starts from $399 for the cheapest 41mm model with GPS, rising to $429 for the 45mm version. Cellular editions of each are $499 and $529 respectively.
This makes the Apple Watch SE considerably good value, even if you go for the cellular-equipped model.
Should you buy the Apple Watch SE?
The new Apple Watch SE is going to be hard on the second-hand market. As a first-time smartwatch purchaser, the Apple Watch SE is a great option for anyone wanting to dabble in owning one, without necessarily spending a lot for the higher-end Series 8.
For parents looking to buy a child a device that can help keep the family in contact with each other, and potentially encourage the kid to do more exercise, the Apple Watch SE is the best contender there is for the role.
Indeed, with the relatively reasonable upgrade cost for cellular, it's viable to give a child an Apple Watch SE as a communications device, without handing over a far more distracting, and easily lost, stolen, or damaged iPhone.
Score 4.5 out of 52022 Apple Watch SE - Pros
Affordable without skimping on core features
LTE isn't much more than the Wi-Fi only model
Good alternative to providing a child an iPhone SE
2022 Apple Watch SE - Cons
No always-on display
No ECG features
No SpO2 monitoring
Where to buy the Apple Watch SE 2
The Apple Watch SE 2 is on sale now, with exclusive
Apple Watch deals
available when you tack on AppleCare.
Save $15 on AppleCare when you
shop through this activation link
at Apple Authorized Reseller Adorama and enter promo code
APINSIDER
in the same browsing session. Need help with the code? Here's
how to activate it
.
You can also order the 2022 SE at
Amazon
, where early discounts have knocked $10 off 44mm styles. Easy price comparison is at your fingertips in our
Apple Watch SE 2 Price Guide
.
Read on AppleInsider