Compared: New iPad versus 2021 iPad
Posted:
in iPad
edited November 2022
After a year since the last update, and over a decade with essentially the same design, the entry-level
iPad
now has an iPad Pro-like design. Here's how it compares to the older model.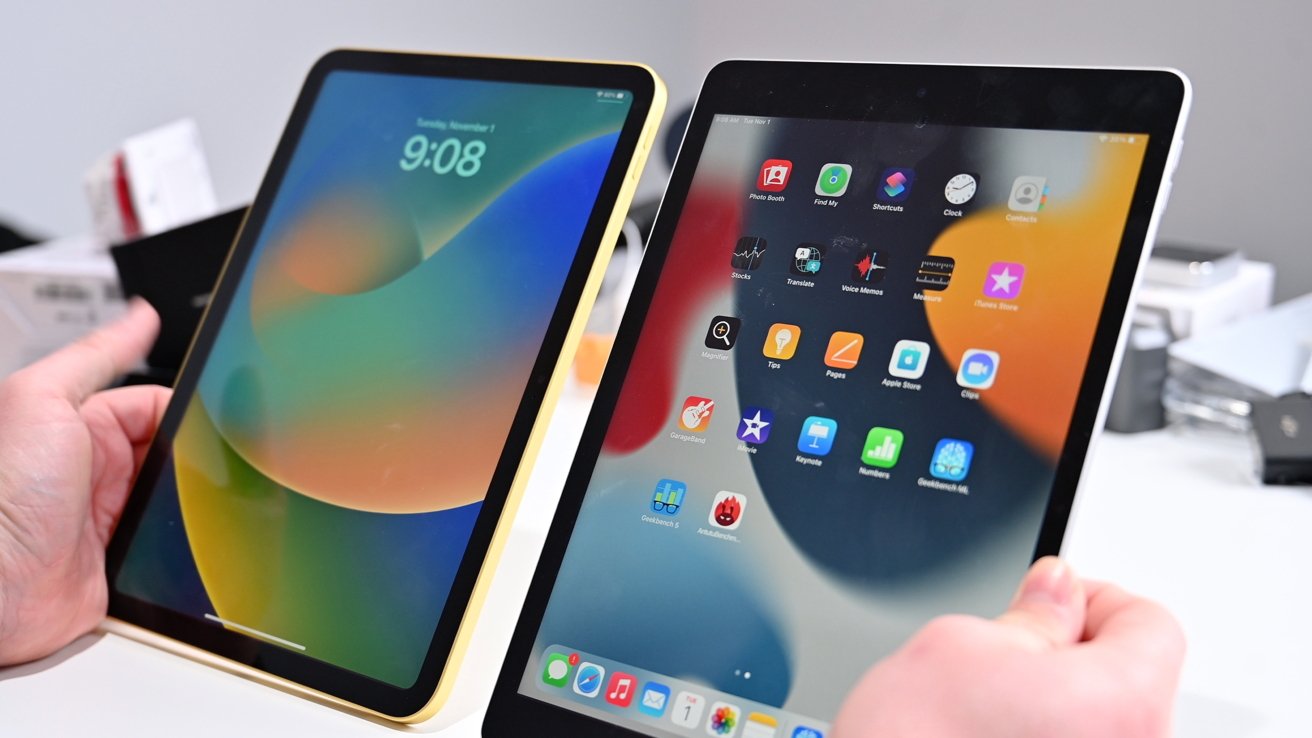 2022 iPad (left) and 2021 iPad (right)
For many years, Apple has positioned the "regular iPad" as an affordable model for educators and budget-conscious buyers. The new
10.9-inch iPad
is more expensive than its predecessor -- which remains available at the same price it was at release -- but it's still a strong option compared to other mid-range tablets.
A few notable upgrades in the 2022 iPad versus the 2020 model include a bigger screen, a new design, no more Home button, a switch from Lightning, an updated rear camera, and more.
2021 iPad versus 2022 iPad - Specifications
Specifications
2021 iPad
2022 iPad
Price (starting)
$329.00
Check prices
$449.00
Check prices
Storage
64GB
256GB
64GB
256GB
Screen resolution (pixels)
2160 x 1620 at 264 ppi
Retina
2360 x 1640 at 264 ppi
Liquid Retina
Screen brightness (nits)
500
500
Screen size (inches)
10.2
10.9
Processor
A13 Bionic
A14 Bionic
Apple Pencil
First generation
First generation
Smart Connector
Yes
Yes
Dimensions (inches)
9.8 x 6.8 x 0.29
9.79 x 7.07 x 0.28
Weight (pounds)
1.07
1.05
Battery (hours)
Up to 10
Up to 10
Rear camera
8MP Wide
12MP Wide
Front camera
12MP Ultra Wide
Center Stage
Landscape 12MP Ultra Wide
Center Stage
Audio
Two speaker
Landscape two speaker
Video
1080p at 25 or 30 fps (rear)
1080p at 25 fps, 30 fps, or 60 fps (front)
4K at 24, 25, 30, or 60 fps (rear)
1080p at 25, 30, or 60 fps (rear)
1080p at 25 fps, 30 fps, or 60 fps (front)
Connectivity
Wi-Fi 5, 4G LTE, Bluetooth 4.2
Wi-Fi 6, 5G, Bluetooth 5.2
Port
Lightning
USB-C
Biometric
Touch ID
Touch ID
Colors
Silver, Space Gray
Blue, Pink, Yellow, Silver
2021 iPad versus 2022 iPad - Design, Size, Weight
This year, Apple has brought the design of the
iPad Pro
and
iPad Air
to the iPad lineup. It's a significant redesign using flat sides, which brings it more in line with the aesthetic of other Apple products.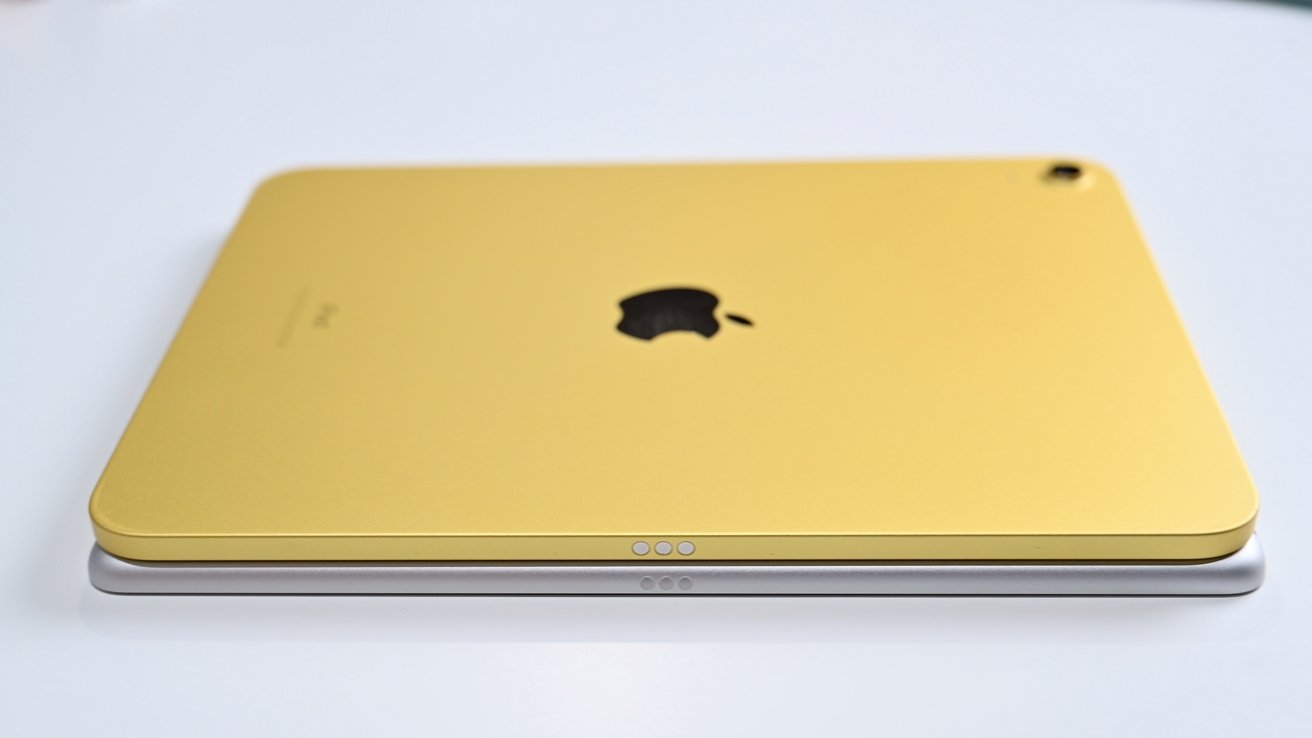 New iPad stacked on the 9th-gen iPad
Although the flat sides on the iPad Pro are also connected to the use of the second-generation
Apple Pencil
, the 2022 iPad sticks with the first-generation Apple Pencil, likely because the landscape camera occupies the internal space where the mount would be.
Since Apple moved from Lightning to USB-C for this release, the Lightning-based first-gen Apple Pencil cannot connect without an adapter, though Apple can supply one to connect the hardware together.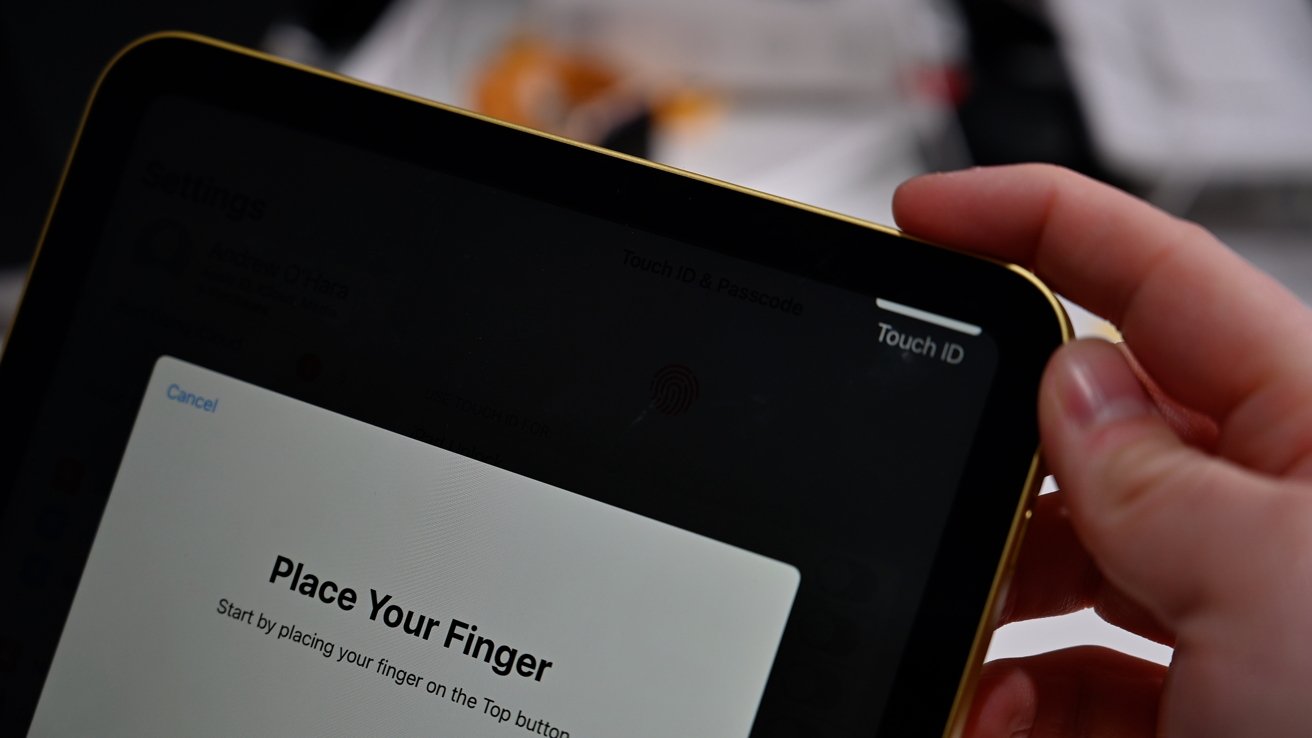 Touch ID on power button
The Home Button with
Touch ID
moves to the top of the device, the same as the iPad Air's Touch ID
power button
.
The dimensions of the 2021 iPad are 9.8 inches by 6.8 inches by 0.29 inches. The Wi-Fi version weighs 1.07 pounds, and the Wi-Fi + Cellular model is 1.09 pounds.
The 2022 iPad is 9.79 inches by 7.07 inches by 0.28 inches, making it slightly larger overall but marginally thinner. It's also lighter at 1.05 pounds for the Wi-Fi model and 1.06 pounds for the Wi-Fi + Cellular variant.
2021 iPad versus 2022 iPad - Display
The 2021 iPad features a 10.2-inch Retina display based on LED technology. It has a 2,160 by 1,620 resolution at 264 pixels-per-inch. It maxes out at 500 nits of brightness.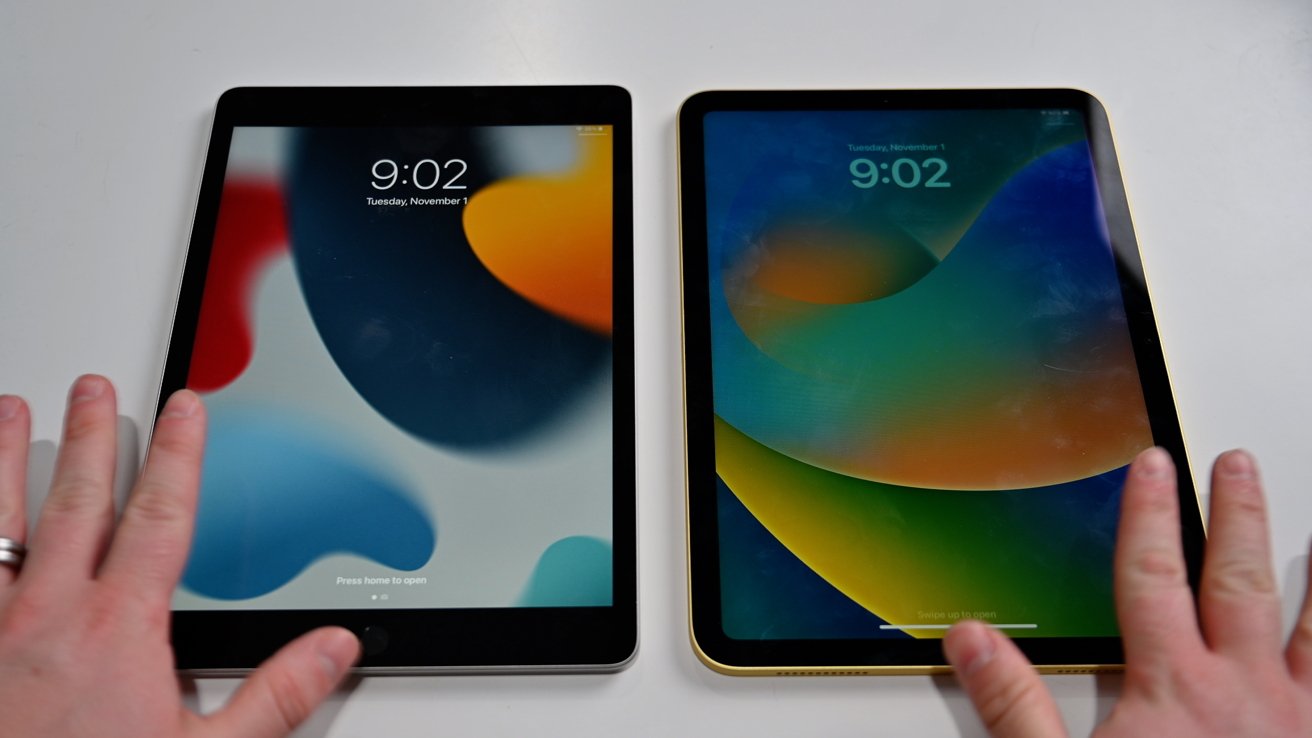 The new display is larger
The 2022 iPad has a larger 10.9-inch Liquid Retina display, which results in a bigger resolution of 2,360 by 1,640 and an equal pixel density of 264ppi. There's no change to the brightness, with it also managing 500 nits.
Both models include True Tone technology that adjusts the display's color temperature based on the ambient environment for more comfortable viewing.
The 2021 iPad included support for the
sRGB
color gamut, a standard color space that came out in 1996. It's the currently defined colorspace for the web, and the 2022 iPad supports it as well, instead of
P3 wide
color gamut in use by other Apple products.
As usual, neither iPad has support for ProMotion, Apple's display technology that exists on the premium iPad Pro.
2021 iPad versus 2022 iPad - Processor & Performance
The ninth-generation 2021 iPad has an A13 Bionic processor, while the 2022 model moves up to the A14 Bionic chip. Apple claims there is a 20% increase in CPU performance and a 10% improvement in graphics over the 2021 iPad.
The A14 Bionic has a 16-core Neural Engine, double the amount of cores in the A13. As a result, it boosts machine learning capabilities by up to 80%.
For a benchmark comparison ahead of Apple shipping the models, we could compare the 9th-gen iPad against the
iPhone 12
, which has an A14 Bionic chip, making it a reasonable analog.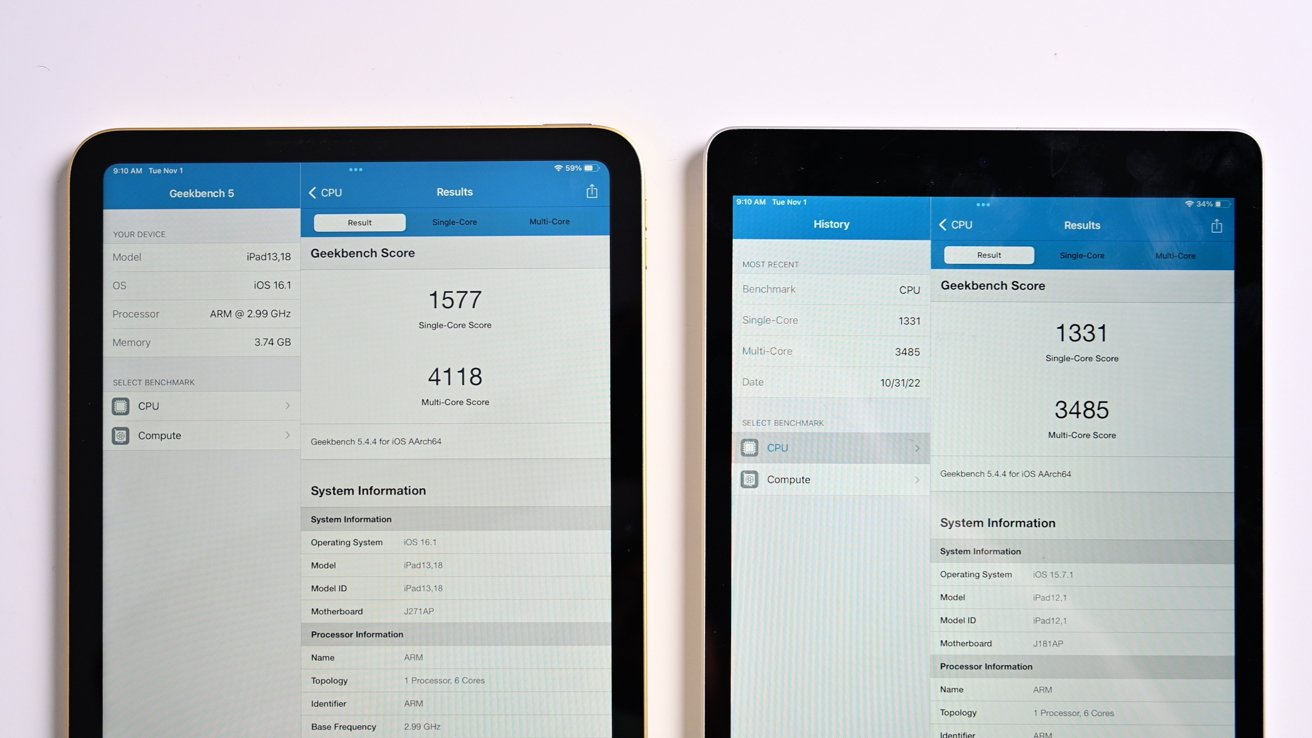 Geekbench 5 results
The 9th-gen iPad's A13 Bionic manages Geekbench 5 scores of 1,325 and 3,304 for the single-core and multi-core tests, respectively. The iPhone 12's A14 scores a higher 1,571 in the single-core test, and 3,863 for the multi-core.
In our Geekbench 5 benchmarks, we saw the single-core score rise from 1331 to 1577, on par with the assumed 20% boost. For the multi-core, it went from 3485 to 4118, another roughly 20% gain.
For tasks such as editing videos, working on school projects, or playing a graphics-intensive game, the A14 Bionic easily handles them all on the iPhone, so the same chip in the iPad should be just as good.
2021 iPad versus 2022 iPad - Cameras
The rear camera on the 2021 iPad is an 8-megapixel Wide camera with an f/2.4 aperture, digital zoom of up to 5x, and HDR for photos.
Video recording with the rear camera on this model includes 1080p HD video recording at 25 fps or 30 fps; 3x video zoom; slo-mo video support for 720p at 120 fps; and time-lapse video with stabilization.
The 2022 model's rear camera is a higher-resolution 12MP Wide shooter with an f/1.8 aperture, a 5x digital zoom, and Smart HDR 3.
Video goes up to 4K 60fps, a big upgrade for the 2022 iPad, with slo-mo also boosted to 1080p at up to 240fps. You also get extended dynamic range for video up to 30fps, as well as a 3x zoom and cinematic video stabilization.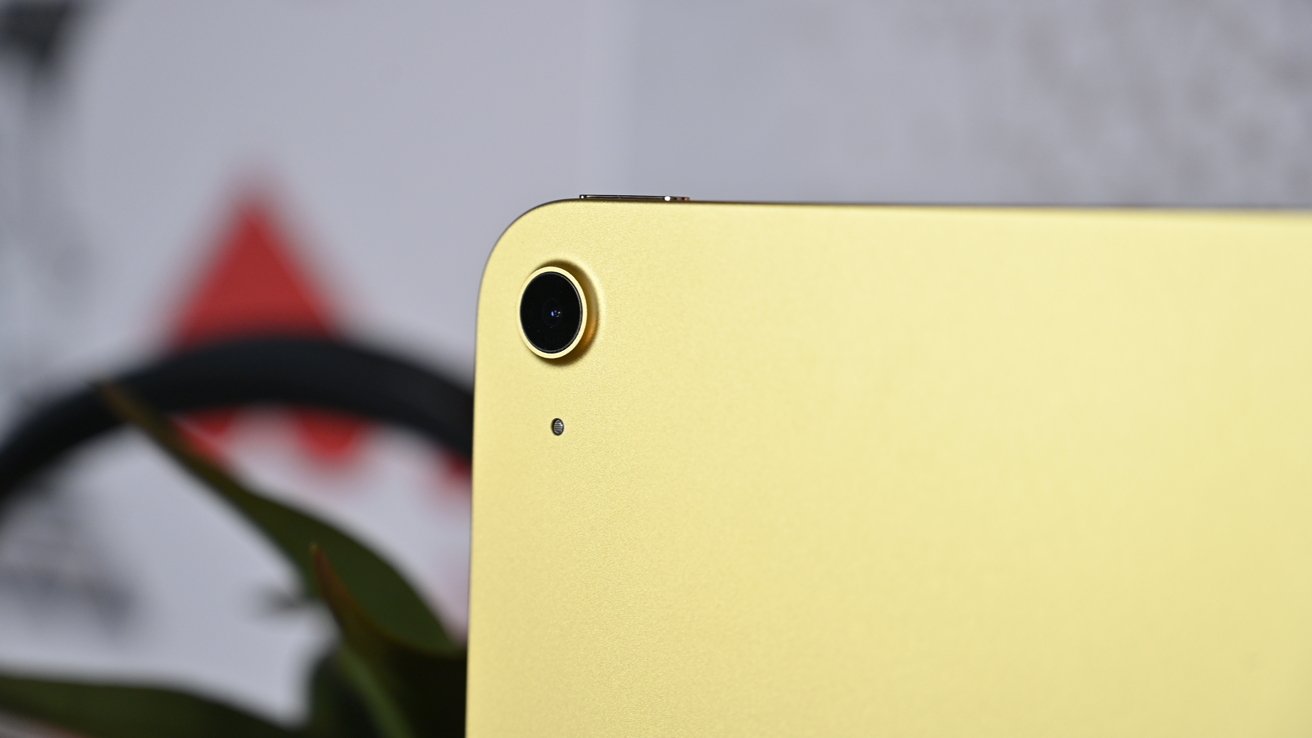 Updated rear camera
The front cameras of both models are 12-megapixel in resolution, though while the 2021 is Ultra Wide, the 2022 is Landscape Ultra Wide.
There's also a big change in terms of positioning for the front camera, with it no longer on the short "top" edge of the tablet, but instead halfway along one side.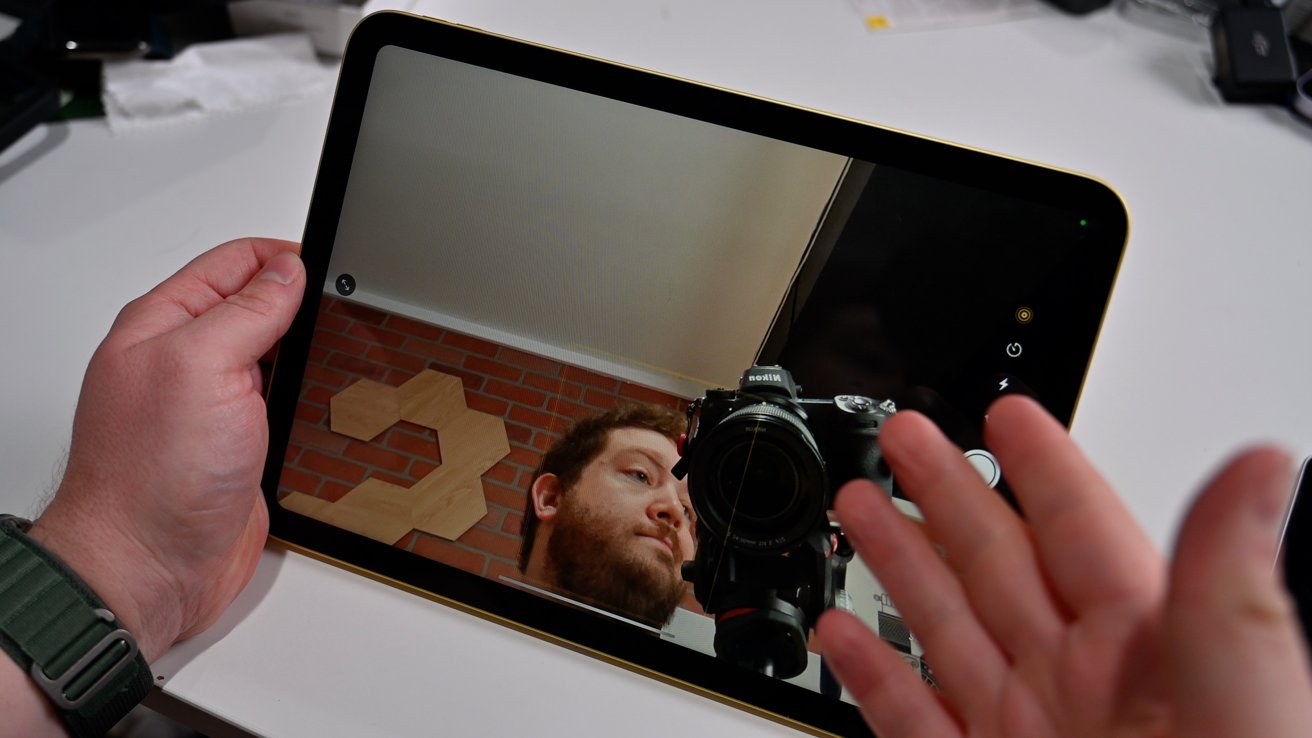 Landscape camera
For users, this means they will be able to "look" directly at the camera when in a
FaceTime
call and holding the iPad in a landscape orientation.
2021 iPad versus 2022 iPad - Connectivity
Wireless connectivity for the 2021 model is Wi-Fi 802.11ac, and Bluetooth 4.2. The 2022 iPad supports Wi-Fi 6, otherwise known as 802.11ax, and Bluetooth 5.2.
The cellular variant of the 2022 iPad brings 5G connectivity with mmWave support for faster networking speeds. The 2021 model is limited to 4G LTE, which is still reasonably usable while the faster 5G continues to roll out.
Both models support Nano-SIM cards and eSIM technology, so unlike the
iPhone 14
in the U.S., you can still use a physical SIM if you want.
2021 iPad versus 2022 iPad - Power and Battery
At face value, both models offer users the same battery life, with up to 10 hours of surfing the web on Wi-Fi or watching video. Using a cellular connection reduces battery life for web surfing down to 9 hours.
It is fairly typical for Apple to try and keep the battery life for the iPad at 10 hours or thereabouts. However, this time Apple has less battery to play with.
While the 9th-gen model had a 32.4-watt-hour lithium-polymer battery, the 10th uses a 28.6-watt-hour version. Even with the disadvantage of a larger display, a generally power-hungry component, it seems Apple has managed enough power efficiencies to maintain its ten-hour claim, while also reducing the battery's capacity.
We'll see how this plays out when we have the unit in-hand.
2021 iPad versus 2022 iPad - Other Features
There is a new Magic Keyboard Folio for the new 2022 iPad, while the 2021 model only supports the Smart Keyboard. The
Magic Keyboard
Folio features full-size keys with one millimeter of travel for responsive typing.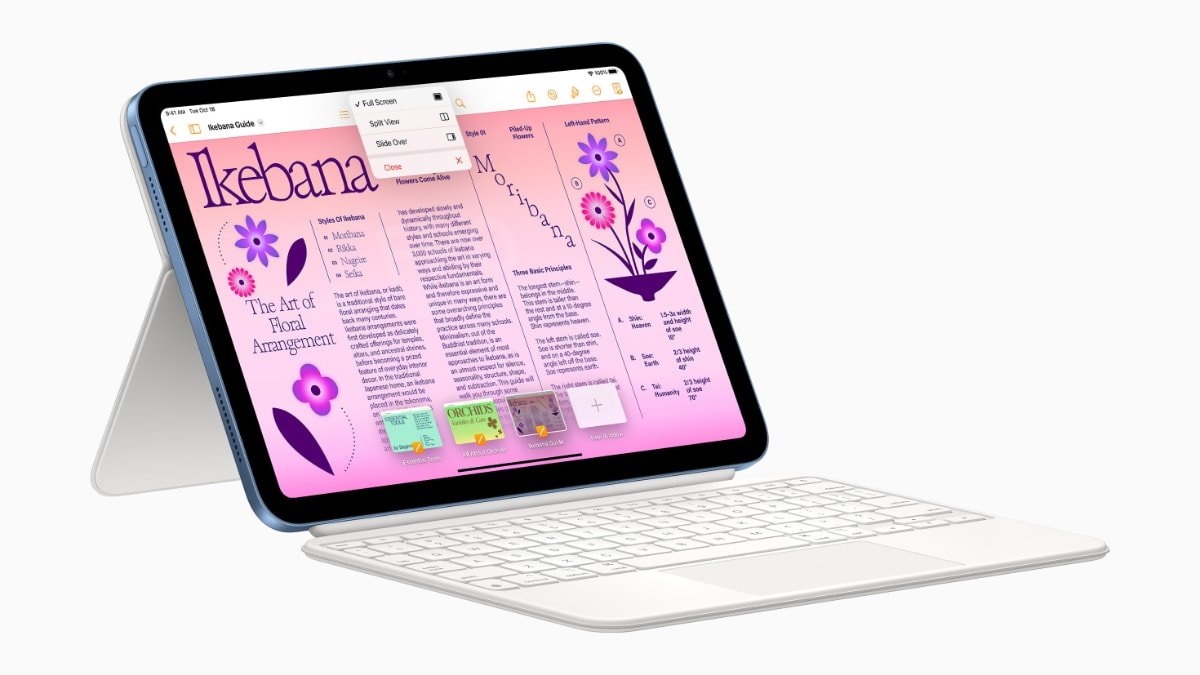 The 2022 iPad supports the Magic Keyboard Folio with trackpad
The new 14-key function row allows easy access to tasks such as adjusting the volume or display brightness. The keyboard also introduces a large trackpad with multi-touch gestures for swiping, pinching, and scrolling.
The Magic Keyboard Folio is a two-piece design with a detachable keyboard and a protective back cover that attaches magnetically to the 2022 iPad. It uses the Smart Connector on the iPad, so it never needs to be charged or paired.
2021 iPad versus 2022 iPad - Colors, Capacity, Pricing
The 2021 iPad sticks with Space Gray and Silver, while the 2022 model comes in Blue, Pink, Silver, and Yellow. The capacity of both models are 64GB and 256GB.
Pricing for the 2021 iPad starts from $329 for the 64GB Wi-Fi model, moving up to $479 for 256GB. The Wi-Fi + Cellular variant is $459 for 64GB of storage, $609 for 256GB.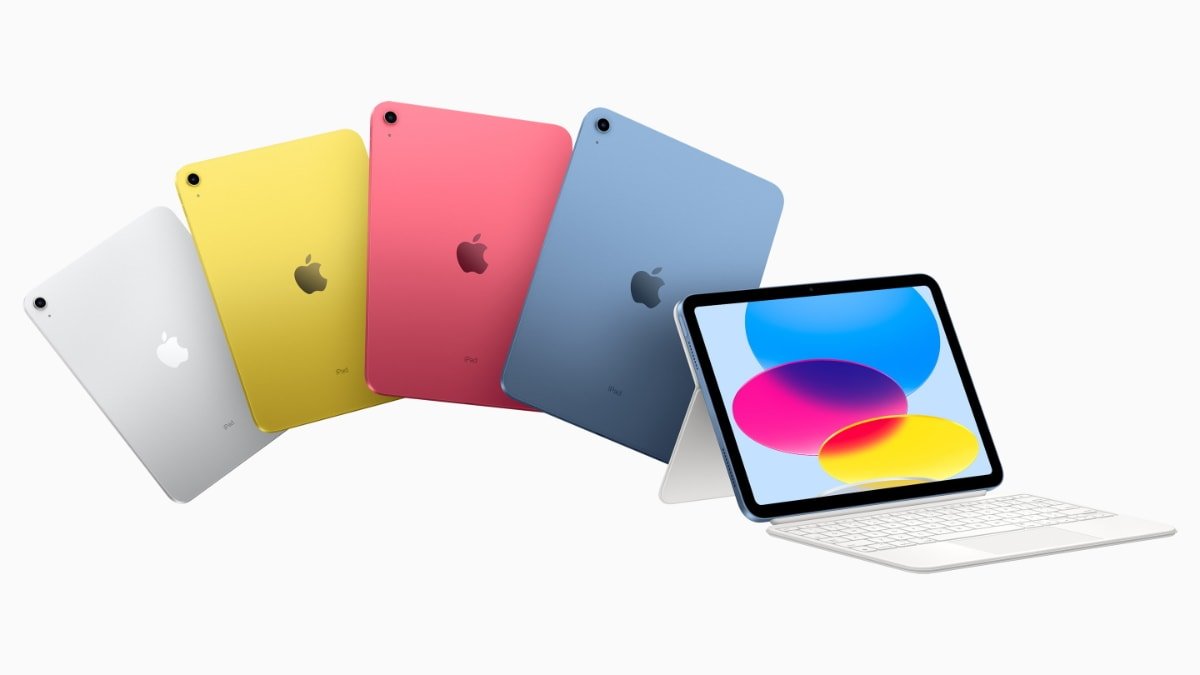 The 2022 iPad comes in new colors: blue, pink, yellow, and silver
For the 2022 iPad, the Wi-Fi model starts at $449 for 64GB and $599 for 256GB. Prices for the Wi-Fi + Cellular variant start at $599 for 64GB and hit $749 for 265GB of storage.
2021 iPad versus 2022 iPad - What to Buy
Although the 2022 iPad is more expensive than the preceding model, it has powerful features that make it a good upgrade for existing customers and an attractive option for new buyers.
Apple said the A14 Bionic chip is up to five times faster than the best-selling Android tablet. As a result, users looking to upgrade from a seventh-generation iPad that uses an A10 chip will likely see up to 3x improvement in overall performance with the 2022 iPad.
Remote workers and others who participate in video conferences will love the front camera position on the side for landscape mode, since they're probably going to orient the iPad that way most of the time. Other new iPad features are 5G connectivity and Wi-Fi 6, which can power work and play on the go.
The upgraded 12MP camera on the rear can shoot 4K video, making it great for photographers and videographers with their iPad. Writers will love the Magic Keyboard Folio, which offers a better experience than the older Smart Keyboard.
The only real miss with the new batch is the continued use of the first-generation Apple Pencil. The use of an adapter to recharge and pair the Apple Pencil could become an issue, especially if users end up misplacing it.
Overall, the new iPad is a worthwhile upgrade, although at some price points depending on the configuration, people would do well to look at the iPad Air lineup, which has even more power than these cheaper iPads.
The 2022 model is immediately available to order and starts shipping on Wednesday, October 26.
Where to buy Apple's new iPad
Apple's new iPad 10th Generation is available for purchase from Apple resellers, with
prices starting at $449
. Those looking to tack on AppleCare can save $14.01 on the extended protection plan when ordering from Adorama with promo code
APINSIDER
using
this activation link
.
The iPad 9th Generation, meanwhile, is heavily discounted
at Amazon
, with prices at press time dipping to as low as $298.
You can find the latest
iPad deals
in our
iPad Price Guide
, which is updated throughout the day.
Read on AppleInsider