Brydge ProDock review: A vertical Thunderbolt 4 docking station for modern Macs
The new ProDock is Brydge's take on a vertical docking station that delivers the power of
Thunderbolt 4
to both MacBook Pro and MacBook Air.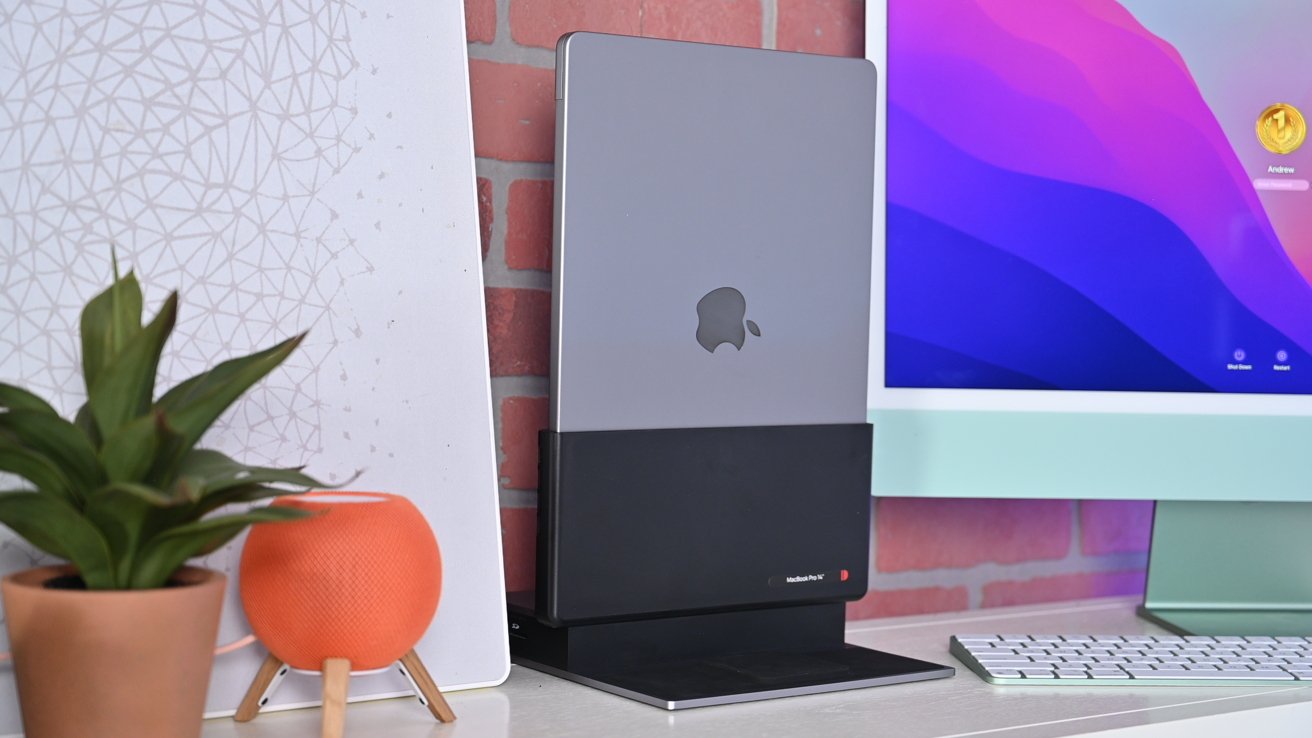 Brydge ProDock
After acquiring Henge, Brydge has continued to offer minor upgrades to its well-regarded vertical docks. With the new ProDock, Brydge has delivered its first meaningful redesign bringing new features and connectivity standards.
The headlining features include Thunderbolt 4, a
MagSafe
-compatible charger, and support for three different Macs with a single design. While vertical docks may not suit everyone's needs, those that need them will likely be happy with what Brydge offers.
An easy setup
There's some minor setup that comes with the ProDock, you can't just open the box and instantly start using it. One of its distinguishing factors is that it can support the 2021
16-inch MacBook Pro
, the 2021
14-inch MacBook Pro
, or the M2
MacBook Air
.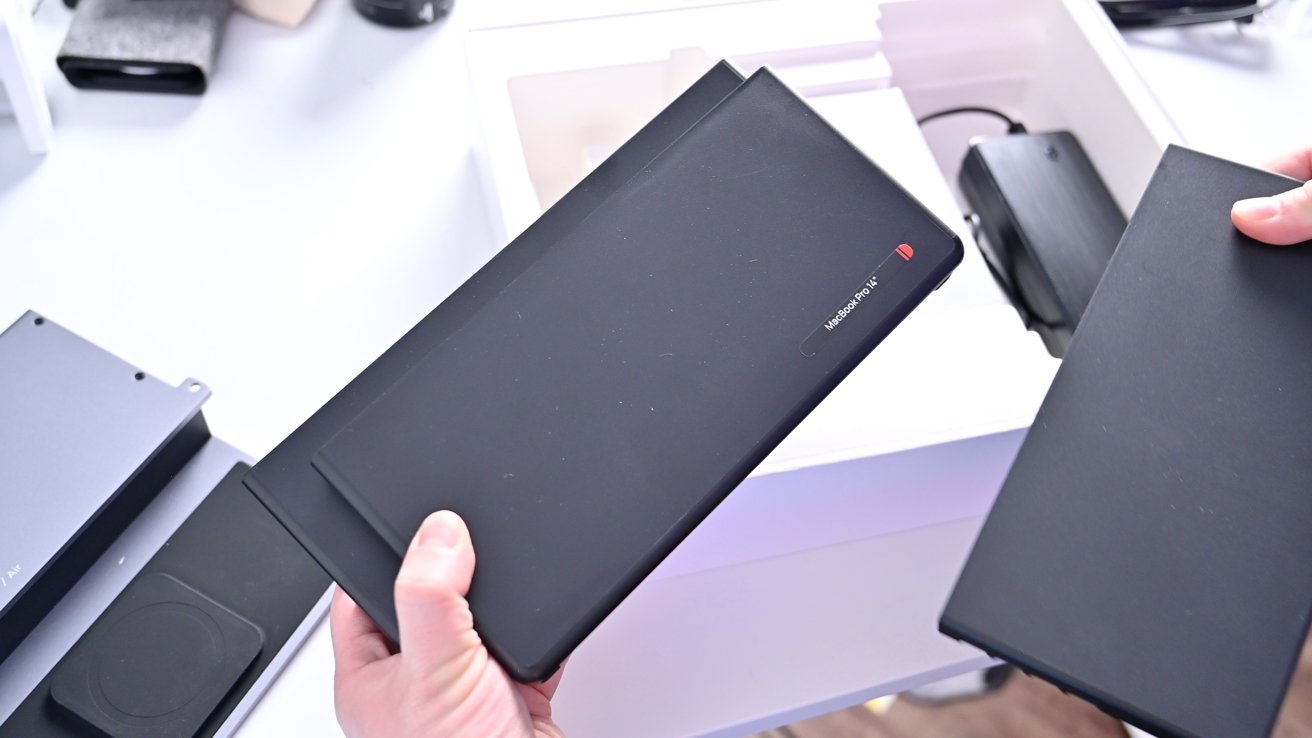 Dock inserts
To support these different machines, it ships with three plastic guides -- one for each size of
Mac
. Each insert guide is denoted by the name of the machine it fits in the lower-right corner.
Select the guide you need and set the others aside, just in case you get another model. Brydge also provides two small hex screws and a miniature screwdriver to complete the setup.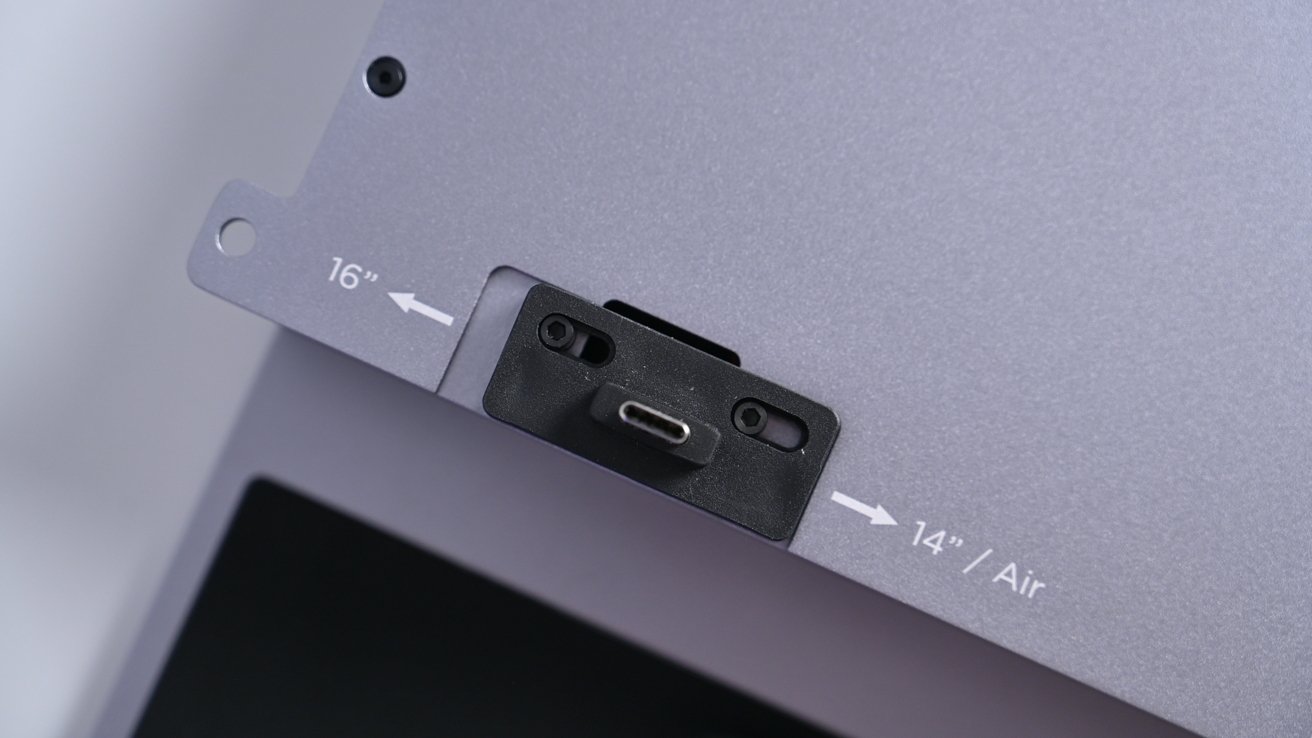 Size switch
Before screwing the guide into place, you need to set the top switch to correspond to the correct Mac. This adjusts where the male Thunderbolt 4 Type-C connector aligns so it can properly connect to your specific Mac.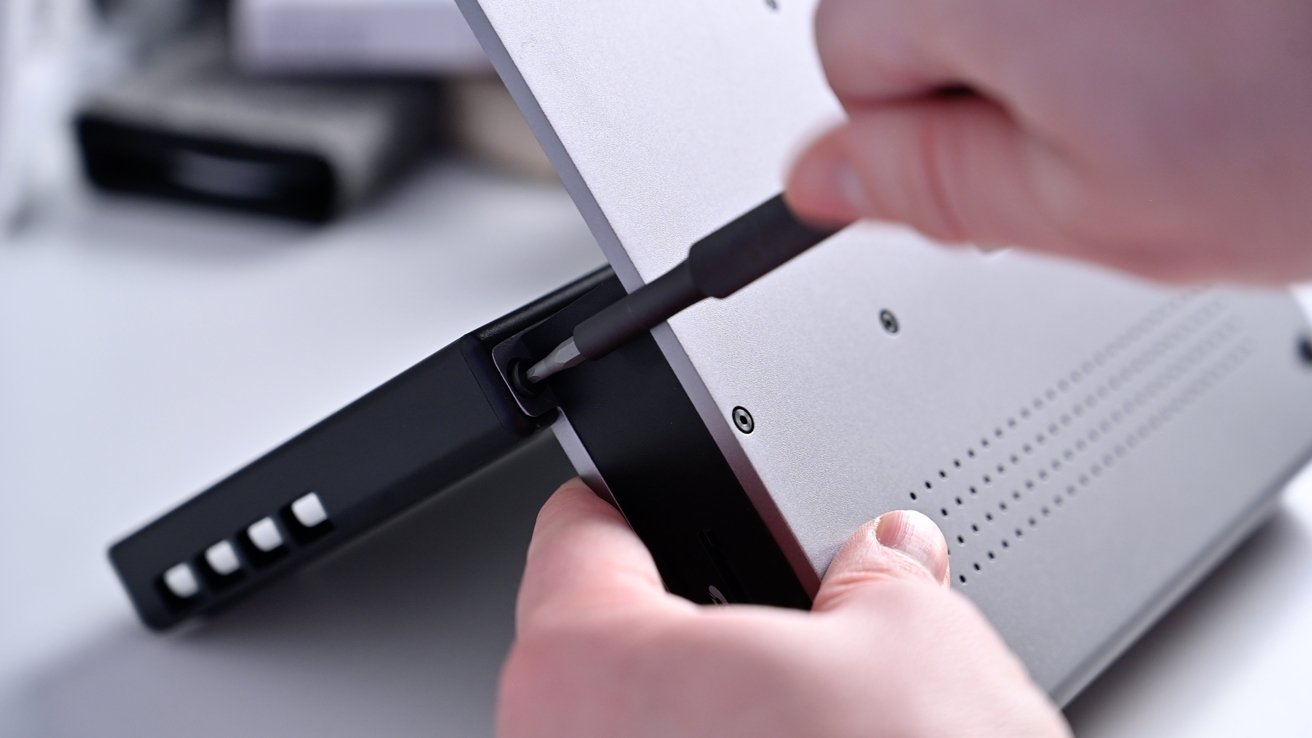 Installing the screws
Finally, you place the guide on top and tighten the two screws into place. It takes only 2 to 3 minutes to assemble and to get started using the dock with your hardware.
This setup only needs to be done once, but itdoes leave the possibility open for Brydge to expand compatibility in the future.
Depending on how the MacBook line changes in the coming years, we can see Brydge offering more guides to fit new machines, without users needing to buy a whole new vertical docking station.
Plenty of ports
The ProDock has 10 total output ports, dispersed on three different sides of the device. There are some wins here as well as a few misses.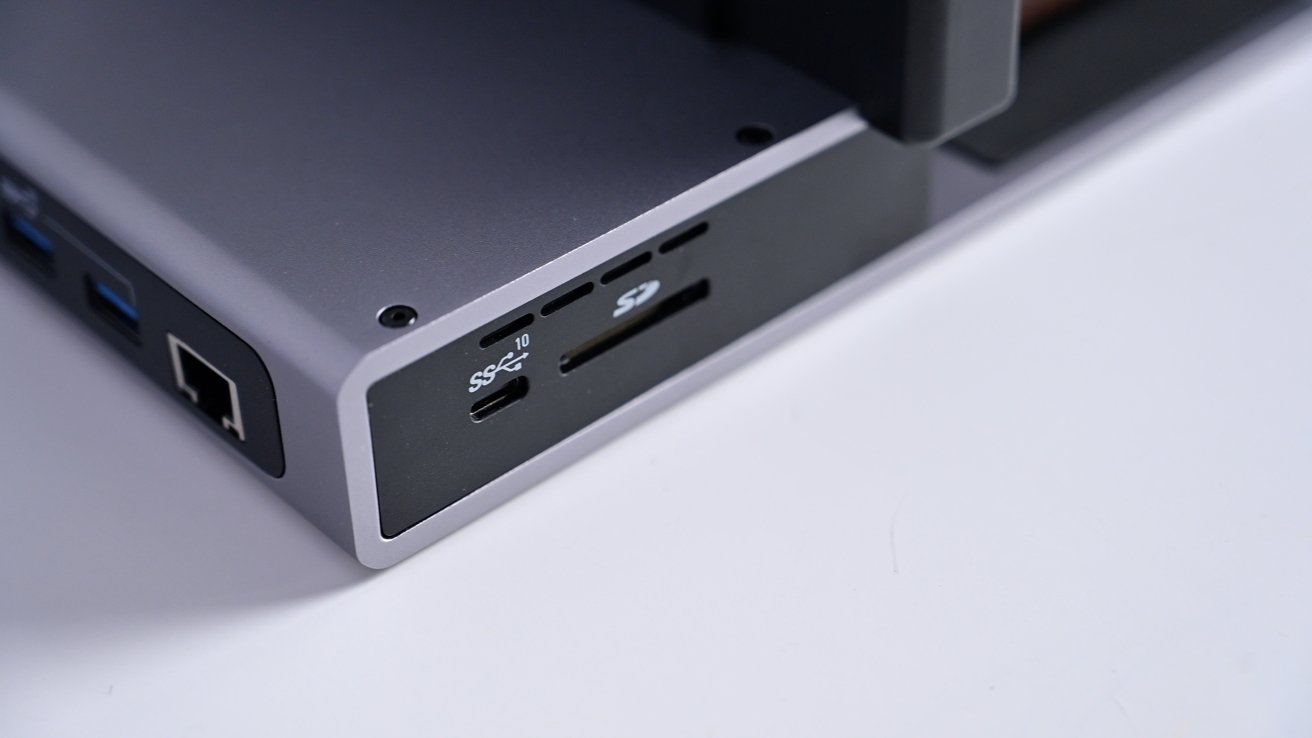 Left side ports
On the left, we have a USB 3.2 Gen 1 Type-C port that is capable of 5.5W of power and 5Gbps of data. It's partnered with a full-sized SD card reader on its right.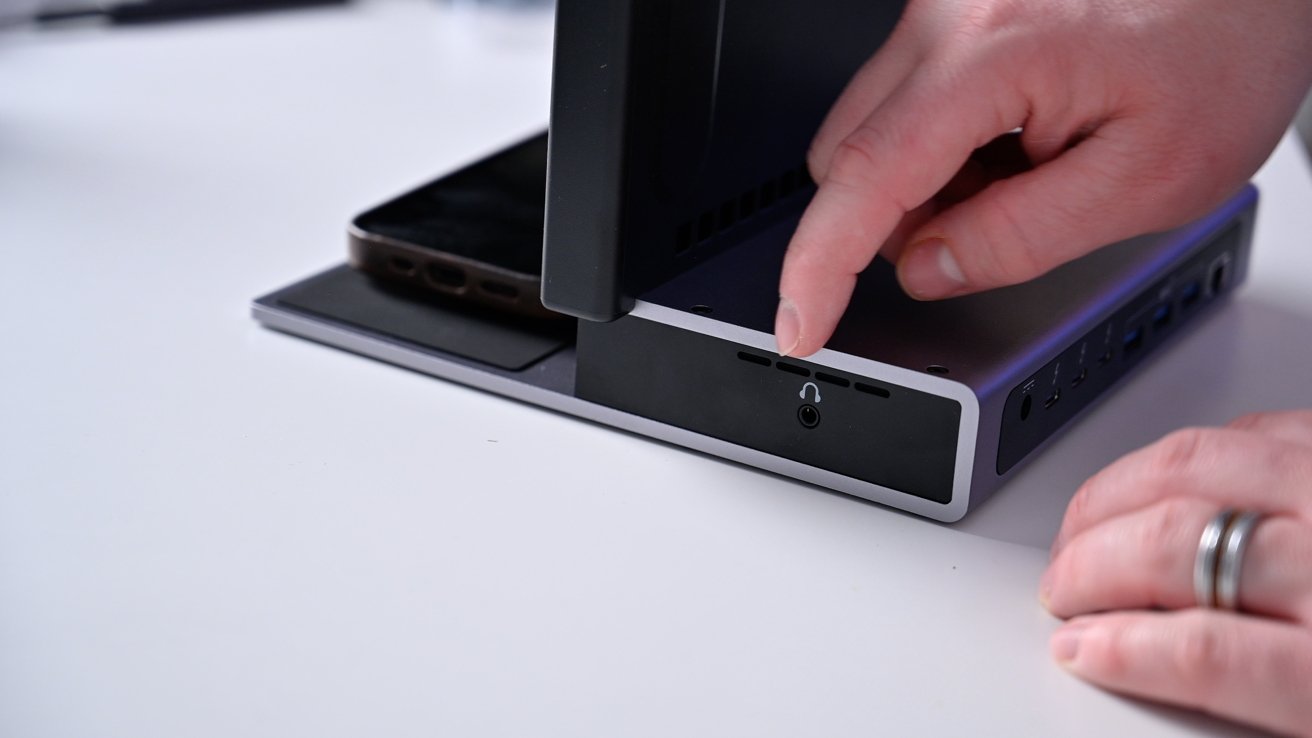 Right side ports
Flipping the dock around, there's a single 3.5mm audio jack. The side placement of the card reader, USB port, and headphone jack helps to keep them readily available without moving the dock around.
Depending on your desk placement, you may still end up with one of the sides facing away from you and the ports still out of reach. Placing them directly on the front would have made them more accessible, but the newfound wireless charger rules out that option.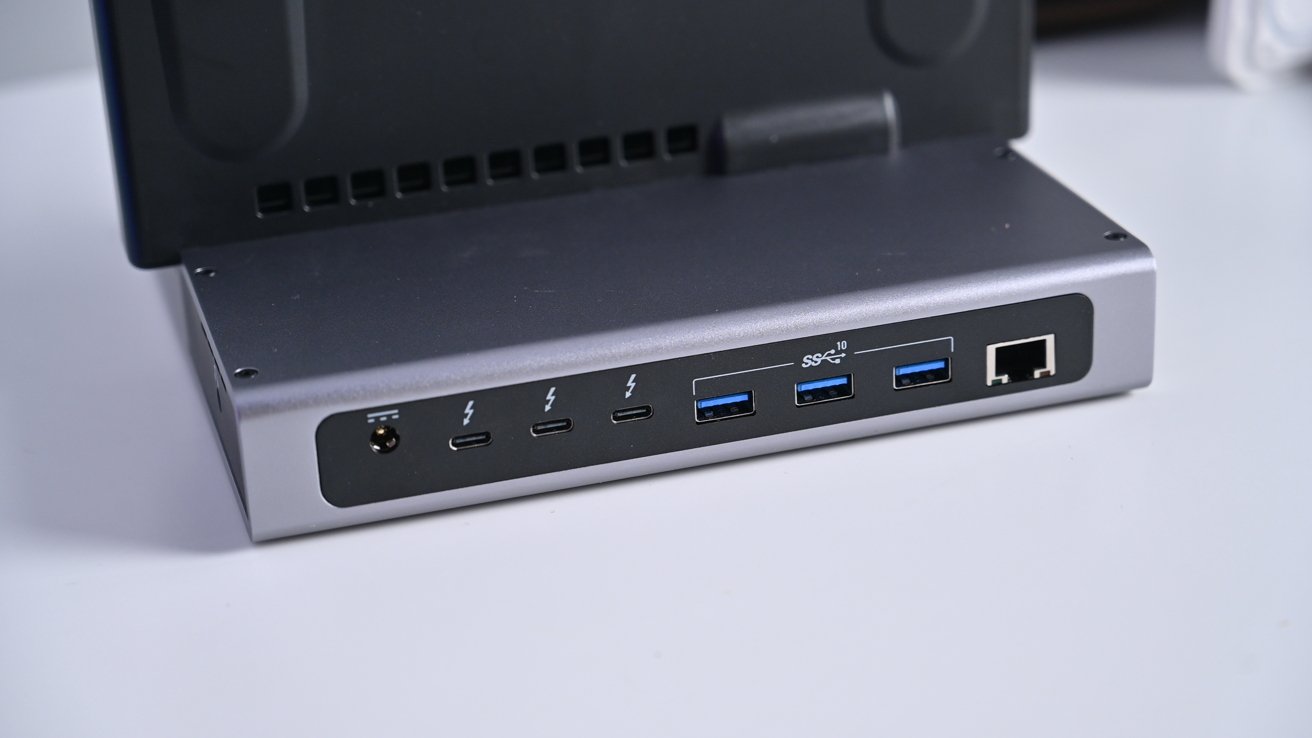 Rear ports
It has three Thunderbolt 4 downstream ports and three USB 3.2 Gen 2 Type-A ports that can deliver up to 5.5W of power. The last port is a gigabit Ethernet port.
Brydge provides a 135W power adapter in the box that plugs in on the back of the unit via a standard barrel connector. At maximum power draw, the ProDock can deliver 98W of power to your Mac.
Overall, this is a serviceable port selection though the speed on the side USB-C port is disappointing. We'd love to have seen a Type-C port that could deliver at least 18W of juice rather than a measly 5W.
There is also no MicroSD card reader, meaning you need to keep an adapter handy if you use the smaller media format.
These aren't insurmountable issues as the rear-facing Thunderbolt 4 ports deliver more power if needed, and an adapter can be merely left in place semi-permanently. It's just slightly less convenient.
Should you buy the Brydge ProDock?
The Brydge ProDock is a great, if niche, device. Not everyone needs a vertical docking station. They instead would utilize the screen on their laptop alongside a secondary display.
Sometimes, it's more convenient to use just the external monitors. Our currently prevailing setup has our Mac closed in clamshell mode while using a pair of external displays, including Apple's
Studio Display
.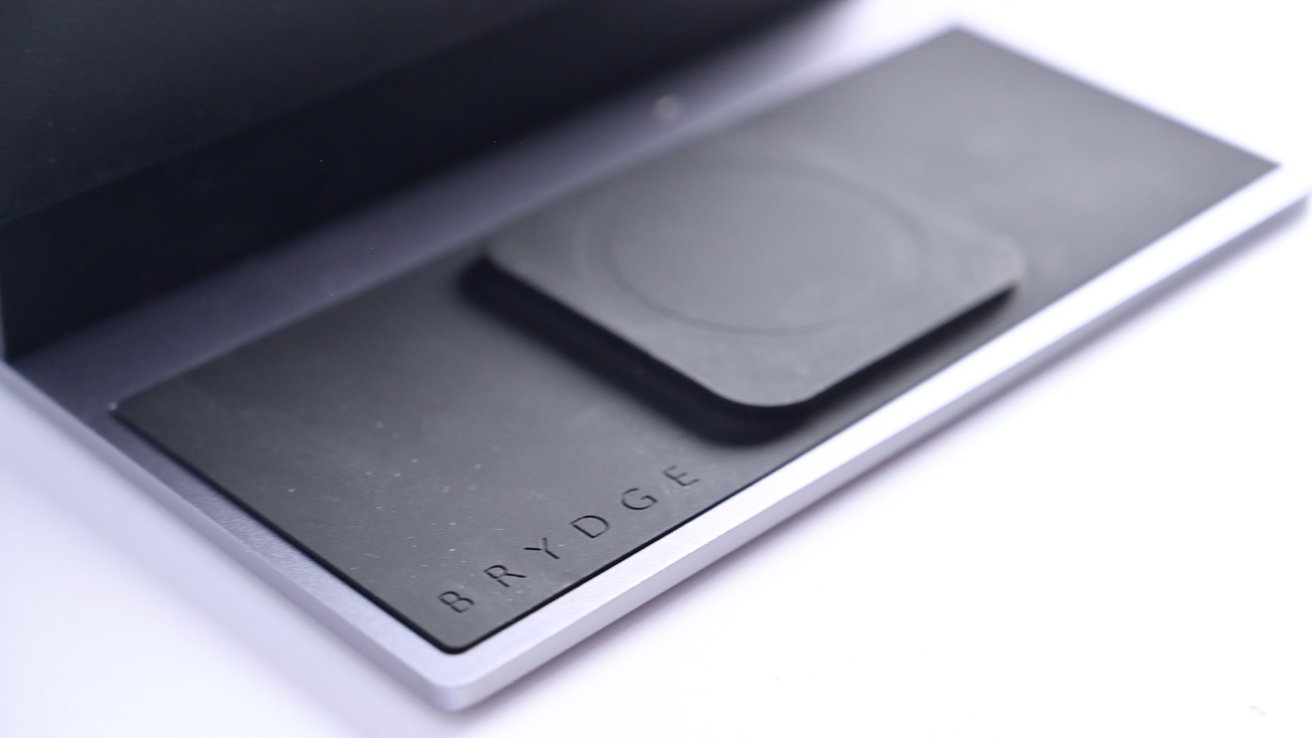 Charging pad
The new charging pad is a welcome addition here too compared to previous versions. That space was largely already occupied by the base of the stand, and rather than leaving it to go unused, Brydge has made it a useful feature.
The charging puck is raised in the center and is covered in soft silicone. Raising it allows newer phones to sit flat, such as the
iPhone 14 Pro
and its massive camera bump.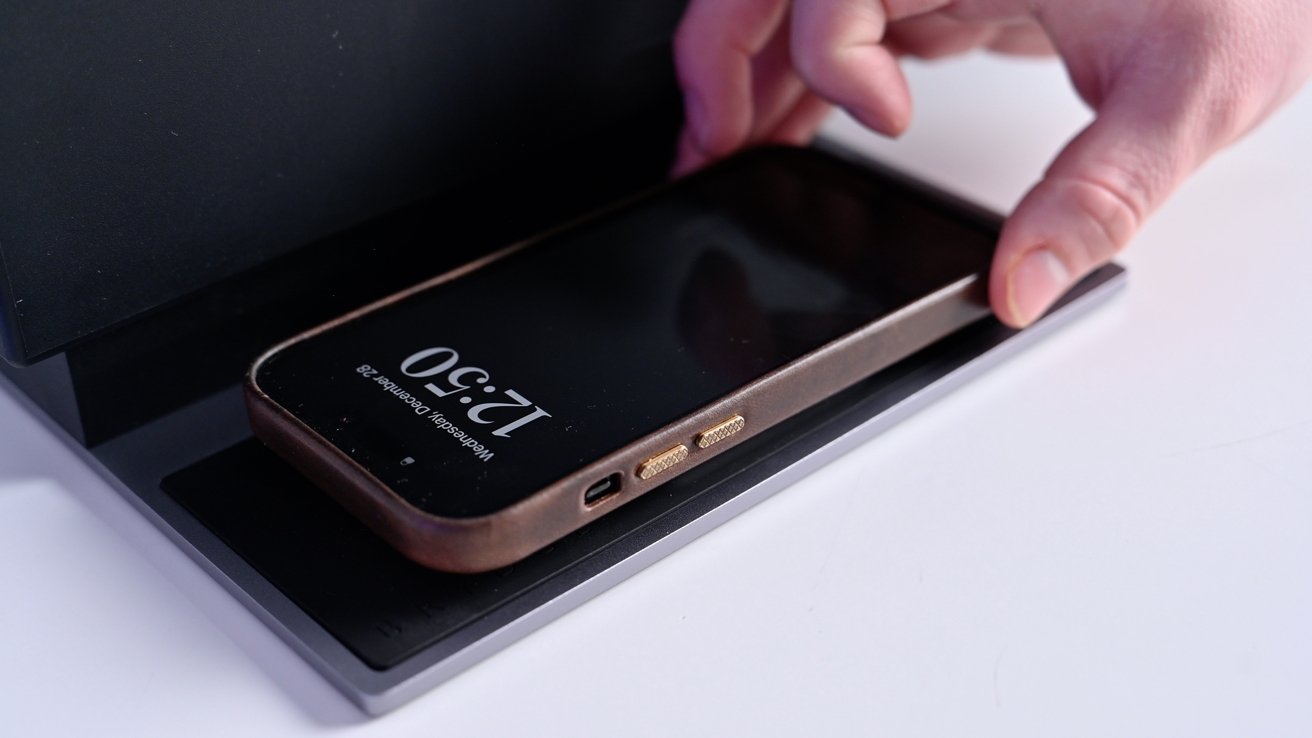 Placing phone on charger
Brydge put magnets in the wireless charger, helping maintain proper alignment when used with an iPhone that supports
MagSafe
. The magnet feels a little weak, though it's enough to help you know where to position the phone.
It outputs up to 15W of power, though iPhones will be limited to 7.5W as it's a Qi charger, not a MagSafe charger.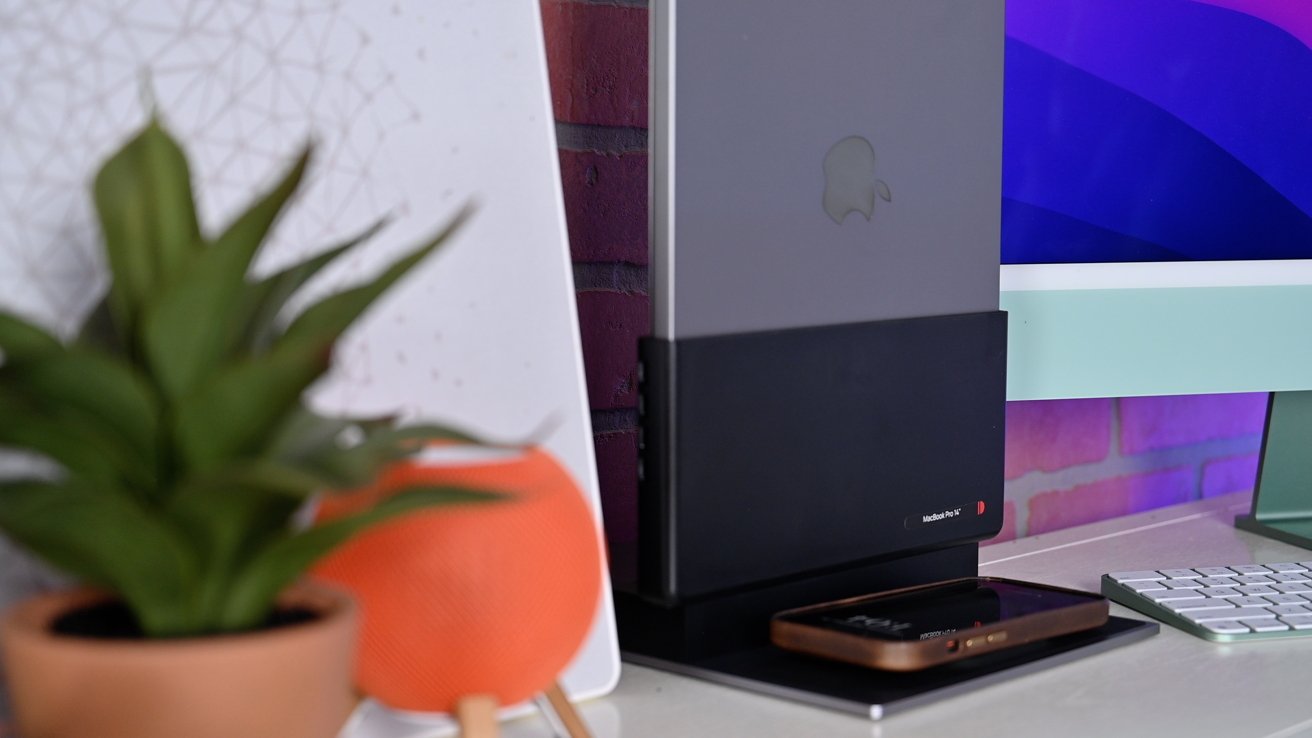 ProDock
Brydge seems to have thought of all the details with this dock, including small adhesive covers for the side of your Mac to prevent any scratches as you place the machine in.
Thunderbolt 4 is a solid choice here as well. The key difference from Thunderbolt 3 is that it allows for multiple downstream Thunderbolt ports.
For video production, this can be crucial. Thunderbolt devices can be daisy chained together but it isn't a good idea to daisy chain storage devices, which video editors may desire.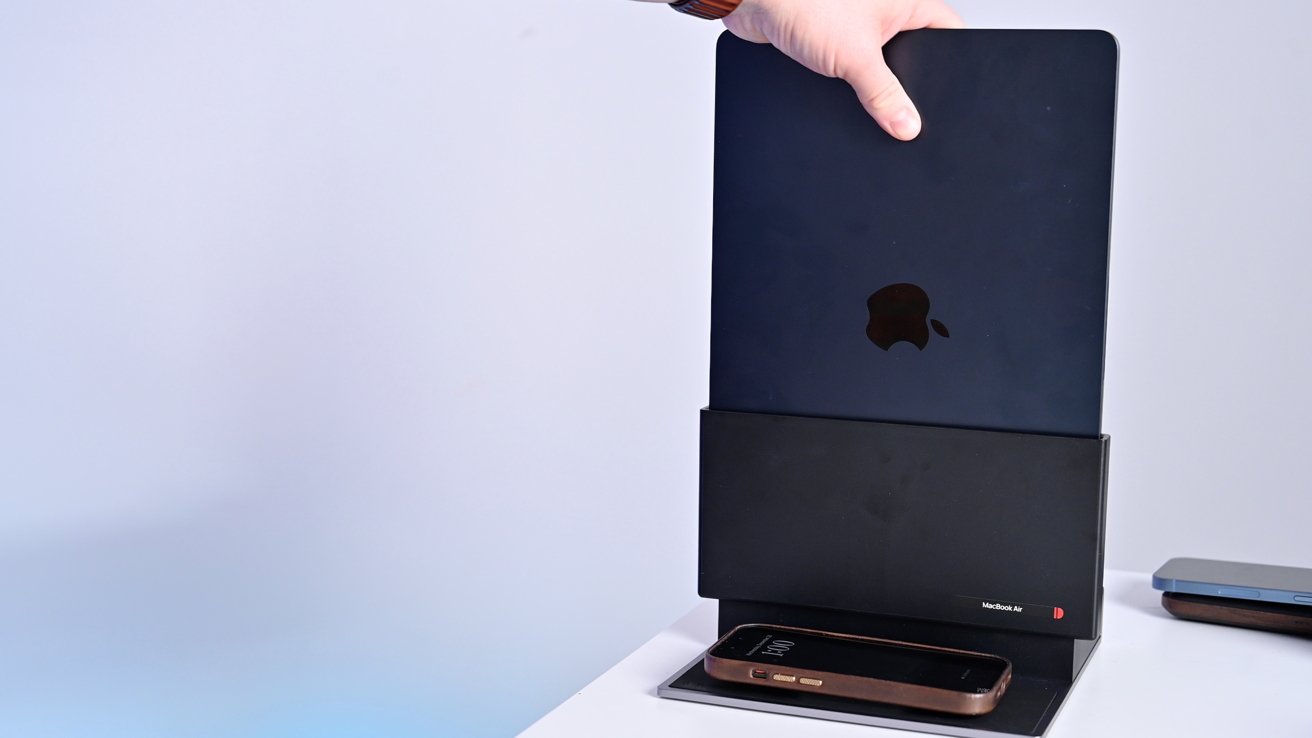 M2 MacBook Air supports one external display
We were able to connect a CFExpress card reader, two external SSDs, a large hard drive array, and two displays all over Thunderbolt, as well as a few ancillary devices when testing the Brydge ProDock.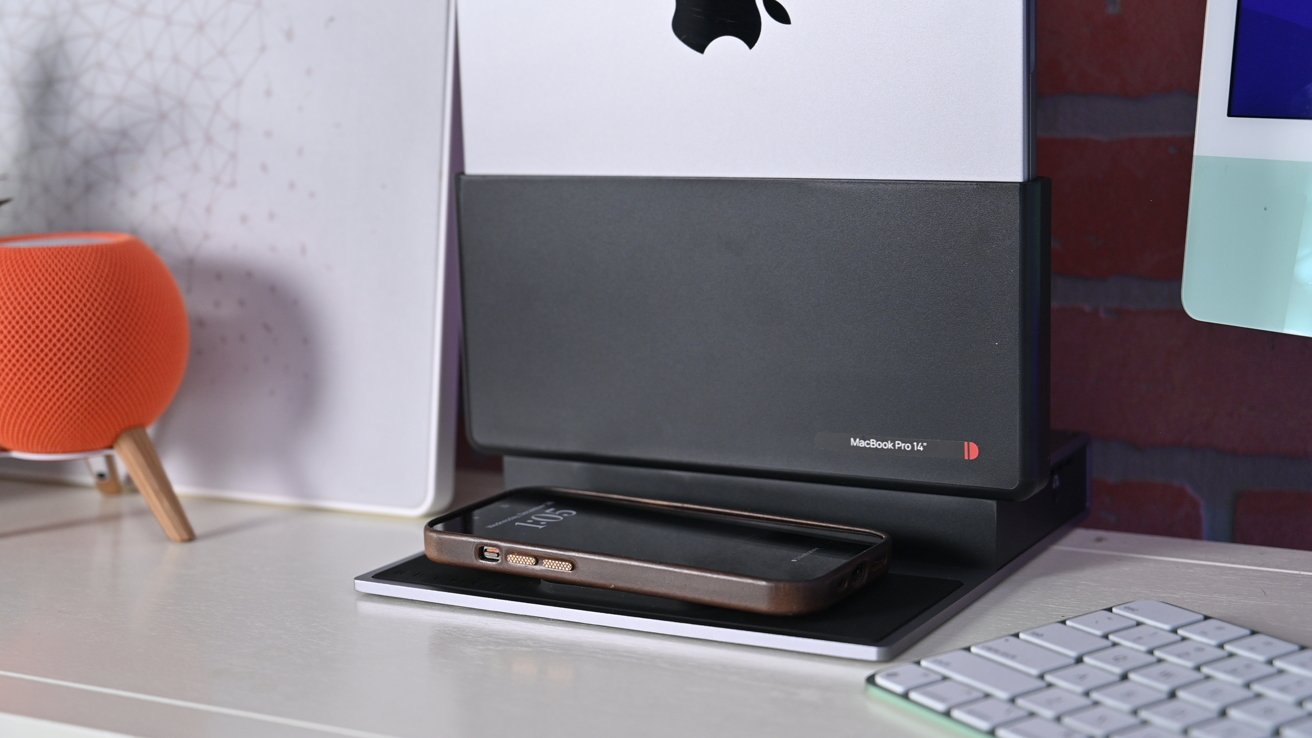 ProDock closeup
There may be a few minor grievances with the ProDock but it's a well-designed accessory that can help boost productivity and connectivity all while saving space.
You'll pay for the privilege though. Thunderbolt 4 accessories are still quite expensive and most solid Thunderbolt 4 docks are similarly priced, coming in near $400.
Pros
Compact, spacing-saving design


Anodized aluminum body


10 versatile ports


Thunderbolt 4 with multiple downstream Thunderbolt ports


Fits all newest portable Macs


Possibility to support future Macs


Easily-accessible wireless charger with magnetic alignment


Easy insertion and removal
Cons
Slow charging speeds on side USB port


Emerging tech isn't the cheapest


Not real MagSafe charger
Rating: 4 out of 5
Where to buy
You can preorder the Brydge ProDock Thunderbolt 4 docking station
directly from Brydge for $399
with shipping beginning in late January.
Read on AppleInsider