HomePod 2 review: A great smart speaker that struggles to stand out
What's old is new again as Apple's original
HomePod
has returned with revamped internals and big sound -- but an unchanged high price.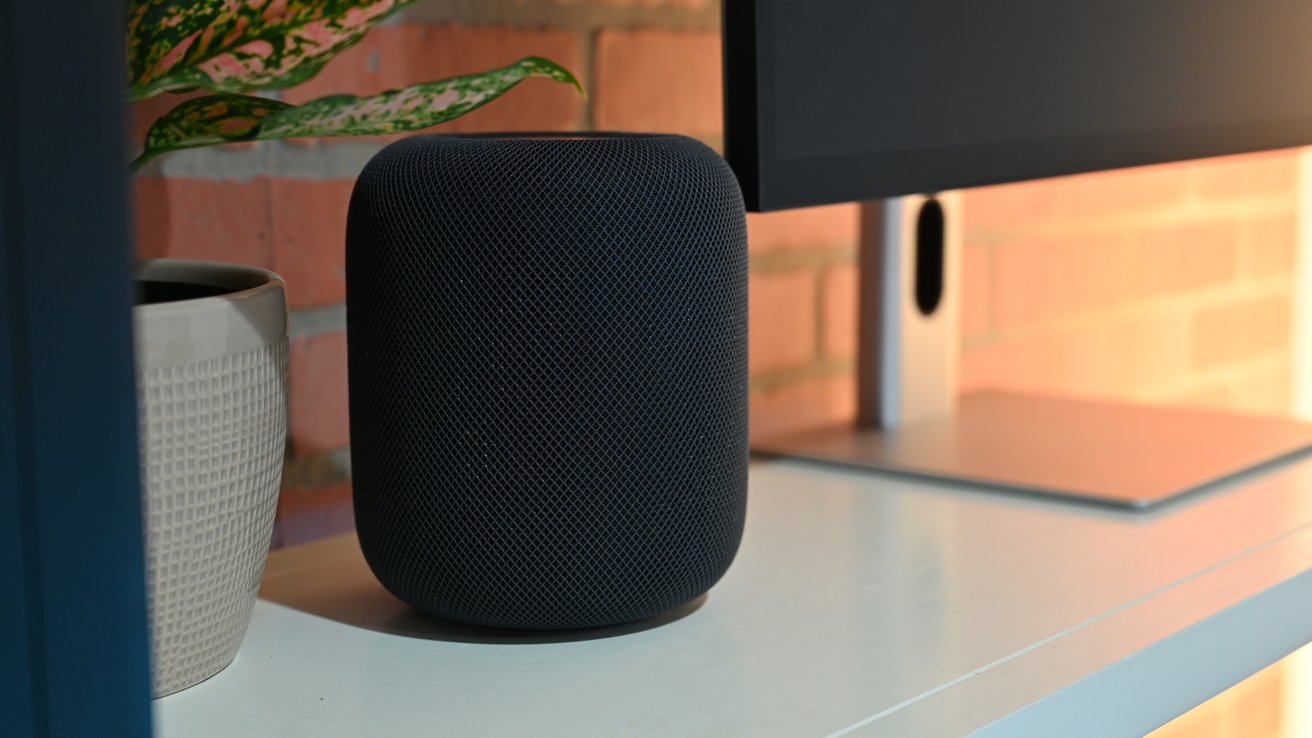 The new HomePod second-generation
The HomePod launched as a product without an actual home. It was generally received well -- including by us -- on factors other than price. By any measure, though, it didn't sell well at launch.
Weak demand necessitated a price drop of the HomePod from $349 to $299 to spur sales. It still wasn't enough, and Apple unceremoniously unplugged the first-generation HomePod following the success of the much more affordable HomePod mini.
The secondhand market then flourished. HomePods sold on eBay sold well above their original price as users lusted after the larger sound.
In an about-face several years later, only lightly heralded by the rumor mill, Apple resurrected the full-size HomePod with a new second-generation unit that bears a striking resemblance to the original but with all-new internals and extra features.
We will likely never know the whole story, but there's a strong probability that this new HomePod was pushed back by Apple as supply chain drama grew over the summer and into the fall. It wouldn't have surprised us if Apple originally planned to release the updated HomePod in its September keynote alongside the new iPhones.
https://schema.org/
","@type":"VideoObject","name":"New HomePod 2 VS HomePod mini! Differences, Sound Test, & Buying Guide! FULL COMPARE!","description":"In this video I compare the all-new 2023 HomePod 2 versus the existing HomePod mini. What are the feature differences, how do they sound, and which one should you buy?","thumbnailUrl":"
https://i.ytimg.com/vi/euNHjnTTTXA/sddefault.jpg
","uploadDate":"2023-02-06T21:33:26Z","duration":"PT7M29S","embedUrl":"
"}
The 2022 date printed on the bottom of the box reinforces this, plus the HomePod ships with software version 16 installed out of the box.
A postponement near last-minute would explain why version 16 of the HomePod software contained few new features. Apple instead shipped a slew of new features with the just-released HomePod software version 16.3, which also arrived for the HomePod mini.
Same on the outside, not on the inside
The new HomePod looks much like the original, though it is very slightly smaller. It measures 6.6 inches tall, exactly twice the height of the HomePod mini.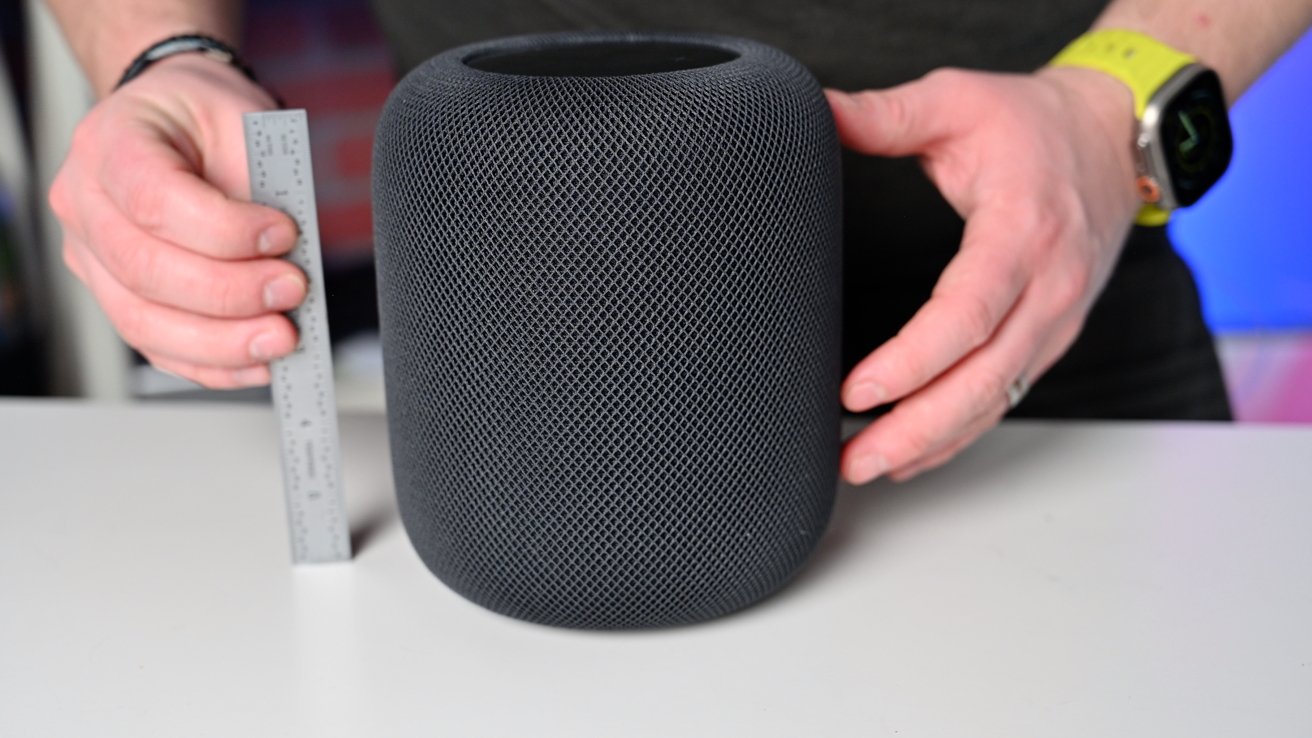 The new HomePod is .2 inches shorter
Around the outside is Apple's in-house designed audio mesh which comes in white or Midnight, replacing the Space Gray. Midnight looks strikingly similar to Space Gray but has a very slight blue hue.
On top is a large touch-sensitive surface used to control playback, invoke Siri, and adjust the volume. The backlight has expanded this time, lighting up the whole area with multi-colored lights when
Siri
is listening.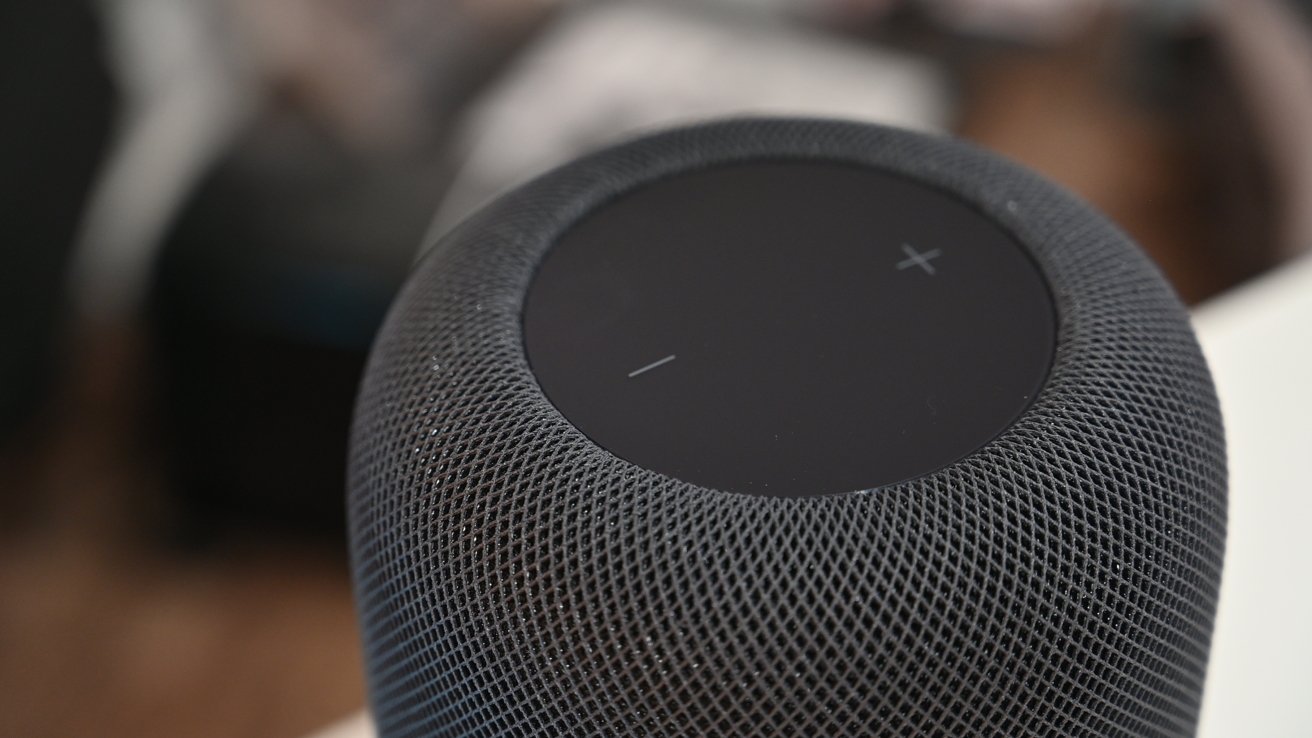 The new etched volume buttons
Apple used to identify the volume controls by illuminating them from behind. On the new model, Apple pulled from the HomePod mini's design and uses etched symbols instead.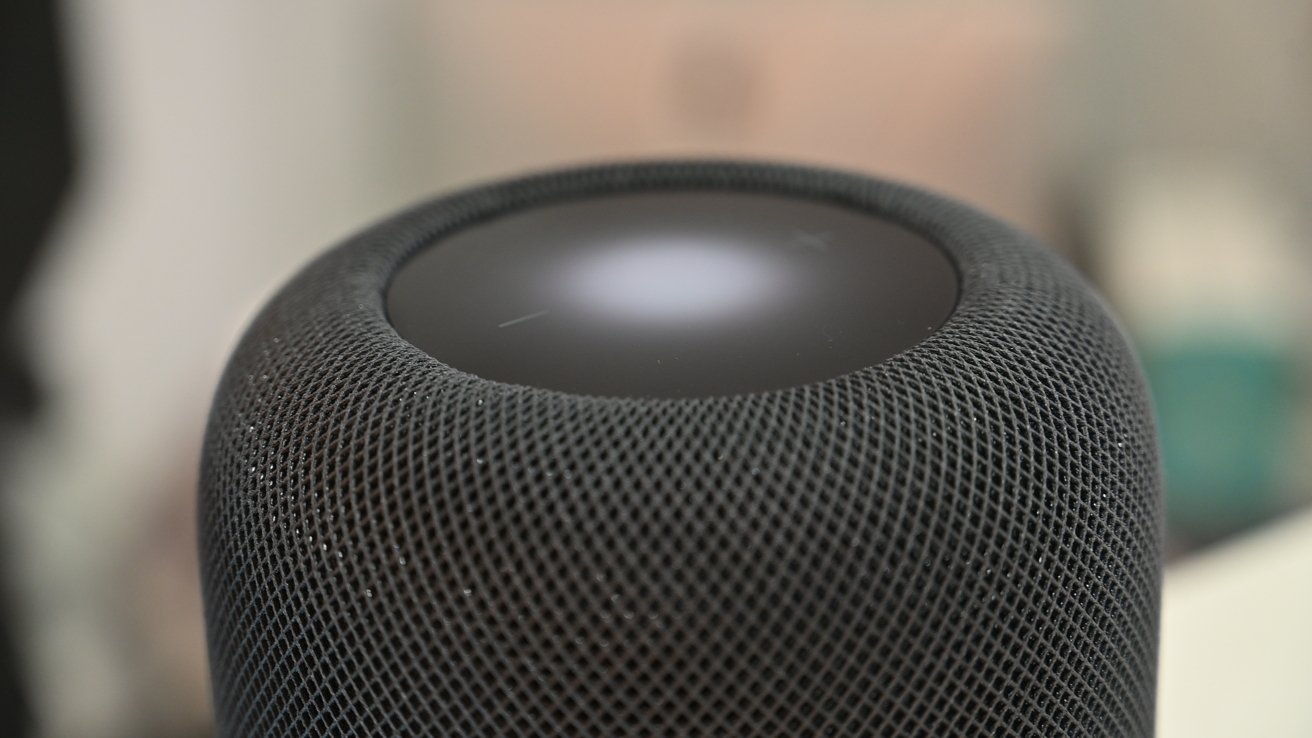 It's hard to see the volume controls during music playback
The problem with the etched symbols is that when music is playing, the soft glow that emits from the center obfuscates them. It's hard to tell precisely where you need to touch to adjust the volume.
A non-slip surface covers the bottom that has the exact same issue the original HomePod had -- it will leave rings on some finished wood tables.
We're trying to understand why Apple didn't opt for some other material on the base as they did with the HomePod mini. The fisheye discoloration is common with silicone rings on electronics on finished wood tables, and Apple's material engineers have to know this, as it is in no way a new phenomenon.
Arguably, though, since it's a known phenomenon -- and has been for about 50 years -- they knew it from the start with the original HomePod. Perhaps they didn't care then, and still don't.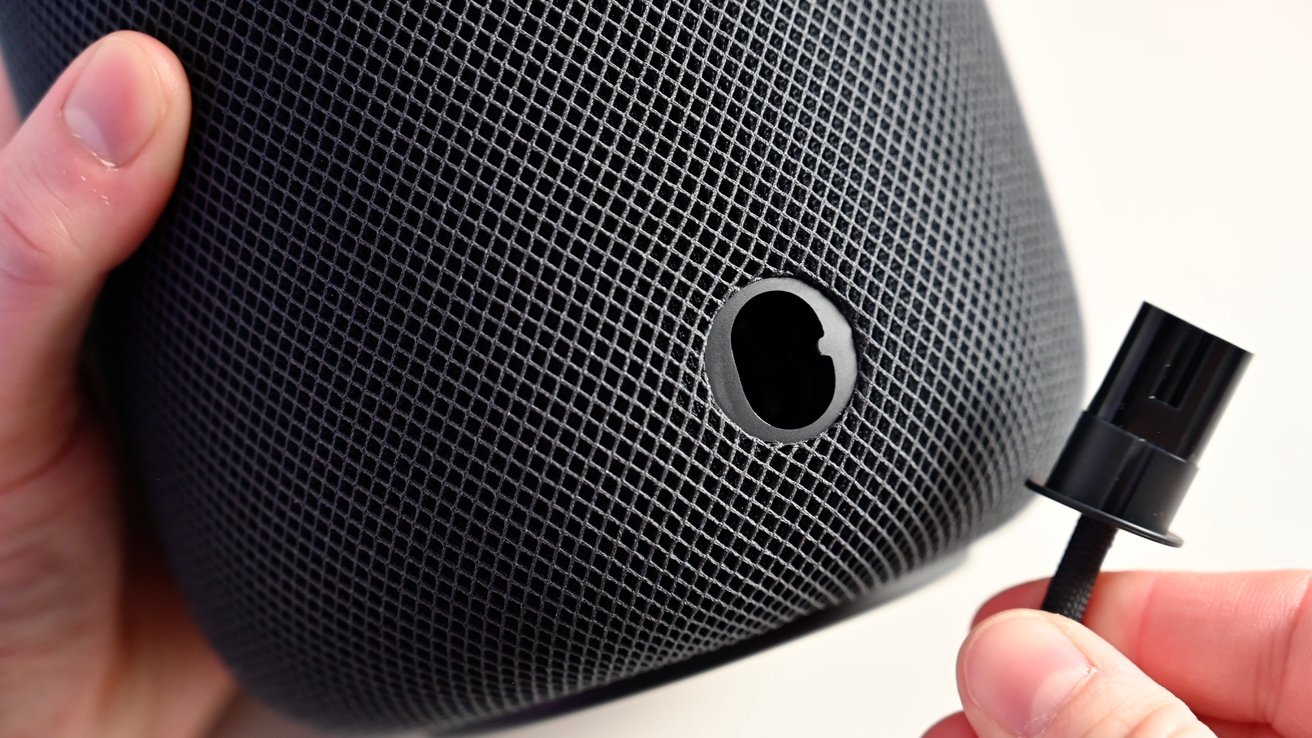 The power cable can now be easily removed
In a big win for repairability, Apple has chosen to include an easily removable power cable. The power cable has a proprietary end with a cover that presents a seamless look but can easily be pulled free.
The cable has a braided exterior and is color matched, portraying a polished look. In a pinch, you can swap it for nearly any standard C7 power cable you have on hand.
Apple is no stranger to C7 cables. The Apple TV and Mac mini use them, after all. Of the dozen or so we tried, not every replacement cable worked, but most did.
An internal upgrade
Within the HomePod's mesh exterior sits a four-inch woofer and five horn-loaded tweeters. This is a downgrade from the OG HomePod's seven tweeters in number only.
The same goes for the microphones that dropped to four from six, though we noticed no difference when calling on Apple's titular assistant.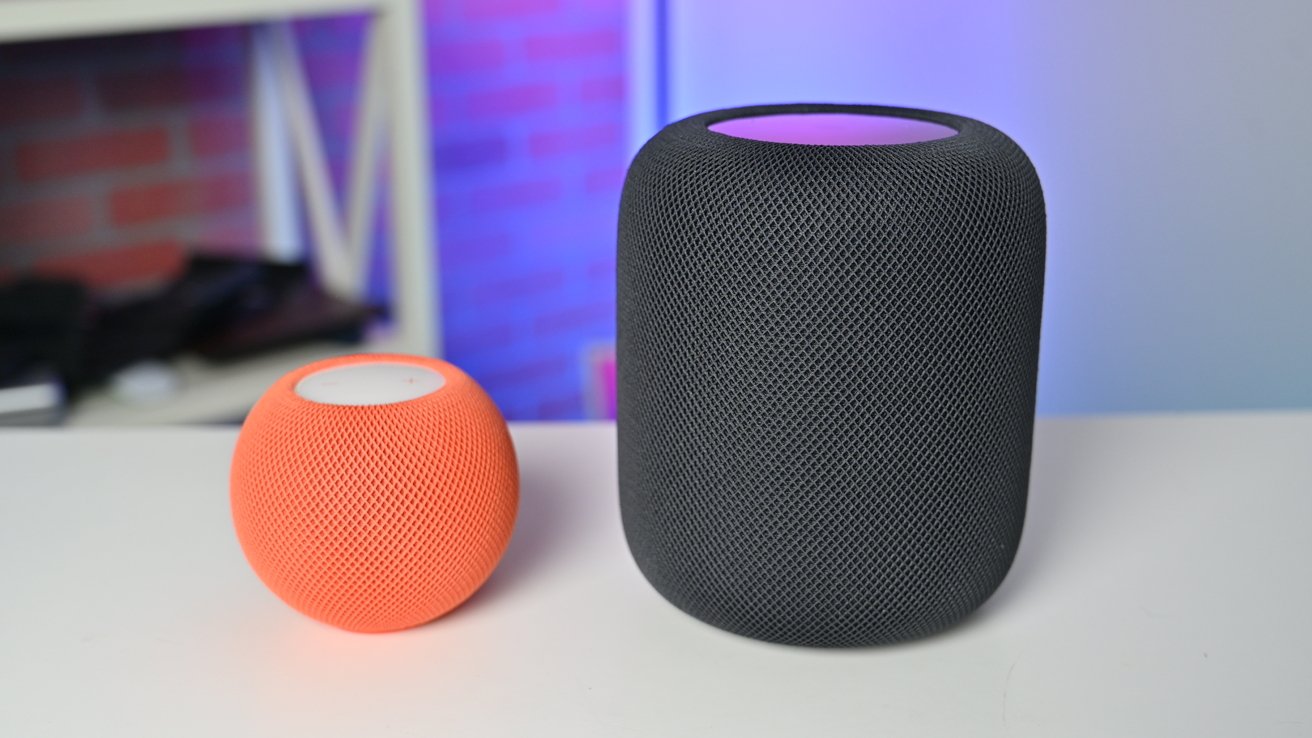 HomePod mini and the new HomePod side by side
An upgrade from the
iPhone
6's A8 processor, Apple is using the S7 SoC. It's the same chipset found in the
Apple Watch
Series 7.
Other new internals includes room-sensing capabilities without the need for a dedicated accelerometer and environmental sensors for the smart home user -- more on that later.
It also supports Thread and is equipped with Apple's ultrawideband U1 chip.
Some aspects took a step backward, though. Because of that A8, Wi-Fi got a downgrade to 802.11n from 802.11ac, which Apple says is capable enough for music streaming while being more energy efficient.
This is fine. You won't be able to hit any bandwidth limites on 802.11n while streaming music, no matter how complicated.
Siri smarts
HomePod still doesn't have a proper display -- we yearn for Apple to release some version of a tabletop HomePod-
iPad
combo device -- so to interact, you primarily use Siri or the
AirPlay
menu on your other devices.
Compared to not only the first HomePod but the HomePod mini as well, Siri is far faster. Siri responds quickly to our requests and sets scenes much more expeditiously.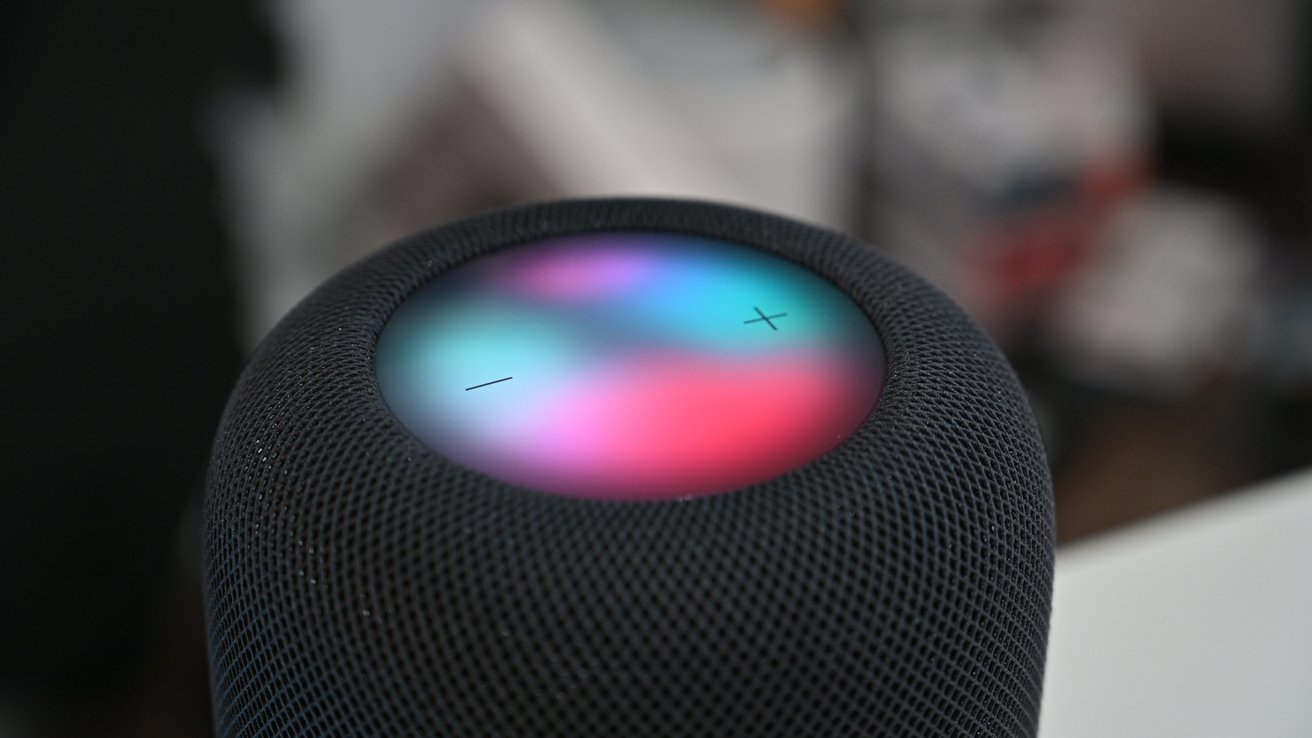 The top spins and displays vivid colors when Siri is listening
Siri has learned new tricks recently, such as the ability to ask where friends and family members are that are shared via the
Find My
app and you can set up reoccurring smart home automations just by using your voice.
Siri still needs to improve compared to other virtual assistants. Sometimes we'd say, "Siri, close the bedroom shades," and Siri would respond "there are no devices in the studio that can be set to that position."
That's wrong on two levels because the studio
does
have shades, and we specifically asked about the bedroom. How it misconstrued this request evades us.
There are also inconsistencies with other requests. You can ask Siri to open the shades daily at 6 AM on your HomePod, but if you ask on your Apple Watch, Siri says she can't do that.
Siri has plenty of privacy benefits and has come a long way since it was released, but it's clear Apple still has improvements that it needs to make.
Smart home chops
For smart home users, the second-generation HomePod is substantially more capable. It works as a Home Hub for
Homekit
and as a Matter hub.
A Home Hub in Apple Home is necessary for remote access, running automations while you're away, and processing HomeKit Secure Video.
It is a Thread border router, bridging any Thread-enabled accessories to your network and expanding your Thread mesh network throughout your home.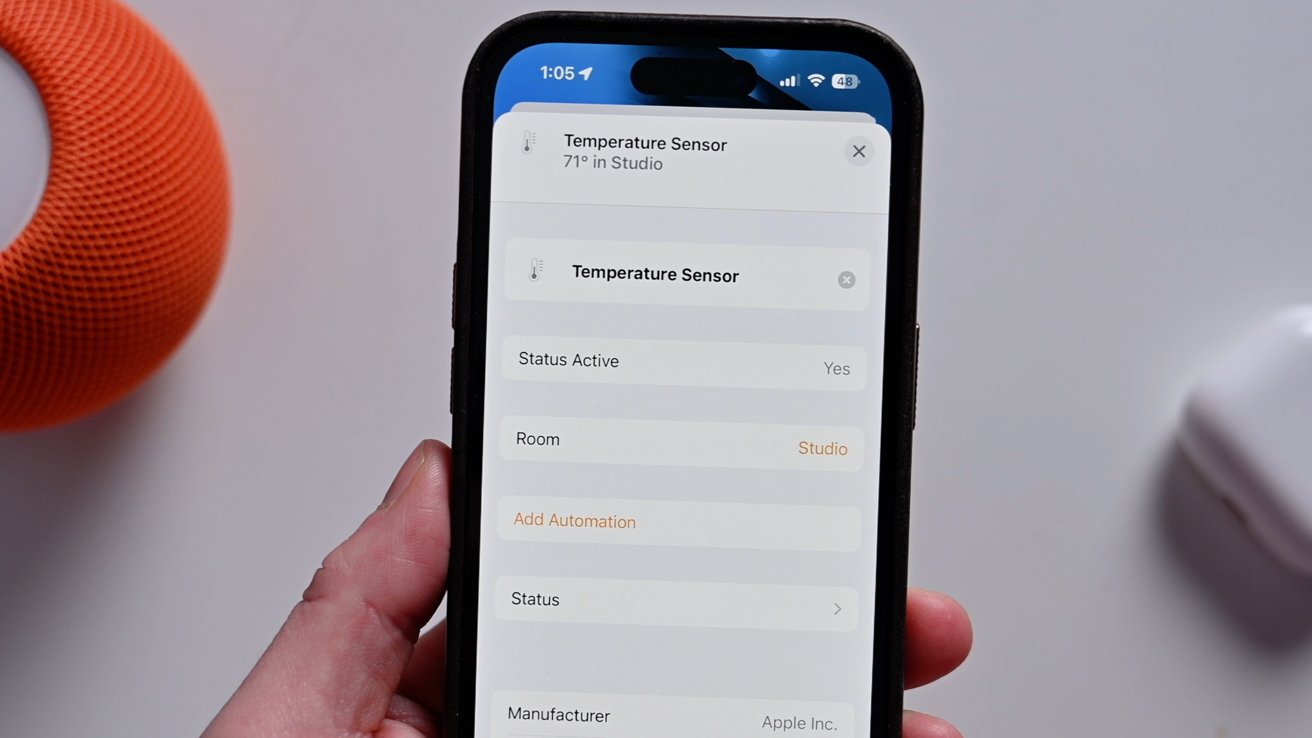 HomePod now has humidity and temperature sensors
An environmental sensor will also display the temperature and humidity of its encompassing room within the Home app. You can ask Siri what the temperature or humidity is, or look in the Home app to see these.
These sensors can be used in automation routines like closing the shades during the day if the temperature rises too high or turning on the dehumidifier if the humidity level reaches a certain threshold.
The features add up to an excellent smart home brain, even if Siri still has room to grow.
It still has the intercom feature, allowing you to make announcements to specific rooms or people. Just say, "tell the whole home dinner is ready," to send everyone running.
That said, the HomePod mini can do this at a much lower price. What separates the two is audio quality.
Audio finessed
HomePod has a larger design that leads to much more internal volume, as compared to the HomePod mini. It outputs much more bass and can fill larger rooms with ease.
You can pair two second-generation HomePods together in a stereo pair which sounds excellent. It's an easy comparison to the HomePod mini but generation over generation, not all that clear.
Opinions vary on this within the
AppleInsider
staff, but overall, we think the new HomePod does sound better than the original -- but not by a large margin. There's more separation in the layers with more fidelity on the high end.
That's especially good with the reduction in tweeters. The bass is still heavy, putting out the low end on plenty of rock tracks on our testing playlist.
Other reviewers have said they sound near indistinguishable. Your mileage may vary based on what you listen to and how.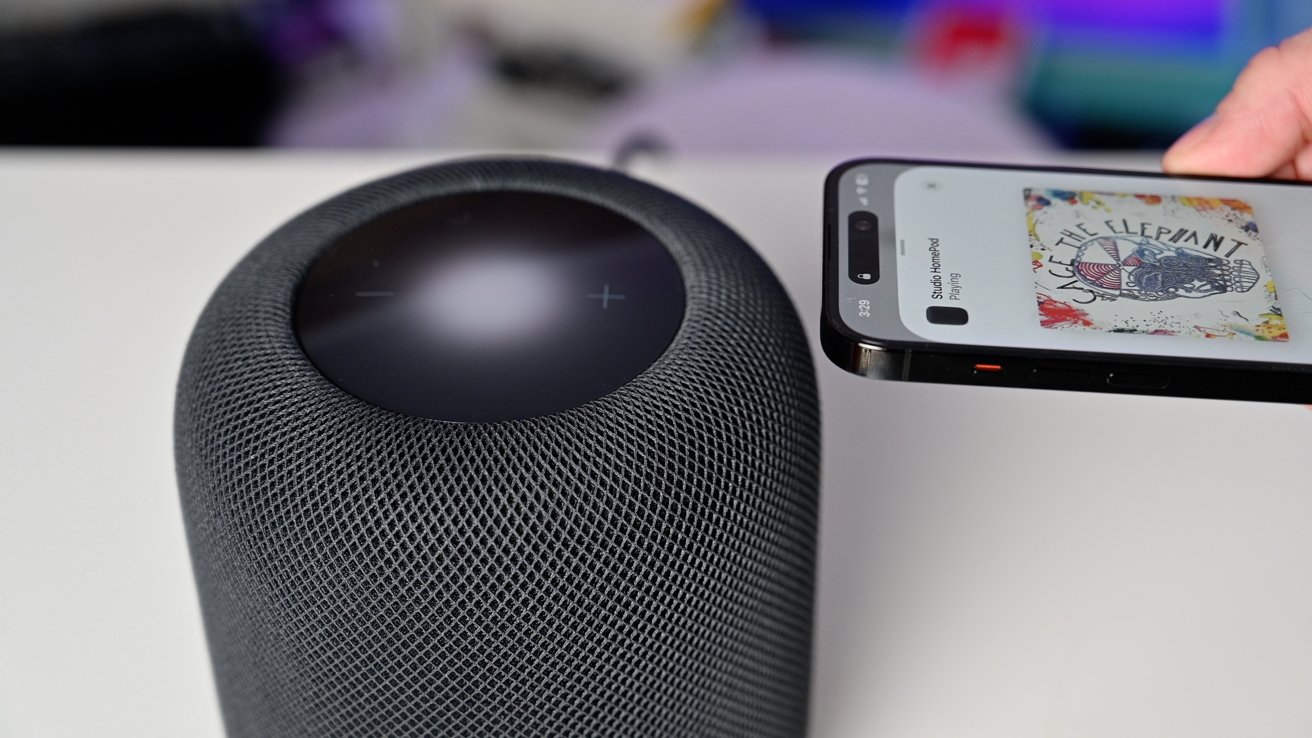 Use the new U1 for audio handoff
Just like the HomePod mini, the new HomePod has Apple's U1 chip which can help place objects in 3D space. It improves the handoff experience with your iPhone.
Bring your phone near the HomePod, and the vibration gets stronger before it almost "pops" as it passes the audio from your phone to the speaker. It works in reverse as you transfer the music from the HoemPod back to your phone.
This works for phone calls too which is handy as you walk through your home's door and you want to pass the call to the loudspeaker.
You can also use two HomePods with your
Apple TV
Apple TV. Two HomePods support Dolby Atmos spatial audio, though your experience will vary based on your room setup.
HomePod sounds better than HomePod mini, when compared one-on-one. Two HomePod minis sound about as good as a single full-size HomePod, and you get stereo separation.
For your TV, two HomePods sound better than the majority of $500 soundbars.
A safe, unexciting upgrade
HomePod is a great speaker. Apple upgraded Siri with new abilities, improved the audio, boosted the processor, and retained the decreased price versus the original release. In doing so, Apple bolstered its place in the smart home.
Other than one-on-one sound quality and volume, it does everything on the same level as the HomePod mini. Apple didn't introduce anything
new
with the updated HomePod over the HomePod mini other than the removable power cable.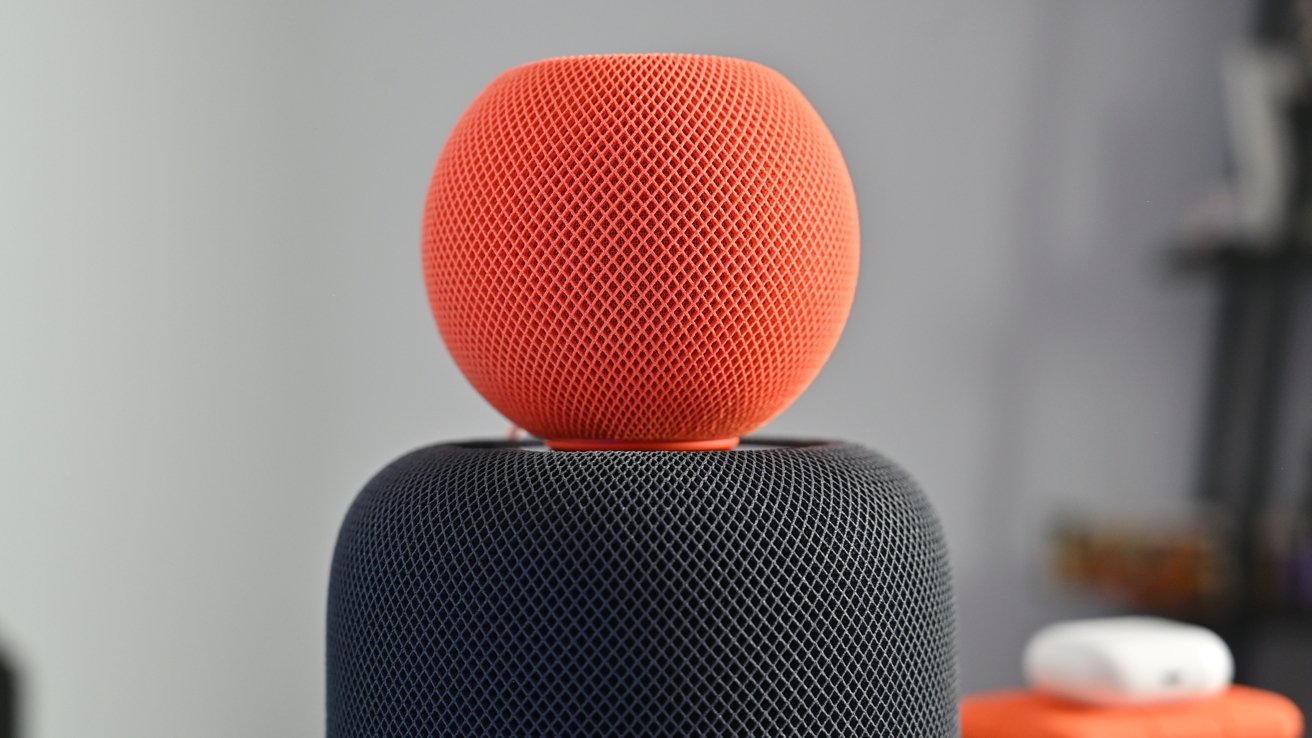 HomePod mini is still right for most users
The new HomePod is a very safe upgrade from Apple, but doesn't do much to justify its $300 price tag. $249 sounds like a better price tag for the big HomePod as-is, especially with new competition from Sonos
on the horizon
. We'll be talking more about how it compares to alternatives in the coming weeks.
There is certainly a market for the large HomePod. But, we can't say Apple has done enough with the new model, to help it grow.
HomePod 2 - Pros
Better, louder sound than the HomePod mini


Great smart home capabilities with sensors, Thread, and Matter


Fantastic Apple TV companion


Easy setup


Multi-room audio with AirPlay 2 devices
HomePod 2 - Cons
Siri still needs improvement


Volume buttons are hard to see


No new colorways


Slightly too expensive
Rating: 3.5 out of 5
Where to buy Apple's 2023 HomePod
Apple's 2023 HomePod is eligible for an exclusive coupon discount
dropping the price to $285
when you shop at Adorama.com and enter promo code
APINSIDER
during checkout. Here's additional information on
how to redeem the APINSIDER coupon
.
You can also pick up the second-generation HomePod
at BHPhotoVideo.com
and compare prices across resellers in our
HomePod Price Guide
.
Read on AppleInsider