Marshall Middleton review: Wonderful sound overshadowed by price
True to its name, the Marshall Middleton Bluetooth speaker falls right in the middle of several areas, including portability, a critical area for a Bluetooth speaker.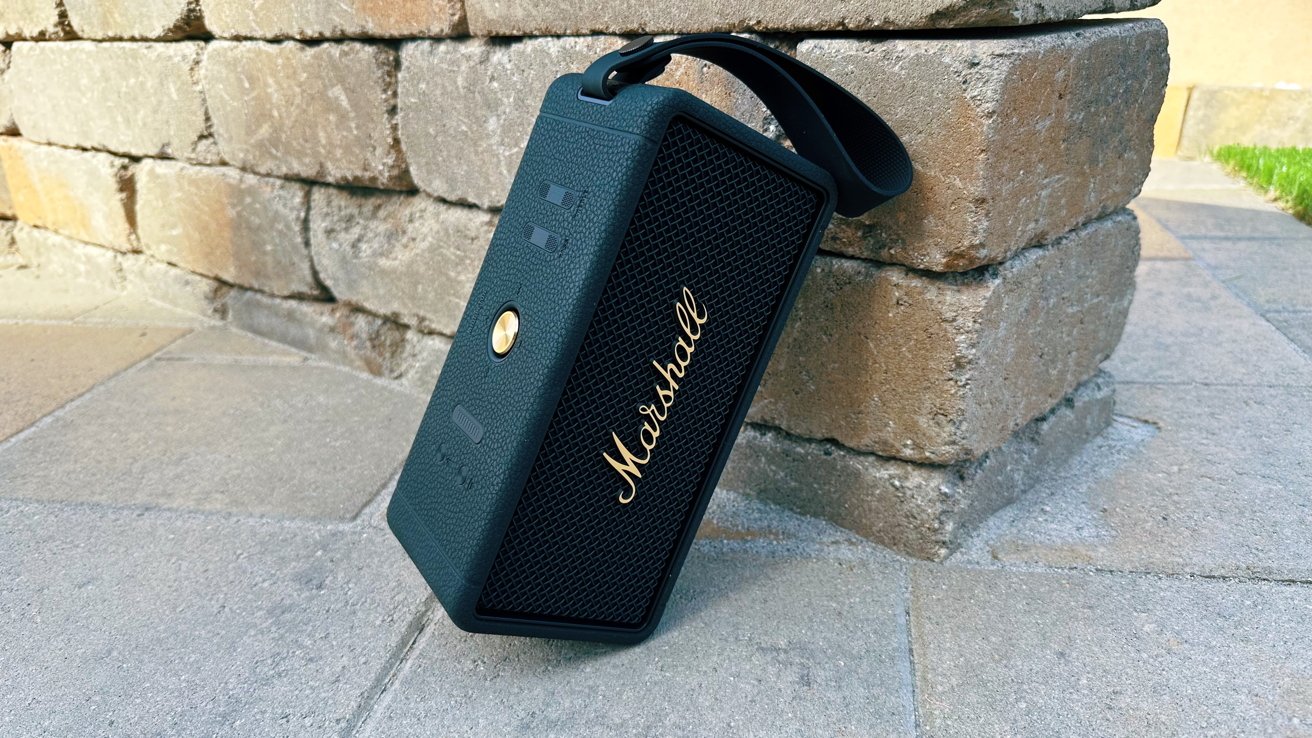 Marshall Middleton
In terms of size, the Middleton speaker is too bulky for air travel, but not too big for certain car excursions. Its 4-pound weight is substantial when carrying for long periods, but easy to move short distances.
Similarly, Middleton's sound is vibrant and full compared to most other portable Bluetooth speakers, but it's still probably not enough to be the only speaker for big party gatherings.
A portable speaker
First and foremost this speaker is made to be moved around, compared to Marshall's home line of speakers.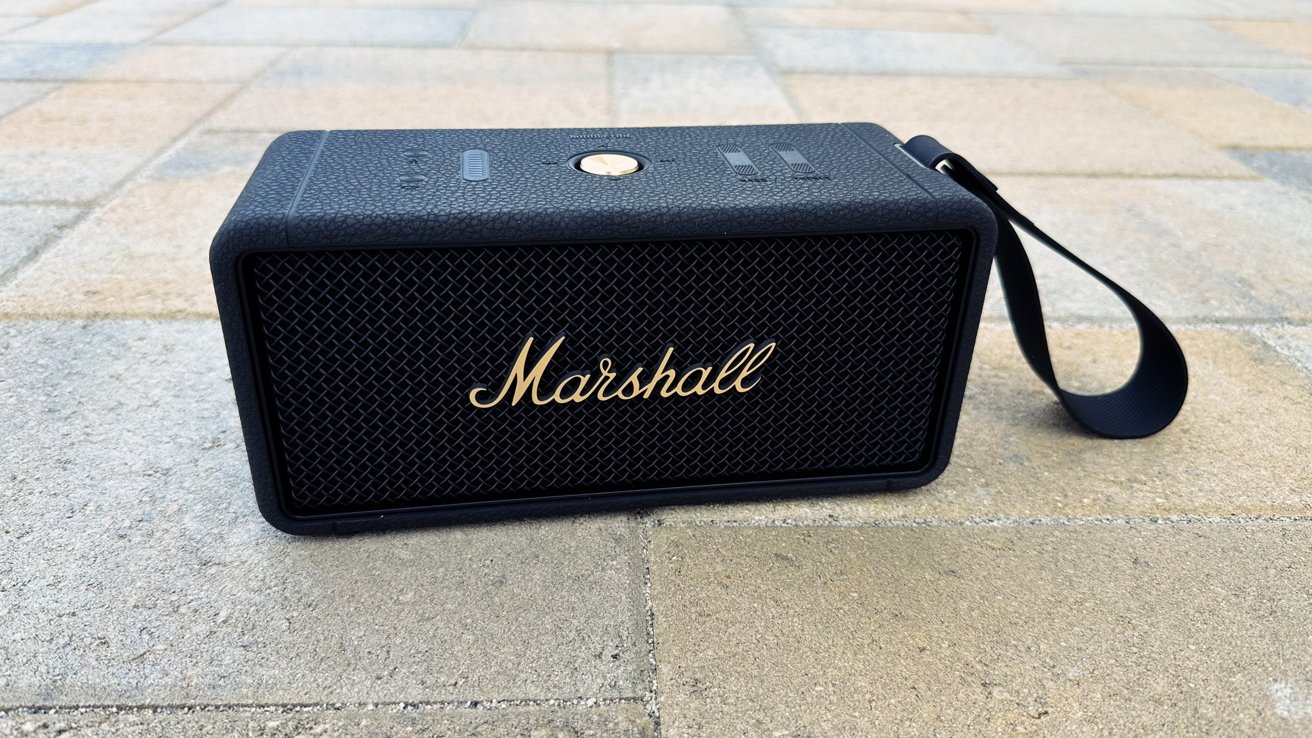 The speaker comes with a carrying strap
The Middleton wasn't unattractive in our home by any means, but it didn't have the classy vibe that the
Marshall Stanmore III
did.
Mostly, its design is utilitarian to protect it from the elements when taken outside. It features an IP67 rating for water and dust resistance.
A hand strap can grace the side for carrying if you want it.
Marshall shows a picture of nine Middleton speakers stacked on top of each other, advertising that the speakers can be linked together. The problem here is that those nine speakers would cost around $2,700.
Multiple speakers linked together would be neat, but extremely expensive.
Controls
The controls for the speaker reside on the top and are mostly packed into a single circular button.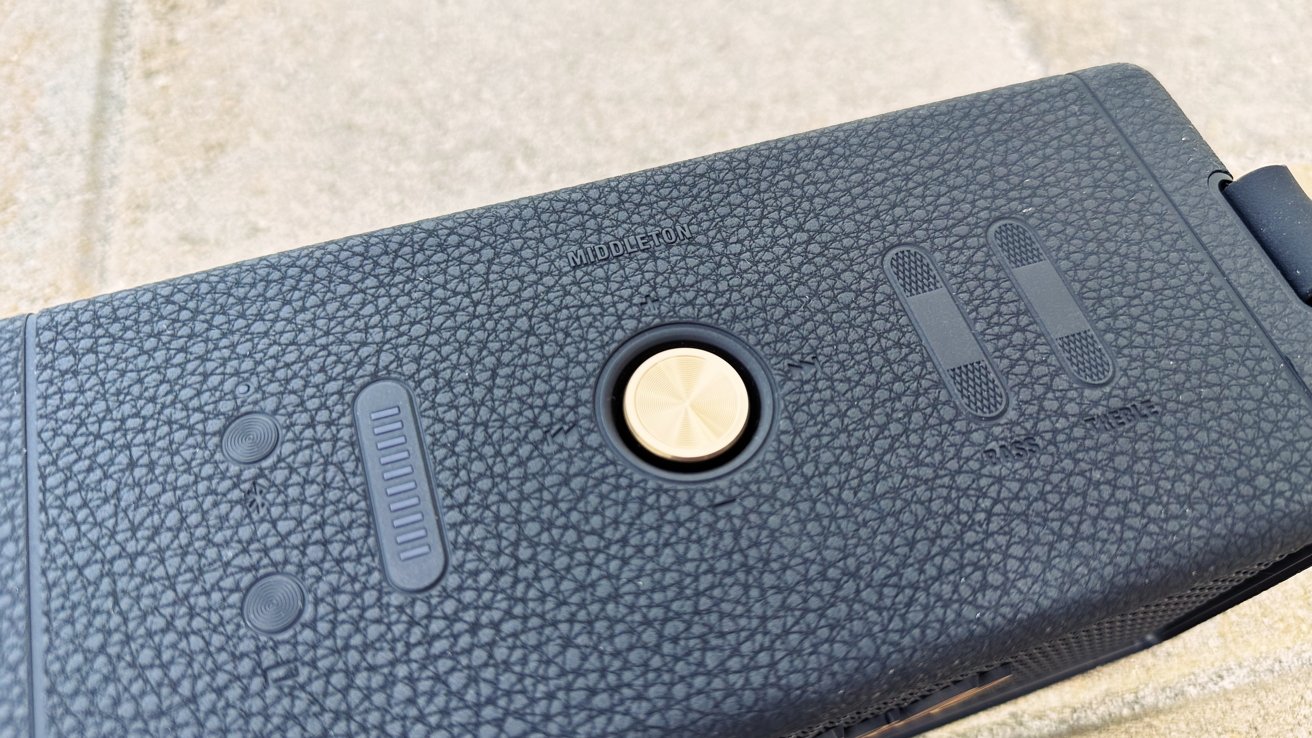 The circle button controls power, volume, and media controls
The center gold button rocks in all directions and handles a number of controls, including power, pause, play, and skipping tracks.
We weren't completely sold on using a single button for all those tasks, although it was also a clever use of space. We felt that we had to be very deliberate in pressing it so it didn't perform an unintended action -- which we did several times.
People's mileage will vary on the center button. It wasn't a deal-breaker for us, but it also wasn't a highlight either.
We did think the indicator strip used to display volume, battery level, bass, and treble was a more interesting way of conserving space without cluttering the top of the speaker.
Sound
The Marshall Middleton speaker may be a little bigger in physical size than other portable Bluetooth options meant for carrying, but it makes use of its size with a big, bolstering, sound.
The speaker measures 4.29 x 9.06 x 3.74 inches. The bulky frame paired with a 4-pound weight is what made it feel too big to pack in a bag for air travel. Or even in a backpack for hiking.
Inside the rugged exterior are two 3-inch 15W woofers, two 3/5-inch 10W tweeters, and two passive radiators.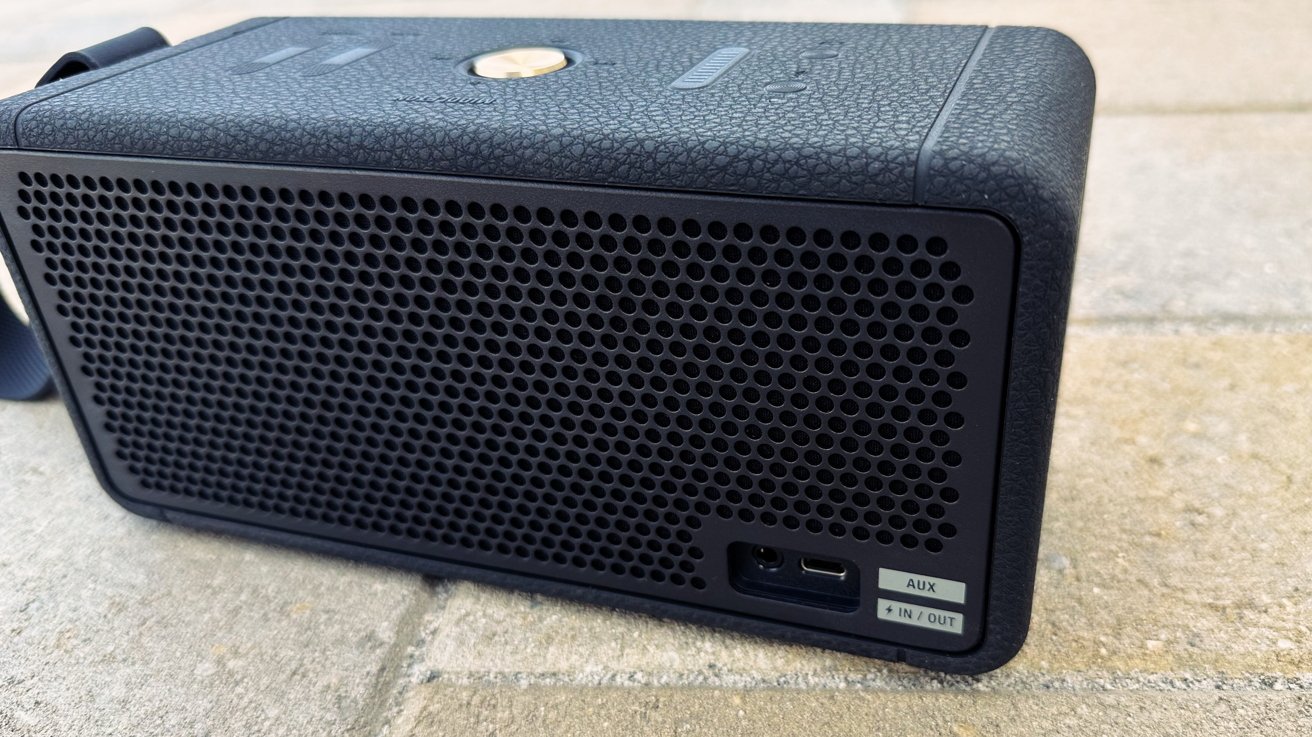 A charge port and aux in are on the back
There's also a 3.5mm aux input on the back to get your music into the speaker with a wired cable. We listened to at least a hundred songs on the speaker across all genres and we felt that they were all reproduced accurately.
Modern pop-folk songs like Gracie Abrams' "Amelie" had present vocals and bright acoustic guitar picking, while also retaining breathy low-end. The dirty electric guitars and pounding drums of Smallpools' "West Coast" felt punchy and large.
Some songs like "Blinding Lights" by The Weeknd were immediately impressive and the synths felt larger than life, even before hitting 100% volume.
Outdoors the speaker managed to fill a small to moderate size backyard with music. The speaker also didn't distort when reaching peak volume.
Much in the way we didn't mess with the bass and treble much on the Stanmore III, we didn't on the Middleton either. Having quick access to basic EQ is nice, but unnecessary in our opinion.
Overall, the audio quality of the Middleton is a thing of beauty.
Is the Middleton your future speaker?
The Marshall Middleton speaker is impressive in a lot of ways, including a bold sound that defies the product's physical size. Unfortunately, to get that sound the speaker needs to be just a little too big and heavy to throw in a backpack without consideration.
In our minds, a portable Bluetooth speaker should always be ready to go, wherever you need it, like a Sonos Roam, Tribit StormBox Micro 2, or Bose SoundLink Flex.
Additionally, Middleton's $300 price is worthy of a double-take. Despite being packed full of features, the cost is hard to justify and not a great value.
On the flip side, if you're looking for a loudspeaker that can be toted around from room to room, then this might be the all-in-one solution -- if you can find the budget for it.
The 20 hours of battery life, aux in, adjustable bass and treble, and powerful audio are all excellent features. But the lack of a microphone to use as a speakerphone, a lack of Wi-Fi, and the price don't make the speaker the best value.
Marshall Middleton - Pros
Great volume and sound quality


Adjustable EQ without using a mobile app
Marshall Middleton - Cons
No microphone for speakerphone functionality


Size and weight make it less portable than other speakers
Rating: 3 out of 5
Middleton is available for purchase at
Marshall's online store
for $299.99.
Read on AppleInsider