Nomad Stand One review: A luxe MagSafe charging stand
Nomad's newly-launched Stand One is a sleek charging solution for your iPhone that uses Apple's magnetic
MagSafe
technology to its fullest extent.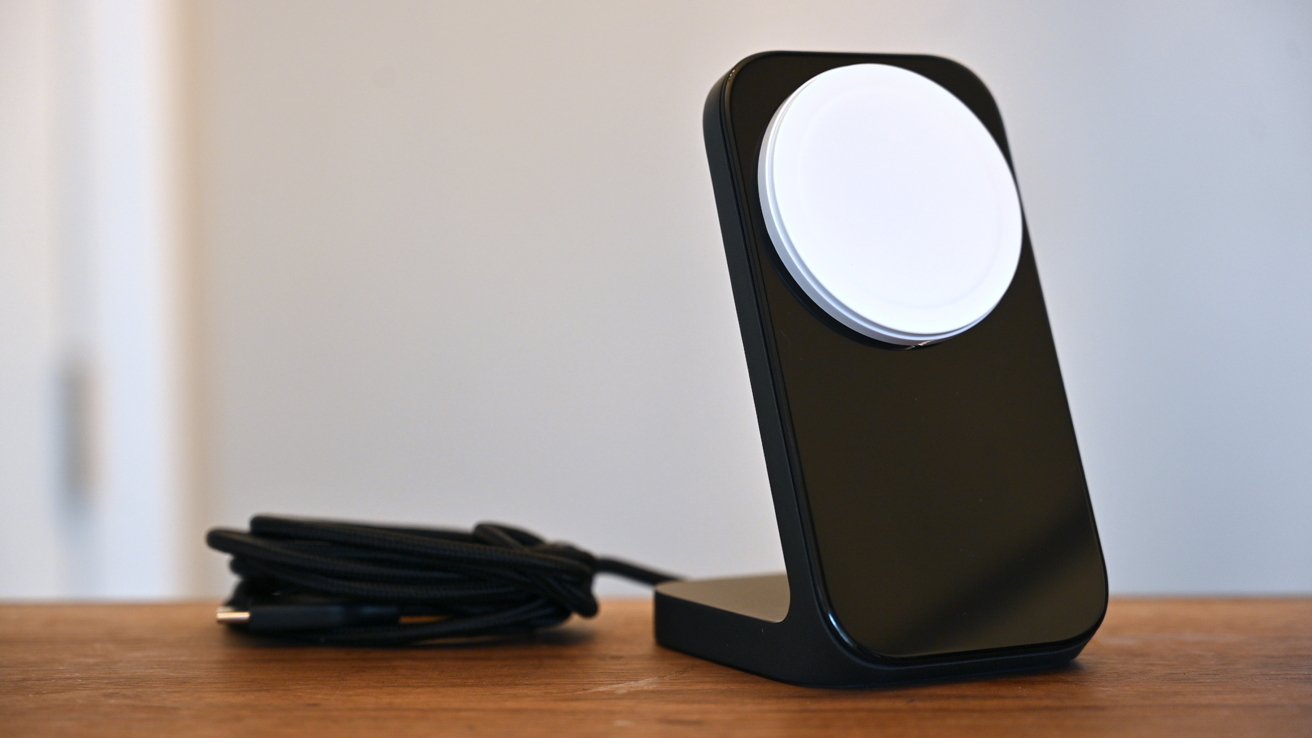 Nomad Stand One
The Stand One joins Nomad's other MagSafe chargers, such as the
flat Base One
or the
Base One Max
with integrated
Apple Watch
puck.
It's essentially an updated version of
Nomad's last
MagSafe stand, but rather than using your own MagSafe puck, the puck is built-in.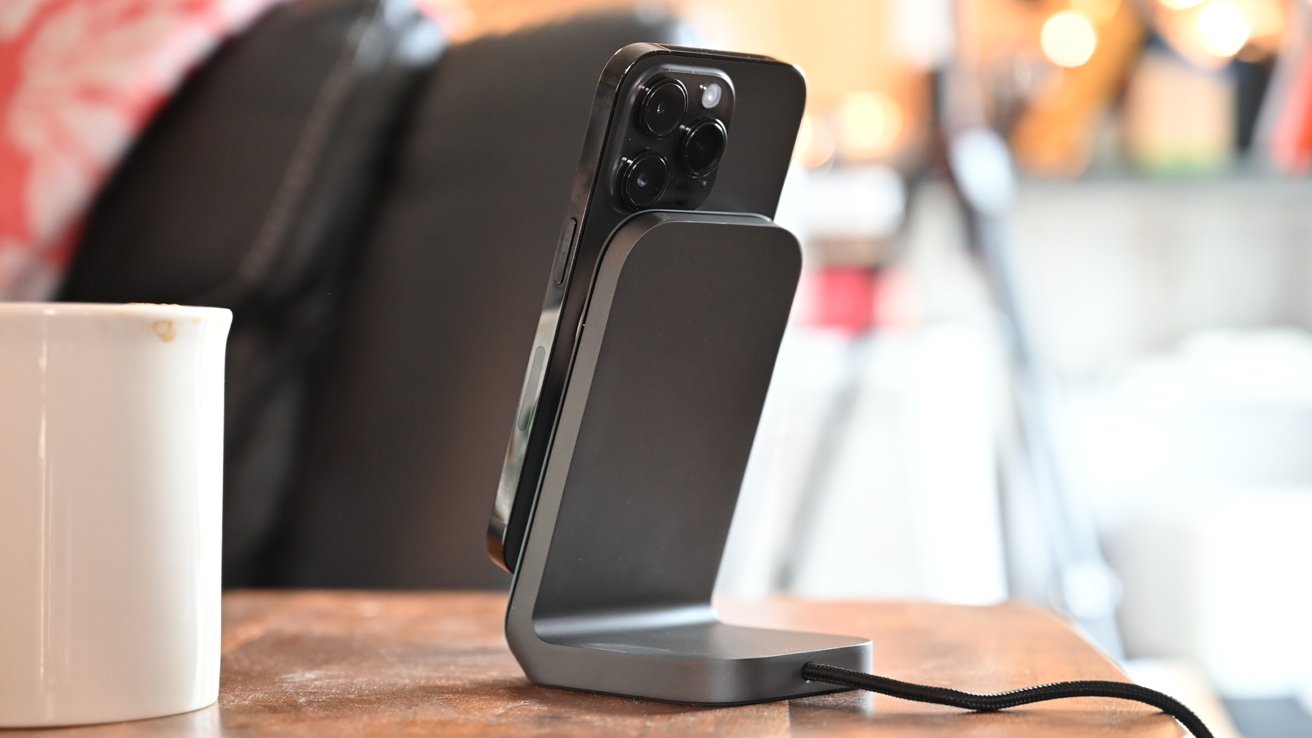 Nomad Stand One charging
Nomad uses aluminum to craft the body of the Base One, which is available in a Carbide gray color or a light silver. The white charging puck blends better into the silver version as it contrasts with the near-black Carbide surface.
Apple technically allows manufacturers to use alternative surfaces and colors for MagSafe, but adoption has been slow. There are likely behind-the-scenes hurdles to getting Apple's approval on such chargers.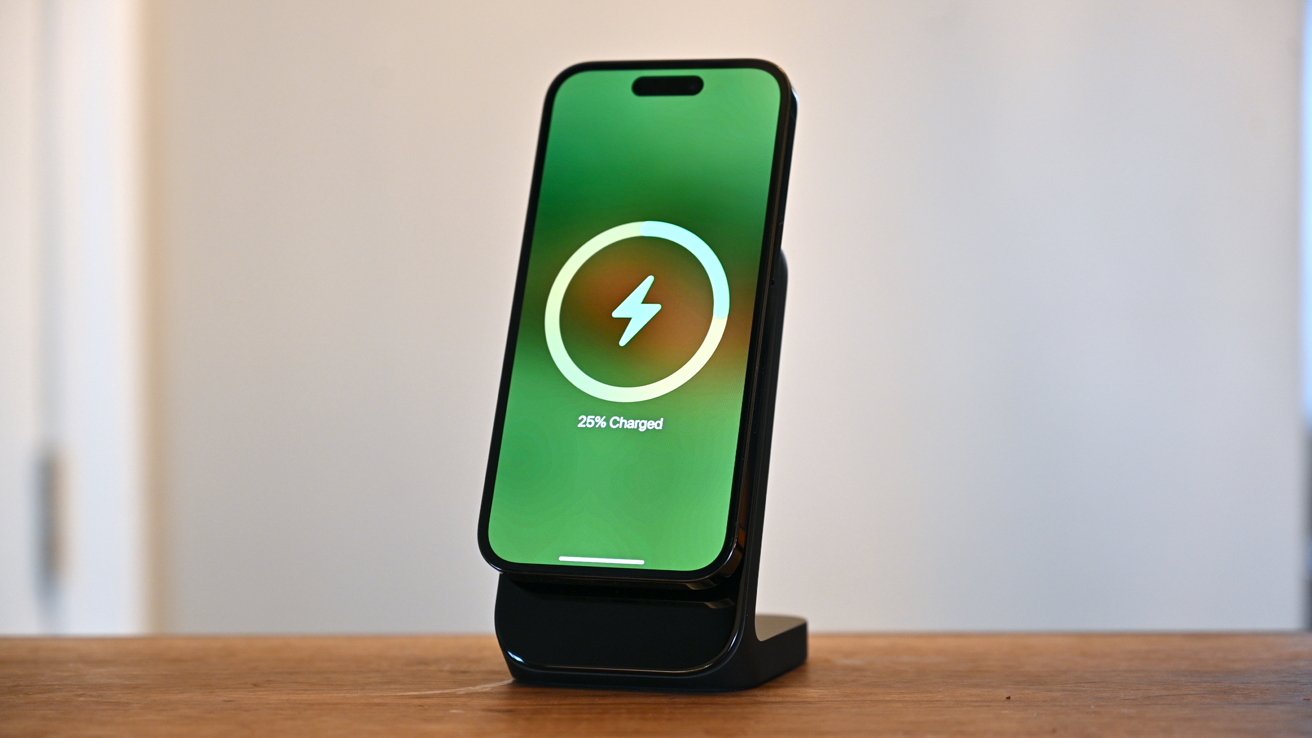 Charging iPhone with Nomad Stand One
So far
Anker has been the only one
to bring devices to market that are MFi-certified but don't have the stark white puck.
Behind the puck but on top of the aluminum body is a polished glass surface. It's glossy from the front with rounded edges. On the Carbide model, the glass is black and white on the silver version.
Nomad has seemingly integrated additional weight into Stand One. The device tips the scales at over 600 grams, equivalent to 1.3 pounds and some change.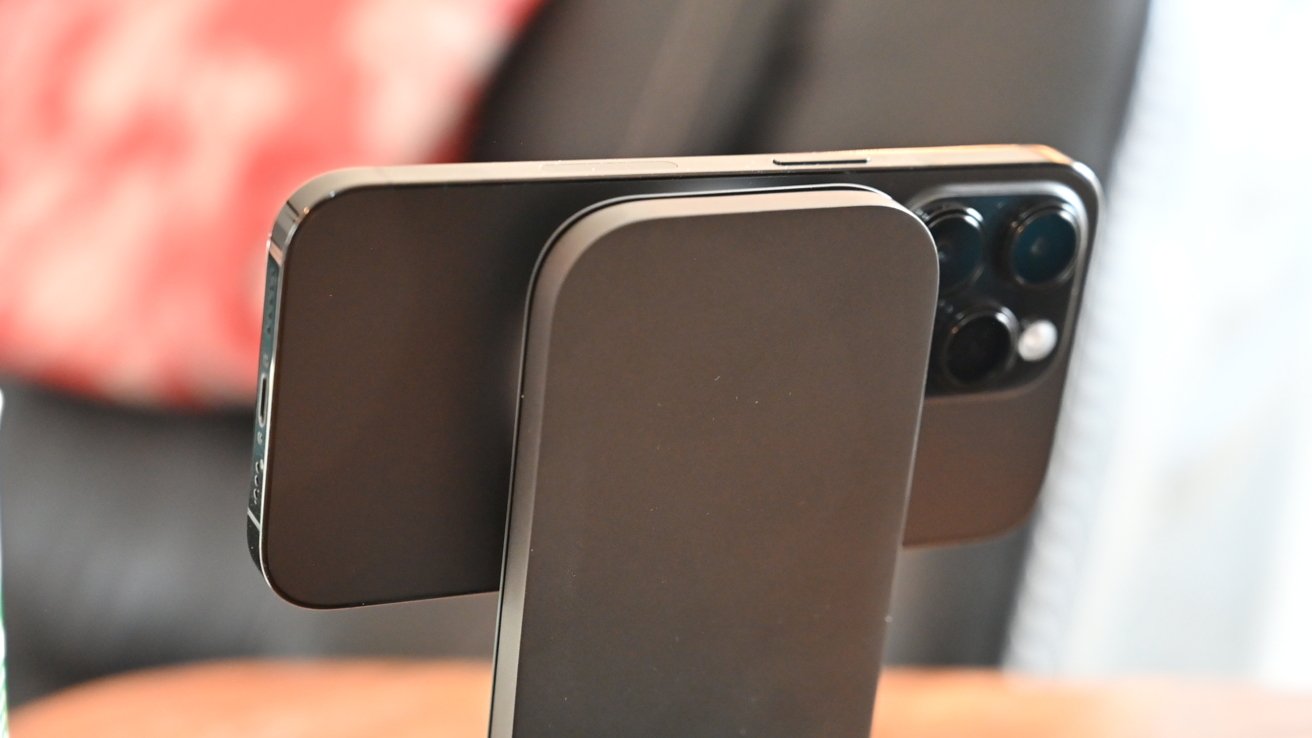 Nomad Stand One with phone in landscape
When you lift your iPhone from Stand One, the stand stays in place unless you try to pull directly out -- at which point it may slightly tilt forward. A rubber foot also helps keep it from moving.
While a cable is bundled, a power supply is not. You'll need to provide your own 20W USB-C brick. Nomad, of course, is happy to upsell you one of its own.
We recommend a dual-output USB-C charger so you can power up a wired device while supplying power to the Stand One.
Stop with the integrated cables
Our sole gripe with this charger is its lack of a removable cable. Nomad has created a svelte, braided USB-C cable that terminates directly into the rear of the charger.
If something happens to the cable, your expensive charger will end up in the trash.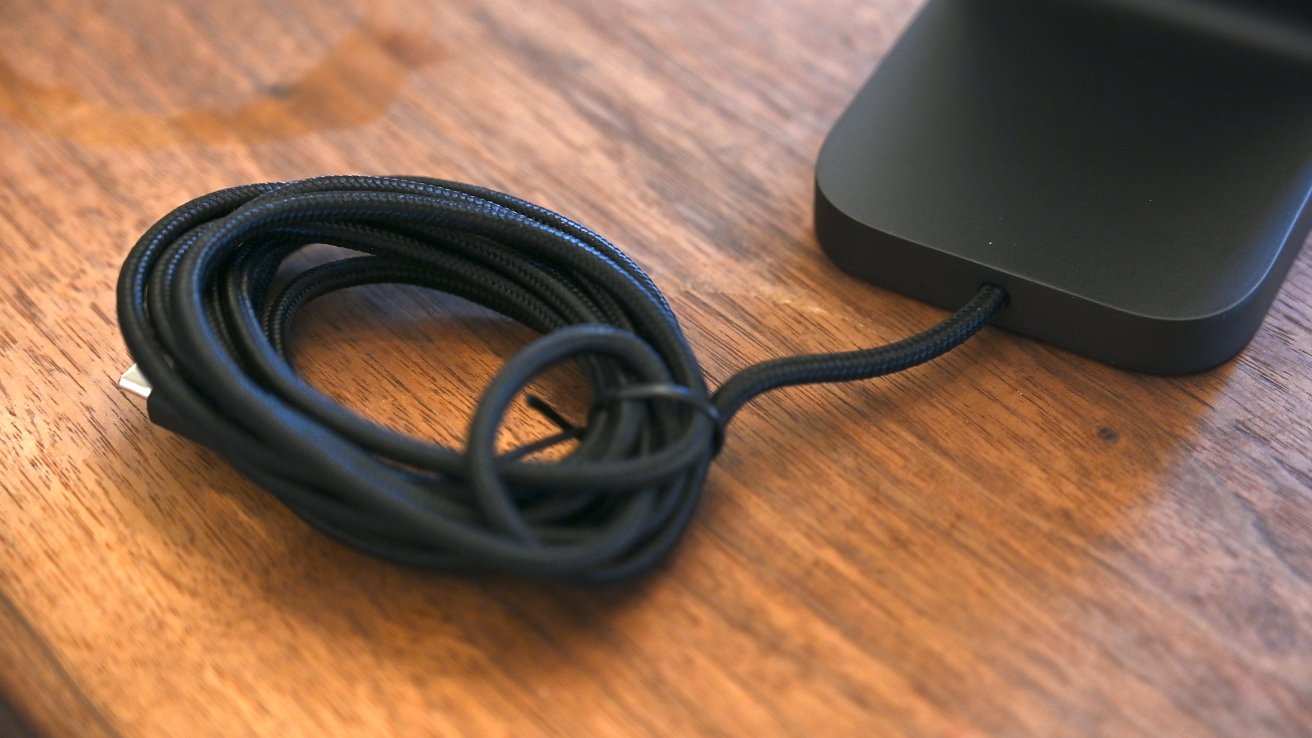 Nomad Stand One has an integrated cable
This is a fair compromise on a cheap charger, but you shouldn't have this frustrating limitation when paying for such a luxury charger. This device should last years, past the lifespan of an ordinary USB cable.
Place and charge
Cable aside, there's plenty to love about Stand One. The back panel is angled at 21 degrees, just enough for a comfortable viewing angle.
We tried making a
FaceTime
call using the Stand One perched on our desk, and we were perfectly in the camera frame. The Stand One tilted back enough so that our chest wasn't center stage.
MagSafe can deliver up to 15W of wireless power, twice that of your standard Qi charger. It's only
slightly slower
than a USB-C to Lightning fast charger but is more convenient.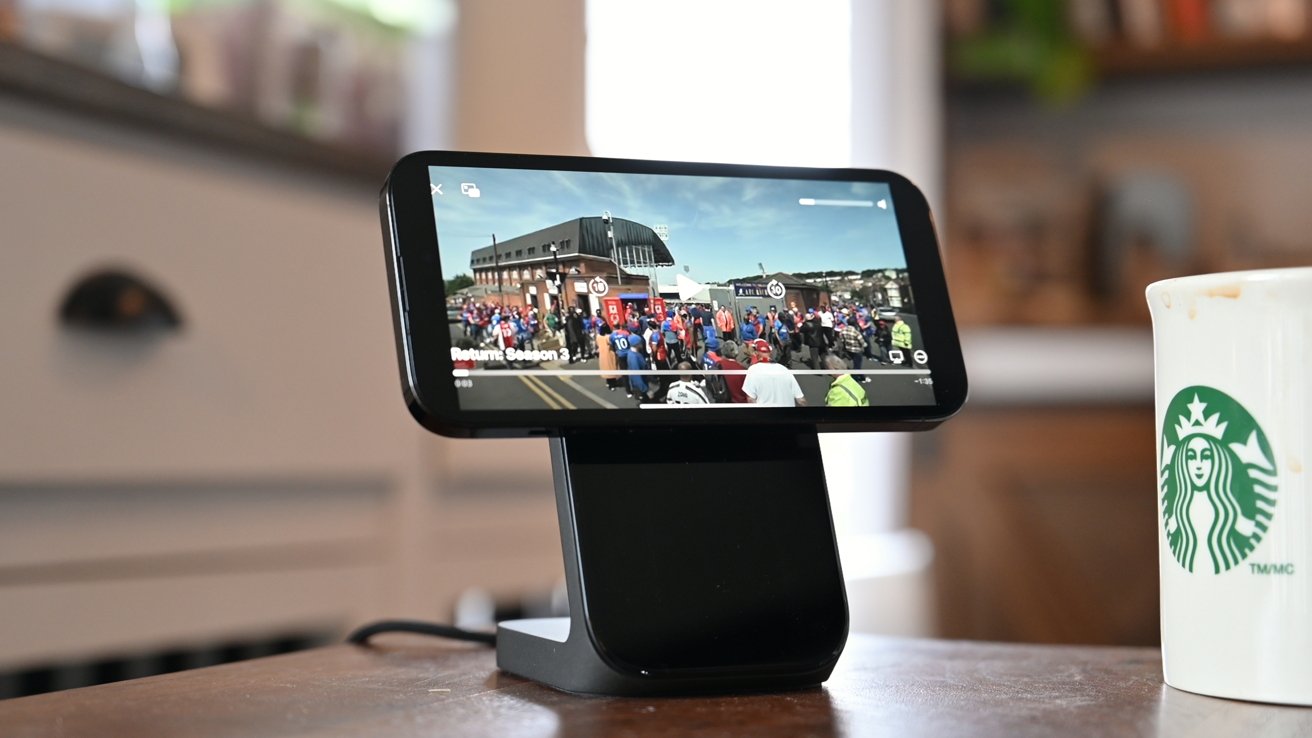 Watching Ted Lasso on Nomad Stand One
Your phone easily sits vertically, or you can twist it into landscape orientation. When in landscape position, it's an excellent choice for binging TV or watching a movie.
Should you buy the Nomad Stand One?
There's no denying the incredible craftsmanship and quality that has gone into Stand One from Nomad. It's thoughtfully designed, with premium materials and official Apple components.
We love the glossy glass top surface that perfectly fits against the weighted aluminum body. It has elegant curves that make it feel modern yet warm.
MagSafe also gets you the fastest possible wireless charging speeds on your iPhone. By all means, this is a near-perfect charging stand for your iPhone.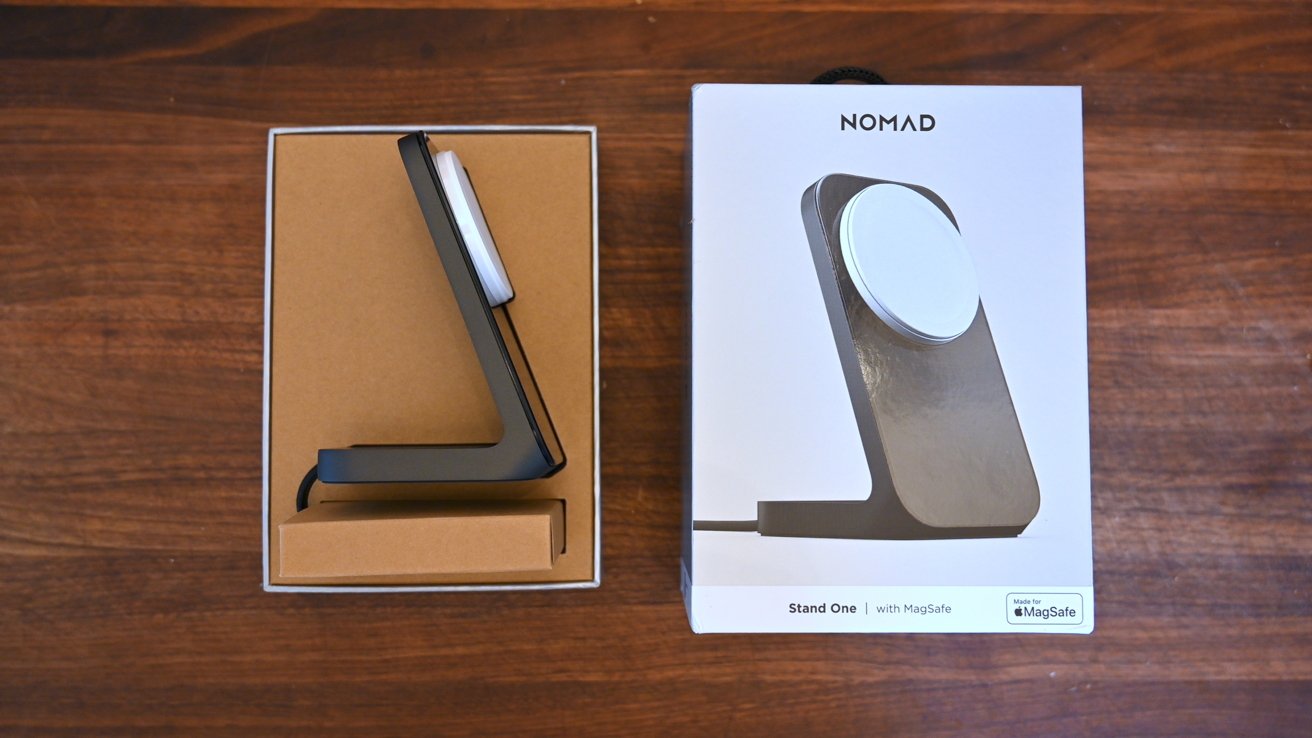 Nomad Stand One in box
At the same time, we're tired of expensive chargers that integrate the cable into the device with no way of replacing, repairing, or swapping it. It's not the worst thing in the world, but it does detract from an otherwise excellent device.
Nomad Stand One - Pros
Build quality is second-to-none


Unique look


Official Magsafe components


Up to 15W charging speed
Nomad Stand One - Cons
No power adapter provided


Fully-integrated cable
Rating: 4 out of 5
Where to buy
Pick up the new Nomad Stand One from the
company's website
for $109.95 in Carbide and silver.
Read on AppleInsider