EcoFlow Advanced Kit review: Power your whole house with batteries
Batteries are replacing gasoline in not only cars but now generators. The EcoFlow Advanced Kit -- comprised of two individual EcoFlow Delta Pros -- is a prime example of the future of generator power.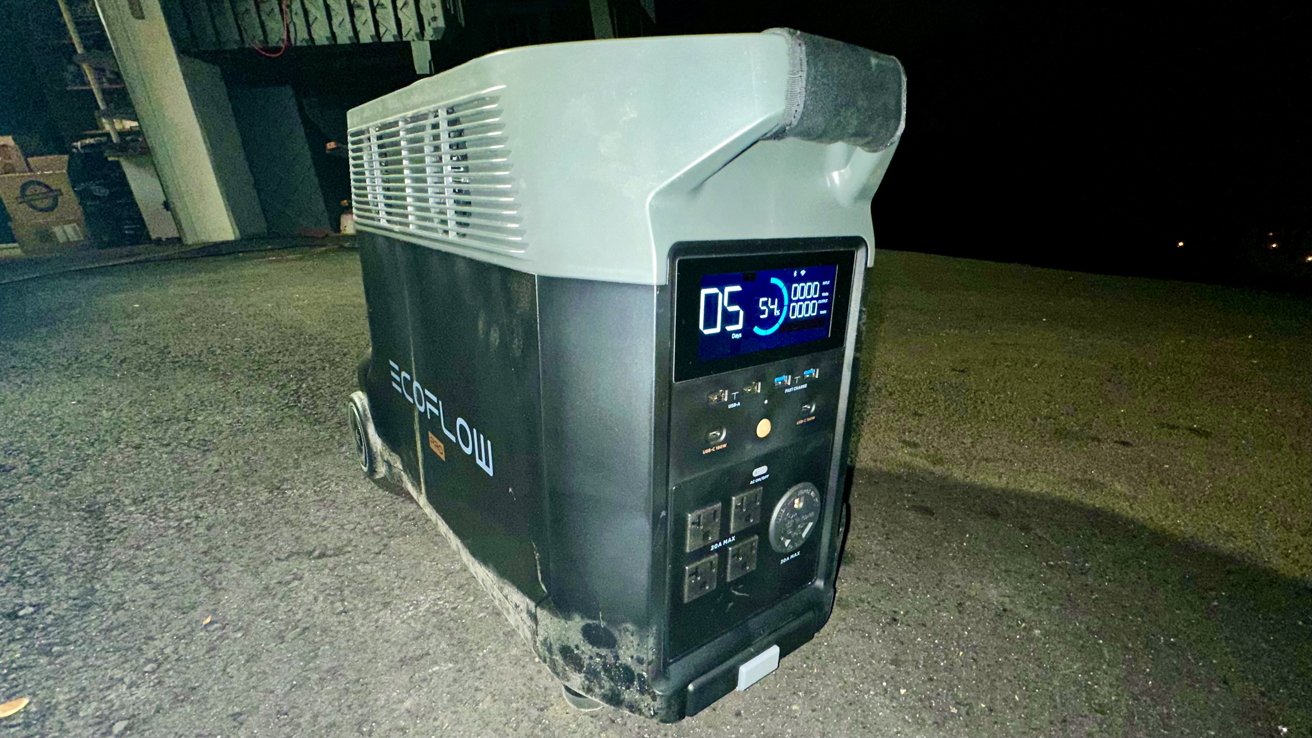 EcoFlow Delta Pro unit for Advanced Kit
The Advanced Kit is a safer and more efficient energy option for when a blackout happens, and you need power fast.
While the EcoFlow Advanced Kit may be more powerful and coherent than a regular generator, it comes with a more robust price tag alongside it.
EcoFlow Delta Pro design
The EcoFlow Delta Pro -- the power factor of the EcoFlow Advanced Kit -- is built within a 25x11.2x16.4 inch box-shaped design with two wheels on the back and an LCD screen on the front that takes up about one-third of the front panel.
The whole design replicates the look of a massive battery, and essentially, that's what it is.
A button on the bottom of the front will release a handle for you to pull the 99-pound Delta Pro. This handle is handy when transporting the unit from one spot to another.
While it may look like it cannot withstand the weight, the handle is extremely sturdy.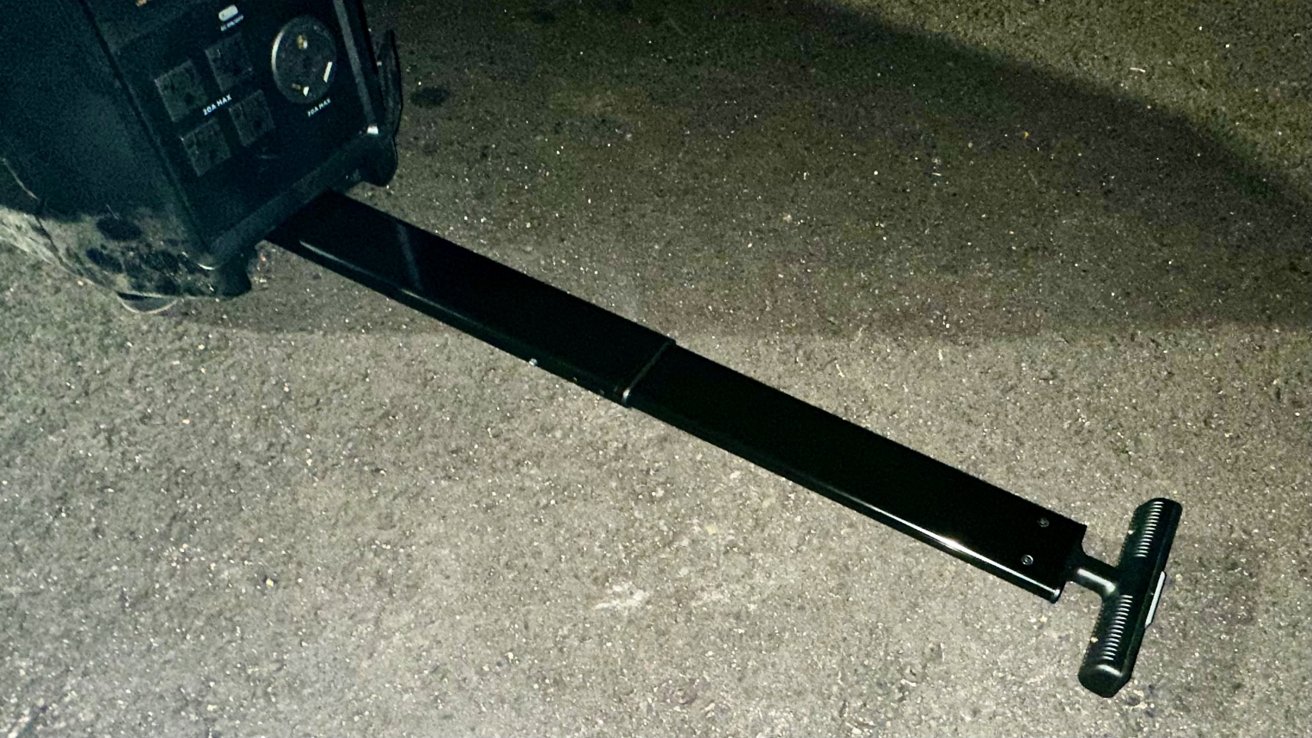 Handle bar for EcoFlow Delta Pro
Two handles at the top come in use when picking up the unit, but unless 100 pounds is easy for you to carry, it is suggested that you and one other person take one of the handles and lift the Delta Pro together.
The LCD screen presents huge digital numbers that are easy to read and simple to understand when wanting to know how much battery is left or how much power is being used.
Specifically, the battery percentage converted to the number of days left is showcased on the left. The battery percentage is in the middle (surrounded by a corresponding battery-level ring). The power input and output status are on the right side of the screen.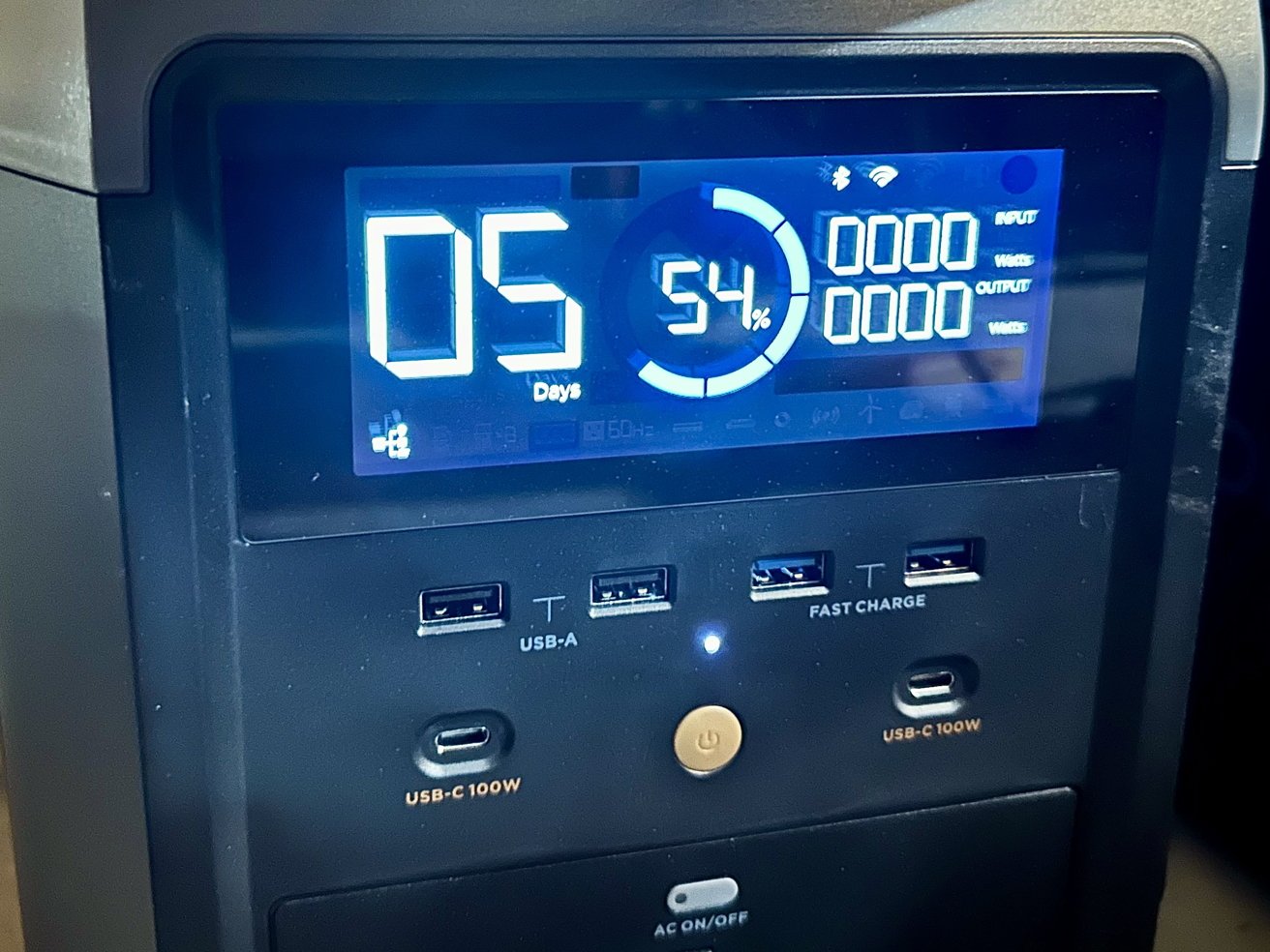 Front information panel and ports
Underneath the screen are the ports you can plug your devices into to charge. Two USB-A ports can output up to 12W of max power; the other two support fast charging of up to 18W, and two USB-C ports can hit speeds up to 100W.
A power button is located in the middle of the USB-C ports. Press it once to turn on the Delta Pro, and hold it down for three seconds to turn it off. It's like operating a television, which beats repeatedly injuring your arm by tugging on a ripcord.
Below the ports are four power outlets that can output a max of 20A and an XD-010 port that can discharge power of up to 30A. A power button for them is located above the outlets.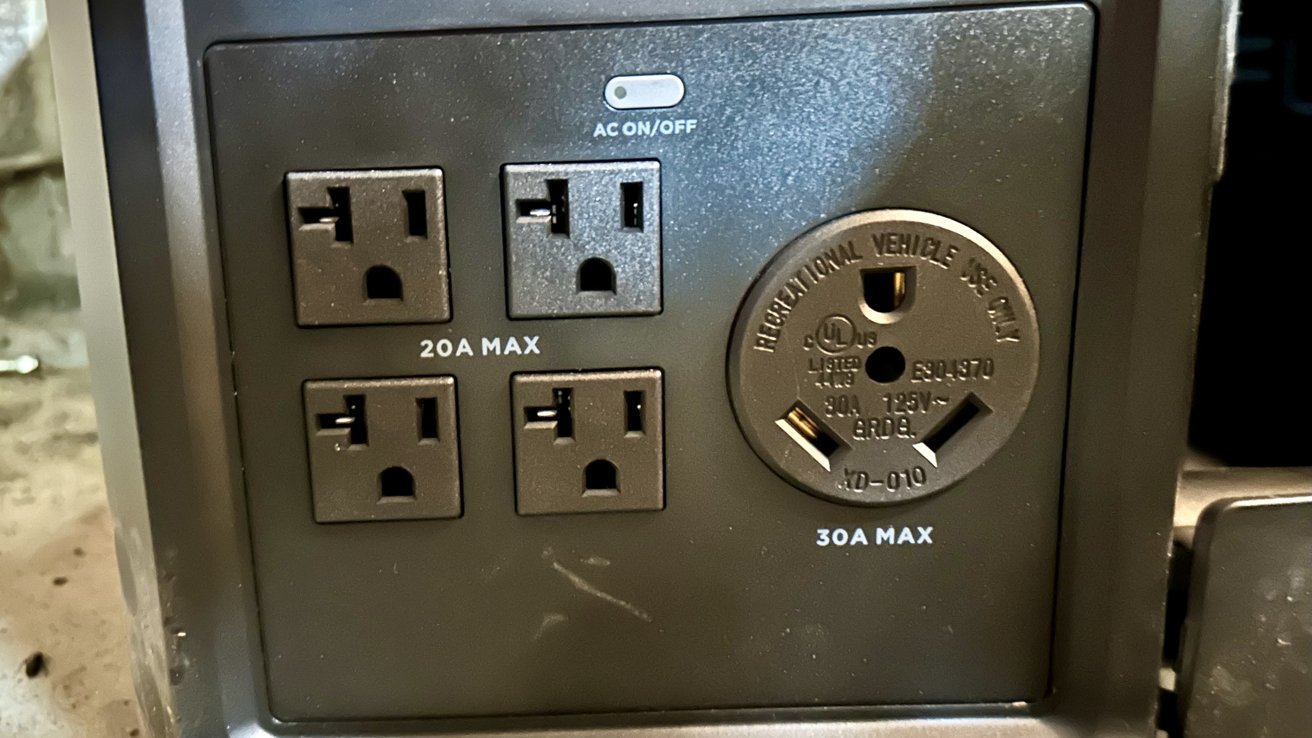 Power outlets located on the front
On the back are an 11-150V DC port (used for solar or car charging) and a 100-240V AC port that both output a max of 15A. A speed switch in the middle allows you to make charging speeds faster or slower for connected devices.
Next to the ports is a switch that protects the power station from overloading.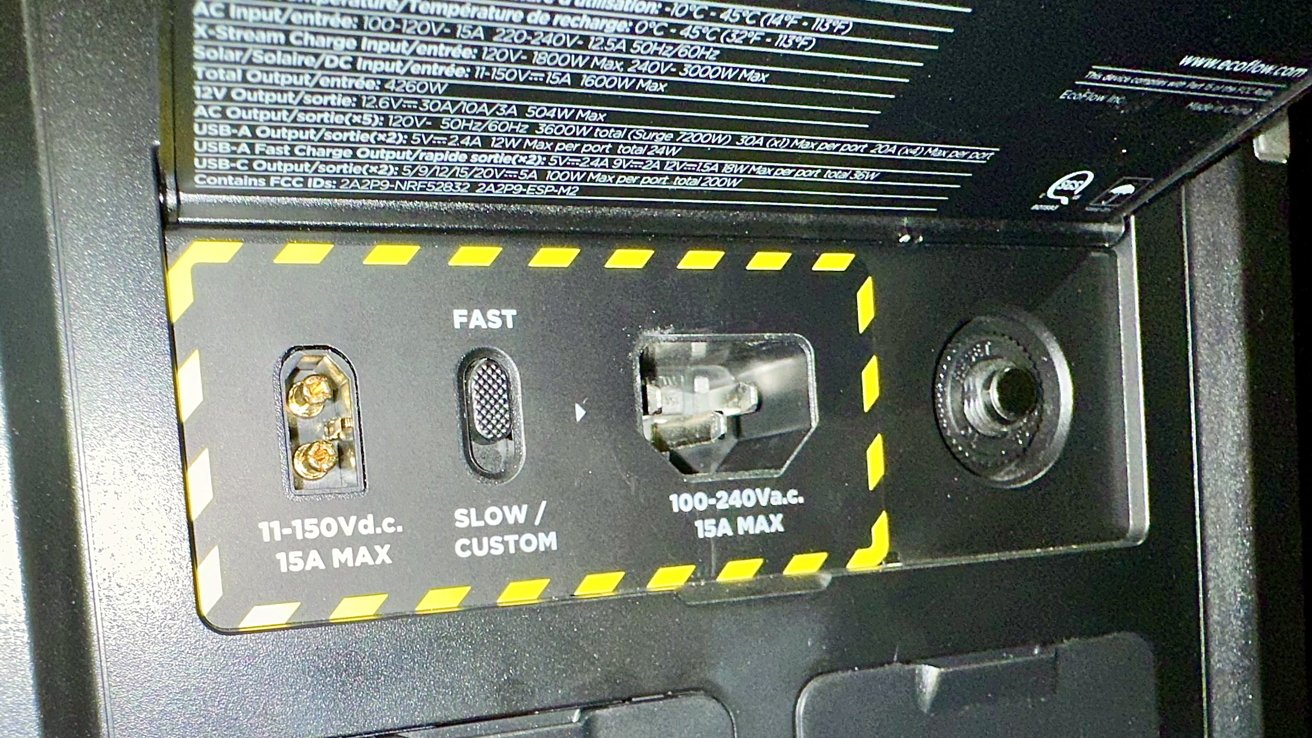 Rear ports of EcoFlow Delta Pro
Underneath the ports are two shielded outlets that allow you to plug in additional batteries -- sold separately -- to prolong the battery life of the Delta Pro.
A panel on the lower right side connects the unit to your phone through Bluetooth or WiFi, a Bluetooth standby switch, a remote control (sold separately) port, and an IOT reset button. An infinity port, 12V DC power button, and Anderson port -- which can output a max of up to 378W -- can also be found in the exact location.
Inside the Delta Pro is a 3.6kWh capacity battery made from LFP (lithium iron phosphate) and has a cycle life of 6,500 when up to 50% capacity or 3,500 cycles when up to 80%.
EcoFlow Delta Pro functionality
The EcoFlow Delta Pro -- one half of the Advanced Kit -- offers much solid power alone and can be transported with you on trips as well.
With a 3,600Wh battery inside, the Delta Pro can last up to one day and output 12V of power. It can be fully charged in roughly 2.7 hours -- which is good statistically since you get nearly 12x the amount of usage out of the power station.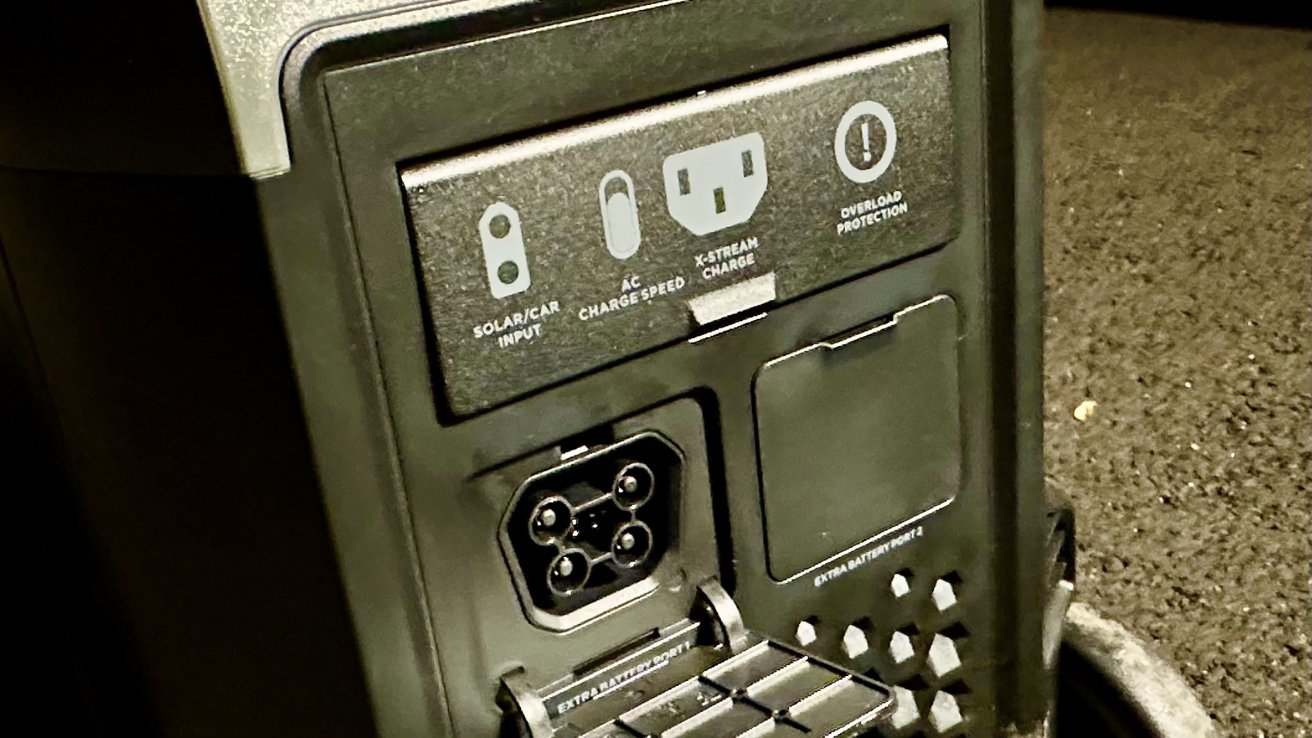 Port to add additional battery
How fast the battery drains obviously depends on how many appliances you have running on the unit. There is a slight overhead, as always, but it isn't bad.
To charge the Delta Pro, plug the charging cord into the X-Stream charging input port on the back and then plug the prongs into a regular wall outlet. You can also charge it with the included car cigarette lighter adapter.
Charging speeds are up to 1800W max, and 12V car charging speeds are also included.
The Delta Pro can be taken nearly anywhere you go -- especially to areas where power outlets may not be accessible. While the unit can charge from a cigarette lighter in the car, it can also be recharged through the Infinity port on the side at electric vehicle charging stations.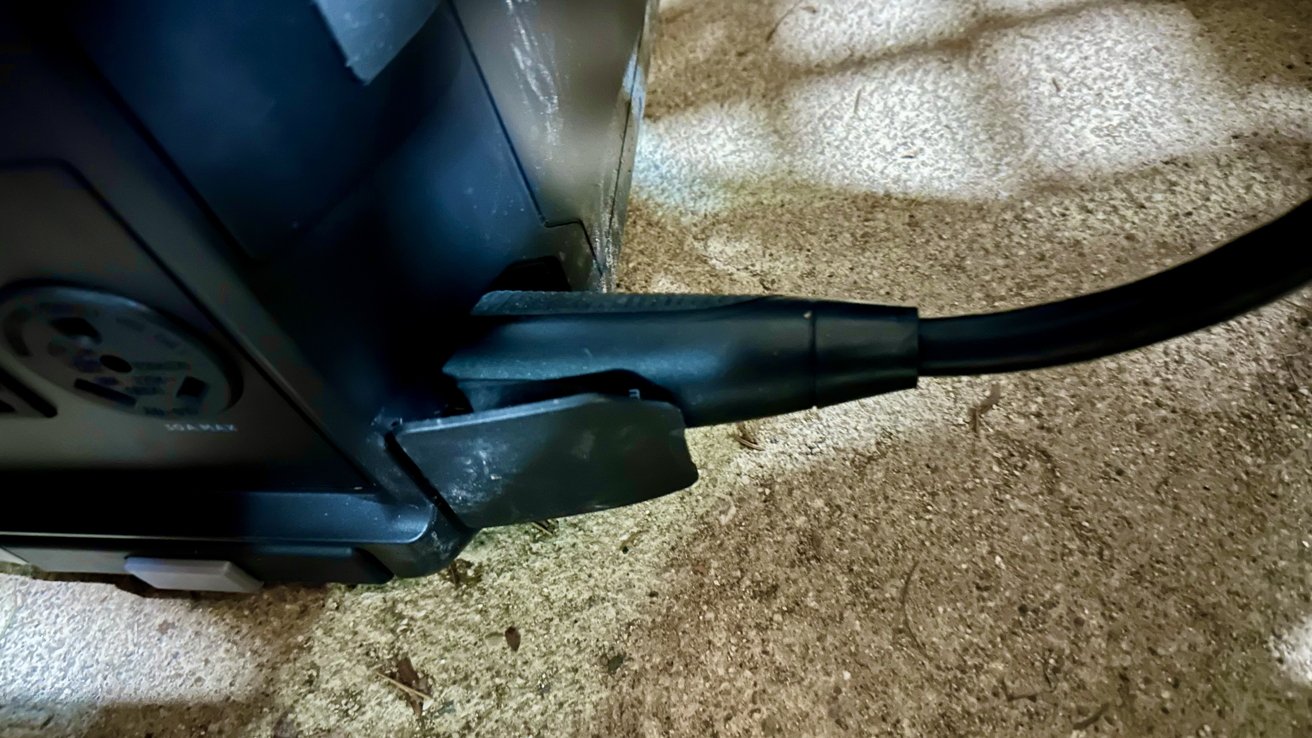 Port to charge Delta Pro at EV charging station and connect to Advanced Kit
Charging the Delta Pro at an electric vehicle charging station is very beneficial -- especially in the case of a natural disaster that can cause a widespread blackout. Then, while everyone is waiting in long gas lines, you can skip the line and go straight to an EV charging station to fill up your electronic generator.
Unlike a traditional generator that would make a bunch of noise when running and stink up the surrounding area with the smell of gasoline, the Delta Pro runs quietly with only the sound of the fans running to keep the battery cool.
The noise levels can be compared to a laptop fan running at high speeds, so you won't hear your power stations at all if you have them in the garage or downstairs. It usually runs at a temperature of around 68-86 degrees Fahrenheit.
Due to the Delta Pro being powered by batteries instead of gasoline, it is safe to have them inside your house while running. This eliminates the fear of your generator being stolen if left outside at night or needing to refill it multiple times in bad weather.
EcoFlow Advanced Kit functionality
While the Delta Pro is powerful, pairing two together to assemble the EcoFlow Advanced Kit creates a powerhouse strong enough to power your whole house.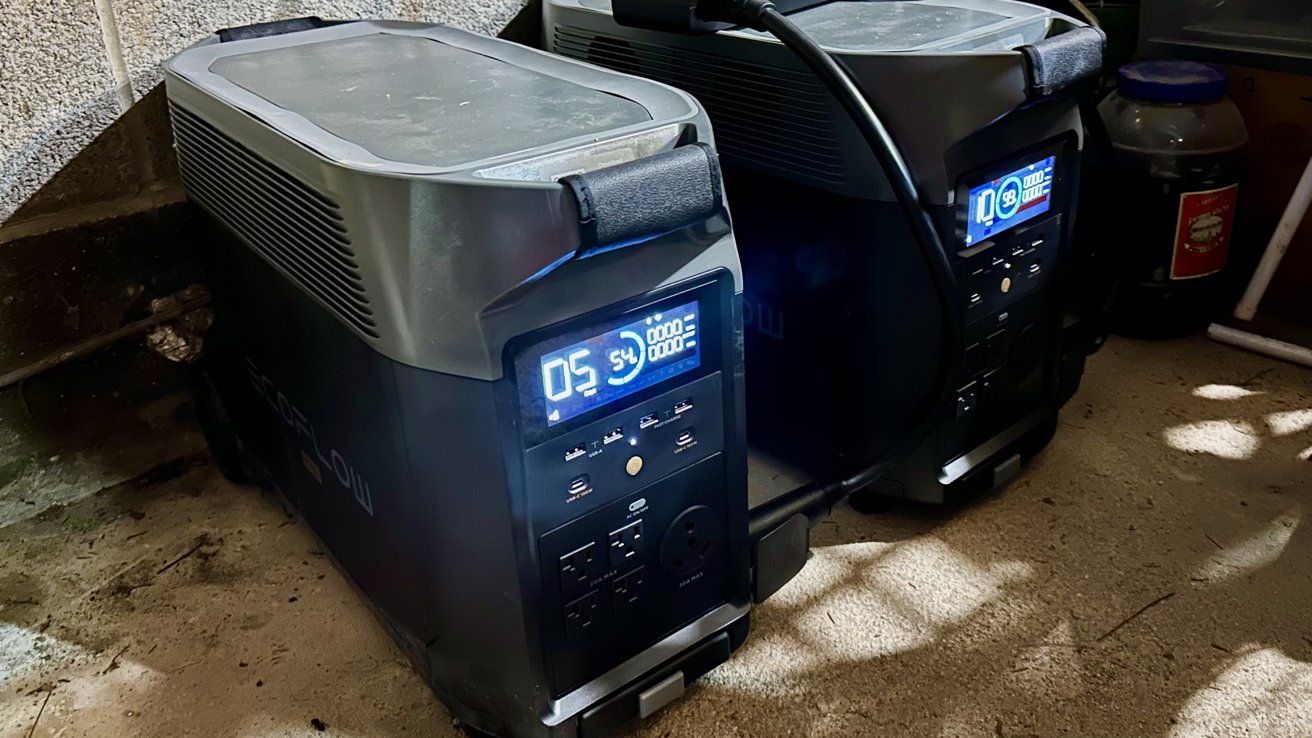 Advanced Kit consisting of two Delta Pros
When purchasing the Advanced Kit, you will receive the Double Voltage Hub, which connects both Delta Pros to make them one power unit. Plugging the two units into the hub is like plugging a cable into an outlet; it is effortless.
You then connect the adapter cable to the infinity port -- the same port you would use to charge the Delta Pro at an EV charging station.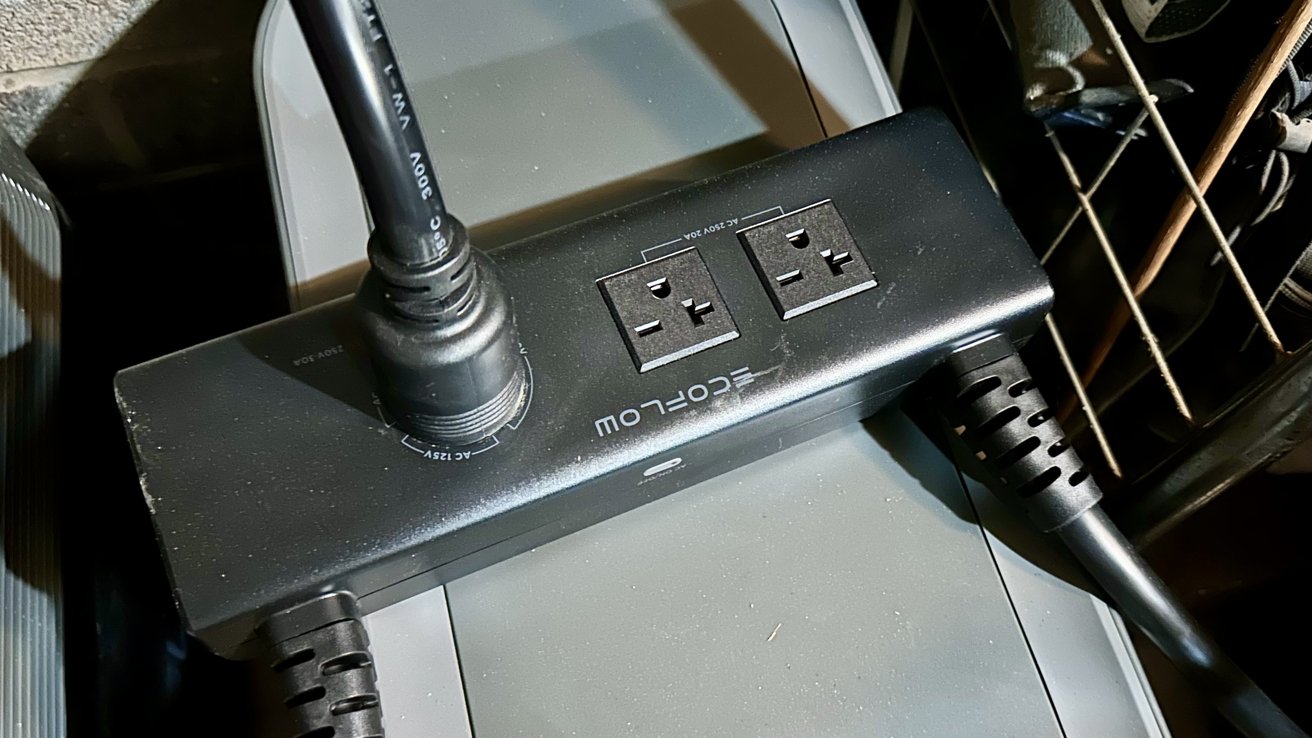 Double Voltage Hub
The Advanced Kit has a 21.6 kilowatt-hour capacity (kWh) versus 7.2 kWh and can deliver 240V. When actively running, it can give you up to one week of delivered energy to your home, depending on load.
You can fully recharge the whole unit in under 6 hours (5.4 hours, to be exact). This is an excellent turnaround for a battery that can last you a week before having to be recharged.
Unlike the singular Delta Pro, the Advanced Kit is made to fully power your home, from refrigerators to lights, to your washer and dryer.
To have the Advanced Kit power your home, you need to connect it to a power inlet box that houses all of your power switches for the electricity zones in your house.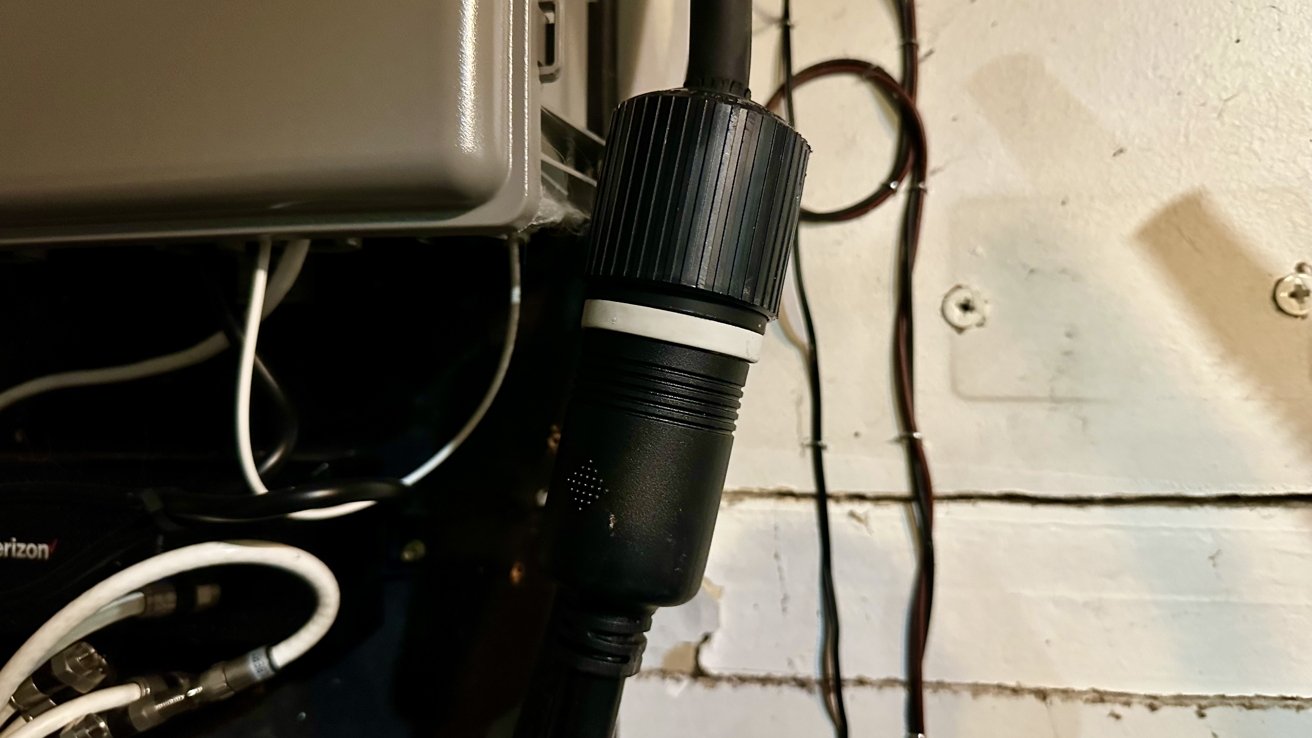 Connection to inlet box and power switches
Once the Advanced Kit is plugged in, you turn on both units, press the power button on the Double Voltage Hub, and turn the power station switch on in your control panel. Your home will then solely start running off the power from both Delta Pros.
While running, you can see the amount of power outputted from the LCD screen.
EcoFlow mobile app
The EcoFlow Delta Pro connects to your phone via the EcoFlow app and a WiFi or Bluetooth connection. This is the central hub to get information about your power.
After pairing your units to the app, you can go in and customize the settings and name of the device and know the status of the power going in and out of it. The information available on the LCD screen is copied through the app.
You can see how much power is outputted through the device and from each port and outlet. This gives you a great insight into what connected devices are draining the most battery.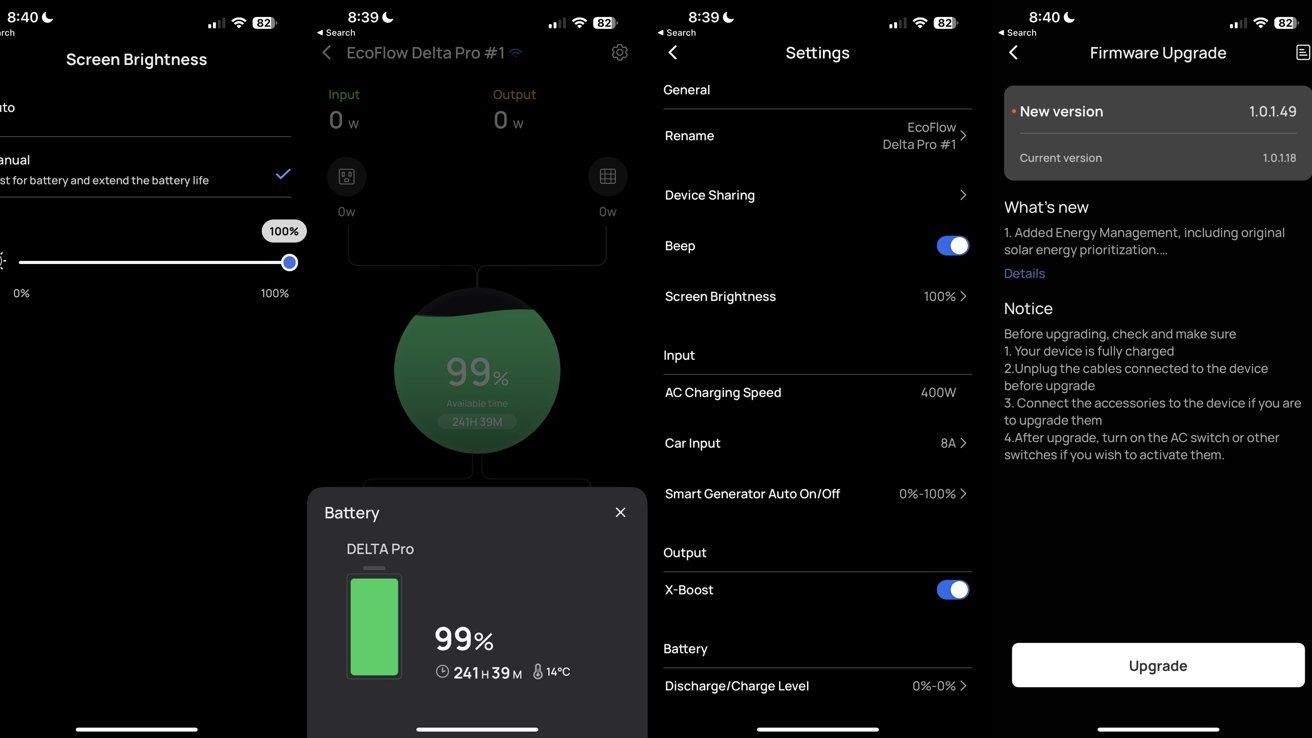 Settings for Screen Brightness, Battery Percentage, overall Settings panel, and Firmware Upgrades
You can also customize the Delta Pro's sound when turning it on and how bright the LCD screen is. Energy management is also available, which allows you to stop recharging at a set level.
If you leave the Advanced Kit on and it is not outputting any power, you can set how long until it automatically turns off so the battery does not go to waste.
Firmware updates are a part of the Delta Pro, which you can download from your smartphone and sync to the power station. It's just like when you update your
Apple Watch
.
The update process is quick and straightforward, with no additional actions needed other than pressing "upgrade."
While the app allows you to customize and handle your Delta Pro in additional ways than just having the unit, this will only be available if the Delta Pro is turned on. Unfortunately, you cannot turn them on or off from the app.
A battery-operated home
The Delta Pro can be used as a stand-alone power source that can charge your devices and appliances without power, or you can pair it with another Delta Pro and create a whole-home power system.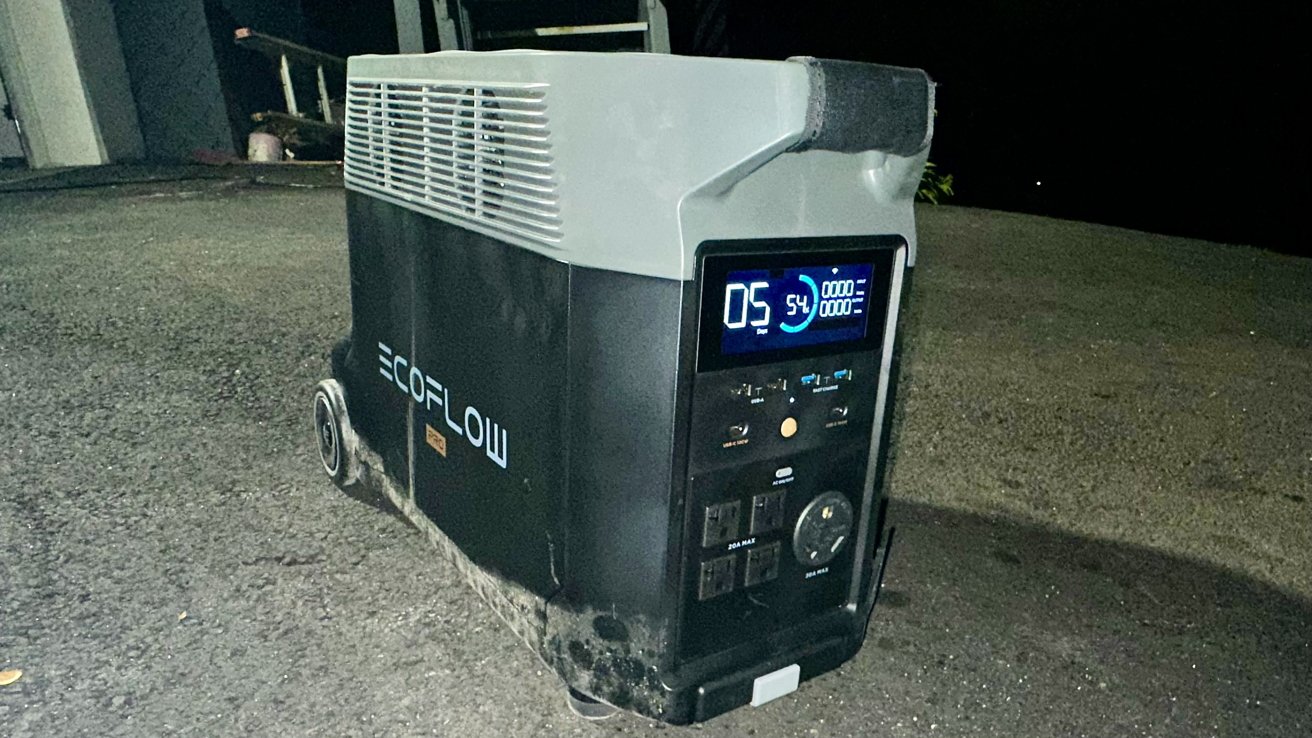 EcoFlow Delta Pro
The weight of Delta Pro is heavy, but with the included wheels, handles, and expanding bar underneath, transporting it is very easy. Likewise, maneuvering it around is simple, whether pulling or pushing it into place.
With so many different ways to charge the Delta Pro -- from a regular wall outlet to a car's cigarette lighter to even an EV charging station -- you can always find a way to keep your battery powered.
While the price is nearly $7,000 for the Advanced Kit, the longevity of a single battery cycle is impressive. A typical gas generator can typically go for around $600 and last up to 14.5 hours, but the Advanced Kit can last a whole week -- which is practically 14x longer than a gas generator.
The downside of the Advanced Kit is that you cannot turn on the units from the connected app with just the Advanced Kit. If the power goes out, you need to turn them on physically. However, this small isuse can be overseen, seeing how often you may need to turn it on.
It is powerful, quiet, informational, and long-lasting without needing to refill the battery daily. In addition, you do not have to go downstairs to check the battery status; you can do everything from your phone.
If you have the budget to do so and are looking for a long-lasting and efficient generator that is easy to use and set up, then the EcoFlow Advanced Kit is worth the money spent. Say goodbye to gas generators and hello to battery-powered ones; they are the future of home generating.
EcoFlow Advanced Kit -- Pros


Long battery life


Withholds a charge


Easy to operate


Accompanying app


Portable


Electric charging


Easy to set up


Multiple ports for input and output charging


Can operate indoors
EcoFlow Advanced Kit -- Cons


Very heavy


Cannot turn on from the app
High price
Rating: 4 out of 5
Where to purchase the EcoFlow Advanced Kit
You can purchase the EcoFlow Advanced Kit from the company's website
starting at $6,799
. It is currently only available in one color.
You can also purchase a singular Delta Pro from the same online store
starting at $3,699
.
Read on AppleInsider