Urtopia Carbon 1s e-bike review: perfect weight with some tech tradeoffs
Urtopia wants you to think of it as the Tesla of e-bikes but, like with any ambitious new product, there's some bad with the good for the Carbon 1s.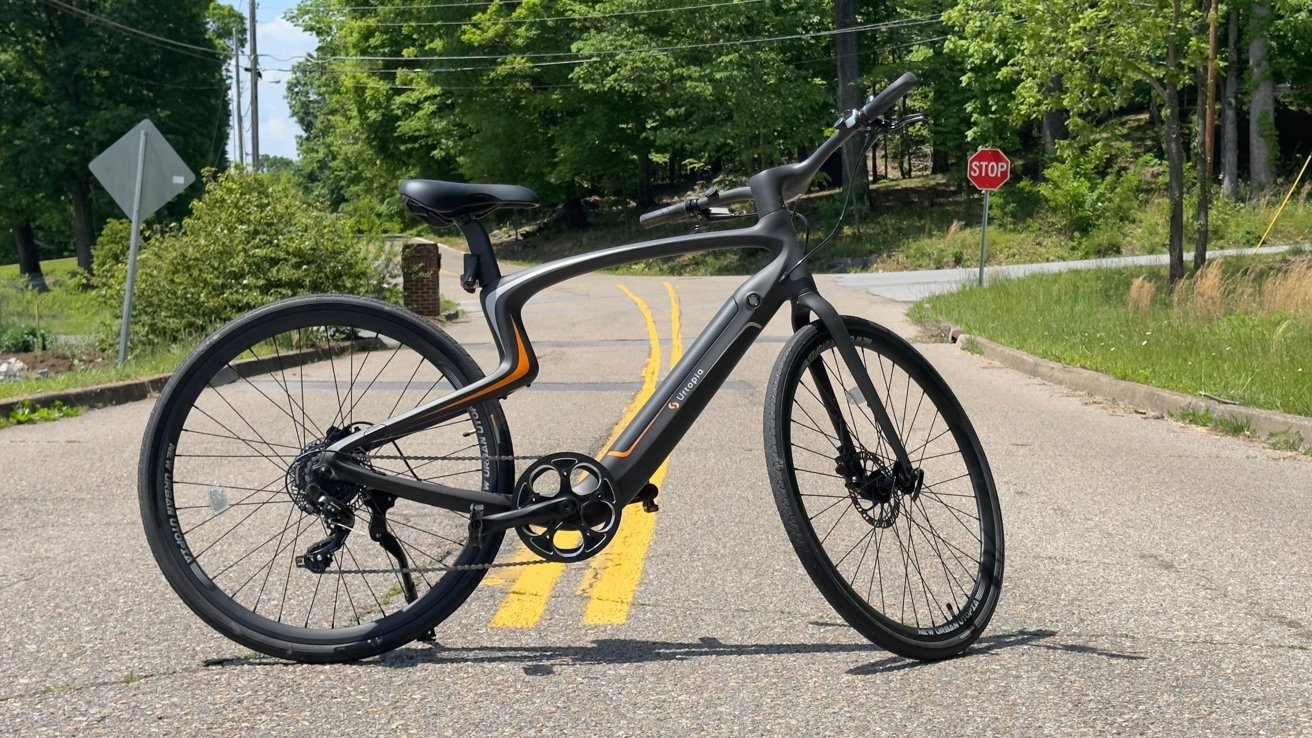 Urtopia Carbon 1s
The Urtopia Carbon 1s is a tech-first e-bike that weighs only 35 pounds. While some of the product choices are odd or even consumer-hostile, we've found Urtopia's vision of the future of e-bikes quite intriguing.
Before we mention anything else, let's talk about the weirdest omission -- the kickstand. That's right, if you want a kickstand for your fancy new $2,800 e-bike, you'll need to shell out $30 in a separate purchase.
This e-bike is well-built and acts as an excellent option for paved travel. The tech-first approach could leave some e-bike enthusiasts looking elsewhere, but this is a good option for someone who wants an out-of-the-box bike with little fuss and gadget-heavy flair.
Urtopia Carbon 1s design
We reviewed the Urtopia Carbon 1s, a slightly different model from the Carbon 1 that's still for sale. The most significant difference between the two is the Carbon 1s has a 7-gear derailleur and a metal chain versus a carbon belt drive mechanism.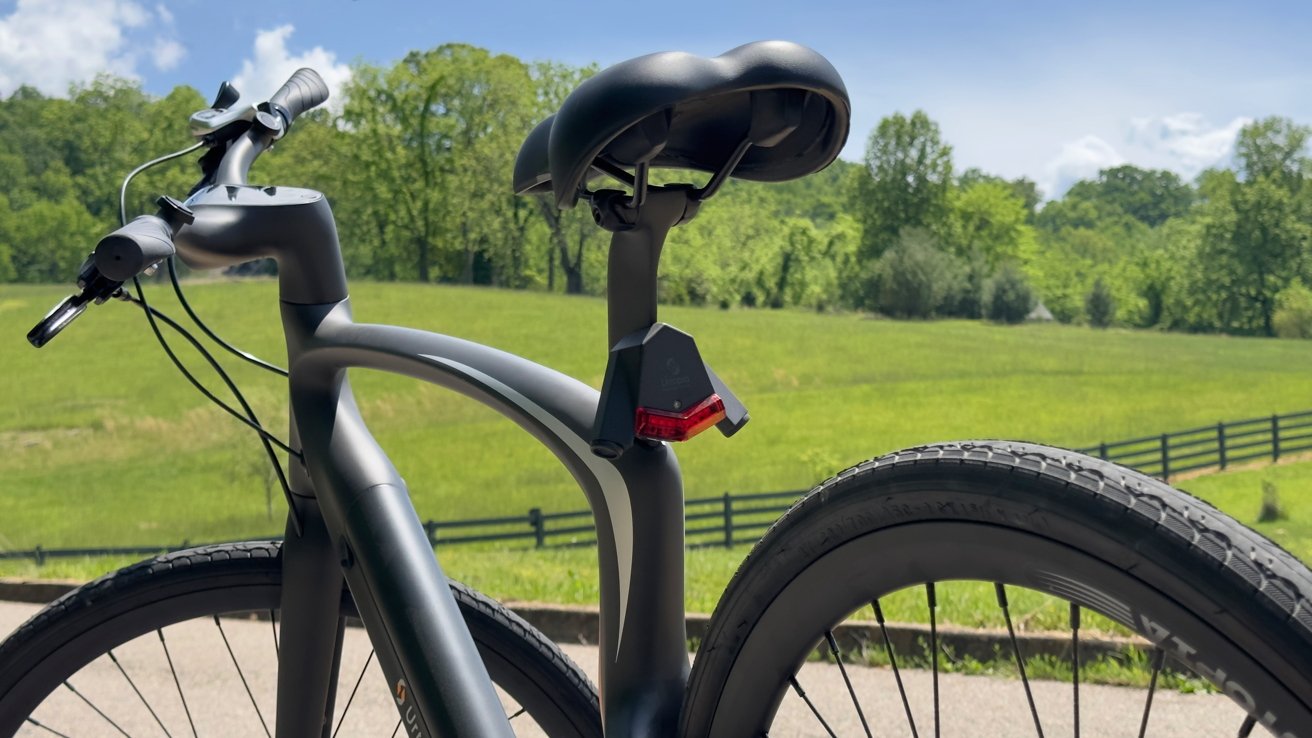 Urtopia Carbon 1s has a curvy, opinionated design
The most notable feature of Urtopia's Carbon series of e-bikes is their weight. It uses a full carbon body frame similar to the ones used by professional racing bikes -- making the entire bike weigh 35 pounds.
This is an incredible difference in weight compared to other e-bikes
we've reviewed
. That's half or more the weight with almost all of the functionality.
The Carbon 1s design is minimal yet striking in its own way. There are three different color options that are very loud or a more minimalistic monochrome option if that's your thing.
The wheels are super thin -- the thinnest we've used on any bike. They're made with paved roads in mind, and a lack of suspension doubles down on that.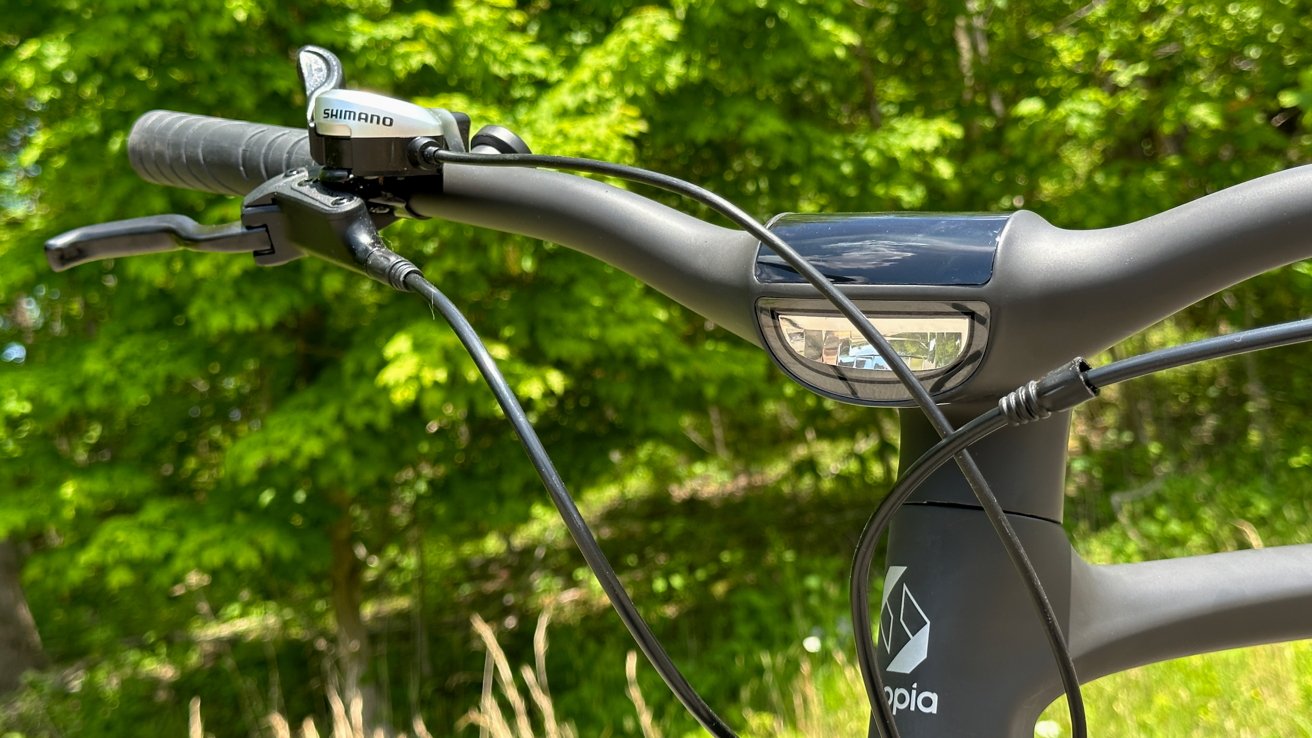 The handlebars can't be adjusted
The screen is integrated with the handlebars and shows information in a dot-matrix display. Speed is shown in large numbers above a battery level indicator and a numeric value for the current pedal assist mode.
The left handlebar has a "gamepad" button, or D-pad, for controlling pedal assist levels or activating turn signals. The right handlebar has a button with an integrated fingerprint reader that summons the voice assistant and a gear shift.
Under the seat are an integrated brake light and projector turn signals. These are connected via a wire in the seat stem.
Unlike other e-bikes, what you see is what you get. You're buying into the Urtopia technological ecosystem and everything it stands for.
That means you'll have a handlebar that can't be exchanged for one with height or tilt adjustment. You're also stuck with the seat stem, and third-party accessories likely won't work with the Carbon 1s frame.
e-bike as a service
Urtopia isn't the first or the worst offender, but we'd like to note the business model does feel more pointed toward accessory upsell versus other brands. Add racks, fenders, or a water bottle cage for an expected premium.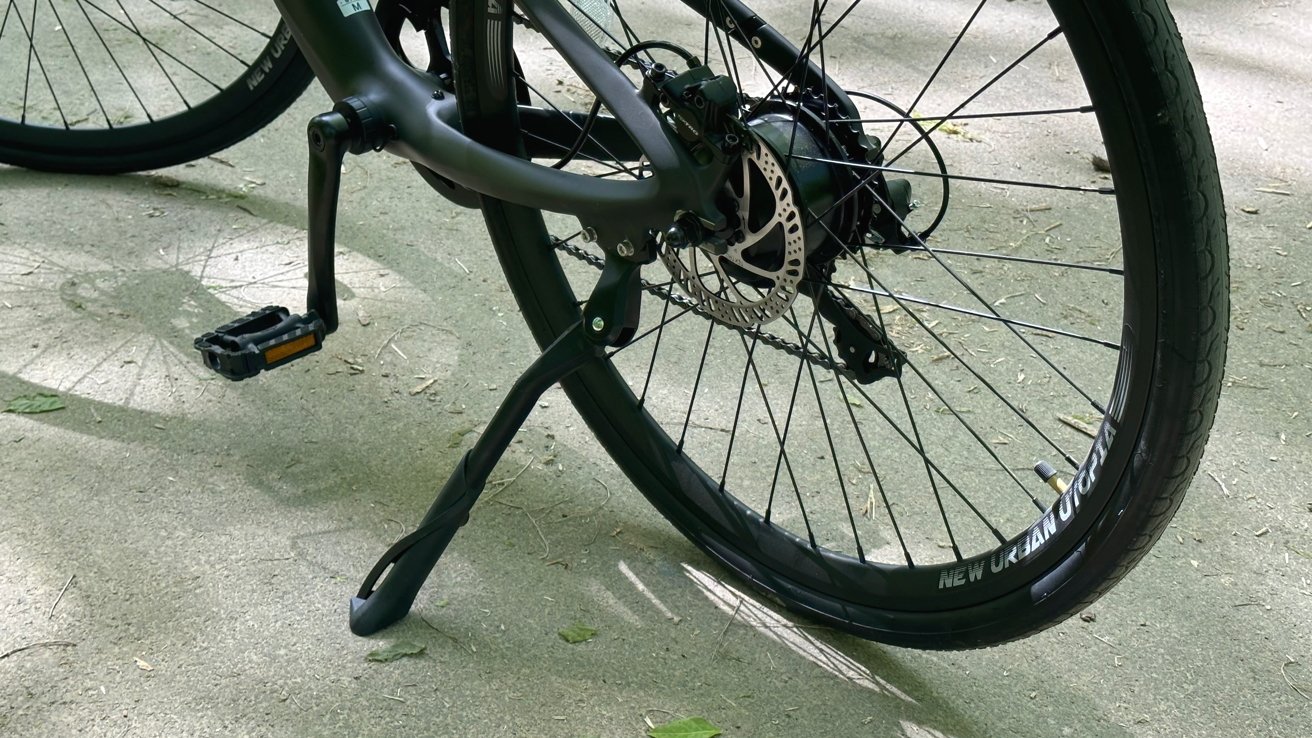 Kickstand sold separately
However, the greatest sin Urtopia commits is forcing customers to order the $30 kickstand separately. We're not entirely sure why this part was omitted except to reduce weight, but as far as we're concerned, it's an essential part.
Considering the already high price of the e-bike, it seems like a nickel-and-dime move to ask customers to buy such a necessary part separately. Our town doesn't offer many bike stands or stations to park, so we'd have to order a kickstand or face laying this expensive product in the dirt.
Urtopia also offers an eSIM. Thankfully you won't need to call Verizon or T-Mobile for an expensive monthly plan -- it's just a single $30 per year in-app purchase, and the first year is free.
That eSIM plan provides many of the smarts to the Urtopia Carbon 1s. Track the bike anywhere with GPS, get directions that show arrows right on the bike, and get notifications when the bike is moved in locked mode.
Urtopia Carbon 1s Smartbar and tech
We've tested a few e-bikes, and they've all prided themselves on app connectivity and emerging e-bike tech. However, Urtopia takes it a step further and strives for a fully-integrated tech experience.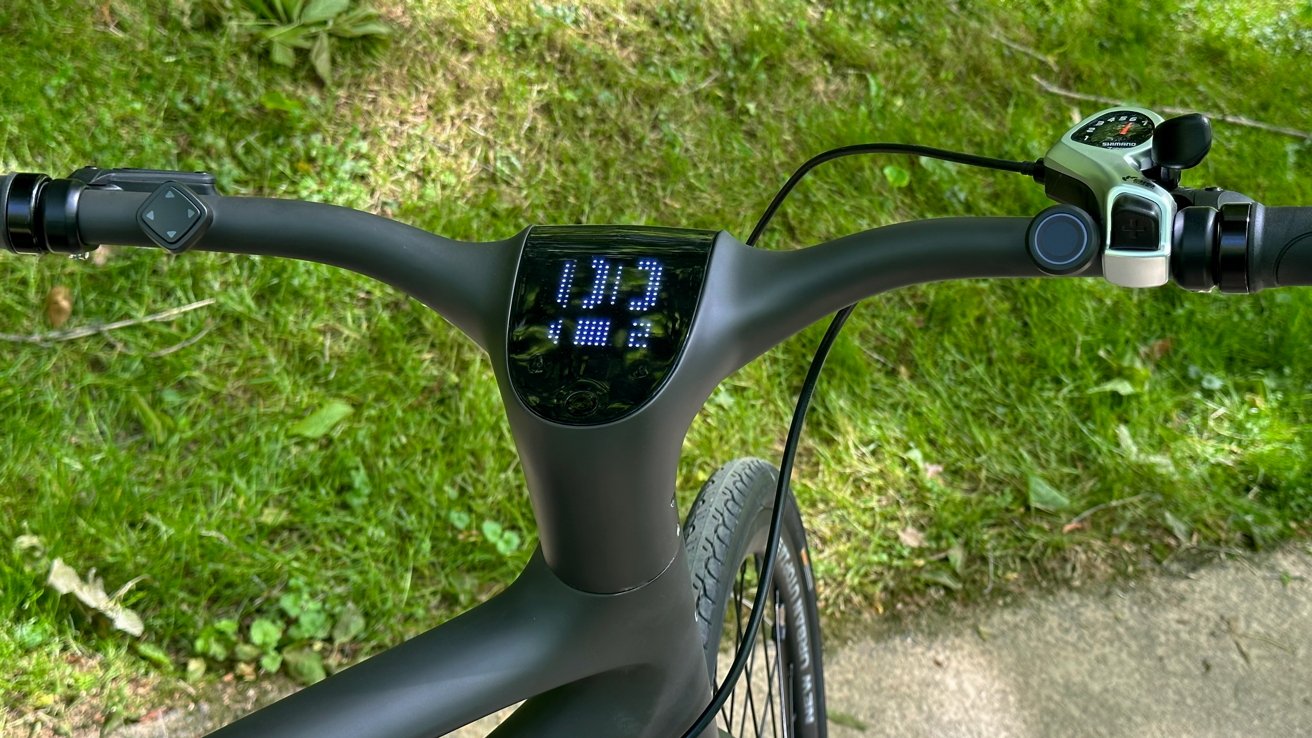 The dot-matrix display is easily read in direct sunlight
At a glance, you'd never guess that the Urtopia Carbon 1s has motion detection, alarms, a voice assistant, fingerprint unlock, a Bluetooth speaker, automatic lights, and a horn. All of these features are thanks to the integrated processor, 4G modem, and other technologies built into the bike and its Smartbar.
We already mentioned the d-pad control and fingerprint reading button. These interface with the e-bike simply, though there is a learning curve thanks to the minimalistic approach.
The D-pad has a press command and a hold command for each button:


Press up to increase the pedal assist mode, and hold up to enter turbo mode.


Press down to decrease the pedal assist mode, and hold down to lock the bike.


Press left to activate the left turn signal, and hold left to toggle the headlight.


Press right to activate the right turn signal, or hold right to activate a "walk" mode to help push the bike up slopes.


When the bike is locked, pressing the main button with your thumb, which should be mapped to the fingerprint reader, will unlock the bike. Pressing the button when the bike is unlocked will activate your chosen bell/horn sound.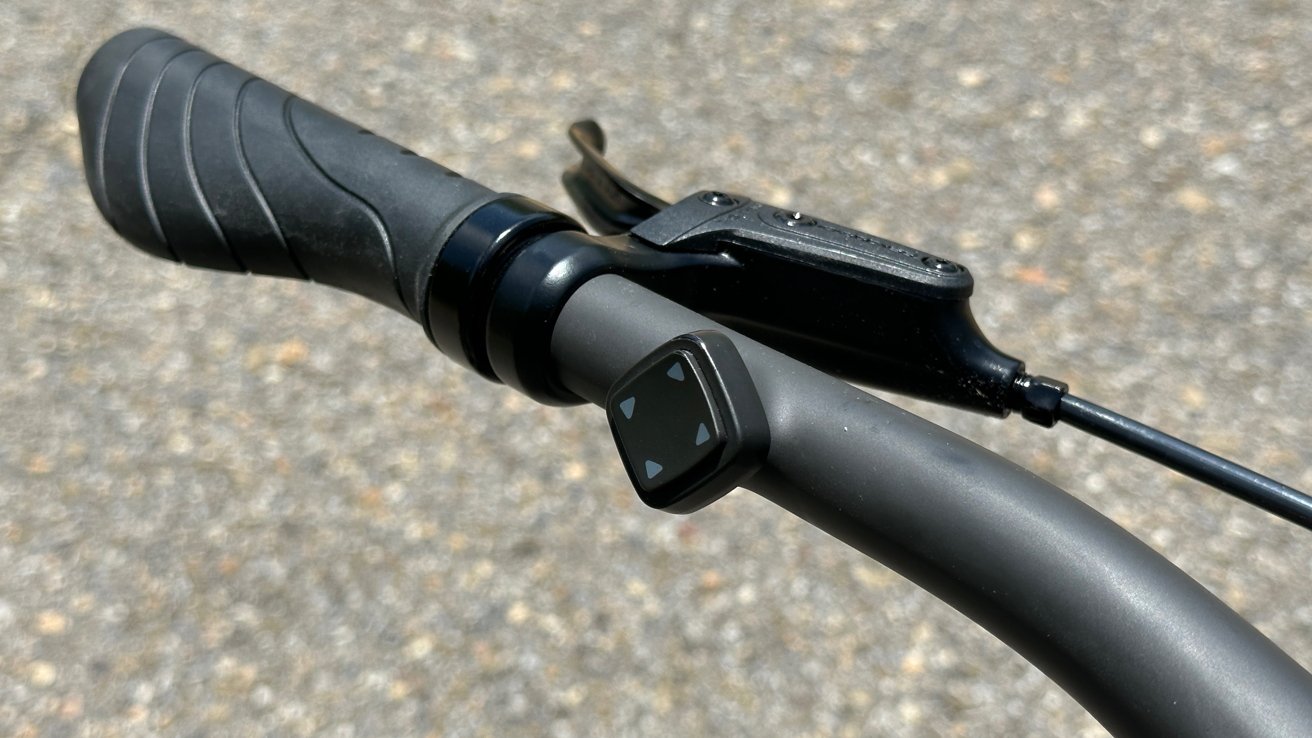 This 'gamepad' controls most of the bike's functions
There are a few options for bell noise and volume levels. However, these are some very odd options, and we'd have liked a few more natural-sounding ones.
Here are the options as they are listed in Urtopia's app: Ringing, Dog's Bark, Horse's Bark, Horn, and Game. No, none of them sound like a bike bell.
Ringing sounds like a tram bell, Horn is akin to a flat-sounding car horn, and Game is a small 16-bit chirping sound. The horse and dog barks are fun joke noises but useless and likely dangerous distractions on an actual bike lane.
Press and hold on the button to make the Carbon 1s listen for voice commands. It isn't immediately clear what you can command it to do, and Urtopia doesn't have a list of commands available.
https://schema.org/
","@type":"VideoObject","name":"Operate the Smartbar | Carbon E-Bike","description":"This tutorial begins your journey of becoming an expert in operating the Urtopia Carbon E-Bike. Let's start with the Smartbar.","thumbnailUrl":"
https://i.ytimg.com/vi/vXECL_4ijkM/sddefault.jpg
","uploadDate":"2022-12-08T03:13:21Z","duration":"PT2M46S","embedUrl":"
"}
We've managed to get the voice control to toggle the headlights on and off, lock the bike, activate the turn signal, and set the volume level. It's nice having some control without pulling out the app, but it would be nice to know exactly what to say.
The Smartbar is minimalistic and reduces distractions offered by full LCD screens. However, despite being a tech-first product, we're not sure it offers much more than other e-bikes.
Sure, Carbon 1s can get over-the-air updates to add functionality. But, that display will likely limit what the e-bike can do long-term. And everything seems dependent on Urtopia's app, so there is no third-party advantage.
For example, I have to use Urtopia's navigation system to have turn arrows displayed on the Smartbar. Directions from
Apple Maps
don't show anything for the bike -- which could admittedly be an Apple issue, though we're not sure.
One update Urtopia has promised, according to its website, is the ability to control the display brightness. Currently, the display is at 100% brightness all the time, which is great in daylight but an eye strain at night.
Urtopia app
There's obviously some demand for e-bike apps with community features, but it isn't for me. As I've said in other reviews, I'm not sure why anyone would want a brand-specific social network for sharing their latest bike ride, map and all.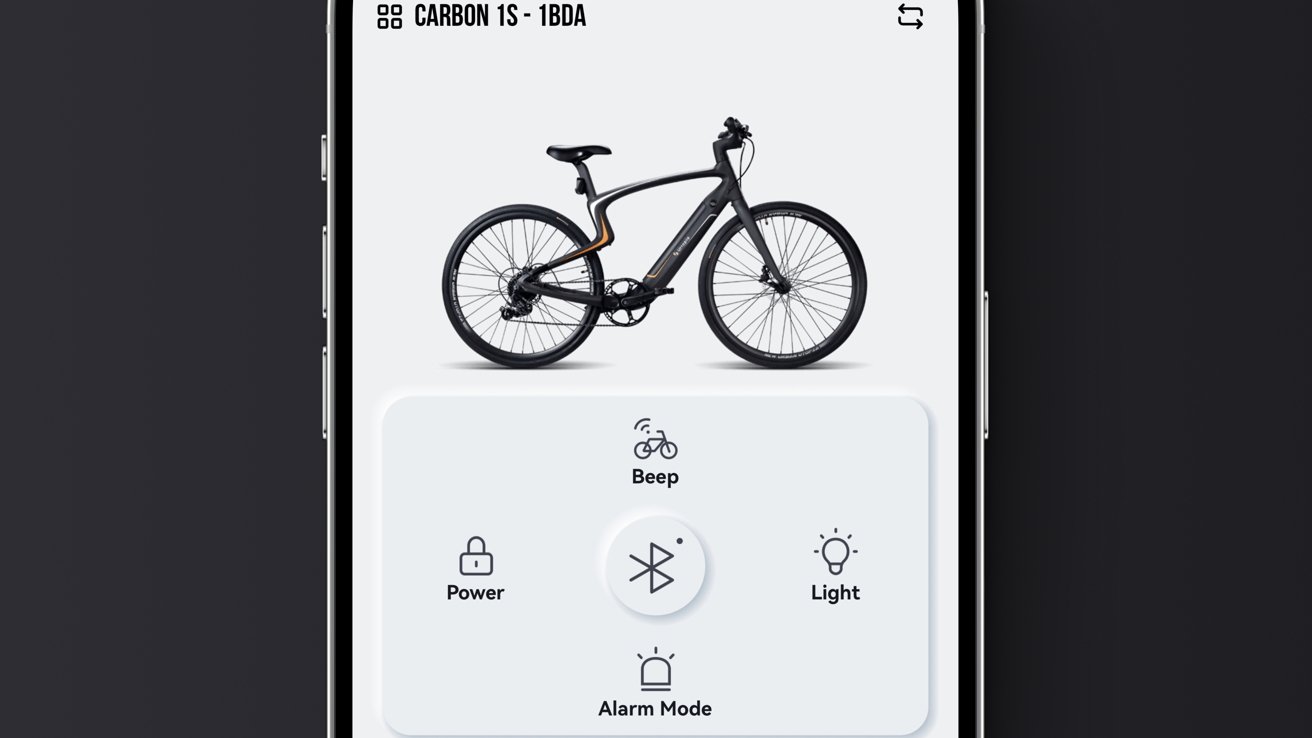 Control basic functions from Urtopia's app
Ignoring that, the Urtopia app is well-designed and easy to navigate. Users will likely find themselves visiting this app often as the bike itself lacks any obvious controls.
The home tab provides some weather data and previous riding stats, the community tab contains the inexplicable Urtopia social network, the shield-shaped tab is where bike pairing and controls are, a navigation arrow represents the in-app map tool, and the last tab is your user profile with settings and other data.
We spend all of our time in the bike control section. That's where you can establish a quick Bluetooth connection for setting the alarm, toggling the light, and changing audio settings.
We still prefer
Apple Health
and the Fitness app on
Apple Watch
for tracking metrics. However, the built-in eSIM allows us to ditch the
AirTag
in favor of built-in tracking.
The navigation tab shows the bike's current location as long as Carbon 1s still has battery power. That does mean standby times without connected power will suffer because of constant location monitoring.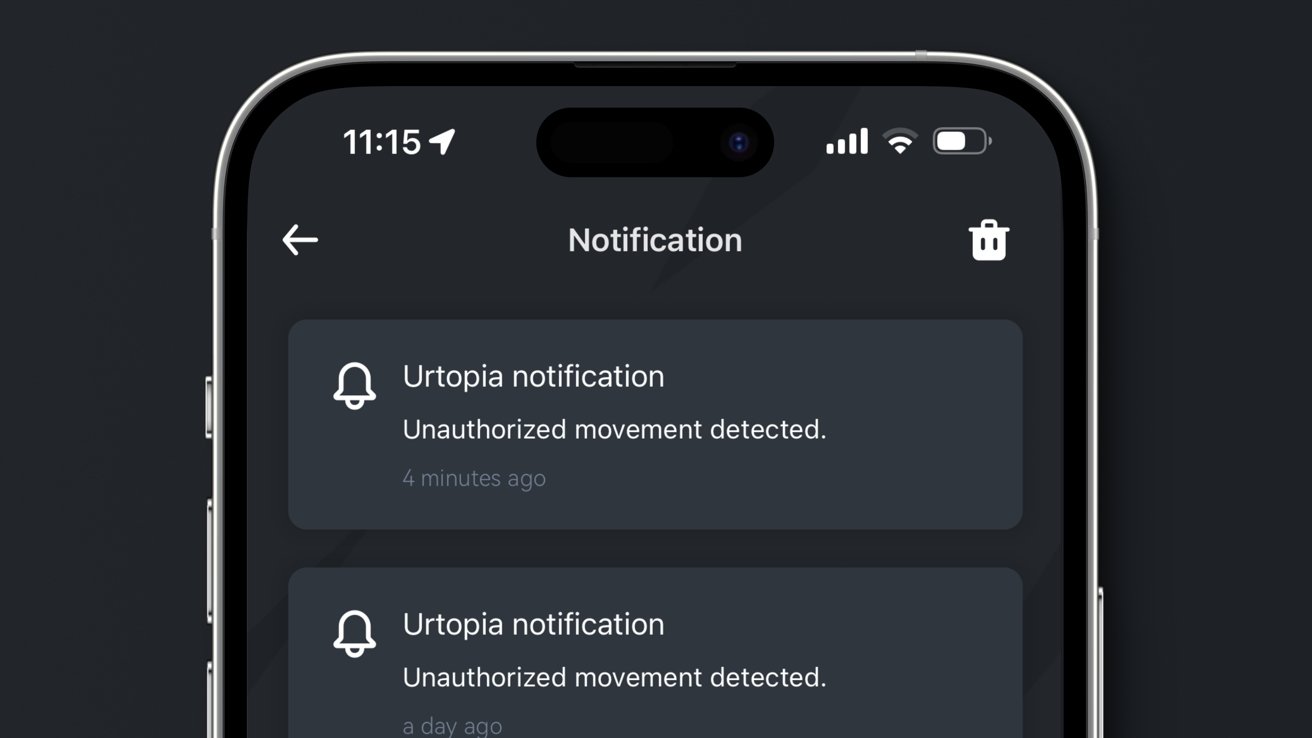 These notifications are all to regular
Users will be notified if the bike is locked and moved, even out of Bluetooth range. This also means the bike will notify you even if you're moving it when it's still locked.
We've got a few "unauthorized motion detected" notifications with the Carbon 1s sitting in our living room. These features can be turned off in settings, but that's a hassle, and they'd need to be turned back on.
Urtopia Carbon 1s assembly and maintenance
Urtopia Carbon 1s ships in the expected mostly assembled flat-lay of many modern e-bikes. Assembly was dead simple since the handlebar is integrated with the frame -- all that needed to be attached was the front wheel and seat.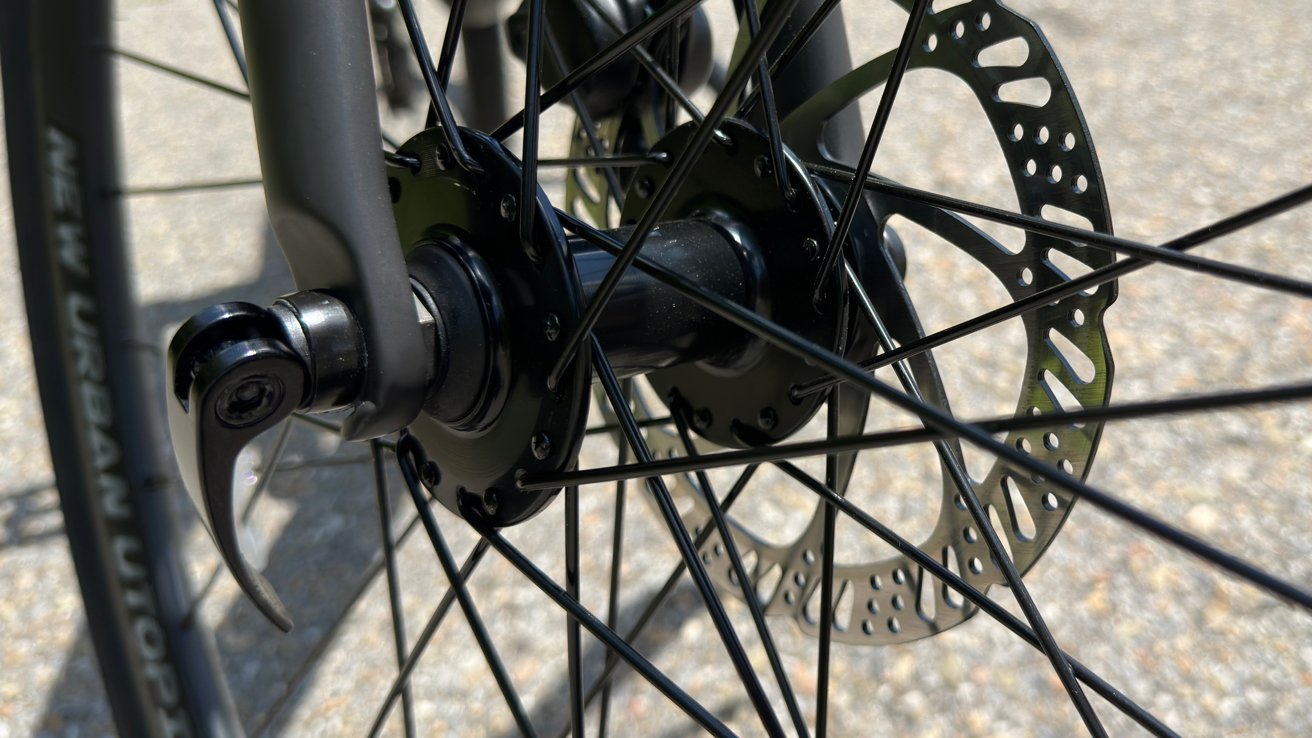 The front tire's quick release mechanism makes removing the tire simple
The quick-release mechanism for the front tire made assembly even more straightforward. You just slide the wheel into place, push the quick-release stem through, tighten the bolt, and turn the lever over.
The Carbon 1s requires a little more maintenance than its Carbon belted counterpart. Since it has a metal chain and derailleur, users will need to ensure the chain is free of rust and oiled regularly.
More intensive maintenance checks should be done every few months of riding. We're happy to take the Urtopia to a local shop for help with that.
Using the Urtopia Carbon 1s
Everything is different with Urtopia's e-bike versus others, including getting the bike ready to ride. There's no need to power the battery on since it's always providing juice to the Smartbar when connected.
Start up
Since a fingerprint reader locks Carbon 1s, you must rest your registered finger on the button and press it to get power flowing and disable security features.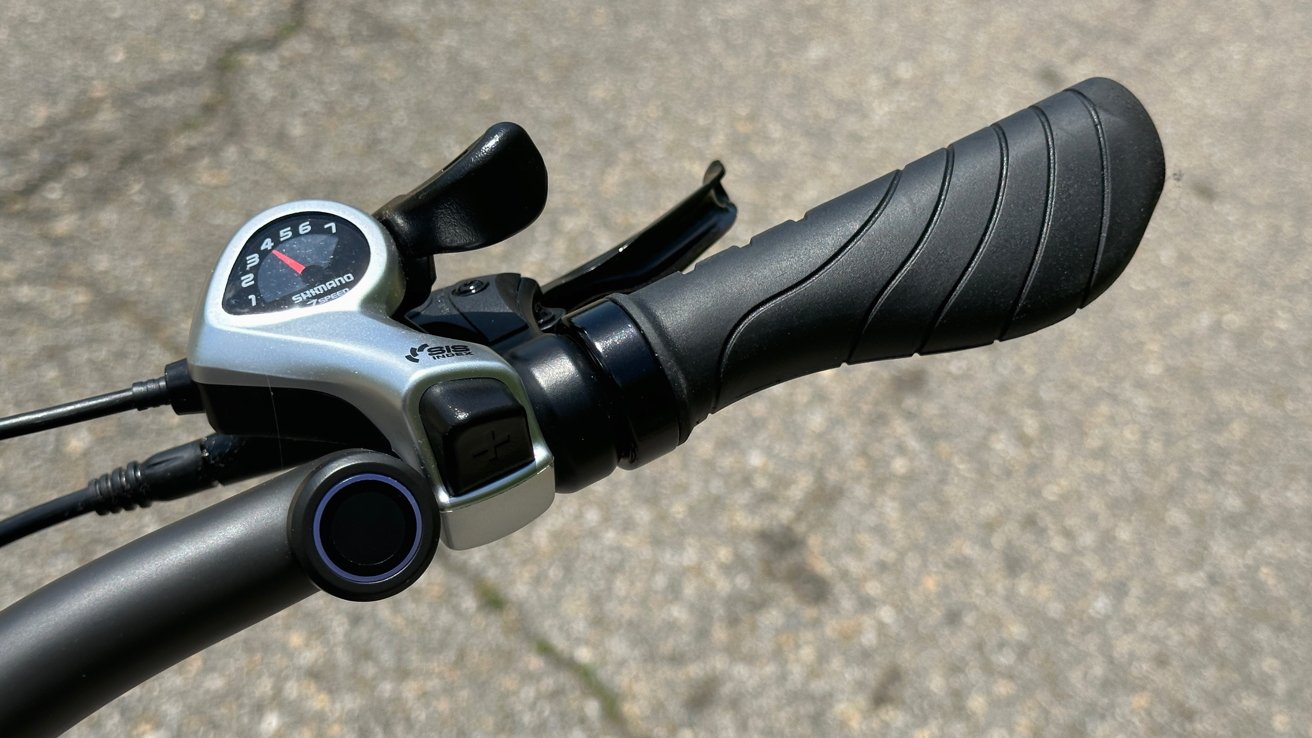 A fingerprint sensor is integrated in the main button
Forget to do this with an alarm set, and get ready to have all eyes on you. This will happen a few times when you're not used to it, but we wish Urtopia had a way to delay the alarm or vibrate the handlebars when an unauthorized motion is detected before blaring an alarm.
Once everything is unlocked, powered on, and ready to go, Urtopia is like most other e-bikes. Get on and get peddling, set your preferred pedal assist mode, and toggle on the headlight if necessary.
Stats and battery
There are five total pedaling modes: pedal, eco, comfort sport, and turbo.
The Carbon 1s can achieve 25mph with turbo enabled, but you'll kill the battery in around an hour at that setting. Eco mode offers up to 60 miles of range, and pedal leaves all the work to your legs.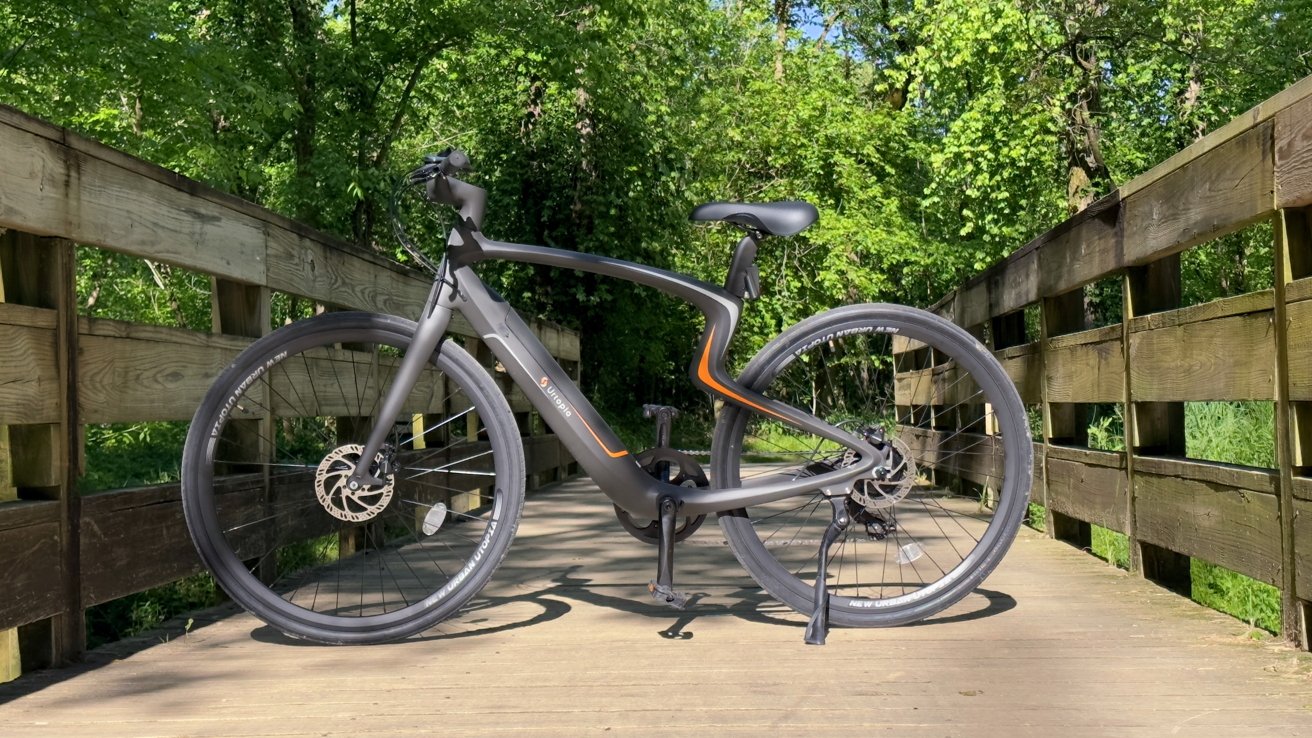 Urtopia's tech-first design won't be for everyone
We traveled at various pedal assist levels for one test and drained the battery from 70% (surprise, it was drained while sitting there for about a week) to 19% in about 10 miles. The route has some slopes, and we did use turbo a couple of times, but approx 50% drain still feels like a lot.
Like any battery estimates, they were probably taken with track data in perfect conditions. Our hilly ride in 70-degree+ weather likely was likely enough to drain the battery faster than lab testing found.
The battery can be charged 100% from zero in about 2.5 hours. From casual observation, the battery drains 2% to 5% daily when idle.
Riding
The bike's small size, light weight, and thin tires made this bike feel fast. It isn't unusual to hit 20mph to 25mph on most modern e-bikes, but the stature and shape of this bike made it feel faster, if not more unwieldy.
Urtopia says suspension wasn't included since the carbon frame was a natural shock absorber. While that might be true, some kind of suspension would have been nice on the local aging bike trails -- paved but not smooth.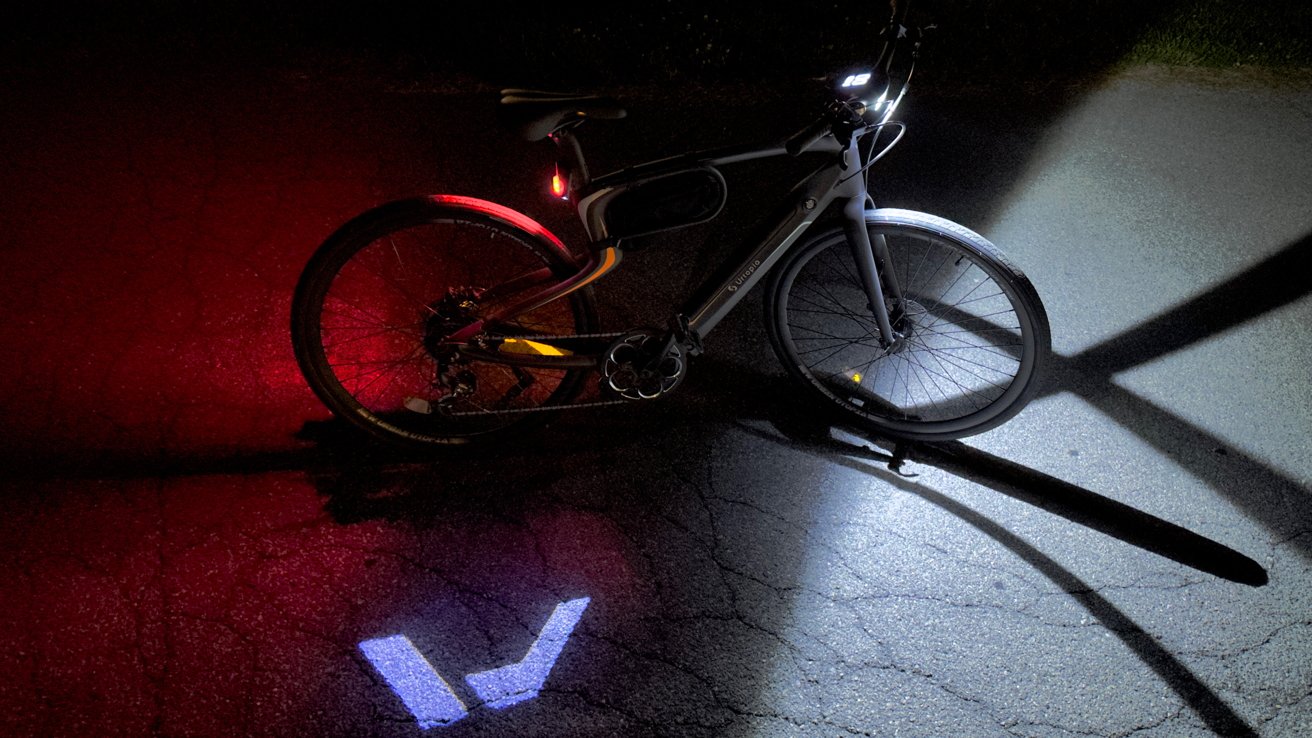 A bright headlight and taillight keep you visible at night
The headlight is bright at 20 Lux, and the taillight is powered on with a brake press. We appreciate the integrated design of the headlight, though it does mean there is no way to angle it up or down.
The included turn signals are interesting on the Carbon 1s, to say the least. Rather than use bright blinking lights, Urtopia uses projectors to paint arrows on the ground.
These lights are visible in dark areas but aren't very visible when street lamps or headlights drown them out. The projector lights are cool, and we're not sure e-bikes always need turn signals, but these don't feel very useful -- especially since other bikers and car drivers won't be looking for that kind of signal.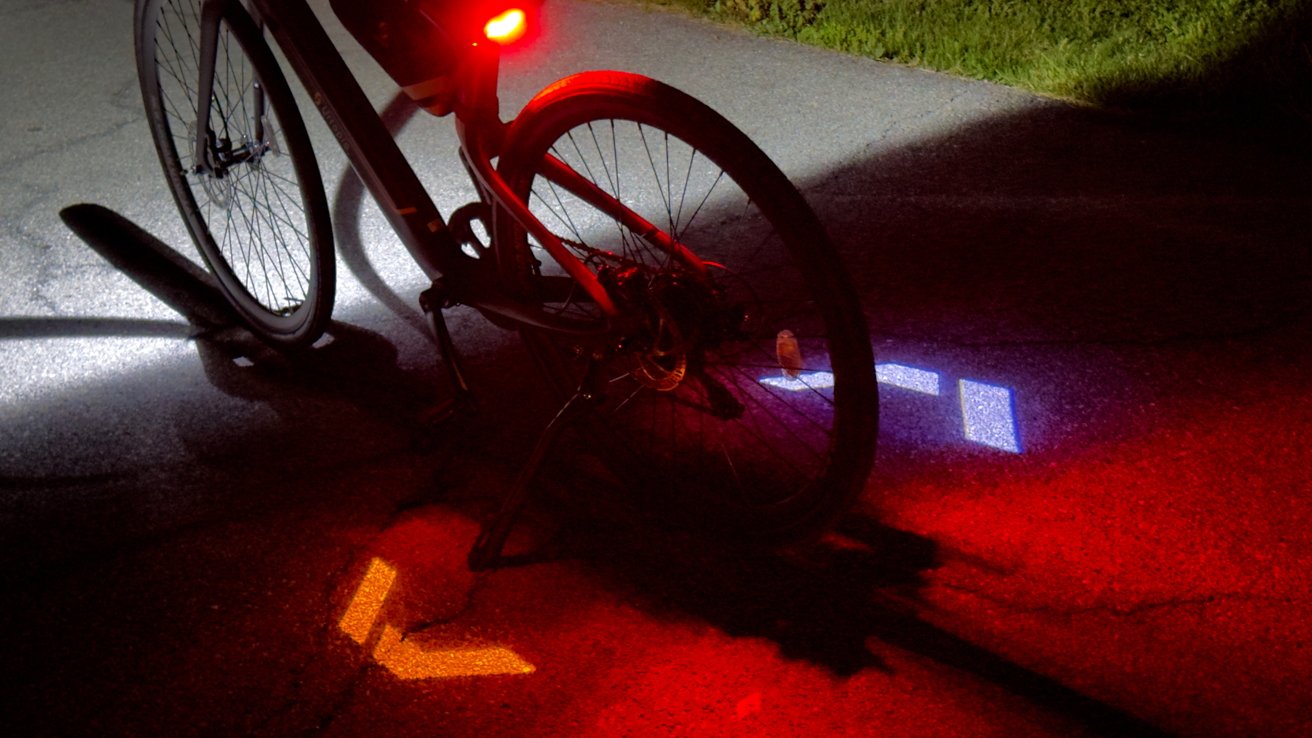 Projection turn signals don't seem practical
The Urtopia Carbon 1s feels designed for a much more outgoing and loud person than us. Press a button to ring a bell, hold it down to yell a command, or even play music through a built-in speaker. All things that are thankfully not required.
Motor
The motor is 350W, a far cry from other e-bikes we've tested with 500W or larger. This isn't terrible news for city riders, but when dealing with hills, it presents a challenge.
The motor can propel us forward to the max speed limit, and the torque sensor makes riding more natural. As we said in a previous e-bike review, torque-sensing pedal assist is our preferred way to ride.
The issue with the lower-wattage motor arises when you need more help with hills. We managed to glide up gentle slopes but began to struggle on some of our neighborhood's steeper inclines.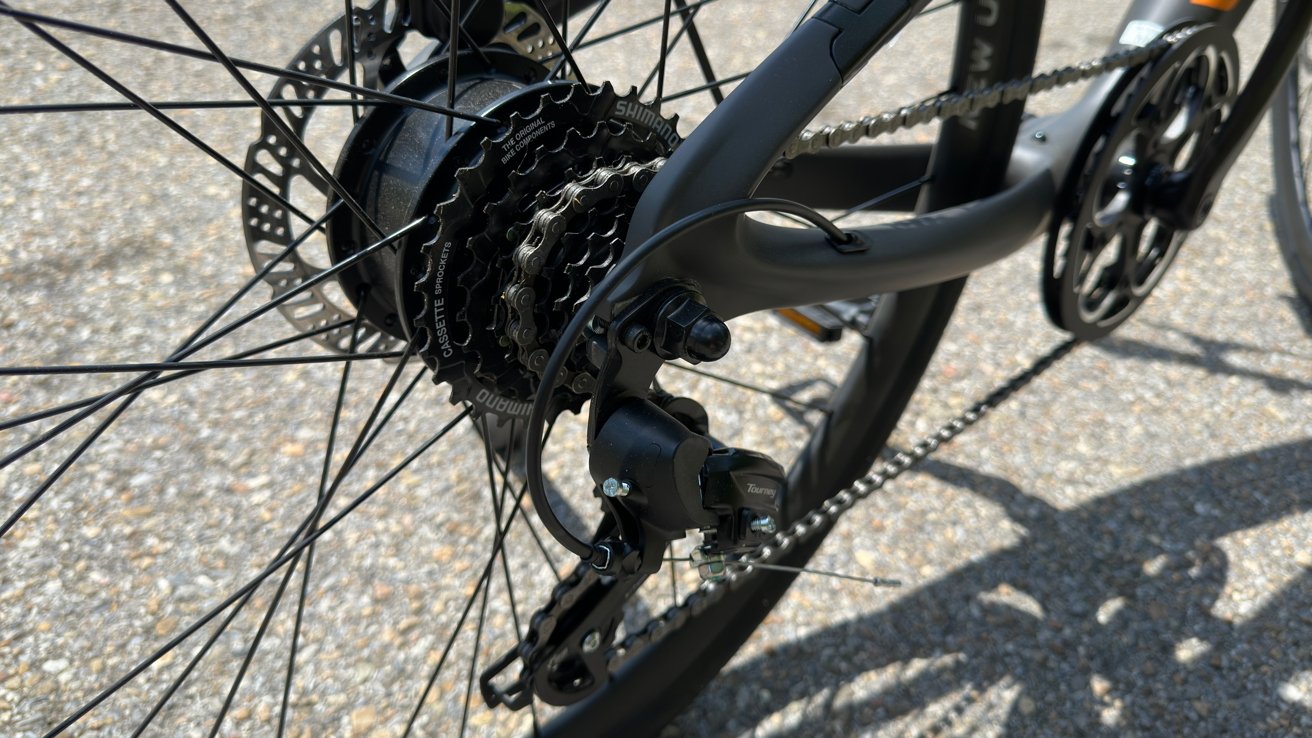 A 350W motor isn't quite strong enough for steep hills
One of our default testing areas is a hill near our home. It has a steep incline but only for a few dozen feet, so perfect for testing how well a motor will perform.
We can make it to the top of that hill on e-bikes with a 500W motor or greater, with some huffing and puffing. The Carbon 1s, however, left us at a standstill near the hill's midpoint.
This isn't a criticism of the bike (maybe of our fitness), just a reality of using a smaller motor and cutting back for weight. This bike performs perfectly on flat pavement, and we wouldn't recommend it to anyone with varied terrain or steep hills.
One final tiny note: there isn't a throttle. It's small, but throttles make starting from a stopped position so much easier and safer that lacking one feels like a big miss.
For the tech enthusiast with deep pockets
Urtopia Carbon 1s is an excellent entry from an ambitious company. Their comparison to Tesla is more than apt for their technology push and too-necessary post-purchase add-ons.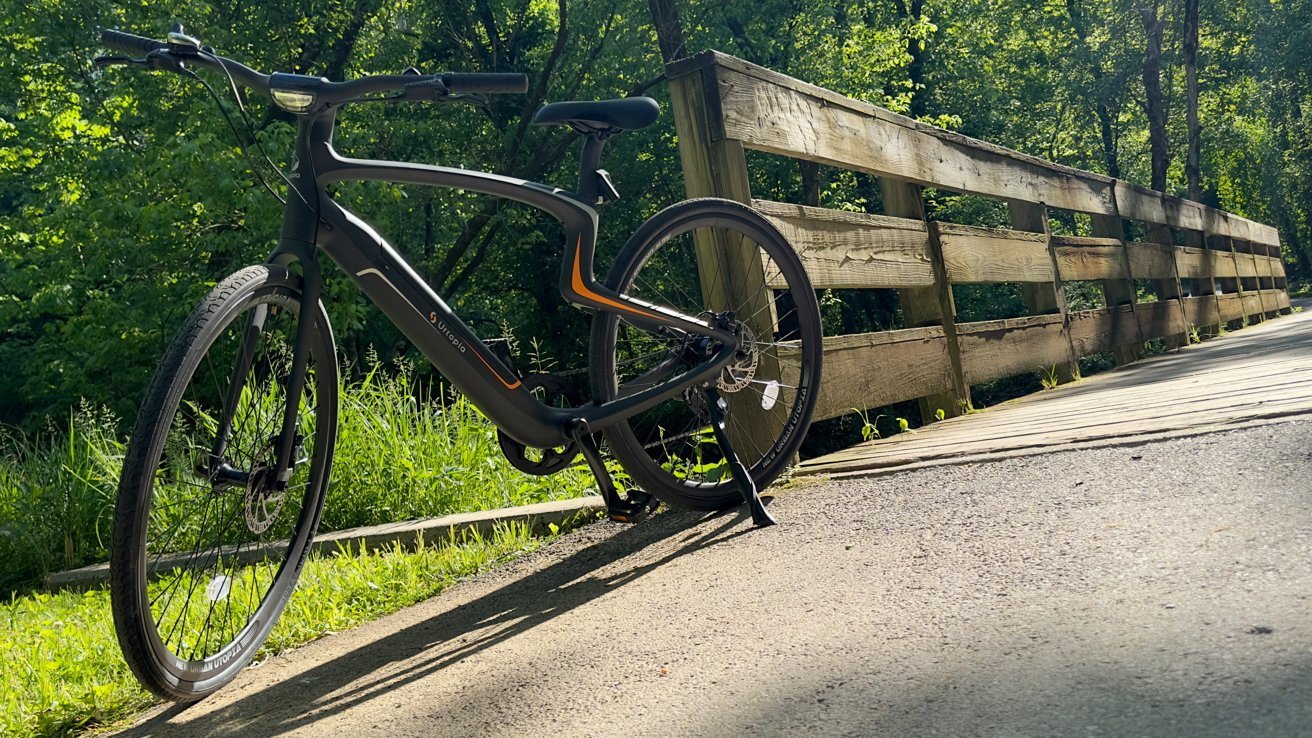 Urtopia Carbon 1s is great for paved surfaces and even terrain
Technology lovers with deep pockets will find a lot to love here, but we can't help but wonder if a full LCD would have been better.
It is a notable bonus to have a less-distracting display showing basic info, but it also limits the potential updates the bike could get later. That said, our Apple Watch is more than enough interface that perhaps Urtopia could find ways to make use of.
Urtopia Carbon 1s -- Pros
Excellent build, minimal assembly


Lightweight at 35 pounds


Turn-by-turn directions are great on Smartbar


Integrated 4G for tracking, gyroscope for anti-theft notifications


Minimalist display keeps distractions down, but...
Urtopia Carbon 1s -- Cons
Dot matrix display limits what the bike can do, or will ever do


Must use integrated navigation for Smartbar turn arrows


Low-wattage in motor makes it less ideal for hills


No throttle makes starting from stops more difficult


Voice control option seems redundant with physical controls


Alarm system easily triggered by the owner


Turn signal projectors are cool but don't seem practical


Charging for a kickstand is borderline criminal


Expensive given the motor spec, though understandable due to materials in use
Rating: 3.5 out of 5
This is a difficult e-bike to grade. It's got an amazingly lightweight frame and plenty of tech, but it misses with its limited matrix-dot display and weaker 350W motor. Not to mention some especially odd product decisions -- looking at you, kickstand.
Sure, a lot of the decisions were made in the name of thin-and-light design, but what was sacrificed could have rounded out the Carbon 1s. At the least, a stronger motor would have gone a long way.
Where to buy the Urtopia Carbon 1s
Get the Urtopia Carbon 1s from Urtopia's website
for $2,799
. Don't forget
a kickstand
!
Read on AppleInsider