Apple exec Eddy Cue nets $59M in vested company stock
Fulfilling a contract award granted in 2011, Apple SVP of Internet Software and Services Eddy Cue saw 525,000 restricted stock units currently worth $59.2 million vest this week.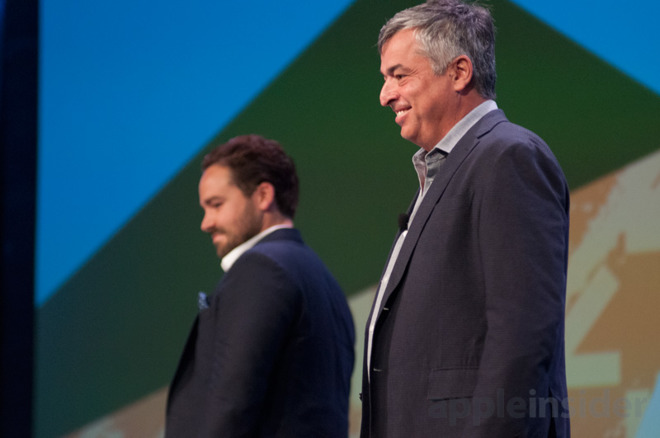 According to a regulatory filing published by the U.S. Securities and Exchange Commission on Friday,
Cue
converted 525,000 RSUs into common AAPL stock on Wednesday. Apple withheld 256,305 shares to satisfy statutory tax requirements, leaving Cue with 268,695 shares that were subsequently transferred to a family trust. This week's transaction completes a 700,000 RSU award granted to Cue in 2011. The Apple executive saw 25 percent of that award, or 175,000 shares, vest in September 2014. Cue first joined Apple in 1989, later rising to the rank of vice president of Internet Services before taking on his current role as SVP. During his tenure, the executive is credited with spearheading the rollout of Apple's online store in 1998, the iTunes Store in 2003 and the App Store in 2008. More recently, Cue's work has focused on expanding Apple Music, the company's fledgling streaming music service. In a separate SEC filing made public on Friday, Apple SVP of Hardware Engineering Daniel Riccio sold off 22,381 shares of Apple stock worth $2.5 million. Today's news comes after CEO Tim Cook received
1.26 million RSUs
as part of a performance- and tenure-based bonus in late August. Cook immediately in $35.8 million worth of vested stock, and
another $29 million
a week later, leaving his trust with 1,039,809 Apple shares worth about $110 million.