How to use the Apple Upgrade Program to get an iPhone XR, and prepare for pre-orders now
Posted:
in iPhone
edited October 2020
Apple has an easy way for you to get the new iPhone with the Apple Upgrade Program. AppleInsider lays out a potentially money-saving option for Apple customers -- especially those that like to upgrade every year.
Apple has officially launched the loan pre-approval process for new and existing members looking to purchase an iPhone XR and pay on an installment plan with AppleCare+ included. Those interested, as of Monday afternoon, could start the application process through the Apple Store app before the commencement of pre-orders.
This could save time, and could get you the device you want faster, versus waiting to get it done when orders open. However,
AppleInsider
has learned that like for the iPhone XR, the bank handling Apple's upgrade program is manually calling a large number of people preparing for the pre-order period to confirm user data -- so if this is what you're counting on for Friday's pre-order, you'd better start now.
Here's how the program works
. The customer, once he or she has passed a credit check and is approved, signs up, and pays installments each month for 24 months.
Applicants must have a valid credit card -- not a debit card -- which is charged monthly as part of the program. Wireless service activation is also required, and the customer's credit can't be frozen at the time that they apply.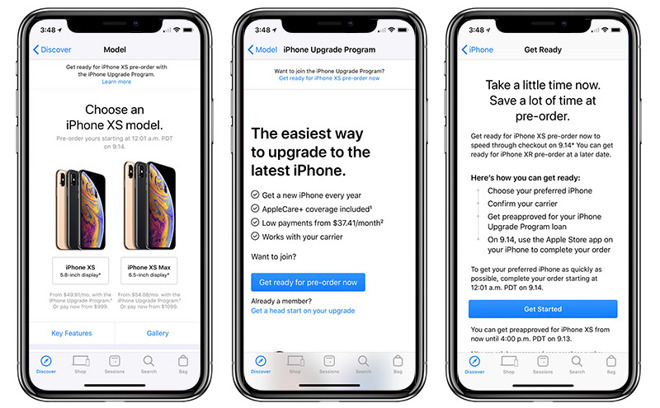 After 12 payments, customers are eligible to upgrade to a new iPhone, providing they have made all of the payments, their account is in good standing and their phone remains in good condition.
Upgrading requires applying for and enrolling in a new iPhone Upgrade Program, rather than rolling over the previous one. That means initiating the process again, including a new credit check. So, if you've got a credit freeze in place, be sure to lift it before you start.
The 12 payments sometimes don't line up to a year after the original signup, because the first payment is due at signing, so customers should be sure they've made 12 payments and not 11. Once users have made six payments, they can also pay the equivalent of the rest of their 12 payments and upgrade early.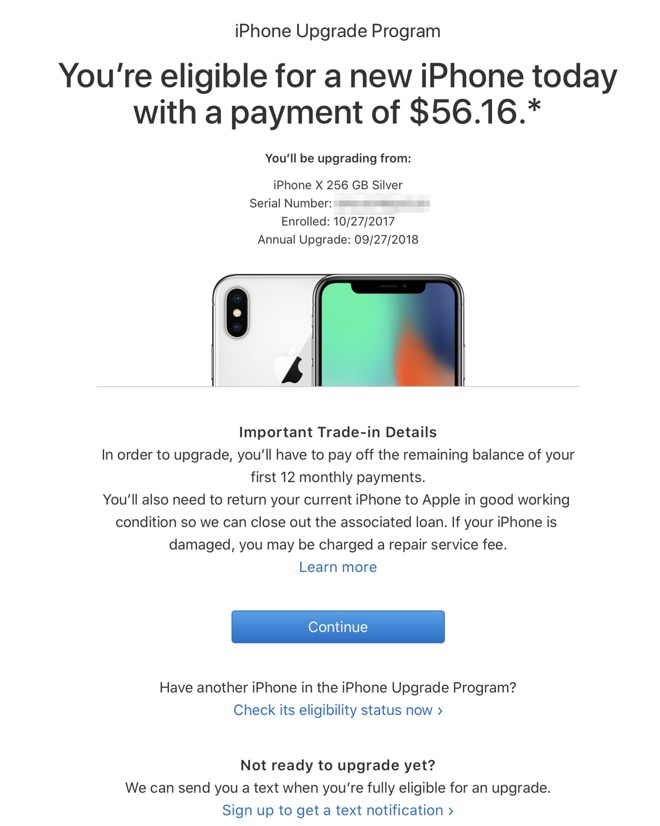 Those who upgrade after 12 payments must also return their old phones to Apple, although customers who pay the full 24 months own their phones free and clear.
There are other specific rules. AppleCare+ for iPhone or AppleCare+ with Theft and Loss is included, but users can only go to Apple Stores and Apple Authorized Service Providers for repairs.
The iPhone XR is priced at $37.41 per month under the Upgrade Program.